If you are thinking about where to stay in Mallorca, it helps to learn about some of its best spots and what makes them so attractive to VIP tourists such as the Spanish Royal Family, Hollywood actors, professional athletes, musicians, writers, and many others.
The island of Mallorca, also known as Majorca, is widely considered to be the crown jewel of tourism in Europe. Mallorca is the largest of the Balearic Islands, an archipelago that includes Ibiza, Menorca and Formentera. This island has everything you could hope for in a vacation spot: paradisiacal beaches, perfect weather, delicious cuisine, art, culture, nightlife, and more.
To a great extent, Mallorca seems to have been historically destined to become one of the world's greatest tourism destinations. In 1867, an Austrian archduke landed in Mallorca and acquired several parcels of land with the intention of never leaving.
European nobles began spending long vacations in the late 19th century, and this is where Frédéric Chopin composed some of his famous works such as the Scherzo No. 3 and Ballade No. 2. Notable authors such as Rubén Darío, Jorge Luis Borges and Agatha Christie have traveled here to write.
This is a place where you can do a lot more than just enjoy white sandy beaches and the warm waters of the Mediterranean. There are many areas in Mallorca that beg to be discovered: the elegant and cosmopolitan capital of Palma, the Tramuntana mountain range, picturesque little towns, fishing villages, charming and vibrant neighborhoods, and more.
When you stay in Mallorca, you will experience Mediterranean lifestyle at its best; the island has been culturally shaped by Roman, Moorish and Catalan culture, and local residents are known to be very friendly and hospitable.
Compared to other vacation spots across Europe, Mallorca is reasonably priced, and you will find a great diversity of accommodations and tourism activities. Whether you are looking to stay in a backpackers' hostel, a boutique hotel, ecotourism lodge, or all-inclusive resort, you will find options across many areas in Mallorca.
The island has 3,640 square kilometers, four major regions and 53 municipalities to explore. Choosing where to stay in Mallorca is a matter of personal preference; the spots below are considered to be among the best of the island, and they all have their own ambiance and particular charms.
Where to stay in Mallorca: Best areas
The South Coast of Mallorca
Of all areas in areas in Mallorca, the southern coast is the one that most tourists are familiar with, especially the southwest region because this is where the capital and a few of the island's most popular beaches are located. The southeast region is home to more pristine coastline and smaller towns where tourism has not been massively developed.
1. Palma de Mallorca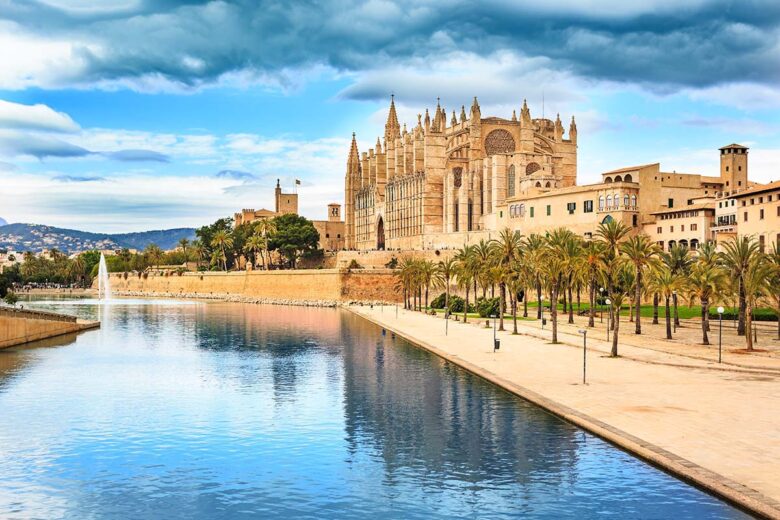 This historic and vibrant capital is where many tourists choose to stay, particularly those who visit the island for the first time. You can't go wrong by choosing Palma for your stay in Mallorca, virtually all districts have tourism attractions, and the city is simply gorgeous.
Palma offers a perfect blend of Old World charm and modernity; stately Gothic structures and Moorish architecture sit next to modern resorts, restaurants, art galleries, shops, pubs, cafes, theaters, and nightclubs.
Palma is a very pedestrian city that also happens to be the main travel hub for the entire island. Nearly 30 million travelers fly in and out of the international airport each year, and there is also a busy seaport plus a bus and train station. When you are ready to enjoy the beach, public transportation will take you there in just 15 minutes.
The best districts to stay in are the Casco Histórico, the Old City, and the Paseo Marítimo, Maritime Boulevard, which are adjacent and offer plenty of hotels, tourism amenities, historic architecture, culture, and nightlife packed into an area a little larger than a square kilometer.
Accommodation in these two districts range from hostels to boutique hotels and from international chains to luxury resorts closer to the water. Considering everything it has to offer, Palma is moderately priced and will fit many budgets, although there are more affordable areas in Mallorca.
Best Places to Stay in Palma de Mallorca
2. Playa de Palma and Arenal
These are beaches you can visit when you stay in Palma, but you can also choose a hotel here so that you be closer to the ocean and pay a little less than at the capital. This part of the island is known to attract many German tourists who come here to relax, have fun and let loose.
The white sandy beaches can get a little crowded, and the same goes for the numerous bars and dance clubs. Although some families choose these beaches when they stay in Mallorca, there is an overall party atmosphere that can get a little rowdy at times.
Best Places to Stay in Arenal
3. Magaluf
Located near the southwest tip of the island, Magaluf is a coastal town favored by British tourists. Magaluf boasts a very vibrant nightlife that is more sophisticated than Playa de Palma de Palma and Arenal for about the same price.
Lodging options range from luxury beachfront resorts to extended-stay apartments and from boutique hotels to budget inns. Family attractions in Magaluf include the curious House of Kathmandu museum, a couple of water parks and a kart racetrack. The capital city is less than an hour away.
Best Places to Stay in Magaluf
4. Palma Nova
This is a smaller and more family-friendly coastal city that boasts three attractive beaches located even closer to Palma than Magaluf. This is a more upscale destination where you can expect to pay a little more for lodging and meals.
Nature tours, ocean excursions and charter fishing trips are popular activities among visitors to this beach. The is not too much nightlife in Palma Nova, but you can always take a taxi to nearby Magaluf for that purpose.
Best Places to Stay in Palma Nova
See also: Best Beaches in Mallorca
5. Santa Ponsa
Located on the shores of a large and shallow bay that protects swimmers from rougher surf, Santa Ponsa is a haven for families, golf players and couples who are looking for solitude as well as a bit of adventure. The three golf courses in this location feature challenging holes as well as alternate tee placement for beginners.
By virtue of being a more upscale vacation spot, the hotels in this coastal town tend to be more luxurious, but many of them offer off-season discounts.
Best Places to Stay in Santa Ponsa
6. Puerto Portals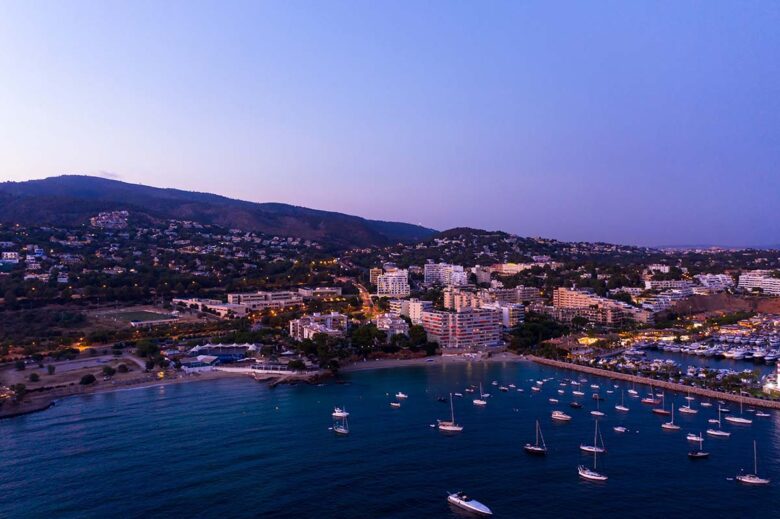 If you are looking for refinement and a chance to run into celebrities from all over the world, Puerto Portals is probably where you will want to stay in Mallorca.
The marinas and yacht clubs are among the most well-appointed in the Mediterranean, and the five-star hotels and restaurants are well worth their higher prices.
In recent years, some of the VIPs who have visited Puerto Portals include Sir Richard Branson, Jennifer Aniston, and even her ex-husband Brad Pitt. People watching and a ritzy nightlife are highly recommended in this area of Mallorca.
Best Places to Stay in Mallorca in Puerto Portals
7. Colonia Sant Jordi
This is one of the southernmost spots of Mallorca, and it is perfect for ecotourism, adventure, fishing, hiking, horseback riding, and more. The hotels range from the boutique to the spectacular and from the rural to the all-inclusive resorts.
The gastronomy here is more down-to-earth and delicious, and the locals are super-friendly. Pricing for local accommodations is extremely reasonable when considering all the pristine beaches you can visit.
Best Places to Stay in Colonia Sant Jordi
The East Coast of Mallorca
Even though the northeastern beaches of Mallorca are not overrun by British and German tourists, they are still very popular among Spanish and French visitors. This is a good part of the island if you are looking for more of a relaxing vacation with just a touch of nightlife. The beaches are still sunny and inviting, but you will find nearby pine forests instead of sandy brush vegetation.
8. Cala Ratjada
Cala Ratjada is a perfect spot for visitors who are looking for relax or discover nearby amazing small white sandy beaches with turquoise waters during the day and some decent nightlife at night.
Cala Ratjada is where you can jump on a ferry boat and enjoy a scenic trip of exploration around the island. Since lodging is more reasonable here, your savings can be put to good use with guided nature tours.
Best Places to Stay in Cala Ratjada
See also: Best Things to Do in Mallorca
9. Cala Millor
More than five kilometers of golden sandy beaches await in Cala Millor, a large coastal town that will appeal to tourists of all ages. All the usual beachfront amenities are here: seafood restaurants, pubs, nightclubs, and more.
The hotels here are more reasonably priced compared to the south coast, and they tend to be of newer construction. Public and private transportation options to Palma are plentiful since the Carretera de Manacor, better known as Ma-15, connects Cala Millor to the capital.
Best Places to Stay in Mallorca in Cala Millor
10. Cala d'Or
Staying here will make you forget about the south coast of Mallorca because Cala d'Or has everything you can hope for in a beach vacation. The beaches here feel more secluded, and they are preferred by local residents. If you want to see spectacular coastal architecture that combines Mediterranean and Modernist styles, this is where you should stay.
As its name suggests, Cala d'Or can run a little more expensive in terms of beach resorts, but you can find affordable boutique hotels hidden in the residential neighborhoods just a couple of minutes from the ocean.
Best Places to Stay in Cala D´Or
The North Coast of Mallorca
Seasoned travelers who visit Mallorca with their families know that the north coast offers a more relaxed and interesting atmosphere than the beaches to the south of the capital city.
Rural and adventure tourism amenities rule this part of the island, which also offers ferryboat connections to Menorca. Some of the most scenic spots of Mallorca are on the north side, and they do not draw as many visitors.
11. Puerto Pollensa
Kite surfing, paddle boarding, kayaking, and scuba diving are some of the activities you can enjoy in this former fishing village, which also happens to offer great seafood cuisine. This is a great starting point for travelers who want to explore the Tramuntana mountain range, and some of the older hotels near the fishing docks are very reasonable.
Best Places to Stay in Puerto Pollensa
12. Puerto de Alcudia
This smaller port city is situated opposite of the Pollensa Bay, and it provides a more local experience. Alcudia Bay used to be a bustling center of commerce in medieval times, and the historic architecture reflects this past.
Puerto de Alcudia is a place where you can get a more intimate look at Mallorca culture and history, and if you choose to stay in Majorca in this area it will cost you far less than the south coast. There are not as many luxury beach resorts, but they can be very affordable during the low season.
Best Places to Stay in Alcudia
13. Can Picafort
As the most popular tourism destination on the Alcudia Bay, Can Picafort is probably the best deal in terms of Mallorca lodging. In recent years, this town has seen considerable tourism development, and many visitors are attracted to the numerous tours and activities that Can Picafort offers.
One of the highlights of this coastal town is the s'Albufera Park, which is the most pristine and accessible wetland region of the island; the marshland and rivers of grass of this park beg to be explored in the morning, and they can be complemented with a lazy afternoon at the beach.
Budget travelers will not be disappointed with the range of hotels on this side of the island.
Best Places to Stay in Mallorca in Can Picafort
14. Playa de Muro
The name says it all: this is a very large stretch of Mediterranean coastline protected by a seawall and a boardwalk where lots of beachfront hotels can be found. Playa de Muro gets crowded during the high season, and most visitors are families with younger children who enjoy the warm and shallow water.
If you choose to stay a few blocks from the ocean, Playa de Muro could very well be one of the most affordable beach spots in all of Mallorca, and you will still have easy access to restaurants, shops, bars, and more.
Best Places to Stay in Playa de Muro
15. Port de Soller
This very elegant coastal village overlooks the Tramuntana mountains and features spectacular Mediterranean architecture. The tourists who stay in Mallorca at Port Soller are likely in search of activities such as hiking, climbing, mountain bike trail riding, and open water swimming.
There are not many hotels in Port Soller, and they are not as affordable as the ones located on the northeastern section of the island. You will notice that the water splashing Port Soller beaches appears to be greener, and this is because the shallow areas extend quite a few meters into the ocean.
Where to Stay in Mallorca in Port de Soller
Did you like this post about the best places to stay in Mallorca? See also: Where to stay in Menorca, where to stay in Ibiza, where to stay in Formentera
Photos: Shutterstock