If you are thinking about where to stay in Mallorca, it helps to learn about some of its best spots and what makes them so attractive to VIP tourists such as the Spanish Royal Family, Hollywood actors, professional athletes, musicians, writers, and many others.
The island of Mallorca, also known as Majorca, is widely considered to be the crown jewel of tourism in Europe. Mallorca is the largest of the Balearic Islands, an archipelago that includes Ibiza, Menorca and Formentera. This island has everything you could hope for in a vacation spot: paradisiacal beaches, perfect weather, delicious cuisine, art, culture, nightlife, and more.
To a great extent, Mallorca seems to have been historically destined to become one of the world's greatest tourism destinations. In 1867, an Austrian archduke landed in Mallorca and acquired several parcels of land with the intention of never leaving.
European nobles began spending long vacations in the late 19th century, and this is where Frédéric Chopin composed some of his famous works such as the Scherzo No. 3 and Ballade No. 2. Notable authors such as Rubén Darío, Jorge Luis Borges and Agatha Christie have traveled here to write.
This is a place where you can do a lot more than just enjoy white sandy beaches and the warm waters of the Mediterranean. There are many areas in Mallorca that beg to be discovered: the elegant and cosmopolitan capital of Palma, the Tramuntana mountain range, picturesque little towns, fishing villages, charming and vibrant neighborhoods, and more.
When you stay in Mallorca, you will experience Mediterranean lifestyle at its best; the island has been culturally shaped by Roman, Moorish and Catalan culture, and local residents are known to be very friendly and hospitable.
Compared to other vacation spots across Europe, Mallorca is reasonably priced, and you will find a great diversity of accommodations and tourism activities. Whether you are looking to stay in a backpackers' hostel, a boutique hotel, ecotourism lodge, or all-inclusive resort, you will find options across many areas in Mallorca.
The island has 3,640 square kilometers, four major regions and 53 municipalities to explore. Choosing where to stay in Mallorca is a matter of personal preference; the spots below are considered to be among the best of the island, and they all have their own ambiance and particular charms.
Where to stay in Mallorca: Best areas
THE SOUTH COAST OF MALLORCA
Of all areas in areas in Mallorca, the southern coast is the one that most tourists are familiar with, especially the southwest region because this is where the capital and a few of the island's most popular beaches are located. The southeast region is home to more pristine coastline and smaller towns where tourism has not been massively developed.
1. Palma de Mallorca, where to stay in Mallorca for shopping and sightseeing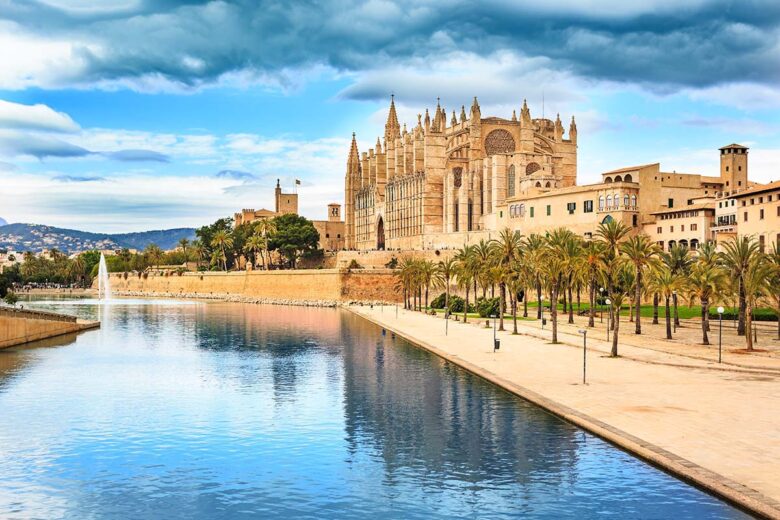 Located on Mallorca's northwest coast, Palma is the vibrant capital city of all the Balearic Islands. You can't go wrong by choosing Palma for your stay in Mallorca, virtually all districts have tourism attractions, and the city is simply gorgeous.
With its close-by international airport, large harbour, popular marina, historical architecture resorts, restaurants, art galleries, shops, modern shopping malls, pubs, cafes, theaters, and nightclubs, it is a city that has something for anyone choosing to stay in Mallorca.
Palma is a very pedestrian city that also happens to be the main travel hub for the entire island. Nearly 30 million travelers fly in and out of the international airport each year, and there is also a busy seaport plus a bus and train station.
When you are ready to enjoy the beach, public transportation will take you there in just 15 minutes.
With a history dating back to the bronze age, Palma has, over the centuries, been occupied by the Talayotic people, the Romans and the Moors, before being reconquered in the 13th century by the crusader James I of Aragon.
With so much packed into such a small space, wherever you choose to stay in Palma, you can spend days just strolling the old, narrow, twisting streets, wide avenues, large public squares and different neighbourhoods.
The old town centre stretches from La Seu Cathedral to the Basilica of Sant Francesc, and you will find street musicians, chic boutiques, souvenir shops, beach shops, designer stores and cafes, bars and restaurants to keep you busy.
Each area seems to have its own speciality. The centre of Palma is a bustling hive of activity with its cultural pursuits and pleasant shopping areas such as the Avenida Jaime III, Calle de Sant Miquel and Calle de la Unió.
Vibrant Santa Catalina is a busy day and night area. Narrow streets and houses whitewashed with traditional blue shutters add to the ambience of this colourful, welcoming district. Where residents and visitors meet to dine out in its many superb local and international restaurants.
La Lonja is another historical district of Palma old town. With its architectural attractions, coffee shops and cafes, it's a great place to take the weight off during your daytime exploration of its many magnificent Art Nouveau buildings.
In the evening, as the restaurants, night-time bars and clubs begin to open, La Lonja attracts the night-owls to its pubs, clubs and eateries.
Palma's local beach Ca'n Peratoni, lies at the front of the city. A long stretch of white sand that shelves gently into the azure Mediterranean, it is a favourite beach with both locals and visitors due to its proximity to the city centre.
Along the seafront, with its wide promenade, you will find sunbeds and parasols, showers, toilets and lifeguards. The walkway is lined with palm trees, cafes, bars, restaurants, souvenir shops and a plush beach club, ensuring you have everything you need for a day of sun and sea.
A few of the many attractions waiting to be discovered during your stay in Mallorca include Palma's Gothic La Seu Cathedral, one of the largest churches in all of Spain.
Alongside the cathedral is the magnificent Royal Palace Almudaina. Now a permanent military residence and the official home of the King of Spain when he visits the island.
You will also find another Gothic gem, the Church of Sant Francesc, on your travels. While just outside the old town, you have the 13th century Castell de Bellver towers and its city museum, overlooking the El Terreno district.
The best districts to stay in are the Casco Histórico, the Old City, Santa Catalina, and the Paseo Marítimo, Maritime Boulevard, which are adjacent and offer plenty of hotels, tourism amenities, historic architecture, culture, and nightlife packed into an area a little larger than a square kilometer.
Palma de Mallorca has an excellent selection of accommodation. From budget hostels to chic-boutique hotels in the old town area to self-catering apartment blocks, all-inclusive venues and private luxury villas with sea views.
Considering everything it has to offer, Palma is moderately priced and will fit many budgets, although there are more affordable areas in Mallorca.
BEST PLACES TO STAY IN PALMA DE MALLORCA
2. Playa de Palma and Arenal, affordable party resort area
Playa de Palma is a pristine 7km stretch of golden sand spread around the Bay of Palma that begins at C'an Pastilla in the west, and runs to Arenal in the east.
These are beaches you can visit when you stay in Palma, but you can also choose a hotel here so that you are closer to the ocean and pay a little less than at the capital.
The old town area of Palma de Mallorca is 15km to the north, and the airport is around a 15-minute drive, making the resort doubly popular.
The whole area is a major party centre enjoyed by the Brits, Italians, Dutch and in particular young Germans who come here to relax, have fun and let loose.
Playa de Palma beach is divided into 15 areas, and as you stroll the promenade, you will pass small kiosks numbered 01 to 15. Section 15 beach area is closest to the airport, with number 1 starting at Arenal.
Although very popular with the party crowd, the expanse of beach at Playa de Palma means there is enough room for everyone, and you will find different sections of the beach are popular with the younger generation, couples and families.
If you're staying in, or close to Arenal, you have the town's fabulous area of beach to enjoy, with all the water sports and boat trips to explore the coast or other islands.
The white sandy beaches in the Arenal area can get a little crowded, and the same goes for the numerous bars and dance clubs. Although some families choose these beaches when they stay in Mallorca, there is an overall party atmosphere that can get a little rowdy at times.
An Aqualand Water Park is located at Arenal, and its numerous slides, flumes, wave pool, artificial beach and café make a different day out for the kids.
Take the kids to Palma Aquarium. The fabulous aquatic experience of 55 seawater pools and tanks holding nearly 10,000 saltwater fish and a variety of coral species is just a 10-minute ride on the local bus, in the Can Pastilla region.
If you fancy going a little further afield to explore the capital and maybe do a little shopping, Arenal is roughly 15km from the city and can be easily reached by bike on the flat terrain.
However, if that sounds too strenuous, there are cabs and a regular bus service from Arenal to Palma de Mallorca that runs every 15 minutes.
Although much of the area turns into party land after dark, you will still find plenty of smaller friendly bars and restaurants for those family evenings or romantic dinners for two.
There is plenty of low-cost accommodation around Playa de Palma and Arenal for your stay in Mallorca. Including self-catering studios, one, two or three-bed apartments that can sleep six to eight people, and low-cost two and three-star hotels and villas.
BEST PLACES TO STAY IN PLAYA DE PALMA AND ARENAL
3. Magaluf, where to stay in Mallorca for nightlife
Located on the southwest Calvia coast of Mallorca and just 15km from Palma and the airport, Magaluf has seen a few changes in recent years. Today, the one-time go-to party resort for young Brits letting their hair down is more generally focused.
Much construction has been undertaken, with a modern shopping centre full of high street brands and designer stores in the town centre. In addition, new 4 and 5 star hotels have been built, and high-end beach clubs opened.
Magaluf's artificial beach, a one time marsh back in the day, is a stretch of over one kilometre of palm-fringed golden sand that shelves gently into the warm Mediterranean. A beach that many maintain is one of the nicest on the island.
Here you will find numerous water sports to suit all tastes. From sedate submarine and glass-bottomed boat excursions to jet skis, kite surfing, inflatable rides and various boat trips.
Although it gets busy in high season, and the age group tends to be on the younger side, you will still find areas of beach with families, singles and older couples enjoying their holiday in the sun.
Along the beachfront there are over 50 bars, nightclubs, a trendy Nikki Beach Club, and plenty of beach shops, souvenir shops, toilets and showers to cater for your every need.
For those days away from the beach, if you prefer active to inactive, you can enjoy a round of golf on one of the fabulous 18-hole courses. Play crazy golf at Golf-Fantasia, or a couple of sets of tennis.
Try your hand at go-karting at Karting Magaluf, where children as young as three can begin their journey to the dizzy heights of F1.
Treat the family to a day at Aqualand. Or the next door Western Water Park. Just a few minutes walk from the beach and featuring the world's 11th highest water slide.
Family attractions in Magaluf include the curious House of Kathmandu museum.
While mum and dad may enjoy an evening or two of fine-dining in one of the many local or international restaurants, the kids certainly won't starve, with fast-food outlets dotted around the resort like confetti.
In the height of the season, night times are buzzing, especially around the beach area known locally as the 'Leisure Zone'. Magaluf boasts a very vibrant nightlife that is more sophisticated than Playa de Palma de Palma and Arenal.
However, if that sounds a little too much, there are plenty of Spanish and expat bars behind the main beach area, where the atmosphere is more toned down and relaxed.
Plenty of accommodation is available in Magaluf for your two-week stay in Mallorca, especially in the self-catering and 2/3 star hotel end, with more limited high quality 4/5 star hotels and villas.
BEST PLACES TO STAY IN MAGALUF
4. Palma Nova, upscale and family friendly destination
This is a smaller and more family-friendly coastal city that boasts three attractive beaches located even closer to Palma than Magaluf. This is a more upscale destination where you can expect to pay a little more for lodging and meals.
Nature tours, ocean excursions and charter fishing trips are popular activities among visitors to this beach. There is not too much nightlife in Palma Nova, but you can always take a taxi to nearby Magaluf for that purpose.
BEST PLACES TO STAY IN MALLORCA IN PALMA NOVA
See also: Best Beaches in Mallorca
5. Santa Ponsa, an excellent resort for families and couples
Just two kilometres west of Magaluf, and 13km from Palma and the airport, lies the beautiful resort of Santa Ponsa. Less full-on than its nearby sister, Santa Ponsa still has (pretty much) everything you will find in the busier Magaluf, but much lower key.
Santa Ponsa is a haven for families, golf players and couples who are looking for relax as well as a bit of adventure. The three golf courses in this location feature challenging holes as well as alternate tee placement for beginners.
By virtue of being a more upscale vacation spot, the hotels in this coastal town tend to be more luxurious, but many of them offer off-season discounts.
Santa Ponsa Beach stretches for over 1000 metres along the coast and is over 100 metres wide from the shoreline to the sea. Located on the shores of a large and shallow bay that protects swimmers from rougher surf.
The sparkling white sand, warm water, gentle shelving and lifeguards on duty until 6pm, make Santa Ponsa a popular venue for those with young children.
Along the promenade, besides the usual bars, snack-shacks, souvenir shops and restaurants, you will also find a tourist information kiosk and first-aid station.
Beach loungers and parasols can be hired on the beach, and various water sports and boat trips can be booked.
If you prefer quieter, there are two small beach coves, Pellicer Beach and Castellot Beach, at either end. More rocks and pebbles than sand, and with no amenities, they are popular with residents and those looking for a little quiet together time away from the busier beach.
Although the town is not overly endowed with activities during the daytime, Magaluf and its attractions are just a five-minute cab ride away.
However, Santa Ponsa does have the Jungle Park with its rope walks and zip-lines for all the family. And check out the two marinas, where you can relax on the terrace of a bar or café and watch the comings and goings of the yachts and private dinghies.
Evenings are much better catered for. Besides plenty of fast-food and takeaway outlets, you will find a selection of British expat bars and excellent local and international restaurants serving Asian, Italian and Mexican fare.
Most venues around town will stay open until at least midnight, but if you enjoy a little partying when on holiday, the young and young at heart will find late-night bars and clubs by heading to Ramon de Montcada, the main strip for late-night entertainment.
Accommodation is varied, with several self-catering complexes that include a communal pool and daytime kiddies entertainment. Two, three, four and five-star hotels are plentiful, including adult-only and all-inclusive options. There is also a selection of villas.
BEST PLACES TO STAY IN SANTA PONSA
6. Puerto Portals, best place to stay in Mallorca for luxury and celebrity sightings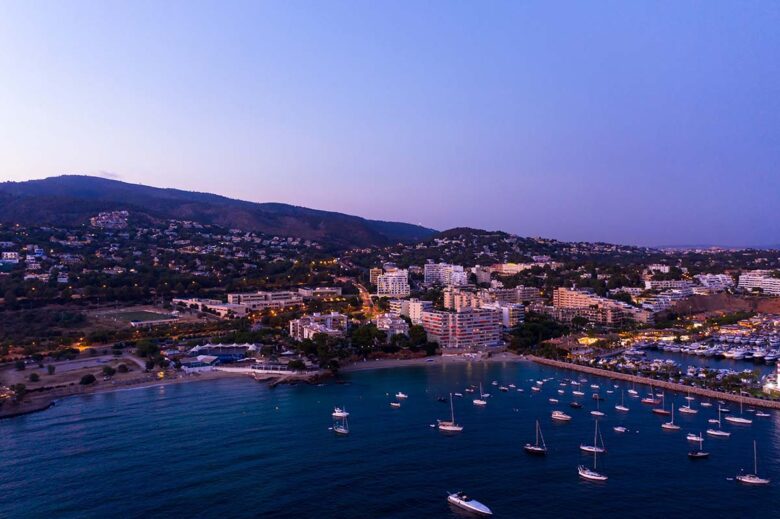 If you are looking for refinement and a chance to run into celebrities from all over the world, Puerto Portals is probably where you will want to stay in Mallorca.
The marinas and yacht clubs are among the most well-appointed in the Mediterranean, and the five-star hotels and restaurants are well worth their higher prices.
In recent years, some of the VIPs who have visited Puerto Portals include Sir Richard Branson, Jennifer Aniston, and even her ex-husband Brad Pitt. People watching and a ritzy nightlife are highly recommended in this area of Mallorca.
BEST PLACES TO STAY IN MALLORCA IN PUERTO PORTALS
7. Colonia Sant Jordi, good area in Mallorca for ecotourism and active tourism
This is one of the southernmost spots of Mallorca, and it is perfect for ecotourism, adventure, fishing, hiking, horseback riding, and more. The hotels range from the boutique to the spectacular and from the rural to the all-inclusive resorts.
The gastronomy here is more down-to-earth and delicious, and the locals are super-friendly. Pricing for local accommodations is extremely reasonable when considering all the pristine beaches you can visit.
BEST PLACES TO STAY IN MALLORCA IN COLONIA SANT JORDI
THE EAST COAST OF MALLORCA
Even though the northeastern beaches of Mallorca are not overrun by British and German tourists, they are still very popular among Spanish and French visitors. This is a good part of the island if you are looking for more of a relaxing vacation with just a touch of nightlife. The beaches are still sunny and inviting, but you will find nearby pine forests instead of sandy brush vegetation.
8. Cala Ratjada, a great resort for older couples and singles
Cala Ratjada is a perfect spot for visitors who are looking for relax or discover nearby amazing small white sandy beaches with turquoise waters during the day and some decent nightlife at night.
A one-time small fishing village before it was introduced to package tourism, Cala Ratjada lies on the rugged coastline near the northeast tip of Mallorca and extends around both edges of the Punta de Capdepera peninsula.
From here, on a clear day, you can see the port of Ciutadella on the island of Menorca, shimmering in the bright sunshine.
Sitting some 65 kilometres from Palma, Cala Ratjada has long been a popular tourist destination with the French, Italians and Germans. Yet it is only recently British tour operators have begun adding it to their places to stay in Mallorca itinerary.
Although these days you will find more private yachts and motor launches tied up in the harbour than fishing boats, the local fishing fleet still plays a large part in supplying the town's restaurants and hotels with daily caught fresh fish.
On the south side of the harbour, you will find Son Moll, the town's main beach and its host of water-sport activities.
With its golden sand it is a pretty little beach – with the emphasis on little. At just 150 metres long and 50 metres wide, it gets very busy through the height of the season.
To the east of the harbour is the smaller sandy beach of Cala Gat, which can be reached with a stroll along the promenade, although it also fills up in the summer.
If you want quiet, jump into your hire car or grab a cab and head north along the coast to Cala Agulla or further along to Cala Mesquida.
You will find a good choice of excursions to enjoy on those days away from the beach.
Around the town, there are plenty of clothes shops, boutiques and souvenir shops to browse, with enough cafes and bars where you can enjoy a drink and snack in the sunshine.
If you like gardening and a bit of strenuous walking, you might want to climb to the Gardens of Bartolomé March, and the Sa Torre Cega villa, overlooking the harbour. You will find beautifully laid out gardens with intriguing statues by Rodin, Moore and local Catalan sculptors.
You can also visit the old lighthouse at Punta de Capdepera.
With an excellent selection of local and international bars and restaurants around town and the beachfront, evening entertainment shouldn't be a problem, no matter what your preferences or genre.
Since lodging is more reasonable here, your savings can be put to good use with guided nature tours.
With over 40 hotels, self-catering complexes and villas available, Cala Ratjada can accommodate the needs of most visitors, whether travelling on a budget or seeking 5-star all-inclusive luxury.
BEST PLACES TO STAY IN CALA RATJADA
See also: Best Things to Do in Mallorca
9. Cala Millor, a popular resort with all ages
Lying on the rugged northeast coast of Mallorca, Cala Millor is the largest resort on the eastern side of the island, having swallowed the small next-door resort of Cala Bona.
A purpose-built resort, its 35 metres wide, 1800 metre length of soft golden sand attracts visitors from across Europe throughout the season. All the usual beachfront amenities are here: seafood restaurants, pubs, nightclubs, and more.
You will find sunbeds, parasols and water sports equipment to rent, along with showers and WCs along the beach, and lifeguards on duty in peak season. Like many resorts, it is also fitted with ramps to make disabled access easier.
At the rear of the beach is a broad, walking and cycling only esplanade, filled with shops, bars and restaurants where you can stroll along the front, stopping off for those necessary drink breaks along the way.
Behind the esplanade is the main shopping area with clothing stores, boutiques, shoe shops, supermarkets and souvenir shops, and plenty of bars, clubs and restaurants to provide the evening entertainment.
Whatever your dining preference, you should find it during your stay in Mallorca at Cala Millor. You can pick from local Mallorcan dishes or tapas, British, Italian and Asian cuisine, and several fast food outlets.
Although there is little by way of 'in resort' attractions, there are a couple of small theme parks for the youngsters at either end of the esplanade, with swings, roundabouts, trampolines, bouncy castles, a small karting track and splash pools.
As well as water sports you can book several boat trips to tour the island or do a little fishing. A free transfer is available to get you to the nearby Park Safari Zoo with its zebras, rhinoceroses, giraffes and other large animals and its collection of monkey species.
You can book all-inclusive trips to the Dragon Caves, including coach transfer and cave entrance fees. In comparison, nature lovers should visit the Amer peninsula and its nature reserve with hiking trails and home to various lizard species and rare birds.
Public and private transportation options to Palma are plentiful since the Carretera de Manacor, better known as Ma-15, connects Cala Millor to the capital.
Accommodation for your stay in Mallorca at Cala Millor is plentiful, with a good selection of budget-friendly self-catering complexes and hotels, beachfront hotels, all-inclusive options and luxury villas.
The hotels here are more reasonably priced compared to the south coast, and they tend to be of newer construction.
BEST PLACES TO STAY IN CALA MILLOR
10. Cala d'Or, where to stay in Mallorca in a pretty resort for a quiet break
Staying here will make you forget about the south coast of Mallorca because Cala d'Or has everything you can hope for in a beach vacation. The beaches here feel more secluded, and they are preferred by local residents.
A former fishing village, stylish Cala d'Or lies on the south-eastern coast of Mallorca, about 60 minutes travelling time from the airport.
The resort stretches for four kilometres along the coast and comprises several small picturesque beaches nestling at the back of craggy, pine-covered coves.
Part of the attraction to this beautiful area is that building has been limited to low rise apartment blocks and boutique hotels, maintaining the resort's chic village appeal.
The resort is split down the middle by the breakwaters of the local marina, and on each side there are several small bays. The largest, Cala Gran, sits next to the marina and the main resort beach of Cala d'Or lies close by.
Pretty, pine-fringed sandy coves, you can hire sunbeds, parasols and a range of water-sports equipment from both these beaches.
You won't find any water parks, theme parks, or crazy-golf in Cala d'Or, although it does have some other places of interest nearby.
Besides the number of water sports available, a good selection of boat trips call into Porto Colom, Cala Mondrago and Cala Figuera on a coastal discovery.
You can also book a visit to the Caves of Drach/Hams, or Jumaica Tropical Park on the Porto Cristo road and Safari Zoo at Sa Coma.
That said, the town has all the usual amenities for your everyday shopping needs, including chemists.
With an excellent selection of quiet bars and pleasant restaurants, evenings can be spent enjoying the local cuisine or finding a bar in the village or marina to enjoy a cocktail as the sun goes down.
There are a number of all-inclusive hotels in Cala d'Or, with private studios and villas, hotels, and some self-catering options.
As its name suggests, Cala d'Or can run a little more expensive in terms of beach resorts, but you can find affordable boutique hotels hidden in the residential neighborhoods just a couple of minutes from the ocean.
BEST PLACES TO STAY IN CALA D´OR
THE NORTH COAST OF MALLORCA
Seasoned travelers who visit Mallorca with their families know that the north coast offers a more relaxed and interesting atmosphere than the beaches to the south of the capital city.
Rural and adventure tourism amenities rule this part of the island, which also offers ferryboat connections to Menorca. Some of the most scenic spots of Mallorca are on the north side, and they do not draw as many visitors.
11. Puerto Pollensa, a family friendly resort a cut above the usual
Nestling in a horseshoe bay on the north coast of Mallorca, and with a backdrop of the majestic Tramuntana Mountains, the pretty resort of Puerto de Pollensa (Port of Pollensa) provides everything you need for that relaxing two weeks in the sun.
Puerto de Pollensa is just five kilometres from the resort of Alcudia and around 50 minutes transfer time from Palma airport.
Kite surfing, paddle boarding, kayaking, and scuba diving are some of the activities you can enjoy in this former fishing village, which also happens to offer great seafood cuisine. This is a great starting point for travelers who want to explore the Tramuntana mountain range.
The main beach, just slightly south of the port, is a broad, 1500 metre long stretch of soft white sand that shelves gently into the calm Mediterranean, making it ideal for the little ones.
Along the beach, you will find blocks of sunbeds and parasols as well as toilets and showers.
The wide, palm-fringed promenade meanders pretty much right around the bay and is lined with shops, bars and restaurants, all with tables and chairs set outside.
As you stroll north, you will pass other smaller beaches, all with soft white sand, and be able to take in the magnificent landscape of forests of pine climbing the mountainous hillsides.
You will find plenty of kiosks dotted along the seafront where you can book excursions and boat trips, and hire water-sports equipment. While around the town area, there are bars, cafes and restaurants, small clothing boutiques, jewellery stores, and souvenir and other tourist-related shops.
On a Wednesday, Pollensa hosts its weekly market in Miquel Capllonch Square, attracting over 200 stalls selling everything from local produce to clothes, crafts, bric-a-brac and tourist-related items.
However, if you're in serious need of a shopping fix, a day spent in Palma during your stay in Mallorca is probably the better option, as there are no large shopping centres in the town.
If you enjoy country walking and nature, pencil in a visit to La Gola Wetlands and the La Gola Ornithological Tourism Centre. Located just outside the town boundary, it is frequented by many migrating and native bird species.
To muddy the waters a little, Pollensa, the town, is located just a ten-minute drive inland.
It is a popular place with many British expats putting down roots and is well worth visiting. Especially on Sunday morning when the weekly market sets up at the main town square Plaza Mayor.
Although not as raucous as some of the popular party resorts in Mallorca, the nightlife in Puerto Pollensa can undoubtedly hold its own.
A popular resort with the British, you will find fast-food and takeaway outlets, local and international restaurants, and a variety of bars from friendly Spanish, to English, Irish and the odd German or Dutch bar.
Check out Nostalgia for your full English breakfast and night time karaoke. Or La Roca beach bar for your mojitos and live music, or the Lemon Bar in the Hoposa Daina Hotel, which doesn't close until the last visitor falls out the door.
Accommodation in Puerto Pollensa is good across the board, with private lets, self-catering aparthotels and villas and 2, 3 and four-star hotels available.
BEST PLACES TO STAY IN MALLORCA IN PUERTO POLLENSA
12. Puerto de Alcudia, where to stay in Mallorca for families
If you're considering your first stay in Mallorca with the little ones, Puerto de Alcudia ticks all the boxes.
On the north side of the island, and 60km directly opposite Palma, it provides a more local experience. Alcudia Bay used to be a bustling center of commerce in medieval times, and the historic architecture reflects this past.
Puerto de Alcudia is a place where you can get a more intimate look at Mallorca culture and history, and if you choose to stay in Majorca in this area it will cost you less than the south coast.
Puerto de Alcudia is one of Mallorca's most popular family resorts, with the beach being its biggest draw.
Over 7km of clean, soft, golden sand shelves gently into the blue Mediterranean, making it ideal for younger children. Sunshades and loungers fill the main beach areas, with kiosks offering various water sports and boat trips spread along the sea-shore.
On and behind the promenade are toilets, showers, shops, snack-shacks, bars and restaurants; all mixed in with self-catering complexes, hotels and luxurious villas.
The beach near the port, known as Ciudad Blanca, or in English, White City, can get very busy. However, if you fancy a little respite from the crowds, a pleasant walk along the front will get you to the adjoining beach of Playa de Muro, which is usually less crowded.
Although the beautiful beach is a big plus when choosing Puerto de Alcudia for your stay in Mallorca, it is not everything. Sooner or later, the kids need a change, and there are plenty of things to choose from.
Instead of a day in the water, what about a day on the water? As well as the many water sports activities available, you can book boat trips to see the whales and dolphins, visit Formentor, do a little coastal or deep-sea fishing, or charter a yacht for the day.
You can hire mountain bikes and ride the many cycling trails along the flat coastal paths or in the hills. If you fancy 18 holes, the pretty Alcanada Golf Course is on the doorstep.
Test your driving skills. Seek out the Hotel Bellevue and Kartingmania, with its selection of child karts and powerful adult go-karts. Open from 09.30 until midnight.
At the back of the resort you'll find Hidropark, a large waterpark. With slides and flumes, bouncy castles and trampolines, it's guaranteed to have the kids ready for bed at the end of the day.
If that's not enough, a few kiddies play parks are dotted around town or, if you enjoy nature, pay a visit to Mallorca's S'Albufera Natural Park.
Just 5km outside the resort, the park is Mallorca's most extensive wetlands and full of migrant birds of prey and native species such as stonechats and warblers. The park is open from 09.00am to 6.00 pm seven days a week. Large groups need to pre-book.
With its extensive number of bars, restaurants and clubs, there is something to suit all tastes during the evenings. Whether you want a quiet, friendly, family bar, international restaurant or loud entertainment bar, you'll find it in Puerto de Alcudia.
Accommodation is varied and plentiful across all levels, and ideal for your first family stay in Mallorca.
BEST PLACES TO STAY IN PUERTO DE ALCUDIA
13. Can Picafort, where to stay in Mallorca on a budget
As the most popular tourism destination on the Alcudia Bay, Can Picafort is probably the best deal in terms of Mallorca lodging. In recent years, this town has seen considerable tourism development, and many visitors are attracted to the numerous tours and activities that Can Picafort offers.
One of the highlights of this coastal town is the s'Albufera Park, which is the most pristine and accessible wetland region of the island; the marshland and rivers of grass of this park beg to be explored in the morning, and they can be complemented with a lazy afternoon at the beach.
Budget travelers will not be disappointed with the range of hotels on this side of the island.
BEST PLACES TO STAY IN MALLORCA IN CAN PICAFORT
14. Playa de Muro, best place to stay in Mallorca for a family beach holiday
The name says it all: this is a very large stretch of Mediterranean coastline protected by a seawall and a boardwalk where lots of beachfront hotels can be found. Playa de Muro gets crowded during the high season, and most visitors are families with younger children who enjoy the warm and shallow water.
If you choose to stay a few blocks from the ocean, Playa de Muro could very well be one of the most affordable beach spots in all of Mallorca, and you will still have easy access to restaurants, shops, bars, and more.
BEST PLACES TO STAY IN PLAYA DE MURO
THE WEST COAST OF MALLORCA
The West Coast, dominated by the Serra de Tramuntana mountain range (UNESCO World Heritage), is the best place to stay in Mallorca for nature-lovers and for outdoor activities like cycling and hiking.
15. Port de Soller, where to stay in Mallorca for nature and outdoor activities
This very elegant coastal village overlooks the Tramuntana mountains and features spectacular Mediterranean architecture.
The tourists who stay in Mallorca at Port Soller are likely in search of activities such as hiking, climbing, mountain bike trail riding, and open water swimming.
Just a 45-minute drive from the airport or the centre of Palma, and an hour's drive along the coast from Port d'Alcúdia, the pretty resort of Puerto de Soller, nestles on the west coast of Mallorca, with the village of Soller slightly inland to the rear of the port.
With a panoramic backdrop of pine forests covering the steep hillsides, and a palm-clad, sandy coastline, it exudes an air of laid-back sophistication.
The resort has two main sandy beaches. The main beach alongside the harbour is around two hundred metres long and shelves gently into the calm blue sea.
The second beach is a little further around the bay, closer to the village. Although another sandy beach, the first few metres into the water are quite pebbly, so plastic beach shoes are recommended for little feet.
Both beaches are well equipped with sunshades, beach beds and showers, while along the front, you will find beach shops, snack-shacks, bars and restaurants for all your beach time needs.
Water-sport equipment tends to be on the more low-key side, with paddle-boards, pedalos, water-bikes and kayaks available for hire.
The picturesque harbour and marina area has plenty of shops, bars, cafes and seafood restaurants. Here you can enjoy a snack, coffee or cocktail while spending a little time in the sunshine watching the waterborne activities.
Around Puerto Soller, you can visit the Soller Marine Museum and the two pretty churches of Santa Caterina and Sant Ramon de Penyafort.
A little further out you can explore the 17th century Torre Picada, a former watchtower that offers fantastic views across the harbour and beyond.
You will also find other museums and a few art galleries at Soller village.
Along the front is a wide pedestrianized esplanade that runs behind the two beaches. Lined with all the usual shops and stores, bars and restaurants, it is an excellent area to while away a couple of relaxing hours while you contemplate the evening's entertainment.
If you don't fancy walking or mobility is an issue, consider booking a trip on the vintage tram that runs six times a day from Puerto Soller to Soller village. Known as The Orange Express and dating back to 1912, the journey takes around 30 minutes.
If you feel inclined, you can change from tram to vintage train at Soller to continue the journey through to Palma.
This train runs a dozen times a day from Soller to Palma through the season, and the landscape as you chug through the Mallorcan countryside is nothing short of awe-inspiring. The journey takes around an hour.
In the evenings, there are plenty of family-friendly local bars and eateries and a few low-key entertainment bars, cocktail bars, and international restaurants to suit most tastes.
Between Puerto Soller and Soller town, the accommodation comprises smaller boutique hotels, private fincas and villas, with more limited self-catering capacity. Nevertheless, it is a great area to enjoy your stay in Mallorca.
BEST PLACES TO STAY IN PORT DE SOLLER
Have you considered Mallorca for a winter break?
Although Mallorca is generally considered a seasonal summertime resort, open April through October, it is becoming increasingly popular for short winter breaks, with people more interested in walking, hiking, biking and nature than days working on the suntan.
Yes, many hotels and tourist facilities close through the winter, so a little resort research will be required to find out the best side of the island to stay on and check up on what is and isn't open.
But this is repaid with cheaper air-fares and accommodation costs, as well as not having to queue for anything with hordes of other tourists.
Even in the colder months of December, January and February, the average daily temperature is over 10°C. So if you're considering a winter week away this year, put on a warm jacket, and enjoy a stay in Mallorca, far from the maddening crowds.
Photos: Shutterstock