Are you wondering what to do in Mallorca? You will find plenty of things to do and see in Mallorca. The island is simply overflowing with long stretches of sandy beaches, gorgeous isolated coves, hiking trails, cycling routes, limestone mountains, authentic local towns, wineries, beautiful coastal drives, and more fresh produce than you can imagine to sample.
30 Best Things to do in Mallorca
We look at the top 30 things to see and do in Mallorca here.
1. Visit Palma de Mallorca Town
One of the first things for you to do in Mallorca should be to visit the island's fascinating capital Palma de Mallorca. This lively medieval town offers so many things to take in while you are here.
The city itself counted Romans as founders, Vandals as sacking barbarians, Byzantines as liberators, and Moors as conquerors. It was King James I of Aragon who brought Palma de Mallorca and the other Balearic Islands under Spanish control.
The port city has prospered with the rise of mass tourism to these Spanish islands. Besides drawing in sun lovers in its own rights, Mallorca benefits from tourists who pass through (and spend time here) on their way to the European party capital Ibiza or the other sister island Menorca.
In the old town center you can see a number of little historic churches, the imposing Gothic styled Mallorca Cathedral, the fortress royal palace la Almudaina, called the Alcazar, and winding but narrow streets well worth the time to explore. Today's Palma boasts plenty of restaurants, high end hotels, bars, cafes, and shops to experience and enjoy.
2. Enjoy Local Produce from the Santa Catalina Markets
Enjoying the local produce is an activity that you must do in Mallorca. The suburb of Palma (called Santa Catalina) has markets overflowing with fresh locally grown varieties in this old fishing village.
While here, you will get to enjoy the charming traditional houses that include antique wooden shutters, brightly painted facades, and little front balconies (often endowed with beautiful flowers or plants by their owners).
The Mercat de Santa Catalina proves to be the oldest food market in Palma, dating back to 1920. A huge number of area cafes, restaurants, and super yachts call this market their source of supply.
If you stay in the Santa Catalina town itself, you can visit it on a daily basis. The nice thing about this market is that it is not overrun by tourists as in other Spanish towns like Barcelona.
Here you can select from a huge range of delights including fresh seafood, cheeses, meats, vegetables and fruits, baked goods, local delicacies, and even fresh cut flowers. The market also offers a number of good bars throughout the premises where you can enjoy the local tapas if you do not want to cook.
Palma the city is only a ten minute walk from here, making this a practical place to stay while visiting the capital if you want to save money over pricier alternatives in the city's heart. Santa Catalina offers an interesting marina and many of its own unique bars, restaurants, fresh markets, and shops in a more local feeling environment than the capital does.
3. Take in the Medieval Palma Cathedral
One of the more impressive attractions to see in Mallorca that you should make it a point to visit while in the capital Palma is the Santa Maria of Palma Cathedral. It is most often referred to as La Seu.
This is a simply huge Catalan styled Gothic cathedral found within the Palma old city limits. It lies next to the Mediterranean Sea and the Parc de La Mar. Liberator King James I of Aragon started the cathedral's construction back in 1229.
This magnificent church was not finished until nearly 400 long years later in 1601. The cathedral's greatest claim to fame is the second tallest nave of any Gothic European cathedral. This rises to over 135 feet (44 meters) tall.
4. Take a Catamaran Snorkeling Trip
A snorkeling trip aboard a catamaran is not an experience to miss when you are looking for things to do in Mallorca. These day cruises come complete with a barbecue and wine. You can choose from a full day, half day, or sunset catamaran cruise that departs from one of several places on the island.
Oasis Catamaran offers snorkeling trips leaving from the Santa Catalina marina, which is also pretty convenient for people staying in adjacent Palma. They offer lunch, snacks, and as much wine as you would like with the meal.
Cocktails are also available for purchase during the rest of the day. The catamaran cruise provides snorkels as well as paddleboards to make the snorkeling trip in the crystal clear waters more enjoyable.
Read also: Where to Stay in Mallorca
5. Idle Your Way Through the Streets of Soller
Soller may be in the interior of the island (and not on the sea), but it is an authentic experience that is something you should see and do in Mallorca. It lies in a valley separated from the sea by mountain ranges.
The town is a local gem for soaking up the real Mallorcan lifestyle. When you wander through the town's narrow back streets, you will be surrounded by farmhouses, cottages, and the local people carrying groceries. On the main street you will find your way to the gorgeous Placa Constitucio plaza.
This is lined with ice cream shops, cafes, stunning architecture, and traditional Spanish apartments complete with green doors.
6. Take the Train or Tram to Port de Soller
Soller has a popular attraction that you should not miss out on your list of things to see in Mallorca. You can board the vintage tram from the center of town and ride it all the way to Port Soller. This is a 30 minute enjoyable journey for adults and children alike.
If you have more time, the Tren De Soller will take you all the way from Palma train station to Soller first. This approximately hour long journey gives you hidden views of the most beautiful countryside on the island from within the historic wooden carriages.
This train started operation back in 1912 and remains an enjoyable way to see parts of the island that you would otherwise miss out on. You are able to purchase these train tickets days in advance, while the tram tickets have to be bought on the tram when you board.
The way to get both of the tickets ahead of time is to book the Tram and Train package online (to make your journey more seamless).
7. Experience the Wild Drive to Sa Calobra
If you rent a car, you can drive it along the perilous road to Sa Calobra. This drive is something adventurous to do in Mallorca. It winds and twists along for eight miles (13 kilometers) through the mountains until it reaches the Sa Calobra bay.
Making this route more hair raising is the fact that it lacks either lines delineating the center of the road or guardrails protecting you from sometimes precipitous drops.
This potentially most dangerous road in Spain comes complete with many hairpin turns, a gain in elevation of around 2,200 feet (720 meters), and even a 360 degree curve that twists around and goes beneath itself. This activity is not really for the faint of heart.
8. Explore Land and Sea Caves on Mallorca
Mallorca also offers many different caves available from the land and the sea. Two of these attractions that tourists flock to are the Coves del Hams and the Coves del Drach. Each of these lies along the eastern part of the island near by the Porto Cristo town.
You can take tours to the caves from both Porto Cristo and Palma itself. Exploring the caves is a worthwhile thing to do in Mallorca.
The Caves of Hams is particularly impressive. This walk takes you along around 2,600 feet (850 meters) of fascinating caves. There are 15 separate areas to see. You will be stunned by the underground lake known as the Sea of Venice with its Magical Mozart Show. This attraction awes both children and adults.
9. Try the Seafood in Port De Soller
Whether you come to the Port De Soller via the tram (or by boat), you should not miss the fresh seafood caught and offered here. This traditional fishing village lies along the Serra de Tramuntana Mountains on the western edge.
Until the island opened a new tunnel back in the 1990s, it was difficult to reach the town, making it an undiscovered gem. Now tourism has reached this beach town that is really something to see in Mallorca.
Here you will enjoy many fine seafood restaurants, local taverns, and interesting boutique shops. The tram from the interior town of Soller is a stress free and enjoyable way to reach Port Soller.
10. See the Moorish Palace of Mallorca
An attraction that everyone should see in Mallorca is the Moorish built Palacio Real de la Almudania. It is often called the Alcazar, and is a fortified Moorish palace. The Arabs originally built it after their conquest in the 1000s, but its present form was rebuilt by King James II of Mallorca in 1309.
This palace functioned as the Kingdom of Mallorca's royal palace up unto the time the islands became a part of the Kingdom of Aragon in 1349 during the reign of Peter IV. While King James II made the palace into a Gothic style, it still showcases some Islamic architectural traces.
The courtyard is noteworthy and dates from the 1300s, while the garden was rebuilt during the 1960s. This is still a royal residence to this day.
11. Try the Most Photographed Beaches in Mallorca
This beautiful island has no shortages of desirable beaches for you to see in Mallorca. Two of these are quite possibly the most photographed ones here. Calo Des Moro is a little hard to find, but once you reach the parking lot it is only a matter of following the tourist and local crowds to reach the beach.
If you try to get creative and go another way, you will enjoy many spectacular views but probably not reach the beach. Calo Des Moro offers the most stunning, clear waters that the island boasts.
The downside is that there are not any manmade facilities here or much space for towels. You should be ready to sit on one of the many rocks when you arrive.
If you find the Cala Des Moro to be overcrowded, you can try the neighboring beach. This is called Cala S' Almunia. You will need to hike down to the swimming access. It is worth the effort to reach.
12. Take in An Amazing View then Relax at Formentor Beach
Another great beach that involves a stunning view on the way to it is the Formentor Beach. The vistas from this Mirador Es Colomer viewpoint along the way prove to be among the finest to see on Mallorca.
There are towering cliffs and glorious sea views all around. Be prepared for a little walking to reach the best spot at the top. Parking is a potential problem here.
The beach at Playa Formentor lies on the island's northeastern tip. No itinerary of things to do in Mallorca is complete without coming to relax here. The beach itself is narrow and long and comes complete with shallow, crystal clear water. You can avoid the crowds by coming in the later afternoon.
The beach includes facilities for changing, rental sunbeds, showers, and paid parking. There is also a restaurant, but be warned that you will overpay for the convenience of eating here. Another way to reach the beautiful Formentor Beach is via a boat leaving from Pollensa.
13. Visit Valldemossa and Take the Olive Grove Tour
An interior village that is worth a visit here is Valldemossa. It lies in the heart of the Tramuntana Mountains. This village is encircled by olive tree groves. The most famous attraction found here is the 1300s era Royal Charterhouse. Frederic Chopin made it his winter home once.
The village itself comes complete with cobblestone streets, sandstone buildings, and well manicured gardens. There are also some boutique stores, cafes, and fresh local grocery stores.
You might spend half a day in the town or extend the visit by planning a trip to tour the Son Moragues Olive groves if you like.
One local delicacy you should try while here is their Coca De Patatas, also known as a potato roll. These commonly come along with an excellent cappuccino.
While they are made using eggs, yeast, sugar, salt, and mashed potatoes, it is the liberal sprinkling of powdered sugar on top that makes them divine. The taste is reminiscent of fresh sourdough but sweeter.
14. Visit the Museum of Spanish Artist Joan Miro
Something that most visitors to Mallorca are not aware of is that internationally renowned Spanish artist Joan Miro spent a great amount of time in Mallorca. His mother and wife Pilar both hailed from the beautiful island.
The artist and his wife established the Fundacio Pilar I Joan Miro museum to house many of his works in 1981.
Close by to the foundation is the studio that Miro worked in from the end of the 1950s until he died in 1983.
This studio is a part of the museum today. In this museum tour you are able to see an impressive in excess of 6,000 of his works. These include his paintings, sculptures, and library. This is a must-see activity for art lovers.
15. Experience Beautiful Mondrago Natural Park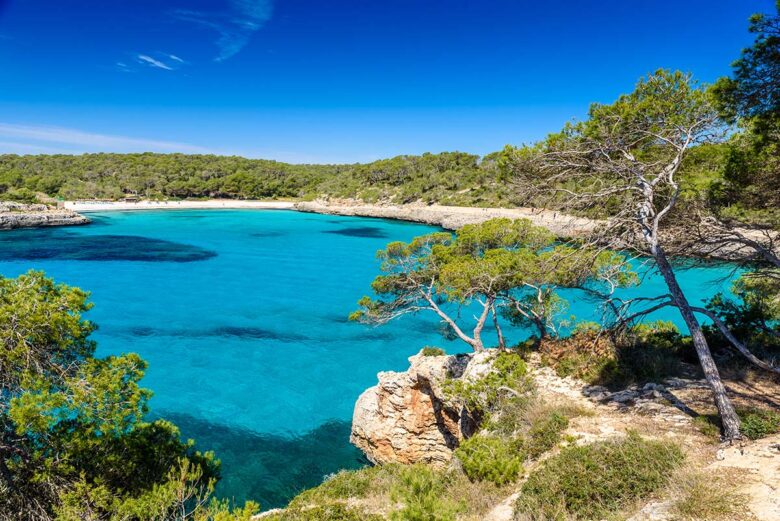 There is a delightful coastal nature reserve in Mondrago Natural Park. This excursion is among the finest day trips to be had on Mallorca. You can explore cliffs, beaches, wetlands, and trails all in the one destination.
Even though it is a popular outing, you will find it to offer plenty of peace alongside the stunning natural beauty of the island.
The spring time is an ideal point to visit Mondrago. Mallorca's climate is temperate then so that you can enjoy the various trails that may offer more of a challenge or greater length. The colors are amazing here, with the contrast of verdant trees, beautiful azure waters, and natural cliffs.
These beaches are bordered by sand dunes and pine forests, making it an interesting place to explore. You can only reach the beach with a car as the public transport and tour buses do not stop here.
The primary beach is S'Amarador Beach, but there are also walking distance Cala d'en Borgit and Cala Mondrago beaches. S'Amarador offers soft powdery sand and pristine waters. While there is a snack shack that provides food and drinks, you might be better off bringing your own supplies along for the day.
16. Visit Bellver Castle and Its History Museum
Everyone will appreciate the magnificent and enormous Bellver Castle at the city limits of Palma. It remains among the greatest attractions in Mallorca. The 1300s fortress was a royal residence and then a military prison in the 1700s.
Today's fortress is carefully maintained. There is a good history museum inside. This castle is unique in its circular design as there are only a few such laid out castles in all of Europe. Everyone coming to the island should take the time to visit Bellver Castle.
17. Enjoy the Views from the Formentor Lighthouse
For a lighthouse and interesting view combined into one attraction, it is hard to beat the Formentor Lighthouse (or Cap de Formentor). This lies in the island's north and provides incredible vistas over the nearby bays.
At over 900 feet high (300 meters), the cliff top lighthouse is a postcard perfect site. You can get to it by taking the primary road from the Port de Pollenca. The site is definitely worth the effort to get here (but needs a car to be fully enjoyed).
18. Experience the Markets and A Meal in Santanyi
Santanyi is a traditional Mallorcan town lying in the island's southeast. It has managed to escape the impacts of tourism that include hotel chains and huge resorts. The restaurants here are charming but pricier than in other towns around Mallorca.
One recommended restaurant venue is East 26 with its peaceful courtyard. You should also plan to see one of the town's numerous galleries. Come on a Saturday to experience the local market that takes place within the town's main plaza.
The town makes an excellent stop en route to area beaches like Calo Des Moro, Cala Santanyi, and Es Pontas.
19. Party Like a Hedonist in Magaluf
While Ibiza (the better known sister island of Mallorca) has the greater reputation for hard partying (as a leading party spot in the world), Mallorca has a party scene of its own. Magaluf is the infamous place to find this.
Along the main street lie a variety of clubs, more than 50 bars, many fast food places, and countless (mostly English) drunken tourists celebrating bachelor or bachelorette nights.
The reputation of Malaguf means that it is not for the timid. You will experience loud music, bright neon lights, and a number of individuals who have simply passed out on the streets.
20. Try Watersports at Es Trenc Beach
Water sports are easily enjoyed from the beach at Es Trenc. This among the most beloved of beaches with tourists lies on Mallorca's south coast. It has over a mile (two kilometers) of crystal clear waters, sandy beaches, lifeguards, chair and umbrella rentals, and toilet and shower facilities.
There are also several bars and restaurants as well as a few mini grocery stores. The place is ideal for trying out many different water sports here like kayaking, windsurfing, paddle boarding, and snorkeling.
You should plan to bring along your equipment with you as there are not rental facilities for the water sports here. Keep in mind that this is among the busiest of Mallorcan beaches, meaning that it is full of crowds (even though it is long).
If you want to find parking (that is not miles from the beach) you should plan to arrive either really early or later in the afternoon.
21. Experience the Tranquility and Majesty of the Santuari de Lluc
A majestic spot to experience on the island is the Santuari de Lluc. This monastery on the island's northwest is an architectural delight that is also a famous pilgrimage site.
The building's exterior may not look like much, but within there are beautiful sights to see including detailed frescoes and the golden covered alter.
A real treat is to catch the world famous Santuari choir Els Blauets performance. To get the full monastic experience, you can stay overnight in one of the former monk cells.
22. Relive the History of the Castle of Capdepera
An important and interesting site to see on Mallorca is the Castle of Capdepera. The fortress experienced a contested past with Romans, Moors, Byzantines, and Spaniards all wresting control of it at different times.
There is an interesting historical story from the place. The castle was key to King James I of Aragon taking over Menorca. He had huge fires set on the grounds of this castle that the Saracens in Menorca could see.
They worried that a huge army had landed and feared being the next target of the invasion so surrendered.
23. Tour Mallorcan Wineries
Wines from Mallorca are continuously becoming more popular. There are over 70 local producers on the island now who provide vinery tours and wine tasting. Each of the five regions on the island has its own distinctive wine growing climate, and these produce different wines.
The regions where you can go and try out the different wines include El Mijorn, Serra de Llevant, El Pla, El Raiguer, and the Sierra Tramuntana.
Two of the popular wineries are Bodegas Angel and Bodegas Macia Batle. The vineyard at Bodegas Angel is postcard perfect with the sandstone facade, pillars made of wood, and creeping vines.
Your tour starts in the courtyard where your wine tasting options are poured so that you can sample the wines at your own speed. This tour, with its wine, tasting, and snacks, costs 15 euros for each person.
The Bodegas Macia Batle provides an additional advantage of being family owned. This vineyard has produced wine going back to 1856. As an indigenous Balearic Island variety of wine, it has an intense full feel with smashed berry scent.
Even if you are not a wine connoisseur, you will enjoy the homemade snacks that include olive oil, olive tapenade, jams, and almond cream. The portions are generous and delicious. What makes this tour so special is that it is led by a local woman who passionately loves the products.
The cost for this wine tasting and homemade snacks is only five euros per person. They discount this fee off the price of a bottle of wine if you purchase one.
24. Take in the Valldemossa Charterhouse
The Valldemossa Charterhouse is well worth a visit all on its own. This former monastery and royal residence is also called the Royal Charterhouse (of Jesus of Nazareth) or the Royal Carthusian Monastery.
Besides the beautiful building, you get to enjoy the epic views of the Serra de Tramuntana that surround the property. More than simply a place where Chopin wrote music one winter, the charterhouse has a long tradition of art.
There is a worthwhile fine arts museum on the premises. Here you will be able to enjoy works by such greats as Miro and Picasso.
25. Cycle Around Mallorca
Cyclists are well aware of Mallorca. It has become among the most famous hot spots in the entire world for cycling, thanks in no small part to the more than 300 days of sunshine per year.
It helps that the roads are exceptionally smooth and the terrain offers a variety of challenges as well. Mallorca offers more than 2,500 individual cycling routes.
The sport has become so beloved and famous here that you will find entire hotels catering just to cyclists and also cycling training camps. If you ever thought to try out cycling, this is a great place to do it.
26. Take the Palma de Mallorca City Hop On Hop Off Bus Tour
The city of Palma de Mallorca offers an excellent hop on hop off bus tour. From the open air bus (similar to ones you will see in other Mediterranean islands like Malta), you are able to enjoy both the fantastic weather and the best highlights of the capital.
The route features 18 individual stops around Palma so that you can get off and enjoy whichever (or all) of the attractions you prefer at your own speed.
Palma provides a terrific backdrop of a fabulous combination of culture, history, and nightlife. In the central part of the city, you will encounter narrow streets squeezed in between the towering walls from ancient buildings.
This bus takes you to all of the best spots. You can see the Palau de La Almudaina — the royal palace that remains from the Arab period and is still a residence of Spain's royal family.
In the one of a kind Poble Espanyol you will see a wide range of style of architecture that represents the different types found all around Spain. Plaza de Espana is a lovely scenic place where you can really appreciate the island's beauty.
This hop off ability means that you can enjoy the local color and culture to the fullest. The commentary is available in multiple languages including English, Spanish, Catalan, Italian, Russian, German, French, and Chinese.
27. Spend a Day at Marineland Mallorca
No Spanish island would be complete without a marine park, and Mallorca is no exception. Marineland Mallorca allows you to take in a wide variety of the sea's amazing animals in one stop.
You will see different shows including sea lions, dolphins, and exotic bird performances. Seven dolphins entertain you in the dolphin performance. Sharks circle in the aquarium.
In fact the park provides you with three different aquarium environments to enjoy. The park also offers an impressive aviary (complete with penguins and flamingos) as well as a simulated tropical rainforest within the Tropical House that is fun to explore (especially for the children).
28. Take A Day Trip to Sa Dragonera Island
If you are looking for an interesting and worthwhile natural island daytrip, you should consider Sa Dragonera. This islet is uninhabited and is preserved as a natural park. Visitors can reach it by kayak or boat and explore it from either of these modes of transportation or by foot.
The park is actually three little islands. They are populated by many lizards that freely range through the islets, contributing to their name of dragon. Another argument for the name is that the spiky peaks of the islands give them a dragon like appearance.
In any case, the day trip provides you with an incomparable place of beauty and tranquility to explore.
29. Visit the Palma Aquarium
Besides its Mallorca Marineland, the island also has the Palma Aquarium. This is a great day to spend with the family if you need a break from the ubiquitous sunshine. This aquarium is complete with a wide range of sea life. You will see everything from octopuses, eels, and rays to starfish and seahorses within.
The facility is well designed to entertain adults and children alike with many activities. These include a shark vision boat, touch pool, and impressive outside playground. As the aquarium is open seven days a week, it is easy to manage a visit to it around your other activities on Mallorca.
30. Enjoy the Western Water Park
Magaluf offers more than just wild nightlife. The complex also boasts the island's Western Water Park. Here you will be able to get your blood pumping on thrilling slides and rides. There is also a calming lazy river on which you can float down after you have experienced enough of the thrills.
For the highest slide in this park, try out the aptly named Beast. It is also the 11th highest slide on earth. Slide enthusiasts will not want to miss it. Lines to the park are understandably longer in peak season.
If you come in the months of September or May, you can skip the lines and ride the slides all day long to your heart's content.
Photo: Shutterstock