Not sure where to stay in Menorca? This guide is for you!! We know it can be difficult for first timers to narrow down the best places to stay in Menorca. We've detailed some of the best areas. Keep reading!!
Menorca, or Minorca, could be one of the last unspoiled paradises in the Western half of the Mediterranean Sea. Boasting shallow beaches that gently shelve and a color palette that varies from bright turquoise to a dreamy deep blue, much of the coastline of Menorca could vie with a Caribbean or South Pacific paradise island.
Even better news for people in Europe, this little piece of heaven on earth lies in a 2.5 hour flight range from the most populous cities on the continent.
Even though it is a small island of the Balearic Islands, Menorca boasts a greater number of beaches than all of the other sister islands combined. The hardest thing about the island is to decide the best areas to stay in Menorca, which offers so many good choices.
The island is a nature lover's paradise. In 1993, it received the coveted designation of UNESCO Biosphere Reserve. Since then, this island has gained a much deserved reputation as a paradise for nature lovers. During the months of the spring, its many rural meadows shows a panorama of beautiful wild flowers.
One of the great delights of the island is its 116 mile ring road that skirts the entire island coast. This Cami de Cavalls proves to be an ancient coast road encircling the whole island. As such, it provides access today to the remotest beaches, secluded spots of natural beauty, and sharply plunging cliffs en route.
The inhabitants originally created this road to give them effective access from one watchtower to the next so that the locals could be guarded from sudden pirate raids and bloody seaborne invasions. After having been closed down for 400 years, this historical route of extraordinary beauty became reopened back in 2011.
The island boasts more then simply secluded unspoiled beaches and nature. Menorca offers visitors its renowned reputation for being a welcoming family friendly destination.
You can even travel throughout the countryside on horseback, enjoy a trip across Mahon's harbor riding in a glass bottomed boat, or take in the water slides found at the Aqua Center in the western part of the island near Ciutadella.
For wilder interests there is a wide range of exciting activities including mountain biking, stand up paddle boarding, trekking, snorkeling, kayaking, and bird watching.
The island boasts two historic cities: the original capital Ciutadella and newer capital Mahon. Current capital Mahon (since 1721) boasts the second biggest natural harbor in Europe.
Where to Stay in Menorca: 14 Best Areas
With so many wonderful, unspoiled attractions here, the biggest challenge is to decide where to stay in Minorca.
Not surprisingly, there are more than a dozen great choices for where to stay in Menorca, ranging from sophisticated, historic cities like Mahon or Ciutadella to outstanding natural beauty coastal resort areas. In the rest of this article, we will look at the many exciting best places to stay in Menorca.
1. Mahon, where to stay in Menorca for shopping
Mahón, also called Mao, boasts a singular attraction in its harbor, among the biggest natural harbors anywhere on earth (and the second largest in Europe). It was designated the island's capital in 1721 after it took over the longstanding tradition from Ciutadella.
Today Mao's port has a vibrancy and buzz by day that only truly comes to life at night. There are a range of smaller clubs and bars that rock the night away.
Music lovers will find musical and jazz concerts around the year in several venues such as the Es Freginald Park and the Claustre del Carme. The summer festival offers opera weeks on a regular basis from May through December.
Mao also has an impressive church well worth seeing. This is the Santa Maria which dominates the main square. Its star attraction remains the impressive organ that contains more than 3,000 individual pipes.
Tourists love the mostly traffic free walking town complete with trendy boutiques, cake shops, pottery shops, and leather shops, as well as purveyors of fresh fish and other foods for those choosing to self cater.
The old convent building boasts a fresh market during two days per week. You can also enjoy a wide range of concerts and other musical events in the convent building.
On the northern side of Mahon's harbor is the fortress La Mola de Menorca. This attraction is definitely worthy of your time. It contains the enormous Vickers Gun, long tunnels that you can explore, and a number of fantastic photo opportunities, making it a must-see attraction when you are staying in (or even just day tripping to) Mahon.
A water taxi or a tour will take you across the beautiful harbor from the port of Mahon over to La Mola, from where you can enjoy fantastic views of the harbor from a unique perspective.
Mao offers a range of different accommodation choices. These vary from little family run hostels hidden in the countless historic backstreets on up to four star luxury hotels that boast staggering views over the harbor and island.
If you are looking for where to stay in Menorca, you will be spoiled for choice in Mahon. Clearly it offers some of the best places to stay in Menorca.
Best Places to Stay in Mahon
2. Punta Prima, where to stay in Menorca for families
To the southeast side of the island lies Punta Prima. At around 15-20 minutes drive from the island's only airport, Punta Prima proves to be a well-established mixture of villas and residential styled resorts. They also have five good hotels that cater to the lovers of packaged holidays.
Punta Prima has the advantage of lying in the so-called golden triangle of the southeast of this island. This means that there are many surrounding towns and villages that will keep you busy with choices of places to explore.
Beach lovers will enjoy the superior deep beach that offers something for everyone. To the right side of the beach is a special little beach reserved for families with little children.
This includes a no cost toddler's area to play, with swings, slides, and climbing equipment located close to the beach's parking lot. There is an even bigger children's playing center containing all they could ask for nearby as well.
In the area hotels of Punta Prima, some nightlife entertainment is found. You can partake of it (if you are not actually staying at one of the hotels) for the price of a few drinks. Serious party-goers should head to Mahon.
Best Places to Stay in Punta Prima
3. Binibeca, where to stay in Menorca in a villa
Binibeca is one of the best places to stay in Menorca. A place that has not yet been overrun by the package holiday catering firms on Menorca is the south east corner's Binibeca. This location is framed by beaches and rocky coves both along the west and the east.
This is an area of rental villas which locals own and cheerfully rent out to discriminating tourists. It allows for quality holidays in a truly unspoiled and peaceful environment.
To fully enjoy this area, you will want to rent a car, since the local area's public transportation leaves much to be desired. A mini fun train runs to the more built up Punta Prima throughout the course of each day and there is a regular bus line that connects with Sant Lluís and Mahon.
The beautiful beach of Binibeca is one of the town's great attractions. This lies a short walk off of the main road across sand dunes and through trees. Here there are golden sands and shallow waters that provide water sports equipment and amenities you can rent.
Just east of Binibeca lies Cala Torret, a small development that is traffic-free. It is made up of low lying apartments, restaurants, bars, and souvenir shops. Supermarkets here carry items that are made in England.
It only takes a few minutes to get here from Binibeca Beach. West of Binibeca is the Pueblo de Pescadores, where the island is recreating a traditional Mediterranean styled fishing village.
Best Places to Stay in Binibeca
4. Cala en Porter, great beach and lively area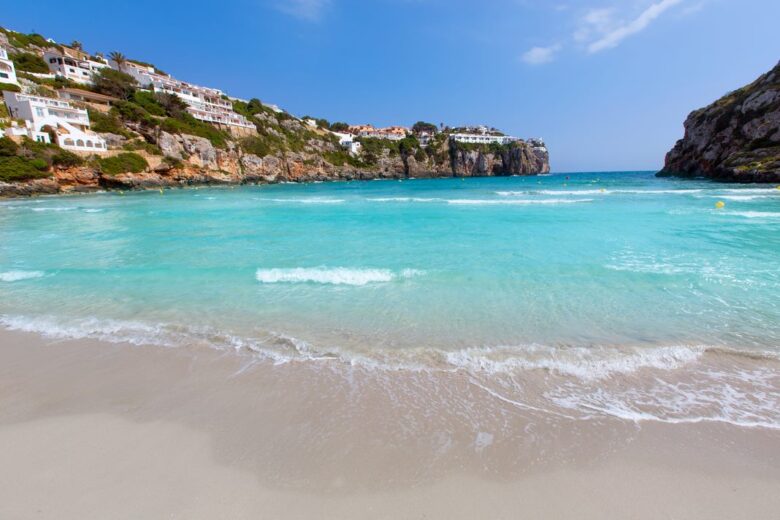 Cala en Porter gives you the combination of a beautiful powder white sandy beach on which you can relax while you enjoy couples-centered water activities by day and good places to eat out at and get a drink at by night.
Cala en Porter is one of the most lively places in the island. It is one of the favourite places to stay in Menorca amongst British tourists.
This is the home of the island's most iconic bar where you can enjoy a sunset coupled with night out at Cova D'en Xoroi. This bar has terraces literally hanging off of a rocky cliff that overlooks the Mediterranean.
This is among the most frequently photographed clubs in all of the Balearic Islands. Besides an amazing location that is completely unique (the bar backs into caves), the terraces overlook the stunning sea below the cliffs.
There is no better location from which to enjoy a drink while taking in an incredible sunset and listening to live dance music afterward.
Best Places to Stay in Cala en Porter
5. Son Bou, great for families and water sports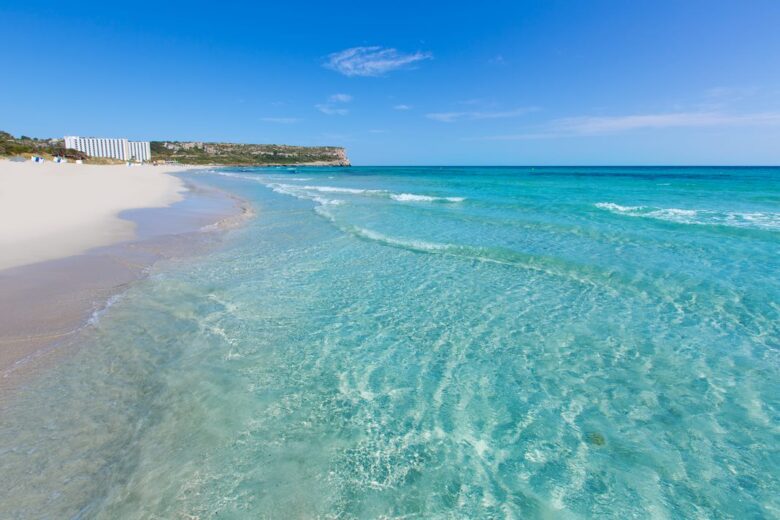 Midway down the south of Menorca lies Son Bou. This town boasts a two kilometers long golden sandy beach that is perfect for sun bathers, young families with small children, and lovers of water sports.
A few cafes and beach bars line the beach along with plenty of umbrellas and sunbeds that you can rent. There is a commercial center along the eastern side of the beach that is open all day to for provide the daily needs of tourists. Here you can find a range of eateries and bars that work for all types of budgets.
Son Bou has two large hotels plus many rental villas and apartments. In summer, you can enjoy live entertainment that includes live bands and karaoke nights.
Son Bou's other appeal is it lies a short distance away from the prehistoric village Torre d'en Gaumes. This Talayotic settlement was lived in for more than a thousand years. There is a reasonable admission charge that goes to preserve the island's local history.
Son Bou is one of the best places to stay in Menorca no matter what kind of tourist you are. It has everything you need for a perfect holiday.
Best Hotels to Stay in Son Bou
6. Santo Tomás, where to stay in Menorca for absolute relax
For those in search of less active resorts that are more self contained holidays, Santo Tomás fits the bill nicely. It boasts a holiday resort made of mixed commercial and private villas near the entrance of the resort.
Farther up the hill there are seven hotels that cater to the couples and families who feel more comfortable with packaged tour holidays.
The resort town offers scenic but relaxed surroundings (whether in an apartment or villa or hotel room). This is definitely not the best area to stay in Menorca for those who love non-stop nightlife.
The beach does rent out a variety of water sports equipment. The resort offers beautiful surrounding countryside to take in too. The hillside is covered with natural pine forests. This natural area of Es Migjorn surrounds Santo Tomás.
The hilly countryside is perfect for off track cyclists and walkers alike.
The western sides of the resort are where the private villas for rent are found. These provide fantastic sea views for independent minded visitors.
With only a single road leading in or out of Santo Tomás, day trippers steer clear of it generally, leaving it to the few residents and the seasonal holiday makers.
Outside of summer season it is very quiet and completely relaxing, when the hotels close down and only the private villas are available to rent.
Best Places to Stay in Menorca in Santo Tomas
7. Cala Galdana, one of the most beautiful beaches
Entirely given over to tourism, Cala Galdana lies in the Ferriers area. This resort claims the spot of among the most beautiful bays in Menorca. With a shallow and protected water beach, the place is ideal for families who have smaller children.
The entire family will find this beach well-equipped with activities and services suitable to entertain all ages. For families with children, this is definitely among the best places to stay in Menorca.
Besides the beach, Cala Galdana offers fantastic natural surroundings. An enjoyable pine forest is but a few minutes south of the bay. Here are among the most photogenic beaches in all of the Balearic Islands. You will not want to miss Cala Mitjaneta, Cala Mitjana, and Trebaluger beaches.
Best Places to Stay in Cala Galdana
8. Ciutadella, where to stay in Menorca for nightlife
The history of Ciutadella dates on back to the Roman days. The Contramurada Wall rings the town even today. This is where the town's original walls would have stood. An ideal place to start if you want to study the island's history.
Ciutadella also offers fantastic restaurants by the port. An excellent choice to accompany any meal here is a Pomada. This intensely refreshing drink comes from the cult drink of Menorca, Gin Xoriguer mixed in with lemonade.
If you are here in July or August, you can take in the showcase of classical concert styled artists in the Summer Music Festival. The local Capella Davidica folk group from Menorca is also highlighted at this festival.
Because Ciutadella remains the Menorcan religious center, you can see the beautiful little cathedral of the Plaza de Pio XII. This town is imminently walkable, with the most enjoyable way to take in both cathedral and other attractions being by foot.
You can spend hours wandering happily down narrow streets where you can mix with the local inhabitants as they partake of their daily lives. Avenida Negrete is sidelined by palm trees. It makes a lovely stroll before you walk into Plaza de Los Pinos and end in Plaza Borne Ciudadela next to the town's hall.
This town hall building is an attraction all by itself. The walkway here provides phenomenal views of the appealing marina waiting below in what is among the smallest harbors in Europe.
Smaller hotels and family run hostels would comprise most of the accommodation in Ciutadella. Bigger hotels can be found in the nearby beach areas. Ciutadella city and its surroundings is the most touristic area in Menorca.
Best Hotels to Stay in Ciutadella
9. Cala Blanca, nice beach area
Found on the West Coast of Menorca around five kilometers to the south of Ciutadella, Cala Blanca lies a good 40 minutes from the airport.
This resort fronts a turquoise inlet ending in the Cala Santandria Beach, while its other side abuts to the beach Playa Cala Blanca.
All accommodations in this resort town are in close proximity to one of these two beaches. West coast resorts like the ones found here are better to reach using transfers instead of taxis, as the high priced taxis here run from 60 to 70 euros only riding one way from the airport.
Best Places to Stay in Menorca in Cala Blanca
10. Cala en Bosch, great for couples and families
Cala en Bosch boasts beautiful crystal clear waters and powdery white sand coupled with all the needed amenities for an upbeat holiday. Local Menorcans also refer to this area as Cala'n Bosch.
It is something unusual in Menorca, a modern styled resort town found on the far south west coast of the island, located about 10 kilometers to the south of Ciutadella or 56 kilometers to the west of Mahon and the island's international airport.
This ever increasingly popular resort town has a stunning harbor that draws in locals and visitors alike in evenings. Here you can take in an enjoyable fresh seafood meal and the marina's lively atmosphere. Stalls set up and sell authentic local crafts and arts here as well.
If you are feeling too lazy to walk, you can explore the rest of the town on a mini fun train that traverses the resort town and also goes to the neighboring resort district of Son Xoriguer.
This town provides every facility and amenity you would want to make your holiday enjoyable. This means you have restaurants, bars, banks, pharmacies, and little supermarkets here. If you require a more significant grocery store or bigger shop, you would want to go into the nearest bigger town of Ciutadella.
The resort and beach run into neighboring Son Xoriguer. Both are justifiably famous for being excellent family friendly destinations on Menorca.
With beaches at Cala'n Bosch and Son Xoriguer that are worthy of dying for, some of the most crystal clear waters you will ever experience, and a pure white sand beach, you also get great facilities and fantastic water sports.
Both beaches boats water sports companies providing windsurfing and sailing equipment (and lessons) you can hire, canoeing, water skiing, and even catamaran sailing.
In the marina you find most of the restaurants and bars. You can choose from incredible fresh seafood to take away foods and snacks. This is definitely the home of bigger hotels in terms of local accommodation.
Best Hotels to Stay in Cala en Bosch
11. Son Xoriguer, where to stay in Menorca in a luxurious resort
The other resort on the South West tip of Menorca lying next to Cala en Bosh is Son Xoriguer. It has incredible views across to neighboring island Majorca and is only 10 kilometers to the south of the beautiful historic old city Ciutadella.
For the quiet island of Menorca, Son Xoriguer proves to be a livelier resort town. Its nightlife and atmospheric hub is at the yacht marina. Here you will find many restaurants and bars lying along the marina, where you can watch as the boats come in and go out, in no particular hurry.
There is also a little selection of vendor stalls and shops open in the evenings to browse once you have finished lying on the sandy beaches all day. The resort town offers a glass bottomed boat day trip.
You can hop into Ciutadella in 15 to 20 minutes. Thanks to a last late bus service offering of 12:15 pm from Ciutadella, you can spend a long evening there if you wish before returning to the resorts.
Son Xoriguer and neighboring Cala en Bosch were only constructed in the 1980's as purpose-built modern resorts. This makes them among a relative handful of such resorts (anywhere on Menorca) that was custom built for the purposes of tourism.
It is why it boasts more touristic attractions than the other island resorts and proves to be a livelier spot where to stay in Menorca. Son Xoriquer also claims the greatest concentrations of both aparthotels and hotels in Menorca. This also makes it both seasonal and not at all authentic Menorca.
For those who want to be close to the modern tourist conveniences but not in the middle of the noisy action, there are quieter apartments and villas for rent nearby in the Cap D'artrux area that is an easy 10 to 20 minutes walk from the resort town's marina.
This town boasts its own beach that runs into neighboring Cala en Bosch beach. The Son Xoriguer beach lies surrounding the headland while Cala en Bosch's beach lies next to the marina. The whole town boasts a wide range of resort accommodations ranging from higher end to more budget friendly.
Best Hotels to Stay in Son Xoriguer
12. Arenal d´en Castell, one of the best places to stay in Menorca for families with children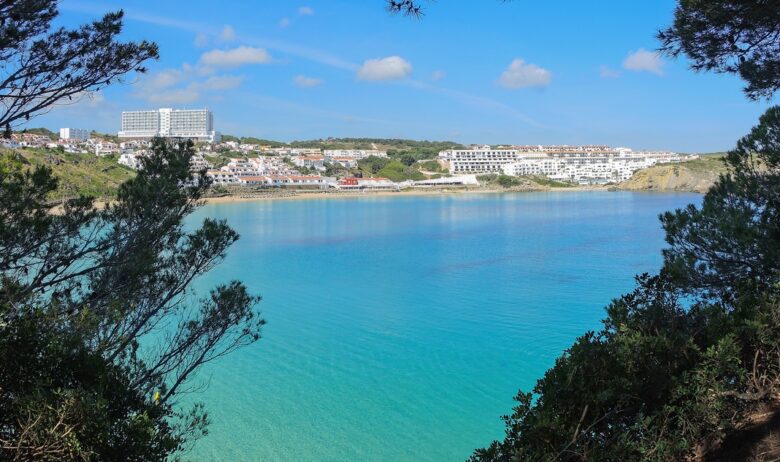 Another of the best areas to stay in Menorca is Arenal d´en Castell. It was deliberately built to be a family styled resort and remains among the best known locales on the island.
The beach is nearly a circle and is ranked among the best on Menorca. Sands are gently shelving here while the sea is shallow and perfect for the little kids. Even the beach is flanked by beautiful cliffs, making for spectacular backdrop views from the resort.
This town offers visitors the Coves Noves commercial center with its restaurants, bars, and even well-stocked supermarkets to provide for all of the daily needs of tourists.
These shops provide all basic essentials for a quality beach holiday. Brand names and designer shops require you to make the trip into Mahon or one of the larger towns.
Much of the touristic accommodation in Arenal d´en Castell is found in villas and low rise apartments. There are a few area hotels that provide the evening's entertainment.
The Goody Goody Bar right on the beach is popular with families. It provides bounce house castles and trampolines along with tribute bands and live music.
Best Places to Stay in Menorca in Arenal d´en Castell
13. Son Parc, where to stay in Menorca for relax and golf
There are two primary attractions at Son Parc. This town boasts the only golf course in all of Menorca. Its greens are well laid out, though the course is not too difficult for avid players. They also have a driving range here.
A second attraction is its beach, one of the best in Menorca. It´s a fantastic beach of fine white sand and turquoise waters. In addition Son Parc Beach, also called Arenal de Son Saura, has one of Menorca's most important wetlands and dune system.
Best Places to Stay in Son Parc
14. Fornells, best place to stay in Menorca for water sports
Fornells is an authentic remaining fishing village found on Menorca's north eastern coast. A white washed house dominated village, the calm town is certainly ideal for families in search of a quiet bay that still boasts water activities and services in plenty.
The town has beautiful beaches nearby and enough activity to keep the entire family occupied. You can snorkel or swim in the bay's shallow waters, rent kayaks, enjoy an organized boat trip to take in hidden coves found in the rocky coast, rent a jet ski, or take lessons for windsurfing or sailing.
Accommodation here is primarily rental holiday houses. This resort provides enough bars and restaurants with fresh locally produced cuisine to give some variety.
For families with children who love nature, the village's surroundings are ideal and easy to explore. The bottom at the bay boasts salt mines, while you can move on from here to take an excursion on the Cami de Cavalls.
Where to Stay in Menorca in Fornells
Images: Shutterstock