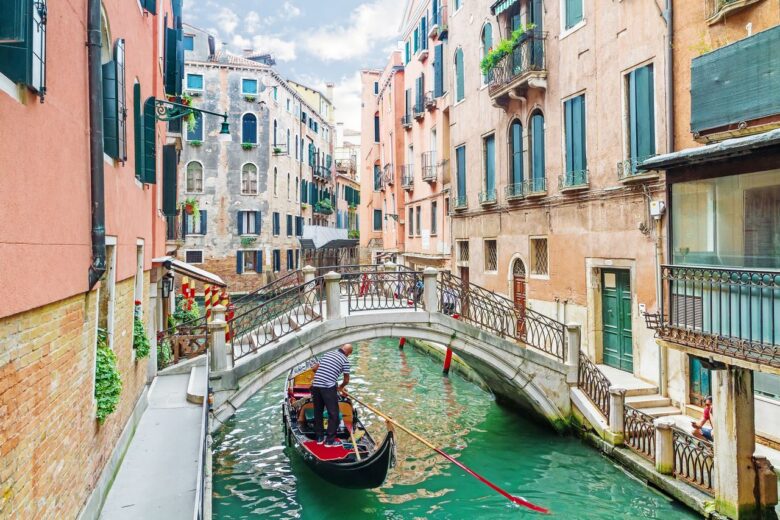 Referred to for centuries as "la serenissima" or "the most serene," the city of Venice continues to draw thousands of visitors from around the world each year. In this post we'll be looking at the best areas where to stay in Venice.
Famed for its decadent Carnival, narrow canals piloted by gondoliers, exotic architecture, and fascinating maritime history, Venice is the ultimate destination for couples, families, and solo travelers of all tastes and interests.
While it's true that the crowds can be somewhat prohibitive, there are more than enough places to stay in Venice, with each area offering its own unique visitor experience. Here are 11 of the best places to stay in Venice, and what makes them so unforgettable.
You might also be interested in: Best things to do in Venice
Where to stay in Venice: Best Areas
1. San Marco, the best area to stay in Venice
The lagoon city's oldest and most famous quarter, San Marco (alternately dubbed St. Mark or St. Mark's Square) has long been the beating heart of Venice.
Highly populated at any given time, San Marco is a popular meeting point for tourists, who can easily get their bearings from the square while taking in some of Venice's most legendary sites along the way.
Built during the 11th century, St. Mark's Basilica remains a prominent example of Byzantine architecture, with the connecting Palazzo Ducale or Doge's Palace showcasing the resplendent wealth and mind-boggling power of the ruling Venetians.
Just outside the palace guests can stroll beneath Torre dell'Orologio, St. Mark's great astrological clocktower, or enjoy an espresso at Caffé Florian, which first opened its doors in the 18th century.
San Marco's prime location allows for stunning views of the lagoon and nearby islands, and hotels are typically at their priciest in this area.
If your heart is set on staying in San Marco, make sure to keep an eye out for off-season hotel deals and possible discounts, as lodgings can be extremely expensive near St. Mark's.
BEST PLACES TO STAY IN SAN MARCO
2. Dorsoduro, where to stay in Venice for nightlife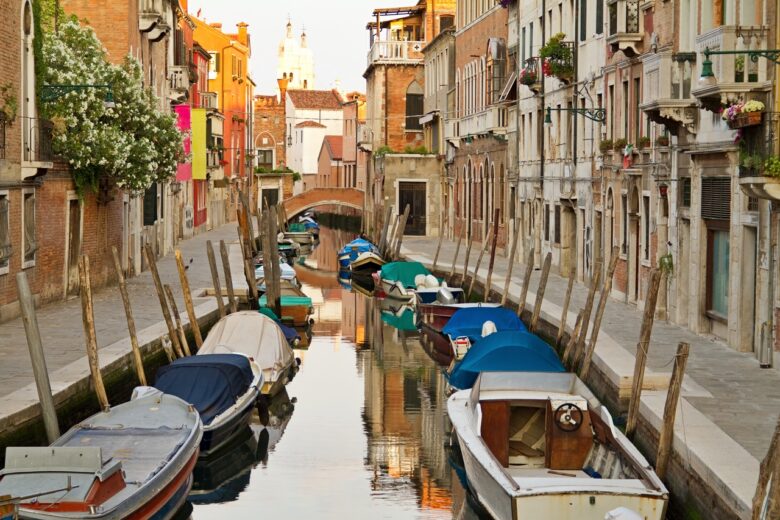 Venice's university district, Dorsoduro makes up one of the six main sestieri in central Venice.
Thanks to its prominent student population, Dorsoduro tends to be less expensive and tourist-laden than Venice's other districts, with a number of well-priced luxury hotel options.
While Dorsoduro offers plenty of shopping and dining options, visitors will also want to take advantage of the area's impressive art museums.
Dorsoduro is well known for its nightlife. Even though Venice is not a party town, in this area you will find some late night bars and clubs.
Some of the most interesting museums located in this area are the Gallerie dell'Accademia, Peggy Guggenheim Collection, and former church of San Sebastiano, where the artist Paolo Veronese sought refuge from murder charges and gave thanks through his artistic contributions.
A nighttime stroll along the Zattere is a perfect way to end the day, followed by a canalside aperitivo and dinner.
The nearby Scuola Grande dei Carmini will be a special point of interest for Medieval history lovers, as it served as a stopping point for pilgrims throughout the Middle Ages.
BEST PLACES TO STAY IN DORSODURO
3. San Polo, perfect location
Venice's smallest sestiere or subdivision, the San Polo district borders with the Canale Grande, Dorsoduro, and Santa Croce.
San Polo is incredibly well located in the heart of Venice, close to the main landmarks and attractions. Besides, here you will find churches, museums, restaurants and shops.
Most notable for its eye-opening fish, fruit and vegetable markets, San Polo makes up a kind of crossroads between the old Venice and the new.
Guests who choose to stay in Venice in the area will want to cross the Rialto Bridge, which was first constructed in 1591 and is the most highly trafficked bridge in Venice.
The church of San Giacomo di Rialto, believed by many historians to be Venice's oldest operating church, can be visited nearby, with the second biggest square in Venice, Campo San Polo, a short walk away.
The aforementioned markets of San Polo are where visitors can truly savor local Venetian fare, with plenty of outdoor eateries in which to sit and relax with a glass of Prosecco.
Guests who choose to lodge in the area will find easy access to the vaporetto or water busses, which are a common mode of transportation in the city.
BEST PLACES TO STAY IN VENICE IN SAN POLO
4. Santa Croce, the main transportation hub and a very convenient area
One of Venice's main districts, Santa Croce has retained much of its off-the-beaten-track charm, with locals and visitors most likely to mingle together in the area.
Santa Croce is a very convenient area where to stay in Venice. Is the main transportation hub. In this sestieri the bus station (in Piazzale Roma) and the train station (Santa Lucia) are located, as well many vaporetto lines and water taxi.
There is plenty to do and see in Santa Croce, from the mysterious 9th century church San Giacomo dell'Orio to the sumptuous Palazzo Mocenigo.
Museum lovers will want to explore the Natural History Museum and Ca' Pesaro, with the latter existing of two museums: the Galleria Internazionale d'Arte Moderna or International Gallery of Modern Art, and the Museo d'Arte Orientale.
Gastro enthusiasts will definitely want to take advantage of Santa Croce's mouthwatering offerings, as there are a number of authentic Venetian eateries in the neighborhood offering some of the region's best seafood dishes, as well the local aperitivo bar food, cicchetti.
BEST PLACES TO STAY IN VENICE IN SANTA CROCE
5. Cannaregio, where to stay in Venice on a budget
Located to the north, Cannaregio is a buzzing hub of local and visitor activity, and one of the most popular places to stay in Venice.
Strada Nuova, known for its wide-spanning array of tourist shops, makes for ideal souvenir shopping, with the narrowest street in Venice, Calle Varisco, an especially fun nearby attraction.
Foodies should make sure to sample fritoìn, a traditional Venetian street food consisting of fried seafood served in a paper cone, which can be purchased from any number of specialty vendors.
A particular point of interest is the Venetian Ghetto or Jewish Quarter, made famous in Shakespeare's "The Merchant of Venice," and where the Jewish population of Venice was forcibly segregated during its establishment in the 16th century.
By night the picturesque Fondamenta Ormesini makes for perfect strolling, snacking, and people watching.
Accommodation in this area is great value and offers hostels, apartments, pensions and boutique hotels on all types of budgets. It´s just 15-20 minutes' walk to San Marco but cheaper than most Venice areas.
BEST PLACES TO STAY IN CANNAREGIO
6. Castello, quiet place to stay in Venice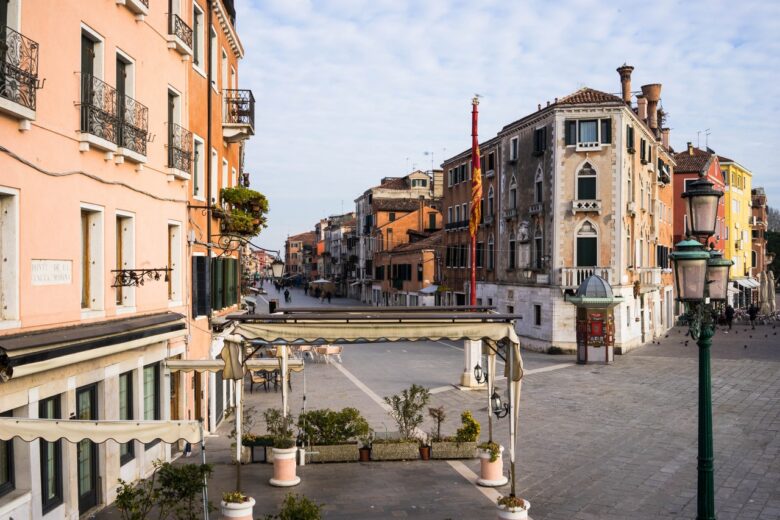 Castello is the largest neighborhood in Venice, stretching from the western city center to the eastern Arsenale and Giardini Gardens.
Despite its size, however, Castello is one of the quieter places to stay in Venice, with plenty of space to walk and explore uninhibited.
Guests can stroll and shop along Venice's widest street, Via Garibaldi, which transforms into a buzzing local nightlife hub around sundown.
Along with its modern boutiques and artisan shops, Via Garibaldi also hosts its fair share of outdoor markets selling every kind of Venetian delicacy.
The nearby gardens are home to the city's Biennale exhibitions and national pavilions, and feature some of the city's most striking 20th century architecture.
Naval history scholars will want to check out the Museo Storico Navale, which showcases an impressive collection of historic gondolas, as well as ship models and mercantile artifacts.
The nearby Arsenale di Venezia is dedicated to Venice's prestigious shipbuilding industry and is currently used by the Italian army, with public access only available during the yearly Biennale of Venice.
BEST PLACES TO STAY IN CASTELLO
7. Giudecca, where to stay in Venice for casual eateries and relaxed nightlife scene
Popular among students and young professionals, the island of Giudecca is yet another comparatively low-key area to stay in Venice thanks to its casual eateries and relaxed nightlife scene.
Due to the island's small size, lodging options are few but reputable. The Molino Stucky flour mill, now a luxury hotel, is a popular tourist choice due to its panoramic views of the city and lagoon islands.
Giudecca is ideal for travelers who like a slower place, and the island's reprieve from the mainland crowds is definitely a plus.
Guests can visit the churches of Chiesa Della Zitelle and Chiesa di Sant'Eufemia, tour the waterfront markets and shops, and enjoy a slice of local life.
Like all Venetian neighborhoods, Giudecca boasts a tempting selection of eateries, with fresh seafood reeled in daily. Wine aficionados will want to check out the island's unique wine shops, which sell their vino directly from the barrel.
BEST PLACES TO STAY IN VENICE IN GIUDECCA
8. Lido, beaches with easy access to the centre
Another small island in the Venetian lagoon, Lido is known for its beaches and equally stunning views, making it one of the most desirable places to stay in Venice.
The host of the prestigious Venice Film Festival, Lido is at once trendy and traditional, and a perfect example of Venice's penchant for blending the old with the new.
On Lido visitors can peek into the monastic study of 18th century poet and bad boy Lord Byron, take in the island's noteworthy Art Deco architecture, and above all enjoy the natural wonders on display.
The Oasis of Alberoni, a protected natural reserve, is now home to a diverse ecosystem, with bike rental services available to get the most out of your experience.
The long sandy coastlines of Lido offer the ideal summer retreat, with the city proper just a short boat ride away. Lido is a great option for families who desire a bit more space at a much less frantic pace.
BEST PLACES TO STAY IN LIDO
Budget-Friendly Places To Stay Near Venice
As previously mentioned, Venice can be a costly destination, with hotel prices soaring throughout much of the year.
The good news is, there are several wonderful towns just outside of the city, featuring competitively priced hotels and reliable public transportation, along with a distinctive history of their own.
1. Mestre, best option to stay close to Venice on a budget
Mestre is Venice's mainland town connected by the Liberty Bridge. While it may not immediately come to mind when looking for places to stay in Venice, Mestre offers a kind of crossroads glimpse into what travelers approaching Venice for the first time must have felt.
The Torre Civica di Mestre, also known as the Torre dell'Orologio, dates back to the 13th century, with its current clock implemented in the 16th century.
Here guests can take in the city and lagoon from a bird's eye advantage, then stroll the Piazza Ferretto, which offers a wide variety of shopping, sightseeing, and dining options.
The Duomo di Mestre, also called the Church of San Lorenzo, is famed for its frescoes while the Chiesa di San Girolamo, built in 1261, features rare Istrian limestone.
San Giuliano Park offers an idyllic reprieve from the tourist bustle, with an abundance of space to picnic, hike, and even take in a local concert.
Boating is a much-loved pastime in Mestre, with activities such as sailing, touring, and gondola races on offer year-round.
BEST PLACES TO STAY IN MESTRE
2. Noale, small Medieval town located just 30 minutes from Venice
This small Medieval town has roots that date back to the Iron Age, and may very well feel like stepping into a Game of Thrones episode.
Located just 30 minutes from Venice by car or public transport, Noale's history is closely intertwined with that of the Serene Republic, as evident in the ruins of its explorable castle-fortress.
Guests can admire the Bell Tower (also called The Padua Tower) at the west entrance of the town, wander along the gothic streets, and possibly witness–and purchase from–a living reenactment of a traditional Medieval market.
Every year the town hosts the Palio of Noale, which takes place on the third Sunday of June and re-enacts the inaugural Palio of 1347. During this time 7 competing city quarters race around the village, with a "palio" awarded to the ultimate winner.
BEST PLACES TO STAY IN NOALE
3. San Donà di Piave, 30-40 minutes from Venice by public transportation
A city and commune of Venice, San Donà di Piave was a former Roman outpost and later Medieval municipality that was completely reconstructed following its destruction during World War I.
Today guests can pay homage to the Duomo of Blessed Virgin Mary and Church of Saint Charles, visit the Galleria Civica d'Arte Moderna e Contemporanea (City Museum of Modern and Contemporary Art), and enjoy the sumptuous Villa of Ancillotto along with its adjacent ornamental park.
Architectural fans as well as picnic lovers will appreciate the mesmerizing sights and tranquility of Parco della Scultura in Architettura.
BEST PLACES TO STAY IN SAN DONA DI PIAVE
Traveler's Tip: Know Before You Go
You probably don't need to be told how heavily-trafficked Venice can be during peak tourist season, which runs approximately between April and August, as well as during Carnival festivities in February.
During these periods the city can be extremely expensive and somewhat cumbersome to navigate due to the crowds.
If you're looking for a quieter, more authentic experience then it might be worth your while to plan your visit between September and November.
The Venetian climate remains fairly mild throughout the year, so at most you'll need a light jacket and sensible clothing–though do keep in mind that deep winter tends to see moderate to severe flooding, which likely isn't on your to-do list!
It's also advisable to consider hotels outside of the city, which are just as lovely but significantly less expensive, and are often conveniently located within a close walking distance from public transport stations.
Wherever you choose to stay in Venice, planning ahead almost always guarantees a more relaxing and fulfilling trip.