Verona is a romantic city even without the love story of Romeo and Juliet, and is also an ideal touring base for the Veneto and the Italian Lakes. Wander its medieval streets and piazzas, but first, you need to decide where to stay in Verona.
Where to Stay in Verona: 6 Best Areas
Given its compact size, and the low crime rate, the best areas to stay in Verona depend entirely on how much you want to be close to the sights, and to feel history all around you.
The downside is that everyone else wants to feel it too, so you might prefer a quieter, more residential district with less tourists. Camping sites are available within the province.
1. Historic Centre, the best area where to stay in Verona
The Città Antica goes back to prehistoric times, and is now a UNESCO World Heritage Site. Originally a significant Roman settlement, it still possesses more remains of the era than most other places in the north of Italy. It has evolved well over the centuries, and today, is as elegant as ever.
The most famous landmark is the first-century Roman Amphitheatre or Arena which can't help but dominate Piazza Brà. Its summer opera festival is a magical experience, and it also puts on plays and rock concerts during the warmer months, before transferring to a theatre in winter.
At Christmas, the Arena displays more than four hundred cribs from international exhibitors, with music and light shows. A Christmas market in the square celebrates the national Feast of Santa Lucia, which marks the end of the winter solstice (Lucy means light).
The Piazza dell'Erbe was the city's Forum in Roman times, and still retains the busy atmosphere of a meeting-place with its bars, cafés and souvenir market (closed Sundays).
Stylish structures such as the baroque Palazzo Maffei (now retail units) and the Arco della Costa line its sides. What remains of the Jewish Quarter and the Ghetto leads off the square, with some typically tall thin houses, and a synagogue.
The nearby Piazza dei Signore is known as Verona's salon, and it's easy to see why. Renaissance palaces and a loggia look down on a statue of the poet Dante, who lived here after his exile from Florence.
Below the Palazzo del Capitano there are excavated Roman and medieval basements, visible through two large round windows in the ground of the palace's cobbled terrace.
Next door, the Romanesque Palazzo della Ragione is now the prestigious Galleria d'Arte Moderna Achille Forti.
The twelfth-century cathedral, or duomo as they are always known in Italy, boasts bright frescoes and trompe l'œil architecture.
However, it's the Gothic Basilica di Sant'Anastasia that is Verona's biggest church. This, too, is bursting with frescoes, with other highlights including the 1495 carving by the father of Paolo Veronese, of a holy water font depicting a hunchback.
Of course, there are many churches in Verona, and Holy Week is always a good spectacle for locals and tourists alike.
Verona was, of course, the setting for Shakespeare's play Romeo and Juliet, the ill-fated lovers of the feuding Capulet and Montague families.
It's not certain that the Casa di Giulietta in Via Cappello was the Capulet family home, but it has become a magnet for lovers and other tourists, who come to touch Juliet's statue, pose under the balcony, and leave love notes attached to the walls.
For the lovesick and the lonely who can't travel, there is the Juliet Club. The lovesick from all over the world write to the club, where in a long-standing tradition, volunteers reply to every letter addressed to the tragic heroine.
Where better to be on Valentine's Day than Verona? The Piazza dei Signori hosts free concerts with a romantic theme, while city-wide, Verona in Love celebrates with red-heart lanterns, and notes of love dotted around the streets.
The top of the eighty-four-metre-high Torre dei Lamberti boasts an outstanding panorama of the city and mountains, but be warned that the lift only takes you two thirds of the way up.
Built between the thirteenth and fifteenth centuries, it was completed by an octagonal bell tower with two bells that still have their original names. Marangona summoned the city council, and Rengo raised the alarm in times of danger.
The riverside Castelvecchio was constructed in the 1350s, but between them, Napoleon and the bombers of World War II inflicted great damage.
Architect Carlo Scarpa's post-war reconstruction added bridges and modernised the interior, which is a museum containing fourteenth-century glass, medieval artefacts, frescoes, jewellery, and Flemish, Veronese and Venetian paintings.
Before you leave, take to the ramparts for river views, and a sighting of Verona's old defences.
Also in the historic centre, a festival to revive and celebrate traditional games is held every September. Tocatì, "it's your turn" in local dialect, sees competitors teaching children and adults to use a sling, spin a top, and so on.
A different guest country every year adds an international theme, with musical events, displays and other activities also organised. Carnevale (carnival) takes place every February or March, with neighbourhood events as well as processions and balls.
If you stay in Verona in the very convenient location of Città Antica, accommodation prices will tend to be higher, but there are some nice hotels, and you could end up with a lovely view.
As an alternative, there are plenty of B&Bs and pensioni, often classed as hostels.
BEST PLACES TO STAY IN VERONA IN HISTORIC CENTRE
2. Cittadella – San Zeno, affordable accommodation close to the centre
Slightly north-west of the centre, where the city walls meet the Roman and medieval quarters, Cittadella is a historic district with museums and Roman remains.
Meaning citadel in English, it's so-called due to the defensive fortification built in the fourteenth century, on what is now the nearby Piazza Cittadella.
Bars and restaurants on its lively squares and streets compete to feed you with traditional Italian cuisine, but also offer Chinese and Indian dishes.
Flanked by the sixteenth-century gates of Porta Palio and Porta Nuova, its most important monument is the Romanesque Basilica di San Zeno Maggiore.
The nave of this stone-and-brick gem, erected to honour Verona's patron saint, is full of frescoes from the twelfth to the fifteenth century, with a meticulously-restored altarpiece from 1457, Majesty of the Virgin by Mantegna, a marvellous lesson in early understanding of perspective.
Scenes on twelfth-century bronze doors depict an exorcism, while the crypt below the altar shows carvings, and a transparent sarcophagus holding the corpse of the saint. Legend has it that Juliet married Romeo in the crypt.
Next to the church, a Benedictine abbey is also dedicated to San Zeno, but be sure to time your visit for a Sunday to catch the extensive flea market on Piazza San Zeno.
Follow the Shakespeare route to the Museo degli Affreschi, part of the San Francesco al Corso convent. It's rumoured to have been the burial place of Romeo and Juliet, but more certain is the quality of the frescoes and statues here, dating back to medieval times. Its church is also worth a look.
The Teatro Romano e Museo Archeologico is carved into the slopes of a hill, and dates from the first century BC. At the back, there's a lift to a former convent, where some fascinating Greek and Roman items are laid out.
The theatre puts on a summer festival with plays by Shakespeare, Goldoni and others, plus jazz and dancing, all in a stunning setting.
If you opt for Cittadella as your base during your stay in Verona, you'll find prices here and around San Zeno are lower than in the historic centre, and include a good selection of guest houses and apartments, too.
BEST PLACES TO STAY IN CITTADELLA – S. ZENO
2. Borgo Trento, well located and pleasant area where to stay in Verona
Borgo Trento sits on the other side of the river Adige from the Città Antica. A green and pleasant residential suburb, it's a good place to find local produce in little grocers' stores, bakeries, independent clothing shops, and eateries where the locals eat.
Strictly speaking, a borgo is an old Italian village still attached to its roots, and Borgo Trento has this kind of feel to it.
Verona's former arms store, Arsenale Franz Josef I, is situated here, and is now a peaceful park with an open-air museum, and courtyards that are often used for markets or entertainments.
Climb up to the Santuario della Madonna di Lourdes – it's worth it for the views. Recover with a rest among the greenery in pretty Piazza Vittorio Veneto.
Its fountain was designed in the 1960s to commemorate a hundred years of Italian unity, and was officially dedicated as the Fontana del Centenario in 2016.
Accommodation in Borgo Trento is not as cheap as you might expect, but there are plenty of apartments and holiday lets, if your wish is to stay in Verona in a more residential area.
BEST PLACES TO STAY IN VERONA IN BORGO TRENTO
4. Veronetta, where to stay in Verona on a budget
Located on the left of the river bank, this is the university district, so it comes alive when school's out. With trendy bars, self-service restaurants and student-friendly prices, it would suit anyone on a budget, and backpackers will love it.
Head for Via Venti Settembre for a lively evening atmosphere. Festival lovers can embrace the performances and stalls of the Veronetta Summer Fest, which takes place in Parco Santa Toscana on various dates throughout the summer, apart from August.
It's also full of medieval buildings, such as the sixteenth-century Palazzo Pompei, which now holds the collection of the Natural History Museum. Culture lovers can enjoy a musical evening at the Roman Theatre, housed in the former monastery of San Girolamo.
The monastery also contains the Archaeological Museum, with mosaics depicting a gladiator fight, bronzes and other sculptures.
First nicknamed Veronette (little Verona) by Napoleon, Veronetta's San Pietro hill was the site of the first settlement in the area in pre-Roman times, leading to the creation of Verona itself.
Catch the funicular railway up the hill to Castel San Pietro, a nineteenth-century castle that will give you breath-taking views from its terrace.
Discover the convents and monasteries, and visit the little Romanesque church of San Giovanni in Valle, before relaxing in the sculpted gardens of the Giardino Giusti, a gem of Renaissance landscaping. The Giusti family have worked the garden since 1591, so it's well worth the entrance fee.
There are lots of B&Bs and holiday lettings in Veronetta, if you want your stay in Verona to be in a reasonably-priced area, and there is also a hostel.
BEST PLACES TO STAY IN VERONETTA
5. Porta Nuova – Verona Fiere, convenient and ideal for business trips
There are two railway stations in Verona, so take care to alight at the right one. Porta Nuova is the main station, connecting local, regional, national and international destinations.
Spread over several floors, it has an assistance office and all the usual facilities, including offices, shops and snack bars. The bus station outside is a terminal that serves the city (10 minutes away), Verona airport and the Veneto, but it can get very busy.
The main sightseeing attractions are within easy reach, but the nearest monument gave its name to the station. Once the hub of Verona's fortifications, the sixteenth-century Porta Nuova is on the tourist route to Piazza Brà and the Arena.
This huge gate with impressive carving now finds itself near the autostrada.
For anyone attending a fair, event or convention at Verona Fiere, there are free shuttle buses from the rail station, airport, city centre and car parks. Taxis are another option, and there are hotels in the vicinity of the complex, which is also convenient for the motorway.
Perhaps because it's so near the city centre, the streets around Porta Nuova station seem to be safer than is sometimes the case near transport hubs.
This means that hotel prices are not so low, but it's not far if you want to try somewhere else to stay in Verona when you step off the train or bus.
BEST PLACES TO STAY IN PORTA NUOVA – VERONA FIERE
6. Borgo Milano, good area in Verona for Shopping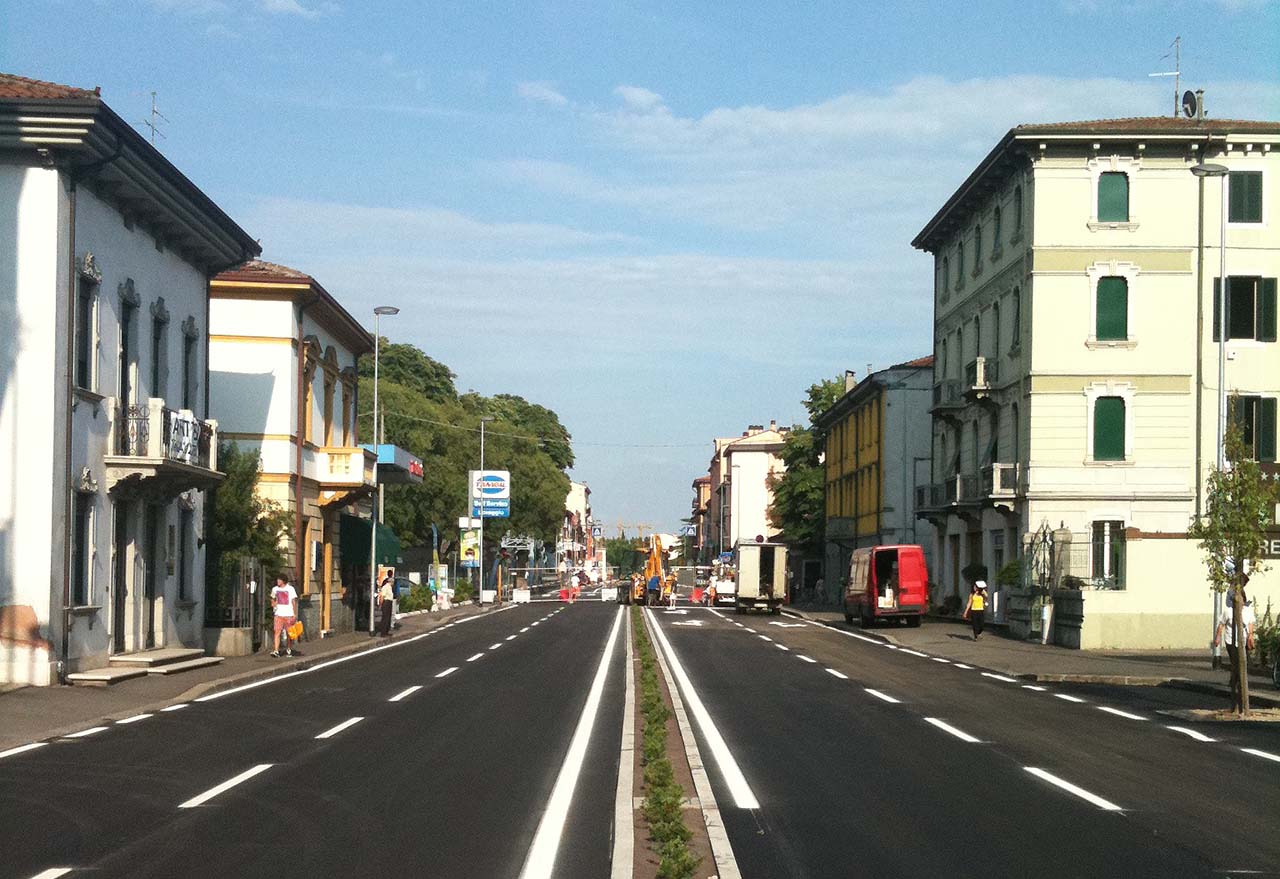 If you want to live like the locals, but in particular the more hip ones, then Borgo Milano is for you.
A residential quarter located to the west of San Zeno, and a short drive away, chic fashion stores and bars compete with food shops and casual restaurants on smart Corso Milano.
Football fans will flock to Marc'Antonio Bentegodi Stadium, home to A.C. ChievoVerona soccer club, and venue for some memorable concerts. Outside the stadium, a market sets up every Saturday morning.
If you want to catch some Italian football during your stay in Verona, Borgo Milano Stadio is ideal.
Mid-range hotels, guest houses and apartments around the area offer a good choice, while others are available at hostel prices.
BEST PLACES TO STAY IN VERONA IN BORGO MILANO
If you stay in Verona outside the historic centre, you'll be glad to know that the city has a well-organised bus network. Centrally, walking is the easiest option, but bike or car hire, or cycling tours, will get you further afield, and some hotels have bikes for the use of guests.
There is more than one airport in the region. Finally – if you've had enough of Shakespeare's star-crossed lovers, you might like to know that he also used the city as a setting for two other plays, Two Gentlemen of Verona and The Taming of the Shrew.
Photo: Shutterstock/(7)wikipedia