Are you wondering where to stay in Milan? Let us help you to figure out which neighborhood is best for you! Some of the best areas to stay in Milan are Centro Storico, Brera, Navigli or Puorta Nuova.
Milan is one of Italy's most sophisticated metropolitan cities, simultaneously embodying a rich history while maintaining thoroughly modern sensibilities.
Long declared one of the world's fashion capitals, Milan boasts some of the best shopping in the EU, with plenty of museums, historic attractions, and eateries to round out your visit.
Milan is often misunderstood by travelers seeking a more "traditional" Italian vibe, but once you get the lay of the land and learn what makes the locals tick, you'll no doubt fall under the city's spell.
Here are 10 of the best areas to stay in Milan so you can make the very most of your trip.
Where to Stay in Milan: 10 Best Areas
1. Centro Storico, best area where to stay in Milan
You won't find a more immersive, all-encompassing area of Milan than Centro Storico. With its stunning historic buildings, vibrant creative scene, and multitude of landmarks, Centro Storico is the ideal starting point while you gain your Milano bearings.
No stay in Milan is complete without a trip to see the famous Duomo Cathedral, which began construction around 1386 and continued with restorations and add-ons well into the 20th century.
The cathedral contains over 135 gargoyles, 3,400 statues, 700 figures, and several sizable works of art. The Duomo also grants visitors access to the rooftop, where the best views of the city can be captured.
Just across the piazza is the Galleria Vittorio Emanuele II, which features some of the most luxurious shops in all of Milan, including Prada, Louis Vuitton, and Gucci.
Access to other fashion districts are well within walking distance from Piazza Del Duomo, where you'll find something for every style and budget.
There are an overwhelming number of museums located in the Centro Storico area, enough to warrant a full day's exploration, in fact.
Not only does the Duomo Cathedral have its own museum, but you will also find The Galleria d'Arte Moderna, Museo del Novecento, and Palazzo Reale.
And of course, any visitor to Milan must behold Leonardo da Vinci's iconic Last Supper on display at the Santa Maria della Grazie.
In terms of lodging, Centro Storico is among the more expensive areas where to stay in Milan due to heavy tourist traffic and frequency of events during peak periods such as Fashion and Design Week.
However, thanks to Milan's top rated metro system and ease of access between districts by foot, more affordable hotel and hostel options are well within reach if you're willing to branch out a bit.
BEST PLACES TO STAY IN CENTRO STORICO
2. Brera, my favourite neighborhood to stay in Milan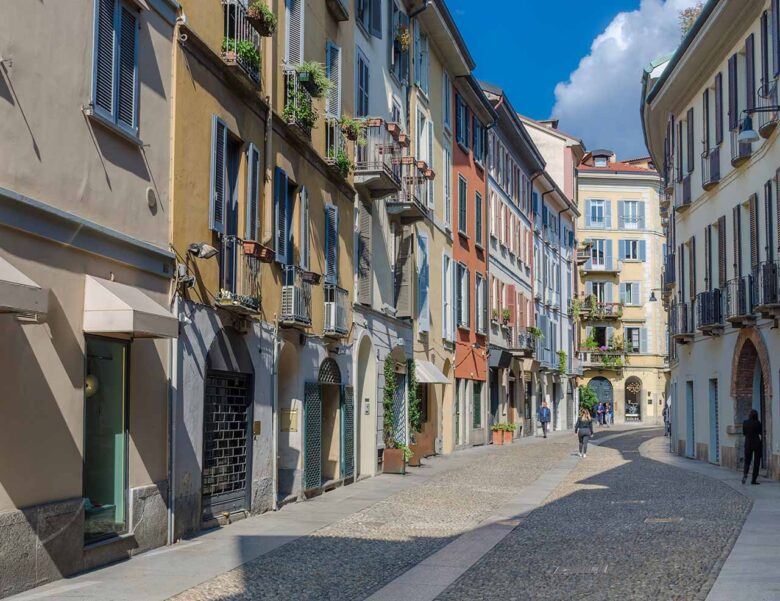 Up-and-coming and impossibly stylish, Brera is actually part of the Centro Storico district, and boasts some of Milan's best boutiques, restaurants, specialty shops, and art galleries.
A stroll through Brera's romantic streets will lead you to Pinacoteca di Brera, which features works by Caravaggio, Rubens and many more, and where you'll find Hayez's gorgeous painting The Kiss.
The Palazzo di Brera, which resides in the same building albeit a separate floor, holds the prestigious Biblioteca Braidense, one of Italy's largest and most celebrated national libraries, as well as the Brera Astronomical Observatory, which is now a museum dedicated to astronomy.
Brera is also the residence of Milan's Botanical Garden, which dates back to the 18th century and is filled with flowers and plants from around the world, as well as a fascinating medicinal garden.
The Botanical Garden is perfect for a date night, followed by dinner at one of the neighborhood's contemporary eateries.
There are a number of upscale boutique hotels in the Brera district, with few budget options; however, off-season deals can be found online.
BEST PLACES TO STAY IN BRERA
3. Stazione Centrale, convenient with a wide variety of accommodation
Perhaps the greatest attraction in the Stazione Centrale area is the train station itself! This awe-inspiring structure, initially built in 1864 then reintroduced in 1931, is an architectural masterpiece, with multiple terminals from which trains depart for destinations all over greater Europe.
The station has a substantial offering of cafes, shops, and other conveniences, with immediate access to the metro station via escalator or stairs.
While the immediate station area may not hold much for the first-time visitor, there are an assortment of hotels conveniently located within walking distance, ranging from the 5 star to more budget variety.
While strolling through the station square, make sure to check out Michelangelo Pistoletto's enormous Apple Made Whole Again installation, which opened at the Expo of 2015.
BEST PLACES TO STAY IN MILAN IN STAZIONE CENTRALE
4. Porta Nuova, modern Milan and close to everything
Sometimes referred to as encompassing the spirit of modern Milan, the Porta Nuova area was named after the "new gate" constructed during the Napoleonic Era.
Situated within a short walk from the nearest station, Garibaldi, visitors are invited to explore one of the EU's largest and most cutting edge urban regeneration projects.
Landmarks such as Gae Aulenti Square, named in honor of the Italian architect who designed Paris's Musee d'Orsay, the impressive UniCredit Tower, and two-tower complex of Bosco Verticale attract visitors and locals alike year round, with plenty of dining, shopping, and nightlife options besides.
With its modern-meets-iconic m.o. and favorable location, Porta Nuova is among the lesser-known but ideal districts to stay in Milan.
BEST PLACES TO STAY IN MILAN IN PORTA NUOVA
5. Citta Studi, good place to stay in Milan for young people
Thanks to its proximity to the city center and polytechnic universities, Citta Studi is indeed a student-centric neighborhood, but in all the best ways.
With no shortage of bars, shops, bookstores, and gathering points, visitors can immerse themselves in the upbeat and energetic pace of young Milanese life set against the backdrop of some of the city's most significant heritage buildings.
Guests can grab a drink at Birrificio, one Milan's oldest and most popular breweries, visit the nearby Valvassori Peroni market which takes place every Saturday, as well as sample the trendy eateries and aperitivo bars.
You will likely find more hostels than hotels in Citta Studi due to prospective student traffic and backpackers, but most are clean, reputable, and offer various amenities like free WiFi and breakfast.
BEST PLACES TO STAY IN CITTA STUDI
6. Navigli, where to stay in Milan for nightlife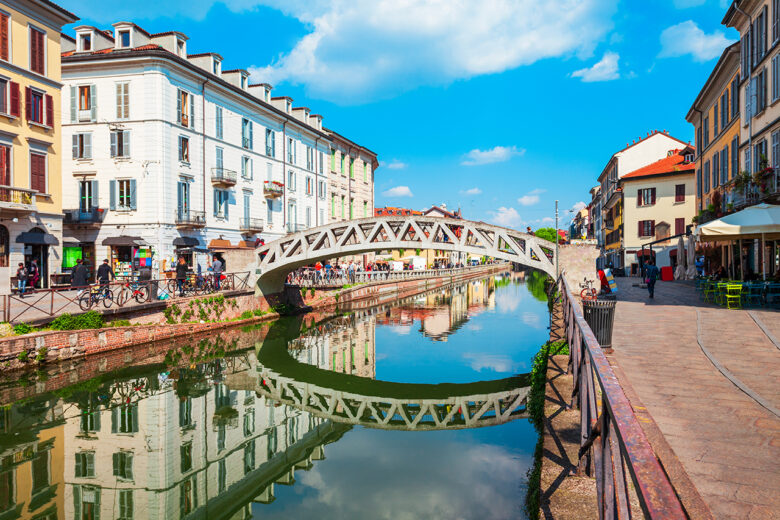 Often compared to Amsterdam, Navigli is fast becoming one of Milan's most fashionable neighborhoods and home to Milan's most vibrant nightlife scene.
Dubbed by locals the "canal district," the majority of Navigli's shops, restaurants, and points of interest are located along the Navigli Grande Canal.
By aperitivo time (around 5pm) the neighborhood buzzes with locals meeting for drinks and complimentary snacks, and is the perfect time and place to immerse yourself in authentic Milanese culture.
And if you're lucky, you might just gain entrance to Backdoor 43, the smallest bar in the world!
Two noteworthy churches worth visiting in Navigli are the Basilica di San Lorenzo and Basilica Sant Eustorgio, the former featuring a cacophony of architectural styles and nuances while the latter is famed for its chapel, which contains 14th and 15th century frescoes by Giovanni di Balduccio and Vincenzo Foppa, respectively.
Due to its increasing popularity and the fact that it still caters mostly to locals, lodgings in Navigli tend towards Airbnb-type accommodations and bed & breakfasts, which can offer an especially intimate peek into Milano life.
BEST PLACES TO STAY IN MILAN IN NAVIGLI
7. San Siro, where to stay in Milan on a budget
Soccer fans will find a second home in San Siro, which itself is the home of the Inter and AC Milano clubs. Sports bars are in no short supply here, and team enthusiasts can even tour the San Siro stadium both on and off season.
For all its high-spirited raucousness, San Siro is a relatively low-key neighborhood that also offers plenty of cozy trattorias and budget-friendly hotels.
A particular point of interest regardless of where you stay in Milan, Fieramilano is a must-see event space that eventually grew into one of the world's leading expo centers, hosting year-round events since 1920, many of which are among the most important in Italy.
To date, Milano Congressi (shortened to MiCo) is the largest congress center in Europe, able to hold a capacity of up to 18,000 people in over 70 different conference rooms.
BEST PLACES TO STAY IN SAN SIRO
8. Sempione, quiet, green spaces, and good priced accommodation
Featuring Milan's largest city park, the Sempione area offers a uniquely off-the-beaten-track experience for visitors.
Situated just northeast of the city centre, Sempione, defined by its park "Parco Sempione", provides visitors with the opportunity to explore both the natural and heritage side of Milan.
Consisting of 116 acres, Parco Sempione has plenty of sprawling green space for strolling, running, and retreating from the fervor of city life, with several notable sites along the way.
Constructed in 1888, Parco Sempione features the Napoleonic Arch of Peace, sports arena, and beautiful Acquario Civico di Milano, Milan's official aquarium.
There is also Castello Sforzesco, which was first erected in the 14th century and restored by the Duke of Milan in the 15th century.
The castle is open for tours and features a treasure trove of masterpieces that include the unfinished last work of Michelangelo and a fresco by Leonardo Da Vinci, along with an ongoing roster of events and exhibitions.
Nearby is the Palazzo dell'Arte, built to permanently house the International Exhibition of Decorative Arts and now host to the acclaimed Triennale Design Museum.
In recent years the Sempione area has expanded to include tourist-friendly lodgings. Thanks to its moderately priced and well-reviewed hotels, the park and its surrounding neighborhoods are ranked amongst the most idyllic places to stay in Milan.
BEST PLACES TO STAY IN MILAN IN SEMPIONE
9. Porta Vittoria, good area for families
Formerly Porta Tosa, Porta Vittoria refers to the 16th century city gate of Spanish-occupied Milan, although both the gate and walls have since been demolished.
Today Porta Vittoria is a popular shopping and nightlife district, and borders the aforementioned Città Studi.
The surrounding neighborhoods are ideal for strolling, window shopping, and sipping a spritz outside one of the chic cafes.
History lovers will want to check out the Monument of the Five Days of Milan (Monumento alle Cinque Giornate di Milano), located in Piazza Cinque Giornate, which memorializes the Milanese uprising against Austrian troops between the 18th and 22nd of March 1848.
Even though you will find here nightlife options, the Porta Vittoria is a notably quiet area to stay in Milan, and is recommended for families and those who desire a more peaceful place to lay their head at night.
BEST PLACES TO STAY IN MILAN IN PORTA VITTORIA
10. Chinatown, within walking distance from Milan's central areas
Located within a short walking distance from Porta Nuova and Brera, Milan's own Chinatown is a legend in its own right. Shanghai declared Milan its twin city in 1979, making it the first Italian city to be a "twin" to China.
The largest and oldest Chinese district in Italy, Chinatown draws foodies thanks to its mouthwatering array of eateries ranging from dine-in restaurants to takeaway spots, as well as a multitude of grocery stores, including the famed Kathay Market, which is the largest ethnic food store in Italy.
If noodles, dumplings, Dim sum, bubble tea, and all manner of delicious Asian specialties are your passion, you won't find a better place to stay in Milan.
Chinatown's main street, Paolo Sarpi, is where anything and everything can be found: clothing, shoes, leather goods, tailors, opticians, electronics, and homeware items, all prominently Chinese-owned and operated.
Nestled among these establishments are also remnants of old Milan, such as Cantine Isola, a haven for wine lovers since 1896.
While hotels don't feature largely in Chinatown, privately rented rooms and apartments can be booked online.
The good news is that Chinatown is within walking distance from Milan's central areas, and even more conveniently reached by metro.
BEST PLACES TO STAY IN MILAN IN CHINATOWN