It's better in the Bahamas isn't just a catchy phrase, you know, but a bonafide fact. The sparkling clear turquoise waters, the sun and sand on any of its 2,000 beaches, the local food and drinks, and especially the people, make it a go-to destination for savvy vacationers worldwide.
And today, it's easier than ever to "get there fast and then take it slow" (sorry Beach Boys). From Southwest to American Airlines. Bahamasair, Delta Air Lines, JetBlue Airways, Silver Airways, Sun Country, and United, getting there is now quicker and easier than ever before.
Now, all you need is your swimsuit and a better idea of the best areas to stay in The Bahamas, so let's get started.
Where to stay in The Bahamas: 14 Best Islands
1. New Providence, where to stay in The Bahamas for first time
Finding the best choice of where to stay in The Bahamas really depends on what you love. And, whether it's an adventure, culture, history, seclusion, or something unusual like swimming pigs, you're sure to find it on one of the many islands.
Take New Providence for example. It's The Bahamas' main commercial hub and the home of 400+ trust companies and banks.
Also, its large port and hundreds of hotels account for better than two-thirds of the number of visitors to The Bahamas, which totals four million-plus annually.
And, at the tip of the island, you'll find Lyford Cay, which is a very exclusive residential enclave that's also home to celebs like Sean Connery. Once there, you'll also find the famous oceanfront South Ocean Golf Course designed by Joe Lee.
New Providence is also the home of Nassau, which is the Bahamas' largest city and its capital.
If you want to be where the action is during your stay in The Bahamas and you happen to be a real people person, you'll love New Providence and its massive lavish resorts and bigger crowds than, let's say the out (aka family) islands.
You'll also love the abundance of exciting nightlife, various great restaurants (like Jazz Bar and Cafe Matisse), unique shops, and souvenir stands that the full-fledged tourism development has brought to the island.
Nassau is also home to the Pirates of Nassau Museum, the Pompey Museum, and National Art Gallery of the Bahamas
So, at the end of the day, the one phrase to describe Nassau is definitely "non-stop excitement"!
As The Bahamas' principal island, New Providence is located between Eleuthera Island to the east and Andros Island to the west.
The island is 21 miles (34 km) long and 7 miles (11 km) wide for a total area of 79.92 miles. It's mainly flat land that also has a number of shallow lakes and is home to an estimated 274,400 residents.
Visitors should stay safe by avoiding any neighborhoods south of Shirley Street (south of downtown Nassau), especially at night. And, always staying aware of the surroundings is a good idea as well.
The optimum time for your stay in The Bahamas is throughout the high season that goes from the middle of December to April even though you'll find that the beaches tend to be more crowded.
The best Nassau beaches are Atlantis, Balmoral Island Beach, Blue Lagoon, Cabbage Beach, Cable Beach, Coral Harbour Beach, Love Beach, and Saunders Beach
And, the beautiful weather makes New Providence an excellent destination for that warm winter getaway that you've been craving, especially if you're a snowbird.
The summers are warm, albeit occasionally rainy, with temperatures during the day of up to 89.7°F.
BEST PLACES TO STAY IN NEW PROVIDENCE
2. Paradise Island, where to stay in The Bahamas for a perfect holiday
This famed island is linked to Nassau by two bridges and is definitely the go-to place for the plushest hotels in the entire Caribbean with world-class entertainment, as well as massive casinos, and luxurious beaches.
It's also home to the Paradise Island Golf Course, a famous lush green golf course worthy of champions and designed by Dick Wilson.
In recent years, Paradise Island has been transformed into one of the most celebrated and super-glamorous resort centers worldwide by creatively combining that exclusive island tranquillity with plenty of action.
And, not only is it the most popular island but it's also considered to be the best island for anyone looking for an enjoyable fun-filled stay in the Bahamas. On Paradise Island, you get the best of both worlds.
Paradise Island is just off of New Providence's northern coast, facing Nassau, and measures five miles long and less than one mile wide for a total area of 685 acres.
And, in addition to being connected to the capital city by two bridges, it's also one of the most easily accessible, family-friendly destinations in all of the Bahamas.
So, when you arrive, you'll be flying into Nassau, but you should definitely be staying on Paradise Island during your stay in The Bahamas. Why? Because not only are the beaches better but the area is a great deal safer.
And, if you want, then you can head on to Nassau during the daylight hours for some great shopping and the renowned Straw Market, the Bahama Craft Centre, the Kennedy Gallery, Marlborough Antiques, or The Plait Lady.
But remember, after dark, you should always take a taxi for safety.
Like most of the Bahamas, Paradise Island enjoys beautiful weather year-round but you should avoid hurricane season and probably stick to high season, which is from mid-December to mid-April.
Much of the exciting action, which is especially geared toward visitors to Paradise Island, is centered on the massive Atlantis resort with its 3,805 luxurious rooms. It also offers a water park and a casino that are both close to the popular beaches.
This is definitely the place for all of the flashiest nightlife in The Bahamas. Practically all of the action is taking place at Atlantis Paradise Island, where you're sure to see everything from Vegas high-rollers to little old grandmothers from the Midwest playing the slot.
Yes, it's all showbiz and glitter, and showbiz there, but if your taste runs more toward much quieter nights out, you'll also find plenty of discos, intimate bars, and even a comedy club.
This is a Bahamian island that has everything but is especially known for its sophisticated luxury that's reminiscent of those thrilling James Bond movies.
So, in the grand scheme of things, we would have to describe Paradise Island as "luxurious and action-packed".
BEST PLACES TO STAY IN PARADISE ISLAND
3. Eleuthera Island, a romantic hideaway & easy access
Eleuthera is a very inviting island from its quaint settlements on Harbour Island to its sandy pink beaches.
It's also known for its gorgeous hibiscus flowers, white picket fences, and lush pineapple farms as well as its charming villages where much of the architecture is reminiscent of New England.
Eleuthera is known as one of the Bahamas Family or Out Islands, which are generally considered to be much safer than New Providence and the capital city of Nassau. In fact, there's very little violent crime that ever occurs there.
It's 110 miles long and only a mile wide (at the narrowest point) with an estimated area of 457.4 square kilometers and 210 miles of coastline.
And, for many years now, it's also been the British Royal Family's romantic hideaway. In fact, the late Princess Diana and Prince Charles were on holiday there in 1982.
Historical lore has it that the original settlers on the island named it Eleuthera and the Greek meaning of the word is "freedom". And, anyone who visits there can certainly understand why.
Many residents and tourists alike fly their private planes into the well-lit North Eleuthera Airport when they stay in The Bahamas. In addition, there are plenty of private charter planes that are available, too.
And, you can take a ten-minute ride on a water taxi ride for only $5 per person during the day. It's the most popular method for going between Eleuthera and Harbour Island.
BEST PLACES TO STAY IN ELEUTHERA ISLAND
4. Harbour Island, where to stay in The Bahamas for a luxury stay and the best beaches
Harbour Island is actually known by the locals as Briland and it has been dubbed "the best sandy beach worldwide" as well as "the best island beach in the whole world".
Condé Nast Traveler ranked this island's beaches as one of the "Best Beaches in The World" and those beaches are also the favorites of many professional photographers worldwide because of their unmatched beauty and charm.
And, although these names have come from some major travel publications, this island is still one of the Bahamas' best-kept secrets.
Harbour Island is less than four miles in length and just a half-mile wide. It's also one of the safer and more peaceful islands of all for your stay in The Bahamas.
If you're looking to be dazzled by some of the most gorgeous coastal scenery during your stay in The Bahamas, then Harbour Island is for you. It's also a quiet retreat that possesses a unique charm and somewhat rustic character.
It's especially known as a place to rest and relax, slow down, and unwind. But, Harbour Island is also so beautiful and relaxing that even the Kardashians love staying there. That's because it offers so many luxury amenities that it even suits billionaire celebrities!
When you're visiting Harbour Island on your stay in the Bahamas, you'll find plenty of good food when you get hungry. Try Aquapazza if you're more of a fan of Italian than you are of seafood.
It's in the Harbour Island Marina and gives you a great view of the boats floating peacefully in the marina. And, you should definitely try The Beach Bar at Coral Sands for both the gorgeous view and the tasty seafood dishes.
And, no stay in the Bahamas would be complete without a meal at the Dunmore Beach Hotel Clubhouse for some continental cuisines mixed with local Bahamian flavors. The views are great, the ambiance relaxing and tropical, and the food is truly amazing.
BEST PLACES TO STAY IN THE BAHAMAS IN HARBOUR ISLAND
5. The Exuma Islands, best place to stay in The Bahamas for swimming with pigs
If you're an animal lover, you'll find that Bahamian tourism scene stealers are a herd of swimming piggies on Big Major Cay, which is located in the Exumas.
Nobody really knows how they got there, but for many years now, they've been paddling out to meet arriving boats filled with delighted tourists, hoping to be fed some goodies.
Like most Bahamian islands, Exuma offers up plenty of authentic Bahamian food. Check out Prime Island Meats and Deli, Tropic Breeze Beach Bar & Grill, and the Shoreline Beach Club for starters.
You'll find the atmosphere friendly and the food filling and tasty. Remember to try the local specialties like Conch, crawfish, and grouper. And, be sure to order some Bahamian peas and rice with them, too.
One other Bahamian specialty that you must try when you stay in the Bahamas is the conch fritters. You'll be begging for the recipe for sure because they're really so decadently yummy.
They say that once you've tried the Bahamian conch fritters, you won't want to go home. That goes for the amazing crawfish dishes served all over the islands, too. They really are to die for.
Well, everything you'll discover in the Exumas, from food to fun and sun is as memorable as it can get. So, don't forget to take lots of pictures to remember it all by.
In the Exumas, you'll never need to worry about any shortage of fun-in-the-sun during your stay in The Bahamas. That's because there are tons of intriguing activities for getting involved in every single day.
Be sure to visit Cocoa Plum Beach, Exuma Cay Land and Sea Park, Hoopers Bay Beach, Three Sisters Beach, and Sandpiper Arts & Crafts. They're all unforgettable places and you wouldn't want to miss them during your stay in the Bahamas.
BEST PLACES TO STAY IN THE EXUMA ISLANDS
6. Grand Bahama, the perfect destination to stay in The Bahamas
Grand Bahama Island happens to be the number two most popular Bahamian tourist destination where you'll find mile-long stretches of clean white sandy beaches, land and sea sports, and plenty of welcoming hotels.
There's also a popular casino, nightly entertainment, and even some scuba diving facilities that are truly world-class.
If you're looking for lots of outdoor adventure on top of being close to many major tourist resorts during your stay in The Bahamas, then you should definitely visit Grand Bahama Island.
It's a place where you can not only swim through giant underwater caves, but you can also enjoy hiking through forests that are complete with 18 species of birds that can't be found anywhere else in the Western Hemisphere.
Not only that but you can paddle through the mangrove forest in Lucayan National Park
And, if you're looking for the very best beach in the Bahamas, then Gold Rock Beach on beautiful Grand Bahama should definitely fit the bill.
This signature area of sand on the fringe of the Lucayan National Park is known as the island's "welcome mat". It's also known as one of the most exquisite beaches in the entire Caribbean.
Or, if you prefer people-watching and fancy resort-style living during your stay in The Bahamas, then you shouldn't miss visiting the bustling city of Freeport. It's the main city on the island besides being a modernistic planned city that's only 110 miles northeast of Miami.
That means that it's easily accessible by just taking the ferry. It's also a short 2.5-hour trip if you have a boat, making it a great choice for one of those fun-filled Miami to Bahamas one-day trips.
Shopping is also a major feature of Freeport complete with the opportunity for an intriguing stroll through the Port Lucaya Marketplace where you'll discover tons of duty-free treasures from all over the world.
BEST PLACES TO STAY IN GRAND BAHAMA
7. Andros Island, large barrier reef and bird watching
Andros Island is widely known as the "bonefish capital of the world" and is also the largest of all the Islands in the Bahamas. Interestingly enough, however, is the fact that, for its size, it also has one of the smallest populations (only 8,000 people).
At 2,300 square miles, Andros is the fifth-largest island in all of the Caribbean and is 104 miles in length and 40 miles wide (at the widest point).
It's actually made up of three major islands, which include Mangrove Cay, North Andros, and South Andros. This is in addition to the hundreds of cays joined together by tidal swamplands and mangrove estuaries.
And, they're inhabited by an astounding 200 different species of birds that are native only to Andros Island.
Andros basically follows in the footsteps of most of the islands in The Bahamas when it comes to cuisine.
This includes numerous variations on Conch, which is a staple in most Bahamian diets and is usually served with large portions of peas 'n' rice, pig, or chicken souse. and johnnycake.
During the days, there are numerous local spots that are serving authentic Bahamian food. Don't forget that you're on a rural island, however, and don't be surprised if some of those little places don't have anything on the stove if their business has been slow.
Andros also offers the world's third-largest barrier reef at over 140 miles (225km) long. The reef is well-known for its marvelous marine life and excellent diving sites.
In fact, because of its proximity to a network of both saltwater and fresh blue holes and to what's known as the Tongue of the Ocean (an area of deep water that separates Andros and New Providence), Andros has been a very popular scuba diving destination ever since the sport's early days.
It was even a popular destination for many famous divers, like Jacques Cousteau.
BEST PLACES TO STAY IN THE BAHAMAS IN ANDROS ISLAND
8. The Abaco Islands, where to stay in The Bahamas for fishing
If you'd much rather be boating or fishing than anything else, then you'll love the Abacos, which are located in the northern Bahamas. They're part of a chain that's 120-miles-long and known for being one of the world's greatest boating capitals.
The amazingly calm waters, perfectly protected harbors, and a wealth of full-service marinas are attracting visitors every day who own their own yachts and want to stay in The Bahamas.
They also offer numerous island-hopping excursions, fishing charters, and sunset cruises. And, you can cast your line in the Abacos for barracuda, grouper, and snapper, or dive for crawfish, which are the Bahamanian version of lobsters (with no claws).
The very first Abaco settlement was Carleton Point, which is located at the northern end of Treasure Cay, which offers a luxury resort development that's very popular with Americans Brits alike who are looking for a great place to buy a condo and spend their retirement years.
It also has a welcoming marina that is loved by boaters and yachtsmen from Florida and all over the world who come for a stay in The Bahamas.
The Abacos are considered some of the safest islands in the Bahamas, being part of the Bahamian group of Out Islands and known for being family-friendly.
And, with excellent marinas and a championship golf course, Abaco is really a sailor's and golfer's paradise.
The Abacos are also the home of Man-O-War Cay where you can observe craftsmen building boats via traditional methods with no blueprints.
And, Marsh Harbour is Great Abaco's commercial center and the home of the famous red & white striped lighthouse. With its many offshore cays and its reef-protected waters, Abaco was once safe harbor to the British loyalists in the American Revolution.
And, when hunger strikes, you really must try Mangoes Restaurant in Marsh Harbour, where they serve up some of the very best authentic Bahamian dishes in the entire Abaco chain.
It's a welcoming spot that locals and Visiting yachtsmen alike are always flocking to because of its excellent cuisine.
Try their conch burger for your lunch and then go back at night for their catch of the day. It will be straight from the ocean and grilled according to your specific taste. And, don't forget to try the amazing mango sauce that the restaurant is named for.
Make sure that you don't leave the Abacos without visiting Miss Emily's Blue Bee Bar in Green Turtle. Started many years ago by the lovely Miss Emily, this little local bar is famous worldwide for its Goombay Smashes.
Bet you can't drink just one. It's a secret recipe and one of those drinks that taste so good that you don't notice them sneaking up on you.
And, the walls of the bar are covered with the driver's licenses of too many visitors to count. This is one of those places that really gives you that authentic Bahamian feeling.
BEST PLACES TO STAY IN THE ABACO ISLANDS
9. Long Island, great place to stay in The Bahamas for diving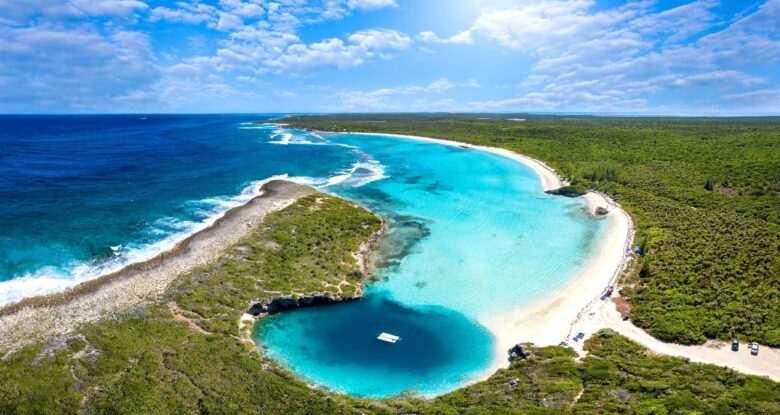 Some of the most stunning views in the Bahamas belong to Long Island with its truly dramatic coastline.
There's just so much to marvel at, like the calm sandy beaches on the western side of the island contrasted with the eastern side's dramatically crashing waves, rugged cliffs, and massive caves, like Dean's Blue Hole.
It's a giant underwater sinkhole that's more than 600 feet deep.
Long Island is 80 miles in length but only 4 miles wide and is basically all coastline, which is perfect for a stay in The Bahamas.
The Long Islanders (3000 of them) are well-known for their welcoming hospitality, and if you need any help navigating your rental car on their island, they're happy to give you directions.
There's also plenty of exploring to be done in the water and on land when you visit Long Island during your stay in the Bahamas. This includes Hamilton's Cave, which is one of the biggest cave systems in all of The Bahamas.
And, make sure that you don't miss Dean's Blue Hole. It's not only world-famous but also the deepest blue hole in the entire world.
That's not all though. Long Island also offers excellent bonefishing, world-class diving, Long Island Museum, Deadman's Cay Caves, Bahamas Discovery Quest, lots of plantation ruins, the Columbus Monument, and of course, those adorable swimming pigs.
You'll find 13 hotels in Long Island and some excellent restaurants to boot. Make sure to check out Max's Conch Stand for some true Bahamian flavor. It's located on Queen's Highway and is an open-air shack with no frills, just great food.
And, if you meander down to the Stella Maris Resort's Ocean Pool, you'll find the Moonshine Bar and Grill where you can enjoy a tropical beverage and a light meal with gorgeous panoramic water views.
And for more great food and that famous Bahamian ambiance, pay a visit to Moonshine Bar and Grill, Chez Pierre, Outer Edge, the Long Island Breeze Resort Restaurant, and Two Sisters Restaurant.
And, if you love shopping, make sure you stop by Judee's Blissful Creations, which can be found along Queen's Highway in a bright blue building.
BEST PLACES TO STAY IN THE BAHAMAS IN LONG ISLAND
10. Bimini Islands, beautiful beaches, fishing, snorkeling and scuba diving
Bimini is another historically interesting island floating in the Atlantic just a short 50-miles east of Miami. In fact, rum runners were trafficking illegal booze there throughout Prohibition.
In addition, there's a freshwater pond that is rumored to have very special restorative properties in the mangroves near Healing Hole.
It's a hot Caribbean getaway that offers everything from beautiful beaches to fishing, snorkeling, scuba diving, and much more. And, it's also the island where Ernest Hemingway kept a summer home.
In fact, during the 1930s, he wrote: "To Have and Have Not" and "Islands in the Stream" there. In addition, Jimmy Buffett is said to have written a book there and, when Martin Luther King Jr. needed a quiet place for writing his acceptance speech for the Nobel Prize, he also chose Bimini.
These days, tourists choose Bimini for lounging on its pristine beaches, swimming with manta rays and dolphins, and snorkeling around ancient shipwrecks.
You can also charter a boat to go out on the beautiful Bahamian waters for catching some bonefish, marlin, sailfish, and wahoo year-round.
And, if you're looking for great food, you're sure to find plenty of it when you visit Bimini during your stay in the Bahamas.
Some of the best of the best include A Taste of Heaven Bakery, Big Game Club Bar & Grill, CJ's Deli, Edith's Pizza, Sabor, Sherry's Paradise Beach Bar, and especially Joe's Conch Shack.
After all, you haven't lived until you've had some of the yummy conch dishes served there. So, come for the food and stay for the fun!
BEST PLACES TO STAY IN BIMINI ISLANDS
11. Cat Island, the most beautiful among all of the out-islands
Cat Island is considered to be one of the safest islands in the Bahamas. Because of its name, many people confuse it with Cat Cay, which is a rather small private island that's close to Bimini.
It's also renowned for being one of the islands that is the least frequented but also the most beautiful among all of the out-islands.
It's untainted by rampant tourism and positively lovely with around 2,000 residents who are some of the friendliest folks in The Bahamas.
Accommodations in Cat Island include 11 hotels that are just as diverse and unique as the Out Islands themselves. And, for amazing Caribbean seafood and fabulous music, check out Da Smoke Pot.
Also, for a few more can't miss eateries, try the jerk chicken or seafood at family-owned Yardie's Restaurant, Bar and Conch Stand.
Or, if you fancy cocktails and grilled lobsters on the beach while enjoying a gorgeous Bahamian sunset, you have to pay a visit to a place called Hidden Treasures.
Also, you just can't go to Cat Island without stopping in for drinks at Da Pink Chicken, the ultimate in island beach bars where previous visitors let everybody know they were there by leaving souvenirs of their visit on the walls.
It can be found on the island's south side in Bain Town. And, for Bimini's very best conch salad, this is definitely the place.
As far as size goes, Cat Island happens to be the sixth-largest Bahamian island. It's fishhook-shaped, 48 miles long, and between 2/3 and 4 miles wide. It's located approximately 325 miles southeast of Miami and 130 miles southeast of Nassau.
It's also quite close to the Tropic of Cancer right between Long Island and Eleuthera. Cat Island offers one of the most pleasant climates in the Bahamas with temps in the high 60s in the winter and the 80s during the summer.
The cooling tradewinds will make your stay in the Bahamas even more comfortable.
Local historians say that the residents of Cat Island were the very first to greet Columbus. The island offers a very rich history of buccaneers, adventurers, slaves, and visionaries of all nationalities.
And, even today, the island is still mysterious to some people with its West Indian witchcraft and some miraculous healing bush medicine.
BEST PLACES TO STAY IN CAT ISLAND
12. San Salvador Island, secluded beaches and sparkling inland lakes
Although there's plenty of fascinating historical lore to be found during any stay in The Bahamas, the hilly island of San Salvador is one of the most fascinating if you're into history and stories of the past.
It's believed by many to be the exact place where Columbus made his first landfall on his voyage in 1492. Today, there's a large white cross at Long Bay, San Salvador, marking that spot.
San Salvadore covers an area of 62.93 miles and is one of the tiniest inhabited islands in the entire Bahamas.
However, it has plenty to offer from miles and miles of secluded beaches to plenty of sparkling inland lakes, a wide range of historic monuments, and approximately 50 dive sites just waiting to keep you entertained.
And, adventure, culture, and history come to life in this place where you'll find island-style lodging ranging from beachfront cottages that are fully furnished to all-inclusive luxury villas.
San Salvador offers up one especially notable dish that has been dubbed "the national dish" and it's called pupusa. So, if you're a foodie and love trying new tastes, you should try it during your stay in the Bahamas.
And, for plenty of variety in Bahamian fare, try La Pinta Restaurant, Standsheka's Bar & Takeaway, Downhome "takeout" restaurant and bar, the Sands Hotel restaurant and bar, and Da Hide Out bar and restaurant.
There's definitely no shortage of great food, drinks, and adventure when you visit San Salvador during your stay in the Bahamas.
BEST PLACES TO STAY IN THE BAHAMAS IN SAN SALVADOR
13. Crooked Island, natural beauty and quaint villages
Crooked Island is well-known for all of its natural beauty and quaint villages. It's also known for its exceptionally friendly and welcoming residents who are always ready to give tourists a helping hand during their stay in The Bahamas.
The island is hill-covered as well as long and narrow with a wealth of bays and caves that dot the western shore.
Crooked Island is located in a shallow lagoon that is called the Bight of Acklins, which is well-known as a safe cruising ground if you have a shallow-draft boat as many large sailboats do.
It covers an area of 57.14 miles and features some small settlements & numerous beaches.
The food on Crooked Island is fantastic and comes with a side of exceptional friendliness that gives you that feeling of eating with family.
Try Casuarina Pine Restaurant, the recently remodeled Pittstown Restaurant, and Gibson's Restaurant for great food, drinks, and ambiance.
This island is known for being very sparsely populated and offering both tranquility and some interesting historical sites like some ruins from long ago.
Among them are the ruins of a building at Pitt's Town that is rumored to have been the very first Bahamian Post Office. And, at the northwest tip of the island stand some ancient British fortifications.
Crooked Island has one especially well-known landmark, which is the Crooked Island Passage Light. It was built in 1876 for guiding ships for a safe voyage through what is called "the slot".
It's also called the Bird Rock Lighthouse because it's a very popular osprey nesting spot. Even today, the light is still leading sailors and pilots to the Pittstown Point Landing Resort.
And near the lighthouse, the barrier reef starts stretching from Acklins Island for approximately 25 miles to the southeast.
BEST PLACES TO STAY IN CROOKED ISLAND
14. Acklins, where to stay in The Bahamas in a secluded island
Acklins is well-known as the perfect Bahamian destination for a stay in The Bahamas if you're into some serious fishing, snorkeling, and/or scuba diving, snorkeling.
It may not be known as a famous tourist destination, but Acklins is known as a secluded island for excellent bonefishing and big game fishing and is definitely a dream vacation island for any fishing enthusiast.
And, if you don't like crowds or sharing, then Acklins offers one of the best opportunities for your stay in The Bahamas to have all of the sand and surf completely to yourself.
Lodging on the island includes seven places to lay your head. Most of them are lodges but one is a bed and breakfast.
Acklins is pretty rural, so you won't find any flashy resorts, glitzy casinos, or luxury suites. Acklins is really about seclusion, peace, tranquility, and nice local people.
Acklins' main settlement is Albert Town, a rather sparsely populated place although it was actually once a very prosperous little town. Big in the salt and sponge industries back then, the town now exports the cascarilla plant, which is used as an essential oil and for producing Campari.
Acklins Island is well-known for its quaint villages and natural beauty as well as its tidal flats and excellent fair-weather cruising grounds. Some visitors call it a bonefish paradise but others will tell you that it's just plain great for its tarpon fishing.
And, when you get hungry and are looking for some tasty local food, Club Rolle-X Restaurant & Bar, Grey's Point Bonefish Inn and Panny's Takeout should fit the bill.
BEST PLACES TO STAY IN THE BAHAMAS IN ACKLINS
Photos: Shutterstock