Where to stay in the Dominican Republic? Planning a trip to the Dominican Republic but unsure where to stay? Getting it right can make or break your trip. Here's your guide to the Dominican Republic best areas.
Of all the Caribbean destinations to visit, the Dominican Republic has been one of the most talked about in recent years.
There are several reasons why you should stay in the Dominican Republic when planning a trip to the Caribbean; first of all, the government of this island nation has made it a national priority to support the national tourism industry as a major driver of the economy.
There was a time when the island was mostly a secondary destination for visitors; this trend has definitely changed, and now more tourists stay in the Dominican Republic as their first choice when traveling to the Caribbean.
While it is true that DR is mostly known for its paradisiacal beaches with white sands and turquoise waters, the reality of the island is that it has a lot more to offer.
When you stay in the Dominican Republic, you will come to realize that this is a place that packs a lot of diversity in terms of tourism activities and regional ambiance.
With all the above in mind, the following is a brief rundown of the best places to stay in the Dominican Republic.
Best areas to stay in the Dominican Republic
1. Santo Domingo, best place to stay in the Dominican Republic for sightseeing
This capital city has an important historical distinction: It was the first formal settlement established by the Spanish Crown in 1498, just a few years after the first voyage of discovery made by Christopher Columbus.
It is important to note that La Isabela was the first hasty encampment in Hispaniola, but it was a failed undertaking. Santo Domingo is the undisputed first European colonial city of the Americas, and this can be clearly appreciated by those who choose this capital a their their place to stay in the Dominican Republic.
Santo Domingo and its colonial architecture were declared a World Heritage Site by UNESCO in 1990, and this designation has been crucial for attracting tourists to the island. If you are interested in historic building structures such as churches, palaces, castles, country homes, and monasteries, this is a perfect place to visit.
This is a strategic spot to stay in the Dominican Republic because it is very close to the main international airport; plus, there are a couple of beaches to visit along with cultural activities and a vibrant nightlife scene.
In the mid-20th century, Santo Domingo competed against Havana as the glitziest capital of the Caribbean. Whereas Havana has not been able to recover its former glory, things are looking good for the capital of DR.
If you are into all-inclusive beach resorts, you will find them at Boca Chica, but seasoned travelers will tell you that the El Malecon and the Old Quarter, also known as Zona Colonial, will often provide a better experience in terms of luxury lodging, and you will still be close to the beach.
The Old Quarter is also home to Calle El Conde, a long pedestrian boulevard filled with shops, bars, restaurants, art galleries, cafes, markets, and other tourist attractions.
Calle El Conde is almost at the center of Zona Colonial, and this is where you can also find boutique hotels at very affordable prices.
The few hostels in Santo Domingo are also in this area, but they are not the best places to stay in the Dominican Republic; for this reason, you are better off paying just a few more dollars or euros to stay in a boutique hotel.
Finally, El Malecon and its surrounding districts is where you will find many exciting nightlife spots, but please check with the hotel staff so that you do not end up going to a dangerous place.
BEST PLACES TO STAY IN SANTO DOMINGO
2. Punta Cana, all inclusive resort area with amazing beaches
The resurgence of the DR as a popular vacation destination owes a lot to the development of Punta Cana. Many tourist associate this coastal region as the most ideal when they stay in the Dominican Republic.
Some of the most popular tour packages sold in Europe are designed for visitors land at the Punta Cana international airport and be whisked away to beachfront all-inclusive resorts.
Punta Cana is a bona fide resort town built especially for tourists. Staying here will make you feel as if the city was designed for you because it was. There are 11 beaches to enjoy, two of them surfing spots with popular schools.
All the sun and sand activities you can think of are offered here: snorkeling, scuba diving, fishing, kayaking, horseback riding, golf, aquatic parks for children, and much more.
You will not get to see any colonial architecture in Punta Cana. This is brand-new and very modern resort city. Lodging options begin with beach hostels, which are fancier and pricier than you would expect elsewhere in DR, but are definitely worth staying in.
The all-inclusive resorts are the main draw, and pricing is fiercely competitive. The most impressive beach resorts are impressively priced, but you may find more reasonable accommodations right next door.
There are also nice guest houses and long-term rentals at fair prices, but the all-inclusive resorts have so much to offer that they tend to attract most of the tourists.
BEST PLACES TO STAY IN PUNTA CANA
3. Bayahibe, where to stay in Dominican Republic for diving
If you are into diving, oceanic activities, and underwater exploration, Bayahibe is where you should stay in the Dominican Republic.
The diversity of marine ecosystems and species in Bayahibe will rival that of Costa Rica, and the beaches feature more wilderness than Punta Cana.
To make scuba diving and snorkeling more attractive, pieces of historical wrecks have been sunk just off the coast, so you better book a trip here soon before they completely transform into coral reef.
As for lodging options, they range from a couple of all-inclusive resorts to small beach hotels at extremely reasonable prices. If you only stay in Bayahibe while you visit the DR, you will not be disappointed because it is a gorgeous place.
BEST PLACES TO STAY IN BAYAHIBE
4. La Romana, very upscale area
Chances are that you have heard about major celebrities such as Beyonce, Jay-Z, and Marc Anthony booking extended vacations to DR; now you know where they stay. Historically, La Romana has always attracted wealthy visitors.
During colonial days, you would not have caught Spanish soldiers staying here; only high-ranking officers and nobles kept fancy quarters. Every single hotel in La Romana is wonderful and stylish.
This is not the kind of destination where backpackers will find budget accommodations, but it is still worth the day trip. The port and marina facilities are very upscale, and the same goes for dining and lifestyle.
La Romana is also home to an important archaeological site where you can learn about the Taino people who likely arrived aboard vessels they made in Venezuela centuries before Columbus discovered Hispaniola.
BEST PLACES TO STAY IN LA ROMANA
5. Juan Dolio, affordable family-friendly beach area
Before Punta Cana became a primary center for family-friendly tourism, Juan Dolio had already been transformed from a fishing village into a coastal resort.
If a family with younger children stays in Santo Domingo, for example, a good idea is to take the 40-minute drive to Juan Dolio, where you can find amusement parks, fishing trips, and agricultural tourism.
If you are a rum connoisseur, you will want to visit the Barcelo Center on a distillery tasting tour; we are talking about premium rums made from special sugar cane strains.
Juan Dolio offers more affordable accommodations compared to Punta Cana. The range of lodging options starts with all-inclusive resorts all the way to small beach hotels complete with swimming pools and tiki bars that can be booked at very affordable rates.
BEST PLACES TO STAY IN THE DOMINICAN REPUBLIC IN JUAN DOLIO
See also: Best places to stay in La Havana, best places to stay in Jamaica, best places to stay in Costa Rica, best places to stay in Panama City, best places to stay in Aruba, best places to stay in The Bahamas
6. Santiago de los Caballeros, colonial architecture and ecotourism
While the noble Spanish settlers mostly chose La Romana as their favorite place to stay in the Dominican Republic, those who sought a more bourgeois life settled in Santiago, a region where agriculture has always been a way of life.
Life is simpler, more affordable, and friendlier in Santiago; this is a place where you will find backpackers staying at local hostels despite the lack of a bohemian district.
Some will argue that Santiago offers more culture than Santo Domingo, and this is reflected by the restored colonial architecture and a few museums in the center of town.
There are more modest than luxurious hotels in Santiago, but all of them feature very attractive pricing. Santiago is also a good city for long-term vacation rentals, and it also offers various ecotourism options as well as guided tour to the beaches.
BEST PLACES TO STAY IN SANTIAGO DE LOS CABALLEROS
7. Las Terrenas, great place to stay in the Dominican Republic for couples
There are many reasons to stay in the Dominican Republic, but if you have idyllic visions of what a Caribbean vacation should be, Las Terrenas is strongly recommended.
This is a very nice coastal town that smart travelers have been discovering in recent years, particularly couples looking for romantic vacations.
There are seven beaches to enjoy here, and one of the best is Las Ballenas, where you can sometimes see whales breaching near the coastline. The incredible ecotourism options include boat trips that cut through mangrove canals.
Las Terrenas also offers some hidden coves with virgin beaches that you can see and photograph from a distance, but they are not open for swimming or sunbathing.
All the hotels are brand-new here; they range from bed & breakfast arrangements to stylish beach lodges where you can expect to pay more than Punta Cana but less than La Romana.
BEST PLACES TO STAY IN LAS TERRENAS
8. Cabarete, windsurf and kitesurf paradise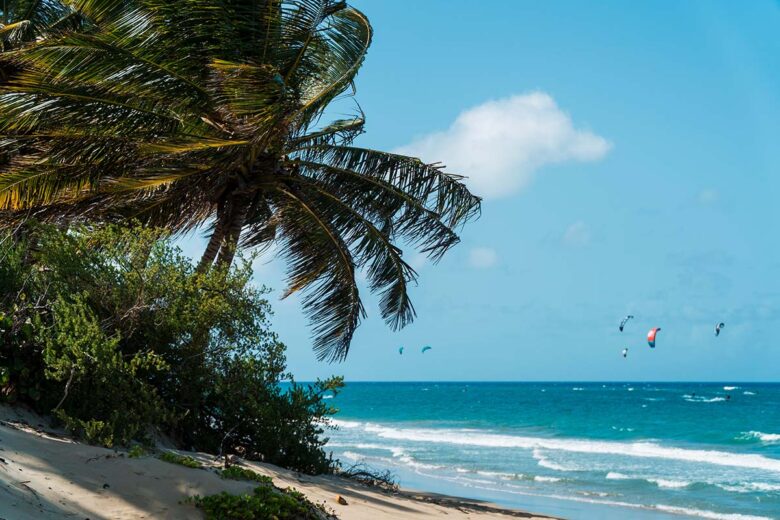 True to its name, Cabarete is a bohemian beach town that attracts younger and fun-loving tourists. Some backpackers skip the rest of the island and settle here for their entire stay in DR.
Surfing, stand-up paddleboarding, kite surfing, windsurfing, and snorkeling are popular daytime activities. At night, guests crowd the beach bars and dance clubs in the nearby small town.
This beach community has the highest concentration of hostels and surf lodges in DR, but you can also find a few upscale beach hotels.
This is not a family-friendly vacation spot; depending on the hotel where you choose to stay, you may find it to be a little loud at night.
BEST PLACES TO STAY IN DOMINICAN REPUBLIC IN CABARETE
9. San Felipe de Puerto Plata, mountains and golden sandy beaches
Some of the highest points of Hispaniola are located on a mountain range that cuts the island across from Haiti all the way to DR; this is where you will find the mountainous community of San Felipe.
If you are staying in the Puerto Plata area, your choices boil down to Cabarete and San Felipe, and we strongly recommend the latter if you are traveling in a family group.
Bring your camera when you take a teleferico (cable car) tour of San Felipe Not only are the views breathtaking but there is also a replica Christ the Redeemer, the famous sculpture in Rio de Janeiro, at the highest point.
Alternating from the mountains to the golden sandy beaches is something that all tourists enjoy in San Felipe, but the center of this charming town, which is blessed with very pleasant climate the entire year, is also worth visiting because of its regional cuisine. Don´t miss a visit to Fort San Felipe.
Backpackers will find couple of hostels and shared furnished apartments in the small downtown district for very affordable prices, but these accommodations tend to be very spartan; you are better off in some of the beach hotels.
A few all-inclusive hotels and adults-only resort round out the lodging options, which are very reasonable.
BEST PLACES TO STAY IN SAN FELIPE DE PUERTO PLATA
10. Santa Cruz de Barahona, solitude in a botanical paradise
All of the vacation spots we have reviewed thus far are located on the east and northern coasts of DR. Santa Cruz de Barahona is on the southern coast, and it has a more tropical and Caribbean feel.
Santa Cruz is the kind of place where you can enjoy solitude in a botanical paradise; this is the only spot in DR where you can find a cloud forest preserve, and the jungle orchid species that you can see here do not grow anywhere else in the world.
There are a few beaches here, but the most accessible is San Rafael. Aside from ecotourism and the beach, there is not much to do here, although a couple of seafood restaurants are worth checking out.
Most of the hotels are beach lodges, but you can also find a couple of vacation rentals. Prices are lower compared to Santo Domingo.
BEST PLACES TO STAY IN SANTA CRUZ DE BARAHONA
11. Constanza, great for nature lovers
Located in the province of La Vega, Constanza is somewhat of an unusual spot. The crew of one of Columbus' first voyages set up camp here, and you have to wonder why they made such as difficult trek through mountainous jungles.
They were surely looking for gold, but what they found was a valley with a micro-climate that is considerably cooler than in the rest of the island. Be sure to pack a sweater if you arrive here after November.
Constanza is far from the beach, but if you are into hiking, you will find plenty of terrain to cover.
Birdwatchers and culinary tourists often recommend Constanza to travelers in DR; there are dozens of unusual native species that do not fly far from the mountains, and the abundance of fresh produce makes this town a nice gastronomy spot.
Country lodges and boutique mountain hotels are the only accommodations in Constanza, and they are all offered at fair rates.
BEST PLACES TO STAY IN DOMINICAN REPUBLIC IN CONSTANZA
12. Las Galeras, amazing beach area with less tourists
Located on the northeastern tip of the island, Las Galeras is a coastal town that is just starting to be discovered by tourists. If you travel there now, you will find that it is a miniature version of Punta Cana in some districts and a traditional fishing village in others.
The beaches here have not been overrun with all-inclusive hotels; in fact, most of the lodging options will require you to walk about 10 minutes to get to the sand.
The prices are a little higher than at Punta Cana, and this is because most of the hotels are new, which means that investors are trying to recover their investments.
What you will not find is Las Galeras are crowded beaches. This vacation spot is still being discussed in hushed tones by European travelers even though you will find that many of them have already settled here.
A nice gastronomy scene is emerging in Las Galeras thanks to European chefs who have opened restaurants in recent years. The active fishing and local farms make this town perfect for fine cuisine.
If you want to visit hidden beaches, Las Galeras is a great starting point because the local tour operators will be happy to take your there.
Backpackers will find budget hotels in the town. Luxury long-term vacation rentals are closer to the beach, and some of them offer spectacular views.
BEST PLACES TO STAY IN LAS GALERAS
Fotos: Shutterstock