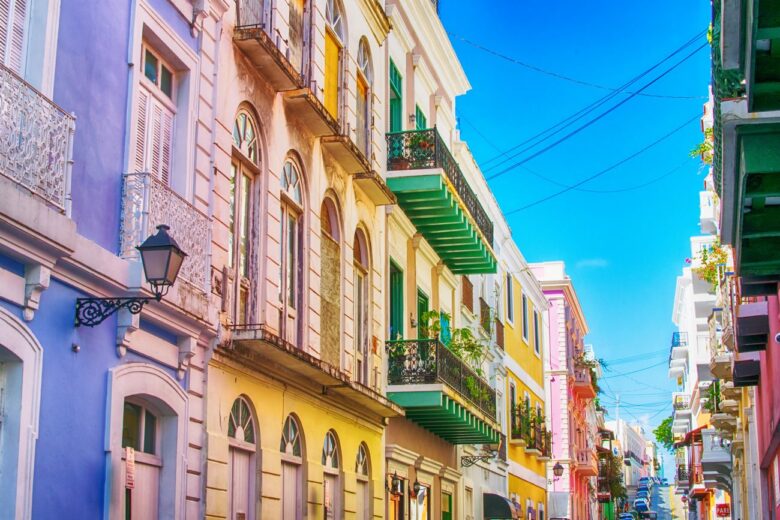 In this post I have outlined the best places to stay in Puerto, along with special highlights and points of interest, to ensure an unforgettable visit.
Frequently cited as one of the most stunning locales in the world, Puerto Rico has remained an immensely popular destination for well over a century.
With its diverse cultural heritage, unbeatably beautiful beaches, endless activities, and idyllic day-to-day living, it's no wonder Puerto Rico is often regarded as the ultimate Caribbean getaway.
Whether you wish to hit up the beach or learn about Puerto Rico's Spanish colonial history, indulge in local cuisine or visit one of the region's sacred wildlife refuges, you're bound to find something for everyone during your stay in Puerto Rico.
Where To Stay In Puerto Rico: Best Areas
1. San Juan, where to stay in Puerto Rico for sightseeing
San Juan is the capital of Puerto Rico, as well as its largest city, and is the second-oldest European-founded city in the United States.
Situated on the Atlantic coast, San Juan is famed for its cobblestone streets, Spanish colonial architecture, sweeping fortresses, beguiling beaches, and vibrant culture.
Old San Juan is the perfect place to find your feet and step back in time to the 16th century, with landmark sites including the El Morro and La Fortaleza, as well as the impressive citadel of Castillo San Cristóbal.
After a stroll along the bayside Paseo de la Princesa promenade, why not explore San Juan's tremendous museum offer.
The district offers such must-sees as Casa Blanca, home of Ponce de León, Museo de las Américas, located in an old military barrack, the Museum of Art and History, the Maritime Museum, or Felisa Rincón de Gautier Museum.
Shopaholics won't want to miss out on the biggest shopping mall in the Caribbean, Plaza Las Américas, which hosts an array of boutiques and department stores alike, as well as recognizable chain retailers, eateries, and even a movie theater.
For an especially high-end shopping experience be sure to pay a visit to the Mall of San Juan, the city's go-to for luxury department stores, noteworthy local designers, and upscale international fashion, furnishings, and interior art.
There is no shortage of dining and nightlife options in San Juan, and visitors will have their work cut out for them deciding among the many mouthwatering eateries showcasing both local and fusion cuisine, along with the plentitude of cocktail lounges, clubs, and bars to suit every palate.
There are a number of lodging options to consider during your stay in Puerto Rico, and San Juan in particular is where you can find a range of hotels, bed & breakfasts, hostels, and private rentals for every budget.
BEST PLACES TO STAY IN SAN JUAN
2. Santurce, where to stay in Puerto Rico for nightlife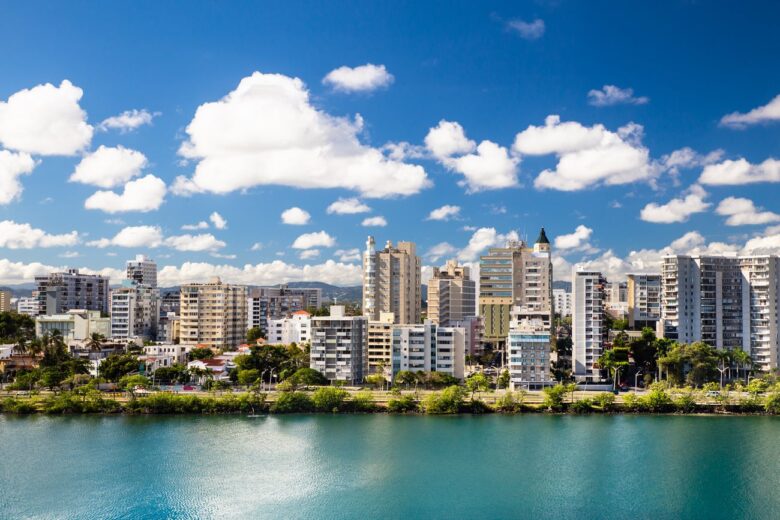 This hip neighborhood of San Juan is a celebration of Puerto Rican arts & culture, and is often compared to Miami's Wynwood Arts district.
Home of the Puerto Rico Museum of Art, Santurce additionally houses the experimental C787 and Museo de Arte Contemporáneo (MAC), which exhibits mixed and multimedia works from around the world.
Lovers of the performance arts will most definitely want to check out the Centro de Bellas Artes Luis A. Ferré, an award-winning venue that recently hosted Lin-Manuel Miranda's Broadway hit Hamilton during a much-celebrated three-week run on the island.
Visitors are also encouraged to look into the island's yearly-occurring Santurce es Ley and Los Muros Hablan festivals, respectively.
Santurce offers plenty of dining and nightlife possibilities, and guests lodging in the neighborhood will find a unique assortment of trendy and boutique hotels.
BEST PLACES TO STAY IN SANTURCE
3. Isla Verde, great place to stay in Puerto Rico for couples and families
This popular resort strip's greatest draw is its namesake Isla Verde Beach, lined with hotels, bars and eateries.
This area is located very close to San Juan Airport and Old San Juan's tourist attractions.
Here is where beachgoers will truly find their paradise, thanks to the area's proffering of water sports and various aquatic activities like scuba diving, snorkeling, surfing, and kayaking.
Located just a little ways down from Isla Verde is the smaller Carolina Beach, a favored local haunt. With its glimmering white sands, azure waters, and all the facilities one could require, offers a calmer, more laid-back retreat from the greater San Juan tourist scene.
The Isla Verde strip is an idyllic spot to find yourself at night, thanks to its lively beach clubs, casual and fine dining options, and late night shopping.
Isla Verde is one of the most relaxing places to stay in Puerto Rico, and is ideal for couples and families looking for a more organic, unhurried experience.
Most of Isla Verde's hotels are located along the beach and feature all of the desirable amenities such as dining, sight-seeing, and car rentals.
BEST PLACES TO STAY IN ISLA VERDE
4. Culebra, a beach paradise
This modest island is where visitors will find nothing short of a paradisiacal escape.
Diamond-white beaches, sparkling cerulean waters, stunning cays, and sumptuous wildlife are just a few qualities that make Culebra one of the most desirable places to stay in Puerto Rico.
Totaling just 10 square miles, what Culebra lacks in size it more than makes up for in natural beauty.
For over a century more than 20% of Culebra has been preserved as a National Wildlife Refuge, serving as a designated habitat for endangered aviary and aquatic species.
Divers will no doubt be in their element exploring the cays and rich underwater landscapes, with plenty awaiting them once they return to shore.
The most visited beach in Culebra is Flamenco Beach, a lush and hip spot to relax, swim, explore, and hang out like a true beach bum.
Additionally accessible and making up the Luis Peña Natural Reserve are Tamarindo and Carlos Rosario beaches.
History lovers will appreciate the Museo Histórico de Culebra, where visitors can learn about the island's native and military history, ongoing ecological efforts to preserve its natural habitats, and view Spanish artifacts.
As with Isla Verde, most of Culebra's hotels are located along the beach, as well as private villa rentals for ultimate seclusion during your stay in Puerto Rico.
BEST PLACES TO STAY IN PUERTO RICO IN CULEBRA
Read also: Best places to stay in Miami, best places to stay in Orlando, best places to stay in Republica Dominicana, best places to stay in The Bahamas
5. Mayaguez, a mix of natural beauty and exciting cultural to-dos
This sizable municipality is the third-largest in Puerto Rico, and is widely-regarded for its mix of sumptuous natural beauty and exciting cultural to-dos.
While an earthquake in 1918 destroyed many of Mayaguez's landmark buildings, much of the city's old world European charm has been maintained.
Plaza de Colon is the main square of Mayaguez, and often cited as one of the most stunning plazas in all of Puerto Rico. Here locals and visitors alike gather for year-round markets and events, with great efforts taken to preserve the plaza's architectural integrity.
Mayaguez is home of the Zoológico de Mayagüez, Puerto Rico's only zoo. The zoo is a fun excursion for families of all ages, and young ones will especially delight in the array of tropical species that reside on the 45-acre habitat.
There is also the Teatro Yaguez, Mayaguez's much-celebrated theater, which was initially constructed in 1909 and destroyed by a fire a decade later, only to be rebuilt in 1921.
The theater has since undergone a full renovation to restore it to its original rendering, and is listed on the U.S. National Register of Historic Places.
Thanks to its ease of accessibility and pedestrian-friendly streets and plazas, Mayguez is an idyllic area to stay in Puerto Rico, with plenty of lodging options for every traveler, taste, and budget.
BEST PLACES TO STAY IN MAYAGUEZ
6. Rio Grande, where to stay in Puerto Rico in a tropical oasis with lots of outdoor activities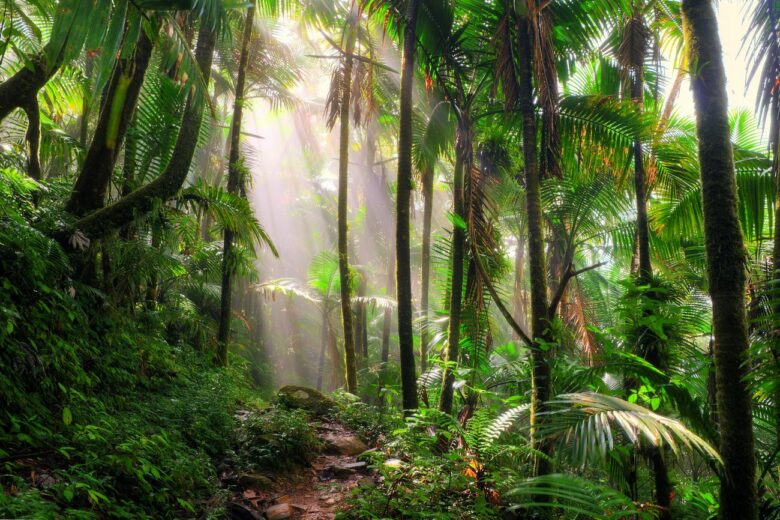 Travelers looking for an irresistible tropical oasis will feel right at home in Río Grande. Home of the El Yunque rainforest, the town offers some of the best panoramic views of the sea and surrounding emerald greenery, with plenty of activities for the outdoor enthusiast.
Hiking, waterfall chasing, rappelling, and swimming are just some of the excursions available in Rio Grande, and guests can find it all in the aforementioned El Yunque, which covers 28,000 acres of land, contains over 240 plant species, and is the only rainforest included in the US National Forest Service.
La Coca Waterfall is an absolute must along the rainforest route, and is sure to make for some truly epic vacation portraits!
The Yocahú Observation Tower is where guests can ascend the 98 steps to take in breathtaking vistas of El Yunque, with the tower itself named after a protective deity in Puerto Rican mythology.
The Carabalí Rainforest Adventure Park will definitely be of interest to outdoor daredevils thanks to its dizzying assortment of go-kart racing, mountain bike trails, and even a UTV adventure tour.
For the less adrenaline-starved, the ranch also offers horseback riding and outdoor activities geared towards younger age groups.
Rio Grande is highly recommended for its quality chain resorts and upscale boutique hotels, as well as private villas and spa lodgings.
BEST PLACES TO STAY IN PUERTO RICO IN RIO GRANDE
7. Luquillo, fantastic beaches and unspoiled natural beauty
Conveniently located just 40 minutes from San Juan, Luquillo is popular for its myriad of fantastic beaches which include the government-run Balneario Monserrate, roped-off Playa Azul, surfing hotspot Playa La Pared, and La Selva, now officially known as the Northeast Ecological Corridor.
Aquatic activities abound on Luquillo's beaches, with plenty of bars, lounges, shops, and restaurants to keep you entertained.
Because of its laid-back approach and unspoiled natural beauty, Luquillo is ideal for travelers looking for a more low-key–but none-the-less stimulating–locale.
For this reason private beachside cottages and villas are especially popular, with larger resort options in the nearby area of Rio Grande. Accommodation in Luquillo is substantially cheaper than in Rio Grande.
BEST PLACES TO STAY IN LUQUILLO
8. Rincon, best place to stay in Puerto Rico for surfers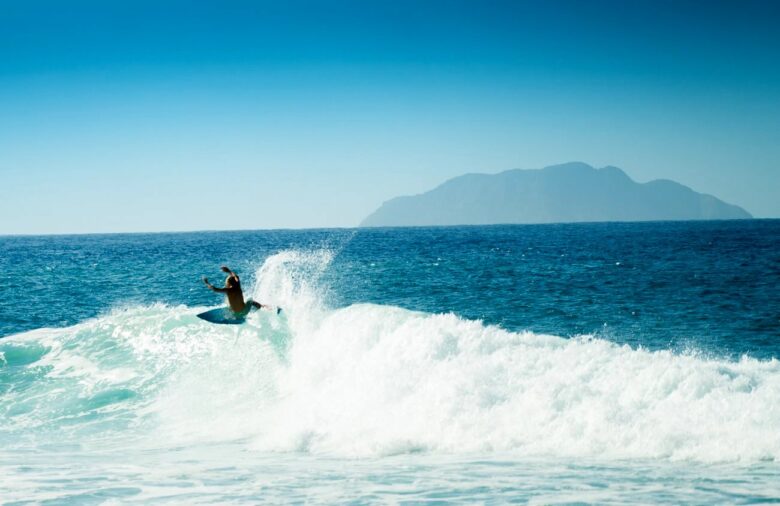 Renowned as Puerto Rico's surfing capital, hitting the beach is at the top of the list of Rincon musts.
With its relaxed environment and peaceful blend of local and expat communities, Rincon is where visitors can slow down and take in Puerto Rican life the way it was meant to be savored.
You don't have to be a world-class surfer to try your hand at riding Rincon's giant waves, as classes are available for all ages and levels. There is also the Surfing Museum, or Galeria del Surfing, to satiate the true surfing enthusiast.
Besides surfing there are also all the in-demand aquatic offerings such as diving, deep-sea fishing, snorkeling, and catamaran sailing.
The Punta Higüeras Lighthouse is the perfect spot to picnic, relax, and maybe even do some whale-watching. Built in 1892, the lighthouse was destroyed by an earthquake in 1918 and rebuilt in 1922 as it appears today.
While there are plenty of delicious restaurants and cafes to be found in Rincon, make sure to check out the town's popular food trucks, which offer a variety of local specialities and beachside favorites.
Visitors will find recognizable hotel names as well as boutique options while exploring lodging options in Rincon, with everything from funky private beach cottages to pet-friendly inns available.
BEST PLACES TO STAY IN RINCON
9. Isabela, natural beauty and local vibes
This exquisite coastal town is punctuated by tall cliffs, mountain peaks, flawless beaches, and pirate-worthy coves.
The wells of Pozo de Jacinto and El Pozo Brujo are striking monuments to Puerto Rico's natural and equally rich storytelling histories, while Blue Hole Beach is where you can spot sea turtles, tropical fish, and even manatees in their habitats.
The Guajataca State Forest is famed for its 40 acres of vegetation, tunnels, underground water systems, and caves, while the Guajataca Tunnel, built in the early 20th century for the American Railroad Co, offers visitors a fun–and decidedly unique–exploring experience.
The rock carving of Chief Mabodamaca, slain by the Spanish during the Indigenous Rebellion of 1511, is an especially poignant site, and stands as a reminder of the courage and resilience of Puerto Rico's native people.
The Plaza de Recreo de Isabela has been a hub of activity since the ceremonial cross was planted in its park in 1818.
Since then the plaza has hosted year-round markets, events, festivals, and important gatherings to highlight crucial concerns such as preserving Puerto Rico's ecological treasures.
Isabela offers guests a plethora of elegant lodging options, from serene seaside rooms and rentals to more centrally-located hotels, hostels, and Airbnb-style properties.
BEST PLACES TO STAY IN PUERTO RICO IN ISABELA
10. Fajardo, where to stay in Puerto Rico for beach and island hoping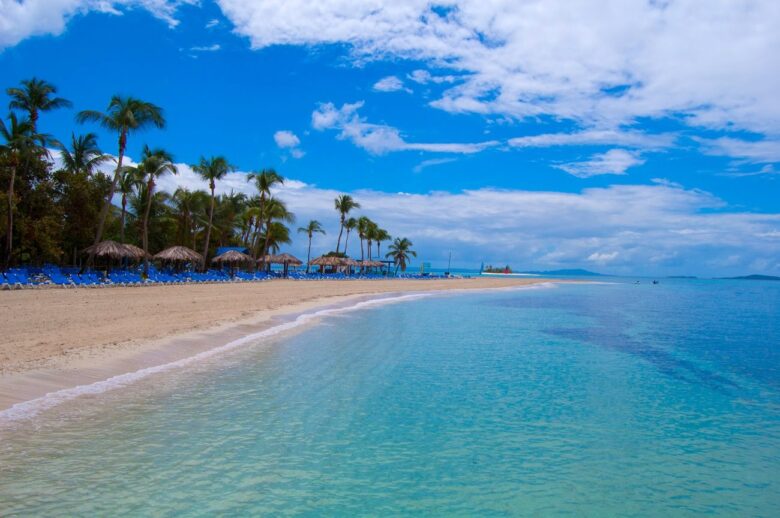 Often referred to as La Metrópolis del Sol Naciente or "the city that guards the sun of the Caribbean," Fajardo is where visitors can expect plenty of sunshine and unmatched views of the Caribbean.
Water sports are the order of the day in Fajardo, with such activities as kayaking, diving, snorkeling, fishing, and sailing available in abundance.
The coral reefs and active animal habitats of Icacos Island are a special draw, and just a short boat ride away.
Las Cabezas de San Juan Nature Reserve is actually comprised of ten islands that can be reached by boat from Las Croabas.
Here visitors can glimpse sea turtle hatchings and various marine life in action, as well as visit the Faro de Las Cabezas de San Juan lighthouse, which was built in 1882 and played a significant role in the Spanish–American War.
Because of its photo-worthy scenery and ongoing roster of activities, Fajardo is a highly-recommended region to stay in Puerto Rico. Accommodation is limited to a few hotels and some private options.
BEST PLACES TO STAY IN FAJARDO
11. Vieques Island, where to stay in Puerto Rico for a unique and unforgettable experience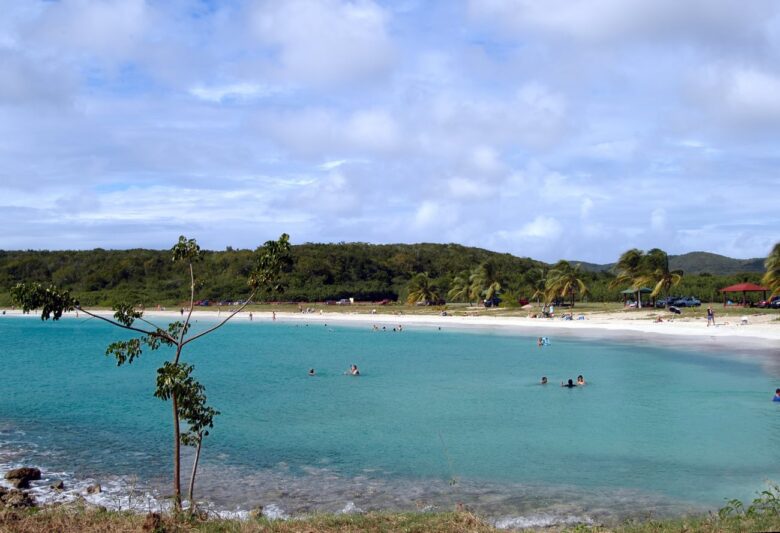 Located off Puerto Rico's eastern coast, Vieques Island offers extensive boat tours of its bioluminescent waters and vast wildlife refuge.
Covering almost 20,000 acres of protected land and a further nine nautical miles of marine reserve, Vieques has since gone on to become a rumored paradise among travelers seeking an unforgettable experience.
The Vieques National Wildlife Refuge (NWR) is arguably the island's biggest visitor draw, covering more than 60% of Vieques' land mass, which includes a number of beaches, bays, and inner trails.
Hiking, beach-hopping, horseback-riding, wildlife spotting, and countless water activities are all on offer, and visitors can easily fill a day or more with excursions in and around the refuge.
Fortín Conde de Mirasol, a small Spanish fort overlooking the town of Isabel Segunda, is where guests can explore the grounds and barracks, as well as visit the art & history museum dedicated to Caribbean culture, which also includes an exhibition exploring the struggle between the United States Navy and people of Vieques.
The bioluminescent Mosquito Bay is cited by the Guinness Book of World Records as the brightest and most spectacular in the world due to its high concentration of microorganisms referred to as dinoflagellates.
The vibrant, pulsating blue and green lights make for an otherworldly kayaking excursion, with the overall lack of pollution ensuring a clear and dazzling light show.
Vieques Island holds an small variety of hotels, guest houses, hostels, villas and private appartments.
BEST PLACES TO STAY IN VIEQUES ISLAND
12. Ponce, lots of things to see and do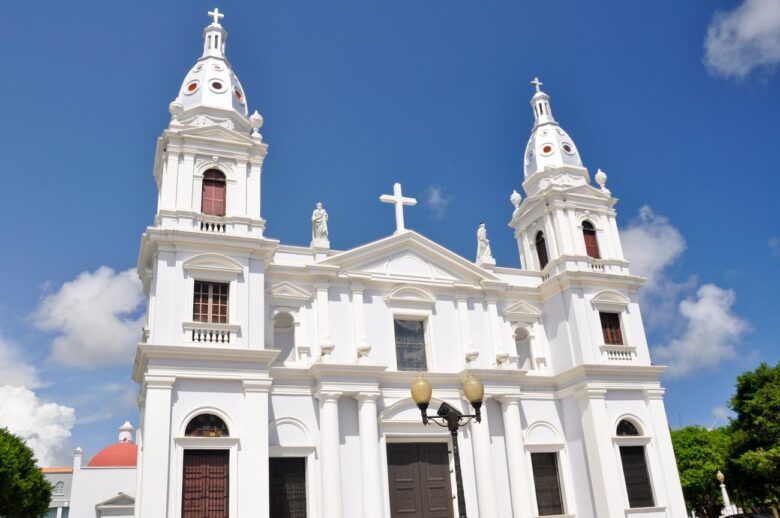 The large coastal city of Ponce, alternately referred to as La Perla del Sur, is one of the busiest and most bustling in Puerto Rico.
Historic sightseeing, arts & cultural events, outdoor touring, and plenty of museums impart a decidedly cosmopolitan feel, while the surrounding sea and beaches maintain the city's tropical appeal.
The public square of Plaza Las Delicias is a popular place to get one's bearings and admire the ornate colonial architecture.
The plaza additionally includes the Parque de Bombas, a former fire station-turned-museum, the mayor's residence of Fuente de Leones, and the Cathedral of Our Lady of Guadalupe.
Overlooking Ponce is Castillo Serrallés, the palatial estate of the Serrallés family and owners of the Don Q rum distillery.
Visitors can take a guided tour of the grounds and gardens, admire the grand interiors and outer architecture, and learn about the Puerto Rican rum industry.
There is also the coffee plantation of Hacienda Buena Vista, where guests can book private tours of the 18th century facilities.
For visitors who love to stroll at their leisure and people watch, there is La Guancha boardwalk, a seaside esplanade lined with bars, restaurants, shops, and kiosks.
Because of its size, population, and tourist appeal, visitors should have no trouble finding lodgings of every budget and style in Ponce.
BEST PLACES TO STAY IN PONCE
13. Dorado, rich culture, sights and captivating beaches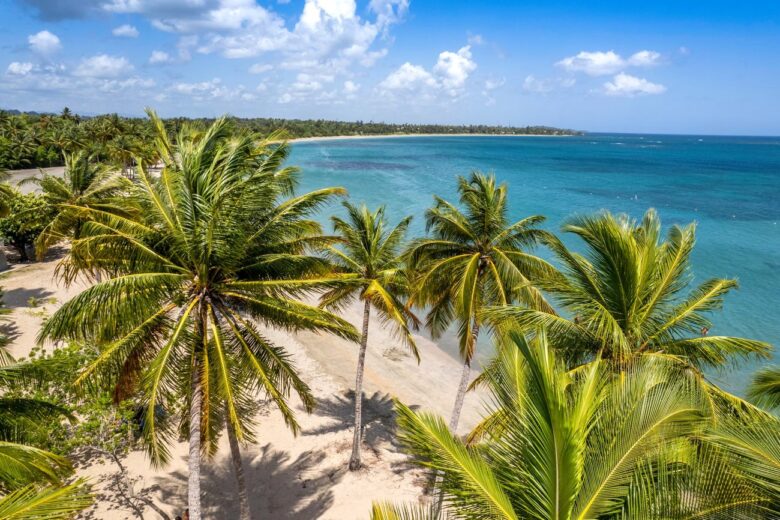 The "golden" town of Dorado has more than earned its name thanks to its rich culture, historic homes and sights, museums, and captivating beaches.
Just 15 miles west of San Juan, Dorado is an idyllic place to lodge during your stay in Puerto Rico, as well as a fun and convenient day excursion.
Dorado's museums are well worth paying a visit to, with the Museo y Centro Cultural Casa del Rey, located in a former Spanish garrison from the early 19th century, the perfect introduction to Puerto Rican history.
There is also the Museo de Arte e Historia de Dorado, which explores and exhibits items from the region's archaeological excavations.
Those seeking a peaceful beach retreat will no doubt favor the diamond sands, shady palms, and heavenly blue waters of Balneario Manuel Morales, which offers additional considerations such as restrooms, showers, and active life guards.
Ojo Del Buey Beach is also a pristine patch of paradise, with the added lore of being the burial site of infamous pirate Roberto Cofresí's sizable treasure.
Like many of its neighboring towns and cities, Dorado has no shortage of resort-style lodgings, as well as more intimate boutique rental options.
BEST PLACES TO STAY IN PUERTO RICO IN DORADO
14. Cabo Rojo, great place to stay in Puerto Rico for a relax beach and hiking holiday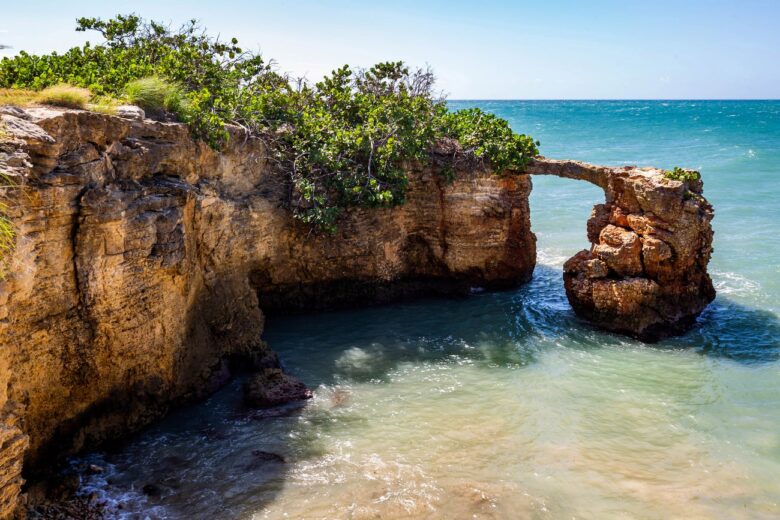 Favored by Puerto Ricans for its unblemished beauty and easygoing atmosphere, the coastal town of Cabo Rojo is where friends and family gather to relax and have a good time.
Los Morrillos Lighthouse, completed in 1877 under Spanish occupation, now keeps watch over Cabo Rojo. In 1981 Los Morrillos was included in the National Register of Historic Places of the United States Department of the Interior.
Visitors are encouraged to trek to the lighthouse and enjoy the panoramic views of the sea and limestone cliffs from the observation deck, with additional hiking trails available for the journey back into town.
La Playuela Beach, known to locals as Playa Sucia, is regarded as one of Puerto Rico's most beautiful and remote beaches, and often voted among the top beaches in the whole of the Caribbean.
The gentle turquoise waters and powdery sand make for an optimum afternoon of tranquility. (Please note that there are no on-site facilities, so be sure to pack plenty of food, drinks, and personal items.)
The Cabo Rojo National Wildlife Refuge reserve was established in 1974 and consists of over 1,836 acres of subtropical forest.
The refuge is managed by the Caribbean Islands National Wildlife Refuge Complex (United States Fish and Wildlife Service), and is the first of its kind in the Caribbean to be a designated site for the Western Hemisphere Shorebird Reserve Network.
Traditional beach hotel as well as private hacienda and apartment rentals are among the more popular lodging options in Cabo Rojo.
BEST PLACES TO STAY IN PUERTO RICO IN CABO ROJO