Whether you're planning the holiday of a lifetime, or just want a different vacation destination, this blog, Where to stay in Jamaica, offers nine of the best places to stay on this fabulous Caribbean jewel.
Its sun-bleached white-sand beaches, coral reefs and swaying palm trees, along with the deep lush foliage and magnificent waterfalls of the interior, ensure your days of exploring will be full to overflowing.
In the evenings, the intoxicating rhythms of Dancehall and Reggae, the brightly coloured fashion of the ladies and the dreadlocks of the Rastafarians: meals of Creole chicken and a few glasses of the famous Jamaica rum; all will help you make memories to last a lifetime.
Read on, for our pick of the nine best places to stay in Jamaica.
Where to stay in Jamaica: Best areas
1. Negril, where to stay in Jamaica for first time visitors
Located on the west coast of Jamaica, Negril is the ideal resort if you're looking for somewhere to stay in Jamaica that offers all the big city attractions, without all the big city noise.
Negril is often referred to as the resort of two halves. Famous for its glorious sunsets, the beach stretches for five miles along the coast, where you will find impressive five-star hotels and all-inclusive complexes, beach bars and restaurants, snack shacks and souvenir shops.
At the west end of the beach, the cliffs rise majestically from the sea and are home to a range of classy villas, Airbnb's, mid-range hostelries, guest houses and luxury boutique hotels. Most with stunning views out to sea.
The cliff area also has beautifully laid out gardens, where you can enjoy a wedding, relax with a cool drink while you soak up some rays – or watch the sun go down.
Dotted around the streets of Negril you will find plenty of shops, bars and restaurants, with street food vendors.
On the beach, you can enjoy a little snorkelling or paragliding or, if your tastes are a little more fluid, you can join one of the popular booze cruises aboard a catamaran.
If you're part of a group, you can even hire your own floating bar. The Tiki Pon Da Sea can be rented by the hour, and includes a full free bar for the duration.
If activity sports are your thing, just a 30 minutes drive outside the town is JamWest Motorsports and Adventure Park, where you can enjoy an all-terrain vehicle ride, race on zip-lines, do a little rock climbing, or plummet down an extreme water slide into the pool below.
Kool Runnings Adventure Park is another popular venue with families and groups and includes raft trips, water flumes and slides, plus go-kart racing and paintballing.
Your evenings can be as active or quiet as you want them. Around the clifftop areas of Negril, you can dine al fresco while watching the sunset, or seek out the rhythm from a local reggae bar.
If you want lively-lively, head to the beach area and its late-night bars, restaurants and on-the-beach impromptu concerts.
Accommodation is good at all levels, although you will likely pay a premium for beachfront lodgings.
BEST PLACES TO STAY IN NEGRIL
2. Montego Bay, best place to stay in Jamaica for nightlife
Landing at Sangster International Airport on the outskirts of this port city, you can be close to the action 24-hours a day, making Montego Bay an excellent choice of where to stay in Jamaica for the first time.
Very much a built-for-tourism city sitting on the island's north coast, Montego Bay is a bright, hustling mix of cultures, with visitors, locals and ex-pats from around the world choosing to spend their time here.
With the white sandy beaches, coral reefs and warm clear waters of the bay, you can spend your holiday hidden away in your all-inclusive complex, or just lazing on the beaches.
But if you do, you will be missing so much of what this fascinating island has to offer.
In town, Gloucester Avenue, known universally as the 'Hip Strip', lies to the rear of the beachfront and is a good place to begin acclimatising to your new vacation lifestyle.
Here you will find plenty of bars, clubs, restaurants, general stores, souvenir shops and mid-priced hotels.
Explore the city and its history. Sam Sharpe Square is considered the centre of town, and was the epicentre of the anti-slave movement in the early 1800s. led by Sam Sharpe, himself a slave owned by an English lawyer. Sharpe became a Baptist and lay deacon.
Although he was hanged in 1832 for initiating the anti-slave riots, his passion had started the wheels turning, and just two years later, on 1st August 1834, slavery in Jamaica was abolished.
Much of this area has retained its old historic cobbled streets and buildings such as The Cage, a runaway slaves prison, and parts of the old courthouse still stand.
Of the many pristine beaches along the coast, Doctor's Cave Beach, said to be fed by therapeutic mineral springs, was probably the first to attract international well-heeled visitors who arrived to treat their various ailments, long before the advent of the package holiday.
Other beaches of note include, close to Gloucester Avenue, the Aqua-Sol Beach Theme Park that includes flumes and go-karting, and Cornwall Beach.
With Rose Hall Beach and Tropical Beach just outside the town area. Most of the beaches have their own beach clubs, bars and eateries.
Places to visit away from the sand and sea include the White Witch and Cinnamon Hill Golf Clubs, and Chukka's Jungle Outpost, where you can learn a little Jamaican history while zip-lining or river-tubing.
If you enjoy nature and a little bird watching, visit Bunkers Hill Cultural Experience, where you can learn the history of the island's peoples, enjoy a traditional Jamaican meal and feed the multi-coloured hummingbirds.
If your preference is the spirit world, you can learn the blood-curdling history of the haunted Rose Hall Great House and its infamous plantation owner Annie Palmer.
To keep the kids busy, the Half Moon Equestrian Centre at the same venue has ponies, donkeys, goats and rabbits to be petted.
To round off your day you can eat, drink and party the night away in your all-inclusive complex, or one of the many bars, clubs and restaurants around town, especially on the Hip Strip.
In Montego Bay, there is a whole gamut of accommodations for your stay in Jamaica. From Airbnb and guest-houses to mid-range hotels, adults-only retreats to waterfront villas and sumptuous all-inclusive complexes.
BEST PLACES TO STAY IN MONTEGO BAY
3. Ocho Rios, where to stay in Jamaica for families
With the island's third international airport on its outskirts, Ocho Rios is a purpose-built resort town and cruise port on Jamaica's north coast.
Ocho Rios is a very popular destination for families with a wide variety of activities and attractions for all members of the family.
A high percentage of luxury all-inclusive complexes are located here, where guests can enjoy their time in pampered luxury.
Turtle Beach curves around the bay at the front of the town and is lined with plush hotels, all-inclusive complexes, eateries, bars and clubs.
If that's a little busy for your taste, a 15-minute walk out of town will get you to Mahogany Beach, or a short taxi ride along the coast will get you to Reggae Beach, the quietest of the three.
Around town, the place to be is Main Street. This busy buzzing boulevard is full of cafes and restaurants, fast-food joints, and coffee shops, shopping complexes and local markets.
Be sure to check out Island Village, an open-air Jamaican style village that includes an interesting Reggae Museum.
Being close to the cruise port, it is the main area cruise passengers head for during their time ashore, so it can get very busy. It is also the main area to hit in the evening for dining and drinking. With a little reggae thrown in for good measure.
At the rear, in the parish of St Anne, are lush rainforests, adventure parks and the famous Dunn River Falls, making Ocho Rios a great base from where to explore the local area.
There are plenty of organised excursions available, so you don't need to worry about what side of the road to drive on. Nonetheless, if you prefer to do your own thing, car rental is available.
Did we mention waterfalls? Dunn's River Falls cascades from over 180ft above you, all the way to the beach area below. Or you can get a birds-eye view from the overhanging bridge, or the overhead zip-lines that flash through the canopies.
Close by, you can also explore Konoko Falls, Island Gully Falls and Turtle River Falls.
If a little adrenalin hit is your thing, try bamboo rafting on the White River, or a little tubing through the white-water waves, down Island Gully Falls or the Blue Hole.
Whether you're a devout reggae fan, or just like to sway to anything with a beat, booking the Nine Mile Tour should be high on your to-do list.
The village of Nine Mile was the birthplace of reggae idol Bob Marley and you will learn about his rise to fame and visit his Mausoleum.
Although a journey of around an hour, the scenic route alone is well worth the time spent in your air-conditioned coach.
If you have a love of tropical flora and fauna, pencil in a visit to Cranbrook Rainforest Gardens. Beautifully laid out gardens are set in over 40 acres, where you can stroll the grounds, admire the tropical blooms and enjoy the peacocks.
They also have a heart-stopping zip line, pretty café and gift shop on site.
If Bob Marley is forever branded into Jamaican folklore, so too are the exploits of the 1988 Olympics Jamaican bobsleigh team, made famous by the film Cool Runnings.
From Ocho Rios Pier, book an excursion to the Mystic Mountain where you will be carried aloft by chair lift, before speeding down in your one-man bobsleigh. The mountain also has an infinity pool with water shoot, a hummingbird garden and a nature trail.
Plenty of all-inclusive accommodation is available at Ocho Rios, with a limited number of half or full board hotels, boutique hotels and Airbnb.
BEST PLACES TO STAY IN OCHO RIOS
Read also: Where to stay in the Dominican Republic, where to stay in Havana, where to stay in Panama City, where to stay in The Bahamas, where to stay in Aruba
4. Treasure Beach, where to stay in Jamaica for rustic relaxation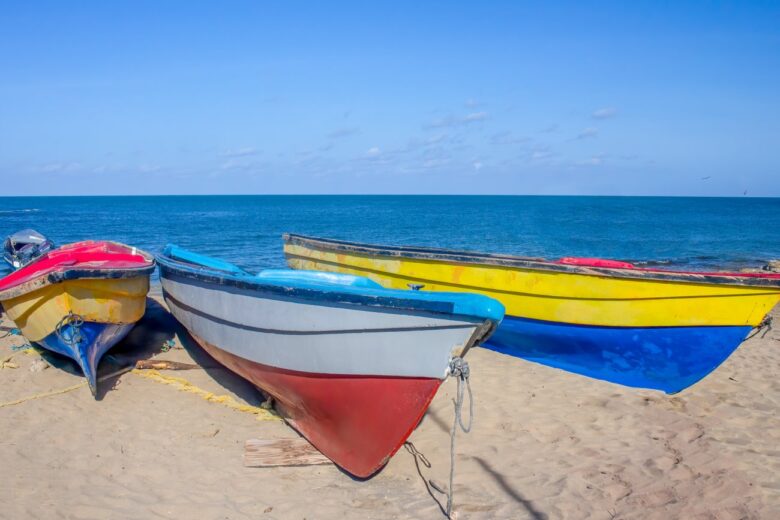 If your dream of the consummate Caribbean holiday includes old wooden fishing boats pulled up on the sand, holiday shacks and cottages spread higgledy-piggledy behind the beach, and small local family-run hotels, bars and restaurants, have a closer look at Treasure Beach.
Laying on Jamaica's southern shore, Treasure Beach is made up of four small coves, Billy's Bay, Frenchman's Bay, Calabash Bay and Great Bay.
From its early beginnings of one hotel some 30-years ago, the resort has grown in popularity, although expansion has been carefully monitored by the very environmentally aware local population.
No large all-inclusive complexes here. Just a few tasteful boutique hotels, a couple of luxury villas and wooden holiday cottages.
Strangely, for a resort so determined to maintain its Jamaican laid-back vibes for its visitors, the Treasure Beach community, concerned about boredom in the younger generation, got big into sports.
Just outside the village is a sports park that has grown exponentially since it opened a few years back. It has attracted sports stars such as the Williams sisters and Lennox Lewis, and American basketball coaches and cricket teams, to coach and play the youngsters.
Saturday nights see a five-a-side soccer competition, combined with a tongue-in-cheek talent show, and DJ sets. A popular evening with both locals and visitors.
There is also a local Natural History Museum a mile or so outside of town. The four small bays are all very similar. Check before you go, as only a couple have a beach shack for snacks and drinks.
You can lay down a beach towel, but take care if swimming, as the sea can get choppy with an onshore breeze.
Evenings tend to be quiet affairs and menus rather limited. That said, there are a couple of excellent fish restaurants and others offering international dishes including pizza.
Don't expect all-night drinking either. Although if the Red Stripe or Jamaican rum is flowing and the till jangling, landlords have been known to stretch their hours.
Compared to the bigger resorts, accommodation is somewhat limited, so if rustic and laid-back for your stay in Jamaica rocks your boat, early booking is recommended.
BEST PLACES TO STAY IN JAMAICA IN TREASURE BEACH
5. Kingston, capital and cultural centre of Jamaica
Located on Jamaica's south-east coast, Kingston became the island's capital in 1872 and is the sprawling commercial and cultural hub of the island.
With Jamaica's second international airport lying just south of the city, in the bay's outer harbour, visitors can be in the town centre in less than 30-minutes.
Although there are nine beautiful Caribbean beaches around Kingston's shoreline, they all seem pleasantly uncommercialised, used primarily by Kingstonians on their days or weekends off.
Some are white sand, some black sand and others a mix of sand and pebbles. No high-rises or all-inclusive condos here, just the odd restaurant, bar or snack shack.
If you want to take a break from the hectic rounds of sightseeing, take your pick. You will find plenty of space to lay your towel and relax, whichever beach you choose.
In town however, it's a different story. Although catering mainly for business travellers rather than tourists, hotels and apartment complexes are everywhere, with the most popular area being uptown New Kingston, where you are never far from the action.
Places of interest during your stay in Kingston include:
The National Gallery of Jamaica, on Ocean Blvd
The Bob Marley Museum at 56, Hope Road
Devon House, circa 1881, at 26, Hope Road
Life Yard, Fleet Street
Liberty Hall Museum, 76, King Street
William Grant Park, known as 'Parade'
Tuff Gong Recording Studios, 220, Marcus Garvey Drive
Alpha Boys School Arts Centre, 26, South Camp Road
Coronation Market
Around the port area, the 7th-largest natural harbour in the world, you will find various shops, bars, cafes and eateries. With so many things to do in the city, and so much of Jamaica's culture to be explored, it's little wonder not many visitors make it to the beaches.
For your evenings, you will find plenty of local and international restaurants where you can enjoy a meal. And bars, clubs and entertainment venues to suit all music tastes.
One word of warning, like all large cities, Kingston has its fair share of pickpockets, con-artists and muggers. Be a little streetwise. At night, stick to the brightly lit streets, stay with the crowd, and never wander off alone.
Accommodation across all areas is plentiful, although as previously stated, is geared more towards the international business traveller rather than tourists.
BEST PLACES TO STAY IN KINGSTON
6. Runaway Bay, where to stay in Jamaica for snorkelling and scuba diving
Nestling in Saint Ann Parish, on the island's north coast, between Montego Bay on its western side and Ocho Rios on the east, Runaway Bay offers everything you need for a complete, away-from-it-all, relaxing, laid-back stay in Jamaica.
One of Runaway Bay's big attractions is it never gets inundated by the hordes visiting from cruise liners.
Most of the hotel accommodation is all-inclusive and located along the pristine sea shore, where many of the hotels lay claim to private areas of the beach for their own visitors.
Along the beaches, you will also find open-fronted beach bars, with a few snack shacks and souvenir huts.
Runaway Bay has just one main street lined with all-inclusive, full board and half-board hotels, although you will also find some villa and boutique hotel accommodation, with a few shops, bars and restaurants dotted around town.
If you're not staying beside the sea, head for Cardiff Hall Beach or Fisherman's Beach. Both have sparkling sandy shores and crystal clear water that remains shallow for a good distance out.
With the offshore coral reefs and thousands of colourful reef fish, the area is also very popular with snorkelers and scuba-divers.
If you fancy a day away from the beaches, the town has an 18-hole golf course and there are trips available that will take you to places like Nine Mile village, the birthplace of reggae legend Bob Marley, the Green Grotto Caves just outside the village, or the magnificent Dunn's River Falls.
If you want a little more, the busier resort of Ocho Rios is around a 30-minute drive.
Menus for dining out tend to be a little short on variety, being mainly local Jamaican dishes. That said, there are several seafood restaurants serving the freshest of fresh seafood, and others where excellent curries are available.
Plenty of imported and local alcohol is available in the bars, but what better way to end the perfect stay in Jamaica, than sitting at a beach bar watching the sun go down, while sipping a colourful Caribbean cocktail.
BEST PLACES TO STAY IN JAMAICA IN RUNAWAY BAY
7. Port Antonio, laid-back destination good for surfers and outdoor activities
From being one of Jamaica's earliest tourist attractions, to descending into an area of crime and destitution, to rising again to become one of the island's more laid-back visitor areas, Port Antonio has certainly had a chequered past.
Located on Jamaica's north-eastern coast, Port Antonio is around a two-hour drive from either Kingston or Ocho Rios, depending on which airport you land at.
A one time busy port for the export of bananas and coconuts, it remains the island's third-largest port, and includes a purpose-built marina where some of the largest yachts in the Caribbean can often be seen anchored in the bays.
With a backdrop of the Blue Mountains, and hills of deep green tropical vegetation sliding down to the water's edge, soft white sand beaches and blue sea, it is reputed to be one of Jamaica's most photographed areas and has been used as a backdrop in some notable films.
The beaches are as always, excellent, and not too heavily commercialised. Frenchman's Cove has a curving lagoon where freshwater meets seawater. Boston Beach (where Boston jerk chicken was invented) attracts a few surfers with its higher than average waves.
While on Winnifred Beach you will find artisan Rastafarians selling their carvings and local fishermen mending their nets.
Port Antonio also has more than a passing interest in the modern music scene, with several recording executives installing studios in some of the bigger hotels.
Songwriters and producers arrive to format new works and produce material for some of the biggest singers in the UK and US. It's little wonder then, that most of the bars around town make music a big part of their draw.
Port Antonio town is a lot less frenetic than the bigger resorts of Montego Bay, Ocho Rios or Negril, and tends to attract more visitors from the UK and Europe, rather than the States.
Nonetheless, you should be able to find all you need for your stay in the shops and regular markets that dot the area.
Likewise, although choices tend to be rather limited, dining out in a local restaurant, or enjoying a cocktail in the local bars, is a great way to relax after a busy day exploring the interior.
Port Antonio has a good selection of self-catering apartments, private lets and villas, as well as a selection of mid-range hotels.
BEST PLACES TO STAY IN PORT ANTONIO
8. Mandeville, where to stay in Jamaica for ecoturism
For those whose holiday preferences don't involve beaches, but revolve around ecotourism and learning about the culture, architecture, flora and fauna of their chosen destination, Mandeville might be of particular interest.
Situated 2,000ft above sea level, on the Manchester plateau in the west-central hills of Jamaica, Mandeville is a vibrant, yet relaxed town in a mountain setting, surrounded by rich, luxuriant vegetation and close to many of the island's natural wonders.
Founded in 1816, it was purely a functioning town with a large expat community, many of them British ex-army officers. In the 1950s, it became a major boom town with the arrival of bauxite mining around the area, and has never looked back.
Today it is a market centre for local farmers and growers. Is home to the majority of employees in two mining companies, and has an increasing ex-pat community of retired Jamaicans, returning home from years of working abroad.
It is also becoming an increasingly popular destination with people looking for where to stay in Jamaica, to be able to get up close and personal with the people, nature, wildlife, and tropical flora of this fascinating island.
Don't assume that being in the centre of the island Mandeville must be some sort of one-horse town, it's anything but that. Everywhere you go in town you will find gardens, pots, tubs and window baskets ablaze with tropical flowers.
Around the centre are old 19th-century colonial homes. Enjoy a meander through Mandeville Square with its fountains, sculptures and the war memorial.
One of the town's oldest buildings, the Mandeville Courthouse circa 1817, sits opposite the park, while close by is St. Mark's Anglican Church built in 1816.
There is a plethora of organised trips available, where you can enjoy a whole range of activities. Check out trips to; Apple Valley Park, Marshall's Pen, or Black River Safaris.
You will also find private gardens open to the public and several horticultural societies and shows.
Manchester Country Club established in 1865, has an 18-hole golf course. Or you can enjoy a little spirit sampling at the Appleton Estate Rum Experience, or get a caffeine hit at the High Mountain Coffee Factory.
To ensure your every need is catered for, there are a some shopping malls around town, with the biggest being the Manchester Shopping Centre.
There are plenty of cafes, coffee shops, bars and high-quality restaurants to suit all tastes, and you will also find cinemas, discos and nightclubs to add variety to your evenings out.
Accommodation is limited.
BEST PLACES TO STAY IN JAMAICA IN MADEVILLE
9. Falmouth, historic town with a modern cruise port
On Jamaica's north coast, just 18-miles from Montego Bay, lies the historic port town of Falmouth, in the parish of Trelawny.
Founded in 1769, the port and consequently the town, increased in stature up to the early 1800s, when the sugar and rum trades were at their height.
After the Abolition of Slavery Act in 1834, Falmouth's fortunes declined, although it continued trading as a port town and new properties continued to be built.
It is this period, with many of its original Georgian style buildings still standing, that has provided the town its unique, historical feel and earned it both United Nations World Heritage and Jamaican National Heritage status.
Now Falmouth's fortunes have turned again. With the opening of the brand new cruise liner facility in 2011, prosperity is returning to the town, and greater numbers of non-cruise tourists are beginning to book accommodation in the area.
Although there are plenty of magnificent Caribbean beaches around the area that require a little travelling, two of the closest are Time & Place Beach and Burwood Beach.
Although it's nice to explore at your own pace, to get the most from this historic area organised tours are highly recommended, and there are plenty to choose from.
A guided Walking Heritage Tour is a great way to learn a little history of the area, stroll streets laid down in the 1700s, with much of the old architecture still standing.
Visit the old courthouse, built in 1815, and go back in time to the days of plantations and the slave trade.
If you're getting hooked on Jamaican cuisine, consider an organised Culinary Tour, where you get to taste the best Jamaica has to offer.
Other tours include a visit to the Glistening Waters Luminous Lagoon, usually at night, where you can bathe in waters full of (harmless) microbes that glow in the dark.
A Trolley Tour, where a look-alike trolley bus will take you on a mobile tour of the town. Or, if you want more active you can go paintballing, river rafting or tubing.
If you want to dine away from your hotel some evenings, head for the port area, where you will find local and international restaurants and plenty of bars.
If you want to eat and drink in town, ask your hotel for recommendations. It always pays to be a little street-wise when in a foreign country.
There is a good variety of accommodation from houses and apartments to Airbnb, and mid-range boutique hotels to exclusive villas and 5-star hotels.
BEST PLACES TO STAY IN JAMAICA IN FALMOUTH
So there we have it. We hope you've enjoyed these nine of the best places where to stay in Jamaica, and they help make your Caribbean experience the best it can be.
Turn your dream of where to stay in Jamaica into reality.