Wondering where to stay in Paros for your next Greek island adventure? As the third largest island in the Cyclades group, and with an architectural history that dates back time immemorial, Paros won't disappoint.
Nestling in the centre of the archipelago, in the sparkling Aegean Sea, Paros is a hilly, volcanic island of scrub, cypress, and pine covered countryside. Bright, colourful Cycladic villages criss-cross the island.
Examples of ancient, historic architecture are found everywhere, and the sandy beaches and turquoise waters are nothing short of glorious. With water-sports and tours, secluded restaurants and lively bars, Paros has something for all age groups.
To help you make your choice of where to stay in Paros, we've put together this list of 8 fabulous places to stay on the island.
Where to Stay in Paros: 8 Best Areas
1. Naoussa, our favourite place to stay in Paros
Some 10km east of Parikia, the island's capital, lies the beautiful coastal village of Naoussa. Nestling in the large Plastira bay in the north of the island, it is a traditional Cycladic fishing village, which has somehow embraced the lucrative package holiday industry, while retaining all its traditional charm.
Built in a semi-circle around its tiny fishing port, the village is one of picturesque whitewashed cottages, ablaze with bright blue window frames and doors; and colourful hanging baskets, window boxes, and potted plants.
Narrow paved streets and alleyways meander through the village toward the village square, and the hotels and apartments beyond.
Although Naoussa still clings to its traditional roots, it appreciates where the money is. You will find plenty of businesses geared towards the tourist industry, with several souvenir and other visitor focussed shops.
From the village you can see the ruins of a once proud Venetian castle, offering an insight into how things used to be.
The Church of the Assumption of the Virgin overlooks the village, while the nearby Church of Agios Nikolaos (Saint Nicholas), also houses a Byzantine Museum displaying a number of valuable 13th century icons.
The tiny, romantic harbour with its local businesses, seafood restaurants, and colourful fishing boats bobbing on the water, is a major draw both daytime and evening. Rarely do you see so many photographers in one place, looking for that perfect picture.
Around the bay are several beautiful sandy beaches that can be reached on foot, by cycle, by car or by boat.
For the gourmets, octopus is a favourite dish of both locals and visitors. A stroll around the quayside will take you past numerous seafood restaurants, with octopi hanging outside drying in the sunshine.
A table around the harbour, with grilled octopus, washed down with a couple of glasses of local ouzo, is a great way to end the day.
For evening entertainment, local bars cater for all tastes. From quiet with friendly Greek hospitality, to busy and lively, with many bars around the harbour open into the early hours.
Naoussa has an excellent selection of all levels of accommodation around the village and local beach resorts, with a campsite a 5-minute drive from the port.
BEST PLACES TO STAY IN NAOUSSA
2. Parikia, where to stay in Paros for sightseeing
Midway down the west coast of Paros, Parikia is the island's capital and largest port.
Wherever you choose to stay in Paros, the chances are you will arrive either from the mainland, and land at Paros's national airport, or by ferry from one of the other islands, and disembark at the Port of Parikia.
As you would expect from a capital town, Parikia is the commercial and cultural hub of the island, and offers all the facilities and amenities you may need during your stay.
Built around the curve of the natural harbour, the small white terraced cottages with their blue painted woodwork, are separated by narrow whitewashed lanes, grand villas, and winding alleyways as the town extends back from the seafront.
Colourful plants are everywhere, hanging from balconies, and outside doorways in all kinds of pots and tubs.
The old town area remains largely traditional, with Market Street, (Lohagou Fokianou Street) being the principal shopping area.
Along the palm lined coast road, (Giannis Paris Street), from the Bountaraki Mill to Livadia, is where you'll find most of the late-night action, with hotels and apartments, late night bars, restaurants, and shops designed to cater for all tastes.
Although a now disused windmill is considered to be the centre of town, at the highest point of the village are the remains of a 13th century Venetian castle.
Spread around the area you will find the Church of The Virgin of September (Septemvriani), the Church of Saint Helen (Agia Eleni), and one of Greece's most precious Byzantine monuments, the Church of Our Lady of the Hundred Gates (Panagia Ekatontapiliani), and its museum.
Just behind the church you will find another museum, displaying artifacts of the Neolithic and Roman periods, while on the outskirts of town, can be found the ruins of a number of Greek temples.
For those who prefer nature to archaeology, the Valley of Butterflies lies 4km south of the town.
The port area is buzzing day and evening. Island ferries come and go throughout the day, with private yachts and motorboats vying for moorings with the colourful fishing boats.
Buses and taxis drop off and pick up their fares, and the cafes and bars are kept busy with a steady stream of visitors looking for breakfast, lunch, or brunch. It's a fabulous place to spend an hour relaxing in the sunshine, enjoying a little people watching.
In the evenings the harbour's bars and restaurants come alive offering local and international cuisine, and entertainment to suite all tastes.
Parikia has a good selection of accommodation for all budgets, from private apartments to hotels and sumptuous villas.
BEST PLACES TO STAY IN PARIKIA
3. Piso Livadi, where to stay in Paros for families
If you're looking for one of the best family friendly places to stay in Paros, you may just have found it.
It wasn't so many years ago, that the pretty little fishing village of Piso Livadi was just that. Then the builders moved in. Hotels, apartments, and villas went up. Shops, bars and restaurants were built.
The harbour was extended, and all the trappings of the tourist industry were added. Yet through it all, somehow, Piso Livadi, has retained its essential Greek charm.
Around the harbour and village, the standard blue and white colour scheme sparkles in the sunshine, offset by the azure blue Aegean Sea, and the colourful potted plants and bougainvillea that all the island's villages seem to specialise in.
Although the harbour can be busy with island ferries coming and going, the small sandy beach is shallow, safe for the youngsters, and equipped with the usual sunbeds and parasols.
A children's playground on the harbour's edge ensures they don't get bored, and there are plenty of bars, shops, and restaurants to keep mum and dad happy. The village has also developed a gourmet reputation for some of the best cuisine on the island.
For a change of scenery, the larger Logaras beach is a five-minute walk away, but amenities are fewer, and shade is via the tall salt-cedars that grow to the edge of the beach.
There are plenty of tours available to the other islands or visitor attractions inland. If you enjoy a little exercise in the sunshine, the traditional villages of Marpissa, Marmara, and Prodromas are just a pleasant stroll away. With the popular Chrisi Akti beach 4km south.
Piso Livadi is a great destination for all ages, and has a good, varied selection of accommodation to suite all needs.
BEST PLACES TO STAY IN PAROS IN PISO LIVADI
Read also: Best places to stay in Santorini, best places to stay in Mykonos, best places to stay in Naxos, best places to stay in Milos, best places to stay in Sifnos, best places to stay in Ios
4. Lefkes, best place to stay in Paros for nature lovers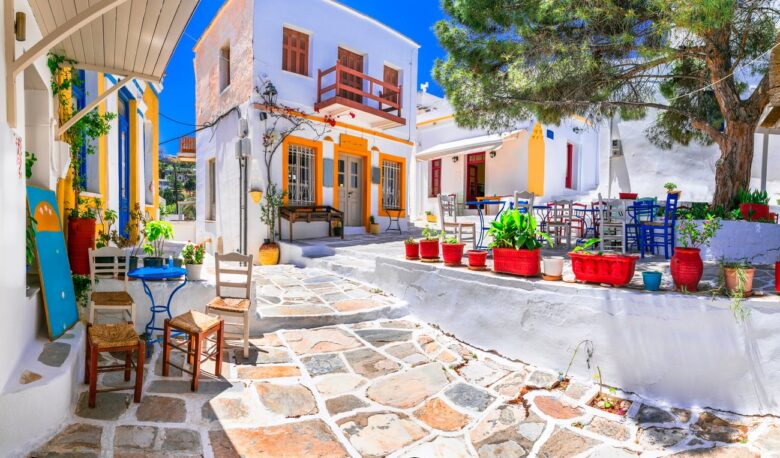 If you're looking for somewhere to stay in Paros away from the beaches, as a base to explore the island, Lefkes village could be it.
10km south-east of Parikia, and at an altitude of 300m, sits the inland village of Lefkes. Surrounded by forests of pine and cultivated olive groves, this delightful village was the island's capital back in the Middle Ages, and it seems little has changed.
The village is wholly pedestrianised, with two parking areas on the outskirts for those arriving by car. The main street (Ramnos) is the hub of the village, where you will find most of the shops, bars, and restaurants.
A stroll to the edge of town will present you a stunning view that reaches as far as Naxos Island. Hidden amongst the little whitewashed village houses, you can find a couple of traditional communal washhouses, still used today by a few of the residents.
For nature lovers, there are numerous paths and trails you can walk looking for the local birdlife. If you're a keen walker, there is also a path out of the village, said to have originated during Byzantine times, which leads you to nearby Prodromos village, and on down to the seashore.
During the day, cicadas will chirp to you as you stroll the village to explore the Folk Art Museum, and the Museum of Aegean Folk Culture.
On the hill opposite the village, you will find the beautiful white marble Byzantine Church of the Holy Trinity (Agia Triada) and its priceless icons.
In the evening, as you enjoy your meal under the stars on the terrace of a local restaurant, you will hear grasshoppers clicking, and the occasional shriek of a screech owl, as it hunts for food.
Young children may find Lefkes a little boring, but for couples and singles, young and old, looking for somewhere to stay in Paros away from the popular beach tourist areas, it should tick all the boxes.
If Lefkes sounds like your place to stay in Paros, early booking is advised as accommodation is limited, with many visitors returning year on year.
BEST PLACES TO STAY IN PAROS IN LEFKES
5. Parasporos Beach, large sandy beach and water sport activities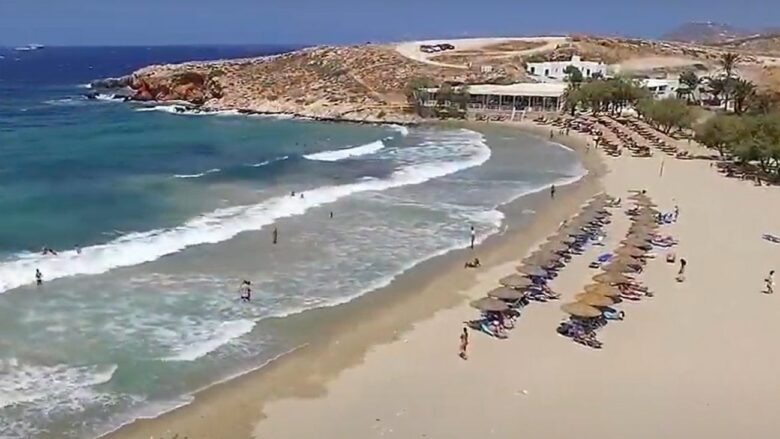 If your idea of the perfect holiday stay in Paros is a large sandy beach, sunbed and umbrella, and cocktails on the beach, Parasporos could be it.
Located on the west coast, and three kilometres from Parikia, Parasporos is a long stretch of mainly sandy beach, with a backdrop of rugged hillsides and pine forests.
At the rear of the beach are hotels, apartments, and villas. There is also a large campsite nearby popular with young backpackers, which can make the beach very busy during high season.
For the swimmers, plastic beach shoes are a good idea, as the larger stones and rocks for the first metre or two as you enter the water can be hard on the feet.
On the beach front, there are a couple of large tavernas to supply your drinks, snacks, sunbeds, and parasols, but you won't find any water-sport activities here.
What makes this beach so popular is it is just a 20-minute stroll, or five-minute taxi ride, to the busier capital, when you fancy a change of scenery.
Beside the campsite there is an excellent selection of accommodation available, ranging from self-catering studios to apartments, hotels, all-inclusive spa complexes, and sumptuous villas.
BEST PLACES TO STAY IN PARASPOROS BEACH
6. Aliki, ideal for a great beach vacation
Aliki is another little Paros fishing village that is becoming increasingly popular with those wondering where to stay in Paros for their next holiday.
Sitting on the south coast of the island, Aliki is a kilometre from the airport, and 12km from Parikia Port. As tourist numbers have increased, so have hotels and apartment blocks. So much so, that Aliki has expanded to the borders of the next door village of Angeria.
Nonetheless, with its quaint harbour, traditional buildings, and narrow streets and alleys, Aliki retains much of its original character.
A destination popular with all ages it has three beaches. The most popular beach, in front of the village, is a narrow strip of soft sand. There are a few beach bars on the front and around the harbour that supply drinks, snacks, sunbeds and parasols.
On the west side the small beach is one of course sand and pebbles, while at the other end, a five minute walk from the village, the beach is rocky with few amenities. Both smaller beaches are popular with those who prefer the quieter areas to work on their tans.
For children and the more active there are football, volleyball, and basketball courts, while traditional shops, bars, and restaurants give visitors plenty of options during the evenings.
Many of the tavernas grow their own fruit and veg to go with the fresh seafood, and are very proud of the quality of their local cuisine.
Although visitor attractions are few in the area, there are plenty of trips available that can be booked by both sea and road.
The village also has a Cycladic Folklore Museum, which houses an interesting collection of miniature hand crafted ships, monuments, and various exhibits, depicting Cycladic life through the ages.
Accommodation around Aliki is plentiful, with everything from self-catering to all-inclusive options, much of it relatively new.
BEST PLACES TO STAY IN PAROS IN ALIKI
7. Chrissi Akti, where to stay in Paros for windsurf and kitesurf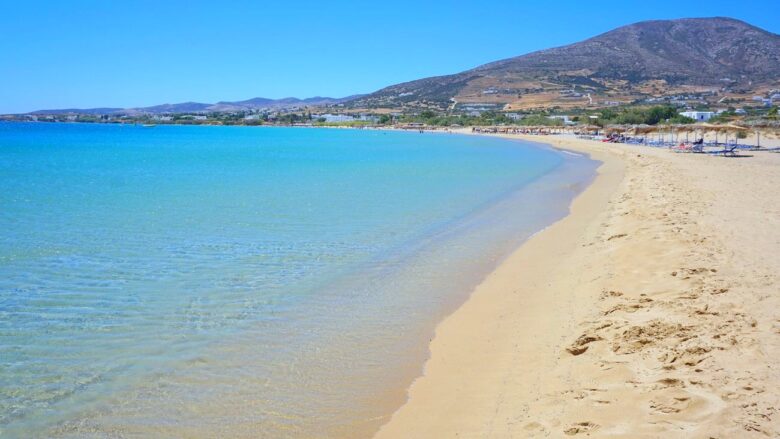 When you get your first glimpse of Chrissi Akti, you'll realise why it's known locally as 'Golden Beach'. Situated on the east coast, 17km from the airport, and 20km from the island's capital, Chrissi Akti is a 700m long, wide stretch of soft golden sand.
With the warm breeze that almost continuously blows down the coast, it is the most popular beach on the island with the wind-surfing community.
Every August, The Professional Windsurfing World Cup is held at Chrissi Akti, attracting wind-surfers from around the globe. The back of the beach is full of wind-surfing schools and hire shops, renting all the wind-surfing equipment you'll need.
Beach beds and parasols are available for hire; and shops, bars, and restaurants; hotels and apartment blocks, spread along the front.
Towards the end of the beach, the tiny harbour of Drios protects the small fleet of fishing boats and private sail boats, with more local tavernas, seafood restaurants, mini-marts and eateries, to ensure you never go hungry or thirsty.
There is also another, smaller sandy beach north of Chrissi Akti, and known as the 'New Golden Beach'.
For those wanting to visit, rather than stay, access is good with main roads right up to the beach. There is also a regular bus service from the capital and other areas, including the airport.
Accommodation is plentiful and varied, with private lets, hotels and apartments dotted around the rear of the beach, many with their own pools and restaurants.
BEST PLACES TO STAY IN PAROS IN CHRISSI AKTI
8. Antiparos, specially recommended for a quiet and romantic stay
If you're still trying to decide where to stay in Paros to get away from the crowds, where you can enjoy a glass of wine on an (almost) empty terrace, where you can swim and relax for hours without talking to anyone, perhaps Antiparos might suite.
Antiparos isn't a new all-inclusive complex, or a popular resort destination, but an island. Situated off the west coast of Paros, it is just 45 square kilometres in area.
Many choose Antiparos for a day trip from Paros, just a 30 minutes ferry journey. Or a 10 minute journey if you choose an open deck fast ferry. If you're flying into Athens, the ferry journey to Antiparos is around four hours.
If you're looking for somewhere to let the world pass you by for a week, or that romantic break for two, limited hotel accommodation on the island is available.
It is an island that has managed to stay away from the limelight. Instead, letting its larger sisters bathe in the spotlight of popular package holidays.
It is this reserved, laid back attitude, that has made it so popular with the jet-setters, celebrities, and A-list stars who come to stay. People like Madonna, and Tom Hanks who is reputed to own a villa on Antiparos. But things are slowly beginning to change.
Antiparos has a limited number of visitor attractions. Primarily the tiny chapel of Agios Ioannis Spiliotis, next to the Cave of Antiparos with its stalagmites and stalactites, and the pretty town of Chora where you will find the remains of a 15th century Venetian castle.
That said, hire vehicles are available for you to make the most of over 30 tranquil, pristine sandy beaches, picturesque traditional villages, friendly family tavernas with views out to sea, and the freshest of simple Cycladic cuisine.
Varied accommodation is available around the island. You can choose from a campsite on the north of the island, family run hotels, rooms and suites in shared villas, or luxurious beach front villas for the whole family.
If you're still looking for that illusive Greek island that continues to remain faithful to its cultural heritage in the 21st century, a stay in Paros, or its little sister Antiparos, is about as close as it's going to get. Enjoy them today – for the same cannot be guaranteed tomorrow.
BEST PLACES TO STAY IN ANTIPAROS
Photos: Shutterstock