Whether you're part of a group, alone or traveling with kids, Milos has a little something for everyone. Once you decide to take a trip to this incredible island you'll most likely be wondering where the best place to stay in Milos is.
This guide will do a deep-dive into ten villages in Milos. Milos definitely gets more packed in the summer months, so if you don't mind the crowds, you'll experience relaxing, long days and exciting, warm nights.
Whenever you decide to go to Milos, just make sure to book early and plan accordingly. Tours and accommodation book up quickly.
Luckily, there are accommodation options for every desire and every budget, including luxury hotels, AirBnBs, shared rooms and apartments and even a couple of hostels. Keep reading to find the best place to stay in Milos for your vacation.
10 Best Areas Where to Stay in Milos
1. Adamas, one of the best areas to stay in Milos
Adamas, or Adamantas as it is known to the Greeks, is the central hub and the biggest village of Milos, with over 1,300 people calling it home. As the main port of Milos, Adamas is a stunning sea-side village with some of the best seafood and island views on all of Milos.
Founded in 1835 by Sfakian refugees escaping Crete after the failure of their rebellion against the Turks, Adamas has an incredibly rich history, specifically because the village was used for its strategic position in the eastern Mediterranean during conflicts.
Now, Adamas is a tourist and cultural hub with much to see and do. As you explore the charming streets and alleyways, you'll see why many tourists choose to stay here even after their vacation has ended.
To start your day, get yourself a set of wheels to explore. Whether you prefer to drive, ATV or bike, Adamas has tons of options for renting a method of transportation. This is a great way to explore the village and see the most amount of sights possible.
Next, check out one or all of Adamas' amazing museums. The Milos Mining Museum, only €4 for admission and open on most days between 10 am and 2 pm, discovers Milos' interesting archeological history.
The smaller Ecclesiastical Museum showcases what Milos was like under Venetian rule, with eclectic art pieces and jewelry on display.
If you're looking for some holy relics, Adamas is home to the 17th century church of Agia Triada, the second oldest Orthodox Church in Milos, as well as the Agios Haralambos, built in 1870 by Cretan refugees.
Check out the courtyard within with shimmering pebble mosaics sourced straight from the beaches of Milos
Once you're ready to relax and get some sunshine, check out Adamas' two beaches: Lagada Beach directly next to the port, and Adamas Beach, a long and narrow strip which merges with Papikinou Beach.
Lagаda has а beach bar offеring sunbeds, rentable floats for the kids and cocktails for the adults. Adаmas Bеach is also great for kids, with leafy trees for shade and a shallow sea bottom with calm waves.
When you get hungry, walk along the promenade around the port to find great restaurants, shops and small businesses. You can even rent a boat or a guide to take you on a sunset cruise.
One boat-trip well-worth making is that to nearby Kleftiko, a famous cove that was once an old pirates hideout.
As Adamas is the most popular village on Milos, you'll find great options for accommodation here, specifically along the promenade.
In terms of nightlife, most clubs can be found in the capital of Plaka, but Adamas has a few bars and nightclubs that are open well into the wee hours of the night and usually play live music.
And, for those on a budget, Adamas is fairly inexpensive – just make sure to book ahead of time and avoid the crazy summer months if you can.
BEST PLACES TO STAY IN ADAMAS
2. Pollonia, a small fishing village with major charm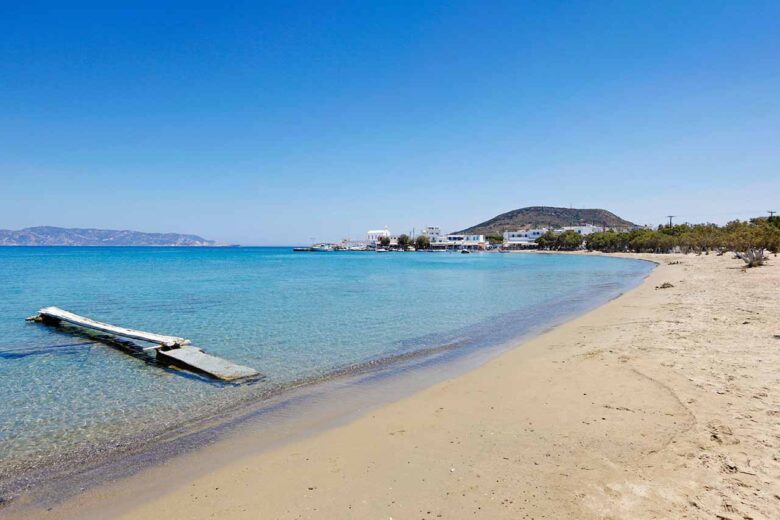 Unlike the hustle and bustle of Adamas, Pollonia is a fairly quiet, picturesque and family-friendly village on the northeastern corner of Milos.
During the summer months, Pollonia transforms into a bumping spot for chic vacationers. But, the village still retains a certain rustic charm about it, making it a great getaway for those hoping to avoid the major crowds.
The big attraction here is Pollonia Beach. If you feel like it, lay your towels down under a shady tamarisk tree with a glass of wine and watch the kids play along the white sand and in warm, shallow waters for the whole day.
If you prefer to sightsee and are looking for some adventure, keep reading. Because Pollonia is so small, you can see much of the village just by walking along the seaside and checking out the windy pier, which will give you great views of the bay.
On either side of the bay are two stately churches, the Church of Saint Nicholas and the Agia Paraskevi, which welcome visitors looking for a glimpse inside.
If you want to check out the neighboring island of Kimolos, ferries depart daily from Pollonia, where you can find ancient geological formations and amazing beaches.
If you're looking to find treasures beneath Milos' crystal blue waters, the Milos Diving Center offers intro and certified diving courses, where you and a trained guide will get to explore the depths of the Aegean.
Once you're ready for a little dinner and drinks, check out the Kostantakis Cave Winery, a vineyard that also doubles as a hotel and serves some of the best wine on the island.
Pollonia has a great variety of small, boutique hotels near the water that regularly offer great deals and is one of the only areas on this list that actually offers several different options for accommodation.
Make sure to book ahead, as these can go quickly as warmer weather approaches. Pollonia is a great place to stay in Milos for families with small children and perhaps less ideal for those looking to stay up all night.
In addition to the safe conditions of the beach and waters, there is a kids' playground in the middle of town and several great hotels that provide special accommodations for families with children.
In terms of nightlife, Pollonia offers some great seaside tavernas and low key lounges for adults to grab a cocktail and enjoy the amazing sea views.
BEST PLACES TO STAY IN POLLONIA
3. Plaka Milou, where to stay in Milos for nightlife
The capital of Milos, Plaka Milou is a charming town and a vibrant, bustling mini-city sitting atop a hill. Though it now teems with modern features, Plaka has an enticing past seen in its traditional Cycladic architecture.
After the destruction of the village of Hora in ancient times, there was no room for the mass amount of refugees in neighboring Kastro. Thus, Plaka was born out of material sourced by the new settlers from their crumbling homes.
The new village was named Plaka due to the nature of the flat land it was laid on (plaka means "flat stone" in old Greek) As the village sits upon the highest point on Milos, the sunsets here are breath-taking and you get an awe-inspiring view of the entire Gulf of Milos.
One notable feature of Plaka is the twisting, often confusing alleyways. Legend says the streets were made intentionally maze-like to confuse invading pirates – whatever the case, cars are not allowed here. If you're hoping for a set of wheels, look into getting a moped or bicycle to explore.
Start a day in Plaka by just getting your bearings and strolling around. You may get lost (which is a good thing!) discovering all the souvenir shops, eateries and traditional residencies that Plaka has to offer.
Plaka also is a beacon of Minoian culture. Looming above Plaka is the Venetian Kastro ("Castle") of Milos, which has a long and enticing history.
Once a glittering home to Venetian nobility, the castle was abandoned after the Greek revolution of 1821, but revived during World War II, when the Axis powers used the Kastro as a Mediterranean base.
It is almost a miracle within itself that the Kastro has survived this long, thanks to the careful preservation of historical societies in Plaka.
While you're at the top, look around for panoramic views of the nearby villages Triovassalos, Pera Triovassalos, and Trypiti, as well as the emerald waters of Milos below.
Plaka is also home to the renown and unique Panagia Korfiatissa, the Metropolitan church of the island dedicated to the Virgin Mary. Founded in the 19th century, the white-washed Panagia Korfiatissa has Byzantine murals, a relic chest and even a wooden carved epitaph honoring holy icons inside.
The nearby Panagia Thalassitra, dedicated as the patron saint of sailors, is also united with the smaller chapel of Panagia Eleousa, both offering breath-taking views of the below sea.
Don't miss the Archeological and the Folklore museums.
If you're not into history or religion, taking a day for yourself at nearby Plathiena beach is totally fine too. This organized beach has a cantina/cocktail bar open during the summer months, a boat rental service and sandy, shallow water great for playing and snorkeling.
Near Plathiena stands an interesting – and amusing – rock formation eroded by the sea over thousands of years.
This famous structure looks like a bеаr-rаbbit hybrid and changes depending on the angle you're looking at it with. While yоu саn't view thе figurе frοm the beach itself, yоu can on a boat.
Finally, in terms of nightlife, is the best place to stay in Milos. Plaka has a lot of options for accommodation and fun as it is the capital. There are several bars and tavernas on the main street and quieter eateries if you're looking for a lowkey night.
BEST PLACES TO STAY IN PLAKA
4. Tripiti, a hilltop village with amazing gulf views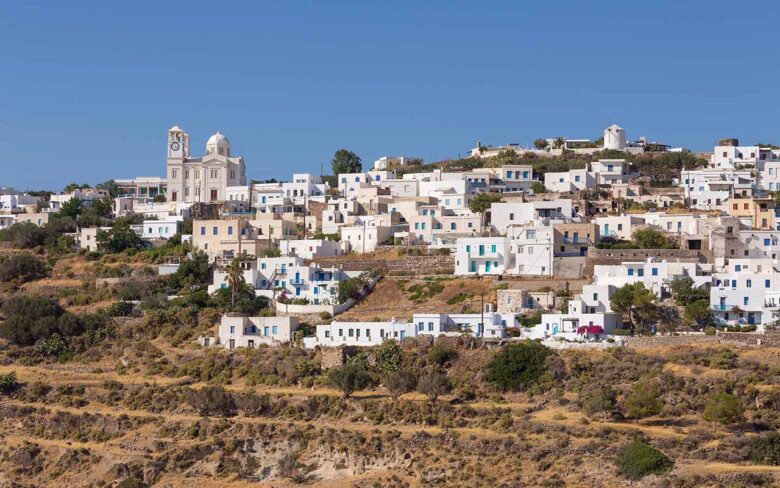 Many may assume that the village of Tripiti is just an extension of Plaka. But, the village is a unique gem in its own right with an incredibly rich history. In the past, Tripiti was an especially prosperous village in the Classical and Hellenistic periods.
Tripiti literally means "holes" in Greek, which may come from the number of "holes" or burial sites that dot the hillsides of Tripiti.
Standing stately on a hill, Tripiti is home to several white windmills located at its highest point. Though they are no longer in use, remember these – some you can even stay overnight in!
For a little sightseeing, check out the ruins of a 1st-century relic, the Ancient Roman Theater, overlooking Tripiti from a slopping hill. Visitors are welcome to come in and walk around, imagining how the theater used to glitter with the finest marble around.
For a little adventure under the ground, check out the famous Milos Catacombs, just a stone's throw away from Plaka and a can't miss during a stay in Milos. For a small fee, you can descend into some of the chambers, where you'll see ancient graves and cryptic inscriptions.
Considered to be one of the most important (and perhaps the first) relic of early Christianity in Greece, this underground complex served dual purposes. It was both a burial site as well as a welcomed refuge for Christians escaping persecution from Roman rule in the 1st century.
The Venus de Milo statue was said to have been uncovered here.
Another famous site of Tripiti is the Church of Agios Nikolaos, visible from most angles in Milos, standing in the small platia of Tripiti, or Greek town square, reached by narrow alleyways. Be aware-the streets of Tripiti are extremely narrow and are almost all one-way.
In terms of nightlife, Tripiti has a wide range of amazing restaurants to try.
While accommodation here is fairly scarce, the hotels and rentals here offer amazing views of the Gulf of Milos.
BEST PLACES TO STAY IN MILOS IN TRIPITI
5. Klima, stunning sunsets
Sail up to Klima and you'll instantly fall in love with this magical, whitewashed Greek haven, straight out of an Aegean fairytale. Once a major commercial fishing hub, the town has become far more relaxed.
Only a few residents live here full-time, so there is a smaller amount of restaurants, accommodation options and souvenir shops. But, there is still an enchanting charm about Klima you won't find anywhere else.
Your eye will instantly be drawn to the colorful boat houses lining the waterfront with their vibrant yellow, pink, red and blue doors and windows.
Make sure to bring a fully charged camera or phone; you'll be taking tons of pictures of the scenic view and of the vibrant sunset that dawns on the town each night.
The Profitis Ilias chapel, a church at the very peak of the hill, overlooks the village of Klima and offers fantastic panoramic views if you're willing to put into the work to reach it.
Once you're all hiked out, make sure to stay until night begins to fall; Klima is known to have the best sunsets on all of Milos.
Because Klima isn't a resort town, accommodation here is few and far between, so the village may not be the best place to stay in Milos, even though it is definitely worth seeing.
If you do decide to stay the night, you may be in for a special treat. A couple traditional Klima boathouses have been converted into rustic vacation rentals, great for families or couples looking for a quiet respite from the craziness.
The Hotel Panorama is the only public hotel here, which is slightly uphill and a small distance away from the main strip. Parking can be tough to find here, and you may have to park your car along the road and reach the village by foot.
Partyers be forewarned: there are no beach bars or tavernas here. But if you want a traditional Greek experience with all the beauty, Klima is a must-see.
BEST PLACES TO STAY IN KLIMA
See also: Best places to stay in Santorini, best places to stay in Mykonos, best places to stay in Naxos, best places to stay in Crete, where to stay in Paros, where to stay in Sifnos
6. Triovasalos, where to stay in Milos for a local experience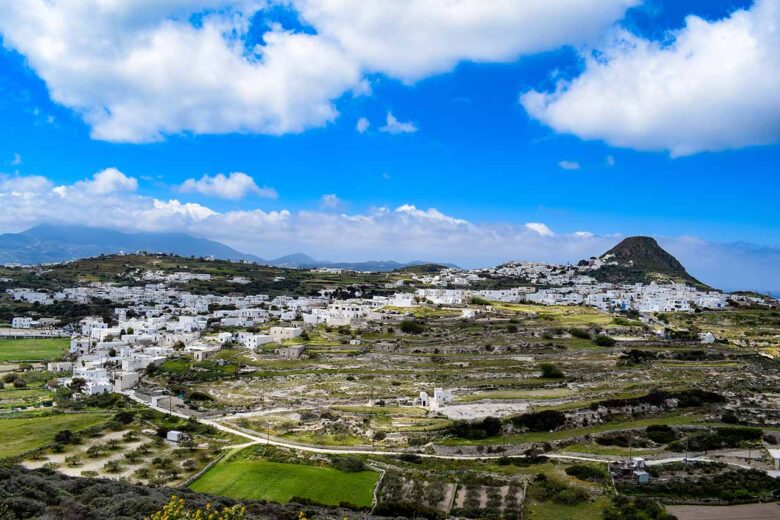 Referred to as one of the "upper villages" of Milos for its stately position on a hill, Triovassalos is a major commercial center of Milos and a friendly, welcoming area to all who visit.
The residents here are known to be very affable and enjoy showing off their culture. By merging with the neighboring village Pera Triovasalos, Triovasalos is considered to be the largest settlement on Milos.
Still, it's not hard to find a quiet corner here to relax and recuperate with amazing, panoramic views.
There are no major attractions or activities here, but the church of the Agios Spyridon, unified with the church of Agia Marina, is a major cultural center for the village.
Between both villages, you'll find souvenir shops, eateries, tavernas and small rooms and apartments for rent.
Be aware, however, that Triovasalos does not depend on tourism to survive. Thus, you won't find a number of markets or ATMs with traveler necessities.
If you're visiting Milos in April, stop in Triovasalos on Easter Sunday. You'll be able to take part in a traditional feast celebrating Christ's resurrection, where villagers burn an effigy of Judas.
After the burning, a contest between the two villages occurs, where all young men of each village throw dynamite sticks into a large field (safely, of course!) The winner is whatever village can create the loudest noise, joining all of Milos in exhalation.
Hotels and accommodation in Triovasalos are fairly sparse, so it may not be the best place to stay in Milos. But if you truly want to immerse yourself in Greek life and live like a local for a few days, Triovasalos is a true authentic experience.
Be aware, cars aren't a thing here – if you want to get around, there's places to rent mopeds or bikes, and a bus service that runs fairly reliably.
BEST PLACES TO STAY IN MILOS IN TRIOVASALOS
7. Firopotamos, a tropical-like bay
Firopatamos has a rich history. Back in the day, Firopotamos was of significant industrial importance to all of Milos, as workers would process and haul away kaolin, a clay mineral, to be sent to the mainland.
You may still catch some of these manufacturing installations today. In an interesting contrast, Firopotamos also used to act as a summer resort for working people in neighboring Plaka.
While the area has relaxed a bit from its exciting heyday, there is still an excited energy lingering in the streets. The village of Firopotamos is extremely small but, like some of the other options on this list, is perhaps best known for its grand beach and tranquil bay.
Firopotamos bay gives the appearance of a tropical lagoon, with towering cliffs up above and crystal clear waters down below. If you grab a space under a shady tree early in the morning, you can stay there all day and enjoy swimming, fishing and snorkeling around the vibrant rocks.
During the summer, this beach has a pumping canteen with live music and drinks that is often frequented by young people, so expect a bit of noise if you decide to come during peak vacation months.
In terms of other things to do, Firopotamos doesn't offer much. There are ruins of an unknown ancient building and a small, picturesque church standing proudly near the port.
Firpotomas offers a lot of AirBnB rentals and luxury apartments versus actual hotels or resorts. At the end of the day, this is your typical Greek fishing village, so don't expect a ton in the way of dining (there is a small bar near the church) or shopping.
But, if you want to see some of the most incredible natural scenery and meet many charming residents proud of their way of life, Firopotamos is definitely a great place to visit.
BEST PLACES TO STAY IN FIROPOTAMOS
8. Mandrakia, a charming fishing town full of character
As you encounter this small village and take a look around, you'll first see colorful Greek homes lining the bay, vibrant fishing boats bobbing on the water and soft waves lapping against the rocks.
But if you take a closer look, you'll see a charming village that is often overlooked by bigger fishing villages on Milos. But Mandrakia is definitely worth a visit if you can swing it, and is also a great place to stay in Milos if you're looking for a bit of rest and relaxation.
There is no central beach in Mandrakia (other than a small strip of stone and pebbles near the main port) but you can hit nearby Tourkothalassa Beach with its green-blue waters and jagged, rocky coastline, just a few minutes away from the village center.
This beach is a bit of a trek to get to, but the stunning views are well-worth it. And, you'll be rewarded with basically a private beach, as this beach is fairly secluded. Don't forget your sunscreen and a beach blanket.
You'll also find two other beaches less than 4km in each direction: Firopotamos Beach and Sarakiniko Beach. Sarakiniko Beach is world famous for its almost "lunar" appearance.
Tourists flock to see the interesting scene, where waves driven by north winds shape the white volcanic rock into twisted and warped structures. You may feel like you're standing on the surface of the moon.
It's not exactly a "beach," but you'll still want to make sure to bring a camera to capture the dynamic contrast of the turquoise water against the bright white rocks above.
After beach-hopping, grab something to eat at the one restaurant in Mandrakia, Medusa, unsurprisingly always booked due to the size of the village. Still, aim to get a table and get the octopus, which is ultra fresh and dries right outside your table on a clothesline.
In the distance, try to get a glimpse of the church of Zoodohos Pigi, which stands stately on a hill above Mandrakia.
Mandrakia doesn't have many activities, restaurants or tourist necessities within the central village. It is more of a destination to explore rather than a place to stay in Milos.
But, if you do end up staying for a night or two, there are two great hotels that offer spacious rooms at far more discounted prices than Adamas and Plaka. If you're hoping for a quiet, authentic picture into daily Greek life, a stay in Mandrakia is definitely well-worth it.
BEST PLACES TO STAY IN MILOS IN MANDRAKIA
9. Paliochori, one of the most famous beaches in Greece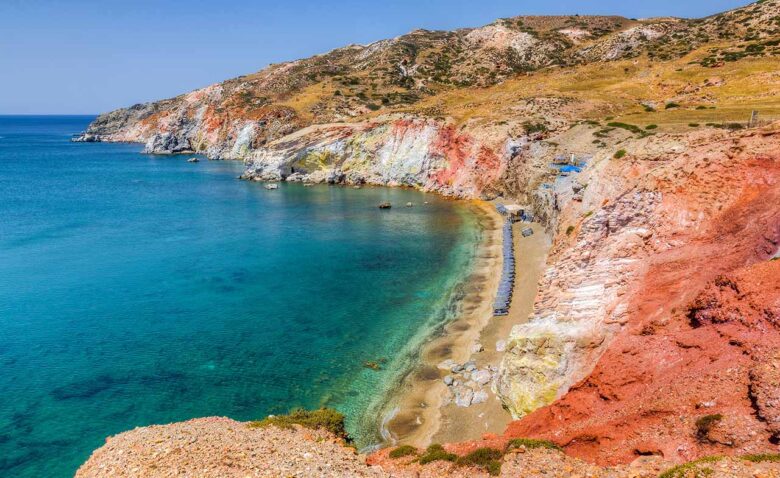 With dazzling blue waters and crystal clear skies, the village of Paliochori (or "old town") is perhaps best known for having one of the most famous beaches in all of Greece.
Paliochori Beach is made up of three separate sections surrounding an extended bay.
The word "colorful" would be a severe understatement when describing Paliochori Beach. Red, yellow, black, white and brown volcanic cliffs tower over the coarse sand, pebbles and rock, with relaxed sunbathers lounging on chaises below.
You'll be especially reminded of the active volcanism on the island of Milos at all the beaches of Paliochori. Hot springs pop up here and there and bubble vibrantly, specifically in the shallow parts of the waterline.
You may be swimming along in the shallow surf and feel the water get particularly hot in certain sections.
One taverna along the beach has used this heat to their advantage, laying a big stone over the hot sand and using it as a furnace to cook specialty dishes, earning the name "volcanic food."
Although it's popular with tourists, Paliochori is still fairly secluded, allowing you to enjoy your watersports or cocktail in peace. You can rent a jet ski or simply organize a game of badminton, playing to your heart's content.
Once you get hungry, there are several local tavernas and a cafeteria on one end of the beach, and the sunset isn't to be missed. Paliochori isn't a huge resort town, so don't expect 3am partying or major tourist attractions.
But if you're looking for a room to rent or small boutique hotels and AirBnBs, Paliochori is your place to sit back and enjoy the magic of a stay in Milos.
BEST PLACES TO STAY IN PALIOCHORI
10. Pachaina, where to stay in Milos for relaxation
Small, quaint and beautiful Pachaina is a stunning yet unsophisticated village on the north coast of Milos.
You won't find major resorts or luxury accommodation here, but what you will find is proud people, small hotels, local specialties to die for and an authentic Greek experience.
As you look over the Aegean and see the island of Glaronisia shimmering in the distance, you'll remember why you came to Milos in the first place.
Though Pachaina isn't as "bumping" as some of the other options on this list, it's great for couples just looking for some peace and quiet or young families in need of a break.
Pachaina has an impressive, white-sand beach with a good amount of natural shade from the tamarisk trees, several syrmatas, neighboring residencies and restaurants and widespread parking for visitors.
Further west, you'll stumble upon a secluded rocky beach and further east, you'll discover a small cove overlooking Papafragas and Kapros, two grand beaches with rocky alcoves.
Pachaina is also close to Phylakopi, one of the most important settlements of the prehistoric Aegean and the most significant settlement on the island of Milos.
Most of this prehistoric site was excavated between 1896-1899 by the British School at Athens, but many of the relics recovered currently live at the Archaeological Museum of Milos.
Be aware that Pachaina doesn't have many mini-marts, car rentals, ATMs or major shops, so you may want to buy these items further inland before coming. But, as Pachaina is far more secluded than other areas on this list, accommodation is also cheaper.
You're also more likely to find apartments and rooms for rent here if you're on a budget. Pachaina is also great for visitors who don't need a ton of activities to keep busy; just sea, sand and peaceful relaxation.
No matter where you decide to stay in Milos, you can't go wrong with an option on this list. Each village brings a unique charm and flair and you're bound to find an area you like.
BEST PLACES TO STAY IN MILOS IN PACHAINA
Whether you're looking for fist-pumping fun, quiet rest and relaxation or just an incredible view that you'll remember for the rest of your life, Milos is an amazing island and a must-see on any visit to Greece. Come visit Milos today!
It is a well-shared thought that Greece is one of the most breath-taking and awe-inspiring places on the planet. In pictures, you may see white-washed buildings with vibrant blue rooftops, all laying atop hillsides above the crystalline waters of the Aegean sea.
Photo: Shutterstock