Are you wondering where to stay in Santorini? In this post we will be discussing 10 places where your stay in Santorini will be made more enjoyable.
Frequently dubbed "the supermodel of the Greek islands," Santorini has long held visitors in thrall, attracting nearly 2 million tourists a year according to a 2018 census. With its striking whitewashed buildings, volcanic beaches, and bluest-of-blue waters surrounding the rocky caldera, it's no small wonder why a stay in Santorini tops many a list of dream travel destinations.
Situated between Crete and Athens, Santorini was once referred to as Strogili, or The Round One, due to its circular shape, the center of which would eventually sink following a massive volcanic eruption around 1,500 BC (some ancient myths align the disaster with the sinking of Atlantis).
Santorini's present name was given by the ruling Venetians following the Byzantine surrender, in dedication to Santa Irini, a Catholic church. As part of the Cyclades island group, Santorini has undergone countless transformations since that time, with the great earthquake of 1956 the most recent harbinger.
Today the caldera cliffs overlooking the Aegean Sea, as well as the surrounding villages, vineyards, and paradisiacal beaches beckon travelers from around the world. Truly, there is no place on earth quite like Santorini.
Whether you are a lover of natural wonders or beachside lounging, Santorini offers sights and sanctuaries for every visitor.
10 Best Areas to Stay in Santorini
Here are 10 of the best areas to stay in Santorini, with all their must-know details to help you plan the trip of a lifetime.
1. Fira, lots of restaurants, shopping and nightlife
The capital of Santorini, Fira (also called Thera or Thira) is by far the most bustling of Santorini's locales, making it ideal for first-time visitors who are unfamiliar with the island's layout.
The caldera side offers one of the most stunning vista views on the entire island, while countless cafes, restaurants, shops, and bars keep life humming.
There's a great deal to see and do in Fira, with a number of museums worth visiting. The Santorini Archaeological Museum and Museum of Prehistoric Thira feature eye-opening artifacts unearthed from sites over the years.
The Megaro Gyzi Museum, a converted 17th century mansion, contains some of the oldest photos, paintings, and manuscripts on the island. The Lignos Emmanuel Folklore Museum is especially unique, as it's situated inside a cave and only accessible during the summer.
Fira is a haven for foodies and drink aficionados alike, with a tempting spread of traditional tavernas and nouveau eateries, along with local wineries and breweries such as the Santos Winery and Santorini Brewing Company.
Guests can additionally take cooking classes on-site, where they'll learn to make such mouthwatering fare as spanakopita, moussaka, and kleftiko.
If you tire of the beaches, there are also private boat trips available, as well as guided hikes along the cliffs. Of all the places to stay in Santorini, you can't go wrong with the capital.
There are a variety of lodging options available in Fira, from sprawling villas and repurposed palaces to more modest Cycladic-style rooms and rentals, all with unforgettable accompanying views.
Backpackers will additionally find reasonably priced hostels with standard amenities such as meals and WiFi.
BEST PLACES TO STAY IN FIRA
2. Oia, the best area where to stay in Santorini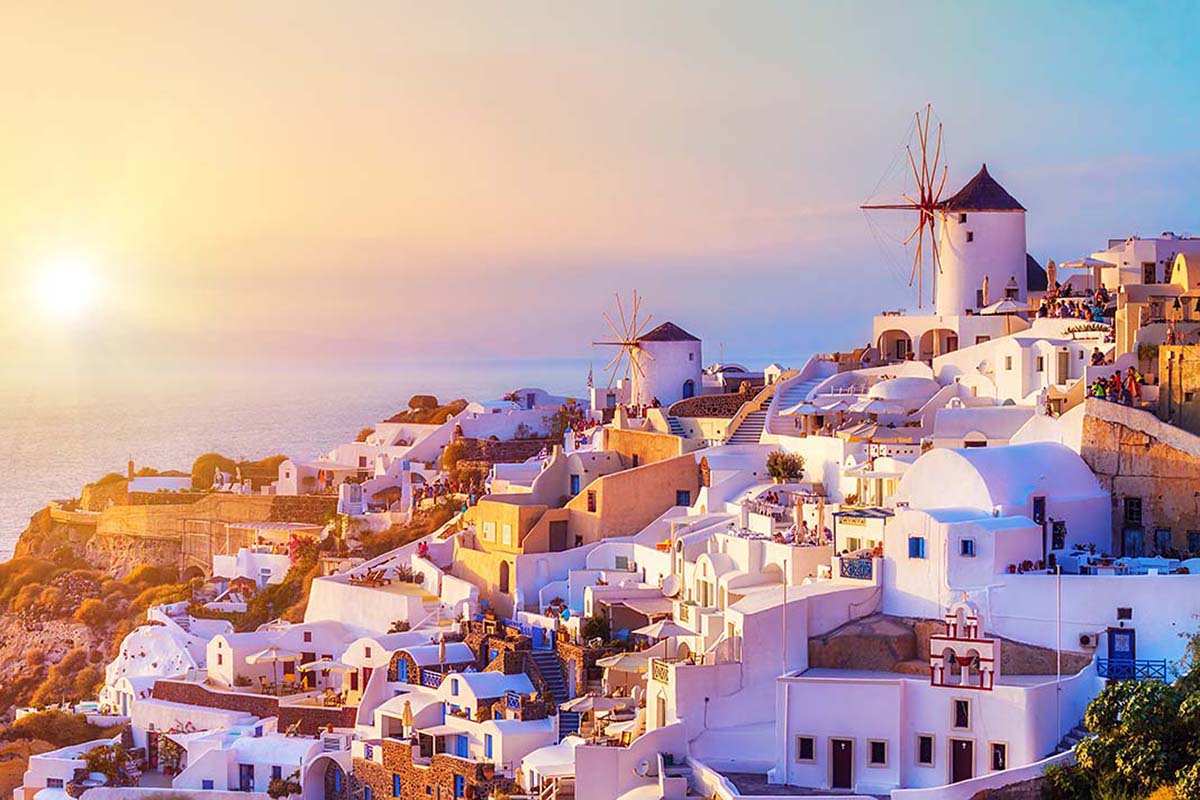 Oia (pronounced "ee-yah") is among the most popular places to stay in Santorini, thanks to its unmatched panoramic spectacles, unforgettable sunsets, and attractive boutique hotels.
Located about 12 km from Fira, Oia sits atop an immense cliff, with the towering village offering visitors picture-perfect views of the volcano and island of Thirassia.
Guests can stroll along the narrow streets, explore the many shops and tavernas, take in some sun on one of the sun-washed verandas, or step inside one of the famous cerulean-domed churches which are so iconic of Greece.
A convenient car park situated at the entrance of the village permits easy access, with an additional port, Ammoudi, located just 300 steps down.
Oia is significantly quieter than Fira, and has long been a haven for artists and writers. There are many art galleries, as well as a maritime museum and remains of a Venetian fortress, along with a scattering of traditional tavernas serving up freshly caught seafood.
BEST PLACES TO STAY IN OIA
3. Imerovigli, best place to stay in santorini for couples and families
Just 30 minutes from Fira by foot, Imerovigli is known for its decidedly unique accommodation. A series of sumptuous hotels contain suites and apartments that are actually reconverted caves, which many visitors claim offer the best sunset views in all of Santorini.
Much like nearby Oia, Imerovigli provides a more low-key pace than Fira, making it ideal to stay in Santorini for couples and families.
The quiet picturesque streets and poetic surroundings make for an enchanting evening out, while the nearby beaches offer their own heavenly refuge during the day.
Thanks to its convenient location, it's relatively easy to get around the island of Santorini from Imerovigli, with several transportation options available.
Guests can embark on the Ekklisia Theoskepasti hiking trail, which will take them past the 13th century ruins of the Venetian fortress of Skaros, built directly into Skaros Rock, with the trail eventually ending at the landmark site of Theoskepasti Church.
BEST PLACES TO STAY IN IMEROVIGLI
Read also: Best things to do in Santorini
4. Firostefani, quiet with great caldera views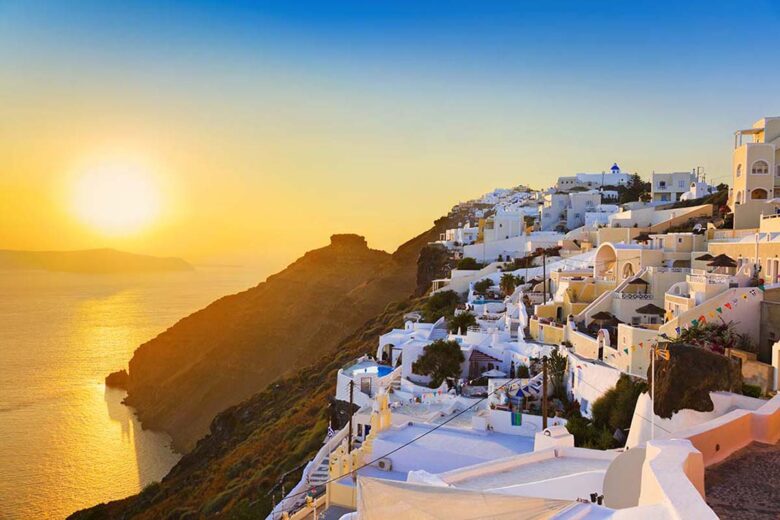 While the village of Firostefani has long been considered its own separate settlement, it is in fact a northern extension of Fira, and one of the most rewarding places to stay in Santorini. The village's name, which translates to Crown of Fira, alludes to its position at the highest point of the capital.
The village is often viewed as a smaller version of Fira, with spectacular views of the sea and volcano and equally elegant lodgings, but at a much calmer pedestrian pace than its more tourist-driven counterpart.
Firostefani has plenty of wonderful cafes, bars, and restaurants to enjoy, as well as its own designated shopping district at the center of the village.
A particular point of interest is the Agios Nikolaos Monastery, founded in the late 14th century and located between Fira and the village of Imerovigli.
Visitors can choose from a variety of accommodation options ranging from cozy studios to private villas, with direct access to Fira should you find yourself getting restless.
BEST PLACES TO STAY IN SANTORINI IN FIROSTEFANI
5. Kamari, beach resort and archaelogical site
Located on the east coast of Santorini, Kamari is a village, resort, and archaeological site all rolled into one thanks to its much-famed black sand beach and ancient origins.
Visitors to Kamari can indulge in the modern pleasures of Grecian holidaymaking while partaking in an epic chapter of Ancient Greek history, with no shortage of surrounding natural splendor.
Kamari Beach has long been heralded as a must-see destination, and this once-in-a-lifetime spot is well worth a day's visit. The beach's rich black sand is the direct result of the island's volcano, and ample facilities allow guests to enjoy a long and leisurely afternoon with minimal inconvenience.
Visitors are also encouraged to take advantage of the site of Ancient Thera, an antiquated city perched on a high Messavouno mountain ridge. Named after the island's mythical ruler Theras, the original city was founded by the Spartans in the 9th century BC.
Throughout history Thera played a number of roles, from strategic military summit to prosperous trade, production, and religious hub. After passing from Roman to Byzantine rule, the city was eventually abandoned altogether by 726 AD.
Today guests can explore the remains of the bathhouse, market, theater, temples, houses, and public buildings. While art was rarely encouraged during Spartan times, a sizable collection of personal effects such as vases, pots, and statues have been discovered and are now on display.
For wine lovers, the Gaia Winery is a gorgeous seaside retreat that welcomes guests for tastings, while the nearby Donkey Brewery offers abundant samplings for beer enthusiasts. Local arts & crafts collectors will want to pay a visit to Gabbiano Nero Sculpture and Art to pick up one of their handcrafted sculptures to take home.
BEST PLACES TO STAY IN KAMARI
6. Akrotiri, popular day trip destination
The Akrotiri peninsula is a beguiling blend of old world rusticism and contemporary charm. Most noted for its Minoan ruins, Akrotiri is still very much a working village; many of its inhabitants are farmers and craftsmen.
The original village was destroyed in the earthquake of 1956 and rebuilt at the base of its fortress, which had also been obliterated. Because the original town was built on the site of the ruins, guests are given a truly strange and magnificent glimpse into the past.
The mud-brick buildings and many of their artifacts can be viewed, with archaeologist-guided tours available by booking in advance.
The most popular beaches of Akrotiri are Red Beach, Vlichada, Perivolas,
Perissa, and Caldera Beach, although the surrounding tavernas claim a portion of that fame for themselves due to their freshly caught fish, generous ouzo pours, and relaxing atmosphere.
While many visitors choose to make Akrotiri a day trip destination, it's worth noting that there are some lovely hotels and villas that offer a range of complimentary services and specialties, such as food, wine, and recommended sightseeing excursions.
BEST PLACES TO STAY IN SANTORINI IN AKROTIRI
Read also: Best places to stay in Athens, best places to stay in Mykonos, best places to stay in Crete, best places to stay in Rhodes, best places to stay in Naxos
7. Megalochori, where to stay in Santorini on a budget
Since its founding in the 17th century, Megalochori has been cited as one of Santorini's most picturesque villages, with visitors marveling at its surprising resemblance to a movie set rather than living locale.
The historic residence of merchants and land barons, as well as a notorious pirate haunt, the village hosts a number of magnificent mansions, labyrinthine hideaways, and wine caves, with the production of its local Vinsanto wine still going strong.
The residents of Megalochori have gone to great lengths to maintain the village's beauty, and those who seek accommodation there will be dazzled by its elegant and surprisingly affordable hospitality options.
Megalochori Square, located in the heart of the village, is where residents and visitors alike gather to eat, drink, shop, and take in a game of tavli, or backgammon.
Megalochori's cultural center, Symposion by La Ponta, is located on the site of a former winery, and hosts works of music and mythology year-round.
For those interested in the winery part, the nearby Antoniou, Boutari, and Gavalas vineyards and wineries make for the ultimate day tour.
BEST PLACES TO STAY IN MEGALOCHORI
8. Karterados, close to Fira and beaches
The village of Karterados is positioned almost directly at the center of Santorini, a mere 2km from Fira. Although traces of ancient settlements have been found, the village established itself between the 17th and 19th centuries when wealthy captains and businessmen made it their designated place of residence.
Karterados overlooks an expansive vineyard valley on one side and the azure sea on the other, which make for the ultimate scenic stay in Santorini.
A peaceful stroll through the village will reveal the stately homes of the village's founders, as well as the older, more traditional cave houses, while the Church of Ascension, with its tower steeple, is not to be missed. Visitors will also find restaurants, cafes, bars, and even a supermarket in no short supply.
The beaches of Karterados, reached by the main road, consist of black volcanic pebbles and clear blue waters, with interesting rock formations studded throughout.
The village's hotels, private villas, and apartments reflect the unique architecture of the area, and range in price from the exorbitant to budget-friendly.
BEST PLACES TO STAY IN SANTORINI IN KARTERADOS
9. Pyrgos, an unconventional place to stay in Santorini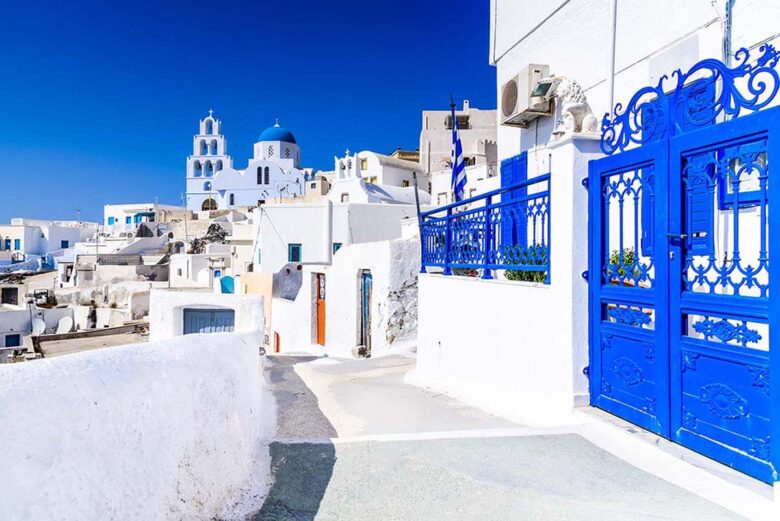 When looking for an unconventional place to stay in Santorini, it may be worth your while to consider Pyrgos, the island's former capital. Located at the highest point on the island, Pyrgos' well-preserved medieval settlements is a site unto itself, with residential and tourist life magically blending into one.
Nestled in the Mount Profitis Ilias foothills and bordered by the vineyards that produce Santorini's acclaimed Assyrtiko white wines, Pyrgos may be only 7.5km from Fira but feels like a world apart.
Unlike its more built-up neighbors, Pyrgos has maintained much of its undisturbed simplicity and charm, and its notable absence of heavy tourist traffic makes it a special place for overnight stays.
Guests can happily lose themselves in the winding streets and pine-lined squares without getting lost, and will find an array of shops, eateries, and cafés like Kasteli 1663, with the latter specializing in delectable homemade desserts and featuring a permanent exhibition of black-and-white photography.
Visitors wishing to visit the five Venetian castles still standing in Santorini will no doubt want to make time for the Pyrgos Kasteli, arguably the best preserved.
Make sure to keep an eye out for a peculiar feature above the door of the main gate: a fonissa, or murder-hole, through which boiling water could be poured onto the heads of would-be intruders.
BEST PLACES TO STAY IN SANTORINI IN PYRGOS
10. Perissa, where to stay in Santorini for nightlife
Perissa's black lava sand beach is one of the island's greatest attractions, with visitors hailing it as one of the best places to stay in Santorini. Fot you to know, it is one of the best beaches in Santorini.
Located about 13 km from Fira, this southeastern coastal village resides at the south base of Mesa Vouno Mountain, where the ancient city of Elefsina is believed to have been located.
The village enjoys a steady nightlife and daily bustle, with multiple sights and activities for visitors of all ages and interests.
The aforementioned Perissa beach comes equipped with everything you'll need for a day by the sea, including sun beds, umbrellas, beach bars, sports facilities, diving instruction, and on-duty lifeguards, as well as a playground and waterpark.
The beach joins with Perivolos, where additional restaurants, clubs, and shops can be found. The ruins of Ancient Thera are close by, with spectacular views of the Kamari and Perissa villages.
The Museum of Minerals and Fossils is a mainstay attraction in Perissa, where guests can view the vast collection of specimens from around the world, some dating back over 1.5 billions years.
The village and surrounding area is also home to some resplendent churches and chapels, with one of the largest churches on Santorini, the Church of the Holy Cross, located in Perissa's central square.
At the foot of the Mesa Vouno Mountain are the remains of the Basilica of Agia Irini, which date back to the 5th century.
BEST PLACES TO STAY IN PERISSA
Traveler's Tip: Know Before You Go
Santorini, like much of Greece, is best explored by car. While the island does have a fairly reliable public transportation system, you'll find it much easier to get around– and in half the time–if you rent a car from one of the island's many local companies.
Car rental costs are relatively inexpensive, and will afford you the freedom to explore at your leisure and curate an itinerary that isn't so dependent on outside logistics.
Fotos: Shutterstock