Are you planning your next holidays and you are wondering where to stay in Kos? Once you decide to visit this island you'll want to find the best area to stay in Kos. I've put together this comprehensive list of areas and villages to help you get the most from the island.
Kos is a sparkling gem in the southeastern Aegean sea. The third largest island of the Dodecanese by area, Kos can be overshadowed by its seaside brothers, Rhodes and Karpathos.
But this is one place that can't be missed, known widely for its archeological uniqueness and stunning natural beauty. Also regarded as the birthplace of Hippocrates, the father of medicine, Kos has a distinct history mixed with Roman, Venetian and Ottoman heritage.
Remnants of a bygone era can now be seen living amongst Kos' many modern features, like its popular resorts and bustling nightlife. But Kos still retains much of its old-world charm, seen in the quaint surrounding villages and medieval relics standing proudly.
Popular with young travelers, families and adventure-seekers alike, Kos has a little something for everyone – once you spend a week in Kos, you'll see why this island is continuing to attract even the most famous of celebrities to its shores.
Where to stay in Kos: 10 Best Areas
Depending on the activities you want to do and the sights you want to hit, it's important to do some research on hotels, hostels and AirBnBs within close proximity.
As Kos is a luxury destination and relies predominantly on the tourism industry, you'll find a lot of top-dollar resorts sprouting up all over the island. But, depending on the time of year you go, you'll also find great deals for all budgets.
You're also more likely to find accommodation near Kos' beaches, but these rooms do fill up quickly. As always, plan ahead and book early to secure a stress-free vacation with lots of fun. This guide will explore the top 10 areas to stay in Kos.
1. Kos Town, where to stay in Kos for first time
Few spots in Greece rival the hustle, bustle and excitement of Kos Town. As the capital and main port of the island, Kos Town is truly a tourist hotspot surrounded by lush greenery, crystalline waters and balmy breezes.
A central town square houses an extraordinary museum and other relics of a Byzantine era. Though the area is the main tourist area on the island and thus busy at all times of the year, the streets still retain a calm quality and are attractively-maintained. You'll leave Kos Town feeling energized, relaxed and in awe of this lively area.
The beaches of Kos Town, Kritika Beach and Kos Town Beach, stretch in either direction from the harbor.
Kritika has many hotels and restaurants along its sand, and its vibrant blue waters and crystal-clear skies are known for having an almost HD-like quality. Here, you'll see endless miles of colorful parasols and sunbathers, and great waves for swimming and surfing.
Kos Town Beach is a long strip of sand very close to the town's center.
Kos Town offers some of the best historical sightseeing on the island. Neratzia Castle is located on the seafront and is the best preserved medieval castle on the island.
To get here, follow the Boulevard of Palms over the moat and take in an exemplary castle dating back to the 15th century, surrounded by sour orange trees. You'll see cannon posts and coats of arms carved into the walls, an incredible site for history buffs.
Also be sure to check out the Asklepieion, one of Kos' most-famous sites, which dates back to 400 B.C. Built as a sanctuary honoring the god of health and medicine, Asklepieion, the structure was used as a medical center in ancient times.
A paved, sacred path, known as Via Tecta, linked the sanctuary to the city, and is still well-maintained today, despite thousands of years of wear.
Historical sites like the Ancient Agora, a relic that used to be a lively marketplace in ancient times, and the Casa Romana, a beautifully-crafted mansion with Hellenistic and Roman influences, the well renovated ancient Odeon or the Ancient Hellenistic Gymnasium are worth a visit.
In terms of dining, as Kos Town has its own harbor, you're bound to find some of the freshest fish on the island.
Once nightfall hits, Kos Town is the place to be. There are several options for every style. Whether you're looking for a glass of wine and live music or fist-pumping fun, Kos Town has it all.
Nightlife in Kos Town is based around two streets, Diakon and Nafklirou, where you'll find a majority of Kos' bars, restaurants and nightclubs. Make sure to try the Krasotyri, a local cheese famous to Kos, made with wine.
You may also see traditional Greek dancers performing in the streets, much to the delight of excited tourists. As you walk by the water, you'll see fishing boats next to bobbing yachts, all under a glowing moonlight.
Kos Town is very safe, but be sure to take a friend with you if you're planning on staying out late and always arrange transportation home beforehand. If you have small children, many of the other areas on this list are a bit more low-key.
Because Kos Town is the central hub of tourism in Kos, there are more options for accommodation here than anywhere else on the island. But, it can be pricier for the major resorts and all-inclusive hotels, especially near the water.
BEST PLACES TO STAY IN KOS TOWN
2. Lambi, beach area next to Kos town
Situated on the western outskirts of Kos Town in the northeastern corner of the island, Lambi is a contradiction within itself.
As the area is close to Kos Town, you'll still get much of the same tourist hustle and bustle, but there is a distinct quality of calmness in the air perfect for those looking for a quieter stay in Kos.
Lambi Beach is a stunning, sandy beach stretching for 1km before hitting the Kos Town port. Here, umbrellas and beach loungers are available for rent.
The Artemis Heaven Beach Bar is close by, featuring local DJs and great cocktails. You'll also find many British-style bars, as this area is frequented by British tourists.
You can also rent sailing tours from here if you're looking to visit Kos' neighboring islands.
With several ATMs, markets, cash exchanges and a variety of dining options and bars, you'll have everything you need during your stay in Kos. It is very easy to rent bikes here and see all of Kos Town from Lambi.
Many of the hotels and resorts in Lambi have large pools, perfect for visiting families. As Lambi is a bit of a spillover from Kos, you'll find partyers up until dawn but also a much more relaxed vibe from the local tavernas.
BEST PLACES TO STAY IN LAMBI
3. Tigaki, where to stay in Kos for families
Within close proximity to both Kos Town and Asfendiou, Tigaki is a mirage all its own. With a stunning natural environment filled with surrounding greenery and a colorfully-decorated landscape, Tigaki was once a favorite amongst Kos locals as a quiet spot of calm relaxation.
Since, the area has developed with an influx of tourists, but it hasn't lost its authentic charm. You'll still find the traditional Greek homes scattered throughout the village and distinct dialects heard all around.
Tigaki's main attraction is its beach. With hundreds of beach loungers available (this area is never too busy), you'll be sure to find a place for yourself. Because Tigaki Beach is so long, this is a great beach to walk along and collect treasures from the ocean.
With calm waves and crystal blue waters, Tigaki is perfect for families with young children looking to dip their toes in, but windsurfers will love the action further out in the sea.
Once you've had enough of the beach, check out the Alikes Salt Lake. Here, flamingos, pelicans and herons swirl around the brackish water, above sea turtles and sea snakes. This protected area is definitely one worth visiting if you're hoping to see some diverse wildlife.
As for dining options, Tigaki offers the local Greek cuisine Kos is famous for, as well as other European options. There's also several fast-casual snack bars if you're looking for a quick bite.
In terms of nightlife, Tigaki is pretty low-key compared to neighboring Kos Town and doesn't offer any major clubs. But there are great options for late-night bars and tavernas, many which offer karaoke nights.
Tigaki is fairly small but can get busy, especially during the warm months. For hotels and other accommodation, your best bet is looking near the water. You'll also see many tourists riding by in motor bikes, which can be rented for the week.
BEST PLACES TO STAY IN TIGAKI
4. Marmari, a beach town with a secluded vibe
Like many spots on this list, Marmari has a beach and a village with an exotic vibrance and natural beauty to rival all of Greece.
This quiet area may seem like your conventional Greek village at first, but there is a subtle magic in its narrow alleyways and variety of tavernas and dining of options offered on a single main road.
But, despite Marmari's small size, visitors don't feel packed in. And, with a variety of activities to do and within close proximity to many major sights (about a 20-minute ride from Kos Town), Marmari is a great area to stay in Kos.
First, get in your steps by checking out the Igroviotopos Alikis Loop. This 2.5 mile loop trail features a lagoon and surrounding wetland with lots of wildlife. You may even see a flock of flamingos feeding for the day or pelicans outside the summer months.
Marmari Beach is nearby, and is the perfect location to swim, sunbathe or just spend a day relaxing. Active enthusiasts will love the watersports offered here, specifically kitesurfing and windsurfing.
A coastal road runs behind the beach, with several restaurants and casual tavernas when you're ready for a bite to eat. You may also see some horse riders go by, as there are a few horse riding schools within the area, as well as a nearby go-karting track.
As Marmari is a living residential area, there are several small mini-marts and places to rent methods of transportation for all your getting-around needs. Marmari isn't a party-town, making it a great place for kids.
Though Marmari doesn't home any major clubs, there is some nightlife with several cocktail bars open into the late hours of the night.
Marmai has a decent selection of hotels, many situated near the waterfront, with scattered apartments and AirBnB's for rent throughout the island. The advantage of a hotel is many all-inclusive deals, include spas and private pools.
BEST PLACES TO STAY IN KOS IN MARMARI
Read also: Where to stay in Rhodes, where to stay in Crete, where to stay in Santorini, where to stay in Naxos, where to stay in Skiathos, where to stay in Thessaloniki
5. Mastichari, sea, surf and quiet relaxation
Built in 1926, Mastichari was once a migration spot when a nearby volcano forced neighboring residents to flee. Now, the area is a bustling tourist hotspot with the second largest port on the island.
The village is small and can be covered by foot in a short amount of time, perfect for visitors looking for sights within close proximity. In addition, with several mini-marts and stores around, you'll have everything you need nearby.
Mastichari Beach is miles of exotic, white sand and stunning turquoise waters. Some say the beach is the most beautiful on the island. Here you can rent beds and umbrellas, and when the wind is strong, the waves are perfect for swimming and surfing.
Near Mastichari is Lido Waterpark. Here, check out 8 thrill rides, a lazy river and a wave pool, which are great ways to beat the heat and provide fun for the whole family.
For a bit more seriousness, if you're looking to learn more about Hippocrates and his legacy on Greece and modern civilization, check out the Hippocrates cultural center.
The center often hosts visiting seminars and performances, which display the brilliance of Greek philosophy.
Because Mastichari has its own port, make sure to order fresh fish for dinner, locally sourced by the area's own fishermen.
One thing to note about Mastichari is that certain noise ordinances prohibit loud music after midnight, so those looking for late-night partying may want to consider this in advance.
As Mastichari is a small area, there aren't as many major hotels or luxury resorts nearby. But there are many smaller family hotels and studios for rent that offer beautiful, traditional Greek accommodation and amazing ocean views.
BEST PLACES TO STAY IN MASTICHARI
6. Kefalos, where to stay in Kos on a budget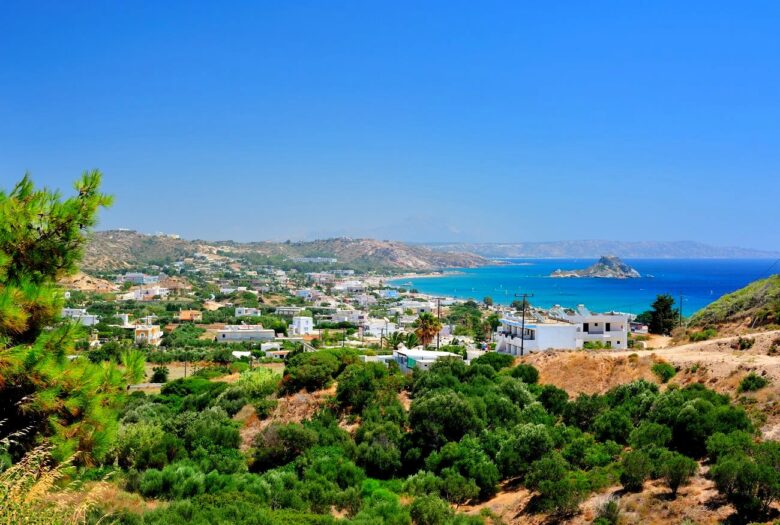 Lying atop steep hills on the southwestern tip of the island, the village of Kefalos was the first capital of Kos and is now home to around 2,500 residents.
Some say Kefalos earned its name from its distinct shape, which resembles the head of a vulture. Picturesque and intricate, Kefalos is a complex labyrinth of narrow homes and alleyways that you can spend good time exploring.
The traditional village, with a town square and mills, sits on top of the hilltop looking over the Aegean sea. But, as you take a walk towards Kefalos' seaside, you'll encounter Kamari, the village's harbor.
Here, modernity meets tradition, as residents fight to keep their local dialects alive as new restaurants, shops and clubs pop up every year.
Apart from its stunning, white-sand beaches, Kefalos offers a lot of interesting sights to check out. The Castle of Kefalos, which dates back to the Byzantine era, stands stately over the bay of Kamari, positioning it perfectly to withstand attacks in the old days.
The Basilica in Kamari Kefalos is a stunning showcase of glittering mosaics, depicting fish and dolphins of the region in homage to the island.
For even more history, check out the White Stone Cave, where Kos' first traces of life and residency began, or the nearby Drakotrypa Cave.
For seaside relaxation, check out the port of Limnionas, a small harbor for boats and fisherman and a great place to sunbathe, swim and people watch. But, Kefalos really comes alive in the summer months.
Agia Paraskevi, a festival held annually on July 26, celebrates the early Christian church it's named after and is full of food, live music and fun activities.
There are also several feasts, like the Honey Festival, throughout the year that visitors are welcome to join.
Kefalos is much quieter in terms of nightlife than other areas on this list, but there are several great dining options and bars to check out to end your day. Spend your night in Kefalos by listening to the waves lap up on the beach and soak in the salty, Greek air.
When looking for accommodation, your best bet is to look around Kemari. The closer you get to the beach, the more expensive the prices, but an incredible view is well-worth it.
This area is very kid-friendly and great for tourists looking for a slower pace during a stay in Kos and good priced accommodation.
BEST PLACES TO STAY IN KEFALOS
7. Kardamena, where to stay in Kos for nightlife
Once a small fishing village with a small population, Kardamena has boomed into a tourist hotspot with a lively strip of bars, nightclubs and restaurants, so much so that is now known as a traveler town, with one major resort.
The long, white-sand beach is the central focus here, next to sparkling blue waters and white yachts in the distance. But the entire town is full of natural beauty imposed next to both and traditional homes.
Many visitors reach this area by boat and decide to stay for quite some time.
Once you reach the island, check out the hot springs of Agia Irini, famous for their therapeutic healing properties from the salt water.
After a soak, find the hilltop ruins of the Venitian Castle of Antimachia, overlooking the entire island of Kos and standing next to two 18th and 16th-century churches.
You can explore the village of Antimachia from here, where you'll find traditional Greek homes for visiting and windmills all around.
From Kardamena, you can also visit Nisyros, a neighboring island home to the active volcano Stefanos Crater.
Once you're ready to kick off your shoes and get partying, Kardamena is, aside from Kos Town, one of the liveliest spots on this list.
Along the beach, you'll find tons of restaurants and bars with incredible Greek seafood, authentic Kos cuisine and, naturally, great wine.
Like Kefalos, Kardamena offers great accommodation near the water. There are several apartment complexes with rooms for rent and also all-inclusive resorts close to everything you'd want to see.
In addition, beach cabanas and beds are available for rent here and many hotels have private areas closed off to the public that come with a room reservation. As Kardamena has a major resort, expect this area to be livelier than other areas on the island.
BEST PLACES TO STAY IN KOS IN KARDAMENA
8. Agios Fokas, good place to stay in Kos for a secluded stay
Primarily known for its picturesque beach, Agios Fokas is a beach area within close proximity to Kos Town. It still retains a secluded vibe and you'll be sure to find peace and quiet.
The Agios Fokas beach is the main attraction here. With a mix of black sand and pebbles, this beach is usually far less busy than the packed beaches of Kos Town. Be forewarned (especially for young children!) that the left hand stretch of the beach is used by nudists.
There is a great watersports school directly on the beach, perfect for a lesson catered to all ability levels and activities. You can also rent equipment for the day. You can do it all at Agios Fokas, including snorkeling, scuba diving or just swimming in the soft waves.
When the wind is right, you'll see many surfers out catching the breeze. If you're looking for something less active, simply rent a sunchair and bake in the sun to your heart's desire.
If you're looking for more activity and want to keep your feet dry, check out the Agios Fokas Beach Club. Here, you'll find courts for beach volleyball and beach tennis, Pilates, exercise classes, and water aerobics in the sea. For the kids, there's also a playground.
If you're looking for an incredible view of the Aegean, especially during the afternoon and dusk hours, Agios Fokas has one of the best on the whole island.
When you start to feel hungry, there are just a few restaurants within walking distance of the beach.
If you're coming from Kos Town, Agios Fokas is reachable by car, taxi or bike. There are also several buses that run through the island hourly, taking you wherever you want to go.
Because much of the activity in this area revolves around the Agios Fokas beach, there aren't as many historical sites or major attractions nearby. But if you simply want to lay out in the salty air with no distraction, Agios Fokas is your place.
If you're looking for warmer waters, stop by Therma Beach, a short 10-minute drive, for bubbling hot springs arising from the earth. 
There are a few resorts along the beach, but not as many budget accommodation options.
BEST PLACES TO STAY IN KOS IN AGIOS FOKAS
9. Psalidi, great watersports and gentle relaxation
Though perhaps less-well known than some of the other areas on this list, Psalidi, a certified coastal district, earns a well-deserved spot for its stunning crystalline waters laid against a backdrop of rugged mountains.
Psalidi is also known for its wetlands and wildlife, and you'll be sure to see a rare bird or two during your stay.
The first stop at Psalidi is, of course, Psalidi Beach, which has rubber-stamped pebbles with family markings and beautiful views. The waters at Psalidi Beach are soft and gentle, making this spot perfect for small children.
And, thrill-seekers will enjoy the range of watersports, like wind-surfing and scuba diving, also available here. For surfing lessons, you can even visit the Big Blue Surf Center to rent a board.
After tiring yourself out, hit the Psalidi promenade running parallel to the beach, home to many great restaurants, bars, a local bakery and several gift shops for a souvenir.
Psalidi is small, so you may be lucky in beating the crowds to some of the most exclusive resorts on Kos. And because Psalidi could almost be considered a suburb, there are great AirBnBs and apartments to rent here.
This area is quieter than other options on this list, so if you're looking for 2-AM partying, this may not be your best bet. But if you want to relax and recharge with an incredible view of the Turkish mainland in the distance, Psalidi is your place.
BEST PLACES TO STAY IN PSALIDI
10. Asfendiou/Zia, lush nature and the best sunset on the island
Lying stately on the slopes of Mount Diakon and overlooking the bright sea, the Asfendiou village area is a beautiful addition to this list of the best places where to stay in Kos.
Luscious greenery and natural vegetation climb up old stone buildings, taking you back to ancient times as you navigate the enthralling landscapes of these intertwined villages. And, the residents of this area have truly made the mountain their home.
Zia, a village within Asfendiou, is particularly noted for its tradition and plant life. As a village, it is almost engulfed by the surrounding woods due to the high altitude, surrounded by Cyprus trees and olive groves all around.
As you walk down cobbled streets, you'll see a never-ending stream of tavernas, shops and traditional, white-and-blue washed homes. This area is a great day-trip and an even better place to stay in Kos.
As you walk around, take in the many domed Orthodox churches around the village and soak in the salty air wafting from the sea.
The Kos Natural park is located here, where you'll discover several native plants, small critters (including proud peacocks) and trails to explore. There's also a playground for kids to check out, as well as a snack bar.
On the top of Mount Daikon, looking over all of Asfendiou, you will find the 1079 historic chapel dedicated to Dikeos Christos. End your day with an incredible sunset view here, what Zia is famous for.
Because the Asfendiou/Zia area isn't as well-known, it is truly a hidden gem to its residents. Here, you're bound to find peace and quiet and this safe area is great for young kids to roam around.
Asfendiou doesn't have as many luxury resorts or hotel, but they do offer several traditional homes for rent. In addition, be aware that this area doesn't have as many activities within close proximity as others on this list.
But, if you don't mind renting a car or bike, the Asfendiou/Zia area is worth exploring.
BEST PLACES TO STAY IN KOS IN ASFENDIOU/ZIA
Greece. When one hears that word, any number of images may conjure up. White-and-blue washed buildings, sparkling water, perhaps even traditional Greek tavernas where residents enjoy incredible cuisine and party until dawn. And, all of these ideas would be correct.
Greece is regarded as one of the best places to visit in the world. With thousands of islands in the Aegean Sea, Greece's stunning natural beauty is completely unique.
The small country also has a history unlike any other, and is known as being the cradle of the Western Civilization. Now, remnants of ancient times can be seen all over Greece, and many modern styles of thinking and governing have originated here.
Add in balmy Mediterranean weather and food to die for and it's no wonder that Greece (and its shimmering islands) bring in thousands of visitors every year. One such special island is Kos.
No matter where you decide to stay in Kos, you can't go wrong by choosing an option on this list. Each area gives off a unique flair, incredible views of the Aegean and a quintessential Greek vacation packed with memories.
Though Kos may be a small island, it offers a larger-than-life experience. Come visit Kos today!
Photos: Shutterstock