Wondering where to stay in Rhodes? If you're considering a holiday on the Greek islands, this blog highlights some of the best places to stay in Rhodes, and what makes the island so popular.
Shimmering in the warm turquoise waters of the Aegean Sea, Rhodes is considered to be the most beautiful of all the Dodecanese Greek Isles, and has a history almost as old as time itself.
Although Rhodes was ceded to Greece by Italy after WW2, its colourful past dates back to the stone age. In more recent times, it was captured by the Persians, destroyed by Arabs, plundered by Barbarians, protected and occupied by Crusaders, and owned by the Knights of St. John.
In 1522, it was taken over by the Turks under Suleiman the Magnificent, and remained a Turkish settlement until 1912, when the Italians occupied the Island until it became a part of Greece in 1948.
With a surface area of just over 1400 square kilometres, and a resident population of some 115,000, it attracts over one-million visitors annually to enjoy its beaches, countryside, history, architecture, and culture.
43 towns and villages dot this picturesque island, with Rhodes City, the capital, being home to over 50,000 of its residents. If your family has diverse holiday interests, from relaxing beach days to exploring an acropolis, consider a stay in Rhodes at one of these fabulous resorts.
Where to Stay in Rhodes: Best Areas to Stay in Rhodes
1. Rhodes Town, good place to stay in Rhodes for the first time
Rhodes City sits at the northern tip of the island, and is one of the Greek Islands largest cities. Nearly half the population live in the area, with 6,000 living within the walls of Rhodes Old-Town.
Passing through one of the seven gates into the old-town, you move into a different world. Over 200 rambling, narrow, pedestrian-only streets wait to be explored, many without street names.
Old Gothic and Byzantine churches and mosques cater for the faithful. Medieval buildings, Greek and Turkish fountains and motifs provide hints of its chequered past, while old buildings house artisan traders alongside souvenir shops, cafes, and restaurants.
In some areas you would think you were strolling through an old Turkish bazaar rather than a 21st century city, so well does it blend the old with the modern – to the benefit of both.
Include a stroll down Knights Street, which takes you to The Palace of the Grand Master. Restored by the Italians in 1940 it holds an extensive collection of priceless antiquities. The Archaeological Museum includes myriad artefacts, as well as a small room housing Aphrodite of Rhodes.
Meander through the many cobbled streets. Enjoy a little retail therapy, and stop off for some light refreshment in one of the terrace cafes and bars. Climb to the top of the clock tower for photographic views across the city.
Visit the port to watch the giant cruise liners nosing their way in and out, or enjoy a day relaxing on the beach.
As dusk falls, night-time restaurants, bars, and clubs open up. With majestic buildings silhouetted against the night sky, the old-town takes on a new relaxed, even romantic ambience, ideal for those special occasion meals.
If you want lively, then head for Orfanidou Street, and its busy bars and clubs, where you can party into the early hours.
If you are considering a stay in Rhodes City, there is a good selection of accommodation across all levels, from self-catering apartments, to budget and five-star hotels, although prices In the old-town are a little higher than in the new town area of the city.
BEST PLACES TO STAY IN RHODES TOWN
2. Kallithea Beach, quiet beach area and thermal springs
Kallithea is a pleasant, quiet beach area popular with the locals. Kallithea is just eight kilometres down the east coast from the Island's capital, and three kilometres north of Faliraki.
For centuries the thermal springs of Kallithea attracted people from across the islands and farther afield, looking for cures for their various ailments.
In 1928, the Italians constructed the first building to enclose the springs, but it wasn't too long before they dried up, and the project was abandoned.
In the late 1990s however, work began to restore the spa building back to its original splendour. After many stops and starts the job was finally completed, and the Moorish style spa re-opened in 2007.
Now you can visit the spa with its Rotunda Hall, imposing entrance-way and patio, beautiful pebble mosaics, and gardens full of palm trees, pine trees, and local flora; but the healing waters will be the warm salt water of the Aegean Sea.
Kallithea's sand and shingle beach is well equipped with sunbeds and parasols, and offers a range of water sports, with scuba-diving being particularly popular. There are also several boat trips which run from the beach.
The nightlife is pleasantly subdued, and ideal for those who just want to enjoy their evening with a quiet meal and glass of wine, or relaxing with a beer on the terrace of a local taverna.
If you want to stay in Rhodes around Kallithea, accommodation includes self-catering villas, studios, and apartments, boutique hotels, local guest houses, and holiday packages.
BEST PLACES TO STAY IN KALLITHEA
---
3. Faliraki, great area to stay in Rhodes for nightlife
What a difference three kilometres makes. From the quiet laid back atmosphere of Kallithea, to one of the main sports for partying in Rhodes. Welcome to Faliraki.
With its days of being the 18-30 party destination of the Greek Isles long gone, Faliraki has morphed into a resort to suit all ages and tastes.
Its main sandy beach stretches five-kilometres along the coast, and is full of sunbeds and parasols for the sun worshippers to tan in comfort. With a gentle slope into the sea, young children can safely play around the shore, while teenagers, mums, and dads can try their hand at every type of water sport you can think of.
Boat trips ply their trade throughout the day from the small harbour or off the beach, and make a pleasant break from the tropical sun.
For lunch you can buy baguettes, sandwiches, juicy melon, hot nibbles, and cold drinks from the beach bars. Or stroll the promenade, and enjoy a snack in the shade, on the terrace of one of the many tavernas and cafes that stretch along the front.
If you like beach time, but busy-busy doesn't do it for you, there are three smaller beaches close by, although in the height of the season even they can get busy.
Check out Kathara Beach, a short walk from the main beach; and Anthony Quinn Bay and Ladiko Beach, which are a short taxi ride south of the main town, but well worth the few euros fee.
Faliraki's nightlife caters for all ages and tastes, with local and international restaurants, fast-food outlets, and a whole range of family bars catering for everything from background music, to karaoke, and live music venues.
For those in party mood, head for Club Street and Bar Street, and prepare to party 'till dawn.
If you want to be near the centre of the action on your stay in Rhodes, Faliraki offers a full range of accommodation, from hostels, self-catering apartments and villas, to hotels, spas, and all-inclusive venues.
BEST PLACES TO STAY IN FALIRAKI
4. Kolymbia, popular with couples, families and seniors
Still travelling down the east coast, Kolymbia sits around 15 kilometres to the south of Faliraki, yet the two couldn't be more different. Kolymbia Village is relatively new when compared too much of the Island of Rhodes.
It was built in the 1920s by the Italians, when they were endeavouring to colonise the island. Kolymbia has increased in popularity with visitors since the 1990s, and large grand hotels now take up much of the skyline. Even so, the planners have made sure this natural, rugged coastal area loses none of its essential appeal.
A resort popular with couples, young families, and seniors, it is the ideal venue if you want to spend your holiday in a totally relaxing atmosphere.
Wherever you stay in Kolymbia, a stroll along the main street, Eucalyptus Avenue, will lead you to Afandou Bay, and Kolymbia's narrow, but very attractive beach. With cliffs rising from the sea, and a shallow foreshore, it is a safe beach for children of all ages.
To add a little variety to your day, several different boat trips are available from the beach, as well as a selection of water-sports. If you want to explore a little farther afield, hiking and mountain-biking options are available, or you can book a guided tour, or hire a car.
Lunch, snacks, and light refreshments are available from the many beach bars during the day, while evenings tend to be low-key. You won't find any bars open until sunrise in this area.
Many of the hotels are all-inclusive, and offer evening entertainment for their guests, so visitors tend to stay inside.
If you're a little more adventurous, you will find friendly, welcoming, Greek tavernas offering the best of local cuisine, freshly caught fish, and beers, wines, and spirits.
If you fancy a few nights or longer at Kolymbia, although many of the hotels are operated by the big tour companies, there are a number of private hotels, as well as self-catering villas and apartments. If you're looking to visit Kolymbia during peak season, early booking is to be advised.
BEST PLACES TO STAY IN RHODES IN KOLYMBIA
5. Stegna, fabulous secluded resort
If absorbing local culture and lifestyle plays a big part in your holiday enjoyment, then a stay in Rhodes at Stegna may provide it all. This fabulous secluded resort on the east coast is the beach area of the village of Archangelos, just 500 metres inland from the front.
It is a resort popular with locals, visiting families, and seniors, although no matter what your age, if you enjoy laid back with a village vibe, it is worth serious consideration.
Before the days of mass tourism, Stegna was a popular stop-over for many of the young adventurers and backpackers making their way around the Greek Isles.
Today, the sand and shingle beach stretches for around two kilometres, although part of it is taken over by the only large hotel in the area, as a private beach for its guests.
As you drive or walk down the main road to the beach area, the rugged, craggy rocks are contrasted by groves of lemon and almond trees. Looking down to the beach, the sun bounces off the blue/green Aegean Sea, and you just know it will be a good day.
At the beach, large boulders rise out of the water close to the shore, forming rock pools which will keep the youngsters and their shrimping nets happy for hours.
Those wanting to explore the deeper areas of the pools can buy snorkels, while other water-sports activities are available on the beach, and tour boats offer various trips to different islands.
Along the beachfront walkway, traditional tavernas offer cool refreshing beers and wine, while local restaurants provide classical Greek dishes, and the freshest of locally caught fish.
Evenings are as casual as daytime, although some of the tavernas offer traditional Greek folk music during the evenings. No late-night bars here, just good old fashioned Greek hospitality.
If during your stay in Rhodes you are considering some time at Stegna, there is just the one large commercial hotel, or you can choose from several smaller family owned hotels, guest houses, self-catering villas, apartments, and rooms to let, where you'll be welcomed with open arms.
BEST PLACES TO STAY IN STEGNA
6. Haraki, great beach area to stay in Rhodes
The villages of Haraki (Charaki) and Kalathos are just six kilometres apart. Except for the most basic of amenities, both are refreshingly untouched by commercialism.
The beach between the two is fine sandy grit, and a popular walk with those on hiking holidays, although you do have to detour onto the road occasionally. Most visitors are couples and older families.
For those with disabilities, mobility could be an issue, as the area has little in the way of access for mobility vehicles or WCs for the disabled.
Many visitors hire a car on their arrival , and use Haraki and Kalathos as a base for day tripping around the island, and exploring other islands on the many boat trips available.
Rhodes City is just 45 minutes away by car, and Lindos just a few minutes drive down the road.
For those without transport, taxis are plentiful and public transport reasonably reliable. That said, many visitors are content to spend their hard-earned break relaxing on the beach, and enjoying the hospitality of the local bars and restaurants.
Of the two villages, Haraki is the most commercialised, with apartments, guest houses, local shops, indoor markets, cafes, and tavernas stretching along the beachfront.
Both villages have a large percentage of return visitors, with some emulating Shirley Valentine, and choosing to move to the area on a permanent basis.
In you're staying in Haraki, there are a number of excellent restaurants to enjoy. A couple to look out for are Kapitanios Restaurant, and Marias Tavern, while Cocktails and Dreams is a popular taverna for beer and cocktails.
BEST PLACES TO STAY IN RHODES IN HARAKI
7. Kalathos, total relaxation in the beach
If your idea of a good holiday is total relaxation away from the hustle and bustle of modern living, Kalathos fits the bill. The village of Kalathos is set slightly inland, with a 15 minute stroll in the sunshine to the sea.
The beach stretches four-kilometres with few amenities, so be sure to take a cool-box filled with drinks and snacks if you don't want a long walk back and fore.
As you leave the beach, a popular watering hole is the Konstantin Taverna, while the village itself has some excellent bars offering traditional dishes such as Stifado, Mousakka, and Lamb Kleftiko.
Drop into Castellas bar for your sports fix. Look out for Ostria Taverna if you like a little magic with your meal, or call into the Olive Grove for hospitable expat service.
If you fancy some time at Kalathos during your stay in Rhodes, the Antrium Hotel is one of the larger establishments, but there is an excellent selection of privately owned self-catering rooms, apartments, and villas, as well as family owned guest houses and smaller hotels.
BEST PLACES TO STAY IN KALATHOS
8. Lindos, the second most popular destination to stay in Rhodes
Probably the second most popular destination for visitors wanting to stay in Rhodes. 3,000 year old Lindos attracts singles, couples, and families of all ages. It is a picture perfect village of traditional whitewashed dwellings, emerald coloured seas, and a hilltop acropolis.
It is a maze of narrow, windy, cobbled streets, hemmed in by immaculate white terraced houses, cottages, and hidden courtyards. You can spend days just exploring these little back streets and alleyways looking for local tavernas, cafes, and artisan lace shops.
Lindos is blessed with three beaches, Lindos main beach, Pallas beach, just south of the main beach and, around the back of the acropolis hill, the beach at beautiful St Pauls Bay.
If you think the view looking up at the acropolis from Lindos beach is impressive, wait until you see the one looking down from the top of the acropolis.
Lindos is the second most visited archaeological site in Greece, and once you enter the acropolis, you can understand why. Even those with no interest in archaeology can't help but be amazed.
The history within the fortified walls is mind blowing. A short but steep 120 metres walk will get you to the acropolis entrance, or you can choose to ride on one of the many donkeys that carry people up and down.
As you reach the acropolis, you are met by an early Greek warship carved into the rockwork around 280 BC. Once within the walls you can view the Castle of the Knights of St John, built in 1317, and the Greek Orthodox Church of St John, before taking the large stairway to the upper level, and out into the large courtyard and the Doric Temple of Athena.
The views from here over Lindos and St Pauls Bay are absolutely stunning, and a photographers dream.
Although relaxing day's on the beach will be high on the itinerary, break them up with a little retail therapy and souvenir hunting. You will find jewellery shops, stores selling handmade purses, handbags, and shoulder bags, and artisan shops selling those different holiday momentos.
A visit to the Tsambika Museum provides an interesting insight into the history of Lindos. While the many cafes and tavernas will provide a welcome respite from the hot sun.
In the evening Lindos has something to suit all tastes. You can enjoy a meal with a view, dining on grilled lamb chops, or fresh seafood such as sea bass, lobster pasta, or fried squid, washed down with the local beer or wine.
While Lindos isn't another Faliraki, it has a good selection of bars for those who like to party late into the evening.
Some of the soundproofed favourites where you can find live music and DJs are, The Courtyard Bar, Dreams Cocktail Bar, Crazy Moon Cocktail Bar, The Waterside, Lindos by Night, and the Sunburnt Arms.
If you're considering Lindos for your stay in Rhodes, they have a good selection of accommodation at all levels from hostels and B&Bs, to 5-star hotels.
BEST PLACES TO STAY IN LINDOS
9. Pefkos, where to stay in Rodhes for families
The village of Pefkos is a family friendly resort welcoming visitors of all ages to its four picturesque beaches. With a name in English meaning 'pine trees', the hillsides around the village, as you might expect, are full of pine forests.
If your idea of that perfect holiday is a Mediterranean lifestyle away from the maddening crowds, choosing Pefkos for your stay in Rhodes could be the perfect choice. The sandy beaches have sunbeds and parasols, and slope gently into the sea, making them safe for young children.
With most resort facilities owned by local Greek families, Pefkos has managed to retain its Greek heritage, while providing all the resources visitors might expect from a popular holiday destination.
Although compact, the village has an excellent number of convenience stores, holiday shops for those beach towels, goggles and snorkels, souvenir shops, pharmacies, bars, cafes, and restaurants. The village has one main street, and much has been done recently to improve things for those with mobility issues.
If your choice of holiday is to enjoy a little you-time, at Pefkos you can do just that, without resorting to a tent in the hills, or booking into a retreat. Pefkos is that kind of place.
If you're a lone traveller looking to make new friends, then a couple of pints on the terrace of one of the local tavernas, will have you chatting to the landlord and like-minded guests in no time.
For families and couples the choice of friendly bars and restaurants in the evening will keep you occupied during your stay. Or, if you want to add a little partying to your stay, the busier Lindos is just a short taxi ride up the coast.
If your choice of somewhere to stay in Rhodes is Pefkos, the resort has an excellent selection of small hotels, self-catering apartments, villas, and B&Bs.
BEST PLACES TO STAY IN RHODES IN PEFKOS
10. Lardos, pretty village close to the beach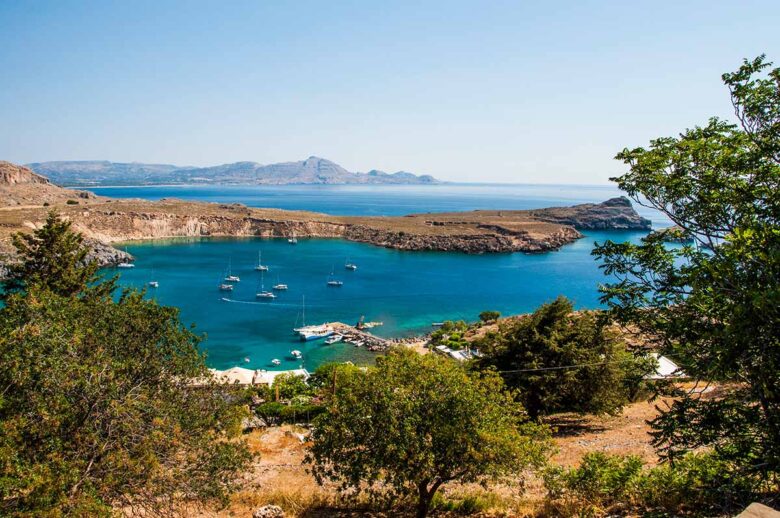 Not everyone on their holiday wants to wake up to views of the beach and sea, no matter how attractive. On the south-east of Rhodes Island, the pretty Greek village of Lardos lies two-kilometres inland from the coast.
Surrounded by hills, pine trees, and olive groves, Lardos is picture-perfect, and a popular base for those interested in local culture, and exploring the surrounding archaeological sites.
The centre of Lardos has a village square complete with a water fountain and benches, where old retired Greeks (and visitors) sit, take the sun, play backgammon, and put the world to rights.
Although Lardos is becoming increasingly popular with wealthy Greeks looking for retirement homes, it is also increasing in popularity as an attractive holiday resort, with a number of small hotels now operating between the village and the beach.
Unlike many Greek villages, Lardos has an excellent infrastructure, with not just the usual bars, restaurants, and shops, but a doctor, dentist, chemist shop, beauty salon, bike hire, and car hire company.
For those who like to mix their holiday between sightseeing and beach time, a pleasant 20 minute stroll along well-worn footpaths will get you to Lardos beach.
A number of water-sports are available, as are boats trips, including one to the Isle of Simi, and one to Marmaris, on the Turkish coast. On the beach you can hire sunbeds and parasols, and refreshments can be bought from the beach bars and shops.
If some time at Lardos sounds appealing during your stay in Rhodes, there are some excellent small hotels, guest houses, and self-catering accommodations available.
BEST PLACES TO STAY IN LARDOS
11. Kiotari, one of the most beautiful beaches
If your idea of paradise is a couple of weeks spent lounging on your sunbed, on one of the most beautiful beaches you will find during your stay in Rhodes, then Kiotari beach could be the place for you.
Popular with families, and couples of all ages, Kiotari is not a traditional Greek village embracing Rhodes growing tourist industry, but a purpose built resort, designed around the impressive Kiotari beach.
Kiotari beach is a 4-kilometre long, blue flag beach which is sandy at one end, and shingle at the other. Once you look past the hotels, it has a backdrop of swaying palm trees and craggy pinewood hillsides.
Over the last 10-years, large all-inclusive hotels have mushroomed, and new bars, restaurants, and shops opened, to cater for the influx of new guests.
On the beach you will find plenty of water sports to keep you active, including pedalos and para-sailing. If you have young children, care needs to be taken. The beach drops quite quickly from about eight feet out, and they could suddenly find themselves out of their depth.
For those who like their culture, Kiotari is not a place where local Greeks live, but a place where they work. So don't expect to find that close community spirit found at many of the old Greek village resorts.
That said, when eating, drinking, or souvenir hunting in Kiotari, you will always find that friendly Greek hospitality.
If you want to break up your beach time with a little island exploring, many of the hotels will be able to organise car-hire, although taxis and buses are also available for those who don't want to drive.
If you decide Kiotari is the place to be for your stay in Rhodes, there are plenty of high-end all-inclusive hotels available, as well as a few smaller hotels, and self-catering apartments and villas.
BEST PLACES TO STAY IN KIOTARI
12. Ixia/Ialyssos, good beach destination where to stay in Rhodes
Although last on our list of the best places to stay in Rhodes, Ixia and Ialyssos were one of the first resort areas to open up to tourism way back in the late 1960s early 1970s. Even today the area is still a favourite family destination, due in no small part to its close proximity to Rhodes City (3km).
The area boasts over 20,000 bedrooms, including a high percentage of 3-star and 4-star accommodation stretching some 6km from Ixia, to the village of Ialyssos, sitting on the top of Mount Filerimos.
Situated on the top edge of the island's west coast, Ixia's long narrow beach runs alongside the main Rhodes coast road. Primarily pebbles, and with an almost continuous westerly breeze blowing inland, it is a popular beach for learner wind and kite surfing enthusiasts, as well as other favourite water activities.
With plenty of sunbeds and parasols available on the beach, and a good selection of cafes, tavernas, and restaurants, you can enjoy relaxing days in the sun without having to venture far from your sunbed.
Likewise, the nightlife in Ixia and Ialyssos can be a relaxed affair of quiet meals in local or international restaurants, and a few pints on the terrace of your local taverna watching the sun go down.
If you want lively there is also a good selection of bars and nightclubs offering karaoke, DJs, and live music. Or, for a change of scenery, take a cab into Rhodes, and enjoy a meal in the Old-Town area, before exploring the local bars.
If you want to stay close to the big city action, without the big city prices during your stay in Rhodes, check out Ixia and Ialyssos for everything from hostels, to self-catering apartments and villas, to plush 5-star hotels.
One thing's for sure, whether you hire a car, or use public transport, wherever you stay in Rhodes, you are never that far from somewhere else. Make the most of it, and explore as much of this fascinating island as time allows. Because it will draw you back, time and time again.
BEST PLACES TO STAY IN RHODES IN IXIA
Photo:Shutterstock