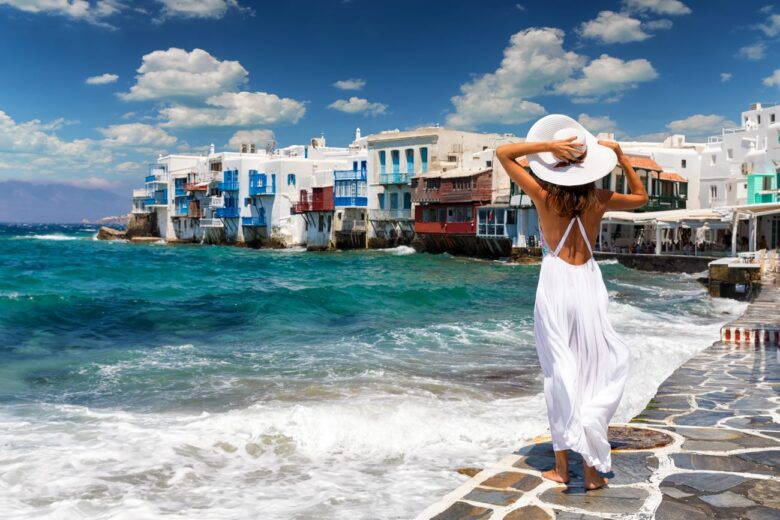 Situated in the mythic Aegean Cyclades of Greece, Mykonos is one of the most popular destinations in the world, drawing thousands each year thanks to its paradisiacal beaches, rich history, and thriving nightlife.
From snorkeling and scuba diving to exploring the island's ancient ruins, castles, and monuments, there are countless things to do in Mykonos, with something for every visitor to discover.
Here we list the top 25 things to do and see in Mykonos during your stay, along with tips and pointers for getting the most out of your excursions.
What to do in Mykonos? 25 best things to do in Mykonos
1. Explore Mykonos Town (Chora)
The main town of Mykonos, alternately referred to as Chora, is a not-to-be-missed experience during your stay.
The stunning whitewashed Cycladic buildings, set against the dramatic backdrop of the azure Aegean, are just the beginning; here is where visitors can find their feet upon arrival and get the finest first impression of Mykonos.
There is plenty to do in Chora, from shopping and sight-seeing to more niche activities like wine tasting and local tours, with a number of museums such as the Archaeological Museum and Folklore Museum accessible by foot or public transit.
Foodies will find no shortage of traditional and fusion Greek cuisine to sample, with most waterside restaurants offering the freshest seafood–some of it hauled in just a few yards from where you're sitting!
Nighttime is when Mykonos truly comes to life, with its many bars, clubs, lounges and rooftop parties lighting up the night sky.
Guests looking to stay in one of Chora's many hotels, private rentals, or hostels should be prepared to partake in the island's nightly festivities, however unwittingly!
2. Snorkeling & Scuba Diving
The clear turquoise waters of the Aegean are nothing short of paradise, and deep sea lovers won't want to miss out on some of the best and most breathtaking diving in the world.
Visitors to Mykonos can choose from a variety of guided activities such as snorkeling and scuba diving, with most tours taking passengers to multiple destinations around the island.
The underwater ecosystem of Mykonos offers valuable insights into the island's natural history, as well as the changes undergone in recent years.
For true diving enthusiasts there is the Mykonos Diving Center, which was founded in 1978 on Psarou Beach. Now located on Paradise Beach, the center boasts a friendly and informative staff, expert diving instructors, and equipment rentals.
3. Swim at Kalo Livadi Beach
Situated between Kalafatis and Elia Bays, Kalo Livadi is one of Mykonos's most serene beaches with beautiful views, calm waters, and an overall chill atmosphere.
Located a little over 6 miles from Mykonos Town, Kalo Livadi is perfect for families, couples, and individuals looking for a more peaceful beach setting.
Here is where you can avoid the noisy crowds and get back to basics without missing out on one of the best things to do in Mykonos–the beach!
4. Party on Paradise Beach
The "it" destination of Mykonos since the 1980s, Paradise Beach is where locals and visitors alike come together to party at the many bars, clubs, and live DJ-led events along the water.
Certainly one of the most famous things to do in Mykonos, an all-night celebration by the sea is guaranteed to lift your spirits like a true local.
Additional activities such as guided water sports and equipment rentals round out the Paradise Beach experience, ensuring no one goes bored for a minute.
With full on-site facilities available, one can easily spend the day at Paradise Beach and linger long past sundown.
5. Taste Local Cuisine at an Authentic Taverna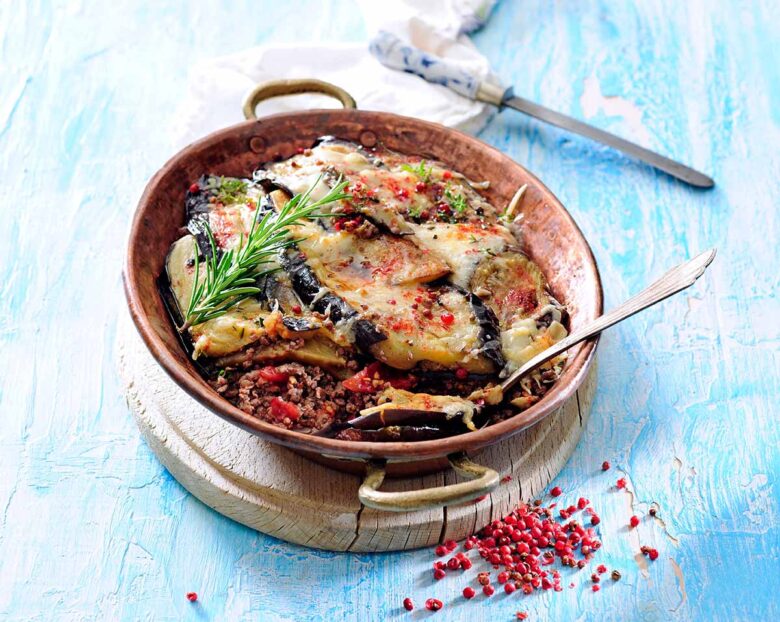 Dining out at a local taverna is a must no matter where you're staying in Greece, and you won't find a better destination than Mykonos when it comes to true Grecian cuisine.
A taverna is a common Greek restaurant or cafe serving drinks and simply delicious traditional meals, with live music and celebrations hardly an uncommon occurrence.
At a taverna you can eat like an island resident and sample some of the best Mediterranean fare available, from moussaka and souvlaki to freshly caught and prepared seafood dishes.
After a long day of swimming and sightseeing, relaxing at a taverna with a bottle of chilled white wine and mouthwatering Grecian spread may prove to be one of the most rewarding things to do in Mykonos.
Read also: Best areas to stay in Mykonos
6. Enjoy A Beach-Hopping Boat Tour
Even if water sports are a vacation no-go as far as you're concerned, you can still sit back and experience Mykonos by sea with one of the island's beach-hopping boat tours.
This way you can experience the best of Mykonos's world-famous beaches, from Paradise to Elia, without stressing over your itinerary or worrying about transportation.
Many Mykonoan boat tours offer additional amenities and services such as diving equipment, meals, and group considerations.
7. Visit Ano Mera Village
The village of Ano Mera, located just 5 miles from Chora, is like stepping back in time. Decidedly slower paced than other bustling tourist spots, Ano Mera is where visitors can relax and explore a truly unique and tranquil corner of Mykonos.
The second largest settlement on the island, Ano Mera features an impressive central square and plenty of shops, cafes, restaurants, local sites, and even hiking excursions to satiate every interest.
The church of Panagia Tourliani, Paleokastro Monastery, and ruins of Gyzi Castle are just some of the village's popular attractions.
8. Savor the Quiet Paradise that is Elia Beach
Renowned for its beauty, calm, and welcoming air of local hospitality, Elia Beach is an idyllic spot to swim, sunbathe, and relax at one of the many waterside cafes, bars, and tavernas.
Elia Beach is located approximately 7 miles from Chora, and can be reached by car, bus or water taxi via the bays of Paradise, Platis Gialos, and Ornos.
Similar in many ways to Kalo Livadi, Elia Beach is perfect for those who want a more easy-going beach experience.
9. Visit The Windmills
The windmills of Mykonos are among the island's most notable landmarks, consisting of 16 structures built by the Venetians in the 16th century to crush various grains and cereals.
Although the windmills are no longer in operation, they have been impeccably maintained, and provide a striking image for photographers and novice shutterbugs alike.
One of the most worthwhile sights to see in Mykonos, the windmills are sure to fascinate and delight visitors of all ages.
10. Splash Around SantAnna Swimming Pool
SantAnna, located in Paranga Bay, boasts Mykonos's largest seaside swimming pool. This is reason enough to check it out, but the SantAnna restaurant makes the journey all the more rewarding.
Saltwater pool aside, SantAnna is one of the best restaurants and beach clubs of the island and offers a full day's worth of fine dining, refreshing cocktails, spa treatments, and scenic relaxation at its best.
Rooms and suites are also available at SantAnna, as well as beach bed and canopy rentals.
11. Visit the Archaeological Museum of Mykonos
Built in 1905 to house artifacts excavated from Rheneia Islet's Putrefaction Pit dating back to 425 BC, the Archaeological Museum of Mykonos offers visitors a rare glimpse into ancient Mykonos.
Among the museum's most treasured objects is the intricate red Archaic Hydria vase, as well as Parian marble statues and a Clay figurine dating back to the 2nd century, which depicts a beautiful woman in traditional chiton and himation garb.
The Archaeological Museum is conveniently located in Mykonos Town, and is definitely worth adding to any planned museum tour.
12. Visit the Church of Panagia Paraportiani
The orthodox church of Panagia Paraportiani is actually 5 conjoined churches, with the oldest dating back to the 14th century. This unique whitewashed building is not to be missed during your stay on Mykonos, and is easily reachable via the town's main bus line.
13. Go Gallery Hopping in Chora
Mykonos Town has an abundance of art galleries showcasing the work of both local and featured artists, with an ongoing roster of shows and events open to the public.
Travelers with a penchant for the arts can easily make an afternoon or evening out of touring the many galleries and studios of Mykonos, which include:
the SCALA shop gallery, featuring paintings, sculptures, ceramics, and jewelry from well-known Greek artists;
the Minima Gallery, founded in 1997 to showcase contemporary Greek works;
the Municipal Art Gallery,
Mosaic Art,
Marble Art Center, and many, many more.
While it's tempting to focus on the ancient past of Mykonos, it's important to remember that the island's modern culture is still alive and thriving. Getting to know local artists and gallery owners may prove to be the most enriching thing to do in Mykonos.
14. Take a Ferry to Tinos Island
Located just off the coast of Mykonos (about 20-30 minutes by boat) is Tinos Island, popular for its picturesque villages and sweeping Cycladic views.
Visitors can explore the main town where the church of Panagia Evangelistria originates, admire the Venetian architectural touches here and there (most notably in the island's charming dovecotes), watch the basket weavers practice their centuries-old craft, and relax at one of the island's quaint cafes and tavernas.
Guided tours of Tinos Island are available for those who desire a more concise experience.
15. Discover Rhenia Islet
This hidden gem is a 1 hour sail from Mykonos, and is an ideal island getaway for the day. Populated only by goats, ancient ruins, and the surrounding waters, there are no human inhabitants on Rhenia, despite its origins of civilization dating back over 7,000 years.
The aforementioned artifacts excavated from the Putrefaction Pit and on display at the Archeological Museum in Mykonos refer to the bones and detritus of the dead that were removed from the island of Delos and transferred to their resting "pit" in Rhenia.
Despite its macabre backstory, today Rhenia is a welcome destination for visitors seeking a truly special experience. Whether you are looking to swim or explore, there is plenty to do on this serene island abandoned by time.
>>> Book your Delos and Rhenia boat trip <<<
16. Take A Winery Tour
The dry soil and mild winters of Mykonos help to produce the island's rich and flavorful wines, with many family-owned and operated wineries dating back generations.
Many of the island's vineyards and winemaking facilities offer complimentary tours as well as tastings, with additional meal pairings, workshops, and shopping assistance.
Visitors might be especially charmed to know that classical music is played throughout the grapes' growing process, as part of a time-honored tradition.
Mykonoan winemakers believe that the dolcet tunes instill similar qualities in the grapes. But don't take their word for it, decide for yourself!
17. Visit Kastro Panigiraki
Kastro means castle in Greek. The traditional Cycladic castle dates back to the early 18th century, with even older foundations beneath.
The gorgeously designed structure and surrounding grounds are the stuff of fairy tales, with plenty of modern dining, shopping, and strolling besides.
18. Explore the Island of Delos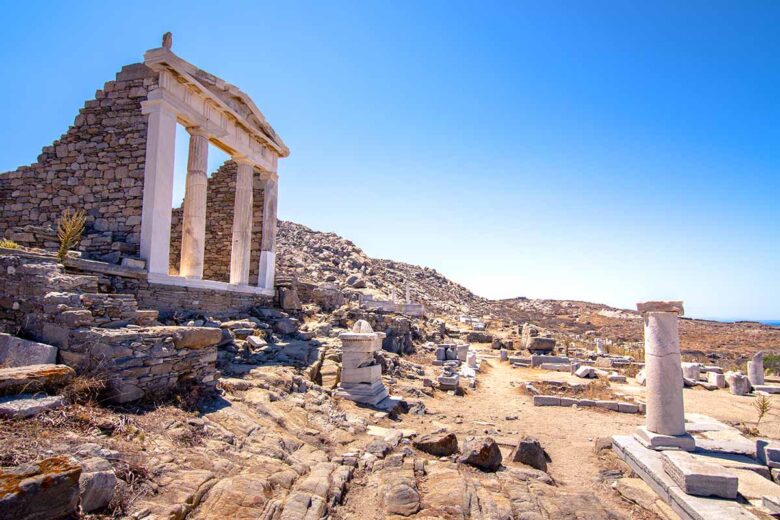 A 40-minute boat ride from Mykonos, the sacred island of Delos was once an ancient place of worship, where devotees of Apollo and various deities conducted celebrations, rituals, and organized games.
Today visitors can tour the island's extensive temples, ruins, and designated archaeological sites, as well as visit the Delian Archaeological Museum. For history enthusiasts, the Island of Delos is nothing short of a dream come true.
>>> Book your Delos one day trip <<<
19. Visit the Monastery of Panagia Tourliani
Built by two monks in 1542 and restored in 1767, the Monastery of Panagia Tourliani is famed for its gleaming whitewashed facade and exquisite interior.
The monastery also contains a small ecclesiastic museum displaying such relics as the monastery's original bells, handmade embroidery pieces, and other vestments, making it a significant pilgrimage for spiritual scholars.
20. Visit Armenistis Lighthouse
Presiding over the Cape Armenistis area of Mykonos, the Armenistis Lighthouse was erected in 1891 and is currently managed by the Hellenic Navy's Hydrographic Office.
At once both dramatic and poetic, the lighthouse stands as a testament to the rich maritime history of the island, with panoramic views you won't soon forget.
One of the most oft-recommended things to do in Mykonos, a trek to the Armenistis Lighthouse won't take long but is absolutely worth the exertion.
21. Visit the Folklore & Archaeological Museum
Alternately referred to as Lena's House in a nod to its final owner Lena Skrivanou, the Folklore & Archaeological Museum can be found within her 19th century home, and offers visitors a fascinating peek into the Hellenistic period and its native beliefs, stories, and intricate mythology.
The house itself remains much the same, inside and out, as when Lena lived there, right down to the furnishings, utensils, and paintings. Located in central Chora, a trip to the museum is a must for lovers of history and folklore.
22. Relax on Kalafatis Beach
Just 8 miles from Mykonos Town, Kalafatis Bay is a world apart nonetheless. Sparkling blue waters, unspoiled vistas, and plenty of land & water activities make Kalafatis Beach a popular locale in which to spend a day of bliss.
The bay has several water sports centers where guests can rent equipment or sign up for guided tours, as well as bars, restaurants, and convenient onsite facilities.
23. Visit Chora Castle
Built by the Venetians in the latter half of the 12th century to protect the island's inhabitants from pirates and other maritime invaders, Chora Castle now presides over Mykonos Town as a much-loved local monument and attraction, and is another "must" sight to see in Mykonos.
Visitors can explore the centuries-old Cycladic structure and surrounding grounds, take in the awe-inspiring view of Mykonos and surrounding Aegean Sea, and step back into a unique chapter of the island's history.
The celebrated Church of Panagia Paraportiani is located beside the castle's gate, thus named by the locals, as "paraportiani" quite literally translates to "next to the door!"
24. Watch the Sunset in Little Venice
No stay in Mykonos is complete without a sunset viewing from Little Venice, inspired by and named after the romantic Italian city.
The colorful houses and overlooking balconies, intimate winding streets, and flawless views of the Aegean make Little Venice one of the dreamiest sights to see in Mykonos.
Traveler's Tip: Know Before You Go
Being one of Greece's most in-demand islands, Mykonos has a fairly reliable public transportation system. However, visitors are encouraged to look into car rentals to ensure ease of travel and optimal time-saving.
25. Visit the Aegean Maritime Museum
Founded in 1983 as a nonprofit, the Aegean Maritime Museum of Mykonos has been awarded the Athens Academy Award and the World Ship Trust's Award for Individual Achievement.
Located in a 19th century house in the Tria Pigadia area (close to the town center), the museum seeks to preserve and promote the study of Greek maritime history and tradition, with special focus on the Aegean's merchant ship history.
The first ever Greek museum to restore living historical exhibits as they were originally designed and built. Current exhibitions include the Armenistis Lighthouse, constructed in 1890 and now on display in the museum's garden, and restored ships from the early 20th century.
One especially poignant feature is the museum's collection of ancient mariners' marble gravestones, also on display in the garden.
Foto: Shutterstock