Wondering where to stay in Washington D.C.? This guide is for you!!! This is a list of best places to stay in Washington D.C. for tourists visiting the first time!
A visit to Washington, D.C. offers opportunities to go behind the scenes of the political world, visit world-class museums, dive into history, pay tribute to fallen heroes, marvel at embassies, enjoy amazing live performances and dine at top-tier restaurants.
There's always something going on in Washington D.C. on any given day. After all, this is where politicians and the world's movers and shakers work and play.
There are a few things to know if you're searching for the best neighborhoods to pick when you stay in Washington D. C. during an upcoming visit. The first thing to know when selecting a place to stay in Washington D. C. is that history is everywhere! Each neighborhood offers its own unique attractions.
However, some neighborhoods definitely cater to visitors looking for high-end accommodations and easy access to major landmarks and hot spots. Other neighborhoods offer laid-back, residential vibes. Some are buzzing with the activity that comes from housing a major college campus.
Take a deeper look to discover the best neighborhoods to stay in when visiting the nation's capital. There are actually eight main neighborhoods to look at when researching areas in Washington D. C. ahead of your visit. Here's a look at them:
Where to stay in Washington DC: Best areas to stay in Washington DC
It's easy to see how each of Washington's neighborhoods offers unique charms and highly desirable attractions. Downtown, Capitol Hill and Georgetown are the neighborhoods to look for if you have your mind on upmarket accommodations.
These neighborhoods also provide the best access to many of Washington's major attractions. In addition, these are the neighborhoods where you're likely to rub elbows with important people.
You might want to focus your search for places to stay in Washington D. C. on Foggy Bottom/Chinatown if you like the idea of staying in a student-centric area.
You can often get really good deals on places to stay during the summer months because students leave tons of vacancies once May rolls around. This is a great area for backpackers and budget travelers to focus on.
The area covering Dupont Circle and Logan Circle offers a nice midway option between the upscale neighborhoods of D.C. and a quieter spot like Foggy Bottom. There's always a lot going on in this part of Washington.
However, you can also find some reasonable accommodations and still feel like you're staying in a part of town where real people live away from the flashiness, fanfare and politics of other parts of Washington.
Northeast (Union Station) is a top pick if having access to public transportation is a top priority. In addition, this part of Washington, D.C. typically has some pretty reasonable hotel rates.
1. Downtown, best area to stay in Washington DC
Downtown Washington, D.C. is where posh meets powerful. This part of town is known for its high-end hotels and bars that attract the rich and powerful players of the Beltway. Don't be surprised to spot a familiar television pundit or a well-known politician when you haunt this part of town.
This area is also home to some of the most important cultural institutions in the nation. The list includes the Smithsonian American Art Museum's Renwick Gallery, the National Geographic Museum, the National Gallery of Art and the National Museum of Women in the Arts.
Of course, the big reason why this part of town is so famous is because it houses one very important address. Downtown is where you'll find 1600 Pennsylvania Avenue. A trip to Washington isn't really complete unless you make a stop at the White House Visitor Center.
A spot called CityCenterDC is a hot retail and dining zone that attracts tons of people. In addition, it's an easy walk to a very popular neighborhood for dining and drinks called Penn Quarter.
Downtown is the most desirable area to stay in Washington D.C. Of course, that also makes it one of the pricier neighborhoods when it comes to hotels.
Downtown is where lobbyists and notable figures in the world stay when they come to town. Downtown has more than enough hotels to also accommodate everyday travelers.
Paying a little extra per night could be worth the trouble if you'd like the place you stay in Washington D. C. to be within walking distance of most of the major attractions.
BEST PLACES TO STAY IN DOWNTOWN
2. Capitol Hill, where to stay in Washington for sightseeing
Capitol Hill is a neighborhood that serves as the seat of the nation's government. It is where you'll find the buildings that house the United States Capitol, the Senate, the House of Representatives and the Supreme Court.
It is also home to the Library of Congress, the Folger Shakespeare Library and the United States Botanic Garden.
Capitol Hill is a beautiful place that features neighborhoods full of row houses.The food scene in Capitol Hill is unmatched. The pubs and oyster houses in this neighborhood come alive once the workday ends and happy hour begins.
One of the best spots to visit while in the neighborhood of Capitol Hill is a spot called Barracks Row. This place is a foodie paradise! The vendors here sell top-tier meats, artisan cheeses, decadent baked goods and much more. Vendors move in with crafts and antiques on the weekend.
Capitol Hill is an amazing neighborhood to stay in if you want to feel like you're watching the political process happen in real time all around you. Of course, hotels in this posh spot don't tend to be cheap.
BEST PLACES TO STAY IN CAPITOL HILL
3. Chinatown, eclectic and fun place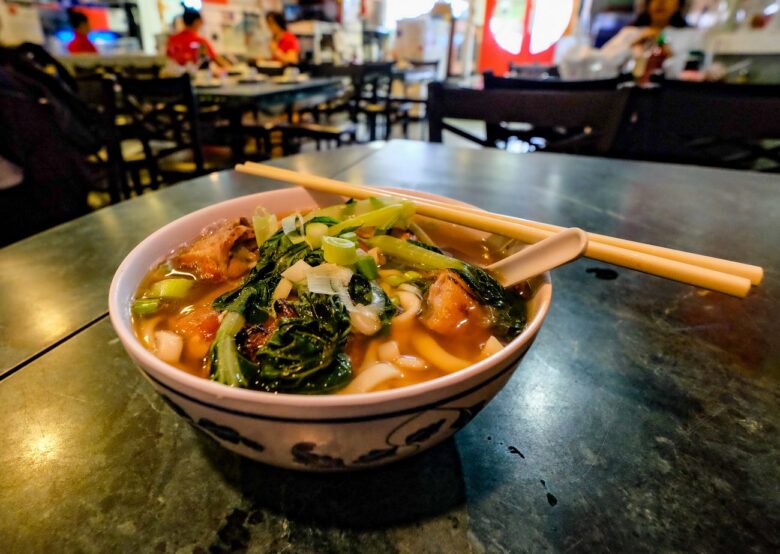 Where can you stay while visiting Washington, D.C. if you want to experience some true culture? Chinatown is an eclectic and fun place to visit. .
The neighborhood is marked by a Chinese gate called the Friendship Arch that can be found over H Street at 7th Street.
There are about 20 Chinese and Asian restaurants to choose from when dining in Chinatown. The neighborhood also houses the Capital One Arena.
The laid-back, highly residential vibe of Chinatown makes this a great spot to stay in Washington D.C. if you crave a very authentic taste of the city.
You can also find some decently priced hotels in and around Chinatown. Chinatown is served by the Gallery Place Washington Metro station on the Yellow Line.
BEST PLACES TO STAY IN WASHINGTON DC IN CHINATOWN
See also: Best things to do in Washington DC
4. Foggy Bottom, a hip place to stay in Washington DC
Foggy Bottom is named in honor of the moody, ethereal fog that lingers in this neighborhood. The area is defined by the National Mall and the Potomac River. It is bounded by 17th Street, the Rock Creek Parkway, Constitution Avenue and Pennsylvania Avenue.
Foggy Bottom is a hot spot for political activity and culture. It contains the U.S. Department of State, the Kennedy Center, the National Symphony Orchestra, the DAR Constitution Hall and the Washington National Opera. What's more, it is actually where the Watergate complex is located.
The campus of George Washington University is spread across almost the entire neighborhood. Georgetown University is also very close by.
Foggy Bottom is definitely a hip place to stay. College students flood the many casual restaurants and fun pubs throughout the neighborhood on a nightly basis.
Foggy Bottom is served by the GWU Washington Metro station on the Blue Line, the Orange Line and the Silver Line.
The fact that this neighborhood caters to students means that it is a good spot to look for reasonable accommodations. What's more, summertime visitors can often find lower-than-usual rates on rooms from college students looking to rent out their places.
BEST PLACES TO STAY IN FOGGY BOTTOM
5. Dupont Circle, vibrant cultural life
Dupont Circle is considered by many to be the grand hub of Washington. This traffic circle is where Connecticut Avenue, New Hampshire Avenue and Massachusetts Avenue intersect.
It is a very vibrant hub in terms of D.C.'s cultural life. Dupont Circle is known for its upscale homes, art galleries, museums and embassies.
There are also some very trendy and funky restaurants and coffee shops here. Many know Dupont Circle as the area where diplomats and their families stay and play.
In addition, an endless list of institutions can be found here. That list includes the Brookings Institution, the Carnegie Endowment for International Peace, the Paul H. Nitze School of Advanced International Studies (SAIS) of Johns Hopkins, the National Museum of American Jewish Military History, the Institute for Policy Studies, the Aspen Institute, the German Marshall Fund, the Center for Global Development, the Stimson Center and the Peterson Institute.
Of course, many people come here simply to admire the sights and sounds near the famed and heavily photographed fountain at the center of the Dupont traffic island. Dupont Circle is served by the Dupont Circle station on the Red Line.
BEST PLACES TO STAY IN WASHINGTON DC IN DUPONT CERCLE
6. Logan Circle, where to stay in Washington DC for nightlife
The Logan Circle neighborhood is known for its very lively nightlife scene. This neighborhood runs along P Street and stretches north along 14th Street. Visitors will find a nice blend of sidewalk cafés, theaters and bars.
While the Logan Circle neighborhood is undoubtedly historic, it houses fewer major landmarks than other neighborhoods. It can appear very quiet and residential during the day.
The Fourteenth Street Historic District within Logan Circle is home to approximately 765 properties that are considered to be historically significant.
BEST PLACES TO STAY IN WASHINGTON DC IN LOGAN CIRCLE
Read also: How to get from Ronald Reagan Airport to Washington DC – How to get from Dulles International Airport to Washington DC
7. Georgetown, great area for families
Georgetown is a charming, upmarket neighborhood that offers everything from fun college bars to a glistening riverside promenade lined with bike paths. Georgetown is best known for being home to the main campus of Georgetown University.
It also houses the embassies of France, Iceland, Sweden, Cameroon, Kosovo, Ukraine, Liechtenstein, Mongolia, Thailand and Venezuela.
The intersection of Wisconsin Avenue and M Street is where you'll find tons of high-end shops, great restaurants and popular bars. You can also visit the Georgetown Park enclosed shopping mall.
Head to the Washington Harbour waterfront if you're looking for some of the top restaurants in all of Washington.
Georgetown is a safe area and a great area where to stay for families visiting Washington DC
BEST PLACES TO STAY IN GEORGETOWN
8. Northeast (Union Station), where to stay in Washington DC on a budget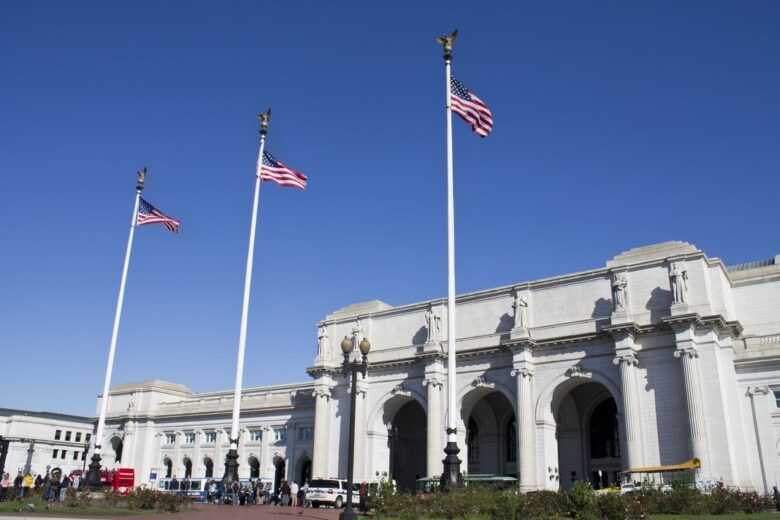 Northeast covers the area located north of East Capitol Street and east of North Capitol Street. Many people refer to this neighborhood as Little Rome or Little Vatican due to its high concentration of Catholic landmarks and institutions.
It is home to Gallaudet University, The Catholic University of America and Trinity Washington University. In addition, Northeast is where you will find the headquarters of the United States Conference of Catholic Bishops, the National Shrine of the Immaculate Conception, the Saint John Paul II National Shrine and the Franciscan Monastery of the Holy Land in America.
Northeast is also a treasure for anyone who loves public gardens, It houses the United States National Arboretum and Kenilworth Aquatic Gardens.
In addition, well-known institutions like The Heritage Foundation and The Washington Times are also staples of this neighborhood. Washington's Northeast neighborhood is served by all six lines of the Washington Metro.
This neighborhood is also home to Union Station. This major hub offers access to the Metrorail system, Amtrak, MARC and the Virginia Railway Express. You can also use Union Station to connect to bus services from Peter Pan, Greyhound, Trailways, Megabus and several other bus companies.
The presence of Union Station makes Northeast one of the best areas in Washington D. C. to look for a hotel. You can arrive in this neighborhood easily and visit many attractions throughout the Washington area cheaply when you stay here.
In addition, Northeast is definitely one of the cheaper areas of Washington, D.C. to stay in when it comes to nightly room rates.
BEST PLACES TO STAY IN WASHINGTON DC IN NORTHEAST
You're truly going to find amazing slices of American history regardless of where you actually choose to stay in Washington D. C. during your upcoming visit.
Finding the best fit all comes down to pinpointing the landmarks you want to visit and discovering which neighborhood puts you in the best position for seeing and doing all that you want to while you're in town.
Did you like this post about the best places to stay in Washington D.C.? Read also: Where to stay in San Francisco, where to stay in Boston, where to stay in New York
Photos: Shutterstock