If you're wondering where to stay in San Francisco, ideally you should choose a hotel as close as possible to your points of interest. Find out the best neighborhoods in San Francisco for attractions, food, nightlife and more!
The fascinating and diverse city of San Francisco is known globally for its atmospheric fog, cool summers temperatures and steep hills.
Within this urban setting of rolling, hilly streets, visitors continue to be intrigued by the eclectic display of architecture, dynamic landmarks and notable sites, such as the famed Golden Gate Bridge, Fisherman's Wharf, Chinatown and the notorious Alcatraz Federal Penitentiary.
The city is home to a wide variety of museums and art galleries, performing arts venues, educational institutions, countless types of nightlife and entertainment for all ages as well as myriad fine restaurants and casual eateries featuring a huge selection of different ethnic cuisine and delicious menu specialties.
This highly attractive, colorful "Golden Gate City" has the ageless motto of "Gold in Peace and Iron in War." Founded in 1776 and incorporated in 1850, the San Francisco metropolitan area stretches along 50 kilometers (30 miles) of the Pacific coastal area of northern California in the USA.
Located on a peninsula that separates San Francisco Bay from the Pacific Ocean, this city is highly scenic and is noted and praised for its innovative and sophisticated cultural political and societal ideals, diversity, events and experimentation.
As well as maintaining its status as a leading city for arts, culture and innovative education, the San Francisco Bay Bay Area is also home to numerous state-of-the-art high-technology firms and experts in advanced computer technology and programming.
At an elevation of 47 meters (155 feet) above sea level, this city offers a Mediterranean style climate of year-long moderate temperatures and a wet season during much of November through March.
A major, well-known climatic feature is the locale's persistent and to many visitors, charismatic fog that rolls in from the Pacific Ocean.
Named in honor of St. Francis of Assisi by its founders, Spanish colonists traveling north from Mexico, San Francisco is the largest city on the West Coast of the United States.
It is the major cultural, financial and commercial hub in the State of California as well as truly fascinating, proactive, creative, inventive and always welcoming urban center for both residents and visitors of the U.S. during their stay in San Francisco.
The city is easily accessible by plane, train, bus and car travel today. Major airports serving this busy metropolis and surrounding areas include San Francisco International Airport (SFO), Oakland International Airport (OAK) and San Jose International Airport (SJC).
Where to Stay in San Francisco: 9 Best Areas
The best rated neighborhoods in San Francisco and locales to choose for your accommodation while visiting the exciting and fascinating city of San Francisco include the following attractive and inviting areas:
1. Nob Hill/Union Square, where to stay in San Francisco for first time
This active and colorful San Francisco neighborhood is home to the most widely known names in retail stores across the U.S. Every successful worldwide fashion brand is represented in this area.
As a landmark in the very heart of the city's downtown shopping and hotel accommodations district, Union Square offers lovely granite plazas, a performance stage, a café plus four charming corner plaza entrance-ways lined with the city's famous palm trees.
The lustrous beauty of abundant flower stands decorate street corners while the famed cable cars add bring bright, historic flair into modern focus and use.
While Macy's iconic department store, and a myriad of shops and boutiques offer a huge choice of shopping venues, restaurants, bistros, and coffee or tea shops are plentiful. Jazz and blues clubs and friendly bars offer lively nightlife.
This neighborhood also offers many of the finest and most diversified cuisine choices in the city, including some very popular restaurants. For fans of French cuisine, "398 Brasserie" is a fabulous choice.
Right in the center of Union Square, this restaurant will make you believe that you have been whisked off magically to Paris to enjoy the ultimate delicious French menu surrounded by chic decor and style.
While "Bartlett Hall" at 242 O'Farrell Street in the middle of Union Square, offers upscale dining plus large-screen sports entertainment, "Del Popolo" at 855 Bush Street is a popular spot for indulging in unique and delicious artisan pizza suitable for any taste and budget.
This safe, active tourist haven is ideal for sightseeing, offering such landmarks as The Dewey Monument, San Francisco Fountain and the city's newest museum, the Museum of Ice Cream. Public transportation for the area includes train, cable car, limo and ferry.
A variety of guest accommodations flourish in this area, from standard global hotel names to small guest homes, B&B's and hostels for backpackers visiting this locale, which is one of the most frequently visited neighborhoods in San Francisco.
BEST PLACES TO STAY IN NOB HILL / UNION SQUARE
2. Financial District, one of the best areas to stay in San Francisco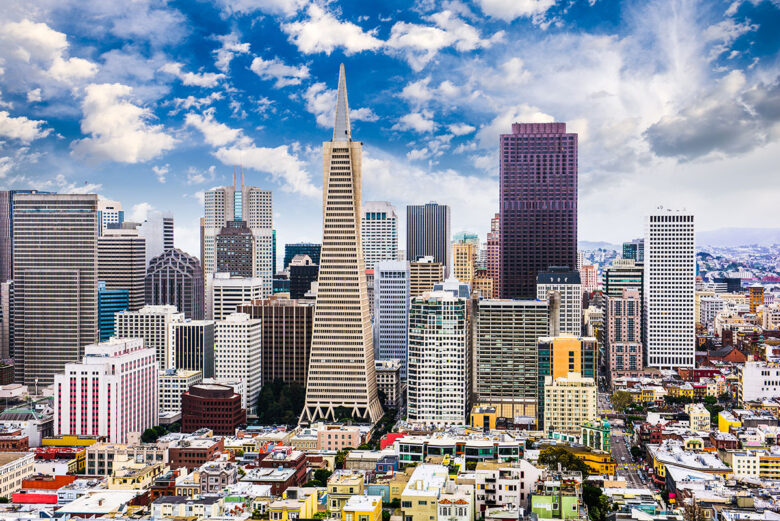 The bustling mix of fast-paced big business, cultural and landmark venues, shops, bars and eateries make this district one of the most enlightening and enjoyable neighborhoods to visit and to stay in San Francisco.
At Pier 15 in the Financial District, you can visit the acclaimed Exploratorium with its fantastic panoramic views of both the city and the bay and to experience the wonders of the 650-plus hands-on exhibits displayed in this fascinating museum setting.
This facility is recently renovated using sustainable materials and designs and is among the most innovative areas in San Francisco.
This district is also home to the popular Hornblower Cruises & Events featuring delicious food and beverages while you enjoy spectacular Bay Area water scenes. You will be dazzled and delighted by the marvelous food, entertainment and cruise ship decor.
When you visit the Ferry Plaza Wine Merchant, you will sample the most distinctive and delicious wines imaginable, many from smaller elite vineyards and wineries. This wine merchant is focused on providing wine education and engaging wine tasting experiences.
At Hardie Place in this neighborhood, Ginger's is a popular and relaxing venue for enjoying beer, wine and cocktails while you take a break from sightseeing.
Area restaurants include the Wayfare Tavern on Sacramento Street serving upscale American meals and the moderately priced Italian restaurant, Barbacco on California Street offering delicious Italian regional cuisine at friendly communal tables.
It is easily accessible by all modes of transportation, including cable cars, buses, cars and by BART. This district of San Francisco offer both high-end and a few moderately priced hotels.
BEST PLACES TO STAY IN SAN FRANCISCO FINANCIAL DISTRICT
3. Chinatown, colorfur district with lively nightlife
Visitors to this district have the opportunity to same dim sum at some of the best Chinese restaurants on the West Coast today. This colorful district offers a huge selection of restaurants, tea houses and bars for eating, drinking and merriment.
The nightlife is lively, offering a wide array of clubs, music venues, Chinese dances and movie theaters as one of the fascinating areas in San Francisco.
If you are in town during the annual Southwest Airlines Chinese New Year parade, be prepared for the 200-foot long dragon, earth-shaking firecrackers, beating drums, crashing cymbals and gongs to chase away all evil spirits.
Guests snap photos and shoot videos at the celebrated Chinatown Gate where a pair of welcoming stone lions are bordered by a pagoda-styled archway.
At the Golden Gate Fortune Cookie Factory, you will be invited inside by the sweet aroma of vanilla to observe the skillful workers creating warm, golden, crisp cookies with the aid of rapidly spinning machines.
Be sure to visit the Red Blossom Tea Company as well, a bright, attractive shop where you can sniff fragrant teas from myriad canisters before making your choice to sample.
Chinatown is easily accessible by bus and BART and is definitely one of the most popular neighborhoods in San Francisco to visit.
The majority of hotels, inns and hostels in this district are reasonably priced for a stay in San Francisco, and there are low-budget hostels for backpackers as well.
BEST PLACES TO STAY IN SAN FRANCISCO CHINATOWN
4. Fisherman's Wharf, where to stay in San Francisco for families
This district is one of the most exciting areas of San Francisco. Here you will find the fascinating Aquarium of the Bay along the city's famed Embarcadero, an amazing site where the great beauty of San Francisco Bay lit brightly by glistening lights provide a breathtaking view from an elevated deck.
Inside this site, you can watch spiraling schools of anchovies and jellyfish swirling past. This unforgettable scene is the perfect visitor's venue before relaxing over cocktails in celebration of the city.
At the riveting San Francisco Dungeon on Jefferson Street, live actors lead you on a precarious trip through the authentic and sometimes grimy Bay Area history.
You will meet the grisly Rat Catcher with his chilling tales of the Plague and take a chilling tour of Alcatraz prison on a staged attempted escape.
You can experience the heart-thumping drop ride, a jump from Alcatraz into the Bay below. You will be amused, scared and thoroughly exhilarated by this unique escapade in one of the most unusual and thrilling areas in San Francisco.
Then visit Madame Tussauds famous wax museum to mix with all your favorite icons and celebrities before sampling delicious breads in the tasting room at the renowned Boudin Bakery & Cafe as part of your Museum and Bakery tour.
While in this district, be sure to enjoy a fabulous meal at such outstanding seafood restaurants as Scoma's, Fog Harbor Fish House and Franciscan Crab Restaurant.
Fisherman's Wharf can be easily reached by all types of public transport in the city, and this intriguing district is lively day and night. Colorful restaurants, clubs, bars and cafes abound here, so you can sample as many different relaxing venues as you like.
You can locate excellent hotels and guest houses in this area at elite, reasonable and budget room prices for your stay in San Francisco.
BEST PLACES TO STAY IN FISHERMAN´S WHARF
5. North Beach, great for dining and drinks
In this charming coastal neighborhood, experience the celebrated Speakeasy, an expansive display of magical nightlife in a truly outrageous club setting.
This famous entertainment arena includes a cabaret, bar and casino bar that serves more than 13 elite cocktails made popular during prohibition years. From whiskey tastings to excellent food, you can make your favorite selections.
Stellar entertainment includes the casino offering blackjack, roulette and craps tables along with a 1920's style cabaret show that includes a fabulous jazz band, hilarious vaudeville comedians and a sultry nightclub singer.
You can enter The Speakeasy via one of the hidden rooms or mysterious hallways like the Clock Shop or Sam Lee Laundromat. Then visit Cobb's Comedy Club on Columbus Avenue nearby to enjoy top-rated comedians and performers.
Visit world-famous Beach Blanket Babylon, the world's longest-running musical revue, and delight in the globally praised musical review at Club Fugazi that offers outstanding spoofs concerning politics and pop culture.
A fabulous segment of this show takes a whirlwind tour with Snow White as she makes an international search for Prince Charming during which she encounters numerous well-known figures and celebrities.
Restaurants with varied cuisine and prices are plentiful, along with many cafes, bars and lounges. This district is easily reached by BART, bus and car and is among the most relaxing and entertainment-focused neighborhoods in San Francisco.
This district has both high-end and moderately priced hotels, inns and B&B's for the traveler's convenience during a stay in San Francisco.
BEST PLACES TO STAY IN SAN FRANCISCO IN NORTH BEACH
6. Russian Hill, charming historic neighborhood
In this historic district, you can enjoy staying in a country getaway within a bustling metropolis. This scenic area includes traditional brown-shingle homes, panoramic views and stunning botanical displays of great beauty.
This amazing retreat stretches over 35 blocks and is named for Russian sailors buried within this area.
Four historical districts lie within these blocks, which were once home to famous writers like Mark Twain and Jack London and many renowned artists. This district is fully representative of San Francisco's unique combination of traditional elegance and bohemian allure.
Charming narrow walks and stairways are plentiful among many beautiful gardens throughout this area. The famed Powell-Hyde cable car line runs past Lombard Street, known as the world's "crookedest street," on its way to Fisherman's Wharf.
One of the most celebrated views of the city is located where Vallejo and Jones Streets meet. This historic site, "Vallejo Crest," enables visitors to survey the entire San Francisco downtown section, including the well-known waterfront and the East Bay hillsides of Oakland and Berkeley.
Some of the most expensive homes in the city are in this area. The many brown-shingle houses were constructed to express the rebellious feelings opposing the traditional gingerbread style Victorian homes in the city.
Approximately 20 yards downhill from the crest, you will find Russian Hill Place, a colorful location with small charming villas like those common in Northern Italy.
Nearby, historic Macondray Lane winds downhill, leading to scenic stone walks hidden among lush trees and colorful gardens. Also in this district is the "Paris block" with several famous octagon style homes.
In and nearby this neighborhood, you will find a pleasing variety of restaurants, bars, cafes with live music and eateries, also offering a choice of menus to suit every traveler's budget during a stay in one of the most interesting neighborhoods in San Francisco.
Guest accommodations in this area range from luxury to boutique hotels and charming inns with a wide selection of prices from high-end to bargain rates. Russian Hill is an interesting neighborhood to stay in San Francisco.
BEST PLACES TO STAY IN RUSSIAN HILL
7. Marina District, where to stay in San Francisco on a budget
With its numerous boats and frequently sounding foghorns, Marina Green is an ideal scenic location for kite-flying activity.
Formerly a military base, Fort Mason Center now serves as a home for arts organization and the superior bay-side vegetarian restaurant, Greens. Restaurant row is found on Chestnut Street and offers the gamut of menus from gourmet delights to tasty burgers.
Popular hangouts like the Balboa Cafe thrive near Lombard Street while Atelier Crenn on Fillmore Street, a high-end modern French restaurant featuring experimental, naturalistic dishes served amidst sleek, minimalist dining decor.
This visitor-friendly neighborhood has unique specialty shops, art galleries, clothing stores and artisanal food choices. Amazing views of Alcatraz and the Golden Gate Bridge are clearly visible from this area, which is truly one of the most intriguing neighborhoods in San Francisco.
For fabulous city views, you can make the climb up to Pacific Heights, located on a ridge-top south of Marina. This upscale locale hosts foreign consulates, major politician and high-tech moguls.
Expensive shops lines Fillmore, such as elite clothing brands, luxury items and specialty gifts. Next to Marina and Pacific Heights is Cow Hollow, once used as a grazing area for cattle that is currently an attractive, quiet and charming neighborhood.
Along Union Street, you will find stylish boutiques, healthful spas and fine quality restaurants.The older streets of this neighborhood style and ambiance with their many sidewalk cafes and attractive storefronts.
The most direct routes to and from this highly interesting district are by bus or BART (Bay Area Rapid Transit).
Guest accommodations are plentiful in this section of the city and include signature hotels, scenic local inns and B&B's of varied sizes for your stay in San Francisco at affordable prices.
BEST PLACES TO STAY IN SAN FRANCISCO IN MARINA DISTRICT
8. The Castro/ Haight-Ashbury, where to stay in San Francisco for nightlife
Even today, this fun-loving neighborhood retains its connections to the "Summer of Love" in 1967's hippie culture. During this time, the corner of Haight and Ashbury Streets became a lasting symbol of the counter-culture of the 1960's.
Flower power, endless free love and a movement for world peace flourished in this area and worldwide, spread by music, activists and the international media.
This feeling of freedom and natural living prevails here today, and neighborhood shops still sell huge volumes of tie-dyed T-shirts, incense and vintage vinyl bags and boots.
The commercial section of the district, Upper Haight, is to the east and west of this famous intersection. Offering an eclectic mixture of architecture and brightly colored Victorian houses, visitors flock to sites associates with famous names from the psychedelic rock world of the '60's.
From here, you can stroll to the entrance of the Golden Gate Park. You can stand on Hippie Hill, a former gathering place, public forum and chilling-out spot that includes a bongo drum circle.
Throughout the years after the 1960's, Kezar Stadium was the regular arena for concerts by such celebrated performers as Bob Dylan, Joan Baez, The Jimi Hendrix Experience and Jefferson Starship.
In Castro, you can visit the renowned Mt. Davidson Landmark Park and Cross and the GLBT History Museum. Take note that Castro is the center for the LBGTQ community in San Francisco.
Popular restaurants in this district include Pink Elephant Alibi, a friendly and innovative eatery offering innovative American food.
Nearby the Cha Cha Cha on Haight Street servers delicious Cuban-Caribbean cuisine in an upbeat setting. A wide array of nightlife is available here, mostly casual, relaxing and fun.
An ideal way to reach this area, which is one of the most often visited neighborhoods in San Francisco, is by the hop-on, hop-off city bus line, or by BART.
There are many choices for low-to-moderately priced hotel, B&B's and hotels in this neighborhood for your stay in San Francisco, along with some higher-rate hotels.
BEST PLACES TO STAY IN THE CASTRO / HAIGHT-ASHBURY
9. SOMA (South of Market), good area with affordable prices
This district is home to the San Francisco Giants and their well-celebrated baseball stadium on Willie Mays Boulevard.
The San Francisco Museum of Modern Art is also located here and was the first museum on the West Coast dedicated to exhibiting modern and the latest contemporary art.
The museum currently features more than 33,000 works of art. This fine museum offers free admission for visitors of ages 18 and under.
It has many outdoor displays plus two museum stores and several dining options. Yerba Buena Center for the arts is also found in this district, just a short stroll away from Union Square and Market Street.
This innovative center presents contemporary visual art exhibits, performances, films and other new and experimental programs and events as one of the avant-garde areas in San Francisco.
Next to the San Francisco Museum of Modern Art is the ThirstyBear Brewing Company and Spanish Cuisine on Howard Street. This award-claiming organic brewery and restaurant services amazing organic handcrafted beer and superb Spanish cuisine in a spacious, attractive and welcoming atmosphere.
At the Tabletop Tap House on Fourth Street, you can enjoy massive entertainment on a 50-foot video wall while relaxing with other guests and your favorite beverage. You can also join a friendly game of billiards or relax on the outdoor patio.
Boutiques, bars and plenty of attractive areas for walking are exploring the area are available to visitors and residents alike. This district of the city is easy to reach by bus, car and BART, and it offers a wide range of prices for hotel, inn and B&B accommodations.
BEST PLACES TO STAY IN SOMA
The great Golden Gate City by the Bay offers all visitors a fabulous stay with endless fascinating, educational, intriguing and fun-filled venue and areas in San Francisco to experience and enjoy.
This friendly, innovative and ever-exciting California city awaits your arrival with a friendly smile and open heart for one and all.
Photo: Shutterstock/(6) Pixabay