Whether you've been before or this is your first trip, getting where to stay in Tulum right is of utmost importance. Here we reveal our favourite areas to help you find the best places to stay in Tulum.
Ever since Cancun became a major Spring Break destination, tourists have been looking for alternate spots in the Riviera Maya, places where they can enjoy the Caribbean coast of Mexico without being subject to the nonstop partying and debauchery of young North American students on vacation.
To this effect, Tulum is often considered to be the smartest alternative not only to Cancun but also Cozumel, and it is surprising to learn that this ancient Mayan port city has only recently been discovered by tourists.
When you are contemplating where to stay in Tulum, you will be pleased to know that this is a destination with a rich diversity of accommodations; there is no question that you will be able to find a nice and comfortable place to stay according to your budget and travel style.
The tropical beaches, nature preserves and the Mayan ruins in Tulum are spectacular; it does not take long for visitors to fall in love with this little corner of the Yucatan Peninsula.
Aside from the ruins, Tulum also offers gorgeous Caribbean beaches and fun activities such as swimming, diving, snorkeling, kitesurfing, hiking, and mountain bike riding.
The Sian Ka'an National Park is a biosphere preserve full of cenotes, refreshing groundwater pits that beg to be discovered.
Where to stay in Tulum: 7 Best areas to stay in Tulum
1. Hotel Zone, the best area to stay in Tulum
As its name suggests, this is the district that put Tulum on the tourism map; it runs from the main archeological zone, where you can visit the aforementioned and majestic Castillo of Tulum, all the way south to the Arco Maya National Park.
We are talking about a 15-kilometer stretch of beachfront hotels, and the diversity of accommodation styles is impressive.
The Tulum Hotel Zone is where you can find international hotel brands next to eco-lodges, bungalows, five-star hotels, all-inclusive resorts, beach huts, and more.
The Tulum Hotel Zone is for everyone. You can find European tourists staying in the same hotels as large groups from Asia and local families.
The rustic beachfront shacks are highly recommended because they tend to be quite charming and luxurious once you actually stay overnight.
This large district will appeal to budget travelers and upscale tourists alike; strong competition among hoteliers means that prospective visitors can take advantage of special offers and discounts from time to time.
A word of advice when booking rooms in the Tulum Hotel Zone: ask about extras and amenities. Some budget hotels will try to entice guests with two meals a day while others may offer free guided tours to the ruins and cenotes.
BEST PLACES TO STAY IN TULUM IN HOTEL ZONE
2. Playa Paraiso / Paradise Beach, amazing beach
Without a doubt, travelers evaluating where to stay in Tulum should not overlook Paradise Beach. Located just south of El Castillo, Paradise Beach is part of the Hotel Zone, but it deserves to be mentioned separately because many travelers consider it to be one of the best beaches in Mexico.
This is not a large district; there are less than a dozen hotels and restaurants here, but they are all right in front of the beach and offer incredible views of the Caribbean waters, which can actually change colors through the day.
Viewing the sunrise and swimming are very popular activities; while Paradise Beach is protected by lifeguards, you should know that the changing colors correspond to active currents, thus the need for caution when swimming.
It is possible to book a luxury room with views of El Castillo and the Caribbean Sea, but you can expect to pay more for such vistas.
BEST PLACES TO STAY IN PARADISE BEACH
3. Tulum Pueblo, where to stay in Tulum on a budget
Quite a few tourists arrive in the Riviera Maya by means of the Cancun International Airport, and those seeking the best places to stay in Tulum will likely go through Tulum Pueblo, the downtown district, on their way in.
Tulum Town is a small Mexican coastal city that is not too far from the beach, but it is separated from the Caribbean by a nature preserve and protected archeological sites, which means that you will not find beachfront accommodations here..
Nevertheless, downtown Tulum is a lively place known to attract backpackers and budget travelers.
Lodging options in Tulum Town range from hostels to four-star hotels and vacation rentals. Of all the areas to stay in Tulum, this one is one of the most convenient and affordable, particularly in terms of transportation and activities.
If you plan on visiting the ruins, hiring a taxi here will be cheaper compared to other areas to stay in Tulum. Likewise, booking a diving trip or renting mountain bikes is also more affordable in Tulum Town.
As for nightlife, this is the place that offers the most bars and dance clubs in the area.
BEST PLACES TO STAY IN TULUM TOWN
4. La Veleta, ideal for well priced vacation rentals
If you are thinking about retiring in Mexico or investing in local real estate, La Veleta is one of the best places to stay in Tulum. Located about a kilometer southwest from Tulum Town, this emerging residential and tourism district is ideal for vacation rentals.
Everything smells and looks brand new because everything is, in fact, new; this is an up-and-coming section of Tulum that is very chic and inviting.
Luxury condo towers compete against boutique hotels and a couple of all-inclusive resorts that feature views of the nature preserve.
Doing your homework when evaluating where to stay in Tulum is important; if you look closely in La Veleta, you will find prices that are even more reasonable than in Tulum Town, particularly with regard to longer-term vacation rentals, but there really isn't that much to do in this district yet.
La Veleta is lovely, but you will likely be catching cabs to the beach, to the ruins, and to Downtown Tulum.
BEST PLACES TO STAY IN LA VALETA
See also: Best places to stay in Mexico City, best places to stay in Playa del Carmen, best places to stay in Cancun, best places to stay in Puerto Vallarta, where to stay in the Riviera Maya
5. Aldea Zama, where to stay in Tulum for ecotourism adventures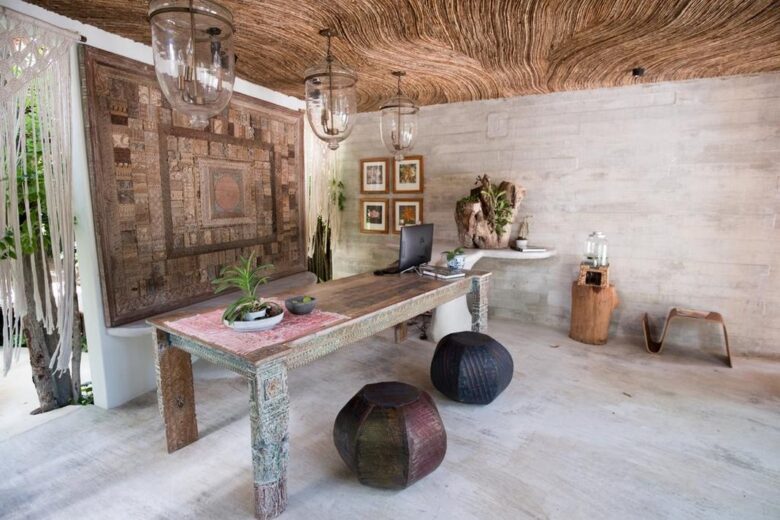 This village is named after the original Mayan site of Tulum, and it is among the best places to stay in Tulum if you are looking for ecotourism adventures. Zama is located on the way to the main beachfront area, just south of Tulum Town and right on the edge of the nature preserve.
This is a chic, safe, and eco-friendly part of town; it is highly recommended for tourists interested in spending their vacation close to nature.
The hotels in Zama tend to be more colorful and wholesome; their prices are only slightly higher compared to Tulum Town, and you will not have to leave the district for meals, drinks or entertainment.
As can be imagined, Zama is great for negotiating tours of the nature preserves, the ruins, the Mayan jungles, and the cenotes; moreover, you will not be far from the beach when you stay here.
BEST PLACES TO STAY IN TULUM IN ZAMA
6. Tankah Bay, good place to stay in Tulum for families and couples
Located about 10 kilometers north of the main beachfront area, Tankah Bay is one of the best areas to stay in Tulum if you are looking for paradisiacal Caribbean beaches.
Tankah Bay is often called the "Mexican Tahiti" because of the incredibly white sands of its beaches, the clear-blue and shallow swimming spots, the towering palm trees, and the amazing dedication of hoteliers and city workers to keeping the beaches clean.
In times of high sargasso activity, locals in Tankah Bay are known to expediently pick up tons of seaweed for the convenience of tourists.
Tankah Bay is home to various all-inclusive resorts, some of them very luxurious. Travelers with children tend to be the most attracted to Tankah Bay, but some resorts are geared towards couples enjoying their honeymoons.
Unlike La Veleta, you do not have to take a taxi or rent a mountain bike to get around; you will find restaurants, beach bars, shops, diving tours, fishing charters, and other activities in this district.
You should expect to pay a little more; nonetheless, staying in this part of town will still be more reasonable than a trip to the Bahamas.
BEST PLACES TO STAY IN TULUM IN TANKAH BAY
7. Soliman Bay, quiet coastal district
Similar to Tankah Bay, Soliman Bay is a quieter coastal district located 15 kilometers north of Tulum Town.
This used to be a very sleepy town where North American veterans and retirees came to enjoy their golden years, but increased development in recent years has made Soliman Bay more attractive to tourists.
There aren't many hotels in this district, but you will certainly like all of them; some are luxury beach resorts while others are three-star eco-lodges.
If your idea of a Caribbean beach vacation involves spending most of your day at the beach and in the water, you should know that Soliman Bay is protected by an impressive reef that breaks the waves far from the shore, thus making this is a great spot for swimming and snorkeling.
If your children are interested in marine biology, they will love the nearby Xel-Ha water park, home to one of the largest aquariums in the world, which also features a lighthouse observation point complete with a spiral water slide.
BEST PLACES TO STAY IN SOLIMAN BAY