Once you start looking for places where to stay in Playa del Carmen, you will realize that you have made the right choice in terms of balancing beach time, adventure, cultural travel, relaxation, adventure, family attractions, and nightlife.
Many tourism industry analysts describe the Yucatan Peninsula of Mexico to be one of the most attractive tourism destinations in the world, particularly because of the many coastal resorts towns that run all the way from Merida in the Gulf of Mexico to Tulum in the Caribbean Sea, a region commonly known as the Riviera Maya.
Since the 1970s, this coastal resort district has attracted millions of visitors in search of vacations in Cancun and Cozumel, two beach towns modeled after Acapulco and Baja California; however, Playa del Carmen pretty much flew under the radar until resort developers started paying attention to it in the 1990s.
These days, many of the best areas to stay in Playa del Carmen offer a certain freshness and unique European flair that you will not find elsewhere in the Riviera Maya.
Whereas Acapulco and Cancun have a distinct North American feel similar to Miami Beach or Las Vegas, Playa del Carmen manages to feel classier and sophisticated while still evoking a sense of being laid back.
The tourism history of Playa del Carmen dates back to the late 1980s, when Italian tourists who used to vacation in Cancun became overwhelmed with its Spring Break party atmosphere.
While heading south in search of more idyllic stretches of beach, they came upon a small fishing village that was mostly frequented by archaeologists researching Maya culture. Playa del Carmen has benefited from slower and more organic development.
When you arrive, you will notice that many of the areas to stay in Playa del Carmen are connected by means of pedestrian pathways that will generally take you to the nearest beach.
Even though the population of Playa del Carmen has grown exponentially in the 21st century, the place has managed to retain a substantial part of its small town charm.
The first thing you need to know about Playa del Carmen is that your ultimate arrival will require ground transportation. If you fly into Cancun, your ride will take less than an hour as long as you do not run into traffic; if you land in Cozumel, the ferry voyage will take about 40 minutes.
Once you are settled into one of the areas to stay in Playa del Carmen, you will be able to get around on foot, ride a bike or take short taxi trips.
You can also rent a car if you intend to drive up and down the Riviera Maya, but guided trips to the Maya ruins and national parks are usually much better options.
Where to Stay in Playa del Carmen: Best Areas
By virtue of being located in a slightly mountainous region with sweeping views of the Caribbean Sea and surrounded by thick forests, many tourists think of Playa del Carmen as being a large place; however, it is actually less than a quarter the size of Cozumel.
Virtually all the areas areas to stay in Playa del Carmen are of recent construction, and they have been strategically developed to combine the ambiances of Caribbean and Mediterranean resorts.
There are five main areas to stay in Playa del Carmen:
1. Quinta Avenida, where to stay in Playa del Carmen for the first time
Fifth Avenue is a main pedestrian thoroughfare that runs about four kilometers from north to south. If you are a seasoned traveler who has visited coastal resort towns in Latin America, the Caribbean or the Mediterranean, you will feel right at home staying in a hotel near Quinta Avenida.
When booking a room in this part of town, look for higher structures where you can get a balcony that provides ocean views; although there are not many high-rise buildings in Playa del Carmen, you can still get nice vistas from hotel rooms located on third floors.
Staying close to Fifth Avenue means being able to walk anywhere you need to go, including to travel agencies where you can book day trips to nearby Mayan ruins, nature preserves or the refreshing cenotes that are all over this region.
Keep in mind that not a single river runs through Playa del Carmen; all the water comes from spectacular groundwater pits that begged to be discovered.
There is nothing more refreshing than a trip to a cenote during a hot day in Playa del Carmen. You can also expect to pay a little more for hotel accommodations in this part of town.
BEST PLAYCES TO STAY IN QUINTA AVENIDA
2. Centro – Downtown, where to stay in Playa del Carmen on a budget
Careful urban planning of Playa del Carmen has thoroughly transformed the city center of this coastal resort. The Centro district runs from the highway that connects Cancun with Tulum all the way to the beach, and it is neatly arranged into streets and avenues shaped around rectangular blocks.
There is a small regional airport in the southwest corner of the district, but it has not been developed into a major transportation hub, which means that you can stay in this part of town without being awakened by heavy flight traffic.
Even though the numbering of avenues from the beach until the highway goes from Fifth Avenue, which runs parallel to the coast, all the way to 50th Avenue near the highway, there are only 10 city blocks to the entire district.
When you stay in Playa del Carmen in Centro, you will never be far from Playa Caribe, the main tourist beach, and you will always be within walking distance of North American comforts such as stores, boutiques, bars, fast-food restaurants, banks, and more.
Downtown Playa del Carmen is where you will find the greatest diversity of lodging and accommodations. Small beach hotels compete against luxury chains closer to the beach, but the real bargains can be found along 30th Avenue and its surroundings.
This is where you can find modern hostels for backpackers traveling on a budget, but you can actually find a comfortable, colonial-style inn for just a few more dollars per night.
In general, the closer to the beach you choose to stay, the more you can expect to pay, but it pays to do your homework when researching where to stay in Playa del Carmen because hoteliers in the Centro district tend to get very competitive.
BEST PLACES TO STAY IN DOWNTOWN
3. Calle 12, best place to stay in Playa del Carmen for nightlife
As previously mentioned, the careful urban planning of Playa del Carmen extends to its nightlife, which is concentrated along 12th Street.
If you are young and enjoy dancing as well as making new friends, you will probably like to stay close to some of the hottest nightlife spots in Mexico: Coco Bongo, Coco Maya, Mandala, and a few others.
The nightclubs on Calle 12 range from small trendy bars to mega dancehall spaces where the world's top DJs can be found spinning several times a year.
If you are looking for a quiet place where to stay in Playa del Carmen, Calle 12 should be your last choice because the party only stops for a few brief hours on Sunday morning.
The boutique hotels and long-term apartments are stylish and trendy, but they tend to cost more than in Centro or Quinta Avenida. Tourists who are into diving and fishing will find a few charters at the end of 12th Street near the beach.
BEST PLACES TO STAY IN PLAYA DEL CARMEN IN CALLE 12
See also: where to stay in Mexico City, where to stay in Cancun, where to stay in Puerto Vallarta, where to stay in Tulum, where to stay in the Riviera Maya
4. Playacar, where to stay in Playa del Carmen for families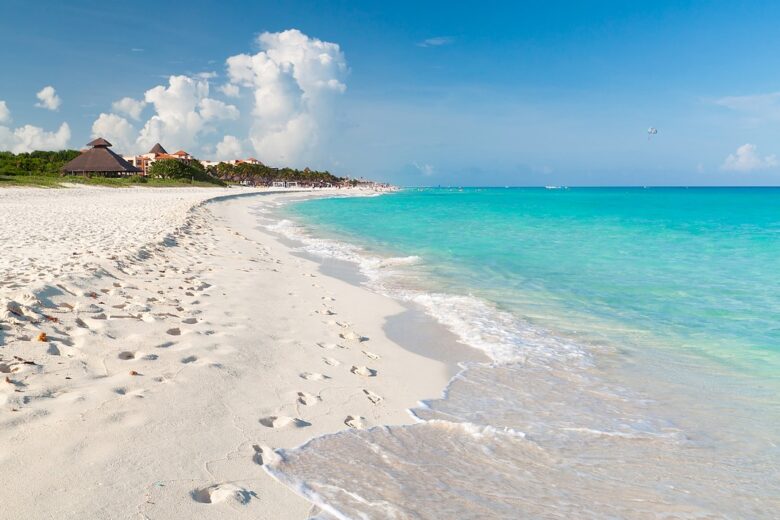 Located on the southern end of Playa del Carmen, this tourism district is spectacular, idyllic, romantic, adventurous, and relaxing all at once.
Playacar is where celebrities such as Kim Kardashian, Rashida Jones, April Lavigne, and Kate Hudson like to stay, and it is easy to understand why: this place has everything you can hope to find in an ideal vacation spot.
The all-inclusive resorts of Playacar are truly all-inclusive and luxurious; they offer everything from kite surfing to tournament-grade golf courses, and from five-star private villas to private stretches of white sandy beaches.
Not all lodging options in Playacar are major luxury resorts; there are a couple of long-term apartments near the beach, but you will find that their costs can be similar to those of the all-inclusive resorts but without concierge service.
Saving up to stay in a luxury resort in Playacar is something that you will not regret.
BEST PLACES TO STAY IN PLAYACAR
5. Mayakoba, best places to stay in Playa del Carmen for pristine beaches and luxury
This master-planned community competes against Playacar in terms of luxury, but it offers even more pristine nature and gorgeous beaches. Mayakoba is highly recommended for ecotourists who are also looking for an upscale experience.
The beaches are more secluded, and there are miles upon miles of nature trails to explore.
Walking to and from the beach every day while you stay in the five-star eco resorts of Mayakoba is an unforgettable experience, and the fine dining options in this part of Playa del Carmen are among the best in Mexico.
Booking rooms in Mayakoba can sometimes be tricky because there are not many resorts. Pricing is comparable to Playacar, but considerably more than Centro.
Mayakoba is an unforgettable experience worth saving up for, especially by travelers who want to feel pampered.
BEST PLACES TO STAY IN PLAYA DEL CARMEN IN MAYAKOA