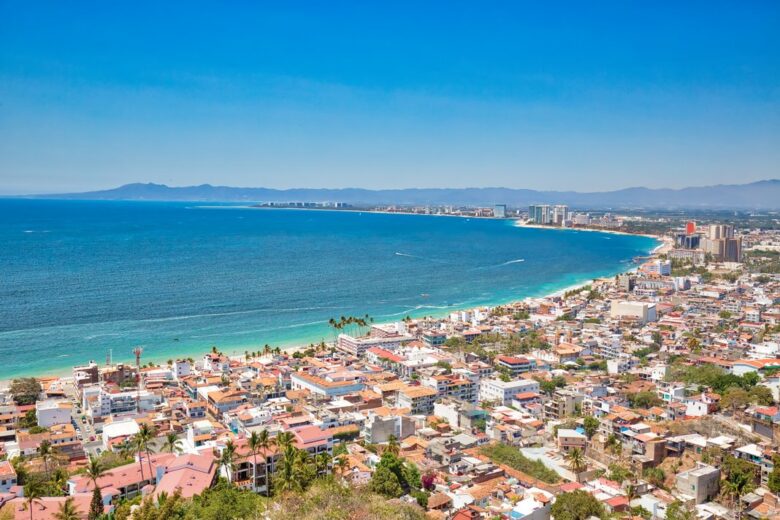 Puerto Vallarta is one of those idyllic destinations that combines man-made attractions with stunning natural beauty. People who come here may enjoy countless types of outdoor recreation as well as the exciting nightlife. Whether you plan to spend the days strolling along the malecón, playing in the surf or taking in cultural attractions, you need to know about the best places to stay in Puerto Vallarta.
Puerto Vallarta is one of Mexico's most cosmopolitan and forward-looking cities. It's known for its many art galleries and numerous public art installations. The city also is filled with international restaurants that beg to be sampled and sizzling nightclubs that fill the air with a pulsating beat.
There are quieter things to do in Puerto Vallarta as well. Take a walk along the Rio Cuale, which runs through the center of the city, or indulge in a unique jungle canopy tour.
This city may be the most gay-friendly in Mexico. Accordingly, many people have permanently relocated here to enjoy the open, welcoming hospitality. Gay travelers may visit without qualm, enjoying the nightlife in dozens of clubs that cater to them.
The ocean is one of Puerto Vallarta's top attractions. Some people come here simply to spend lazy days on the sand, but others are excited to try the numerous water sports that are readily available. J
et skis, kayaks, fishing vessels and more can be rented at countless spots. Scuba diving and snorkeling are enormously popular, and many people enjoy riding the waves on a surfboard.
Foodies likely will fall in love with Puerto Vallarta. Inventive chefs may be discovered in dozens of eateries across the city. Specializing in dishes that contain the freshest-available seafood and delectable meats, the city is a gourmand's paradise. Diners may expect dishes loaded with international flavors, and all of it is served with a warm and gracious hospitality.
People spending several days in the area are encouraged to get out of the city to explore the adjacent Riviera Nayarit. Spanning 192 miles of coastline, this area is dotted with charming villages where visitors are welcomed with open arms.
Unusual boutiques, unique eateries and one-of-a-kind galleries may be found in these communities along with miles of coastline that appears all-but untouched by man.
Where to Stay in Puerto Vallarta: Best areas to stay in Puerto Vallarta
By taking a closer look at the diverse areas in Puerto Vallarta, it is possible to decide which of the city's charming neighborhoods will make the ideal home base. Puerto Vallarta boasts an embarrassment of riches where resorts are concerned, so get ready to be impressed by some of the best places to stay in Puerto Vallarta.
1. The Romantic Zone
Found immediately to the south of downtown, the Romantic Zone is one of the busiest and most popular areas in Puerto Vallarta. It is known by many names such as the South Side, Old Town or Viejo Vallarta, which translates to Old Vallarta.
Regardless of the moniker, the colorful charm of this quarter makes it one of the best places to stay in Puerto Vallarta.
As the city's Old Town, this is the neighborhood where you'll find narrow cobblestone streets and a wealth of unique restaurants, shops and galleries. I
n-the-know visitors who are familiar with Vallarta make a point of staying here, and you'll find a large population of expats here as well. As a result, the feeling throughout the neighborhood is laid-back and relaxed with plenty of color and style.
The Romantic Zone's western border is Playa de Los Muertos, and this beach also is the area's top attraction. A favorite activity is simply lounging in a beach chair on the golden sand while vendors stroll by hawking their wares.
This beach typically is very busy, but the waves are gentle, so it's a great place to swim or play in the waves with little ones. Plus, there is plenty of choices as far as food and drink right there.
While you're enjoying Playa de Los Muertos, be certain to take a stroll along the pier that was opened here in 2013. You'll find it at the end of Francisca Rodriguez Street, and it always makes for a memorable photograph.
Another favorite attraction in the Romantic Zone is the Old Farmer's Market. Running every weekend, this is where many of the locals pick up their fresh, local produce. In addition to fruits and vegetables, look for cheeses, chocolates, pottery, handmade tortillas, jewelry and much more. This is a great place to catch a casual lunch, too.
Also, be certain to make a stop on the Mercado Isla Rio Cuale, a well-known flea market that is a fantastic place to pick up a souvenir made by a local artisan.
The Romantic Zone is easy to explore on foot. Nonetheless, you'll find plenty of taxis and bus service in the area. You can reach Downtown on foot from here as well.
This is one of the areas in Puerto Vallarta where you'll find some affordable hotels. Most of them are small, boutique-style properties in keeping with the surroundings. A sprinkling of hostels also is found in the neighborhood for young travelers on a tight budget.
This area also features numerous condos for rent if visitors are looking for a more home-away-from-home experience.
BEST PLACES TO STAY IN ROMANTIC ZONE
2. Downtown Puerto Vallarta
Also called Centro, Downtown is a popular place to stay in Puerto Vallarta. The Hotel Zone is to the north while the Romantic Zone is to the south. Here, you'll see an abundance of red-tile roofs and Colonial-era structures, making this neighborhood a charming place to call home.
Expect to see buildings painted in Technicolor hues and splashes of bright bougainvillea dripping from doorways and railings while you're in this neighborhood. Like the Romantic Zone, Downtown also has its share of cobblestone streets, and along these byways, you will discover many stores and restaurants that you won't find anywhere else in the world.
This is the neighborhood from which you may access the Malecón, a beachfront boardwalk that stretches for about one mile and provides stunning views and chances to bask in public art installations.
The waters of Banderas Bay border the Malecón to the west. To the east, strollers are treated to an endless variety of shops, restaurants and bars. Many art galleries are found here too, as is the Plaza Malecón, a bustling flea market.
Other important sites in Downtown include the Naval History Museum and the Main Plaza. At the Main Plaza, you may be treated to a live concert while mingling with locals and browsing through the wares of vendors.
One of the city's most important landmarks, the Church of Our Lady of Guadalupe, is adjacent to the Plaza and is certainly worthy of a photograph of the memorable crown on its steeple.
Downtown features a sizzling nightlife. If you plan to dance the evening away, then this may be the best place to stay in Puerto Vallarta.
As you might expect, Downtown is well served by taxis and buses. The main touristy areas are easily walkable, and you can get to the Romantic Zone on foot.
In keeping with its combination of old and new, accommodations in Downtown include exclusive, boutique properties located in Colonial-era buildings in addition to recognizable, brand-name hotels in modern construction. Most of the resorts are clustered along the Playa Camarones so that guests can be close to the beach and enjoy ocean views.
Prices tend to be steeper here than they are in the Romantic Zone. Nonetheless, this is a very desirable area. Travelers on a budget will find quite affordable properties here, especially those that are farther back from the beach.
BEST PLACES TO STAY IN PUERTO VALLARTA IN DOWNTOWN
Don´t miss anything in Puerto Vallarta: Best things to do in Puerto Vallarta
3. The Hotel Zone
As the name implies, this is the neighborhood where visitors will find the greatest number of places to stay in Puerto Vallarta. Most of the properties are new or at least quite modern, and many of them are found along the beach.
Puerto Vallarta's main highway, Francisco Medina Ascencio, runs through this quarter. Visitors who stay in this neighborhood will be glad to find that taxis are everywhere. This makes it easy to get from the sprawling Hotel Zone to main tourist areas directly to the south such as Downtown and the Romantic Zone.
Public buses that take passengers south also are found here. Buses from the Hotel Zone also travel north to Nuevo Vallarta, Bucerias and others.
The Hotel Zone is mainly characterized by its beaches, of which there are five. These are Playa Camarones, Playa Tranquila, Playa las Glorias, Playa los Tules and Playa de Oro. With their golden sands and ready access to the ocean, the beaches are the Hotel Zone's best feature. Many visitors spend the majority of their time relaxing on the sand or playing on the water.
Another popular attraction in this neighborhood is the Galerias Vallarta Shopping Mall with its department stores, boutiques, restaurants and movie theater. Additional shops, restaurants and bars may be enjoyed in the Hotel Zone.
This neighborhood also is a residential area, so you'll find familiar stores and services like Costco and plenty of gas stations. Costco is the perfect place to pick up bottled water or cooking supplies if you plan to make some of your own meals at your resort.
The majority of the properties in the Hotel Zone are sleek, upscale and expensive. Some offer the ultimate in luxury and may cost hundreds of dollars per night.
Numerous mid-range options also are available, and most of these are clean, comfortable and elegant. Travelers on the lookout for a bargain may find one here, especially if they aren't too picky about being right on the beach.
The Hotel Zone additionally features all-inclusive resorts that include meals, drinks and activities as well as condominium resorts where guests enjoy all the comforts of home.
BEST PLACES TO STAY IN THE HOTEL ZONE
4. Marina Puerto Vallarta
This is one of the most popular areas in Puerto Vallarta. It's found on the city's northern end, and the Marina's entrance is marked by iconic sculptures of a pair of whales and the god Neptune. Conveniently, Marina Vallarta is only five minutes from the airport with downtown being only 10 or 15 minutes by car to the south.
Marina Vallarta is a master-planned resort community that also includes residential areas. The centerpiece of the development is the marina itself, which can accommodate nearly 500 vessels. A gorgeous promenade runs along the marina. This is a wonderful place to enjoy a walk while taking in the view.
Don't miss the El Faro Lighthouse, an iconic structure on the Marina, or the many shops, restaurants and bars that are found throughout the district. This also is the perfect place to find indulgent spa treatments that take vacation pampering to new heights.
This exclusive enclave further boasts its own 18-hole golf course along with tennis courts, a bowling alley and grocery stores. Once ensconced here, it's almost unnecessary to wander anywhere else.
Parking is extremely limited at Marina Vallarta. Only those who have accommodations in the neighborhood should expect to find parking. It's probably best to visit here on foot from Downtown or to take a taxi from the Hotel Zone or Downtown. Once here, it's easy to get around on foot.
Upscale resorts dominate the scene at Marina Vallarta. Luxury, five-star properties are common, and they have nightly rates to match. Some all-inclusive properties are located here, further feeding into the notion that there's no need to get out and explore.
If you like the area but don't want to break the bank on your hotel stay, consider lodging at the airport. Most of these are quite affordable and very close to Marina Vallarta.
BEST PLACES TO STAY IN PUERTO VALLARTA IN MARINA
5. Conchas Chinas
This exclusive, affluent neighborhood is situated immediately to the south of Puerto Vallarta. In fact, the area is so upscale that the locals refer to it as "The Hills," with a tip of the hat to Beverly Hills in California. It is mainly a residential area, but several elegant, over-the-top resorts are found here too.
The name "Conchas Chinas" refers to the Chinese Shells that are found in abundance only on the local beach. If you're looking for a quiet, secluded escape, then this is the neighborhood for you.
It may be one of the best places to stay in Puerto Vallarta thanks to its stylish hotels, but it's also one of the most relaxing. You won't find much in the way of noisy clubs and bars, and the clientele is distinctly upper crust.
Expect superior accommodations at most of the properties in this area. However, because these resorts are a bit removed from the action, you can still get some deals here, especially in the offseason. It's best to rent a car if you stay in one of these resorts. Alternatively, you'll have to arrange for taxi service to get around town.
BEST PLACES TO STAY IN CONCHAS CHINAS
6. Boca de Tomatlán
This is another of the best places to stay in Puerto Vallarta if your goal is a quiet, restful getaway. It's located 11 miles to the south of Puerto Vallarta. Boca de Tomatlán is a fishing village that is relatively well-known yet far less commercialized when compared with the city itself.
Referred to by the locals as simply Boca, this village is reachable by car, taxi, bus or boat. The beach at Boca is phenomenal, and it's the site of several water taxi services that will ferry you to more isolated beaches to the south. Destinations like Majahuitas, Quimixto and Las Animas are extremely popular.
Boca has its own Malecón with plenty of opportunities for renting a boat or enjoying an afternoon of fishing. The water in the bay is exceptionally calm, so this is an ideal spot for swimming and snorkeling. All sorts of water sports are pursued here, and some visitors venture a bit further south to the Botanical Garden.
This is one of those rare areas in Puerto Vallarta where you can enjoy unspoiled natural beauty. If you don't mind foregoing nightlife on your doorstep, then you just might love it in Boca.
Big hotels have not found their way to the village yet. Instead, you'll have abundant opportunities to stay in quaint inns and bed and breakfasts. Despite being quite affordable, these inns are luxurious and comfortable.
BEST PLACES TO STAY IN BOCA DE TOMATLAN
See also: Where to stay in Mexico City, where to stay in Cancun, where to stay in Tulum, where to stay in the Riviera Maya, where to stay in Tijuana, where to stay in Cabo San Lucas
7. New Vallarta
Located in the Riviera Nayarit, Nuevo Vallarta is a short, 20-minute drive from the city's airport. This is an extremely popular place to visit, and the beaches are undeniably gorgeous. Golf courses, marinas and restaurants characterize this touristy area, which also features a high concentration of hotels.
Nuevo Vallarta stretches for about three miles along Mexico's coastline. Accordingly, beach and water sports of all descriptions are enormously popular here.
Many people nonetheless come here to do almost nothing at all. For them, it is enough to lie on the sand and soak up the sun, with their days being punctuated by spa appointments and a bit of shopping.
Golfers love this area as do people who favor tennis. It's a great spot for scuba diving or taking a yoga class or renting a boat for a fishing expedition. A swinging nightlife can be found here too, so if you favor a neighborhood that's entirely new and geared toward enjoyment and relaxation, this is the spot for you.
Resorts here run the gamut from the highly affordable to the ultra-expensive. You're more likely to score a deal further away from the ocean, though there are a few waterfront properties that provide an affordable nightly rate. Many well-known hotel brands are found here as well as a few independent properties with outstanding amenities.
If you do decide to stay in Puerto Vallarta here, be sure to rent a car so that you can explore more of the area. Of course, many visitors plan to stay within the confines of their all-inclusive resorts, in which case transportation is not a concern. Limited bus service is available in the area.
BEST PLACES TO STAY IN NEW VALLARTA
With so many unique places to stay in Puerto Vallarta, it can be difficult to choose the right one. However, when you know more about the distinct neighborhoods and what they offer, it becomes much easier to pick the atmosphere that suits your vacation style.