It's impossible not to get swept up in the sweet, Southern fanfare of Savannah! However, you may be wondering where to stay in Savannah to be able to see and do everything easily.
Each section of Savannah offers a unique way to experience the Hostess City of the South. Go neighborhood by neighborhood to discover where to book lodging that will make it easy to enjoy all of the finer points of authentic "Low Country" living in Savannah.
Where to stay in Savannah: 7 Best Areas
Before covering the go-to neighborhoods for sightseeing and accommodations when visiting Savannah, it's important to have a little background on the layout of the city. With a total area of 103.1 square miles, Savannah is only just slightly smaller in size than neighboring Atlanta.
However, the city's layout makes it quite a walkable place. What's more, the sheer beauty of the homes and buildings here really adds some incentive to see as much of Savannah by foot as you possibly can.
However, you don't necessarily have to hike the whole city just to take in great views. Access to many of Savannah's top attractions will be moments away when you stay at hotels and inns in these popular, vibrant Savannah neighborhoods:
Historic District
City Market
East Bay Street
Midtown
River Street
Pooler
Tybee Island
Savannah operates a bus fleet that can be used to get around the city rather easily. Savannah's Downtown Transportation System is a great option when touring the Historic District.
You can pick up an express shuttle that stops at 11 spots within the Historic District roughly every 20 minutes. Additionally, there is a River Street Streetcar service that makes six stops along River Street.
If you're looking to go beyond the Savannah Riverwalk area, you can actually cross the mighty Savannah River using the Savannah Belles Ferry to get to the resorts and attractions on Hutchinson Island.
If you're looking for private transportation options, you have a number of very spirited options that will have you traveling the city with Southern swagger.
Several local tour agencies offer comprehensive guided tours that take you across neighborhoods in everything from trolleys to horse-drawn carriages.
Due to the beautiful weather in Savannah, pedicabs are also popular for getting from place to place.
1. Historic District, where to stay in Savannah for sightseeing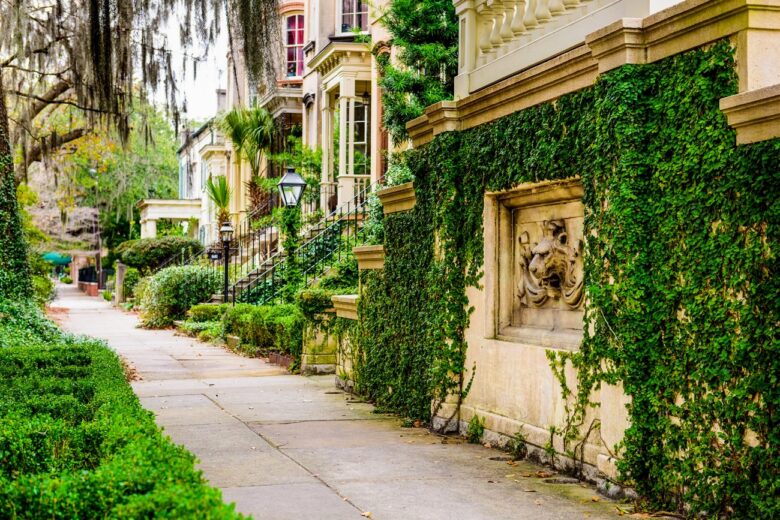 The Historic District is where the architectural beauty of old, true Savannah comes to life. This colorful sliver of the city is actually the largest National Historic Landmark District in the United States!
The treasure of the South, Savannah's Historic District contains 22 squares and more than 1,600 historically significant landmarks all packed into just 2.5 square miles of space. Few cities in the country give you so much to work with within such walkable parameters.
When staying in the Historic District, you'll become fully immersed in a picturesque atmosphere full of beautiful homes and gardens that will leave you feeling like you're in an epic storybook setting.
While the Historic District is a top pick based strictly on aesthetic reasons alone, booking a stay in this part of the city is actually a very smart strategic move. Savannah's Historic District places you so close to many of the city's top attractions.
The list of treasures nested into this neighborhood includes the Cathedral of St. John the Baptist, the Sorrel-Weed House, Old Colonial Cemetery, Old Harbor Light, the First African Baptist Church and the Telfair Academy of Arts and Sciences.
Situated on the River Walk on the Savannah River, Factors Row is home to the original Savannah Cotton Exchange where cotton brokers set worldwide cotton prices. Today, the brick buildings along Factors Row hold antique shops, galleries and charming inns.
The Savannah Historic District is also notably home to Forsyth Park. Spanning 40 acres of lush landscapes, famous fountains and shaded walkways, Forsyth Park is considered the bejeweled heart of Savannah.
While you'll find all the elegance and history you could ever hope for in Savannah's Historic District, you might not necessarily find budget accommodations. The Historic District is mostly home to luxury and upper-range accommodations.
BEST PLACES TO STAY IN HISTORIC DISTRICT
2. City Market, where to stay in Savannah for shopping
If you want to get a little bit fresh and edgy in Savannah, City Market is the neighborhood to spend your time in. A shopper's paradise, this neighborhood is actually comprised of a four-block open-air market that has been in place since the 1700s.
Most of the shops and restaurants here are housed in beautifully restored warehouses that are part of Savannah's long and interesting economic past.
There's really no better place to stay in Savannah if you're a "foodie" because you're going to enjoy access to seafood, steaks, pizza, wings and great libations!
While City Market doesn't have tons of places to stay, you have a number of major hotel chains and "boutique" independent hotels situated anywhere from 0.1 miles to 0.3 miles from the heart of City Market.
BEST PLACES TO STAY IN SAVANNAH IN CITY MARKET
3. River Street, where to stay in Savannah for nightlife
Many people mistakenly believe that the Historic District is the "epicenter" of life in Savannah. In reality, the neighborhood lining the banks of the Savannah River is considered by many to be the real pulse.
Savannah's waterfront area is the premier destination in Georgia for shopping, food, live music and nightlife. You'll find everything from antique shops to brew pubs when you spend time here.
The riverfront area lined with promenades and outdoor tables is reminiscent of European cities. Many restaurants here have double-decker dining porches that allow you to watch the ferries come in while you dine.
At night, River Street comes alive while the rest of "polite Savannah" sleeps. Enjoy live music and dancing at the clubs and bars that pepper the banks of the Savannah River.
River Street is also lined with many beautiful converted inns that were once cotton warehouses and canneries. Several larger hotel chains offer riverfront properties.
Be prepared to pay a premium to stay near the water. This is an in-demand spot because many guests prefer to be near the ferry and cruise entrance points when leaving for morning cruises.
BEST PLACES TO STAY IN RIVER STREET
4. East Bay Street, all River Street advantages with a laid back vibe
If you're looking for river access in an area with a laid-back vibe, East Bay Street is a top pick. In fact, many of the hotels in this part of the city are located directly across from Savannah's River Street.
That means you get to enjoy a quick walk to the soulful, buzzing riverfront area without necessarily hearing the thumping of jazz bands all night long.
Offering a very similar experience to staying on River Street, East Bay allows you to enjoy shopping and dining on the river with just a quick walk.
As far as accommodations, it's much more common to find historic inns in this slice of the city than it is to book stays with major hotel chains. There are several boutique inns in the area that offer very "Southern bohemian" experiences.
These inns can also be as pricey as major hotel chains without offering accommodations like swimming pools and fitness centers.
BEST PLACES TO STAY IN EAST BAY STREET
5. Midtown, where to stay in Savannah on a budget
Midtown is a good choice if you're looking for a wide selection of cheaper accommodations. While not as charming as a spot like East Bay or the Historic District, Midtown offers a nice collection of stores, restaurants and bars.
The big thing to know about Midtown is that it's mostly a residential area that encompasses the neighborhoods of Parkside, Kensington Park, Ardsley Parka and Habersham Village.
An afternoon spent in Midtown might include a tour of the walking paths inside 80-acre, lakeside Daffin Park before heading to the Habersham Antiques Market.
Located just south of Savannah's Historic District, Midtown provides fairly easy access to activities like the Forsyth Park Farmers' Market.
However, you won't necessarily get fast access to exceptional landmarks, nightlife and "city" experiences when you stay here.
BEST PLACES TO STAY IN SAVANNAH IN MIDTOWN
6. Pooler, very affordable town close to Savannah
While not technically a Savannah neighborhood, Pooler is popularly used as a staging ground for people who are looking for a cheap way to "sleep in Savannah."
Pooler is actually located close to 10 miles outside of the city in Chatham County. When driving into Savannah from Pooler, the trip takes about 15 minutes. You can also use a Line 3 bus. However, the ride typically takes 45 minutes.
If you choose to stay in Pooler, you don't have to worry about retiring every evening to a "dull town." Pooler is actually a bit of a resort destination in its own right.
It is home to the National Museum of the Mighty Eighth Air Force, the Surf Lagoon Waterpark and Tanger Outlets Savannah.
While you won't find the swanky, posh boutique hotels housed in converted warehouses like you would in Savannah, you will find a number of very affordable, family-friendly hotels.
BEST PLACES TO STAY IN SAVANNAH IN POOLER
7. Tybee Island, great beach destination
Located 17 miles outside of Savannah, Tybee Island is one of America's favorite beach destinations for good reason.
The land of pirates and mermaids in the American South, this relaxing, stunning barrier island is famed for its wide beaches, beautiful lighthouses and sprawling pier.
If you don't have a car, getting from Savannah to Tybee for an excursion can be easily done by using an Amtrak train or Greyhound bus.
A true place to be a beach bum, Tybee Island is home to very leisurely attractions like the Tybee Island Lighthouse Museum, the Cockspur Lighthouse, Savannah River Beach, Tybee Island Beach and Fort Pulaski National Monument.
It's also a top place for Georgia sea kayaking and dolphin watching.
There are two approaches to take when booking accommodations in Tybee Island. The first is to focus on one of the many rental properties here.
While beach condos that are tucked into larger buildings with multiple units are common, you can also find a number of beach cottages and bungalows that accommodate larger groups.
Properties that don't have their own pools often include access to private, resort-style pools located somewhere in Tybee that are managed by rental companies.
You will also find a mix of luxury hotel chains, independent hotels and bed-and-breakfast inns all throughout Tybee. Many people prefer Tybee Island to similar places like Hilton Head Island due to the fact that Tybee has such a laid-back, casual atmosphere.
Accommodations in Tybee Island also tend to be slightly cheaper than comparable resort areas. However, Tybee Island is far from a budget destination. You can expect to pay a premium for every inch that you get closer to the beach!
When booking a seaside hotel in Tybee, it's important to remember that this is Savannah's Low Country. If you'd like a view that is something other than sand dunes or a hotel parking lot, book a room that is at least two levels up!
BEST PLACES TO STAY IN TYBEE ISLAND
Deciding where to book a hotel in Savannah really comes down to deciding which side of this city's multifaceted character you want access to around the clock. Ultimately, the very easy layout of the city means that there's really no "wrong" place to stay in Savannah.
If you're coming as an admirer of architecture, no place other than the Savannah Historic District will satisfy your appetite for romantic buildings.
If you're coming to town to drink in the nightlife scene with long evenings filled with live music and lights from the river bouncing off your cocktail glass, it's worth paying a little more for a River Street hotel.
However, the fact that affordable hotels can be found in "outskirts" areas like Midtown and Pooler means that you can still see it all without paying top dollar.
Don't forget that a 25-minute drive out of Savannah will bring you to the dreamy shores of Tybee Island.
Now that you know what are the best places to stay in Savannah, it's time to get excited about afternoon mint juleps on an oversized porch trimmed with potted flowers, leisurely strolls through lush parks stamped with stone fountains and live jazz by the river over a sunset dinner of shrimp and grits.
At night, the refreshing cool of the evening feels chillier when you're exploring the Savannah streets by lamplight on a haunted walking tour of the city's famous cemeteries.
If you have a sweet spot for Savannah, it's time to finally check this city of gardens off your bucket list.
Photos: Shutterstock