Most families spend months planning a getaway to Florida. Of course, one of their most important considerations is where to stay in Orlando.
This city is home to the most famous theme parks anywhere. From Disney World to Universal Orlando, these stunning resorts promise all-in-one experiences that include accommodations, dining and entertainment.
Of course, there is much more to Orlando than just theme parks. It isn't even necessary to set foot on a roller coaster the whole time you're in the city.
You might choose to spend your time enjoying airboat rides in the swamp, playing golf, fishing, attending dinner theater performances or just kicking back at one of the region's many lakes.
What you plan to do during your vacation will help to determine where you want to stay in Orlando. Use the following neighborhood descriptions as your guide to finding the ideal place to spend your next vacation.
Where to stay in Orlando: 8 Best areas
1. Southwest Orlando, where to stay in Orlando for first time
Southwest is one of the best places to stay in Orlando. That's because it's the home of Universal Orlando. This huge theme park complex includes theme parks like Universal Studios and Islands of Adventure as well as the Volcano Bay water park.
To top things off, there's Universal CityWalk with its multitude of stores, restaurants, bars and entertainment options.
Universal is definitely the big attraction here. Its theme parks have incredibly popular features like The Wizarding World of Harry Potter, the Jurassic World VelociCoaster and Despicable Me Minion Mayhem.
Plenty of attractions appeal to little ones too. The Caro-Seuss-el, the Pteranodon Flyers and The Cat in the Hat ride are particular favorites with kids. Plus, these parks make Orlando feel like Hollywood with plenty of movie-inspired shows and attractions.
Universal clearly is making a bid to compete with the sprawling Disney World complex. To do so, they have opened several on-site hotels.
Some are quite affordably priced, but it is possible to find resorts that feature all sorts of upscale amenities with prices to match.
If your family is planning to spend a great deal of your Orlando vacation at Universal, then this is the best possible place to stay.
When you choose a Universal hotel, you'll have easy, convenient access to all of the attractions in the various parks. Plus, with so many stores and restaurants on site, there's no need to travel elsewhere.
Other hotels, many of them quite affordable, are clustered just outside of the Universal Orlando Resort. Most are recognizable national chains, so if you have a favorite, you'll probably find it here.
A wide variety of restaurants and stores are found in this area as well.
Outside of the immediate area around the Universal Orlando Resort, Southwest is largely residential. There are many homes, parks and essential services.
Because of its combined touristy and residential vibe, this is a pretty safe neighborhood, and the resort site, in particular, feels secure even late at night.
BEST PLACES TO STAY IN SOUTHWEST ORLANDO
2. Downtown Orlando, where to stay in Orlando for nightlife
Orlando's Downtown is a relatively compact area that many locals refer to as the Central Business District.
This is where you'll find City Hall and a large collection of high-rise office towers. A few 19th-century buildings are thrown in to give the neighborhood a bit of extra interest.
Also found here is the Dr. Phillips Center where visitors may enjoy operas and Broadway musicals.
Amway Center is located nearby. This is the spot where you can attend an NBA game played by the Orlando Magic or a concert performed by world-renowned singers and musicians.
Downtown also is host to the Orange County Regional History Center. Found in an historic courthouse, this is the best place to go to learn about the history of the region.
This is an affiliate of the Smithsonian, which makes a visit to this institution an absolute must for history buffs. If you're fascinated by history, then be certain to take one of the walking tours in this historic district.
Nearby, you can explore the Wells' Built Museum of African American History, which is located in a 1926 hotel.
Plenty of upscale eateries are available, many of which feature cuisines from around the world. Plus, this is the perfect neighborhood for enjoying craft cocktails and dancing the night away.
If you have the opportunity, you might want to browse the offerings at the Orlando Farmers Market.
If you're looking for a place to stay in Orlando and you demand luxury, then Downtown is the place for you. Many upscale options are found here, most of them sleek high rises with familiar national brand names.
Still, there are other choices like smaller inns and boutique hotels that are housed in historic buildings if you're looking for something a bit out of the ordinary.
Downtown is mainly a business district that frequently caters to travelers who are in town as part of their work. Nonetheless, this can be a great place to enjoy a luxury hotel in quiet surroundings.
Access to major highways is convenient, making this a good choice for visitors who plan to explore the larger area.
As with any major downtown neighborhood, it's wise to use care when out and about late at night. Otherwise, Downtown Orlando is pretty safe.
BEST PLACES TO STAY IN DOWNTOWN ORLANDO
3. South Eola, quiet neighborhood next to Downtown
A small, mainly residential neighborhood, South Eola makes for a charming and unusual place to stay in Orlando. Its main attraction is Lake Eola Park, which is a fantastic place to spend a sunny day, of which there are many in Orlando.
While you're there, be sure to set aside an hour to rent a paddle boat or one of the perennially popular swan boats. A famous water and light show takes place here in the evenings.
Quiet streets in South Eola are lined by traditional homes as well as high-rise condominiums. It's a very small, safe neighborhood with few options for accommodations.
You may find one or two small inns, but if you want more variety, you'll do well to look to the Downtown neighborhood, which is directly to the west.
Still, South Eola is a great option for visitors who are seeking a quiet retreat.
BEST PLACES TO STAY IN ORLANDO IN SOUTH EOLA
Read also: Where to stay in Miami, where to stay in Charleston, where to stay in Savannah, where to stay in Puerto Rico
4. International Drive, where to stay in Orlando on a budget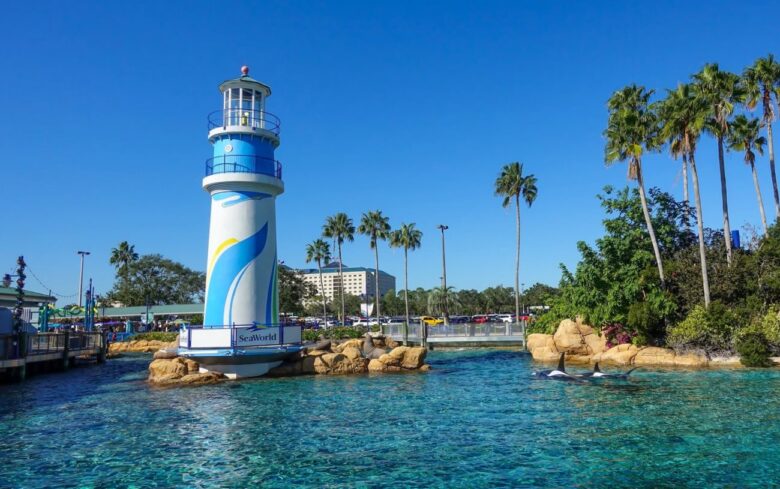 To the south of the Universal Orlando area, International Drive is a favorite place to stay in Orlando for many visitors. That's because it's crowded with hotels, restaurants and family-friendly attractions.
If you're looking for an opportunity to race go carts, play a round in a highly themed mini-golf course or ride the towering Orlando Starflyer, this is the place to be.
The Orange County Convention Center is nearby too, which means that many people stay here to attend an event or festival. Restaurants that range from fast food to popular and well-known sit-down eateries abound.
Plus, this is an excellent place to find accommodations. Families on a strict budget love this area because of its selection of affordable hotels and proximity to major highways.
This makes it really easy to get from International Drive to attractions like SeaWorld, Universal Orlando and Disney World.
It's fairly common to be able to find hotels priced at less than $100 per night here, but more upscale selections are available as well. Most are nationally recognized chains, but it is possible to find a few unique, independent options as well.
Given the sheer concentration of restaurants, attractions and hotels along International Drive, this is a relatively safe place to stay in Orlando. Use caution, because this is one incredibly busy thoroughfare, and traffic accidents are common.
BEST PLACES TO STAY IN ORLANDO IN INTERNATIONAL DRIVE
5. Lake Buena Vista, great place to stay in Orlando close to Disney World
Lake Buena Vista is actually its own city, and it encompasses a portion of the Disney World theme park. This includes the Disney Springs district, which is a large collection of restaurants, shops and entertainment options.
Disney's Typhoon Lagoon Water Park and a handful of Disney resort hotels are found here as well.
In fact, Lake Buena Vista is controlled by the Disney Company, which means that the theme park and its other features are the major attractions here.
Still, Disney isn't the only source of entertainment in Lake Buena Vista. This is a great place to stay if you want to play golf because there are several courses in the city.
Opportunities to enjoy dinner theater abound here. With a mix of dancing, comedy and music, dinner theater can be a wonderful way to spend an evening. You might even take in a display of medieval jousting while you dine.
While you could stay in a Disney-owned resort hotel in Lake Buena Vista, you have other options as well. These tend to be recognizable brand names and largely are more affordable than many of the Disney accommodations.
Accordingly, you can stay close to Disney World without actually being on property, and this could save you a good deal of money.
Nonetheless, it's necessary to weigh how much time you'll spend traveling from your off-site hotel into the theme park complex every day. This can be a major drawback.
That's because many families come to Orlando specifically to spend the majority of their time in Disney World. Officially, the theme park's address is in adjacent Bay Lake.
Disney World is a huge, sprawling resort complex. Fans stay on-site so that they can spend their entire vacation surrounded by Disney.
Accommodation options abound. Disney has established resort tiers with some properties designated as being more affordable. Others are considered mid-range, but most of the resorts are upscale and very expensive.
Nonetheless, staying at a Disney-owned resort is the best way to make the most of your time at Disney World as the resort offers free transportation from the various hotels to the four theme parks, two water parks, Disney Springs and various other attractions within the resort.
From thrill rides to live entertainment Disney World offers something for most travelers. For the most part, this also is a really safe place to stay in Orlando, although it does pay to be aware of your surroundings.
Huge crowds seem to be the norm here, so you'll want to keep your valuables safe and secure.
BEST PLACES TO STAY IN LAKE BUENA VISTA
6. Celebration, residential and quiet neighborhood
To the South of Lake Buena Vista and Disney World is Celebration. Officially, it is a census-designated place that was master-planned by the Walt Disney Company.
This is mainly a suburban, residential neighborhood with an upscale golf club and excellent public schools.
A variety of Disney business units are located here, but most of the attractions in the neighborhood are parks and recreation-style activities that are geared toward residents.
As you might expect in a residential neighborhood that was designed by Disney, this is a clean and safe place to visit. It also provides you with a quiet place to stay in Orlando that is close to Disney World while still getting you outside of the theme park bustle.
Accommodation options are few and far between, but what is there is charming and unique. Surprisingly, nightly rates can be quite affordable.
Families and couples looking for a hotel that is off the beaten path will probably love spending their evenings here. It's a great place for people who want to enjoy quiet strolls before going to bed.
BEST PLACES TO STAY IN ORLANDO IN CELEBRATION
7. Kissimmee, great place to stay for families
With its own airport and various hotel options, Kissimmee is a favorite place for many families to stay in Orlando. That's also because the city is considered the Gateway to the Everglades.
With its transportation options, proximity to local highways and concentration of hotels, it's no secret why so many people choose a hotel in Kissimmee.
Many people who stay in Kissimmee visit the area theme parks like Disney World, SeaWorld and Universal. However, it isn't necessary to go to the theme parks to have fun. Kissimmee is a wonderful place to enjoy outdoor recreation.
The options range from mild mini-golf to exciting airboat rides in the swamp. Visitors may enjoy an ATV adventure, go bass fishing or rent a kayak or canoe to tour Shingle Creek.
Kissimmee also is a great place to score a helicopter tour or try skydiving for the first time. You can also try a hot air balloon ride if that's more your style.
If your family wants to get up close and personal with animals, then try an afternoon horseback riding expedition or tour the Central Florida Animal Reserve.
Don't forget that the Central Florida Zoo & Botanical Gardens are nearby as well. The surprisingly fun Showcase of Citrus lets you pick your own oranges. With an eclectic and memorable gift shop, this is one stop that the whole family will enjoy.
Kissimmee's Main Street offers a charming walk back in time. It's the site of the local Kissimmee Valley Farmers Market as well as several annual festivals and events.
At any time of year, you can stroll along the quiet streets, viewing public works of art. Many interesting shops and restaurants are found here too.
If you're looking for a place to stay in Orlando, then this is one of the best. You'll find a mix of hotels and condominiums that feature all of the comforts of home. In general, prices are quite affordable.
Be on the lookout for trust, recognizable brand names with a few independent properties thrown in for good measure.
Hotels in Kissimmee are used heavily, so it's a good idea to look for one that has been recently renovated, if available. As with any sizable city, it is wise to exercise caution when out and about at night in Kissimmee.
BEST PLACES TO STAY IN KISSIMMEE
8. Airport Area, accommodation offer that ranges from budget to moderate
Most people only choose to stay in the neighborhood around the airport if they arrive late at night or are anticipating an early flight the next morning.
The area is sparsely populated and definitely feels urban, with most accommodation options being located immediately to the north of the airport.
These are mainly well-known chain hotels, with prices ranging from budget to moderate. A few properties are clustered around small lakes, giving them a more relaxed and upscale feel with some nice views.
Several restaurants are conveniently located nearby for travelers.
If you want a more unusual experience, consider staying at the hotel that is literally located in the Orlando International Airport. This makes for the easiest possible morning when you have a really early flight.
BEST PLACES TO STAY IN ORLANDO AIRPORT
Photos: Shutterstock