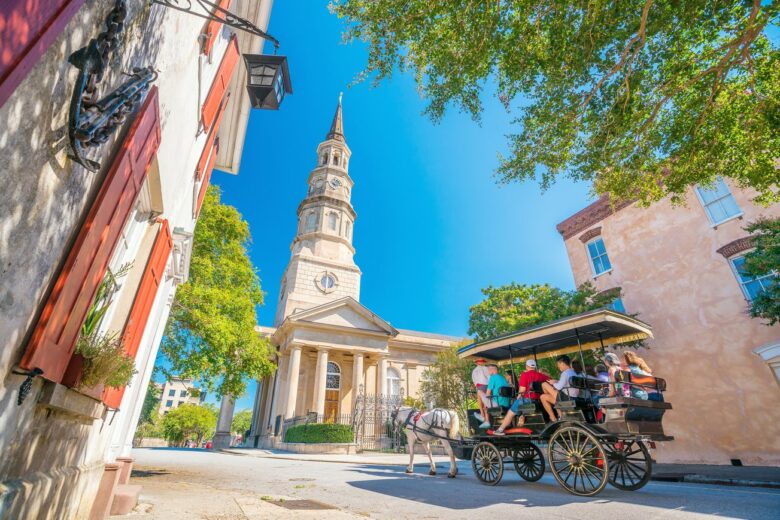 Once you've decided to take a trip to South Carolina, you may be wondering where to stay in Charleston. Luckily, the city is easily navigated by foot and by car, so there really is no bad place to stay in Charleston.
But, the closer to downtown Charleston you get, the higher the prices become and the more crowded it may be. Luckily, there are several areas of Charleston that offer more secluded, cheaper and family-friendly accommodation, including apartments and AirBnBs for rent.
Just make sure to book early, as this is one popular city, especially during the spring and summer months. This guide will do a deep dive into nine of the best areas to stay in Charleston.
Where to Stay in Charleston: 9 Best Areas
1. Downtown, best area to stay in Charleston
When you're staying downtown, you're within close proximity to many of Charleston's best sites and activities. No doubt, that this neighborhood is the best area to stay in Charleston for first timers in the city.
Start off a day downtown by getting your steps in and taking in all the sights of King Street, a bustling street that brings together Charleston's past and present.
Stop in some of the south's trendiest and upscale boutiques, restaurants, art galleries, lively bars and three-story, classic brick buildings. On Lower King Street, you'll find some of the best antique shopping in the nation.
Many festivals and parades regularly take place on King Street. If you prefer a guide to show you the best sites, Charleston also offers great walking tours, where you can stroll down cobblestone streets and imagine horse-drawn carriages trotting along next to you.
You'll also want to see the Battery, a stretch on the southern tip of the city that overlooks the water and offers stunning sunsets.
Standing stately nearby is the iconic Rainbow Road, 13 Georgian-style townhouses that date back to the late 1700s and perfect for snapping a picture in front of.
You'll also want to check out nearby White Point Garden, where aging relics and memorials describe and honor Charleston's role in the Civil War.
The breath-taking South Carolina Aquarium is also located here and overlooks the harbor, and is a great stop for those traveling with small kids.
In terms of dining options, Downtown offers the widest breath of options. There is a large cluster of seafood restaurants near the water, as well as contemporary American grills serving classic southern fare nearby.
Downtown is surely the best area to stay in Charleston if you'd like a majority of the big sites to be in walking distance.
If you're not into the nightlife scene, downtown may not be your best bet. As this area is home to the College of Charleston and offers a wide array of bars, clubs and restaurants, King Street can get fairly busy (and noisy) at night.
But, as the most popular part of Charleston, the area offers unparalleled, aesthetically-pleasing views and gives you the classic Charleston experience you'll see in all of the travel magazines.
BEST PLACES TO STAY IN CHARLESTON IN DOWNTOWN
2. French Quarter, where to stay in Charleston for couples
Bustling and vibrant, Charleston's French Quarter is a section of downtown Charleston that offers incredible sites and activities.
French Quarter was Charleston's original walled city and is located on the Southeastern corner of the peninsula. Centuries ago, French Huguenots immigrated to this area, giving the neighborhood its name.
The Dock Street Theatre, or the first building in the U.S. designed for theatrical use, was also opened here in 1736. In addition, many historic churches are located here, Like the French Huguenot and St. Philipp's Episcopal churches.
Couples, this is your spot. Many visitors consider The French Quarter to be the most romantic area in Charleston.
First visit the world-famous Charleston City Market, established in the 1790s. Covering four city blocks, the market now houses over 300 vendors selling a wide variety of vendors, arts and crafts, including Gullah Sweetgrass baskets, a Charleston staple.
For beautiful scenery, visit Ravenal Waterfront Park along the Cooper River, offering stunning views of the Charleston Harbor.
You'll also see a majestic fountain towards the north end of the park, as well as the famous Charleston Pineapple Fountain. In the warm summer months, kids are free to play in the water to cool off.
For a bit of history, check out the nearby Old Slave Mart Museum. During the Antebellum Period, Charleston was a hotspot for the South's plantation and slave auction economy, and slaves were auctioned off in this very facility hundreds of years ago.
Though perhaps a sordid reminder of the city's past, the Mart has now been converted to a museum of African American history and commemoration.
The French Quarter is also home to countless art galleries (check out the Art Walk held by the Charleston Gallery Association), incredible southern eateries and great bars for the partyers.
The French Quarter Inn is a fan-favorite for accommodation and other quaint hotels are scattered throughout the area. This district isn't cheap as it's a very popular spot, and prices rise as you get closer to water.
But you'll also find some budget hotels and AirBnBs nearby as well, and the historic scenery is well-worth the visit.
BEST PLACES TO STAY IN FRENCH QUARTER
3. West Ashley, where to stay in Charleston on a budget
With scenic views over the Ashley River, incredible shopping and low-key, unpretentious vibes, West Ashley lies west of Historic Charleston and functions mainly as a residential area.
If you're visiting with kids, this is a great area to stay in Charleston as it's incredibly family-friendly and offers a lot to do. Vibrantly colored by ancient moss oak trees and dotted with marshes, West Ashely is nothing short of beautiful.
In the upcoming years, there's city plans to revitalize this area into a tourism hotspot, so plan your visit soon to avoid the crowds to come.
Citadel Mall and Ashley Landing are two major malls, with a Stadium 16 IMAX theater and many large retailers.
Near a busy intersection near Magnolia Road and Savannah Highway is Avondale, a hip neighborhood within West Ashley with colorful restaurants, art murals, boutiques and bars, making it a popular scene with young professionals.
West Ashley also has no shortage of greenspaces for those looking to enjoy nature.
The West Ashley Greenway is a rail trail stretching nearly nine miles across the West Ashley neighborhood. A favorite amongst bikers, is a straight, mostly paved trail also popular with roller-skaters and pedestrians.
If the kids are looking to run around or toss a ball back and forth, West Ashley Park, St. Andrews Park and Mary Utsey Park all offer sports fields and expansive green spaces.
For a bit of history, West Ashley offers several options. Middleton Place, a National Historic Landmark, has the oldest landscaped gardens in America and several proud peacocks wandering the plantation, as well as an inn if you're looking for accommodation here.
Ashley Hall Plantation and Magnolia Plantation Gardens, with vibrant flower displays and great historical significance, are both located here. Charles Towne Landing, a state park settled in 1670, is also great for exploring if you're looking for outdoor fun.
Accommodation in West Ashley is far cheaper than other areas on this list and is perfect if you're looking for peaceful nights. In addition, you're likely to find many AirBnBs here, as it is a more suburban area.
BEST PLACES TO STAY IN CHARLESTON IN WEST ASHLEY
4. North Charleston, an inclusive area with miles of greenspace
North Charleston truly is a haven for aficionados of all kinds: foodies, sports enthusiasts, history buffs and more.
A bit slower than downtown Charleston but still packed with excitement and fun, North Charleston is mainly a beautiful residential area for young families and older retirees.
This vibrant city is also home to the Charleston International Airport, so it's a great place to fly in to and is closely situated to other areas like Mount Pleasant.
For a breath of fresh air, check out Riverfront Park, a public park open year-round and a favorite amongst residents.
Offering stunning bank views of the Cooper River and surrounded by stately oak trees, you'll also get a glimpse of historic homes once used as base housing for Naval officers stationed at Charleston Naval Base.
A memorial honoring the base also stands erected here, and the park really comes alive as a concert venue in the warmer months. The park is also the distinguished location of North Charleston's Annual National Outdoor Sculpture Competition and Exhibition.
For shopping, check out nearby Centre Pointe and the Tanger Outlets with 90 name-brand retailers and nationally-recognized eateries.
If you want heart-pumping live sports action, the 13,000 seat North Charleston Coliseum is home to the South Carolina Stingrays Hockey team and regularly hosts concerts, performances and sporting events throughout the year.
If you still want to check out a live performance but want something a bit more "refined," North Charleston has its own Pops orchestra group that regularly performs at the Charleston Area Convention Center.
Centre Point also offers multiple hotels and options for accommodation, so look here first if you want to stay in North Charleston.
As North Charleston is less crowded than downtown, you're far more likely to find cheaper accommodation here and probably more spacious options.
In addition, many hotels here offer shuttle services to downtown for free. Luckily, there's also great nightlife and restaurant options here as well.
BEST PLACES TO STAY IN NORTH CHARLESTON
5. Mount Pleasant, where to stay in Charleston for families
Beautiful, breezy and bustling, Mount Pleasant is an incredible area and a great place where to stay in Charleston. A peaceful refuge from the hectic tourist crowds of downtown, Mount Pleasant is a residential area just over the Cooper River.
There's tons to see and do here that will excite the whole family. It's an awesome place to stay in Charleston, but it also makes a worthy day trip.
You'll also really get a feel for Charleston's history here as you walk past traditional homes and towering oak trees – in fact, the roots of the Old Village of Mount Pleasant date as far back as the 18th century.
If you like to walk, Mount Pleasant has a lot to offer without having to cover a ton of ground. Start by stopping at Mount Pleasant Waterfront Memorial Park and strolling along Mount Pleasant Pier, a 1250-foot long pier stretching out into the Charleston Harbor.
Housed under the stately Arthur Ravenel, Jr. Bridge is a true nautical playground complete with a performance pavilion, gift and snack shops and spots for fishing. The area comes alive at sunset, where you'll be welcomed by stunning seaside views.
You can also check out the Pitt Street Bridge, which was built in 1889 and was the first bridge connecting Mount Pleasant to Sullivan's Island. Lined by majestic palm trees, it's a great place to people watch and catch cruise liners and cargo ships docking in the harbor.
History is certainly alive in Mount Pleasant. Walking around Old Village is a must-do, and you'll see quaint shops, picket-white fenced homes, an old-fashioned pharmacy and more, transporting you to centuries past.
Military buffs will enjoy Patriots Point Naval & Maritime Museum, home of the USS Yorktown carrier, USS Laffey destroyer, and USS Clamagore submarine. You can take self-guided tours across all three vessels.
End your day at Mount Pleasant at Shem Creek, a favorite amongst locals and visitors alike.
Trickling through much of Mount Pleasant, Shem Creek eventually passes beneath Coleman Boulevard and ends at Cooper River.
Right before the end of the creek is a hotspot for dining, nightlife and even a little animal watching. You'll get incredibly fresh seafood at many of the outdoor grills and you can enjoy the sunset directly from the boardwalk.
If you feel like going back to downtown from here, the local water taxi departs from this pier.
Mount Pleasant is quickly becoming a very popular area to stay in Charleston, so prices for accommodation have also raised. Still, you can find great deals outside of the tourism season and enjoy a quieter pace of life in this area that is defined by southern hospitality.
BEST PLACES TO STAY IN CHARLESTON IN MOUNT PLEASANT
Read also: Where to stay in New York, where to stay in Miami, where to stay in Nashville, where to stay in Savannah, where to stay in Orlando, where to stay in Atlanta, where to stay in Asheville
6. Kiawah Island, an oasis of adventure, natural beauty and southern hospitality
Known as a premiere luxury beach town, Kiawah Island is truly making a name for itself as a top vacation destination in recent years. It has topped many a best island list, and for good reason.
Families and retirees are flocking here and staying permanently, enchanted by the stunning ocean views, pristine beaches, lush natural environment and wide variety of things to do.
The resident of Kiawah have made sure to limit the scope of tourist impact on the island in order to preserve the natural maritime forests and marshes here, but visitors are still well-welcomed.
Kiawah is also home to a wide variety of animals, including alligators, bottlenose dolphins, herons, deer, sea turtles and bobcats.
Golfers will love this island. Kiawah is home to one of the most beautifully-designed courses in the U.S. – the Ocean Course. In fact, many a PGA Championship has taken place here, giving panoramic views of the Atlantic Ocean and breezy beach winds.
Next, enjoy Kiawah's 10 miles of pristine beaches with a bike ride. Beachwalker Park, located on the west end of the island, has ocean frontage and river views.
All beach homes must be located past the second row of dunes, leaving the long stretch of beach undisturbed and usually uncrowded.
For bikers, roller-skaters and walkers, Kiawah also offers 30 miles of nature paths perfect for exploring. An incredible time to ride is at sunset, where you'll be painted in golden light streaming through large oak trees with Spanish moss and Charleston's signature palmettos.
In terms of dining, there's several great seafood options near the water. The Market at Town Center, which serves casual fare, is located in the East Beach Village.
As Kiawah is home to many full-time residents, more suburban-type ordinances are in place here than other areas of Charleston. In terms of nightlife, Kiawah is not home to any major bars or clubs, so you're better off looking on the main island for those activities.
When looking for accommodation, The Kiawah Island Golf Resort is a popular choice here. The resort owns more than a dozen restaurants and cafes and offers luxury amenities.
You'll also find many beach and timeshare rentals, as well as AirBnBs on the island. There's no major hotel lines, but there's a couple inns if you're looking for something smaller.
BEST PLACES TO STAY IN KIAWAH ISLAND
7. Folly Beach, Charleston's own little beach town
Take a visit to Folly Beach and you may feel like you've been transported to Venice Beach or San Diego on an entirely different coast.
Warm, charming and inviting, Folly Beach has been referred to by the locals as "The Edge of America," as it is the end of the road in Charleston and is located on Folly Island, just south of Historic Charleston.
In recent years, Folly Beach has become a premiere vacation destination for the young and the old alike, as there is so much to see and do.
Locals carry a laid-back, surfer attitude and ride the waves of the Atlantic, all under painted sunsets and warm temperatures. Folly Beach is definitely for the outdoorsy visitor.
Multiple vendors and local eateries are located on Center Street and you can rent a bike here to explore the island. If you're just looking to spend a day at the beach, Folly Beach is fairly uncrowded and pristine.
You can rent surf and paddleboards and even get in a lesson from Isla Surf School. Experienced surfers say the best surfing on Folly Beach is in an area referred to as "The Washout."
Due to Hurricane Hugo, coastal winds now blow uninterrupted across the beach and roll the waves to outstanding heights. You can also book a variety of water sports rentals and boat charters to sail the day away, and you may catch a dolphin or two swimming along.
Also be sure to check out the Morris Island Lighthouse, a now defunct lighthouse on Morris Island that once led ships into the Charleston Harbor safely with its light.
Once night begins to fall, hit Folly Beach County Park for incredible sunset views.
There's no major hotel chains on Folly Beach, but there are beach house rentals situated directly on the water, accommodating all budgets and party sizes.
Folly Beach truly sees it all: weddings and bachelor and bachelorette parties, college kids on Spring Break, families just looking to get away and even full-time residents enjoying the magic of this coastal island town.
Book early, as Folly Beach has become increasingly popular in recent years.
BEST PLACES TO STAY IN CHARLESTON IN FOLLY BEACH
8. Isle of Palms, a magical little island town
Located on a slender barrier island, the Isle of Palms is a tropical playground nestled on the Atlantic Ocean and just 12 miles from historic Charleston.
Encompassed by a network of marsh creeks and white-sand beaches, the Isle of Palms is your classic island vacation spot, widely opened to the public in 1929 when a connecting bridge was constructed.
Now, visitors and residents alike stay on the Isle of Palms for incredible fishing, golfing and relaxed luxury. Like Folly Beach, you won't find pretentious vibes here.
Just flip-flop and t-shirts, peace and quiet and the undeniable excitement that Charleston is known for. It is a quintessential beach town with all of the fun and none of the frills.
The entire Isle of Palms is just 7 miles long and 1 mile wide. Because of the island's excellently-maintained beaches and pristine waters, natural vegetation flourishes here, including nesting sea turtles.
There's ton of recreational activities to do as well. Isle of Palms County Park is perfect for bike riding, walking, running and roller skating with stunning ocean views along the boardwalk.
There's also a playground for the kids and a sand volleyball court. Smaller Sullivan's Island also neighbors the Isle of Palms, and makes for a great day trip if you have the time.
To get in a little shopping, there are several small beach and boutique gift shops that will sell travel essentials and cool souvenirs.
In terms of nightlife, the Isle of Palms is fairly low-key. There are a couple nautical-themed pubs for casual dining, as well as some nicer eateries with incredible seafood near the water.
In terms of accommodation, the major Wild Dunes Resort, which occupies 1,500 acres on the northern end of the island, is located here and offers luxury amenities and award-winning programs.
Visitors can play on the two 18-hole Tom Fazio golf courses and also check out the full-service tennis courts. Wild Dunes also owns many private residences and shared condos if you're looking for something a little less fancy.
There are also several beachfront hotels, beach house rentals and smaller AirBnBs and apartments for rent.
BEST PLACES TO STAY IN ISLE OF PALMS
9. Seabrook Island – stunning natural beauty and world-class amenities
Slightly smaller than Kiawah Island, Seabrook Island is a scenic and serene island located less than 30 minutes from downtown Charleston.
Well-known for its natural beauty, Seabrook has almost 4 miles of well-maintained ocean and river-front beaches and diverse wildlife, all protected by the city.
As you walk under shady Spanish moss and live oak, you'll be reminded of a proud history that dates back centuries.
As a private, island resort community, Seabrook Island offers a wide range of amenities and activities. If you want uncrowded luxury, beautiful marshlands and classic island living, Seabrook Island is your place.
If you're a sports enthusiast, Seabrook Island offers a lot to stay active. Seabrook Island Golf Club has two champion golf courses.
Ocean Winds Golf Course is a 6,765-yard, par-72 course with stunning Atlantic Ocean views and salty breezes, while Crooked Oaks Golf Course is a 6,780-yard, par-72 with marsh views and shady live oaks.
If you're more tennis-minded, Seabrook Island Racquet Club offers a full-service court experience. Make sure to call ahead for reservations for both clubs.
When in Seabrook, you also have to enjoy the one thing that brings the island all together: the water! Seabrook Island offers kayak, boat and paddleboard rentals, perfect for exploring the impressive tidal creeks and salty marshes.
If you simply want to relax and save the activeness for another time, Seabrook Island's beaches are world-famous. Pull up a beach chair and lay the day away.
Animal lovers will also love Seabrook Island. The island's uncrowded beaches and lush vegetation are ideal for a variety of wildlife to flourish, including red foxes, otters, marsh rabbits and over thirty species of reptiles.
Bird-watching is also extremely popular on Seabrook Island, and the island has been involved with the Audubon Cooperative Sanctuary, North American Bird Watching Open, since 1998.
More than 80 species of birds have been spotted on Seabrook Island, including a bald eagle or two.
There are no hotels or high-rise buildings on Seabrook Island. Vacation homes, smaller inns and rentals are the name of the game here.
Partyers be aware: Seabrook Island is not for the all-night fist pumping, and you'll mainly find older couples and families looking to enjoy the peace and quiet in a stunning coastal setting.
But if you're looking for a vacation that includes great shopping, activities and stunning oceanfront views, Seabrook Island is surely one of the best places to stay in Charleston.
Wherever you decide to stay in Charleston, make sure you check out one of the options on this list. Charleston has a lot to offer, so you should give yourself at least a week to experience it all. You can't go wrong with a visit to this incredible city!
BEST HOTELS IN SEABROOK ISLAND