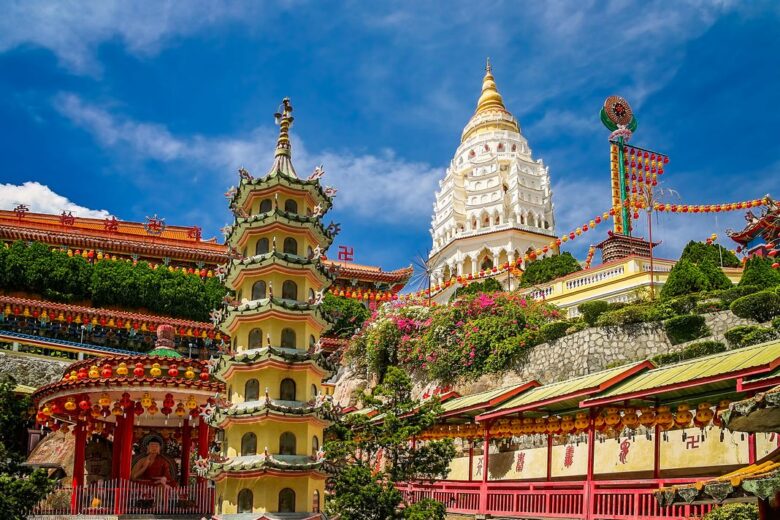 Penang is a Malaysian state in the northwestern part of the country. Also known as Pulau Pinang, its capital is George Town and the residents are called Penangite, not Malaysians. The island is filled with beaches and hotspots, which is why it is not hard to find the best areas to stay in Penang.
To help you determine where to stay in Penang, you may want to know the accommodation options you have in some of the major places here. It is always best to start with getting to know the most famous sites, which can also help in knowing the best places to stay for you.
I would stay in Georgetown, in my opinion it is the best place to stay in Penang, or I would stay in Batu Ferringhi for a great beach holiday.
Where to Stay in Penang: 7 Best Areas
1. George Town, best place to stay in Penang
Penang's capital, George Town, is a city tourists love for many reasons. It has an interesting historical background and is listed as a World Heritage Site. The city was named after King George III, the British monarch who ruled from 1760 to 1801.
Anyone planning to visit the island should head to George Town. It has got everything you would want to experience while in a foreign country, from food to art to culture. There are indeed many things to explore.
Speaking of arts, George Town has greatly improved in this category in a short span of time. It has become an authentic place for people to go to when they want to experience a sophisticated art scene in Malaysia.
If you are not that into art, there are other things to do in the city, including going on a temple tour. Discover various places of worship in the area, such as the Goddess of Mercy Temple and the Sri Mahamariamman Temple.
George Town is also home to the Wat Chaiyamangkalaram, which contains one of the world's longest reclining Buddha statue.
If you happen to be in the city starting August, you can experience at least one of the times when George Town is busiest. There are lots of festivals during this month all the way until February of the next year.
Some activities you may be interested in participating are food festivals and art events. You may even witness hot air balloons being released in the air during the month-long George Town Festival.
The city is quite lively indeed and yet it is a friendly place, even for those who may not have visited Malaysia before. Its busy yet pedestrian-friendly streets make George Town an ideal area for everyone, including families with small kids.
Young people may find it more interesting with the hipster cafes and nightlife. However, there will always be something for everyone, which is why it is one of the most preferred areas to stay in Penang.
If you plan to stay here for at least a night, be ready for the inviting nightlife scene, restaurants that are open round-the-clock, and several sightseeing opportunities. The good news is that you will not run out of hotel accommodations no matter what your budget.
Since you are at the center of the action, you can find a variety of choices ranging from budget-friendly to luxurious hotels. Many options are affordable but you may want to look elsewhere if you expect to find ultra-cheap accommodations in George Town.
BEST PLACES TO STAY IN GEORGETOWN
2. Gurney Drive, where to stay in Penang for a mix of entertainment, good restaurants and shopping
While George Town is the capital of Penang, Gurney Drive is one of the best places to stay in Penang if you are looking for an area with modern amenities and hotspots.
Gurney Drive is known as Persiaran Gurney in Malaysia and is most known for its food scene. Whether you are looking for street food or five-star dining opportunities, you will most likely find what you want in the city.
Gurney Drive is popular for seafood-based dishes, including asam laksa. However, it is also where you can go to and be served rojak, which has an interesting mix of fruits and vegetables.
This seaside promenade offers a lot of things for everyone, including tourists and locals who are on a budget. At the same time, it is where you may want to go if you wish to discover historical relics in Malaysia.
There are architectural works in the area that are as old as the 1800s. If you want to enjoy some modern attractions, there are shopping malls with high-end brands. At night, you will surely have great fun, especially since it is just a few minutes from George Town.
Gurney Drive was once a front area of an expansive beach that eventually developed into a tourist destination. Therefore, it is easy to see why travelers, including backpackers, love the area.
Gurney Drive is filled with shopping malls and high-rise buildings. It is also one of the areas to stay in Penang if you cannot afford some of the modern hotel options in George Town.
Although the capital is just a few minutes away, Gurney Drive may be a better choice on where to stay in Penang because it not only has various transportation options but also offers trendy hotels.
You can find options such as the G Hotel, which is a contemporary hotel that has an ideal location right between the shopping malls of Gurney Paragon and Gurney Plaza.
BEST PLACES TO STAY IN PENANG IN GURNEY DRIVE
3. Batu Ferringhi, where to stay in Penang for a great beach vacation
Batu Ferringhi probably beats all other tourist resorts in the entire country. Over the years, the focus has been placed on the northern coast of Penang, which is Batu Ferringhi itself. It has become heavily developed with numerous houses, hotels, restaurants, shops, and more.
There is a little bit of controversy when it comes to the "over-development" of the area, which may have caused certain damage to the beaches and the scenery. However, efforts are being exerted to make it environment-friendly again.
As a backpacker looking for answers on where to stay in Penang, you will find this area one of the best choices. It is a touristy area, which is why there is fierce competition in the accommodation scene.
You will be surprised to see hotels that have kept their prices on the low side in hopes of acquiring more customers. It is indeed beneficial for those who want to stay within their budget while in Malaysia.
Batu Ferringhi is one of the best places to stay in Penang if you would like to experience the Butterfly Farm, Muka Head Lighthouse, and the Tropical Spice Garden. These attractions are among the reasons why this area is popular and is, in fact, the most popular destination on the island – next to George Town of course.
It is well-loved because it is a beach resort with lots of places to discover, especially for Penang visitors.
It is about 20 minutes away from the capital, which you can reach by taking the bus or taxi.
Among the accommodation options in the area there are beach resorts and also smaller hotels that will certainly suit your budget.
BEST PLACES TO STAY IN BATU FERRINGHI
4. Tanjung Bungah, where to stay in Penang for water sports
The name of this seaside suburb literally means Flower Cape in English. It has an interesting location just between Batu Ferringhi and Gurney Drive. Therefore, it is also a common choice for those who want to know where to stay in Penang.
If you do not like how busy Batu Ferringhi gets or even the food offers in Gurney Drive, Tanjung Bungah may be for you. It is approximately 30 minutes away from George Town.
Tanjung Bungah may not have a colorful history like the other places in Penang but it does have a great background. It was once a fishing village that travelers used to ignore for several years.
However, it soon became a travel destination, especially for people who love watersports. It is where you can find the Penang Water Sports Center.
Tanjung Bungah today is a preferred place for those who want to experience what Penang has to offer without spending too much money. It has affordable shopping locations, as well as restaurants.
Although it lacks in eating options, especially if you compare it to Batu Ferringhi, Tanjung Bungah has earned respect from travelers.
It is great for families, as well as those looking for big city amenities without the busy crowd. You will not feel like you are in a rush while in this area and it is much quieter than other nearby destinations.
Although it is praised for its waters because it allows different sports, it may not be the best place to turn to if you are looking to swim.
BEST PLACES TO STAY IN PENANG IN TANJUNG BUNGAH
5. Tanjung Tokong, family-friendly beach area
Tanjung Tokong is a neighborhood in George Town located on the northeastern side of Penang. The name came from the Tua Pek Kong Temple, which is situated in this area. Like Tanjung Bungah, Tanjung Tokong started as a fishing village.
It has faced many tragedies in the past but has gone back up to rebuild itself. You may already know Tanjung Tokong as the coastline affected by a tsunami at the end of 2004. It was a devastating calamity, causing damage to several establishments, including a seafood restaurant that was next to the Tua Pek Kong Temple.
Nevertheless, despite the disasters, Tanjung Tokong has quickly gotten back to its feet. It now has many bungalows by the seaside. You will not see a lot of residential properties in this part of the island, which is a good option on where to stay in Penang for some backpackers.
Tanjung Tokong offers several attractions for visitors and locals, including beach bars. You can already tell the nightlife here is a fun thing to experience. Although it can be quite busy and noisy at night, this village is still one of the family-friendly areas to stay in Penang.
There are seafood restaurants, cafes, and attractions like the Avatar Gardens. The garden not only has ornamental plants but is famous for the decorations that light up at night.
Aside from bungalows, the village is also a popular choice for those who want to stay at cheap hotels. The LYK Guesthouse Seaview is one of the most raved about, along with the Seriental Hotel and 8 Boutique by The Sea Hotel.
This area could be one of the best places to stay in Penang for you if you do not want to limit yourself to hotel options. Tanjung Tokong is mostly comprised of apartments and Airbnb properties.
BEST PLACES TO STAY IN TANJUNG TOKONG
6. Bayan Lepas, where to stay in Penang on a Budget
The town of Bayan Lepas is situated right at the tip of the island. Bayan Lepas was incorporated before the end of the 19th century. Today, the town is where travelers land via the Penang International Airport.
One of the most interesting facts about the area is that it has the Free Industrial Zone, which is known to have helped Penang and the entire country during the financial crisis in Malaysia.
Bayan Lepas also has an interesting history, especially the airport, which was the first ever airport built in British Malaya or Malaysian states.
The town is the industrial center of Penang. You will see huge companies residing here, including Hewlett-Packard, Dell, and Intel. Because of the existence of world-renowned corporations here, it is dubbed as the Silicon Valley of the East.
Whether you intend to visit the big companies in this town or you have other plans, you will surely want to know where to stay here. Bayan Lepas is an excellent choice for you if you wish to stay near the airport.
At the same time, it is surrounded by residential developments so you will meet numerous locals in the area.
Bayan Lepas is also where you may want to stay if you wish to access different locations on the island including George Town. The capital can easily be reached through the Bayan Lepas Expressway, which should only take 30 minutes.
It is also where you can find the biggest shopping mall in Penang, which is mostly why travelers opt to sleep for the night here.
BEST PLACES TO STAY IN PENANG IN BAYAN LEPAS
7. Bukit Mertajam, off-the-beaten-path destination great for nature lovers
Bukit Mertajam is not on Penang Island, it is located in the mainland Malaysia, on the Malay Peninsula. This city is the capital of the Seberang Perai Tengah district.
Bukit Mertajam began as an agricultural town but was later transformed into a progressive area. The town's name is derived from Mertajam Hill, which is translated to "pointed hill."
It is one of the best places to stay in Penang (close to it at least) for those looking for an off-the-beaten-path destination and nature lovers. You will find heritage, great food, and surrounded by nature and beautiful green landscapes!
One of the things that set Bukit Mertajam apart from the many other areas in Malaysia is its Catholic congregation, St. Anne's Church. It is an important part of the Novena celebrations in Southeast Asia that takes place every year.
Bukit Mertajam offers different activities for visitors. However, you should not expect it to be as vibrant as George Town and other major areas in Penang.
Still, this town will not disappoint you, especially if you are a nature lover. It has a recreational forest named after itself where you can go hiking and enjoy views of an expansive dam.
You can cross Penang Bridge to get to Georgetown by car in 30 minutes or use the ferry.
While in the area, you will find several hotels with very reasonable prices and quality and many apartments and inns.
BEST PLACES TO STAY IN BUKIT MERTAJAM
In Penang, you have flexible options in accommodations ranging from budget to family to lavish hotels. Plan your trip accordingly to avoid any hassle and difficulties in booking especially during the busy months of June and September.