Before you get to know where to stay in Bali, it makes sense to dive a bit deeper into what this island is all about. Bali is situated in the middle of Indonesia and is both a province and island. For numerous years now, it is a favorite tourist spot. Surfers love the beaches here, as well as those who want to see the beautiful sites that Bali has to offer.
If you are searching for beaches where you can also enjoy fresh seafood, some of the places to visit are Seminyak, Jimbaran, Uluwatu, and Canggu. It is indeed a haven that beach bums discovered. Soon enough, photographers, travelers, vloggers, and temple-goers flock to Bali every year.
The Western influence is quite noticeable in this island, which is even dubbed as a "foreigner-friendly" destination. Whether you are searching for yoga classes, restaurants, shopping, or a paradise retreat, you will find everything you need in different areas in Bali.
Be sure to have some Indonesian rupiah, which is the local currency, since businesses cannot charge you in dollars. It is recommended that you carry about 10,000 to 100,000 (approximately $0.70 to $7) notes for your daily expenses.
You should know that the official language here is Indonesian. However, you will also hear Balinese, especially in the countryside, although Indonesian is still mixed in. You will find many people who can speak English in the area, thanks to the sizeable expat population and tourists.
Going around and finding places where you can stay in Bali should be easy. The climate, in general, is warm but it can be rainy as well, especially if you visit in January to April or October to November.
Bali may seem like a small island, but you will certainly have a lot of sites to enjoy. However, you should be aware that traffic here can be very congested, which is why it makes sense to try to go to your destination at an earlier time.
Aside from the mentioned details above, here are quick facts about Bali:
It is a province with smaller islands namely Nusa Penida, Nusa Ceningan, and Nusa Lembongan.
If you are invited to eat in a local family home, the proper etiquette is to leave a bit of food on your plate.
Mounts Batur and Agung on the island are active volcanoes.
The Hindu celebration, Nyepi, calls for all businesses, including airports to shut down their operations for one day.
The island has one of the highest concentrations of spas in the world.
When you are ready to go around, it is time to learn the best areas to stay in Bali.
Where to stay in Bali: Best areas
Whether it is your first time or you have been to the island a few times, it is necessary that you know where to sleep in Bali when you are done touring for the day. Planning is crucial and you can include the list of places below to determine where you should stay in Bali:
1. Kuta/Legian, where to stay in Bali for nightlife
If you are looking for the center of mass tourism on the island, you will find it in Kuta and Legian. These areas in Bali are frequently the first places that visitors go the moment they hit the region.
However, you should know that Kuta and Legian are not for everyone. The narrow lanes may have cafes and surf shops, but they usually have motorbikes parked around, along with T-shirt vendors and "massage" offers.
Nevertheless, you will notice how chain hotels and shopping malls such are Beachwalk Shopping Centre, Discovery Mall Bali or Mal Bali Galeria are in this area, especially Kuta.
The allure does not seem to fade while Legian is more appealing to older people. Some would even say that those in Kuta go to Legian after they get married.
Both are equally commercial areas and you will see there are long lines of hotels here, which are typically close to the beach. Most of these accommodation choices are family-friendly.
If you are still searching for a place to stay in Bali, particularly in Kuta or Legian, you will numerous choices ranging from villas to luxury hotels to value options. Prices of accommodation are a bit cheaper in Kuta than in Legian.
However, the area tends to have too much traffic, which may not be great when you are walking around with your kids. Younger people though, especially those who surf and party, will love staying in Kuta.
Kuta is the best place in Bali for nightlife. The area is packed with lots of bars, beach clubs and nightclubs.
Some places of interest include Waterbom Park Kuta, Circus Waterpark, the Ground Zero Monument Bali, Vihara Dharmayana Buddhist Temple, Kuta Theater, Museum Kain, Dream Museum Zone, Hard Rock Cafe, Bali Sea Turtle Society,
This area is one of the best places to stay in Bali if you are looking for surfing, shopping, nightlife, and very affordable accommodation, but it is really touristy and crowded.
If you plan to book online, you will mostly find villas and discounted hotel prices. Nevertheless, if you do not mind splurging, some options include Padma Resort in Legian, The Anvaya Beach Resort Bali, and Bandha Hotel & Suites.
For luxury accommodation yet more affordable, choose Holiday Inn Resort Baruna Bali or Mamaka by Ovolo.
BEST PLACES TO STAY IN KUTA – LEGIAN
2. Seminyak, best place to stay in Bali for luxury and upscale nightlife
Seminyak, like Kuta and Legian, is also one of the most popular areas in Bali, particularly for tourists. It is known for its beautiful beaches, which are well-loved because they are fairly quiet and offer the best sunset views.
Seminyak is considered the upmarket beach resort in Bali, so it is where you will see luxury resorts, private villas, and five-star beach clubs.
In Seminyak you can enjoy some of the best beachclubs, including Ku De Ta, Potato Head Beach Club, SugarSand, Tropicola , Oo Beach Club, CoCoon, Mano Beach House and La Plancha.
The main streets and the coastline are mostly crowded but still peaceful most of the time. You will also find most of Bali's best restaurants in Seminyak, specifically in and around Jalan Laksmana and Kayu Aya, which are a long line of dining streets.
Nightlife is more upscale than in Kuta. Jalan Dhyana Pura, along with Camplung Tanduk, is gay-friendly where you can go to bars that are fun and virtually located side-by-side.
If you are searching for a great place to shop, Seminyak is for you. Several designer boutiques, branded shops, and more can be found in one area alone.
If you plan to spend the night (or nights) here, you will love how it has excellent night and water activities. Seminyak is mostly for wealthy travelers but it also offers options for those on a budget.
If you prefer a beach that is not as crowded as the other places and you want a good nightlife scene without too much noise, it will be one of the best areas in Bali for you.
Some hotels, such as W Bali – Seminyak and The Oberoi are right here, which are all luxury resorts. Meanwhile, if you are on a budget, mid-range and cheaper options are also available.
The best selections for families and those who do not want to splurge are Ramada Encore by Wyndham Bali Seminyak and Aloft Bali Seminyak.
BEST PLACES TO STAY IN SEMINYAK
3. Canggu, the coolest area to stay in Bali
Canggu is one of the places on the island that locals, surfers, and expats favored for a long time. Things have changed now and there are numerous tourists who travel in and around the area.
This area has grown in popularity in the last years and now is the new hotspot. It has become the destination of choice of digital nomads, expats, influencers, surfers, and tourists looking for the coolest place in Bali.
Here you will find cool cafes, trendy restaurants, hip shops, beach clubs such as La Brisa, Finns, Cafe del Mar or The Lawn, and a growing nightlife scene.
In this part of Bali, you will notice how it is more laidback compared to Kuta and even Seminyak. It has rice fields and beaches, along with numerous restaurants.
The problem with Canggu is that there are limited transportation options here. Therefore, you will need to find your way around the area, although mopeds are preferred. You need to have a proper license to operate mopeds though, which is why many visitors choose bicycles instead.
If you look forward to walking around and experiencing the top restaurants and stores here, the best place to stay is near Jl. Batu Bolong. It intersects with Jl. Batu Mejan and will lead you toward the beach.
Another area is Jl. Pantai Berawa, which has cafes and shops as well but they are more evenly distributed.
Jl. Pantai Pererenan is also a good choice when searching for accommodation, especially if you want a quiet place for resting. It is remote yet peaceful with lots of rice fields surrounding the area.
Canggu has different accommodation options ranging from luxurious to modest. COMO Uma Canggu and Hotel Tugu Bali are among the most expensive hotels in this place.
However, if you want a deluxe yet less expensive hotel, Eastin Ashta Resort Canggu and Citadines Berawa Beach Bali are worth checking out.
For those on a budget, the good news is that Canggu has hotels that go for $20 or less per night. There are hostels and guesthouses in this Bali region where prices range from $8 to $15.
BEST PLACES TO STAY IN CANGGU
4. Jimbaran, where to stay in Bali for a quiet beach vacation and seafood
If you ask a few locals about where to be in Bali to watch the sunset, most of them will tell you to head to Jimbaran. It is famous for the white sand bay, which is directly southwest of Ngurah Rai International Airport.
Jimbaran has a good mix of resorts and hotels that cater to different ages, groups, preferences, and budgets. Those sites mostly provide beautiful seascapes that you will not forget.
The main strip, Muaya Beach, is where you should go to if you want to try the famous seafood cafes in Jimbaran. The northern part is where Kedonganan is located, which is a fishing village and has beachfront restaurants as well.
Hotspots in Jimbaran include the Bukit peninsula where the Uluwatu temple is right on top of the cliff and gray macaques live. World-class reef and forests surround the area, along with a few hidden beaches in Bali.
However, if your primary goal is to shop and enjoy the nightlife, Jimbaran is not exactly the place to be for you. It is for people who want a secluded getaway involving tropical beaches with a convenient location from the airport, which is only 15 minutes away.
Some hotels are right on the beach, including InterContinental Bali Resort, which is a five-star chain resort. Four Seasons Resort Bali at Jimbaran Bay is also a favorite of those who want a peaceful and sophisticated place to sleep.
There are also villas, spa estates, and private resorts in this part of Bali, along with midrange and budget hotels. Midrange hotels, such as Anja Jimbaran or the The Open House Jimbaran Bali, are great for families.
BEST PLACES TO STAY IN BALI IN JIMBARAN
5. Uluwatu, best area to stay in Bali for surfers
The town of Uluwatu is in the South of Bali and is famous for being the favorite hub of many surfers who like to test the challenges of the waters.
Home to some of Bali's most beautiful beaches, it is also a great place for those who simply want to lay down on the sands or watch the sunset.
If you want to stay in Bali in this area, you will see many hotels with access to secluded beaches. Others are simply near the waters but you can also find hotels located at the top of the cliffs.
It is important that before choosing this place, you should be aware that Uluwatu is fairly isolated. Most other sites will take a long walk to get there and some in which you need to drive. For instance, you may need transportation so you can get to a beach club or a café.
Many hotels are quite expensive but if your budget is $200 at the most, you should check out Bingin, Padang Padang, and Balangan. If you want to be near cafes and a few restaurants, the best choice is Padang Padang.
The three mentioned places are also great if you wish to be near the beaches. Meanwhile, for those who want to have private beaches within their reach, choose Bulgari Resort or The Ungasan Clifftop Resort .
For an absolute splurge, villas are the way to go. You can find accommodation here ranging from $750 to $1,100. Uluwatu also has great hotels and guesthouses under $100 a night, such as Village Bali and The Room Padang-padang.
Guesthouses can start at $15, which is quite affordable for couples and families.
BEST PLACES TO STAY IN ULUWATU
6. Ubud, where to stay in Bali for history, culture, sperituality and wellness
The rest of the island is filled with a coastal mix of warmth, sun, and beaches. However, if you are searching for a central highland location, Ubud is a recommended spot.
It has cooler temperatures and you can experience the rural countryside where there are rice fields and river valleys.
Aside from feeling that small town vibe, Ubud is also one of the best areas in Bali where you should go if you love culture and history.
There are rows and rows of art shops, galleries, museums, markets, and historic sites, such as the Puri Saren Royal Palace, Tegalalang Rice Terraces and the Ubud Monkey Forest.
Ubud is also a great destination for those interested in meditation and spirituality. Stay in Bali Ubud if you are looking for a yoga or wellness retreat or want to understand more about Bali's cultural and spiritual roots.
If you want to dine at a world-class restaurant, head to Mozaic Restaurant Gastronomique; otherwise, the Naughty Nuri's is a great start for a Balinese food experience.
Of course, this part of the island is also surrounded by water where you will immediately witness the undeniably gorgeous vistas, such as around the Ayung River where you can also go rafting.
Ubud has many wonderful areas to explore, which is why you may want to stay here while you are in Bali. Some of the hotels are luxurious, including those with outdoor dip pools. Others have expansive grounds with tiered rice fields while there are also affordable options.
No matter it is that you are looking for, Ubud is a great place to relax with great views wherever you stay for the night.
BEST PLACES TO STAY IN UBUD
7. Nusa Dua, where to stay in Bali for families and honeymooners
If you are in Nusa Dua, you have found the island's most exclusive resort area. Once you get here, one of the things that you will immediately notice is the collection of numerous five-star international chain hotels.
Most tourists love how the area is secluded and well-designed with tropical gardens, ponds, and fountains that connect luxury accommodation options with leisure complexes.
Nusa Dua with its gorgeous white sand beaches and amazing all-inclusive resorts is a favourite for families and honeymooners.
There are several things that you can do here, including dining at The Bay Bali or watching the Devdan Show perform at the Nusa Dua Theater.
If you are an art lover, visit the Museum Pasifika, which houses one-of-a-kind historical artifacts and artwork from different countries all over the world.
Aside from the beaches, there are serene scenes that nature provides as well, such as watching the sun rise over the bay between Nusa Dua peninsulas. If you want to go shopping, you do not have to leave the area because Bali Collection is located right in the center.
To fully enjoy what this place offers, you may want to look for a hotel that is situated on the beach. Some options are The St. Regis Bali Resort and The Apurva Kempinski Bali.
If privacy is important to you, villas are the most recommended option, where you can find private pools and even personalized services. There are also midrange hotels but you should not expect the same service and facilities like the ones from luxury options.
Families and those on a budget may want to try the cheaper alternatives, such as The Grand Bali Nusa Dua and Hotel Santika Siligita Nusa Dua.
BEST PLACES TO STAY IN BALI IN NUSA DUA
8. Nusa Lembongan, beautiful beaches, snorkelling and cheap accommodation
If you are still on a hunt for a place to stay in Bali, another Nusa island to check out is Nusa Lembongan. This area is small but it is what many tourists prefer because there are hardly any people wandering about and there are amazing views everywhere.
Nusa Lembongan offers a local island vibe that you will find unique, especially if you have already visited other beaches in Bali.
With its beatiful beaches, crystal-clear waters, caves and reefs, Lembongan is a great place to stay in Bali for snorkelers and divers.
Nusa Lembongan is not as huge as the Lombok and other bigger ones in Indonesia. Therefore, staying here will not confuse you because the hotels and other options are easy to find.
Most people love to stay right on the beach but it is where most local families live. If you want a more quiet area, you may choose a more secluded place.
Moped rentals, surf trips, and snorkeling are often included in the package when you book at a nearby hotel. The good news is that you do not have to spend a fortune here. Some hotels will give you a plus room to sleep in for under $20.
The pricing is not the only thing that you will like if you choose to stay here. Nusa Lembongan may be small but the size allows you to stay near the beach. If you are a backpacker, you can afford a bungalow or an inexpensive villa with easy beach access.
BEST PLACES TO STAY IN NUSA LEMBONGAN
9. Sanur, where to stay in Bali for families and older couples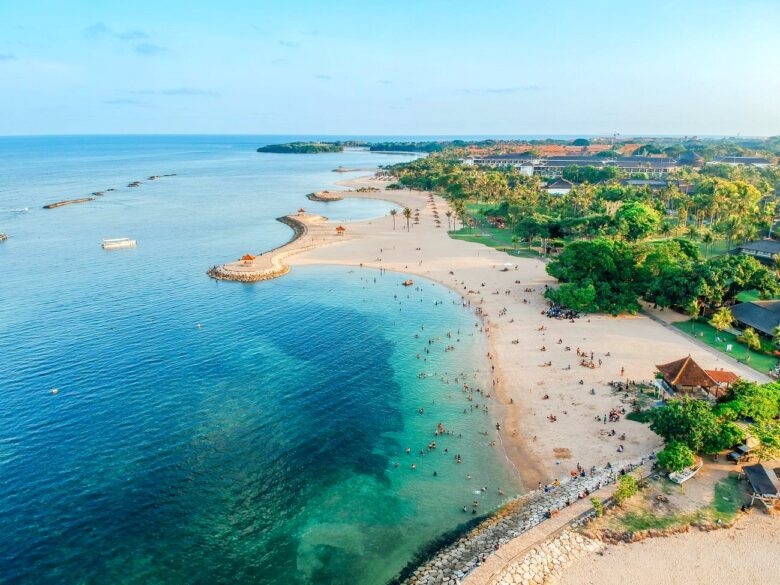 It may not be common for people, including locals, to recommend Sanur as the best areas in Bali for accommodation but it has its unique charm. This town tends to be the underdog but is actually an excellent choice for backpackers and travelers.
Additionally, it is a serene location, which is why it is suggested for families with kids and older couples.
Sanur is situated right on Bali's east coast and is known as the gateway to the Nusa Archipelago and Komodo Islands. In my opinion Sanur Beach is more beautiful than Kuta Beach and Seminyak and its calm waters make it good for swimming.
This area has a few vacationers here and there, which means that you will see several accommodation options. However, it still has an old Balinese feel to it, especially if you compare it with Canggu or Seminyak.
Local spas, markets, and warungs are all over the Sanur streets. The great thing about these hotspots is that you will not have to deal with crowds.
Hotels are also tucked away from the busy areas and are self-contained. Sanur is indeed a good choice if you want a laid back experience while on the island.
While looking for a place for the night, you have various selections, including combinations of resorts and spas, villas, and luxury hotels.
Sudamala Resort allow you to check in comfortably without paying more. Other posh hotels that most people can afford are Segara Villas and Suites and Prama Sanur Beach Bali.
BEST PLACES TO STAY IN BALI IN SANUR
10. Amed/Tulamben, where to stay in Bali for diving
Divers would often go straight to Amed or Tulamben. These two adjacent areas are the ultimate favorite of those who want to go scuba diving.
In Amed you will find some of the most impressive dive sites in Bali. Go diving at a Shipwreck, the USS Liberty wreck at Tulamben or the Japanese Wreck.
However, it is not the only thing you can do while in these towns. Amed and Tulamben offer cafes and yoga studios, along with restaurants and small stores to quench your thirst for spending money on designer clothing.
If you wish to go around the area, it is much easier if you rent a scooter, which is quite inexpensive. However, those with a group can save more if they rent a car. Another option is riding a taxi, but it is expensive so you may want to choose another method.
Staying in these towns is cheap but Amed is much cheaper than Tulamben. Nevertheless, both have great options for backpackers on a budget.
Amed generally has bungalow-style homestays with affordable prices. Some will even grant you a discount if you stay for more than one night. Others include breakfast and private bathrooms in their prices.
BEST PLACES TO STAY IN BALI IN AMED/TULAMBEN
11. Lovina/Singaraja, nature, beautiful waterfalls and dolphins
Lovina is a favorite of many families, along with the neighboring town Singaraja. These adjacent areas are great for travelers with kids, but it helps if transportation is readily available.
These places are in North Bali and you will certainly love being here, especially if you do not like touristy sites. Lovina and Singaraja are both away from the busy Seminyak and Kuta areas.
Singaraja means Lion King and is considered the port town of the island's north. Meanwhile, Lovina is west of Singaraja and you can easily get to Ngurah Rai International Airport in three hours.
These two towns are among the top choices of tourists who want to watch dolphins or explore the North Bali waterfalls.
Once here, some of the accommodations that you can check out include villas situated about a mile from Lovina Beach. You will also find holiday homes in Singaraja and Lovina where you can find useful appliances, such as refrigerators and stovetops.
Of course, if you do not mind spending a ton of money, there are luxury hotels offering panoramic views and villas with infinity swimming pools.
BEST PLACES TO STAY IN LOVINA – SINGARAJA
12. Denpasar, where to stay in Bali on a budget
If you want to witness the Balinese town type of living, Denpasar is simply the ultimate option. It is where you should stay in Bali if you aim to experience the provincial capital's offers.
Denpasar is not touristy unlike most places on the island. It is a busy, bustling, multi-cultural, and chaotic city with an horrendous traffic.
On the other hand it offers a lot of authentic local restaurants, markets, shopping malls and cultural events.
It is a good place to learn more about Balinese history. Do not miss the Bali Museum, the impressive Bajra Sandhi Monument, the Sakenan Temple, and the Pura Jagatnatha Temple.
Denpasar has a ton of options for accommodation, whether you want a budget-friendly hotel or a chic boutique. If you are traveling for business, you will also find comfortable places to rest your head. You can also go to historical sites with hotels that are important to Indonesian culture.
This town is for you if you are a backpacker who does not want to pay for expensive hotels. Accommodation typically fits most midrange and budget travelers but business people will also find a few hotels in the area.
BEST PLACES TO STAY IN BALI IN DENPASAR
13. Gili Islands, great beaches, snorkelling, and diving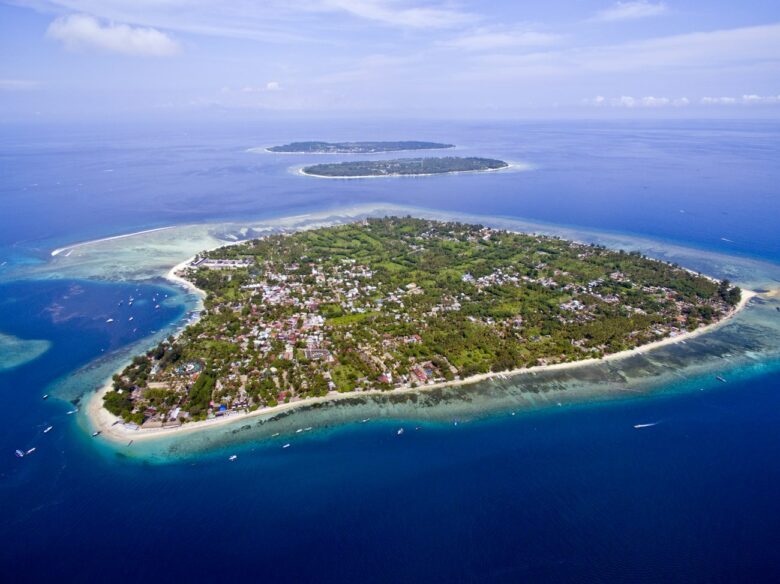 Gili Islands have various offers for everyone. If you want to party or dive or simply searching for a quiet place to stay in Bali, there is a Gili Island for you.
Gili Trawangan is best for party people and is considered the most developed of all three islands. It also has a wonderful reputation of being one of the cheapest and safest areas in the world for newbie divers.
Gili Meno, on the other hand, has that honeymoon atmosphere, which is why it is the first choice of many couples. It is the quietest and the smallest, yet it has the best beaches.
Finally, Gili Air is for chilling out away from the noisy places. It is peaceful here with uninterrupted views of the mountains on the northern coast.
If you will stay in Gili Trawangan, you will find numerous choices, including homestays, bungalows, and hostels. Most are quite expensive but you will certainly discover a few affordable options.
For Gili Meno, there are secluded resorts and mid range accommodation. Bungalows and villas are common here as well. Gili Air mostly has comfy bungalows, which are a great option for budget travelers.
BEST PLACES TO STAY IN GILI ISLANDS
With several areas to choose from, it is no wonder that Bali is a tourist favorite. From budget accommodations to lavish spaces, you will find your dream destination on the island.
If you are interested in the best areas to stay in Bali, you may also be interested in where to stay in Jakarta
Photos: Shutterstock