Bangkok is often thought of as the jewel of Southeast Asia and it's easy to understand why. This Thai city boasts a tremendous variety of unique culinary experiences, world-class entertainment, and breathtaking history and architecture. With so much diversity it is difficult to determine the best areas to stay in Bangkok, so we've provided a comprehensive overview of some of the hottest neighborhoods in Bangkok.
Bangkok is easily accessible from both Suvarnabhumi Airport and Don Mueang International Airport. Suvarnabhumi Airport is generally the place that international visitors will arrive when first touching down in the city. Don Mueang International Airport has some international flights but more domestic flights.
You can get right into the heart of the city from both airports by taxi. In the cases of Suvarnabhumi Airport, you can use the Airport Link which meets up with Bangkok's BTS Skytrain system.
Some of the best neighborhoods in Bangkok are close to the BTS Skytrain system. Others are accessible by water taxis, taxis, or Bangkok's underground system known as the "MRT". All of the touristic areas in Bangkok have plenty of amazing food, shopping and breathtaking sights that you will not find anywhere else in the world.
Where to stay in Bangkok: Best areas and neighborhoods
Where to stay in Bangkok? The best place for you to stay in Bangkok depends largely on how you want to spend your vacation and what you'd like to see.
All of the areas in Bangkok highlighted in this article have their own special features, and there is a range of choices for every taste and budget.
1. Bangkok Old Town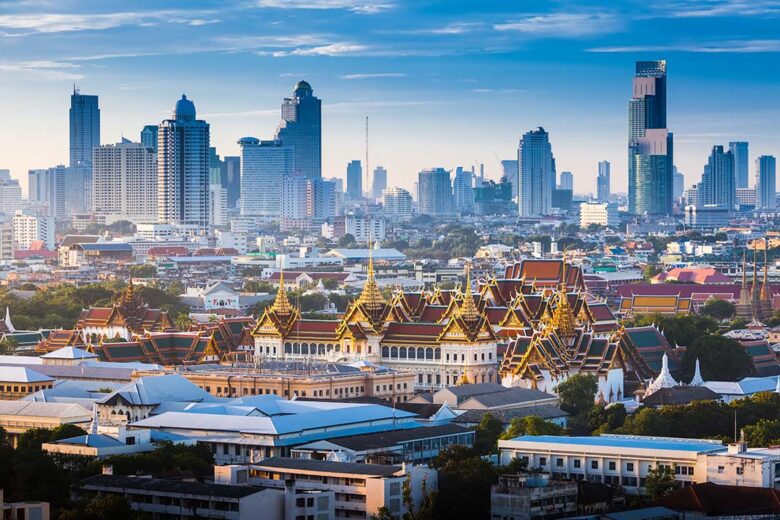 Bangkok Old Town is one of the hidden gem neighborhoods in Bangkok because (side form the Grand Palace and the Wat Pho) it still is not on the tourist map. It's located a little bit off the beaten path and accessible by taxi from either the airport or downtown.
Bangkok Old Town is right on the Chao Phraya River, so the views are phenomenal. It's also exceptionally historic and a great place to visit if you want to take in all of Bangkok's ancient and modern history.
Those who want to pay their respects to the revered Thai Royal Family will love visiting the Royal Palace with its exquisite Emerald Buddha.
Don't Miss:
A Tuk-tuk Ride Through The Old City
No visit to the Land of Smiles is complete without a tuk-tuk ride! These colorful vehicles are one of the best and most unique ways to travel. See Bangkok Old Town in style.
The Grand Palace
Pay your respects to the revered and loved Thai monarchy by visiting their opulent and fantastic Grand Palace. You'll stroll through spectacular gardens, see relics of the past and get a good idea of what the monarchy means to the Thai people. Appropriate dress is required.
Wat Pho
Known locally as the "Temple of the Reclining Buddha", Wat Pho boasts an impressive golden Buddha that stretches the length of a temple. What's more, it's located fairly close to the Grand Palace, so visitors will be able to see both premier attractions in one day.
Wat Saket
No matter where you stay in Bangkok, you need to visit Wat Saket. It's an ancient temple from the Ayutthaya golden age and is a breathtaking monument to Thai innovation and artistry.
Bangkok Riverside is great for: Families and history enthusiasts
Accessibility to Public Transportation: Mostly accessible by taxi
2. Riverside
Hop over to the other side of the Chao Phraya River and see the city's Riverside, one of the best neighborhoods to stay in Bangkok. This tranquil and lovely area is away from the hustle and bustle of some other more popular neighborhoods, and it has some old time charm as well.
It's also home to several major attractions and temples. At night, visitors love to wander the streets of this neighborhood and sample a dazzling array of local foods. Night markets are one of Thailand's most popular tourist attractions and Bangkok is a foodie's dream!
Don't Miss:
Wat Arun
Also known as the "Temple of Dawn", Wat Arun is one of the most beautiful temples in all of Bangkok. Surrounded by lush vegetation and generally inhabited by several resident cats, Wat Arun is a tranquil and lovely place to spend a morning.
Khlong (Canal) Ride
No matter where you stay in Bangkok, you're probably close to a waterway. Getting around the city by boat is a time-honored tradition and thanks to its system of canals or khlongs, it's easier than ever. The Khlong Ride will take you through some of Bangkok's back waterways and really give you a good idea of how the locals live.
Riverside is great for: Families
Accessibility to Public Transportation: Taxi needed, By boat (Chao Phraya River Express)
3. Khao San Road
Khao San Road is the most popular street in Bangkok. Known for its droves of tourists from all over the world, amazing street food, incredible nightlife and so much more, this iconic road attracts everyone from gap year kids to more seasoned backpackers. It is the place to grab a cold one and do some people watching.
You can find just about anything on the famous Khao San Road, so if you're looking for some unique souvenirs and a night that you'll never forget, head out to this backpacker mecca.
Don't Miss:
Some Epic People Watching
Khao San Road attracts all kinds and the people watching is incredible. There are plenty of outdoor patios, so grab a cold Chang beer and get ready to be entertained.
Try Some Amazing Street Food
The cheap drinks are not the only reason why people flock to Khao San Road. There are plenty of tasty dining options all over this iconic road, from Pad Thai to soy sauce covered scorpions. Dine with an open mind.
Get A Massage
Thai massages are among the most famous in the world, plus they tend to be a little bit on the inexpensive side! Work out all the stiffness from that long plane ride with a good Thai style massage.
Khao San Road is great for: Backpackers and budget travelers
Accessibility to Public Transportation: Taxi or Boat Taxi
FIND KHAO SAN ROAD HOTEL DEALS
4. Sukhumvit
If the backpacker scene does not appeal to you, try the delights of Sukhumvit. One of the benefits of this neighborhood is its proximity to public transportation. Sukhumvit is right on the BTS Line, making this area one of the most popular places to stay in Bangkok.
It's also home to some higher-end shopping and dining options, elegant rooftop bars, as well as trendy clubs. There are also plenty of places to get spa treatments that won't break the bank.
Don't Miss:
Terminal 21
Siam Paragon might get all of the credit as Bangkok's number one shopping experience, but Terminal 21 has a unique charm all of its own. Located right at the Asok BTS stop, Terminal 21 is a geographically themed higher-end mall with amazing decor. Grab an iced coffee and wander through. You will not be disappointed.
Octave
When it comes to nightlife, Sukhumvit has a handle on luxurious partying. Octave is a rooftop bar that boasts a thrilling view of the entire city. With themed cocktails and a chilled out, sophisticated vibe, Octave is not a place to be missed.
Benjasiri Park
Nature lovers will adore Benjasiri Park. Built in honor of Queen Sirikit, Benjasiri Park is a lush green park full of sculptures and fountains. It's easy to spend an entire day wandering through this lovely and tranquil oasis in the middle of the city.
Sukhumvit is great for: Couples and travlers who don't want the Khao San party scene
Accessibility to Public Transportation: Excellent- it's right on the BTS route
5. Silom
Silom is the city's financial district, but it's also a great place to stay in Bangkok as there is plenty of amazing shopping, one of the best parks in the city and lots of first-class dining options.
Those who love the nightlife will love Silom's opulent rooftop bars and creative venues. You can even visit a bar featured in a popular Hollywood movie! How chic!
Don't Miss:
Lumpini Park
Lumpini Park is the place to go to get away from the noise and fast pace of the city. It is full of idyllic lakes and ponds, green stretches of grass and gorgeous fountains. It is also home to some of the city's monitor lizards who are generally people friendly and just love soaking up the sun along the human visitors.
The Lebua Skybar
Lebua is one of the most famous bars in all of Bangkok. It was popularized in the movie "The Hangover" and boasts a phenomenal view and eclectic drink menu. You can go gaze at the stars and soak in the Bangkok skyline at this iconic rooftop bar.
Sri Mariamman Temple
This temple is one of the most colorful fixtures in the city and is a nod to Bangkok's Hindu population. Built in the late 1800s, the Sri Mariamman Temple features homages of several Hindu deities, including Ganesh, Vishnu, and Krishna.
Silom is great for: Higher-end travelers and families
Accessibility to Public Transportation:Excellent- it's right off the BTS Silom Line
6. Siam
Anyone who loves to shop needs to visit Bangkok's Siam neighborhood. It is located right in the center of the city where the two BTS lines cross and is home to some of the most amazing high-end shopping in all of Southeast Asia.
The shopping is only overshadowed by Siam's tremendous food culture. There are plenty of different restaurants to choose from in this neighborhood from high-end Thai, to French. You'll dine and shop like a superstar when you stay in Siam.
Don't Miss:
Siam Paragon
Siam Paragon is the most popular high-end mall in Thailand, and one of the most famous in Southeast Asia. It is an enormous facility that houses several acclaimed designers, a movie theater and an aquarium! The dining options in Siam Paragon are varied and delightful. Choose juicy burgers or delicate sashimi, or wander through the Gourmet Market to pick up delicacies that you will not find anywhere else in the world.
MBK Center
MBK Center is not as high-end as Siam Paragon, and if you visit it you'll need to bring your patience with you. To the untrained eye, it seems totally illogical and confusing, but once you determine the pattern (there is one!), you'll be able to navigate through MBK Center and find treasures and dirt-cheap electronics.
Sea Life Bangkok Ocean World
Siam Paragon isn't just famous for its shopping. At the bottom of the mall is an ocean paradise where you can find just about any species on the planet. Sea Life Bangkok Ocean World is one of the biggest aquariums in Southeast Asia and has a comprehensive display of sea life from all over the globe. You can even swim with the stingrays and sharks at Sea Life Bangkok Ocean World!
Great For: Shopping enthusiasts
Accessibility to Public Transportation: Excellent- it's at the intersection of the Sukhumvit and Silom BTS Lines
7. Chinatown
Bangkok's Chinatown puts New York City's Chinatown to shame. That's because it is the largest one on the planet and contains fascinating Chinese temples and mouth watering authentic cuisine. Anyone who loves wandering through markets looking for deals will adore the street shopping in Chinatown!
Located a little bit off the beaten path, Chinatown is worth a visit and is a fun and more local place to stay in Bangkok.
Don't Miss:
Unique Street Markets
Chinatown is the place that you want to visit when looking for unique souvenirs for back home. Not only will you find one-of-a-kind treasures dotting the streets of this neighborhood, but you'll also have the chance to sharpen up your bargaining skills with the local vendors.
Wat Traimit
Located in the heart of Bangkok's famous Chinatown, the Wat Traimit is home to one of Thailand's most revered and important Buddha statues: The Golden Buddha. The Golden Buddha is the largest solid gold Buddha in the world. It measures 3 meters and weighs more than 5.5 tons.
Wat Mangkon Kamalawat
Wat Mangkon Kamalawat is a Chinese-Buddhist temple that is used by locals for plenty of important celebrations, like Chinese New Year. Its design is different than many of the other temples that you'll find around Bangkok, making it a tourist destination for those who love architecture and history.
A Street Food Tour
You can't go to Chinatown and not eat. Street food tours guide you through the weird and wonderful foods that you'll find in this part of the city like oyster omelets, Chinese roast duck, grilled bananas, or durian sticky rice. Don't be shy. Sample some of everything!
Great for: Budget travelers who want something different
Accessibility to Public Transportation: By boat (Chao Phraya River Express), MRT (Hua Lamphong)
8. Pratunam
Pratunam is a great place to do some shopping. Those who like getting off the beaten path and finding a great deal will love Pratunam. It doesn't have the high-end polished feel of Siam, but the colorful wares of the Pratunam Market have a charm all of their own!
It's also home to some of the best views of the Bangkok skyline, so make sure that you celebrate on a rooftop after getting your shopping done!
Don't Miss:
Pratunam Market
Pratunam Market is the reason why people flock to this neighborhood. It is a vast, colorful shopping center that sells just about everything under the sun. Everything is negotiable too! There is no way that anyone can go to Pratunam Market and not come back with a treasure or two!
Baiyoke Tower
This observation deck gives you an unparalleled view of Bangkok. Check out the panoramic views of this iconic city and even venture out to the skywalk if you dare!
Suan Pakkad Palace
Learn about old-time Bangkok at the Suan Pakkad Palace, a collection of traditional houses and gardens that transports visitors back in time. You'll learn.
Great for: Shopping enthusiasts and those interested in local life
Accessibility to Public Transportation: It's a short walk from both BTS and MRT stations
9. Thong Lor
Thong Lor is an area of Bangkok that locals have known about for years but tourists are just learning about. Eclectic, sophisticated and completely unique, this neighborhood is home to plenty of higher-end shops, gyms, and restaurants.
It's also located in a premier spot right of the Sukhumvit BTS Line so whether you stay in this swanky neighborhood or a different one, make sure you make time to see Thong Lor on your trip to Bangkok.
Don't Miss:
Sing Sing Theater
Sing Sing is one of the most popular nightclubs in Bangkok and it is easy to see why! This chic destination is decorated like Shanghai at the turn of the century and boasts unique cocktails and amazing performances.
A Taste Of Japan
Thong Lor has some of the best Japanese food outside of Tokyo. Eat traditional sushi, sashimi or gyoza at one of the many sophisticated Japanese restaurants that dot the main and side streets of the Thong Lor neighborhood.
Go Clubbing
Thong Lor is the place for the best clubbing in Bangkok. There are plenty of high-end clubs that stay up well into the wee hours of the morning and they all have a professional DJ and decor that looks like it came straight out of the future.
Great for: Couples and higher end travelers
Accessibility to Public Transportation: Excellent- it's right off the Sukhumvit BTS
10. Airport Suvarnabhumi Area
Earlier in the article, we mentioned Bangkok's Suvarnabhumi International Airport as the probable destination for international visitors. It also happens to be a fabulous neighborhood to stay in!
Suvarnabhumi International Airport is a little bit outside of the city, so you'll benefit from a unique and more localized experience. There are plenty of local markets and even a miniature version of Thailand to visit. Plus it is connected to the BTS through the Airport Link, so you can easily make it into downtown Bangkok if you want.
Don't Miss:
Wat Sangkha Racha at Night
We know that most of Bangkok's temples are breathtakingly beautiful, but Wat Sangkha Racha is in a league of its own after the sun goes down. That's because this iconic Bangkok temple is lit up with a host of dazzling blue and red lights after the sun sets. Make sure that you take a nighttime stroll to check out this iconic temple.
Talat Klongsuan Roi Pee
This market is one of the oldest ones in all of Thailand and an amazing place to get local food, buy some really unique souvenirs and experience a floating market firsthand! You will not regret spending an afternoon at Talat Klongsuan Roi Pee.
The Ancient City Museum
The Ancient City Museum is one of Bangkok's hidden treasures. It is a massive park that covers over 200 acres and boasts tiny models of all of Thailand's most treasured temples and locations. There is really no better way to see all of Thailand in one afternoon than to visit the Ancient City Museum.
Great for: People who want to stay in Bangkok close to the airport
Accessibility to Public Transportation: It's accessible by the BTS Airport Link
Make your visit to the jewel of Thailand as memorable as possible by staying in one of her iconic and historic neighborhoods. Each one is unique, special and you will remember your visit to the Land of Smiles for years to come.
FIND SUVARNABHUMI AIRPORT HOTEL DEALS
If you are interested in the best areas to stay in Bangkok, you may also be interested in where to stay in Chiang Mai, where to stay in Koh Samui, where to stay in Koh Tao, where to stay in Koh Lipe, where to stay in Phuket