Deciding where to stay in Paris can define your experience in the City of Lights. There's no need to feel intimidated by the thought of finding a good place to stay in Paris on any budget. Paris belongs every bit as much to adventure-seeking backpackers as it does to lavish aristocrats.
Cut by the banks of the River Seine, Paris offers 20 separate arrondissements full of world-class attractions and treasures from history to discover!
More than 38 million visitors come to Paris to chase romance and adventure at its many museums, parks, restaurants, cathedrals, shrines and historic buildings every year.
With so many areas and a plethora of things to do and see in Paris, choosing where to stay in Paris is a tough one! Luckily for visitors, the Paris Métro transit system makes it easy to skip around to beautiful spots all over the city regardless of where you book your stay. 
However, it's still beneficial to choose a place to stay in Paris that offers access to the neighborhoods and attractions that will satisfy your wandering heart. For some, that means relaxing in cafés that inspired Hemingway or gave birth to existentialists like Simone de Beauvoir and Jean-Paul Sartre.
Others who arrive in Paris prefer to have their breath taken away by towering, gilded cathedrals with sacred doors that empty out to thin, cobbled passageways where artists tell the city's tales in real time with their easels and brushes.
There are so many cities within a city to explore as you decide where to stay in Paris. Take a small odyssey through some of the most historic, lively and provocative quarters of the City of Lights to see where your curious heart will feel most at home.
Where to Stay in Paris: Best Areas
1. Champs Elysées, one of the best areas to stay in Paris
Famed for a lifestyle centered on theatres, cafés, and beautiful shops, stunning and welcoming Champs Elysées is a neighborhood that oozes with Parisian culture.
Deciding to stay in Champs Elysées will place in what feels like the "mainstream heart" of Paris in many ways. This is most noticeable when looking at the crowds that form daily at the famed intersection housing the Arc de Triomphe.
It is not unusual for up to 300,000 people to visit Champs Elysées during a peak season. The rectangular groves and tree-lined streets of this area help to balance out its "tourist vibe" with some residential elegance.
Of course, it is home to what is considered to be the most famous residence in all of Paris! The Élysée Palace is the official the official residence of the Presidents of France.
While Champs Elysées has a very upscale reputation, visitors will find plenty of budget-friendly places to shop and dine from mainstream brands. This corner of Paris is also home to several high-profile events throughout the year.
As many know, Champs Elysées is used as the finish of the Tour de France. In addition, Champs Elysées is transformed into an amazing wonderland of lights during the period spanning Advent, Christmastide and Epiphany each year.
Paris Métro Line 1 runs beneath Champs-Élysées. Those accessing the area typically use Charles de Gaulle/Étoile. In addition, three station entrances at George V by the Hôtel George-V, Franklin D. Roosevelt and Champs-Élysées/Clemenceau can be utilized.
Staying directly within Champs Elysées does come with a premium. This stretch of Paris is famed for its upscale, luxurious hotels that attract dignitaries seeking to be near the president's residence. That makes it one of the more expensive spots to stay in Paris.
BEST PLACES TO STAY IN CHAMPS ELYSEES
2. Louvre, best neighborhood in Paris for sightseeing
Planning to say hello to the "Mona Lisa" or "Venus de Milo" while in Paris? When traveling to Paris as an art lover, there's no better option that staying right within the shadow of the majestic, iconic Louvre.
That means finding a hotel tucked away on the right bank of the River Seine in the 1st arrondissement of Paris. Opened in 1793, the beautiful Louvre is a palace of art that happens to be the world's largest museum.
The Louvre's collection is unmatched. Visitors are treated to views of more than 38,000 priceless, stunning objects spanning from prehistory to today. Plan for a few days of touring the Louvre if you'd like to take in everything because you'll have more than 782,910 square feet of enchanting space to cover.
You'll also be in good company if you decide to explore the Louvre during a visit to Paris. The Louvre became the most visited museum in the world in 2019 after welcoming a record 9.6 million visitors in a single year.
When staying in the 1st arrondissement of Paris, you'll be surrounding by a lively neighborhood that happens to be one of the oldest corridors in the city. In fact, some of the developments along the Seine's right bank date back to the Middle Ages.
While the neighborhood hosts some of Europe's most famous art, the 1st arrondissement is very much a business center. You'll find many offices and administration buildings peppered in a landscape that includes the Tuileries Gardens and the Arc de Triomphe du Carrousel.
This is also a place where people come to shop. In addition to a nice collection of independent shops, you can also shop at the city's largest shopping mall at Forum des Halles.
What is most surprising about the arrondissement that houses the Louvre is that the neighborhood packs so much into just 451 petite acres.
The fact that the Louvre is one of the most visited spots in the world means that you'll have plenty of transportation options for getting to and from your accommodations.
The Louvre Rivoli and Palais Royal Musée du Louvre on Line 1 are your best bets for easy transport.
BEST PLACES TO STAY IN LOUVRE
3. Ópera, Grands Boulevards and Bourse, nightlife, theathers, restaurants, close to everything
Tucked in the 9th arrondissement, the Grands Boulevards area is often referred to as the Opéra region. A stay in Paris that includes this arrondissement is the "anti-tourist" solution for carving out an incredible visit.
The Grands Boulevards area is famed for its amazing nightlife scene. Yes, this is where true Parisians come to party. In addition to clubs, you'll also find a great selection of theatres and restaurants. It's a wonderful place to stroll at night if you want to feel like an authentic Parisian!
You won't necessarily find many tourist attractions in this sliver of the 9th arrondissement. However, the attractions are still plentiful.
The list includes the Folies Bergère cabaret house, Théatre Mogador and Théatre de Paris. This is also where you'll find the Palais Garnier and Paris Opera.
The 9th arrondissement and all of its artistic splendor are adjacent to the Bourse financial region/stock exchange contained within the 2nd arrondissement.
The 2nd arrondissement is often lumped in with or absorbed by the adjacent 9th arrondissement due to the fact that it is the smallest arrondissement in Paris. Much of the activity of the Bourse area is centered on the Opéra National de Paris.
This portion of Paris really offers a sweet spot for visitors looking to be both close to everything and far away enough from it all at the same time!
First, there's a nice mix of hotels here that will appeal to a variety of budgets. Second, you'll find yourself close to major attractions like the Louvre and Notre-Dame without feeling that you've set yourself up in a tourist trap when you glance out your hotel window.
BEST PLACES TO STAY IN PARIS IN OPERA
4. Le Marais, where to stay in Paris in a central location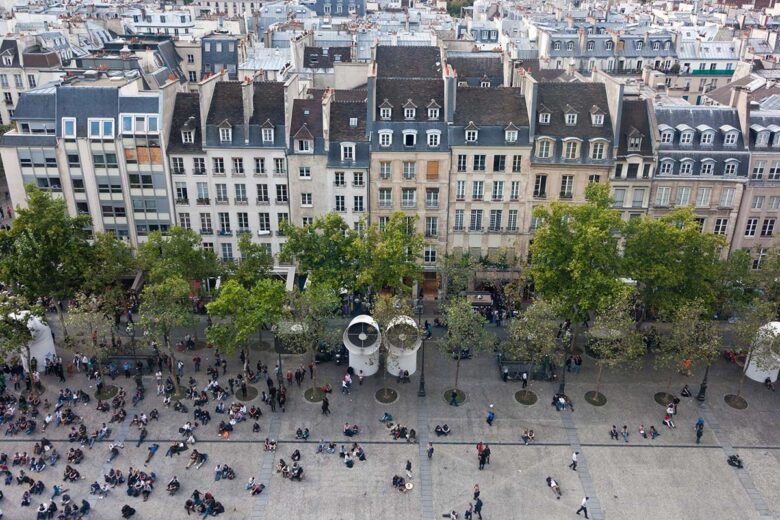 The Marais district shows off the trendy, veneer-free side of Paris that few tourists ever get to experience simply because they don't realize its open and free to all with minds that are curious enough!
Spread across the 3rd and 4th arrondissements of Paris, this former Jewish quarter is alive with edgy, independent galleries and bars. However, it still remains the best spot in the city for delicious kosher restaurants!
A big part of this district's credibility as a beacon of art and free expression within Paris is owed to a vibrant list of past residents that includes Victor Hugo, John Galliano and Jim Morrison.
Great attractions like the Musée Picasso and Musée Carnavalet do drive a bit of foot traffic from the tourist crowd.
However, the "underground" nature of the neighborhood means that you shouldn't have a hard time finding some low-cost, no-frills accommodation for backpackers if you'll be staying in Marais.
These low-cost spots are more than balanced out by the many gilded hotels and mansions where guests can book overnight stays in historic suites.
BEST PLACES TO STAY IN LE MARAIS
5. Montparnasse, where to stay in Paris for reasonable accommodation
Montparnasse is a lovely quarter situated on the Seine left bank where Boulevard du Montparnasse and Rue de Rennes meet in the 15th arrondissement of Paris. Known for its wide boulevards, Montparnasse is very much a residential part of the city today.
However, it has been a hotbed for artists and thinkers for decades. The many cafés and bars of Montparnasse have historically been magnets for artists and intellectuals coming together to discuss ground-breaking philosophies.
In fact, this tiny corner of Paris was considered to be the heart of intellectual and artistic life in the city during the 1930s. The list of artists who have haunted these boulevards over the decades includes Pablo Picasso, Ezra Pound, Salvador Dalí, Henry Miller, Ernest Hemingway and Nina Hamnett.
The highlight of Montparnasse is the famed Tower of Montparnasse. Offering 360-degree views of Paris, the tower is actually a perfect place to begin a holiday in Paris. Unobstructed views of the Eiffel Tower that can be enjoyed from the spot offer a glimpse of the City of Lights that few outside the neighborhood know about.
The views are especially beautiful during the evening because every last twinkling light of Paris seems visible. The bohemian vibe of Montparnasse makes it a natural choice for anyone looking for some reasonable accommodations.
Montparnasse isn't just a great first stop upon arrival in Paris due to its great view. The Gare Montparnasse railway station located in Montparnasse a great hub for getting to other parts of the city and surrounding suburbs.
In addition to a metro station for intercity travel, you'll also find connectivity for Bordeaux, Tours, Rennes, Nantes and more.
BEST PLACES TO STAY IN PARIS IN MONTPARNASSE
6. Le Quartier Latin, where to stay in Paris for nightlife
The Latin Quarter of Paris within the 5th and the 6th arrondissements is a haven for students on the Seine's left bank. This is a lively, youthful place where backpackers are sure to feel welcomed. It's a scene if idyllic bistros and cafés for as far as the eye can see here.
The list of higher-learning institutions spread across the Latin Quarter includes the Collège de France and the Sorbonne. Perched on the Montagne Sainte-Geneviève overlooking the Seine is where you'll find the famed Parisian Panthéon.
The Latin Quarter offers easy access to the Luxembourg Gardens of the 6th arrondissement. The vibrant, celebratory experience of staying in the Latin Quarter of Paris is rounded out by academic attractions like the National Museum of the Middle Ages.
Of course, one must dedicate time to shopping, strolling and "people watching" at Rue Mouffetard, Rue Monge and the quaint Place de la Contrescarpe to truly appreciate the deep beauty of this neighborhood.
It is often easy to find affordable places for backpackers to stay in Paris in the Latin Quarter due to the neighborhood's reputation as being an accommodating place for students.
However, you won't necessarily find the volume of hotels here that you might in more commercial portions of the city. The Latin Quarter is served by the Saint-Michel station.
BEST PLACES TO STAY IN QUARTIER LATIN
7. Montmartre, where to stay in Paris on a budget
Many who have stayed here believe that you can discover the soul of Paris after spending a few hours walking around Montmartre. Set on a large hill in the 18th arrondissement, "Mount of Mars" encapsulates all that is good about the art and soul of Paris.
Of course, the crown of the neighborhood is the stunning Sacré-Cœur Basilica. Walk through hilly, cobbled streets to find street artists and performers expressing themselves in the very places greats like Picasso and Van Gogh found their inspiration.
At the summit of Montmartre is where you'll find the famed Place du Tertre. Sit for a portrait as you take in stunning sights and feed off the energy of the crowds.
If you find the roads to be too narrow and hilly for your taste, a small train is available that runs through Montmartre to show off all the highlights.
Montmartre is also the setting of the famed Place Pigalle and the Moulin Rouge. This is definitely one of the top spots to be in the city if you're looking for some after-dark attractions!
Visitors will find a number of hostels clustered directly in and around Montmartre. Getting in and out of Montmartre to see the rest of the city is achieved easily by way of the Anvers and Pigalle metro stations.
BEST PLACES TO STAY IN MONTMARTRE
8. Saint-Germain-des-Près, my favorite neighborhood to stay in Paris
Does Saint-Germain-des-Près offer the quintessential Paris experience? Anyone who is a food lover, avid shopper or appreciator of the finer things in life will tell you that it certainly does!
However, you may just discover that this is the best spot in all of Paris for simply settling into a café to read a book.
This beautiful slice of the 6th arrondissement is home to a serendipitous mix of publishing houses, bookstores and time-honored cafés that all just happen to create the perfect environment for daydreamers.
It's easy to romanticize Saint-Germain-des-Près when you link the landscape of the quarter with its history.
Following World War II, Saint‑Germain‑des‑Prés emerged as the center of the Parisian literary scene just as existentialism and jazz were mixing in the quarter's underground cellars. Oscar Wilde famously spent his last days in Saint-Germain-des-Près.
While exploring narrow streets lined with galleries, be sure to make your way to spots like the Abbey of Saint-Germain-des-Prés, Église Saint-Sulpice and the relatively obscure Museum of Minerals.
Saint-Germain-des-Prés also happens to be home to what is considered to be the oldest chocolate shop in all of Paris. Dating back to 1800 or earlier, Debauve & Gallais offers a taste of chocolate-dipped history. It is said that everyone from Marie Antoinette and the last kings of France to Napoleon have adored the confectioner's concoctions.
The Saint-Germain-des-Prés metro station is located beneath Boulevard Saint-Germain. The quarter's central location makes it a good place to stay in Paris even if the neighborhood directly outside your door won't be full of attractions.
BEST PLACES TO STAY IN SAINT-GERMAIN-DES PRES
9. Eiffel, great place to stay in Paris for first-timers
There is a certain allure to staying in the 7th arrondissement of Paris if your desire is to be with walking distance to the Eiffel Tower and Champs de Mars. Many visitors settle on the historic Faubourg Saint-Germain district when seeking to experience a glittering, gilded Parisian holiday experience.
Of course, you will typically pay a premium to stay in what is considered to be the stomping grounds of French high society and international aristocrats. Peppered with upscale, exclusive shops and restaurants Faubourg Saint-Germain is a gateway to the Eiffel Tower.
Indulge in long, leisurely visits spent enjoying the emerald expanse just beyond the tower known as the Champ de Mars. As the largest public "greenspace" in Paris, the Champ de Mars offers the perfect setting for contemplating all that you've taken in during your sightseeing.
A stay in Faubourg Saint-Germain also invites visits to the military museum and tomb of Napoleon Bonaparte at Les Invalides. Fans of sculpture and Impressionist works should not miss opportunities to tour the Orsay Museum and Rodin Museum while visiting Faubourg Saint-Germain.
Faubourg Saint-Germain also happens to be one of the best spots in the city for picking up Seine cruises.
Boulevard Saint-Germain can be accessed via the Assemblée Nationale or Solférino metro stations. In addition, the Motte-Picquet–Grenelle, École Militaire and Champ de Mars-Tour Eiffel stations are all useful for exploring the area directly encompassing the Eiffel Tower.
BEST PLACES TO STAY IN PARIS IN EIFFEL
10. Batignolles, Épinettes and Plaine-Monceau, where to stay in Paris in less touristy areas
Nestled in the 17th arrondissement of Paris, Batignolles offers the enjoyment of a little village in a big city.
Come on a Saturday to experience the neighborhood's market day! The Batignolles farmer's market takes over a portion of Boulevard des Batignolles each Saturday morning with stalls filled with wares and organic produce.
Choosing a low-key, independent hotel in Batignolles is an obvious choice if you prefer leafy, canopied streets dotted with shops and trendy apartments over the fanfare of more tourist-friendly neighborhoods.
In fact, you might never know that you're buffered by Montmartre and Pigalle when strolling this village. You won't necessarily find the big museums and institutions that are so ripe for the picking in the rest of Paris here in Batignolles.
Yes, walking is one of the best things to do in this village. If you stay in Batignolles, you'll find that you end up at Place du Dr Félix Lobligeois daily without fail. This beautiful square recreates the quaintness found in classic French villages.
Enjoy terraced restaurants, inviting bakeries and a serene fountain in a manicured, leafy landscape just beyond the grounds of Sainte-Marie des Batignolles.
While this is a sleepy village by Parisian standards, those who stay here discover an emerging art scene that is defined by its young crowds, leisurely days, unique markets and fun nightlife. This is the place if you'd prefer to strike up a conversation at a nightclub instead of dancing the night away!
Épinettes within Batignolles is edged by Avenue de Clichy and the Avenue de Saint-Ouen. This is a truly residential, working-class portion of the city that exposes the true Parisian way of living.
A highlight of visiting this neighborhood is a stroll through a garden-lined pedestrian street called Cité des Fleurs. In addition, a lovely park space called square des Épinettes shows off dual sculptures of Maria Deraismes and Jean Leclaire.
Getting in and out of the neighborhood is managed easily via the La Fourche, Rome and Brochant stations.
Plaine-Monceau elevates the 17th arrondissement with its embassy buildings and elegant residences. This can be a pricier alternative than staying in a residence or hostel located closer to Épinettes.
Due to the fact that so many art galleries are clustered in Plaine-Monceau, it can be a great place to stay in Paris if you have a specific list of artists and pieces on your must-see list while visiting.
The list of intrepid galleries found here includes Musée Cernuschi, Musée Nissim-de-Camondo and Musée Jacquemart-André.
In addition, the Cathédrale Saint-Alexandre-Nevsky and Eglise Saint-Augustin will certainly scratch your itch to tour some stunning Parisian churches.
Of course, the masterpiece of this quarter is Parc Monceau. Chartered by the Duke of Chartres in 1778, the park it defined by its English-style gardens, lily pond, curved walkways, Roman colonnade, antique statues and foot bridges. The park is easily accessed by the Monceau station.
BEST PLACES TO STAY IN BATIGNOLLES, EPINETTES, PLAINE-MONCEAU
11. Bastille, République and Nation, cheaper accommadation
Bastille is often viewed as a much cheaper alternative to staying in the Marais neighborhood with access to most of the same attractions. Of course, Bastille more than hold its own with help from some great institutions.
The Parc Zoologique de Paris, Opéra Bastille and Le Musee du Fumeur top the list of the best Bastille attractions. You should also expect great shopping and dining in what is quickly becoming one of the hippest corridors in Paris.
History buffs often focus on République due to the fact that this neighborhood is both an affordable option and a gateway into French history. You'll be able to jump from a stroll along the idyllic, soothing Canal Saint-Martin to the busy heart of the neighborhood that houses the famed Monument to the French Republic.
This part of the city also has a real up-and-coming vibe due to its many new comedy clubs and bars. This is a naturally lively spot that serves as the home base for many of the city's concerts, food festivals and parades throughout the year. The République station serves the area.
For history buffs, Place de la Nation's dark history is enough to make them need to tour this slice of Paris in person. Place de la Nation is known for being the most active site for guillotines during the French Revolution.
Its position between Place de la Bastille and the sprawling, wooded Bois de Vincennes makes it a must-stop spot on any history walk. In addition to providing easy access to the Nation station, this neighborhood also offers several metro entrances.
The big perk of staying in Place de la Nation is that you'll get a taste of a residential neighborhood where very few tourists stay.
Expect to be able to pick up groceries at a nearby market or sit on your terrace to enjoy a cup of coffee in the morning the same way the local residents do if you choose to stay in Paris at an apartment here.
BEST PLACES TO STAY IN PARIS IN BASTILLE
Deciding Where to Stay in Paris
Yes, Paris can only be described as a City of Lights full of many cities within a city! There certainly aren't any rules beyond your own personal preferences and budget when it comes to deciding where to stay in Paris.
However, it's important to know that there are so many worlds to explore beyond the glossy photos of hotels positioned just beyond the Louvre or Eiffel Tower. In fact, some of the most interesting tales of Paris can be find in dimly lit cafés or hidden squares canopied by leafy overgrowth.