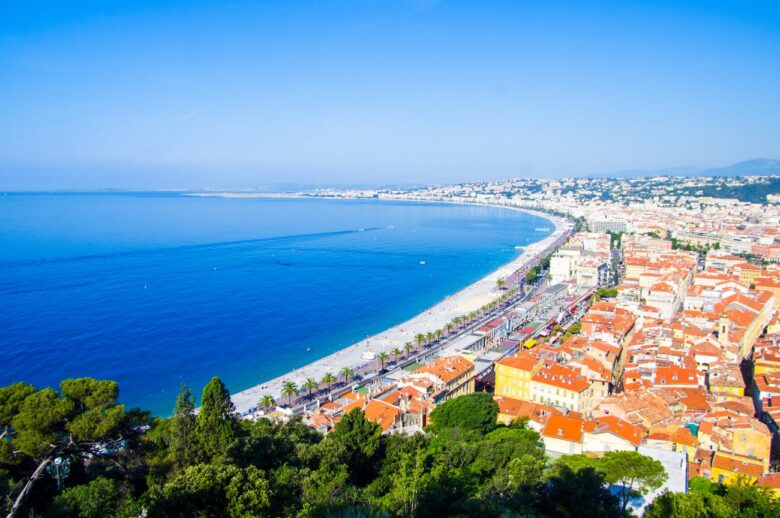 Located on the near-mythical French Mediterranean, Nice continues to be one of Europe's most alluring cities. If you are planning a visit to this city probably you will be wondering where to stay in Nice?
There are a number of recommended areas to stay in Nice, from secluded residential neighborhoods to bustling downtown districts, with plenty of high-end hotel options dotting the iconic Promenade des Anglais.
Where to stay in Nice: 10 Best Areas
Here are the most recommended places to stay in Nice, along with their most notable highlights.
1. Le Vieux-Nice, where to stay in Nice for first timers
Vieux Nice refers to the city's mesmerizing old town, and is one of the most popular places to stay in Nice.
With its narrow cobblestone streets, niche fountains, idyllic scenery, and irresistible array of shops of all specialties, Le Vieux-Nice offers a romantic and historically fascinating glimpse into the heart of Nice.
Located just minutes from the beach and main promenade, here is where you will find the majority of Nice's hotels, ranging from the budget-friendly to impossibly sumptuous.
A typical walk through the old town will take you through a series of arched pedestrian passages, charming piazzas, and past such landmarks as the 17th century Cathedral of St. Reparata and marble-lined False Gate.
The lush and secluded Parc de la Colline du Château offers some of the most spectacular views of the Riviera, with plenty of secluded promenades and lookout points for the perfect photo op.
If you're prepared to ascend the park's incline, you'll find multiple historic spots, rich flora & fauna, and even a man made waterfall.
There are no shortage of restaurants, cafes, bars, and street food vendors in Vieux Nice, where visitors and residents alike can feast on a banquet's worth of mouthwatering delicacies such as fresh seafood, local cheeses and produce, craft beers and of course, some of the best wine in the world.
The old town's daily market, located on Cours Saleya, is the perfect spot to stroll and take in the traditional wares, from hand-milled soaps to the delicious Niçoise chickpea crepe speciality, socca.
BEST PLACES TO STAY IN LE VIEUX-NICE
2. Le Port, trendy neighborhood with unique shops and eateries
The Port of Nice is where the tramline from the airport conveniently ends, and has been one of Nice's most glamorous districts for well over a century.
Here multi-million Euro yachts bob in the water alongside traditional fishing boats, with plenty of foot traffic and socializing to appease the bustle-loving guest.
You won't find better seafood restaurants than around Le Port, with speciality establishments offering freshly caught fish and all-you-can-eat mussels.
Those with a passion for Italian food can also find a selection of charming and authentic trattorias featuring some of the best homemade pasta dishes across the border. (Nice is less than 2 hours from Genoa by car.)
Monday is when you will find Le Port's famous antique market, which stretches along the water and contains all manner of gems spanning multiple centuries and regions.
Make sure to take a walk along Rue Bonaparte, a former residence of Napoleon and now trendy neighborhood with its own unique shops and eateries.
While Le Port is one of the most recognizable places to stay in Nice, hotel prices can run fairly high due to name recognition and waterfront accessibility. It's advisable to book well in advance and keep an eye out for special online promotions.
It's also worth noting that many of Nice's available hostels come fully equipped and furnished with all the amenities a traveler could need, with private rooms additionally available upon request.
BEST PLACES TO STAY IN LE PORT
3. Garibaldi, residential area with easy access to Nice´s main popular attractions 
A large square separating the old town from the port, Garibaldi is largely considered a residential area, albeit with easy tram access to many of Nice's most popular attractions.
Constructed by the Italians in 1773, Garibaldi is the oldest of Nice's main piazzas. The photo-worthy fountain designed by Giuseppe Garibaldi marks the ideal meeting spot, with the 18th century Chapelle du Saint-Sépulcre located directly behind it.
Garibaldi is where locals prefer to go for their afternoon pastis or anise-flavoured apéritif, with the nearby Café de Turin serving some of the best seafood (oysters are a star feature) for over 100 years.
While hotels are scarce in the piazza, there are several Airbnb-type options and privately rented apartments that make for an especially intimate stay in Nice.
BEST PLACES TO STAY IN NICE IN GARIBALDI
4. Jean Médecin (New Town), best place to stay in Nice for shopping
This massive pedestrian-only avenue, that also gives name to the district, is set in the geographic heart of Nice, and is one of the city's main transport and shopping hubs.
The high street of Jean Médecin is one of Nice's most vibrant shopping hotspots, with boutiques, outlets, and malls catering to every budget and style.
While this busy square isn't known so much for its sit-down dining establishments, there are plenty of eateries where you can enjoy casual fare such as Neapolitan style pizza, local snacks, and aperitivo refreshments.
While there are lodging options around Jean Médecin, the area's commercial crowds and nonstop foot traffic may not pose the most ideal setting for a good night's rest.
For a more relaxed area just a few minutes' walk from Jean-Médecin, Musiciens quarter contains a welcoming array of restaurants and shops, as well as some of Nice's most noteworthy palaces and gardens.
Nice's Musiciens quarter, while mostly a quiet residential area, has become increasingly popular with visitors in recent years thanks to its low-key, friendly atmosphere and growing number of charming private holiday apartments.
Hotel prices in Jean Médecin typically run high due to the square's transportation proximity and overall convenience, although inexpensive hostels are available year-round via special online discount rates.
BEST PLACES TO STAY IN JEAN MEDECIN
Read also: Where to stay in Paris, where to stay in Bordeaux, where to stay in Corsica, where to stay in Bordeaux
5. Carre d'Or, where to stay in Nice for nightlife
Also located in the New Town area and often referred to as Nice's "golden square," the seafront neighborhood of Carre d'Or is more or less a direct line to many of Nice's most prominent areas.
Famed for its Belle Epoque buildings and palaces (one of the latter containing a death mask of Napoleon), high-end hotels and casinos, and postcard panoramas of the Riviera, Carre d'Or is where the grandeur of old Nice meets the new and modish.
If you decide to stay in Nice in Carre d´Or you will close to the main tourist attractions, and you will enjoy a great offer of eateries, shopping and nightlife.
BEST PLACES TO STAY IN CARRE D´OR
6. Cimiez, where to stay in Nice for families
This peaceful, leafy neighborhood is perfect for nature-loving couples and families with young children, thanks to its quiet tree-lined streets, public parks and gardens, and notable historic sites.
While there are several hotels within close proximity, Cimiez has more of a residential atmosphere, and it's likely that you'll find mostly privately rented apartments and villas.
If you are looking to live like a local during your stay in Nice, you won't find a more authentic, picturesque setting.
Visitors can enjoy a picnic in the Jardin des Arenes, part of which contains a sizable olive grove, followed by a trip to the nearby monastery of Cimiez, which began construction in the early 16th century.
And if *that* isn't old enough for history lovers, Cimiez was the former site of an ancient Roman city, whose ruins–including an impressive bath complex–can be viewed today onsite, with additional artifacts on display at the museum.
Art enthusiasts will no doubt want to visit the Matisse Museum, while those with a keen eye for architecture will appreciate the area's elegant homes and palatial gardens.
BEST PLACES TO STAY IN NICE IN CIMIEZ
7. Libération, central area with Belle Epoque and Art Deco architecture
Making up a sizable part of Nice's central area, the Libération district was formerly known as Saint-Lambert, and was rechristened on August 28, 1944 in honor of fallen resistance fighters.
This is a popular market spot and gathering point for Niçois inhabitants, thanks to the enormous outdoor market where local farmers, fishers, and artisans display their goods.
Many locals will attest that the Libération area is one of the best places to pass a morning in Nice, with the fresh air, lively activity, and enticing fare all contributing to the longevity of this special pastime.
The Libération district is widely famed for its Belle Epoque and Art Deco architecture, with many visitors claiming to have felt like they stepped back in time upon entering.
There are a number of traditional Niçois restaurants to recommend, with additional shops and tranquil parks to satisfy every visitor.
Libération holds a series of affordable hotels boasting views of the busy square and market, as well as privately-run apartments and Bed & Breakfasts.
BEST PLACES TO STAY IN NICE IN LIBERATION
8. Promenade des Anglais, our favourite place to stay in Nice
The ultimate symbol of Nice and the Riviera at large, the Promenade Des Anglais has been immortalized by writers, painters, photographers, and filmmakers for nearly two centuries.
Stretching from the airport to the west to the eastern Quai des États-Unis, a distance of roughly 7 kilometers or 4 miles, here is where one can truly experience Nice at its most iconic.
Guests can promenade along the glittering Côte d'Azur and relive the glamorous holidays of the jet-set elite, who first began flocking to the French Riviera in the second half of the 18th century.
Today local inhabitants simply refer to the Promenade des Anglais as "La Pom," and it's fair to say on any given day you'll find the promenade packed with walkers, cyclists, skaters, and ambling sweethearts.
While you won't find a scarcity of decadent hotels along the Promenade des Anglais, be prepared to pay similarly luxe prices. That said, the hotels lining the promenade contain awe-inspiring historic significance and celebrity lore, with unmatched views of the sea.
If you are willing to keep your eye on off-season rates or are willing to indulge on accommodations, you won't find a more perfect place to stay in Nice.
BEST PLACES TO STAY IN PROMENADE DES ANGLAIS
9. Gambetta, where to stay in Nice on a budget
While mostly a residential area, Gambetta is a 20 minute walk from Nice's old town, with a newly implemented tram station for added mobility.
Given the Niçois nod for its private beach hotels and Michelin-starred restaurants, the Gambetta neighborhood contains a multitude of architectural styles ranging from late Victorian to Belle Epoque and Art Deco.
A typical stroll through the area will take you past the Italian Consulate and across Thiers Avenue where Nice's central railway station, built in 1865, still stands.
Along the way there are the lovely gardens of Alsace-Lorraine, first created in 1887, where you won't find a more charming picnic backdrop.
There are quite a few hotels and several hostels around the Gambetta area, as well as privately-run holiday rentals. If you stay away from the beach area you will get very well priced accommodation.
BEST PLACES TO STAY IN NICE IN GAMBETTA
10. Mont Boron, beautiful spot for hiking
Separating Nice from Villefranche-sur-Mer, Mont Boron is a beautiful spot for hiking enthusiasts, with multiple trails and parks running along the route from Bay of Villefranche-sur-Mer to Cap Ferrat.
While lodgings are limited to a few luxury vacation villas, there is a bus that conveniently runs between downtown Nice and the top of Mont Boron.
BEST PLACES TO STAY CLOSE TO MONT BORON