Plan your trip to Bordeaux with my advice for where to stay in Bordeaux! Learn which neighborhoods are good depending on your goals.
For those looking to get a heady dose of history, culture, and some of the best wine produced in the world, look no further than Bordeaux.
Located on the Garonne river in Southwestern France, Bordeaux is the 5th largest city in France after Paris, Marseille, Lille, and Lyon, as well as home to the country's most renowned vineyard region.
As one of Europe's central hubs of activity throughout the centuries and birthplace of famed figures such as Eleanor of Aquitaine, Richard II, and the painter Odilon Redon, here the past and present are constant companions, with some of the most beguiling places to stay in Bordeaux all but a living testament.
With its intoxicating blend of Gothic medieval, Baroque, and modern architecture, Bordeaux is a city made for exploring on foot or by bicycle, with the greater vineyard landscape providing a truly once-in-a-lifetime excursion.
With ample museum, shopping, and dining options, it's more than safe to say there is something for every traveler in the cobbled confines of Bordeaux.
Thanks to its close proximity to Paris (2 hours by train), Bordeaux is a perfect addition to one's French itinerary. You will want to give yourself enough time to see and experience as much as possible, with a recommended minimum of 2 days at the very least.
Here are 7 of the best areas to stay in Bordeaux, as well as the surrounding sites that will make for the most memorable visit.
Where to Stay in Bordeaux: Best Areas
1. Bordeaux Historic District, where to stay in Bordeaux for the first time
The Saint Pierre and Saint Paul districts are where the "Sleeping Beauty" (a name frequently attributed to Bordeaux due to its dramatic transformation as a popular tourist destination in recent decades) is alive and thriving.
Here is where you'll get an overwhelming sense of what makes the city so unique, from la Grosse Cloche, the city's bell tower, to Porte Cailhau, the city's fairy-tale gate dating back to the 15th century.
The Saint Pierre church is a prominent example of the region's distinguished Gothic influences, and features beautiful stained glass windows and imposing interior arches.
There are a number of small squares in which you can sit and enjoy a glass of wine while people watching before strolling along the Garonne's promenade.
Rue Sainte Catherine will be of particular interest to shopping enthusiasts, with its many chic shops and boutiques, while Espace Saint Rémi, a former church converted into an art hall, offers free exhibitions on a rotating basis.
While it is possible to find attractive lodgings within the historic district, be prepared to pay equally luxe prices unless you are booking off-season.
Fortunately, Bordeaux's most popular attractions are all within walking distance, with significantly less expensive hotels and hostels located just 10-15 minutes from the city center.
BEST PLACES TO STAY IN BORDEAUX HISTORIC DISTRICT
2. Chartrons, coolest place to stay in Bordeaux
Often cited as Bordeaux's poshest neighborhood, Chartrons is where the chic of Bordeaux gather to shop, dine at the many upscale bistros, and enjoy a pint at one of the nearby pubs.
Originally founded in the 17th century by Irish, German, and Flemish wine merchants, Chartrons quickly established itself as something of an expat borough, with artists and bohemians from around the globe setting up shop along the riverfront.
Today visitors can get a taste of local life by sampling various charcuterie and pastries along the busy Rue Notre Dame, popping in and out of the stores, and taking in the romantic 19th century architecture.
There are no shortage of outdoor markets and antique purveyors, and wine lovers will definitely want to check out the Musée du Vin et du Négoce, located inside an 18th century wine trader's cellar.
Chartrons also houses the oldest boulangerie in Bordeaux, with Au Pétrin Moissagais opening its doors some 20 years before the French Revolution and going strong ever since.
Much like Bordeaux's more well-trafficked districts, lodgings in Chartrons are unequivocally lovely but may lean on the pricier side during high tourist seasons.
Fortunately there are a number of privately owned bed & breakfast establishments that can be found online and booked through correspondence.
BEST PLACES TO STAY IN BORDEAUX IN CHARTRONS
3. Gare Saint-Jean, great for nightlife and budget-friendly hotels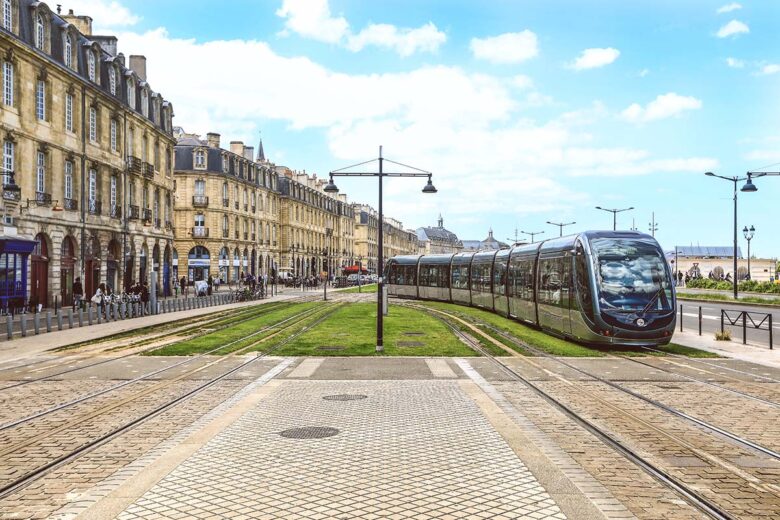 This up-and-coming neighborhood is situated right next to Bordeaux's central train station, and is one of the city's most bustling urban centers.
Just south of the city center, Gare Saint-Jean was once the designated red light district of Bordeaux, and has since retained some of that allure in its many nightclubs and late night cafes.
During the day the warehouse-lined streets are relatively quiet, with attractions such as the Halle Boca mall and experimental arts center La Méca offering a refreshing change of pace and scenery.
Today the area keeps a humming air of bustle and ever-expanding growth, and is ideal for those looking to experience an alternative aspect of Bordeaux.
There are a number of budget-friendly hotels, hostels, and private lodgings that, combined with Gare Saint-Jean's general proximity to all the city's sites, make it an ideal place to stay in Bordeaux.
BEST PLACES TO STAY IN GARE SAINT-JEAN
4. Bastide, the other side of the river to stay in Bordeaux
Located on the right bank of the Garonne, La Bastide was originally a village surrounding the fort of Mons and its accompanying monastery, but has since been fully urbanized following the completion of the Pierre Bridge in 1822.
While the industrial crisis of the 1970s saw the closing of much of Bastide's factories and shipyards, the area has undergone a significant renaissance in the proceeding decades.
There is much to see and do in Bastide, starting with the original Orleans station, constructed in the mid-19th century, which included a sizable public cinema.
The lovely, secluded grounds of Parc des Berges and Botanical Garden are prime picnic locales, while the Darwin Project features a living ecosystem built atop a former military wasteland.
With an active tram system and ongoing influx of residential housing, La Bastide is among the best places to stay in Bordeaux thanks to its understated, off-the-map positioning.
Guests who wish to stay there will have no shortage of breathtaking neoclassical and panoramic views along the river, as well as access to all the prerequisite restaurants and shops.
BEST PLACES TO STAY IN BASTIDE
See also: Where to stay in Paris, where to stay in Corsica, where to stay in Nice
5. Bordeaux-Lac, where to stay in Bordeaux for families
Bordeaux's lake district is perfect for those who would prefer a more natural side of the city. With its flowering parks, woodlands, trails, and sports grounds, all bordering the lake, Bordeaux-Lac boasts an award-winning international camping site as well as elegant housing options.
Guests can tour the exhibition and convention centers, as well as find quality lodgings in the area's hotel district. Bordeaux Lac Casino is an especially appealing draw for gambling pros, while the nearby Casino Barrière sits at the heart of the aforementioned hotel district.
Don't be fooled by these grown-ups-only establishments however; Bordeaux-Lac is an idyllic retreat for families looking to relax on the lakefront beach and enjoy the many activities on offer, such as sailing, kayaking, rowing, and mini-golf.
If you would like to arrange a stay in the Bordeaux-Lac area and make full use of its facilities, it's advisable to book during spring and summer months when supervised activities can be guaranteed.
BEST PLACES TO STAY IN BORDEAUX-LAC
6. Saint-Michel, cosmopolitan neighborhood
This cosmopolitan neighborhood is home to a welcoming mix of students, locals, and immigrants of all arts and professions. While not a typical list-maker on things to do in Bordeaux, visitors would be well-served to take a few hours to explore this gem of a niche not far from the heart of the city itself.
Here you'll find one of the biggest and best markets in Bordeaux, Marché Royal, which is arguably the Portobello Road of the region, and takes place every Saturday morning.
Featuring over 100 merchants and just as many types of goods, visitors can find some truly one-of-a-kind treasures and procure the best of Bordeaux's food, wine, and spices.
There are additional "brocantes" or second-hand markets and shops worth exploring, with the grandest taking place twice a year in Place de Quinconces.
The Saint Michel Basilica, a designated world heritage site as of 1998, was built between the 14th and 16th centuries and is a must for true Gothic devotees.
Just next to the basilica you can visit the 15th century Saint Michel bell tower or "la flèche," which offers spectacular birds-eye views of the city and surrounding region below.
A particularly macabre draw: several mummies were discovered underneath the bell tower and put on public display during the late 18th century.
BEST PLACES TO STAY IN BORDEAUX A SAINT-MICHEL
7. Bassins à Flot, vibrant area to stay in Bordeaux
One of the most vibrant areas to stay in Bordeaux, Bassins à Flot is where old Bordeax meets the new, rendering it a quintessential cultural hotspot.
The 19th century port was among the busiest in the world, with ships and sailing vessels of all sizes and trades populating the dry and wet docks alike ("bassins à flot" and "radoubs" respectively).
Stretching from the Château Trompette to the Café de l'Océan, Bassins à Flot has undergone a revival like no other following German occupation during WWII, and the area is rich with history and lore both fascinating and dark.
Local Bordelaises and Bordelais affectionately refer to Bassins as a "melting port" thanks to the diversity of its residents and ongoing restoration and revival projects.
Visitors can stroll along the quayside, taste some of the best seafood in the region, and visit La Cité du Vin, a glass tower and adjoining site dedicated to Bordeaux's wine history, where guests can sample and purchase the products as well as take in the 360° view from the top.
The Submarine Base, established between 1941-43 and one of five built by the Germans for U-boats during WWII, is now a cultural heritage center featuring year-round concerts and exhibitions.
The most immersive of places to stay in Bordeaux, Bassins à Flot offers visitors a true crossroads glimpse into the city's dizzying past and promising future.
If seeking accommodation in the district, hotels located near the Chaban Delmas Bridge offer the best views of the immediate sprawl, as well as ease of access to the rest of the city.
BEST PLACES TO STAY IN BASSINS A FLOT
Traveler's Tip: Know Before You Go
Bordeaux is a city that all but caters to walkers and cyclists, so be prepared to go by foot or bike rental to experience the best the city has to offer.
Bordeaux also has an extremely reliable transportation system, and visitors are encouraged to purchase one of the city's 24,48,or 72-hour passes.
These passes will not only allow for optimal sightseeing but also offer free or discounted entries to some of the city's best museums, galleries, and historic sights, including La Cité du Vin, a tasting and exhibition center dedicated to the wines of Bordeaux.
City passes can be purchased online or at the Office du Tourisme Bordeaux.
As mentioned above, Bordeaux is a convenient 2-hour train ride from Paris, making it a perfect overnight sojourn. No matter where you choose to stay in Bordeaux, you won't be far from the city's main attractions and activities.