Whatever you want, Sardinia has it. As the Mediterranean's second-largest island, it offers almost two thousand kilometres of coastline and sandy beaches for sun worshippers and water babes, rugged inland terrain for hikers, and history everywhere you turn. But the best areas where to stay in Sardinia really depend on your interests.
Where to Stay in Sardinia: 15 Best Areas
Sardinia has an abundance of accommodation, but be aware that hostel can also be interpreted as a basic "pensione" or guest-house instead. If you are hiring a car, you could also consider the Italian innovation of agriturismo, and stay in a farmhouse.
1. Cagliari, best place to stay in Sardinia for a city-break
Cagliari is Sardinia's capital, and if you approach by sea, you'll be dazzled by the gold-topped buildings glinting in the sun.
Join the locals at the bars along the Marina in this typically-Italian city, or head east to Poetta, the city's main beach, for clear blue sea, water sports and beach parties. For more solitude, seek out one of the little bays along the coast.
Many of Cagliari's sights, such as the Roman Amphitheatre, are concentrated within the old city walls of Il Castello, and it's also a popular area for the more pressing contemporary necessities of cafés, bars and little shops.
North of the Castello, you'll find the Galleria Comunale d'Arte standing within the Giardini Publicci, an impressive collection of modern and contemporary works, with local artists and twentieth-century Italian art well-represented. The gardens themselves give a stunning panorama across the city.
The cathedral dates from the thirteenth century, although little remains of the original. Other churches of note are the Jesuit Chiesa di San Michele, and the Chiesa di Sant'Efisio.
Saint Ephisus is the patron saint of Cagliari, and over the centuries, he is said to have saved the city from the plague and from a Napoleonic invasion.
In gratitude, and to celebrate his conversion to Christianity while a Roman soldier, his effigy leads Cagliari's May 1 celebrations. Look out for the richly-decorated carriage that's stored here, and which carries Sant'Efisio through the streets.
At the top of Bonario Hill, the Santuario & Basilica di Nostra Signora di Bonaria is a popular destination for pilgrims, with its simple fourteenth-century church and its statue of Mary and Christ, said to have saved a ship from a storm at sea. Today, the basilica is still a welcome landmark for returning vessels.
The Museo Archeologico Nazionale is one of four museums, with displays covering thousands of years. A collection of huge statues, I Giganti di Monte Prama, are the only stone nuraghic sculptures to have been found on the island, and could be the oldest anywhere in the Mediterranean area.
Get the most from your stay in Sardinia with a couple of days to explore its capital, which has been shaped by many different cultures. Stay in luxury or plump for a budget hotel, guest house, hostel, or one of several campsites around the area.
BEST PLACES TO STAY IN CAGLIARI
2. Sant'Antioco, where to stay in Sardinia for a quiet and local experience
Sant'Antioco is both a municipality and an island linked to the mainland on the Sulcis archipelago of south-west Sardinia.
It's a welcome change from the more developed beaches of sections of the mainland, with charming bays and a rugged coastline. It can be windy at times, but some beaches are quite sheltered, and there are many to choose from.
Its history goes back to the prehistoric era. Discoveries include eighth-century Phoenician and Carthaginian tombs or tophets, for the cremation and burial of children and still-born infants.
Find out more about this at the comprehensive Museo Archeologico Ferruccio Barreca, which also has models of nuraghic dwellings and a plan of fourth-century Sant'Antioco.
Probably from the same period, the cemetery and tombs of Villaggio Ipogeo were used in the Middle Ages as a hiding-place from Arabs who raided the island. The grottos used by the locals became homes for the poor until the 1930s, and they are open to view today.
Still on the subject of graves, the catacombs of Basilica di Sant'Antioco Martire were developed as burial chambers for Christians between the second and seventh centuries.
While families of the affluent were given decorative niches with frescoes, those of the middle classes had to make do with plain ones, and the rest ended up in ditches (some exposed skeletons demonstrate the system very well!).
The church itself is a simple fifth-century affair with a baroque front, and a wooden statue of Saint Antiochus (a North African martyr who sought refuge in the catacombs).
In Sant'Antioco itself, the Museo Etnografico gives an idea of how locals lived in the past, while higher up, the nineteenth-century Piedmontese Forte Su Pisu, or Sabaudo, was the scene of an unsuccessful defence against Saracen soldiers in 1815, when many died or were taken prisoner.
The saint is commemorated fifteen days after Easter in Sardinia's oldest festival, dating from 1615, when thousands of pilgrims would pour onto the island. The present-day celebration includes a parade with ceremonial bread, while another procession with participants in traditional dress takes place on 1 August.
In spring, Holy Week starts on a Wednesday and continues Easter until Sunday, with processions, events and fireworks.
Close to the town, three beaches stand out. L'Arco dei Baci boasts a natural pool, while Coacuaddus offers clear waters for divers to explore the underwater reefs, and il Molo di Masua is a beautiful beach with the best view of the Pan di Zucchero (Sugar Loaf) limestone rocks, rising from a turquoise-blue sea.
The picturesque fishing village of Calasetta is also worth a stop.
Accommodation on the island is mainly holiday homes and guest houses, but there are hotels and campsites too, all possibilities for your stay in Sardinia.
BEST PLACES TO STAY IN SANT´ANTIOCO
3. Villasimius, stunning beaches, amazing natural beauty and some nightlife
A former fishing village in south-east Sardinia, Villasimius possesses some stunning beaches, and amazing natural beauty and wildlife.
The Protected Area of Capo Carbonara has seagrass meadows, barracudas and good diving, while winter sees the Stagno di Notteri lagoon full of migrating flamingos.
The town itself has a good selection of shops, bars and restaurants, with a lively nightlife.
Its archaeological museum covers all the periods and civilisations connected with the area, which of course includes the sea. The fascinating Sala del Relitto means Hall of the Shipwreck, and its exhibits are from a fifteenth-century Spanish wreck.
Around the area, archaeological sites mark traces of past cultures, especially from the Nuraghi era. The Phoenician Shrine of Cuccureddus goes back to the seventh century BC, and was a pitstop for travellers, but also enabled them to carry out rites to the gods that would keep them safe as they travelled.
Among the old watchtowers in the vicinity, the seventeenth-century Fortezza Vecchia fortress by the harbour is now home to art exhibitions.
The Aragonese watchtower, Torre di Porto Giunco, is around forty minutes walk from Villasimius, or there is sometimes a shuttle bus, but it's worth it for the view.
The Thermal Baths of Santa Ana, next to the church of the same name, are Roman, although they have been altered for Christian use since then.
The Virgin of the Sea has taken place every July since 1979, when a statue was lowered into the water. After mass, everyone proceeds to the sea to remember sailors who drowned.
The crowds then board decorated crafts, heading towards Isola dei Cavoli. The local priest and some divers descend to the statue's feet, with a prayer that is relayed by loudspeakers to those on the vessels above, as sirens sound and flowers are scattered over the sea.
The other main festival is that of Santa Maria in early September, with the Madonna's statue pulled around by oxen on an embellished cart or traccas.
Prayers ask for rain to ensure an abundant harvest, and fireworks are let off once the Madonna is safely back home, leaving visitors to enjoy further entertainment all week.
Hotels vary in price and amenities, but there are plenty of budget B&Bs, self-catering options and camping, to ensure a value vacation for your stay in Sardinia.
BEST PLACES TO STAY IN SARDINIA IN VILLASIMIUS
4. Olbia, where to stay in Sardinia for families
On the north-east coast of Sardinia, Olbia's attractive piazzas, lined with bars, cafés and little shops, make it more than just a seaside resort. It´s a perfect choice for families.
Visit in May for the Festa di San Simplicio, in honour of the Patron Saint. As one of Sardinia's most important festivals, the Palio della Stella involves horseback riding and racing, while trying to grab a star (stella means star). Other celebrations are grouped around this event.
In the town centre, don't miss the granite Basilica di San Simplicio, one of the region's best-preserved Romanesque churches. Built during the eleventh and twelfth centuries on the site of an earlier shrine to the martyred saint, it incorporates styles from Lombardy and Tuscany.
It contains two frescoes of medieval bishops, one of whom is thought to be San Simplicio. The saint's wooden gilded statue from the seventeenth century also stands under the altar.
On the waterfront close to the port and housed in a striking modern building, the Museo Archeologico di Olbia has multimedia displays, Nuragic and Roman artefacts, with the remains of a warship.
Nuragic describes a culture peculiar to Sardinia that lasted approximately from the Bronze Age to the Iron Age. Their megalithic stone constructions are known as nuraghi, and many remain, including Nuraghe Riu Mulinu, an archaeological hilltop complex close to Olbia.
If you prefer a stay in Sardinia with interesting history and close to nice beaches, Olbia is a good choice. Mid-range hotels compete with apartments and B&Bs, known as pensioni in Italian, and there are two camping/caravan sites.
BEST PLACES TO STAY IN OLBIA
5. Porto Cervo, where to stay in Sardinia for luxury
Go up market with Porto Cervo on the Costa Smeralda! One of the world's most expensive resorts, you'll get plenty of chances to celebrity-spot, especially around the fabulous marina, which has berths for around seven hundred luxury yachts.
Less typically Sardinian than other towns, its architecture is nevertheless very elegant.
Look through the windows of designer shops and consider fine-dining, people-watch in the central Piazzetta, or relax on a beach – Grande Pevero is stunning but crowded, while Piccolo Pevero is quieter but less attractive. There is also a free public stretch.
Sporting events are held throughout the year (including yachting, of course), and there is a Food and Wine Festival in September.
Above the town sits the modern white Chiesa di Stella Maris.
Of course, it has expensive hotels if you want to splash out for the end of your stay in Sardinia, but there are also downmarket options and camping. Alternatively, you could search for somewhere outside Porto Cervo.
BEST PLACES TO STAY IN PORTO CERVO
6. Santa Teresa de Gallura, where to stay in Sardinia for nightlife
Originally a village called Longosardo, and on the north coast facing Corsica, the town was created by King Vittorio Emanuele I in the early nineteenth century to deter smugglers, and was named after his wife Maria Teresa.
It has grown into a lively seaside resort, but without the brashness of the Costa Smeralda. Its closeness to Corsica means that its history is connected to that of its neighbour, with many Corsicans living here, and the local dialect sounding like that of southern Corsica.
The nearest beach is Rena Bianca, with soft white sand and a rocky backdrop in a pretty cove. There are some amenities, and the clear water is ideal for snorkelling enthusiasts. The town itself has a fine harbour, and some good-quality restaurants serving delicious Italian and local cuisine.
To the east of the beach, the sixteenth-century watchtower Torre di Longonsardo faces Corsica's Strait of Bonifacio, and offers some wonderful vistas. Summer exhibitions are held here, while on the roof terrace, a wine festival takes place every Sunday from June to September.
Just one kilometre south west of Santa Teresa, the archaeological site of Lu Brandali holds another Tomba dei Giganti and a nuragic village. To the west, Capo Testa's rocky bays and rugged scenery are a hiker's delight.
Climb to explore its old medieval town and citadel, or just sit and admire the beautiful harbour from a quayside café, in front of the luxury yachts. It's easy to visit the French island of Corsica by ferry from here.
Musica sulle Bocche is a big event on the local calendar in late summer, when music lovers flock to Santa Teresa for its yearly jazz festival. From dawn until long after dusk, musicians from all over the world play in stunning locations, to the delight of jazz fans.
At other times, an open-air night club outside the town keeps nightbirds happy, while the more laid-back jazz club next door allows punters to wind down.
Accommodation in the vicinity includes four and five-stars hotels, but there are also budget options, guesthouses, and camping.
If you want to stay close to the popular resorts but at a distance, Santa Teresa de Gallura could be the place where to stay in Sardinia for you.
BEST PLACES TO STAY IN SANTA TERESSA DE GALLURA
Read also: Where to stay in Rome, where to stay in Sicily, where to stay in Cinque Terre, where to stay in Florence, where to stay in Venice
7. La Maddalena, unspoiled beaches and crystal-clear waters
La Maddalena is a district and island, situated off northern Sardinia and not far from the Costa Smeralda. It's part of sixty islands and islets that make up the archipelago of the same name, known for its crystal-clear waters, unspoiled beaches and rocky outcrops.
As most of the islands are unpopulated and under the care of national park officials and wardens, sightseeing is minimal, but it's ideal for beach holidays, water sports and hiking.
La Isla Maddalena itself has some lovely beaches, all served by a bus from the main town, also called Maddalena. Here, you can stroll through the pedestrianised streets or relax in one of the many cafés.
Visit the modern Chiesa di Santa Maria Maddalena for its small museum of religious art, or view the remains of a first-century Roman shipwreck at the Museo Archeologico Navale just outside town.
Head uphill for a glimpse of one of the oldest military fortifications on the archipelago (now privately owned). In fact, these old forts can be found on other islands in the archipelago, too, due to their past strategic importance, and can be visited by boat.
Nearby Caprera is linked to La Maddalena by a bridge and a bus route, and is notable for being the last home of Italy's unification hero, Garibaldi, whose house is open to the public.
To the south at Stagnali, displays at the Museo Geo-Mineralogico-Naturalistico include different-coloured sands from around the archipelago, and other museums are being developed on the same complex.
Arrive on La Maddalena by ferry from Palau, which can be reached by bus from Olbia. Events can include festivals for cinema, food and dance to keep you entertained.
You'll find hotels and modest guesthouses near the port or seafront, or in the town and national park, and campsites are available. Add this area to your stay in Sardinia for a more low-key experience.
BEST PLACES TO STAY IN MADDALENA
8. San Teodoro, great place to stay in Sardinia for all ages
A seaside resort on the east side of Sardinia, south of Olbia, San Teodoro's beautiful beaches of fine white sand are lapped by family-friendly shallow sea.
Weather conditions are ideal for flying kites, and enthusiasts flock to pine-backed Cala Brandinchi and La Cinta, where a variety of water sports (and other sports) are also on offer.
Inland beyond the dunes, you'll find untouched nature, with the Stagno di Teodoro marshes welcoming many kinds of birds, such as pink flamingoes, to its lagoon. Venture further inland for mountains like the picturesque Monte Nieddu.
A bustling town centre with plenty of places to eat, drink or just sit, a lively night life, and lovely beaches, combined with close proximity to the airport, make this a popular holiday spot.
Visit its Museo delle Civiltà del Mare to see a variety of items found locally.
St. Anthony's Fire is an old Sardinian festival in January, that celebrates the beginning of Carnival, or Carnivale in Italian, by lighting fires. San Teodoro joins in with this, and of course, takes part in Carnivale itself. Saint Andrew's feast day is celebrated in June, and is followed by festivals for film (July), jazz (in August), and other music events.
Accommodation for your stay in Sardinia at San Teodoro is mainly in smaller hotels and pensioni or apartments, but there are also hostels and campsites.
BEST PLACES TO STAY IN SARDINIA IN SAN TEODORO
9. Castelsardo, where to stay in Sardinia in a charming coastal town
Situated in the north of Sardinia, Castelsardo's position on top of the cliffs guarantees breathtaking panoramas. Wander the winding streets of this charming town with its colourful buildings, and browse its traditional shops.
The wider area offers beaches, bays, history and nature.
Castelsardo means Sardinian castle, and Castello dei Doria indicates the town's once-important strategic position on a promontory. Built by the Geonese in the twelfth century, it's worth the climb for the views alone.
The town is famous for its straw-weaving, and the Museo dell'Intreccio del Mediterraneo (Museum of Mediterranean Weaving) is tucked away inside the castle, which also contains the Diocesan Museum of Sacred Art, and Permanent Exhibition of Magic, Sorcery and Holy Inquisition.
All that makes it worth the trek (or bus ride) – luckily, there are handy restaurants and bars along the paths of the medieval citadel!
Next to the defensive walls, the sixteenth-century church of Santa Maria delle Grazie contains a stone gallery and painted wooden altars.
Closer to town, the Cathedral of Sant'Antonio Abate displays a fifteenth-century altarpiece by an unnamed artist, cited as the Maestro di Castelsardo, while in the crypt, which isn't always open, you'll find a museum of religious art.
Events include Lunissanti, the Monday after Palm Sunday, which starts Holy Week with processions, while a summer festival is held later in the year.
There is a small sandy beach with a bar in Castelsardo itself, on the seafront where most of the hotels are located. There are also guest houses and campsites.
BEST PLACES TO STAY IN CASTELSARDO
10. Porto Torres, where to stay in Sardinia on a budget
The first Roman colony in Sardinia, Porto Torres was founded in the first century BC in the north west of the island, and is still the port where many visitors arrive to enjoy the beautiful beaches.
The eleventh-century Basilica di San Gavino, the island's biggest Romanesque church, was erected on a pagan burial ground.
Outside the well-stocked archaeological museum are traces of an ancient bathing compound called Palazzo del Re Barbaro, a house known as the Domus dei Mosaici, and a Roman bridge.
There are sometimes music festivals and other events.
Hotels in Porto Torres are reasonably-priced, with B&B establishments, a hostel and a camp site. If you want to stay in Sardinia but not pay too much, you could use somewhere like this as a base from which to explore the rest of the island.
BEST PLACES TO STAY IN PORTO TORRES
11. Sassari, great for sightseeing
Sassari is the second-largest city in Sardinia, and one of its oldest. As such, its city museums can offer background in history and culture.
While the Museo della Brigata Sassari highlights the brave and much-admired Sassari Brigade of World War 1, the city's art gallery displays work from the Middle Ages to modern Sardinian art.
The cathedral of San Nicola di Bari was erected in the twelfth century, but has suffered several transformations over the centuries. The interior boasts some lovely stained glass and interesting chapels.
On the edge of the old town, the twelfth-century Santa Maria di Betlem is blessed with a fine dome, a round stained-glass window and carved wooden door, while the interior contains some chapels dedicated to Mary, and a golden altar piece.
It also houses some of the giant 'candles' that form part of the annual I Candelieri parade and festival on 14 August, which starts in Piazza d'Italia.
Piazza d'Italia is the biggest square in Sardinia, and the location for some impressive nineteenth-century architecture.
A monument to the first king of a unified Italy, Victor Emanuele II, was unveiled by King Umberto I in 1899 to mark the first Cavalcata Sarda, now Sassari's biggest festival towards the end of May each year.
Eateries and shops surround the piazza, which is an ideal start to a walk through the city, being within easy reach of its neighbour Piazza Castello, the Rosello Fountain, and the Giardini Pubblici.
The public gardens are home to some exotic vegetation and peaceful water features, with grass and benches for weary travellers.
The main street through the historic centre is Corso Victor Emanuele II, which follows the Roman road from Cagliari to Porto Torres. It has changed since the thirteenth century, but there is still a fifteenth-century townhouse, a Catalan/Gothic shop, and a nineteenth-century theatre.
Get to know north-west Sardinia from here – there are some secluded beaches not far away, such as Porto Ferro and Lampianu.
Nature lovers can explore the protected Asinara National Park, on Sardinia's third-largest island, which has crystal-clear waters for snorkelling. Alternatively, head for the Parco Naturale Regionale di Porto Conte, with its grottos, and the stunning Capo Caccio cliffs.
Other points of interest away from the city include the Romanesque Basilica della Santissima Trinità di Saccargia, and the abandoned mining town of Argenteria.
Use Sassari as a base where to stay in Sardinia, and catch one of the local festivals while you're there. There are hotels, B&Bs and apartments, and although there are no hostels, there are some very modestly-priced pensioni, and some campsites.
BEST PLACES TO STAY IN SARDINIA IN SASSARI
12. Alghero, a medieval city and a prestigious resort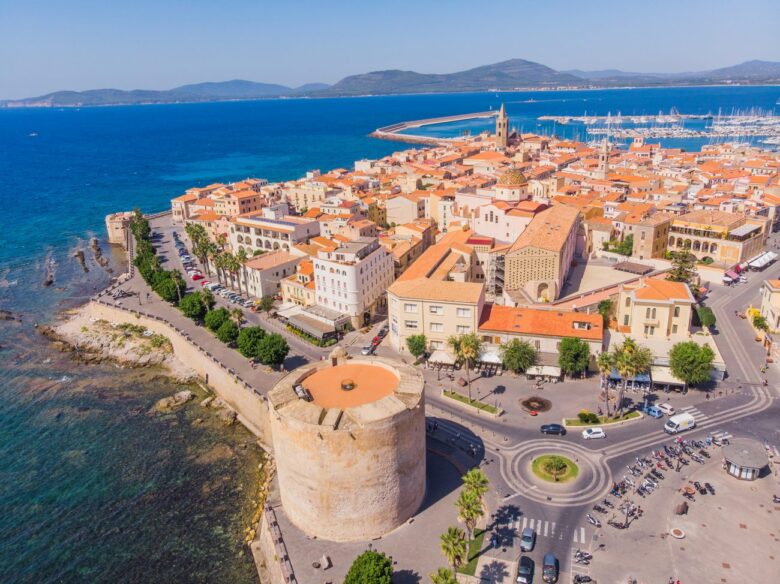 Located in the north west, Alghero is both an important medieval city and a prestigious resort, convenient for the amenities of the Riviera del Corallo. Corallo means coral, so this is your go-to souvenir in the local shops.
Its sea walls, erected by the Aragonese in the sixteenth century, still hold some crenulated towers and bastions. It's all topped by a walkway, complete with bars and a breathtaking view of the limestone cliffs of Capo Caccio, twenty-five kilometres away.
The cobbled streets of medieval Piazza Civica have become a modern hub, where tourists and locals browse boutiques, and while away the hours with a cappuccino, aperitif or artisan-made ice-cream.
Alghero's nickname is Barceloneta, a nod to the Catalan/Aragonese conquest whose influences remain in architectural styles and food, and have left a variant of Catalan as a local language.
The Chiesa di San Francesco was originally a Catalan/Gothic building, but after its partial collapse in the sixteenth century, it acquired a Renaissance make-over. Another stand-out church is the seventeenth-century Chiesa di San Michele, with its shiny majolica-tiled roof.
The sixteenth-century Santa Maria cathedral has been much altered, but its interior contains some pretty pink inlaid marble, and an altar of white marble and gold.
The campanile has retained its Catalan/Gothic style with a short spire and octagonally-shaped tower – and views to die for at the top!
Alghero is also home to the biggest collection of prehistoric grottos in the north of Sardinia, at the necropolis of Anghelu Ruju.
Walk down to the town's beach San Giovanni, sunbathe in one of the pretty bays around the coast, or catch a boat trip to the Neptune Caves.
Annual events include a pilgrimage to Our Lady of Valverde at her sixteenth-century shrine, San Giovanni Battista races and games, tennis and yachting competitions, and festivals of music and drama.
Factor any of these into your stay in Sardinia, by choosing a local hotel, B&B, apartment, villa, hostel or campground.
BEST PLACES TO STAY IN SARDINIA IN ALGHERO
13. Oristano, a mix of sightseeing and unspoiled beaches
Oristano is a city within the province of the same name, in the west of Sardinia. You'll find smart shops and tempting restaurants along its stylish streets, and in its elegant squares.
Il Duomo, as the Italians often call cathedrals, was originally fourteenth century, but has been repaired extensively. The adjoining bell tower sports a colourful tiled dome.
The nineteenth-century Chiesa di San Francesco stands on the site of an early building, and is now mainly worth a visit for its exquisitely-carved fourteenth-century Crocifisso di Nicodemo, and the sixteenth-century altar piece by Pietro Cavaro.
The old city walls are mostly gone, but two towers still stand, the thirteenth-century Mariano II, or Cristoforo, and di Portixedda. And as always on this ancient isle, there is an archaeological museum.
The beaches around Oristano's rugged coastline are relatively unspoiled, and have avoided the developments caused by the demands of tourism. The province boasts spectacular scenery and some wonderful nature reserves, and is ideal for hikers and cyclists.
Sa Sartiglia, Oristano's carnival, is the best in Sardinia, with everyone dressing up. Horse races, jousts and acrobats make this a special event, so if you stay in Sardinia in February or March, make for Oristano!
Bookings will be more expensive at this time, so you may need to look around, but the full range (including some large hotels) is available as usual.
BEST PLACES TO STAY IN SARDINIA IN ORISTANO
14. Orosei, great place to stay in Sardinia for nice beaches and hiking
On Sardinia's wilder east coast, this pretty town on the Gulf of Orosei is close to white sandy beaches, overlooked by imposing cliffs and the rugged form of Mount Tuttavist, where quarries extract high-quality marble.
A nature reserve provides ideal hiking country, confirming its reputation as one of the best natural environments in the Mediterranean region.
Discover traditional crafts in the town's little shops, and sample local delicacies such as sweets, honey and olive oil.
Orosei's history stretches back to at least Roman times. Not much is left of the fourteenth-century medieval castle built for defence, but conquered by the Aragonese. Known as Prejone Vetza due to its later role as a prison, only the tower remains.
With its picturesque courtyards and winding streets, it's a surprise to find thirteen churches packed into the small area of the old town. Don't miss eighth-century San Sebastiano with a ceiling woven from reeds, or the baroque architecture of San Giacomo Apostolo, the local patron saint.
On his feast day of 25 July, celebrations take in games and music, traditional dancing and Sardinian throat singing, as fireworks light up the sky.
At the town's gateway, the shrine to Nostra Signoria Rimedio was a leper hospital at one time, and also a place to hide during Saracen raids. Now, on the Feast Day of the Virgin of Remedy in September, the "cumbessias" or dwellings originally provided for pilgrims, fulfil their purpose once again.
Sant'Antonio Abate boasts a medieval Pisan tower and fifteenth-century frescoes. Originally a country shrine, you can still see its cumbessias. On the feast day of Saint Anthony the Abbot (16 January), a bonfire is lit in the church's courtyard.
The most magical feast day on the island is that of Santa Maria 'e Mare, on the last Sunday in May. From Piazza del Popolo, flower-decorated fishing boats thread their way through the streets, while the Virgin's statue is carried into the church. After the religious ceremony, the festivities continue al fresco.
If you leave Orosei by the road to Nuoro, stop to look at the giants' tomb (tomba dei giganti) of 'Ena 'e Thomes, an ancient mass burial site from the middle of the nuraghic period, one of several on Sardinia.
But don't leave too soon – linger in this fascinating town, and make Orosei an overnight stop during your stay in Sardinia. There is a good choice of hotels and apartments, with varying prices, and also hostels and a camping site.
BEST PLACES TO STAY IN OROSEI
---
15. Nuoro, where to stay in Sardinia in a centre of culture and creativity
Nuoro is one of the larger cities in Sardinia, and capital of Nuoro province. Situated to the east, it sits on the granite slopes of Monte Ortobene, which is crowned on its densely-forested peak by a huge statue of Christ the Redeemer (Il Redentore).
The isolated city was once the haunt of bandits, but in the nineteenth century, it developed into a centre of culture and creativity, and today's museums reflect this.
The renovated Museo Etnografico Sardo focuses on the island's folklore, covering embroidery, tapestries, carpets, weapons, music and masks. Jewellery and brightly-coloured costumes highlight the differences between each village, and there are displays of items worn or used in festivals.
Other museums include the Museo Ciusa, specialising in twentieth-century art, Museo Deleddiano celebrating Nobel Prize-winning writer Grazia Deledda, the MAN Gallery which hosts temporary art shows, and of course, an archaeological museum.
For some outdoor art and something quite original, head to Piazza Satta, named after the poet Sebastiano Satta, born in a house here.
To mark the centenary of his birth, sculptor Costantino Nivola whitewashed the houses around the square, as a backdrop to his granite sculptures, each of which contains a niche with a bronze character from one of Satta's poems.
Climb to the Parco Colle Sant'Onofrio a little way up the hill, for awe-inspiring mountain views. In town, the local Cathedral of Santa Maria della Neve is dedicated to the Madonna of Snow, while Chiesa della Solitudine is notable as the burial place of Grazia Deledda.
If you decide to give this interesting destination some time during your stay in Sardinia, there is a good choice of guest houses in Nuoro, with a couple of hotels, some apartments and a few campsites, with plenty of restaurants and bars to keep you going.
BEST PLACES TO STAY IN SARDINIA IN NUORO