Planning your visit to Denver? Here we've listed the 8 best places to stay in Denver, along with local points of interest, noteworthy historical tidbits, and lodging options to ensure the best stay possible.
Denver is the capital of Colorado, dating back to the early days of western expansion in America. Initially founded in 1858 as a gold mining camp, this walkable, nature-loving city is ideal for hikers and outdoor enthusiasts alike, with enough trails, paths, and parks to satisfy even the most ardent trekkers.
Set against the dramatic backdrop of the Rocky Mountains, Denver is a city that truly offers something for everyone.
While shopping devotees can easily lose a day to the endless malls and outlets of Cherry Creek, beer brewing fans will want to head to RiNo to check out the latest in craft and micro brewing, with history lovers sure to swoon at the sight of Lower Downtown's palatial Victorian mansions.
8 Best Areas to Stay in Denver
1. Central Business District, where to stay in Denver for first timers
As the name suggests, the Central Business District is located in the city center, making it one of the busiest and most exciting places to stay in Denver.
From shopping to sightseeing and all the dining options a hardcore foodie could want, Denver's Central Business district has it all.
Visitors can shop, stroll, and step into one of the area's top chef-run restaurants, as well as explore the district's notable heritage theaters such as the Denver Center for the Performing Arts, which additionally includes the DCPA Theatre Company, Opera Colorado, and Off-Center.
A short walk away, the Colorado Convention Center hosts an ongoing roster of year-round events, including the Great American Beer Festival.
Due to its consistency of incoming and outgoing global traffic, the Central Business District has a number of highly rated hotels and luxury suites, though prices may vary considerably.
BEST PLACES TO STAY IN DENVER CBD
2. Lower Downtown (LoDo), where to stay in Denver for nightlife
This trendy downtown district is arguably one of Denver's most popular dining, shopping, and all-around hangout spots.
The illuminated historic block of Larimer Square boasts some of the city's most beautiful architecture, with additional boutiques, lounges, and restaurants located along the residential route.
A noteworthy point of interest, the 23-square LoDo block contains the largest number of early American and Victorian buildings in the U.S, rendering it a truly special place to stay in Denver.
Guests can walk to Union Station, completed in 1881 but rebuilt due to a fire in 1894, stroll the weekly farmer's market, and sample the seemingly endless array of local bites along the way.
LoDo's nightlife is equally enticing thanks to the district's many bars, rooftop cafes, clubs, lounges, and venues. Brew aficionados will definitely want to check out Colorado's first brewpub, Wynkoop Brewing Company, which opened in 1988.
Diehard shoppers won't be disappointed by LoDo's offerings, some of which carry their own local prestige.
Famed for it's specialty boutiques, the LoDo district is where you will find Denver's much-loved Tattered Cover Bookstore, as well as Rockmount Ranch Wear, founded in 1946 and serving up iconic Western looks to the likes of Elvis Presley and toby Keith.
Lodgings in Lower Downtown typically run on the costlier side, though it's not uncommon to find special online rates and seasonal specials. History lovers may be encouraged to step into the historic Oxford Hotel, which has been in operation since 1891.
BEST PLACES TO STAY IN LODO
3. Capitol Hill, where to stay in Denver on a budget
Famed for its tree-lined boulevards and stately turn-of-the-century mansions, Capitol Hill began as one of Denver's oldest and most prestigious neighborhoods, and has since gone on to become one of the city's most eclectic and ever-bustling areas.
Thanks to its multitude of activities, sights, and mouth watering eateries on offer, Capitol Hill has since gone on to become a top-rated place to stay in Denver.
Visitors can indulge in a dizzying mix of Colorado history and culture by visiting the gold-domed Colorado State Capitol (keep an eye out for the "Mile High" marker on the 13th step), then heading over to the Civic Center Park for one of the many live events hosted throughout the year and especially during warmer seasons.
Some of Denver's best museums reside within Capitol Hill's stunning historic mansions, with the "Unsinkable" Molly Brown House Museum a fun and fascinating experience for guests of all ages, who will no doubt be inspired by the Titanic survivor's spirited story.
Within Capitol Hill lies the Golden Triangle Creative District, where guests will find the Denver Art Museum, Clyfford Still Museum, and Kirkland Museum of Fine & Decorative Art.
Visitors can easily devote an afternoon in this area to browsing the shops and galleries, people-watching in one of the many bistros and coffeeshops, and indulging in some serious shopping.
Lodgings in Capitol Hill are plentiful, with all manner of styles and budgets available, from standard hotels to lavish old manses.
BEST PLACES TO STAY IN DENVER IN CAPITOL HILL
4. Uptown – City Park, best place to stay in Denver for families
Routinely considered Denver's "capitol of cool," the Uptown area is where you will find the near-mythical Restaurant Row, as well as Denver's largest green space, City Park.
From fine dining to casual feasting, you won't find a better spot to chow down in Denver, with plenty of after-dinner entertainment in the form of live music and performances, indoor/outdoor games, and scenic walks to complete the occasion.
City Park is a not-to-be-missed attraction, offering everything from free jazz every Sunday to one of the nation's most famous zoos, the Denver Zoo, as well as the Denver Museum of Nature & Science.
Visitors can additionally enjoy the park's biking and jogging paths, with panoramic views of over 120 miles of snow-capped mountain ranges.
Lush landscaped gardens, punctuated by Ferril Lake, and plenty of picnic spots, playgrounds, and sports fields make City Park an especially family-friendly area to stay in Denver.
BEST PLACES TO STAY IN UPTOWN – CITY PARK
Read also: Best things to do in Denver
5. Cherry Creek, great place to stay in Denver for shopping
Shopping rules the day in this affluent residential district, with Cherry Creek Mall presiding over innumerable high-end and mainstream boutiques, department stores, and specialty shops.
The upscale Cherry Creek Shopping Center features over 160 stores, 40 of which are exclusive to the Cherry Creek area.
North of the mall visitors can find both chain restaurants and world fare eateries, along with coffeeshops, cocktail lounges, and casual corner haunts.
Interspersed are notable contemporary art galleries, spas, salons, bookstores, and much more.
For those who prefer a more organic experience, Cherry Creek Trail is extremely popular with cyclists and outdoor enthusiasts, who can take full advantage of the area's bike paths and trails.
There is no shortage of chain and boutique lodgings in Cherry Creek, though prices can be fairly steep during highly-trafficked seasons. Make sure to check out special online discounts and seasonal rates to get the best deal on a truly memorable place to stay in Denver.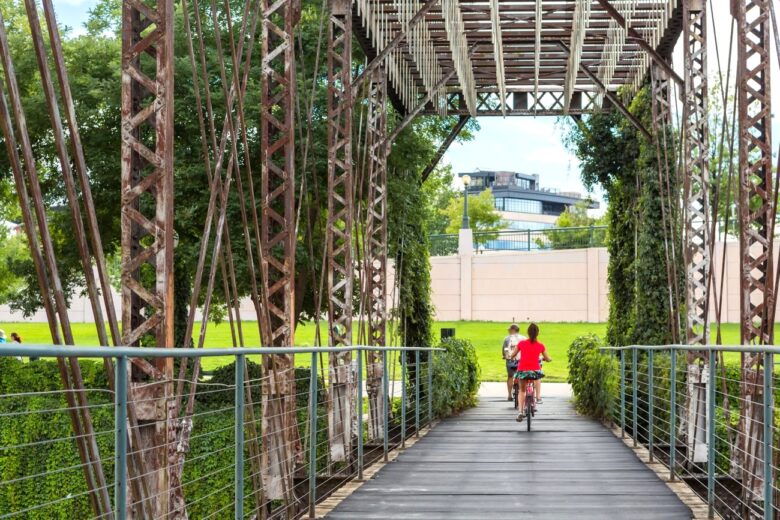 BEST PLACES TO STAY IN DENVER IN CHERRY CREEK
6. Highland, great restaurants, shopping, and outdoor activities
Presiding over downtown Denver, Highland is a busy residential neighborhood featuring elegant Victorian homes, restaurants specializing in nouvelle cuisine, and stylish cocktail bars.
The Highland Bridge stretches from South Platte River to Commons and Confluence parks, offering joggers, cyclists, and nature enthusiasts plenty of paths, picnic spots, and riverside trails, along with some of Denver's loveliest gardens.
The nearby Elitch Gardens amusement park is a must for families, with enough thrill rides and snacking to satisfy even the youngest traveler.
As with Cherry Creek, shopping enthusiasts won't find a better place to stay in Denver than Highland thanks to its chic boutiques, wine shops, bookstores, art galleries, and antique emporiums.
The Tennyson Street Cultural District is a noteworthy hotspot where locals and treasure hunters gather to inspect the market wares on designated weekdays and during the weekend.
Highland boasts a tantalizing mix of old and modern architecture, with a number of lodgings paying homage to New Western design trends.
BEST PLACES TO STAY IN DENVER IN HIGHLAND
7. Stapleton – Central Park, outdoor activities and plenty of lodging options
Formerly named after the now decommissioned Stapleton International Airport, Central Park is located east of downtown Denver, and is the largest residential district in the city as well as Denver's third largest park.
Here is where visitors and locals alike can gather to enjoy all manner of outdoor activities, from boating and sledding to more traditional sports like tennis and baseball.
Children will delight in the Dr. Seuss-inspired playground, while the parks's other features include multiple athletic fields and playing courts, jogging and bike paths, fountains, picnic areas, theaters, grilling facilities, and even select indoor amenities.
If you're visiting Denver during the warmer seasons, you'll definitely want to check out the roster of outdoor music and performance shows.
Frequently voted one of the best places to stay in Denver, you will find a variety of lodging options in the Central Park area, from 4 Star hotels to privately owned bed & breakfasts and apartment rentals.
BEST PLACES TO STAY IN STAPLETON – CENTRAL PARK
8. River North Art District (RiNo), coolest neighborhood to stay in Denver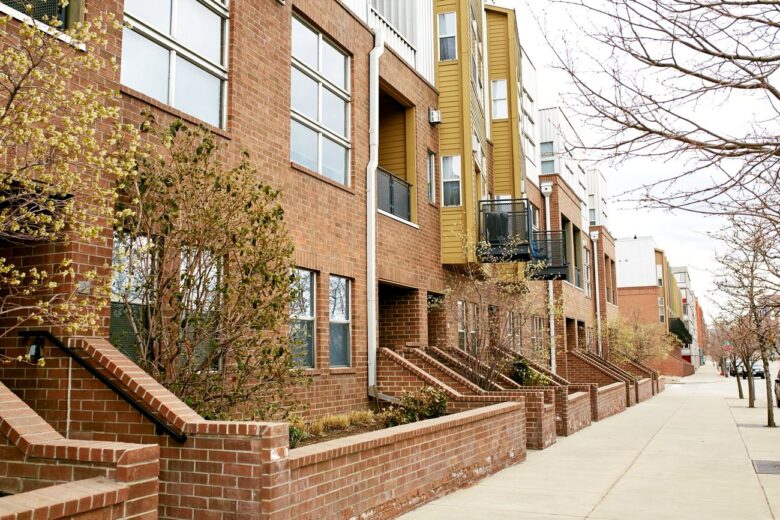 Dubbed the place "where art is made" in Denver, the River North Art District is nicknamed RiNo, and even features a special rhino design in its official logo, with countless rhino emblems, signs, and artwork to be found in and around the district.
Named one of Lonely Planet's top 10 neighborhoods to visit in the United States, RiNo is where punk rock meets modern innovation, making it one of the most unforgettable places to stay in Denver.
RiNo is known for its eclectic mix of urban charm and industrial revival, with visitors especially drawn to the historic factories and warehouses that have since been converted into music venues, restaurants, galleries, and working art studios.
From distilleries to small batch coffee roasters, RiNo is somewhat akin to London's Portobello Road in that you never know what treasures you'll find!
Friday night is the best time to explore the district and enjoy the free open house gallery events, followed by a leisurely sampling of the neighborhood's many food halls, restaurants, pop-up eateries, and food trucks.
Visitors are encouraged to take in a contemporary dance performance at Wonderbound, experience the latest in art world discoveries, trends, and exhibitions at fooLPRoof, and browse the modern ceramic art of Plinth Gallery.
RiNo is frequently cited as a leader in Denver's craft brewing industry, with famed favorites like Ratio Beerworks, Mockery Brewing, Epic Brewing, and Odell Brewing all opening their doors to visitors wishing to sample the latest-and-greatest in craft brews.
Wine and spirit lovers can also take heart, as RiNo is home to a number of urban wineries such as Bigsby's Folly Craft Winery and distilleries like Crafthouse, with even a few cider producers!
BEST PLACES TO STAY IN DENVER IN RINO
Traveler's Tip: Know Before You Go
While warmer seasons in Denver are typically mild, if you're planning on visiting the city during colder months make sure you come prepared! Adequate footwear, hiking gear, and warm layers are all recommended, even if you don't plan to venture too far afield.
It's also helpful to remember that Denver is exactly a mile (or 5,280 feet) above sea level, and the altitude may take some getting used to.
Visitors are advised to take it slow the first day or two, drink plenty of water, and avoid excessive alcohol consumption if planning to hike to higher altitudes.
Photos: Shutterstock