Wondering where to stay in Toronto? Here we've listed the best places to stay in Toronto, and what each area has to offer for families, couples, and inquisitive solo travelers.
The city of Toronto is the capital of Ontario and one of the world's busiest cosmopolitans. First settled in 1750, Toronto is famed for its skyscrapers, beautiful parks, inviting communities, bustling culture, and irresistible foodie scene.
With its dynamic and highly personalized neighborhoods and districts, visitors can easily curate their ideal experience.
Where to Stay in Toronto: Best Areas
1. Downtown, where to stay in Toronto for the first time
All but the beating heart of the city, Downtown is a not-to-be-missed sojourn during your stay in Toronto. This world-famous hotspot for shopping, sightseeing, and all things food-related guarantees something for everyone (and then some).
Downtown is where you will find the 553.3 m-high CN tower, completed in 1976 by the Canadian National railway company and the world's tallest free-standing structure until 2007.
Visitors can view the city from 1,122 feet, dine at the revolving 360 restaurant, and test their courage by stepping out onto the tower's windy Edgewalk.
Diehard shoppers won't want to miss the upscale Bloor Street shopping district, as well as the enormous Eaton Centre mall. If you find yourself in the former area, make sure to check out the Royal Ontario Museum, a treasure trove of historic and natural wonders.
The St. Lawrence Market boasts over 100 vendors and features everything from fresh fruits & veggies, cheeses, meats, and homemade pastries to antiques and artisanal goods.
After a stroll through the market stalls why not check out Ripley's Aquarium, featuring 10 separate galleries, 450 diverse species, and over 20,000 aquatic animals?
There is also the Art Gallery of Ontario, famed for its ongoing rotation of history-making exhibits including Jean-Michel Basquiat's Now's The Time in 2015, Guillermo del Toro's At Home with Monsters in 2017, and Yayoi Kusama's stunning Infiniti Mirrors in 2018.
Entertainment is in ready supply in Downtown Toronto, with a number of landmark theaters to explore and take in a show.
The Lightbox, home of the Toronto International Film Festival, features year-round showings of independent, blockbuster, and classic films, as well as the impressive Film Reference Library, CIBC Canadian Film Gallery.
Comedy fans won't want to miss Toronto's premier comedy club Second City, which has hosted the likes of Tina Fay, Bill Murray, Amy Poehler, Stephen Colbert and Steve Carell. (Visitors can even sign up for workshops and improv classes!)
And for the more broadway and theatrical-minded, there is the Winter Garden Theatre, where shows like "The Phantom of the Opera" and "Wicked" can be taken in.
There are plenty of hotels, private rentals, and hostels to choose from in the Downtown area, from 5-star selections to more intimate and budget-friendly bed & breakfasts.
As always, make sure you look into special online discounts and holiday packages to fully immerse yourself in your stay in Toronto.
BEST PLACES TO STAY IN DOWNTOWN TORONTO
2. Entertainment and Financial District, where to stay in Toronto for nightlife
The pulse point of Canada's finance and trade, the Financial District has been one of Toronto's most bustling areas since its relocation from Montreal in the 1960s.
This area is close to many major attractions and a lot of clubs, bars, and restaurants.
Here visitors can admire the stunning architecture of such buildings as Royal Bank Plaza, Brookfield Place, and Union Station, dine at a number of high-profile restaurants, and experience the city like a true–and decidedly fast-paced–local.
The PATH tour allows visitors to explore Toronto's underground city from one of its oldest and ever-expanding stations, with the 2 hour tour spanning over 18 miles of restaurants, shopping, and entertainment hotspots.
Originating in 1900 and continually growing ever since, the PATH is now used by over 200,000 commuters, residents, and tourists.
Visitors to the Financial District won't want to miss the nearby Hockey Hall of Fame, a fun and family-friendly museum dedicated to the history of ice hockey that hosts a collection of exhibits spotlighting the players and teams of the National Hockey League, along with memorabilia including NHL trophies such as the Stanley Cup.
The Financial District is home to a number of upscale and boutique hotels, making it the perfect luxury destination during your stay in Toronto.
BEST PLACES TO STAY IN ENTERTAINMENT AND FINANCIAL DISTRICT
Read also: Where to stay in Montreal, where to stay in Vancouver
3. Harbourfront, where to stay in Toronto for families
Situated on the scenic shores of Lake Ontario, the Harbourfront area offers breathtaking views of Toronto and a unique experience for visitors looking to live like a true local. With all the parks, beaches, trails, and events one could ask for, Harbourfront is an especially ideal locale for families.
The Harbourfront Centre is known as Toronto's waterfront hub, with year-round food, art, and musical events taking place, especially in warmer seasons.
Waterfront pubs and eateries offer the best views of Lake Ontario, with easy access to boat rentals and ferries shepherding guests to the famed Toronto Islands.
Visitors with little ones will definitely want to enjoy Centreville's amusement park, which features a petting zoo, hedge maze, haunted lighthouse, splash park, and charming Edwardian carousel built in 1907.
In the winter months locals and tourists alike flock to the Power Plant, a contemporary art gallery that converts its artificial pond into a fantastic skating rink, while warmer weather is the perfect time to enjoy one of Harbourfront's beaches, from HTO Park's smaller, grassier beach to the larger Sugar Beach (easily recognizable by its bright pink umbrellas).
There is also plenty of biking and hiking to be had in the Harbourfront area, with Centre Island offering tandem and quadricycle rentals.
Needless to say, Harbourfront hotels come with some unforgettable views and easy-access features, with some establishments offering their own amenities such as private beach access, tour packages, and special family promotions.
BEST PLACES TO STAY IN TORONTO IN HARBOURFRONT
4. Yorkville, best place to stay in Toronto for luxury and high-end shopping
Located at the intersection of Yonge and Bloor in downtown Toronto, this fashionable neighborhood is known for its trendy boutiques, cafes, and eateries, with Bloor Street's "Mink Mile" famed for its galleries and design studios.
With its elegant tree-lined streets and lovely Victorian mansions, Yorkville offers visitors an exceptionally picturesque experience during their stay in Toronto.
Art lovers and shopaholics will find an assortment of unique to-dos in Yorkville.
The Gardiner Museum, Canada's national museum of ceramics, was established in 1984 and offers guests a specialized glimpse into the process of ceramics-making, as well as its role in various civilizations throughout history.
Shoe devotees won't want to miss the Bata Shoe Museum, which is home to the world's most extensive and detailed collection of footwear and footwear-related objects and boasts a collection of over 13,000 items spanning nearly 5,000 years of history.
Yorkville park, sectioned to represent Canada's diverse landscapes, is where visitors can step back in time via an impressive urban forest.
A special point of interest is the park's 650-ton rock on display, which was transplanted from the Canadian Shield and is over one billion years old, and there are plenty of tables and picnic areas to stop and enjoy an outdoor lunch.
Yorkville's hotels are as chic and luxurious as the neighborhood itself, and if you don't mind investing a little more in your stay you will no doubt enjoy the area like a true esteemed local.
BEST PLACES TO STAY IN TORONTO IN YORKVILLE
5. Chinatown, cheap and centrally located neighborhood in Toronto
Established in 1878, the vibrant Chinatown district of Toronto holds a unique identity of its own, and is the perfect excursion for foodies and Anthony Bourdain-style trekkers.
Here is where visitors can explore the rich world of Chinese, Japanese, Thai, and Vietnamese cuisine, with eateries ranging from the traditional to fusion, and plenty of markets and shops besides.
Spadina Avenue is where you will find an abundance of fresh produce, souvenir items, and special herbal remedies, along with plenty of street food stalls to snack from along the way.
Chinatown hosts two noteworthy festivals every year, the Toronto Chinatown Festival and Chinese New Year celebration.
Founded in 2000, the Toronto Chinatown Festival highlights both traditional and modern Asian dance groups, solo musicians and multi-piece bands, live performances, and all manner of Asian foods, artwork, and fashions.
While it's possible to find lodgings in Chinatown, many visitors prefer to stay in the Downtown area due to its close proximity and extensive options.
BEST PLACES TO STAY IN CHINATOWN TORONTO
6. Midtown, plenty to do and see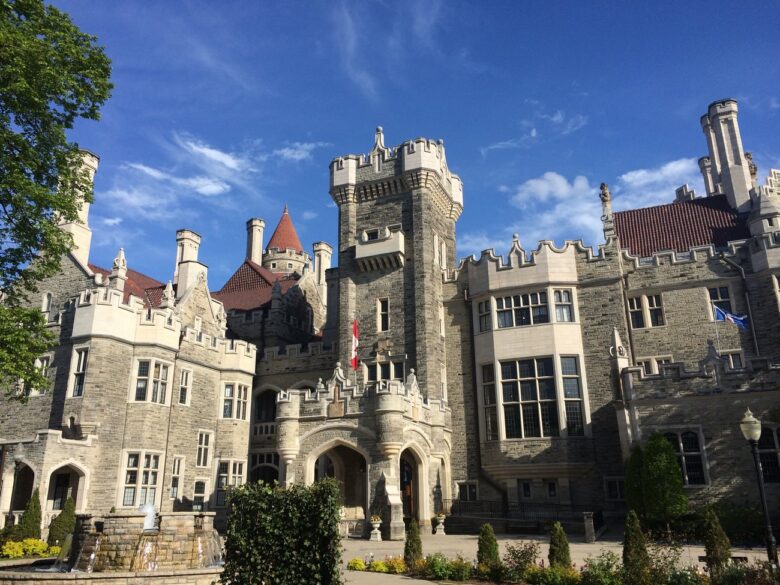 Midtown Toronto spans several neighborhoods and is home to the University of Toronto, as well as some of the city's most widely recommended eateries and attractions.
Brimming with plenty to do, see, and experience, you won't find a more bustling district to stay in Toronto.
The majestic hilltop mansion of Casa Loma is one of Toronto's most celebrated landmarks.
This Gothic Revival style mansion was purchased in 1903 by financier Henry Pellatt and is now a museum and fairytale-worthy venue that boasts an impressive art and vintage vehicle collection, gardens & stables, and plenty of photo op-worthy backdrops.
Cinephiles will be keen to learn that Casa Loma is where countless films have been shot including X-Men, Scott Pilgrim vs. The World, and Crimson Peak.
The nearby Evergreen Brickworks, a once prosperous factory and quarry and eventual community park and cultural center, is also a much-recommended excursion.
Midtown is the perfect area for outdoor enthusiasts, thanks to Christie Pits Park and the Beltline Trail where visitors can hike, picnic, and bike ride through some of the city's most lush natural settings.
On the indoor side, readers will find the Toronto Public Library, founded in 1909, nothing short of a haven, while dare devils will be in their element at the Sky Zone Trampoline Park.
The Ontario Science Centre opened its doors in 1969, and has since welcomed over 50 million visitors a year thanks to its fun and informative hands-on exhibits and immersive events.
Visitors will find Midtown an exciting but also considerably relaxed location to stay in Toronto, and there are no shortage of hotels of all budgets on offer in the area.
BEST PLACES TO STAY IN TORONTO IN MIDTOWN
7. West Queen West, coolest neighborhood to stay in Toronto
This hip young district attracts artists and trendsetters from around the world thanks to its galleries, open studios, and endless array of chic eateries, bars, and niche boutiques, and was recently voted one of the world's coolest neighborhoods by Vogue magazine.
Explore the colorful graffitied streets–Graffiti Alley itself setting the standard–while shopping the neighborhood's plethora of clothing, artwork, music, and all the good eats one could want.
West Queen West is without a doubt the contemporary art lover's destination, with interactive gallery spaces and ongoing exhibitions all but de rigueur for year-round locals.
Music lovers will want to check out the Toronto Music Garden, designed as a visual interpretation of Bach's First Suite For Unaccompanied Cello and boasting some of the most gorgeous natural landscaping in all of Toronto.
From there guests are encouraged to stroll along the Ossington Strip, where all manner of cuisine can be found.
The lesser-known but wonderful MOCA Museum of Contemporary Art makes for the perfect after-meal activity, and runs solely on visitor donations.
For families and sports enthusiasts there is Trinity Bellwoods Park, which hosts a series of outdoor events in warmer months and is ideal for public activities and relaxation.
Due to its increasing popularity, lodgings in West Queen West are widely available though somewhat costly depending on the time of year and event roster.
Private and Airbnb style rentals are on the rise however, and offer a modish but accessible alternative to more mainstream hotels in Toronto.
BEST PLACES TO STAY IN WEST QUEEN WEST
8. Airport Area, where to stay in Toronto on a budget
While the Airport Area isn't a traditionally in-demand area to stay in Toronto, there are certainly a number of benefits to sticking close to Toronto Pearson Airport.
Thanks to ease of public transport, a sizable layover can lead to direct access to all the Downtown area has to offer, with the airport itself certainly not short on shopping, eating, and pampering options.
Hotels in and around the Airport area are typically chain-owned establishments boasting ease of transportation and other reputable amenities, rather than specific points of interest.
If you are looking for a fuss-free and budget-friendly place to stay in Toronto, you can count on the Airport area for reliable lodgings.
BEST PLACES TO STAY IN TORONTO IN AIRPORT AREA
Traveler's Tip: Know Before You Go
Like most major cities around the world, Toronto has an extremely reliable public transport system.
The Toronto Transit Commission (TTC) runs via subway, streetcar, and bus and operates extensive routes throughout the city and surrounding suburbs, with multiple connections to the Toronto Pearson International Airport.
If you are planning a stay in Toronto and don't wish to be burdened by a car or costly taxi services, purchasing an extended pass is highly recommended.