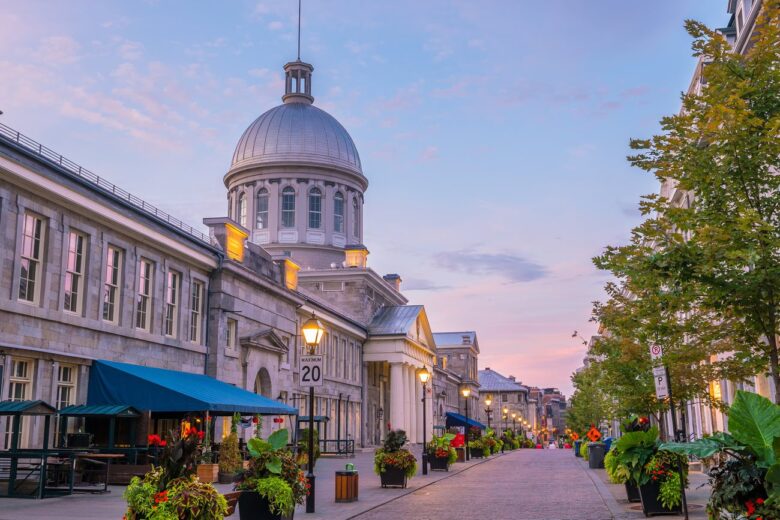 Wondering where to stay in Montreal? We've compiled the most popular areas to stay in Montreal, along with notable points of interest and lodging options.
Located on an island in the St. Lawrence River, Montreal is the largest city in the Québec province of Canada. Named after the triple-peaked hill of Mt. Royal, Montreal is a city of international fame, with a history as rich as it is ever-evolving.
First inhabited by the First Nations people 4,000 years ago, Montreal would go on to become a prominent French settlement and eventual cosmopolitan metropolis with a population of more than 1,700,000.
There is no end to what you can do and see during your stay in Montreal, and foodies, fans of shopping, culture aficionados, and history devotees alike will all find countless attractions on offer.
From the centuries-old streets of Old Montreal to the vibrant Downtown district, and with plenty of lush green parks and gardens to relax in, Montreal is a people-pleasing city that has nonetheless maintained its unique identity.
Where to Stay in Montreal: Best Areas
1. Old Montreal, where to stay in Montreal for the first time
This stunning historic neighborhood dates back to the early 17th century, and is not to be missed during your stay in Montreal.
Old Montreal is where you can truly immerse yourself in the city's fascinating history as well as take advantage of all it has to offer the modern traveler.
Located near the Saint Lawrence River waterfront and spanning several cobblestone blocks, Old Montreal is brimming with landmark sites, markets, museums, shops, architectural treasures, and some of the city's best bars and restaurants.
Place d'Armes is an ideal place to start, as the north quarter contains the old Bank of Montreal and breathtaking art deco-style Aldred and New York Life buildings.
To the south you will find the world-famous Notre-Dame Basilica, where none other than musical legend herself Céline Dion was wed.
Visitors can view the Montreal City Hall, which was erected between 1872 and 1878 by Alexander Cowper Hutchison and Henri-Maurice Perrault and inspired by the Hôtel de Ville Tours in France.
The nearby Bonsecours Market is a not-to-be-missed experience dating back to 1847, where patrons can explore the unending collection of art, clothing, jewelry, antiques, and Quebec-made speciality items.
From there visitors will no doubt want to take a stroll along the oldest street in Montreal, Saint-Paul, which offers some of the most picture-worthy views of the city, as well as plenty to do and see throughout your promenade.
Along with numerous shops, galleries, and eateries, Saint-Paul Street eventually turns into Place Jacques-Cartier, named after the French explorer who claimed Canada for France in 1535.
History lovers will want to check out the Pointe-à-Callière, a museum dedicated to the history and archaeology of Old Montreal, from the original First Nations People to eventual European colonization.
The museum is even located on an excavated archaeological site, through which visitors can walk and fully immerse themselves.
The Château Ramezay, built in 1705, may also be of interest, as it was the first building in Quebec to be recognized as a historical monument, and additionally houses a museum dedicated to the city's earliest eras.
There are no shortage of beautiful hotels and private rentals in and around Old Montreal, many of which are housed in centuries-old buildings and residences.
Because of its immense popularity, Old Montreal can be somewhat prohibitive if you're looking for more budget-friendly lodgings; however, off-season and special online rates are available if your dates are flexible.
2. Downtown, shopping, entertainment, culture, and many hotels
If Old Montreal is the heart of the city, then downtown is most certainly its nerve center. This lively district is where local university students, workers, and shoppers gather and intermingle at the many chain stores, malls, bars, eateries, and establishments.
Shopping enthusiasts won't want to skip Rue Sainte-Catherine, while Crescent Street is perfect for a post-shopping cocktail.
The Museum of Fine Arts, featuring over 41,000 works from around the world, as well as the historic McCord Museum, are both notable stops worth taking.
Lovers of the curious and macabre will be in their element at McGill University's Redpath Museum, a natural science museum showcasing everything from shrunken heads to Egyptian mummies and dinosaur bones.
The Downtown area is also where you will find Montreal's Chinatown, easily recognizable by its impressive gates.
A not-to-be-missed attraction is Montreal's observation deck, Au Sommet PVM, located on the 46th floor of office building & shopping mall Place Ville-Marie.
Here you will find the best skyline view of the city, followed by an interactive exhibit and maybe a bite to eat at the highest restaurant in Montreal, Les Enfants Terribles, located on the 44th floor.
Foodies will be nothing short of overwhelmed by downtown Montreal's fare on offer, along with every style of eatery imaginable, including countless food trucks, bakeries, snack stops, and niche markets.
Because the downtown area is a year-round hub of festivals and events, from the summer Jazz Festival to winter entertainment, you can rest assured your stay in Montreal will be anything but dull!
You will find a good many hotels, hostels, and private rentals in and around the downtown area, with prices varying according to the season.
3. Plateau Mont-Royal, where to stay in Montreal for families and couples
The decidedly laid-back neighborhood of Plateau Mont-Royal is known for its student-friendly atmosphere and idyllic townhouses, making it an exceptional spot for families and couples seeking a more intimate setting.
Thanks to its many bars, cafes, and variety of restaurants, Plateau Mont-Royal is the perfect date night destination, with plenty of theaters, galleries, and performance venues to round off the evening.
Mount Royal Park is where you will find the city's most popular trails and picnic spots, with its lake and mountain views offering a truly unforgettable backdrop.
There is also Parc Sir-Wilfrid-Laurier, famed for its lovely gardens, towering trees, sports fields, and even a public swimming pool.
When you're ready to descend back into the district, the Écomusée du Fier Monde, a former art deco-style public bathhouse and museum, awaits.
Here visitors can explore the lives of working-class Montreal residents and learn about the significant social and economic changes brought about because of their efforts.
The Rialto Theatre, a National Historic Site of Canada, was built between 1923-1924 as a cinema and is now a popular event venue where guests can take in one of the venue's year-round performances, as well as savor the sumptuous baroque architecture.
In the Plateau Mont-Royal area there is also the Saint-Jean-Baptiste Roman Catholic church, designed by Alphonse Raza and opened in 1875.
Although the church has undergone many transformations due to fire outbreaks, the baroque revival interior, complete with beautiful stained glass windows, renders it an ongoing and especially poignant draw.
Frequent concerts and guided tours are also available to the public.
Plateau Mont-Royal boasts a number of chic hotels and historic stays, with special "members only" offers frequently posted through their websites.
Read also: Where to stay in Vancouver, where to stay inToronto
4. Mile End, where to stay in Montreal for shopping
While technically located within the Plateau Mont-Royal district, Mile End has since earned its own identity, and is well worth exploring during your stay in Montreal.
This quintessentially hip and up-and-coming neighborhood holds a dizzying number of edgy boutiques, art galleries, vintage shops, record stores, bistros, speakeasy-style bars and coffee shops, with a decidedly mellow vibe that keeps things refreshingly simple.
In recent years, Mile End has been recognized as a top food destination and must-try Montreal experience. Here you will find every manner of eatery, from local farm-to-table restaurants to the best of international cuisine.
Families with youngsters can also find fun and tasty establishments featuring arcade and ping pong games, among other diversions.
Such is the popularity of Mile End that guided "foodie" tours are now available, with many designated tours targeted towards individuals with food sensitivities or special requests.
In addition to food, Mile End is equally renowned for its impressive art collectives and year-round exhibitions of Montreal's new generation of creators.
Mixed media ateliers such as Art Hive, NADine Samuel, and the workshop of screen print artist Chris Robertson offer a unique glimpse into the city's thriving local art scene, while longer-established galleries such as Galerie Simon Blais and Galerie-Espace make frequent headlines.
Because of its up-and-coming popularity, there are no shortage of hotels, lofts, and private rentals to consider during your stay in Montreal.
5. Quartier des Spectacles, best place to stay in Montreal for nightlife
Montreal's major cultural district, Quartier des Spectacles is a hub of year-round activity centered around the arts.
Featuring an estimated 40+ performance halls and venues, along with a further 40 exhibition spaces and dozens of cinemas, you won't find a more diverse and exciting area to discover both new and emerging artists from around the world.
Place des Arts is the perfect spot to branch out from, as this is the main complex that hosts year-round indoor and outdoor festivals, concerts, and installations, with the adjacent Musée d'art contemporain a perfect companion excursion.
The nearby Quartier Latin has a number of theaters, cinemas, bars, and restaurants that are also worth checking out.
Located in the Quartier's center, La Vitrine is a box office and visitor assistance station where all event and ticket purchasing info can be obtained.
Guests who linger in the Quartier from dusk onward can experience the Luminous Pathway, a magical lighting plan that guides patrons through the creative splendor of Montreal.
Luxe hotels can be found in Quartier des Spectacles, with budget-friendlier options available in nearby neighborhoods.
6. Gay Village, diversity, food culture, and lively atmosphere
Celebrated for its historic community, vivacious scene, and noteworthy food culture, Gay Village is where diversity is celebrated and all are welcome at the end of the day.
The pedestrian-only Rue Sainte-Catherine is the neighborhood's liveliest stretch, where locals and guests are sure to find their perch at one of the many bustling bars, lounges, cafes, and eateries.
Around the corner you'll find Rue Amherst, the designated spot for antique shops and trendy boutiques.
The Saint-Pierre-Apôtre Church, located just off Rue Amherst, is a neoclassical church that now houses the Chapel of Hope, which is dedicated to AIDS victims.
Galerie blanc is an outdoor gallery committed to remaining open and accessible 365 days a year. (The main entry space can be found at the corner of Sainte-Catherine Street East and Wolfe Street.)
Gay Village has an unending roster of venue shows and outdoor performances, with Complexe Sky one of Montreal's oldest and most expansive LGBTQ bar & lounges, complete with a rooftop jacuzzi and terrace.
Food lovers will truly feel at home in Gay Village, as the area is one of the top recommended spots to explore a wealth of casual, traditional, and of-the-moment cuisine.
While Gay Village has a number of boutique hotels, private loft and apartment rentals are also available.
7. Rosemont La Petite Patrie, perfect place to stay in Montreal for a quiet stay
This impossibly pretty neighborhood is one of Montreal's most attractive draws thanks to its ample green spaces, friendly feel, and plentitude of locally-owned cafes, shops, and eateries.
Outdoor events are warmer season mainstays, with the nearby open-air Jean-Talon Market a must for lovers of locally sourced produce and dairy products, nuts, dried fruits, olives, and baked sweet and savory pastries.
Rosemont La Petite Patrie is where Montreal's Botanical Gardens are located, and are a recommended stop for visitors of all ages and interests.
The gardens host an impressive collection of greenhouses, special day camps for children, a botany center, nature boutique, and even a wonderful insectarium featuring an eye-opening collection of live and mounted exhibits as well as interactive and cinema shows.
In October guests can enjoy the Chinese lantern festival, while March is the time for butterflies.
The Japanese Garden of Montreal is a peaceful sanctuary where guests can stroll among the bonsai trees–some as old as 100 years–and explore the tranquil streams, ponds, sculpture and herb plots, as well as a traditional tea garden and exhibition showcasing artwork from survivors of Hiroshima.
Also located within Rosemont La Petite Patrie is Montreal's own Little Italy, a unique and charming neighborhood in which authentic Italian cafes, delis, restaurants, corner shops, and boutiques can be found, with community events taking place year-round.
Close by is the Notre-Dame-de-la-Defense, a magnificent church built by early 20th century Italian immigrants in honor of the apparition of the Madonna in La Difesa.
There are many hotels, bed & breakfasts, and private rentals available in Rosemont La Petite Patrie, with the quiet, low-key nature of the area an especially appealing draw for couples and families.
8. Underground City, best area to stay in Montreal in winter months
RÉSO (which derives from the French word réseau, or network) is now referred to as the Underground City due to its near-mythical network of shopping centers, office buildings, hotels, convention halls, performance venues, and schools all connected through an underground transit system used by around 500,000 people each day.
Initially constructed in 1962, the Underground City had a fully operating metro system by 1966, with a further expansion eventually incorporated.
Urban planners originally conceived the idea of the Underground City as a means to cut down on above-ground traffic and commuter congestion, as well as offer a warmer solution during the cold winter commuting months.
Since then, Montreal dwellers and visitors alike have made use of this ingenious network, and the Underground City continues to evolve with the fast-paced times.
While shopping and dining may seem like the Underground City's top attractions during your stay in Montreal, you can also catch the latest movie at the Scotiabank Theatre or visit the Musée d'art contemporain de Montreal, which is just a short metro ride away via the Place-des-Arts station.
Visitors wishing to lodge in the Urban City will find themselves conveniently connected to all of Montreal's most popular districts and designated sites of interest.
Traveler's Tip: Know Before You Go
Montreal has an exceptional public transport system, with bus and metro passes available for varying blocks of time. If you plan to do a lot of exploring or are working within a limited timeframe, purchasing an OPUS card is your best money and time-saving bet.