Tenerife has been affectionately called by travel guides an island of a thousand experiences. It is possible for you to relax on countless beaches, lose yourself in tropical nature, take in a show, go shopping, enjoy a theme park, play golf, walk time forgotten, old town cobblestone streets, watch whales, and climb the volcanic Mount Teide here. Most importantly for visitors, there is no shortage of top quality places to stay in Tenerife.
Because the climate is so consistent in every season, you are able to do any of these activities that you like most any day throughout the year. The natural surroundings and infrastructure for tourists alike make it all the more possible for the whole family to have a great time.
As an example, Tenerife is renowned for eight professionally designed golf courses that allow for play year round. Nearly all of them include modern facilities. It is no wonder this is the economic center of the Canary Islands.
In the island's south west coast is a perfect place for watching whales in the ocean. As many as 26 different species swim off the Tenerife coast. These include killer whales, baleen whales, pilot whales, blue whales, and dolphins.
Spain's highest mountain is found in Tenerife in the Teide National Park. Its peak the Teide Volcano is 3,718 yards/meters high. This UNESCO World Heritage also claims the statistic of the third tallest volcano on earth.
The volcanic mountain offers two different ecosystems in its contrasting climb and provides breathtaking morning views for those who tackle it.
A second UNESCO World Heritage site is found in the beautiful old city La Laguna. This first capital is the original example of unfortified Spanish colonial town architecture in the world. It was inspired by the science of the day, navigation. The historic district oozes with charm.
Tenerife has no shortage of top hotels. These range from luxuriant five star palaces to more intimate trendy retreats. Read on to learn all about the best areas to stay in Tenerife.
Where to stay in Tenerife: 12 Best areas to stay in Tenerife
Tenerife is an island that leaves luxury holiday makers spoiled for choice. It may be harder to find budget hotels than high end possibilities on the beautiful island. We look at twelve of the best places to stay in Tenerife below.
1. Costa de Adeje, where to stay in Tenerife for your first time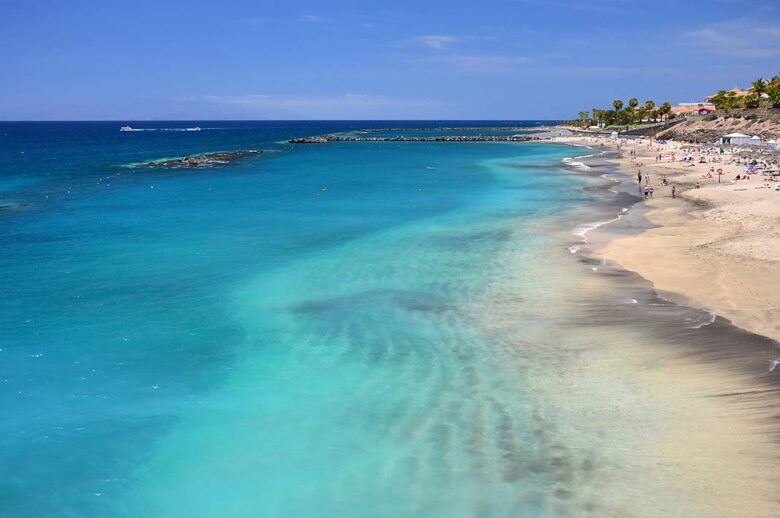 The area of the Costa de Adeje has a reputation as among the more upscale and best places to stay in Tenerife. This is especially the case as you travel to the more northerly communities lying along the coast. There are many four and five star hotels and high end shops located here.
Fortunately for travelers on a budget, there are also still some moderately priced choices. Another plus to the area is that the majority of the hotels lie within easy walking distance of both the promenade and seaside restaurants.
Costa de Adeje has truly become centered around vacationers. This is why there is so much to do in the area now. Activities here include spa treatments, go kart driving opportunities, and the popular and exciting island water-themed destination Siam Park.
The resorts along this coast here boast reps who will happily book these exciting excursions and trips. Tourist shops also carry the tickets for the tours and attractions.
Many of the best hotels in Tenerife are located in Costa de Adeje. Five star resorts abound but there are some more moderately priced options on the coast as well, especially further south.
BEST PLACES TO STAY IN COSTA DE ADEJE
2. Playa del Duque, best place to stay in Tenerife for luxury holidays
Playa del Duque is among the higher-end and more luxurious destinations on Tenerife. It lies on the Costa Adeje and promises those who love luxury and phenomenal service all that they could wish.
The beach is man made and premium. It offers a silky smooth sand and luxuriant sunbeds to visitors. The waters here are crystal clear. In this high-end resort town, the beach is clearly the focal point.
Kiosks line the beach along with changing areas and showers, thatched umbrellas, and sunbeds that combine to make this luxury resort so service-oriented.
Those who come to stay here will not be let down by Playa del Duque's offerings of the finer luxuries in life. The atmosphere is both calm and classy. An elegant promenade fronts the stand and provides trendy cafeterias and restaurants with plush seating and shaded places to enjoy cool drinks.
The cuisine offered up by world class chefs here is both local Canary Islands and international in theme. This resort caters to both families and couples who love chic and luxury.
The choices of accommodation match this vision. World class apartments and hotels here even attract celebrities alongside the discriminating clientele who wish for their Tenerife vacation to be as good as it gets.
It makes it among the best areas to stay in Tenerife if you can afford to splurge.
BEST PLACES TO STAY IN PLAYA DEL DUQUE
3. Playa de las Americas, where to stay in Tenerife for nightlife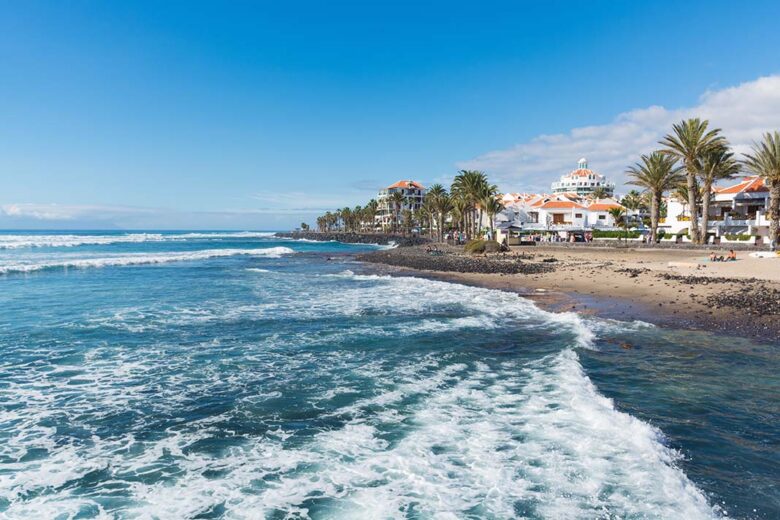 Playa de las Americas has been called the best nightlife resort on Tenerife. By day it is an action filled town for shoppers and lovers of the sun. At night the tempo becomes alive with music (all along the streets) that does not stop until the early morning hours.
It explains why the resort is so popular with both younger and older party lovers. They come back each year to enjoy the nightlife attractions of the vibrant and lively community. These nightclubs operate all year round thanks to the good weather.
A high point in the night life comes during the Arona Summer Festival in August. This is when international recording artists, bands, and DJ's descend on the town for an enormous dance party held in the resort's Olympic Stadium.
Playa de las Americas also offers gorgeous beaches, many different bars and restaurants, and a variety of water sports. You can take dolphin and whale watching trips out of the Puerto Colon harbor.
There are also several day time party boat excursions for those who do not want the dance music and drinking to stop during the daylight hours. For those who like almost nonstop action, this is one of the best areas to stay in Tenerife.
One of the hardest decisions to make is where to lodge in Playa de las Americas. There are many choices of accommodation available to visitors in this resort town that it can be overwhelming.
You can rent in apartment complexes complete with lovely swimming pools. Choices in these apartments range from more expensive three bedroom penthouses to more easily afforded studios.
Hotels of all stars provide all- inclusive packages, half board, or B&B style accommodation options. It means that visitors can select whichever type of dining choice suits them best while staying in Playa de las Americas.
BEST PLACES TO STAY IN PLAYA DE LAS AMERICAS
4. Los Cristianos, where to stay in Tenerife for families
The second most popular resort destination for visitors looking for where to stay in Tenerife is Los Cristianos. Thanks to substantial refurbishment projects undertaken in past years, it has become a highly classy resort that stays busy with tourists and residents alike all year long.
Walking around the harbor today reveals a range of restaurants that offer typical Canaries Islands cuisine and cool drinks.
The resort is commonly recommended to families along with couples and friends thanks to its family styled attractions, the gorgeous beach, and a range of water sports. Visitors can also take a ferry ride from here over to La Gomera island to explore Garajonay National Park.
The resort also boasts proximity to Siam Park, the thrill seekers' aqua themed water park. The Castillo San Miguel has become a fun-filled attraction thanks to its medieval shows that entertain the entire family. The popular shows are held nightly.
Accommodation choices here offer a wide variety for people looking at the top areas to stay in Tenerife. There are self-catering studios for the budget minded all the way up to all-inclusive hotel packages.
The popular resort offers all amenities that tourists have come to love, including fantastic restaurants, bustling cafeterias and bars, and excellent shops along with banks, pharmacies, and supermarkets for those important daily needs.
BEST PLACES TO STAY IN LOS CRISTIANOS
Read also: The best things to see and do in Tenerife
5. Santa Cruz de Tenerife, the cosmopolitan, action-packed, modern capital of Tenerife
The cosmopolitan, action-packed, modern capital of Tenerife is called Santa Cruz de Tenerife. Though it is relatively large, you can still effectively walk the city or use the trams as an alternate.
The majority of interesting sites like galleries, attractions, museums, and even hotels lie within a triangle-shaped area, making them both simple to find and reach.
The grandest structure is "Adan Martin," the Auditorio de Tenerife. Its design is striking in the waviness that shows different shapes depending on the viewers' vantage point.
The Museum of Tenerife offers exhibitions that are interactive while the Museum of Man and Nature provides a fabulous restaurant with local specialties like rabbit in piquant sauce.
For the most stylish bars and restaurants here, there is the Noria district. Pedestrianized streets mean that the tables extend out into the avenues. A nice end to a relaxed meal includes a walk on La Rambla. This takes you to Parque Garcia Sanabria and the lovely open air art gallery.
Santa Cruz de Tenerife proves to be an extremely popular cruise ship port of call alongside its claim to fame as a world-renowned holiday destination.
You can take in the common sight of the enormous floating hotel ships by walking down from the Plaza de Espana. Bars along the way provide the relaxation you want in the form of a Dorada beer or a mojito.
The city is one of the few places on Tenerife that does not offer an overabundance of five star hotels. One top rated hotel ensures the luxury that some travelers prefer.
Other accommodation here ranges from chic apartments to one star hotels. This also makes the capital the most affordable place to stay in Tenerife.
BEST PLACES TO STAY IN SANTA CRUZ
6. Puerto de la Cruz, one of the most popular places to stay in Tenerife
European holiday makers love Puerto de la Cruz because it lies close to the Tenerife North airport and so offers deals on flights to the continent. The town has a plethora of hotels in a wide rang of prices along with enough restaurants and bars to make this more tropical surroundings area of the island interesting.
An activity not to be missed here is the Lago Martianez. Though its name makes it sound like a lake, this is actually an enormous swimming pool facility. The complex boasts seven separate swimming pools. Three of them are just for kids.
Besides the obvious aquatic activities, the Puerto de la Cruz leisure facility provides fantastic views of the Atlantic and a few different bars and restaurants that you can try while enjoying an afternoon or a morning here.
The pool is amazing, but the beaches are also world class. Here in Puerto de la Cruz are located several of the famed black sand beaches of Tenerife. You will enjoy Playa del Castillo and Playa del Muelle. Surf lessons are offered at most of the beaches here.
For a more outdoors and vigorous activity, you can take a hike through the forest on La Orotava. These climbs are strenuous but reward participants for their efforts with incredible views of Mount Teide as well as the surrounding environs.
BEST PLACES TO STAY IN PUERTO DE LA CRUZ
7. La Laguna, the most beautiful town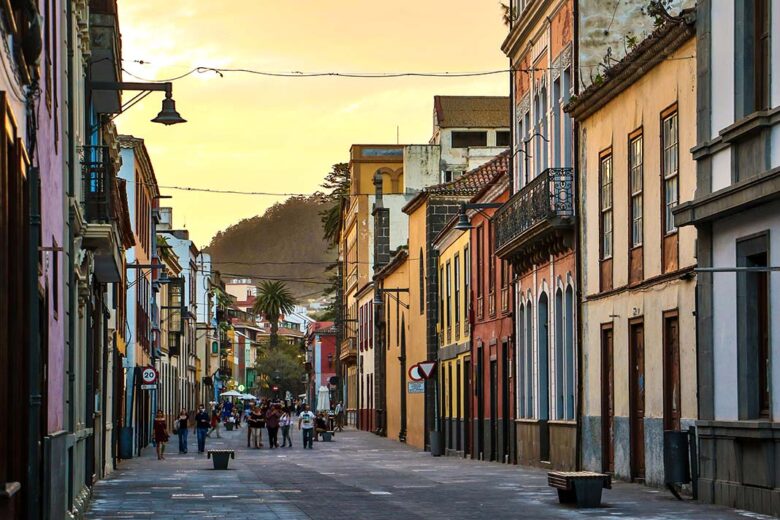 Many guidebooks and visitors consider La Laguna to be the most beautiful town in all of Tenerife. This historic town with its beautiful architecture is an accessible day trip out of Puerto de la Cruz or Santa Cruz the capital today.
The straight cobblestone lined streets are surrounded by pastel colored mansions, interesting little shops, and welcoming bars. This is the most photogenic inhabited spot on the island. Its distance from the coast kept the town from being an easy target for pirates.
La Laguna is famous for being the model used for a great number of Spanish colonial towns throughout the Americas. Thanks to its historical importance and charms, it joined the ranks of UNESCO World Heritage sites back in 1999.
Though it is the historical capital, La Laguna surprises with its young energetic spirit and a passionate nightlife.
Hotel choices here are more limited, but rooms can be rented. Another interesting fact about the old capital is that it is much cooler here in winter than in the inhabited coastal sites like Santa Cruz. In winter time, you should bring a sweater or jacket if you come to La Laguna.
BEST PLACES TO STAY IN LA LAGUNA
Read also: Best Beaches in Tenerife
8. Los Gigantes, great area to stay in Tenerife for families and mature couples
For a quieter location to spend your vacation, Los Gigantes is one of the best areas to stay in Tenerife. The town is highly recommended for friends, families, and couples if they enjoy ambiance and atmosphere without the nonstop action in the larger resorts.
Los Gigantes lies in the island's southwest at the bottom of the 500 yards/meters tall cliffs "Acantilados de Los Gigantes." This means that the resort can not grow any larger or become overbuilt in the future.
The quiet resort town's life centers on three spots. These are the Avenida Maritima, the Marina, and the plaza. Around the marina you will find the majority of the restaurants, bars, cafeterias, and shops in the resort.
Here is the best spot in town to take in the coming and going of the boats with a gorgeous backdrop of both the Atlantic Ocean and La Gomera.
The beach is another unusual feature in the resort. Many tourists are stunned to see the black volcanic sand rather than the more typical golden yellow type found on most beaches. It is still a soft sand that is ideal for building sandcastles with children. The beach is also safe for kids and hardly ever becomes crowded.
Los Gigantes offers some variety to the beach in a few publicly open leisure centers and a couple of swimming pools. In the complex El Laguillo you will find sunbathing chairs and free form pools.
Oasis Club offers water slides and pools and Crab Island boasts a natural swimming pool located in the rocks. Its salty water comes in automatically from the sea.
The resort town also offers several smaller (yet stocked up) supermarkets that provide daily essentials. A few shops also offer souvenirs, beach necessities, and gifts.
You can find a larger supermarket by taking the bus to Playa Arena and several markets in nearby villages San Juan and Alcala.
The main hotel option in Los Gigantes is the only one that is several stories tall. The other accommodation offers are low rise apartments that are mostly self catering complexes.
BEST PLACES TO STAY IN TENERIFE IN LOS GIGANTES
9. Puerto de Santiago, quiet area with local vibe
Another quieter destination for travelers to Tenerife is Puerto de Santiago. Located on the peak of the west coast of the island, several smaller towns offer a more authentic experience to local island life.
One of these tiny fishing villages is called Puerto de Santiago. It lies in between the larger areas Playa de la Arena and Los Gigantes.
This is another area that provides access to the beach Playa La Arena with its famed black sand. It is a mere 10 minute walk from Puerto de Santiago. The village also has swimming pools in its several beautiful resort hotels that are on the higher end of the scale.
Puerto de Santiago is well-placed for several good island day trips. You can take an excursion up to Mount Teide, enjoy the stunning appeal of Masca, or catch a boat to take in dolphins and whales from the resort town.
For those who would enjoy the smaller, more secluded beaches of the west coast, it is a good idea to rent a car. Tourists who seek out a quiet, more authentic representation of life on the island will find that Puerto de Santiago is among the best places to stay in Tenerife.
BEST PLACES TO STAY IN PUERTO DE SANTIAGO
10. El Medano, where to stay in Tenerife for surfers
For those who wish to exit the plane and get as directly to the beach as they can, Tenerife offers El Medano. This beach resort along the southern coast is more relaxed in nature.
It is beloved by kite surfers and wind surfers alike. El Medano also features a seafront promenade complete with surf shops and a number of restaurants.
Without a doubt, it is the El Medano beach that brings in the tourists here year after year. There are a number of beaches in the resort stretching to Playa de Montana Roja.
Thanks to the more aggressive waves and wind, adventure sports such as kite surfing and surfing are extremely popular here. You can even arrange for lessons before you arrive or by stopping at a surf shop outlet on the promenade once you are here.
For those who feel more like a strenuous adventure, you can actually hike up to Montana Roja. This aptly named red rock juts out into the sea. The mountain is actually a 171 yards/meters high volcano that provides amazing views of the island, the airport, and the El Medano resort town.
Accommodations in El Medano include the usual range of moderate to higher end resort hotels you will find in most every area of Tenerife.
BEST PLACES TO STAY IN TENERIFE IN EL MEDANO
11. Callao Salvaje, where to stay in Tenerife away from the crowded areas
Callao Salvaje is one of five different principal seaside communities that makes up the Costa Adeje. This makes it a tourist destination with many activities that you can enjoy.
It lies at the terminus of Costa Adeje. The village itself may be among the quieter of the five here, but it offers stunning views, a relaxed atmosphere, and idyllic weather.
This resort is also a residential village where locals and expats alike live. It boasts many repeat visitors every year. Callao Salvaje provides a good beach club, numerous restaurants and bars, and other activities with which to fill the hours.
Locals of the island drive to this village resort for the fantastic cuisine it offers. If you are looking for a perfect place to spend your holiday that is not so busy as the cities and bigger resorts of the island, then this is where to stay in Tenerife.
Callao Salvaje offers a beach that is worth mentioning in Playa de Ajabo. It is an easy walk from the several resort hotel complexes. The beach is not overly commercialized or overcrowded, providing a calm environment to enjoy the sun and sand.
Thanks to the lifeguard always on duty, the beach is both a fun and safe one for families with children. It also offers a beautiful walk around cliffs over to the next village Playa Paraiso. The walk gives fantastic views over the Atlantic.
BEST PLACES TO STAY IN TENERIFE IN CALLAO SALVAJE
12. Costa del Silencio, where to stay in Tenerife for relaxation
Appropriately named, the Costa del Silencio proves to be a quieter resort on Tenerife. Holidays here are more relaxed than those offered in Los Cristianos and Las Americas.
The coastline here is rugged and rocky and has only a couple of beaches. Its better quality local beaches are Playa La Ballena and Playa Amarilla.
There is also an enjoyable coastal walk you will find here along the Costa del Silencio. It takes you over to Puerto de Las Galletas from where you can book one of several day boat trips. Along this walk, there are a great number of seafront restaurants where you can stop in for a meal and a rest.
A more vigorous walk takes you east from the town to hike up to the nearby Montana Amarilla. From here, there are incredible views of the amazing local scenery.
BEST PLACES TO STAY IN TENERIFE IN COSTA DEL SILENCIO
Images: Shutterstock