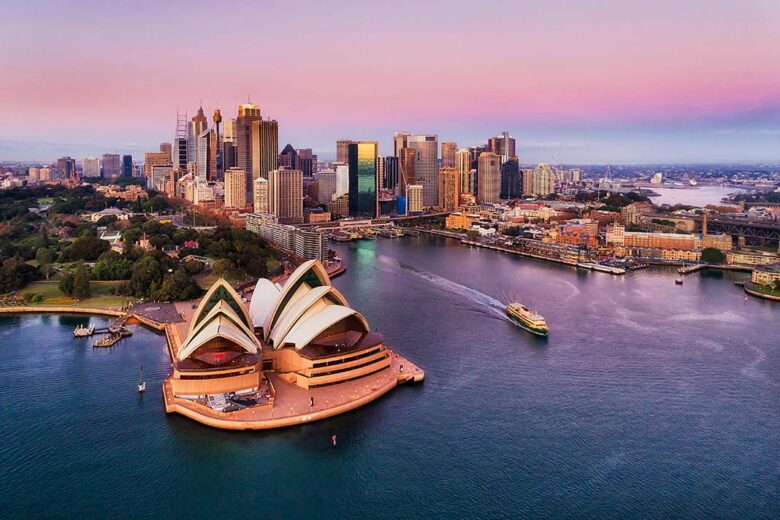 Wondering where to stay in Sydney? To help you make the most of your visit, we've highlighted some of the best areas to stay in Sydney, while you explore the surrounding areas.
10 Best areas to stay in Sydney
1. Sydney's Central Business District, where to stay in Sydney for the first time
If you like to be in the middle of everything on your holidays, one of the best neighbourhoods to stay in Sydney is the Central Business District.
As the focal-point of the city's financial area, George Street is a mix of high skyscrapers and old colonial buildings, international banks and classy shopping malls operating alongside local shops, markets, bars, restaurants, and visitor attractions.
Although everywhere in the area is easily walkable, taxis, public transport, and metro stations are plentiful for those who want to explore further afield.
A young, vibrant population of hard working thirty-somethings make up 80% of the population of Sydney's central business district, living in the many high rise apartment complexes around the area.
For visitors, accommodation is also plentiful, with high-end 5-star hotels, budget 2-star hotels, and dormitory and pod type backpacker hostels.
For the culture vultures, there are a host of venues to visit. The Art Gallery of New South Wales regularly hosts international touring exhibitions, as well as lectures, screenings, and concerts.
The Hyde Park Barracks Museum was designed by a convict architect, and provides an eye-opening insight into grim colonial life. It also highlights the penal colony's expansion, and its effect on Australia's indigenous peoples.
The City Recital Hall will keep the classical music buffs happy, while the Metro Theatre offers both local and international rock concerts.
For the foodies, the place is awash with eateries of all types. If you haven't already done so, pencil in a visit to Chinatown for a taste of the Orient.
Try Azuma in Chifley Plaza if your preference is sashimi, sushi, or other Japanese dishes, or Restaurant Hubert, if you prefer French cuisine. The area is a gourmet's paradise, but also gives those who prefer an American burger or a rare fillet steak and chips, plenty of choice.
BEST PLACES TO STAY IN SYDNEY CBD
2. The Rocks and Circular Quay, best area in Sydney for sightseeing
Located on the southern side of Sydney Harbour, and adjacent to the central business district, The Rocks is one of Sydney's most historic areas. In 1788, the first European convict settlers stepped out of their longboats onto the rocky shore, and started a colony that would become Sydney.
Soak up the history of the time by exploring the numerous heritage buildings. Visit the Museum of Contemporary Art Australia, The Argyle Gallery, and The Rocks Interactive Discovery Museum.
Sign up for one of The Rocks Walking Tours, where your tour guides will transport you back in time with stories of 18th century Sydney and its colonial beginnings.
Walk across Sydney's iconic harbour bridge. Visit Susannah Place, a set of four terrace houses built in the 1840s by Irish immigrants, and Cadman's Cottage, build in 1816.
Stroll along the narrow cobbled lanes, stop off for a coffee at one of the many friendly cafes, or enjoy a pint in Sydney's oldest operating pub and brewery, The Lord Nelson in Kent Street, before exploring The Rocks weekly market.
Although the market has over 100 stalls, there is a lot more going on than just market. The whole family will be kept entertained with puppet making workshops, magazine making workshops, mosaic art workshops, and Kombucha tea making workshops.
Get a little more active and join in with the street dancing, or try outdoor Pilates and Yoga. Even the pooch can get involved – with Yoga for dogs.
Although there are a number of excellent hotels within The Rocks and Circular Quay area, you tend to pay a little more for the fabulous views of the harbour and the quays, than you would for a hotel in the central business district.
For the younger generation looking for somewhere to stay in Sydney, the only real option for cheap-ish accommodation in The Rocks is the Sydney Harbour Youth Hostel Association.
BEST PLACES TO STAY IN THE ROCKS
3. Darling Harbour, best neighbourhood in Sydney for families
Situated on the western edge of Sydney's central business district, and a few minutes walk from the city centre, Darling Harbour offers a beautiful waterside location and recreational area, that has attractions for your whole group.
Photograph koala and kangaroo at Sydney's Wildlife Zoo, and sharks and dugongs at the Sea Life Aquarium. Enjoy the latest films on the world's largest IMAX cinema screen. Get a little active with the latest laser skirmishing, or try for a strike at tenpin bowling.
Add a visit to Madame Tussauds, or book a harbour cruise from one of the many ferries and charter boats coming in and out of the harbour.
Walk over to the western side of the Pyrmont Bridge, and let the kids scramble aboard a submarine, destroyer, and old sailing ship at the Australian National Maritime Museum.
Enjoy the terrace cafes and bars along the waterside, and the street food and fast food venues on almost every corner.
In the evening check out the chic bistros, international restaurants, and funky nightclubs in which to party-away the evening, before returning to your hotel in the early hours.
If you like to stay where the action is, then Darling Harbour has a selection of serviced apartment blocks, boutique hotels, and a range of international hotel chains such as Ibis and Novotel.
BEST PLACES TO STAY IN DARLING HARBOUR
4. Surry Hills and Newtown, where to stay in Sydney for nightlife
Both Surry Hills and Newtown are set in the Sydney suburbs. Surry Hills to the east of, and Newtown to the west of the central business district, although just a few kilometres separate the two.
Both areas are popular with residents and visitors alike, who prefer to stay in Sydney away from the 24/7 hustle, bustle, and noise of city centre life.
Financial benefits also are to be gained from staying out of town. With apartment rents, hotel rooms, food, and drink all invariably cheaper than the busy touristy areas of the city centre.
Young backpackers and students mix with visitors and workers who prefer to commute into town, adding a refreshing vibe to the pubs, restaurants, and clubs in the areas.
In Newtown, restaurants and eateries are everywhere. Asian restaurants offer Japanese, Korean, Thai, Vietnamese, and Cantonese dishes, or you can go European, and take your pick from Greek, Italian, or French restaurants.
Many of the bars and clubs also benefit from a young cosmopolitan audience, with DJs and live music to suit all tastes at many venues.
If you prefer to get out and about during the day, but stay local at night, Surry Hills might be the place to choose. Although both are very similar Surry Hills offers a wider range of evening activities to enjoy.
The American 50s style Soda Factory offers film nights, trivia quizzes, and special menu nights as well as the usual beers, wines, and cocktails. Venue 505 is a Jazz club popular with locals and visitors, while up and down the streets you'll find restaurants, cafes, and bars to suit every taste.
Accommodation in both Surry Hills and Newtown is generally cheaper compared to the city centre, with a good selection of hostels and budget hotel rooms available.
BEST PLACES TO STAY IN SYDNEY IN SURRY HILLS
5. Kings Cross – Sydney's area of ill-repute?
Sitting a couple of kilometres to the east of Sydney's central business district, it's fair to say King's Cross has experienced its share of highs and lows in its 190 year history.
Back in the early 1800s, then known as Woolloomooloo Hill, the area was developed by well-heeled local businessmen who turned it into an affluent residential area with extravagant mansions, and prestigious colonial residences.
For Queen Victoria's diamond jubilee in the 1890s, the name was changed to Queens Cross before, in 1905, it became known as Kings Cross. As the demographics began to change, so too did the fortunes of Kings Cross.
As the nearby naval base got busier, especially after WW II, the area saw a big increase in spit-and-sawdust bars, dives, sex shops, strip clubs, brothels and prostitution.
Before long, the Kings Cross reputation as Australia's premier red-light district was perpetuated in newspapers and travel brochures worldwide.
Over the last 25 years however, the pendulum has begun to swing back, with new housing developments being built. Property in the residential area is again becoming popular with Sydney's young, hard working professionals, and fashionable coffee shops and bars, chic boutiques, and trendy restaurants are opening up.
Yes the old-style bars and strip clubs are still there, but they're finding it increasingly difficult to compete in the new-look, vibrant Kings Cross.
If architecture is your thing, a few places of note are: The local fire station built in 1920, and still operating, Elizabeth Bay House, constructed in 1835, the Old Fitzroy Hotel, built in 1860, and Kings Cross railway station, which harks back to the 1970s.
If you feel the hunger pangs coming on, call into a real pie and mushy pea shop. Harry's Café de Wheels in Woolloomooloo, has been in business since 1939, attracting customers from across the city. Or perhaps the 1950s era Piccolo Bar might be more to your taste.
Nowadays, the area also offers a good selection of accommodation for backpackers and visitors from dormitory style hostels to 5-star hotels, and everything in between.
BEST PLACES TO STAY IN KINGS KORSS
6. Paddington, nice area to stay in Sydney
Paddington, a residential, inner-city area of Sydney, is home to a high percentage of Australia's young and trendy white collar workers, and expats from around the world.
Just 3 km from Sydney's central business district, or five minutes by train, it is an area of streets tightly packed with colourful terraced houses, shops, bars, and restaurants.
Although Sydney's main shopping thoroughfare Oxford Street runs through its centre, exploring Paddington's maze of side streets can turn up hidden bric-a-brac and antique shops, book shops, modern boutiques, galleries, and trendy bars and bistros.
If you want an idea of how resident Aussies spend their down time, do a little bargain hunting at Paddington's Saturday market, where a number of Australia's young, modern fashion designers, originally launched their own brands of street clothing.
Visitor accommodation is somewhat scarce in Paddington. Many of the hotels have been converted to flats or offices, and those remaining tend to be booked by business travellers.
Nonetheless, faint heart never gained fair lady. If Paddington is the place you want to stay in Sydney, a little dogged determination should help with securing a hotel booking.
BEST PLACES TO STAY IN SYDNEY IN PADDINGTON
7. Chinatown, asian flavour close to everything
Situated between Darling Harbour and Central Station in the south of the central business district, Sydney's Chinatown has continued to expand since it moved from The Rocks area in the 1920s, and is now the largest Chinatown in Australia.
Getting there is just a 15-minute stroll from Central Railway Station, or a five minute journey on the light rail system.
Now encompassing Dixon Street, George Street, Hay Street, Sussex Street, and as far west as Darling Harbour, the area is full of ornate Chinese architecture, colourful arches, swaying lanterns, and hanging banners.
Mixed in with restaurants serving authentic dishes from across Asia are Chinese supermarkets, grocery shops, traditional Chinese herbal medicine stores, and shops selling cooking ingredients, homeware, and clothing.
At the southern end of Dixon Street you will find Market City, a large building which houses the famous Paddy's Markets on the ground floor, as well as popular brand factory outlets, clothing, and specialist stores on the upper floors.
The numerous food halls also offer a bewildering range of exotic dishes from across the Asian continent, at very reasonable prices.
Chinatown also organises some spectacular street events to coincide with the Chinese calendar. The most extravagant being the Chinese New Year festivities, which can literally go on for weeks.
If you're looking for somewhere to stay in Sydney around Chinatown, there are some excellent hotels close by to suit all budgets, which are just a short walk from Chinatown, and many of Sydney's other main attractions.
BEST PLACES TO STAY IN SYDNEY IN CHINATOWN
8. Darlinghurst and Potts Point, where to stay in Sydney in an upmarket area
Situated just east of Sydney's central business district, Darlinghurst is an inner-city area next to Hyde Park and Kings Cross, and joined to Potts Point by Victoria Street.
Many years ago an overflow area for Sydney's red light activities, since the 1980s Darlinghurst has undergone massive urban renewal, turning it into a highly desirable residential and small business area.
The district is home to a wide range of ethnicities which is reflected in its cosmopolitan lifestyle, cultures, and business activities.
Attractions around the area include the East to East night market (fortnightly), the Sydney Jewish Museum, Darlinghurst Jail (built in the 1820s), Victoria Barracks, and the Paddington Reservoir.
The western area of Oxford Street, one of Darlinghurst's major thoroughfares, is also Sydney's main gay and lesbian night time area. The whole street is closed to traffic in March every year, for it to host Sydney's world renowned gay and lesbian Mardi Gras.
Although you can stroll the length of Victoria Street into Potts Point, there is a quicker way. Built in 1870, you can climb the 113 McElhone Stairs, which takes you from Woolloomooloo to Potts Point on the hill, a steep climb which is rewarded with magnificent views across Sydney.
Potts Point is one of Sydney's oldest wealthy neighbourhoods, and remains one of its most affluent areas today. For the visiting tourist, a visit to Potts Point should be at the top of the holiday itinerary.
Garden Island is home to the East Royal Australian Navy base and dry docks; and the Naval Heritage Museum. Take time out for a coffee, to enjoy the breath-taking views across the harbour.
Close by, the Woolloomooloo Wharf is another must visit. Built in 1915, it was known as the Finger Wharf, and operated as a wool processing shed for over 60 years. Renovated in the 1990s, now it is an upmarket area full of expensive apartments, designer shops, and trendy bars, coffee shops, and restaurants. A fabulous venue for a relaxing day's exploration.
Other places of interest around Potts Point include: Artspace, displaying a large collection of Australian and international contemporary art. The El Alamein War Memorial Fountain, and the Potts Point Galleries.
For those wanting to spend a little more time in the Darlinghurst or Potts Point areas, there is an excellent selection of dormitory style backpackers hostels available, as well as apartments and hotel accommodation at all levels to suit all budgets.
BEST PLACES TO STAY IN DARLINGHURST
9. Bondi Beach, iconic beach where to stay in Sydney
No visit to Sydney would be complete without at least a few hours spent on the world famous Bondi Beach. From its lifeguards to its surfers, to its sun worshippers to its (very infrequent) shark attacks, every aspect of Bondi's laid-back beach and surfing culture has been recorded for posterity in films and TV series.
Buses and trains run every few minutes from the city centre. Or you can grab a cab or even walk it – if you fancy a two hour stroll around the headland.
If you don't want to ride the waves or soak up the rays, there are plenty of alternatives to be found. Picnics on the beach are allowed and very popular, or stop for a light lunch overlooking the beach on Campbell Parade.
Enjoy a little retail therapy in the numerous beach front shops, or just grab a beer on a terrace, and do a little people watching.
For the more active who want to get their feet wet and master a surfboard, there are a number of highly qualified surf schools on the beach, who can supply all the equipment, and have you up on your board in no time.
For those who prefer to base their stay in Sydney around the Bondi area, accommodation is plentiful, and ranges from beach front condos, to hostels, B&Bs, apartments, and 2 to 5 star hotels and motels.
However, if Bondi is where you prefer to stay, early booking is essential, as it is one of the most popular areas to stay in Sydney with both young domestic tourists and international visitors.
BEST PLACES TO STAY IN BONDI BEACH
10. Manly, where to stay in Sydney in a beautiful beach area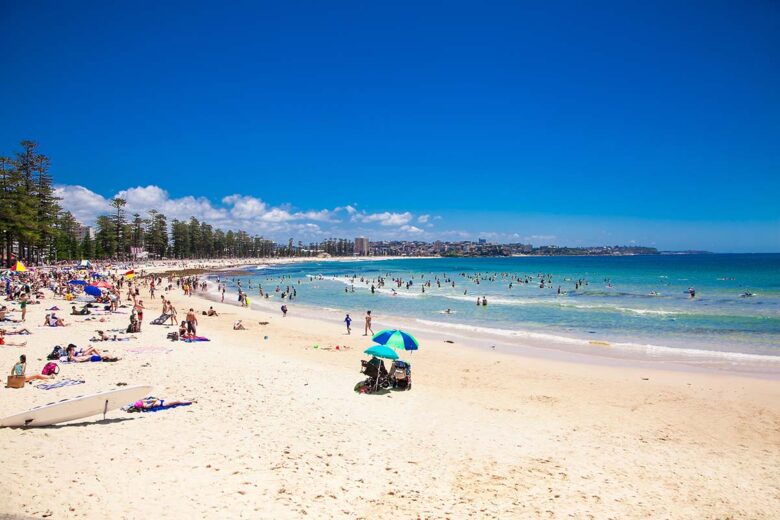 While Bondi Beach gets all the accolades, there's an equally beautiful beach a little farther up the coast frequented by those visitors and Sydneysiders in the know. The beautiful beach side suburb of Manly is a resort area in northern Sydney, 17km north of the city centre.
The area can be reached by car, taxi, bus, or train, but for the best experience, the only way to get there is the 30 minute ferry ride leaving from Circular Quay.
The ferry takes you across the harbour, with fabulous views of Sydney Opera House and Harbour Bridge before tying up at Manly wharf. There is also a fast-ferry service, which cuts the travelling time in half.
As you leave the ferry at Manly wharf, check out Manly Corso, a buzzing pedestrianised precinct made up of over 200 shopping outlets, coffee shops, bars, and restaurants.
Local Sydneysiders love to gather at the terrace cafes and bars to enjoy the many young, and not so young, buskers and street performers. If the heat hits you and you fancy a cold beer, head for the 4-Pines by the wharf, a pub, micro-brewery, and eatery founded ten years ago, and a favourite with the locals and returning visitors.
Spending day after day soaking up the rays on a beautiful golden sand beach, is not everyone's idea of the perfect holiday. For those who prefer to mix relaxation with a little exercise activity, Manly offers plenty to keep you happy.
As you would expect, there is no shortage of surf schools where you can hire all the equipment and learn to ride the waves. There are also plenty of opportunities to try your hand at kayaking, boating, sailing, snorkelling, scuba-diving, and even surf life-saving.
If you fancy a little exploring, head for the north end of the beach, and slide through the 'Wormhole' onto Freshwater beach, reputed to be where surfing was first introduced to Australia in 1914.
If you want to go a little further afield, the 10km cliff top walk from Spit Bridge to Manly beach will take you through a number of picturesque coves and bays on your way back to Manly.
Other points of interest include the 100 year old Grotto Point Lighthouse, the Fairy Bower Sea Pool, Manly Dam, and a visit to the Manly markets.
When visitors discover Manly they return time and again, so early booking is recommended. You can choose from backpacker hostels and budget hotels, to self-catering apartments, B&Bs and guest houses, holiday-lets, private villas and hi-end hotels.
BEST PLACES TO STAY IN MANLY
Although the recommended best times to visit Sydney are September to November inclusive, and March to May inclusive, with so much to see and do in this fabulous city – any time can be the best time.
Fotos: Shutterstock