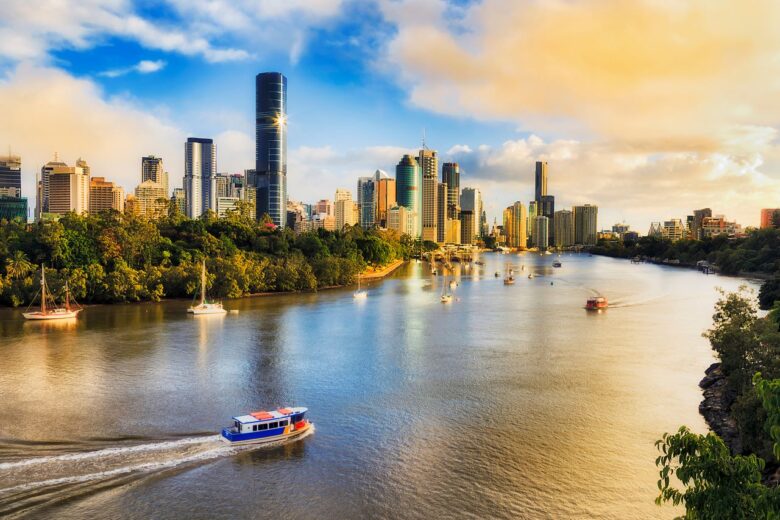 Wondering where to stay in Brisbane? Brisbane is a fairly big area with several suburbs. It can be confusing to discern which areas best fits your needs and ideal vacation expectations. Check out our guide on the best places to stay in Brisbane
Luckily, Brisbane has a lot of options: hotels, hostels, AirBnBs and other shared accommodation. Compared to other cities, Brisbane is also relatively inexpensive, offering accommodation at several different price points.
Where to stay in Brisbane: 8 Best Areas
1. Brisbane CBD, the best area where to stay in Brisbane
Situated royally atop the historic European settlement itself, Brisbane Central Business District is often referred to as the heart of Brisbane.
Shaped triangularly and bordered by the Brisbane river to the east, south and west, Brisbane CBD's central tip is called Gardens Point. Gardens Point derives its name from the beautiful City Botanic Gardens, a site added to the Queensland Heritage Register in 1997.
At any point of the year, the gardens flourish with rare and exotic plants and a sprawling green landscape. Stroll over 49 acres and take in miles of shady trees and leafy shrubs, an avenue of Weeping Figs and a regal fountain, all making up the tipping point of a bustling metropolis.
Brisbane is also known as a fashion hub and a shopper's premiere destination. And, there may be no better place to spend your money than at Queen Street Mall.
Perfect for pedestrians perusing along, Queen Street Mall offers four department centers, big name retailers, high-end fashion lines and niche Australian labels.
You should also make sure to check out Brisbane Arcade at 160 Queen Street, another heritage-listed site with gleaming Terrazzo floors, elegant jewelry stores and artisan craft-makers famous for quality and luxury pieces.
For a great night out, hit the Eagle Street Pier. With 15 eateries, bars and casual hot spots, you'll also take in stunning sights of Story Bridge, which thousands of tourists climb every year and offers panoramic views of all of Brisbane and the Kangaroo Point Cliffs.
You can also hop on a boat for an immersive dinner river cruise.
Though Brisbane CBD isn't all working, it is relatively quieter than other parts of Brisbane in terms of nightlife. So if you're looking for a wild party scene, Brisbane CBD may not be your best place to say.
But if you want to take in some nature, culture and history while exploring a major city center, a stay in Brisbane CBD is your best bet.
Brisbane CBD is relatively safe, but like most cities, basic precautions should always be observed, especially at night.
As a traveler, you should budget spending towards taxi or Uber fares if you're ever a far distance from your accommodation. If you're a solo traveler, avoid walking alone at night in low-visible areas and try to take a friend with you if you plan on being out past dark.
Brisbane CBD has a lot of options for accommodation, including high-rise hotels overlooking the water and less-glamorous hostels that are more wallet-friendly.
BEST PLACES TO STAY IN BRISBANE CBD
2. Spring Hill, a residential community with a charming history
Spring Hill is a leafy suburban area in the inner-north section of Brisbane, where locals and tourists alike love waking up to clear birdsong and streaming rays of golden Brisbane sunlight.
In the area's history, natural springs surrounded Spring Hill and supplemented the water supply. Though the area has changed since then, there's still a little something for everyone, from families with young kids looking for fun activities to old retirees just looking to relax.
As one of the oldest residential areas in Brisbane, many of the homes date back to the nineteenth century. But, as you stroll through this incredible area, you'll also see modern mansions, new-world eateries and charismatic hotspots.
A beautiful day in Spring Hill starts with a walk on the Roma Street Parkland, a paradise of perfectly-manicured, sprawling lawns and lush flowers. You can spend half a day here just leisurely walking along the walkway.
As an internationally-recognized destination for nature-lovers, the Roma Street Parkland also hosts green spaces for picnics and playing, and remains a popular social spot all-year round.
The Parkland is also home to a grand amphitheater, so be sure to check the published calendar of events to determine if a performance or play is taking place during your visit.
Next, hit any one of the quaint cafes, chic eateries or upscale restaurants for lunch, before taking in some historic culture at the Spring Hill Baths.
Nestled along a secret line of Spring Hill cottages, the Spring Hill Baths are the oldest surviving baths in the southern hemisphere, originally built in 1886.
With grandstand seating and quaint changing rooms around the perimeter, the baths retain their classic features while also being modernized with new technology, including distance clocks and heating systems. In addition, the baths offer aerobics and other learn-to-swim classes.
Another great historical spot to check out is The Windmill in Wickham Park. The Windmill is a large, heritage-listed tower mill originally built by convicts in 1828, used for a variety of uses.
Spring Hill is a perfect area to stay in Brisbane if you're traveling for business. Hotels here are not as expensive as the ones in Brisbane CBD, but they still offer the same high-standard of luxury add-ons and services for the working professional.
Because this area is so residential, you'll also be sure to find several AirBnbs and other home-share options.
BEST PLACES TO STAY IN SPRING HILL
3. South Brisbane (South Bank), a place to see and be seen
Located on a populated stretch of stunning riverfront, South Bank is just a stone's throw from Brisbane CBD and a cultural capital in its own right.
In the 1930's, South Bank was a busy river port and highly-industrialized city with factories, multiple churches and warehouses. The port thrived, but slowly fell into decline as movement into the city slowed.
That changed, however, in 1984, when South Bank hosted the World Expo 88, bringing in over 18 million people over a 6-month period.
Since, South Brisbane is now home to world-class dining spots, artistic performances and colorful bars. But, it still retains some old-school charm in its historical alleyways and homes.
If you're a food and drink aficionado, you'll love South Brisbane. And, there may be no better place to try a variety of options than Fish Lane, perhaps the most diverse food hall in all of Australia.
Fish Lane also has great bars and restaurants in addition to casual vendors from a variety of countries, so there's sure to be something for everyone. Grey Street and Little Stanley Street are two other popular streets with great dining options.
In addition to great food, South Bank also has great cultural offerings in the form of singing, dancing and art, with the Queensland Cultural Centre dominating the scene.
The Queensland Cultural Centre includes the Queensland Performing Arts Centre, which hosts over 1,200 across its indoor theaters and outdoor venues and the Queensland Art Gallery, which also hosts regular exhibitions. The Lyric Theater is Brisbane's premiere spot for opera and ballet performances.
The Brisbane Convention and Exhibition Centre, a massive centre that hosts regular conferences, exhibitions and charity galas is another top, awe-inspiring spot to check out.
Finish your evening in South Bank by walking along the South Bank Parklands, located on the southern bank of the Brisbane River, and take in some mouth-watering views.
South Bank offers a lot of hotels, motels, hostels and shared-home accommodation to choose from. 3-star hotels tend to average around $100 per night, while 5-star hotels come in at around $170 per night.
BEST PLACES TO STAY IN SOUTH BRISBANE
4. Fortitude Valley, where to stay in Brisbane for nightlife
An eclectic area filled with funky boutique shopping, casual eateries and pumping nightclubs, some say Fortitude Valley is the suburb that never sleeps. And, for good reason.
You may never have to wait in line to have a good time, as Fortitude Valley offers so many options for a fun night out, including classy, rooftop lounges, clubs for dancing the night away and even low-key dive bars for the casual drink.
Locals call it "The Valley," and can't get enough of all this area has to offer, as it was the first dedicated entertainment district in Australia. Live music also thrives here, from street performers to world-class DJs drawn to this fun suburb.
Fortitude Valley is also perhaps one of the most diverse areas in Brisbane, with a major hub of Chinese culture at Brisbane's own Chinatown.
As you walk around the Chinatown Mall, you'll see food options from a variety of Asian cultures, including Korean, Thai and Vietnamese, as well as more upscale restaurants and casual grocers.
After getting your fill, head to James Street, which hosts over 130 shops on its strip. Here, you'll find designer Brisbane labels, as well as vintage and antique pieces, while also taking in street art and large murals all around.
Fortitude Valley is also well-known for its historic laneways, including Winn Lane and Bakery Lane, which both offer tasty bites to eat, cute pop-up shops and great people-watching.
But, as night falls, the real party starts. Head to The Pig and Whistle for trivia night in their expansive beer garden or Gerard's Bar for luxury charcuterie, specialty snacks and world-class wine.
The Elixir Rooftop Bar on Ann Street also offers stunning views of Brisbane and a chance for an incredible photo-op.
If live music is what you're after, check out either The Tivoli or The Triffid, which regularly host local and touring bands and exciting performances. Don't forget to bring your ID!
Because Fortitude Valley is such a fun spot for going out at night, it may not be totally suitable for young kids. Though Fortitude Valley is relatively safe, ensure you've made arrangements to get home at night and avoid any party-goers who've had too much.
As the area has grown significantly over the past few years and draws in large crowds, accommodation here can be a bit pricier than other areas of Brisbane. But, some new, statement-making hotels have popped up offering first-time deals and luxury services.
With great views of the Brisbane River, Fortitude Valley shouldn't be missed as an optimal place to stay in Brisbane.
BEST PLACES TO STAY IN BRISBANE IN FORTITUDE VALLEY
Read also: Where to stay in Sydney, where to stay in Melbourne, where to stay in Cairns, where to stay in Gold Coast
5. New Farm, great neighborhood in Brisbane for families
Located just 2 kilometers east of Brisbane CBD, New Farm is a quiet, quaint residential area and inner northern suburb of Brisbane.
Known for its ornate, towering Queenslander-style homes and charming apartment buildings, here you'll also find leafy trees, shady streets and old-world charm.
With several boutique cafes and kid-friendly restaurants, you'll be sure to find a great cup of coffee and mouth-watering food wherever you go. And, as one of Brisbane's oldest suburbs, you'll be sure to take in a bit of history too.
New Farm is perhaps best known for its namesake park, one of the oldest and largest parks in all of Brisbane. With 37 acres of ample space to run around, host a picnic, throw a ball or merely stroll under the trees, it's no wonder that New Farm Park hosts over 18,000 visitors per week.
There are also free live events in the public rotunda all year-round. At the park's edge is the New Farm riverfront walkway, perfect for strolling and taking in stunning views.
And, adjacent to the park is the New Farm Powerhouse. This performing arts center is a cultural arts mecca in the form of a modern, repurposed power station.
Now, as one of the most popular venues in Brisbane, the Powerhouse offers a variety of performing arts, live music shows, festivals, an outdoor plaza and even a rooftop terrace. On occasion, you may even see a wedding or two taking place here.
For a sweet treat at the end of the day, try the New Farm Confectionery, serving up delicious, sugary, Parisian-inspired chocolates and candies. The New Farm dining scene is a far cry from the eclectic eateries of Fortitude Valley, instead opting for a more relaxed, casual café-vibe.
But, a distinct Italian presence has formed a Little Italy area that offers traditional pastas and pizzas. Many locals and tourists hail New Farm for its walkability, as you can get around the suburb with ease while taking in a multitude of sights.
As a residential area, New Farm is an incredible place to stay in Brisbane if you have young kids. With tons of jungle gyms and green spaces, kids are free to run around and have fun.
And, hotels are often catered to traveling families, offering large amounts of space for a fairly inexpensive price.
BEST PLACES TO STAY IN NEW FARM
6. West End, a funky suburb where to stay in Brisbane with relaxed charm
Like New Farm, West End has a residential, working professional vibe. But with several new cultural and dining spots popping up each year, the suburb has begun to transform into a happening night-life haven.
This relaxed suburb has become a fusion of old and new, alternative and elegant, local and international. A true contradiction, West End offers something for every lifestyle and preference.
After WW2, an influx of Greek immigrants made West End their home, leading parts of the suburb to be deemed "Little Athens." The area continues to be a multinational melting pot as the West End population grows and develops.
If you're wondering what to do during a stay in West End, there's a ton of options at your beck and call. There always seems to be a lively, excited energy in the area as the streets hustle and bustle. But, the area truly comes alive on the weekends.
Davies Park Market is an open-air market selling fresh produce, specialty meats and cheeses and fresh flowers, all under the shady guise of fig trees. The Market is only open on Saturdays, so be sure to plan your itinerary accordingly.
Boundary Street is another great spot to pick up some hot eats, take in the surrounding street art and get in some people-watching while sipping a coffee.
Orleigh and Musgrave parks offer great views of all of West End and Brisbane CBD, as well as playgrounds and expansive green spaces for laying back and relaxing.
West End's nightlife and drinking scene has truly transformed in the past few years.
If you want to try it all, you can embark on an ambitious bar crawl, starting at local favorite The End, stopping by luxury cocktail spot Lychee Lounge, and sipping on some craft beer (an ever popular-item these days) at Archive Beer Boutique and Bistro.
But, if you're not a drinker, there's still a ton of live music venues where you can kick your heels up and dance away.
As one of the most diverse and free-thinking areas of Brisbane, West End may not be for everyone. But if you're ready for interesting conversations, a warm reception from locals and a colorful take on urban living, West End is a great place to stay in Brisbane.
As a popular spot with young travelers, you may see an influx of hostels and cheaper housing in West End than in areas like Brisbane CBD.
BEST PLACES TO STAY IN BRISBANE IN WEST END
7. Kangaroo Point, urban adventure and breath-taking views
Set against the backdrop of the Story Bridge and Kangaroo Point Cliffs, Kangaroo Point is an inner-city suburb in Brisbane and extremely close to Brisbane CBD.
As one of the oldest and most-outdoorsy spots in Brisbane, Kangaroo Point has long been a fan-favorite of local and world travelers, especially those looking for a thrill in an urban environment.
And, there's no shortage of excitement, or history, to be found. As Queensland's first penal county, Kangaroo Point has seen a variety of residents in its day. Since, the area has completely transformed into a vibrant community in its own right.
Looking to start your day off with some high-flying adventure? Hit the awe-inspiring, landmark Story Bridge Adventure Climb. This 1.5-2 hour climb crosses the entire bridge and summits at 80 meters above the river.
Once you hit the top, you'll get unrivaled views of the entirety of Brisbane, its surrounding mountain ranges and the river's islands. All ages above 6 are welcome.
If you want more height-defining thrill, take a trip to the Kangaroo Point Cliff. An 18-meter climb, once you hit the top, you can either abseil down (for the daring ones!) or start heading down the cliff's 93-stairs.
If you're interested in keeping your feet on the ground, Kangaroo Point still offers fun and day-filling activities. There's no shortage of relaxing restaurants and cafe's around Kangaroo Point to check out.
The Eagle's Nest, a fan-favorite bar, offers stunning views of Brisbane, which you can take in while sipping a cold, Australian lager. The Medley Café is another great option for casual eats.
If you're still not tired out, bikes are available for rent at several spots along the Brisbane River, and you can circle around the Kangaroo Point until sunset.
Because Kangaroo Point is so close to Brisbane CBD and offers a lot of options for outdoor recreation, the area can get hectic on the sunniest of days.
And, the closer you get to the Brisbane River, the more expensive accommodation tends to get. This is a good rule of thumb to keep in mind as you determine where to stay in Brisbane.
BEST PLACES TO STAY IN KANGOROO POINT
8. Woolloongaba, sports, brews and an amazing view of the city skyline
Perhaps best known as the site of the Woolloongaba is also known for its rich history. Woolloongaba is said to translate to "meeting place" in Aboriginal dialect, and it's no surprise why.
Here is where food, sports and culture-lovers meet, converse and experience Brisbane. The Cricket Ground, otherwise known as "The Gabba" is the stuff of cricket legend, with its ground first laid in 1895.
Now, the internationally-recognized sports stadium hosts a capacity of 42,000 seats. On any given game day, you can catch tens of thousands of cricket or AFL fans rooting for their team in the stadium.
If sports aren't your activity of choice, there's still tons of things to do in Woolloongaba. Woolloongaba is becoming increasingly known for its diverse drinking and dining scene, from trendy, upmarket cafes to casual hotspots with local cuisine.
The suburb has a vibrant reputation for incredible craft beers and cocktails. After a major match, you may see plucky fans either celebrating or drowning their sorrows at the Brisbane German Club, where you'll be transported to Munich with a full international brew.
Or, for a fancier evening, check out Mrs. J Rabbit's Speakeasy, an intimate, award-winning bar serving up hand-crafted cocktails.
As an up-and-coming area, young professionals and students alike love how inexpensive Woolloongaba is, and this is shown in the colorful energy flowing throughout the city.
Also well known for rare antiques, Woolloongaba is home to several small shops and boutiques with hidden gems you won't find anywhere else.
And, before you leave, make sure to stop by Absolutely Fabulous, a Brisbane staple selling jewelry, novelty items and other gifts to take back home with you.
Though Woolloongaba offers great deals on hotels, hostels and motels throughout the year, the area tends to get especially crowded during matches, and accommodation will book up fast due to an influx of outside travelers. Book early to ensure you get the best rates.
BEST PLACES TO STAY IN BRISBANE IN WOOLLOONGABA
No matter where you choose to stay in Brisbane, you can't go wrong with picking an option on this list. Each area offers a unique flair and perspective and you'll be sure to find accommodation that fits every budget, need and service you and your fellow travelers desire.
It is especially important to book both accommodation and activities in advance to secure an open spot and ensure the best possible visit to Brisbane. And with classic Queensland sunshine beaming down all year-round, there's almost never a bad time to stay in Brisbane. Come visit Brisbane today!
Photo: shutterstock/(9)wikipedia