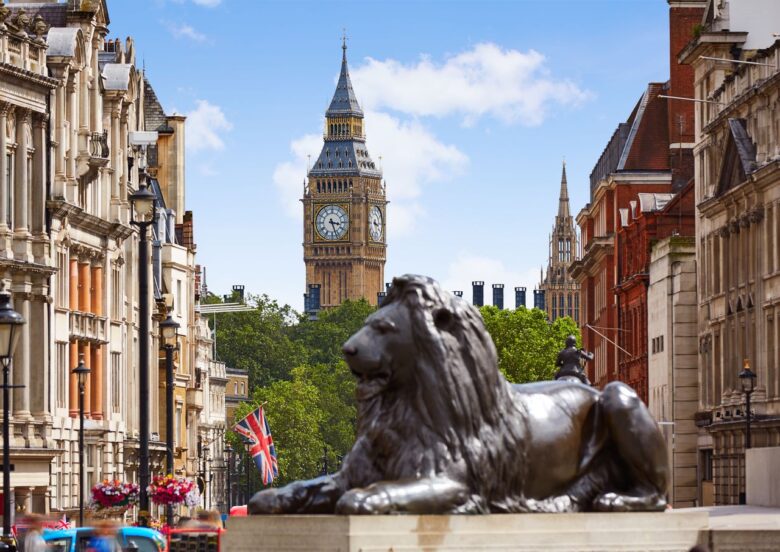 Where to stay in London when you first visit this city? Finding the right accommodation may seem a little overwhelming, considering that London is one of the most visited cities in the world. We break down the best places to stay in London from our personal suggestions!
London is an old city. A city of mosts: amongst others; most expensive, most desirable, most influential, most powerful, and most visited.
Visitors can be overwhelmed by the city – it is immense and very intense, bursting with life, diversity, joie de vivre and passion, and everyone there moves fast, talks fast and walks fast!
The following round up will give the traveller some idea of the best areas to stay in London according to lifestyle, budget and preference – although, of course, any visitor should try to see as much of London as possible!
Where to Stay in London: Best Areas
1. Westminster, Best Place to Stay in London for Sightseeing
Properly called the 'City of Westminster', this neighbourhood is a London borough that is simultaneously a city in its own right.
Smack in the heart of London, it is bounded by the fashionable Kensington and Chelsea on the west, the City of London to the east and the Thames provides its southernmost border.
Much of the area is given over to businesses and government buildings, but there are many hotels there too.
Sights to see include the most iconic London images: the Palace of Westminster (better known as the Houses of Parliament), the London Eye, Big Ben, St Pauls Cathedral and, of course, wonderful walks along the Embankment, watching the boats plying back and forth on the river.
Being the heart of London, there are a wonderful plethora of nightclubs, pubs, restaurants, bars and niche establishments that adhere tightly to the latest trends, whether that is cat cafés or bubble-tea shops.
Do expect to pay high prices, but it is well worth it for the opportunity to see authentic London life, especially if you ask at your accommodation for decent places to enjoy, rather than the latest and trendiest places to be seen.
Part of the West End falls into Westminster, so look out for famous faces, performances, and arty types!
During the day, Westminster will fill up with business-suited men and tourists, with very little variety between those two groups!
Avoid the tube stations at rush hours (between 7.30 am and 9.30am and again between 3.45pm and 7.00pm) – the crush will be incredible, and visitors from quieter, more leisurely places may well feel a bit panicked, and possibly even become separated from travelling companions.
At other times, the tubes are a fast and efficient way to travel, and a fairly cheap one, considering.
Using a contactless payment card is your best bet if you will be travelling around on a lot of public transport: all your bus and tube rides are tallied up and the cheapest options taken from your balance.
(NB this may take a few days, so keep an eye on your balance if funds are low.)
Taxis are expensive, but efficient and can get you to your destination very quickly assuming traffic allows if you are running late, but often the excellent bus lanes and frequent Tube stations will get you there quicker and cheaper.
There are 32 Tube stations in Westminster including Westminster itself, all criss-crossing the area and often ensuring that a footsore visitor does not have to walk more than a block or two before the next is in sight.
London as a whole is relatively safe, but Westminster's record is slightly higher, mainly pushed up through opportunistic petty theft.
Westminster´s is one of the best places to stay in London for sightseeing. Unfortunately it is not a cheap area. The prices are typically London ranging from an eye-watering £350 per person per night for even relatively modest hotels, to a more humble £150 for a very modest budget hotel.
Luxury hotels are even more expensive!
BEST PLACES TO STAY IN WESTMINSTER
2. Covent Garden, Where to Stay in London for First Timers
Many people confuse the area of Covent Garden with the Royal Opera House which, being situated there, is often known by that name.
But there are many theatres in the area which forms part of the West End, not least of which could be said to be the main performance square where street artistes build their dreams of fame and fortune hunting their big break, or just looking to make a little money to get through the week.
These performers must audition to gain one of the prized spots on the Square, so do take the time to linger and watch for a while: you might be pleasantly surprised at the quality of the performances.
If you have ever accidentally said 'Convent' Garden by mistake, you were actually unknowingly shouting out to the area's past as a walled garden and orchard attached to Westminster Abbey, before it was seized by Henry VIII and built upon.
The French word 'covent' meaning religious community for either gender was adapted in 1515 and has been retained ever since, despite the area's usage changing so dramatically.
It has been the site of a market ever since 1654, first, an open air one which rapidly gained a red-light reputation for prostitution, hard drinking and crime, and then a covered one, with vastly improved policing and organisation.
The current market is a few miles away from the original site: it was moved in the 1970s to ease traffic congestion, but the original market hall building (constructed in 1830) is still in use as a food court/ shopping centre.
The area is a thriving and successful one, bursting with performers, street art, street food, artisanal coffee shops and boutique eateries, market stalls selling everything from cheap knock-off DVDs and CDs, clothes and tat; to more upmarket personalised clothing, art and much more.
Holborn, Leicester, Covent Garden and Embankment tube stations are all within easy walking distance of the sights of Covent Garden, while buses ply regular routes into and around the area.
Much of it is easily walkable and there is reasonable (if time-consuming) wheelchair access to the old building and most of the newer constructions.
Being a high tourist traffic area aimed at entertainment and creativity, there are plenty of restaurants, pubs, clubs and hang-outs. The Square is a great place to be seen, and Covent Garden never closes, so explore at all hours to see this historic and vibrant area in all its moods.
Covent Garden is, like much of London, relatively safe, with only occasional outbreaks of trouble. Crime tends to be opportunistic and petty: pick-pockets, theft of unattended items and some scams.
Be alert, keep valuables out of sight and use common sense: staying in a group, not walking alone after dark and leaving as many valuables as possible locked securely in the hotel safe.
One scam to watch out for is when an artist hands you a CD or DVD disc, implying that it is for free, but then demands that you pay for it: a nuisance requiring vigilance as it is human nature to take something when it is offered in that way,.
Worse are those who do give the discs away, or demand such a low price that it seems easier to pay, only for the discs to contain viruses or spyware.
Hotels are almost invariably pricey with no readily found budget options and few self-catering offerings. Most of the hotels in the area are luxurious accommodations with matching prices – but this close to London's lively and beating heart, this is not surprising!
BEST PLACES TO STAY IN COVENT GARDEN
3. Soho, Where to Stay in London for Nightlife
This part of London, like Covent Garden and Westminster part of London's fabled West End, is famous for its sexual liberty, LGBTQI inclusivity and general welcome for those who embrace fringe and alternative lifestyles.
Home to burlesques, strip shows, dancers of all types and theatres and cinemas galore, Soho is as much a Londoner's playground as it is a curiosity for tourists to visit and marvel at – especially if they are from less permissive parts of the world!
Soho is not all seediness and sex though, the area is home to Hamley's, a large and magnificent toyshop, boasting six packed floors with larger-than-life Lego models of celebrities, cuddly toys larger than grizzly bears and all the latest gadgets that kids of all ages will lust for!
There are also many family-friendly attractions and shops, as well as family performances and shows, for those who prefer less sensual delights!
Cocktail bars, truly unique boutiques, coffee shops and all sorts of pubs, clubs and nightlife entertainment can be found and it is often best to follow only a loose itinerary, seeing what is on offer each day and visiting galleries, openings and entertainments based on what is available.
Often free or discounted tickets will be handed out on the day to ensure a full house and boost interest and takings: these are often worthwhile.
Shopping in Soho ranges from cutting-edge designers just starting out to the weird and wacky indulging their distinctive tastes, so you will be able to find interesting and unusual gifts for family and friends back home!
The area is serviced by London's excellent bus network, and the four closest tube stations are: Piccadilly Circus, Oxford Circus, Tottenham Court Road and Leicester Square.
Soho once – in fairly recent history! – had a rowdy reputation for drugs, prostitution, sleazy performances and all the unsavoury pleasures of the flesh. This attracted a criminal element to the area which made it an unsafe place to both live and visit.
However, during the day Soho is much tamed, and you will be very safe, while even at night common sense and travelling in a group will be enough to ensure your safety.
On Friday and Saturday evenings, the locals – and those who travel into the area to let their hair down – tend to kick loose and it can become rather rambunctious.
On these evenings, expect a heavy police presence as the police aim to deter fights and drunken antics from getting out of hand.
The area tends to be highly built-up with any available space snapped up for commercial purposes, which means that hotels and accommodations are relatively rare in Soho. But if you can find accommodation here you will be based in one of the best areas to stay in London.
There are some budget options, but they tend to be snapped up the moment they become available, and more readily available rooms tend to be on the expensive side, as might be expected from a perfect location in the heart of London.
BEST PLACES TO STAY IN SOHO
4. Knightsbridge, Where to Stay in London for Luxurious Shopping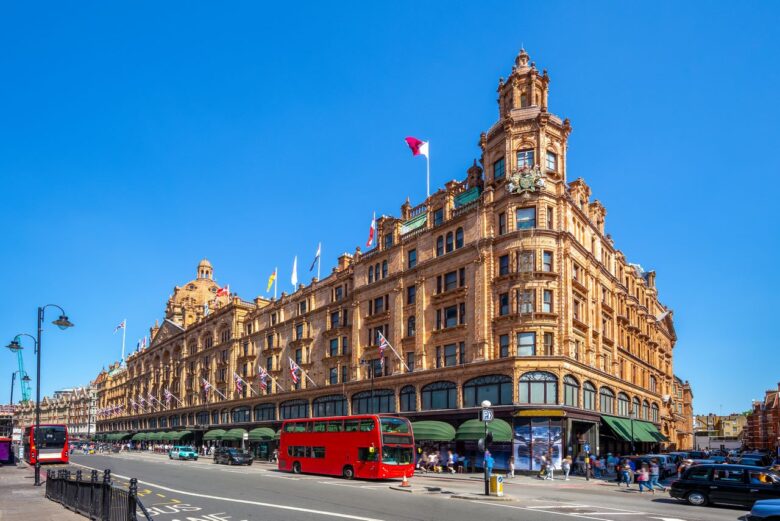 In reputation, Knightsbridge is about as far from Soho as you can get! It is a genteel shopping district, with high-end fashion outlets, luxury vehicles, and many of the kind of shops that do not have price tags – if you have to ask, you should not be shopping here, is the implication!
Of all the sights in Knightsbridge, Harrods immense department store is probably the most famous, a large, squarish building picked out in green and gold.
Inside, each department is like a store in its own right, giving the store the impression of being a massive mall, or even containing a whole village inside its walls!
Prices range from affordable to £1000 for a kilogram of Kobe beef, handbags can cost an entire year's salary for a well-paid office worker, and pens range from pennies to thousands of pounds, depending on whether you opt for Bic or Mont Blanc!
Spend the whole day wandering around Harrods and you still will not have been able to see more than a fraction of what is on offer! Elsewhere in Knightsbridge, you can find budget-friendly restaurants, shops and boutiques, but the main theme of the region is wealth and opulence!
There are some pubs and nightclubs in Knightsbridge, almost all of them very exclusive and very expensive, while restaurants, again, tend to cater to the one-percenters rather than Joe Average travelling on a limited budget.
The area is served by Knightsbridge tube station and many crisscrossing bus routes that will get travellers within yards of their chosen destination.
Knightsbridge is very safe: any criminal lurkers tend to be moved along swiftly. There have been a few high-profile incidents, most inspired by the immensely wealthy people living and working in the area proving too tempting to kidnappers, extortionists and similar menaces, but these are very few and far between.
Buying a small and cramped flat in this area will set you back multiple millions, and hotel accommodation is cut from the same cloth!
Luxury hotel rooms can rise as high as £1000 per person per night, and budget accommodation prices stretch the definition of the word to its utmost limits.
BEST PLACES TO STAY IN LONDON IN KNIGHTSBRIDGE
5. The City, Business Area, Safe and Modern
Properly called 'The City of London', this are deserves to be in any list of the best areas to stay in London. This is the business heart of the city: what is meant when high-powered businessmen say they work 'in the city', as opposed to having an office in one of the far-flung outskirts of London.
Despite the immense fortunes and huge deals – both in volume and value – that originate in The City, it is a relatively small area, size-wise.
It is small enough to walk clear across without even realising it, and there is little in the ranked arrays of modern office buildings to attract the attention of even the most capitalistic visitor for very long.
So small is it, that it is sometimes called 'the Square Mile' (it is, in fact, very slightly larger than that measure).
There are some points of interest in The City. These include various parks and gardens (all relatively small) which are maintained by the city authorities to provide peaceful havens and oases of green amongst all the relentless grey and glass urban-ness.
There is also the Temple Church, famed in several literary works, including Dan Brown's Da Vinci Code, and Fleet Street, formerly the home of any newspaper worthy of the name.
While many of The City's denizens are tremendously wealthy, there are also a host of lesser mortals: secretaries, assistants and PAs who also need to eat lunch, have a drink after work, and occasionally enjoy drunken leaving parties.
Prices at pubs, bars and restaurants tend to be cheaper than Knightsbridge, although the overall trend is for upmarket and solid. Nightclubs are few and far between, but they can be found with patience and judicious questioning of waiters and concierges.
Despite its small size, The City's population swells immensely every day with commuters flooding into the area, and thus it is served by a staggering seven tube stations: Liverpool Street, Cannon Street, Moorgate, Mansion House, St Pauls, Bank and Monument, Blackfriars and Aldgate, while several others are close enough for commuters to make use of them and walk the rest of the way to work.
Cyclists are fairly common, thanks to the abundance of dedicated bicycle lanes that often ensure that bikes make better time through traffic than cars.
The City is a very safe area for visitors to stay in London, although the high finance and business dealings do make the area a potentially desirable target for political villainy.
To this end, the 'Ring of Steel', a series of checkpoints and barriers has been installed to protect the area, with police forces ready to implement defensive measures in minutes if necessary.
Hotels proliferate, probably not unexpectedly, given how many businessmen travel for their work, and prices range from budget friendly to the most luxurious, so that any traveller can be fairly sure of paying a reasonable price for their accommodation.
BEST PLACES TO STAY IN THE CITY
6. Notting Hill, Romantic and Charming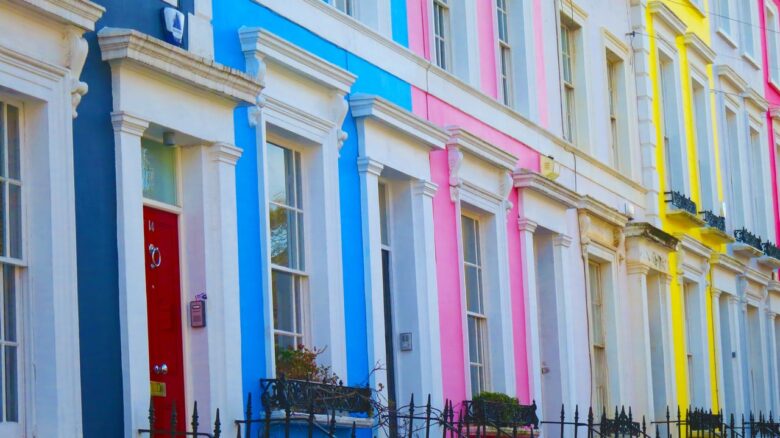 This area has two claims to fame: it is the site of the fabulous and flamboyant Notting Hill Carnival, which is held over two days in August, when the weather is likely to be hot, dry and sunny.
Almost always featured on the news because of the wonderfully vibrant multicultural joy it brings, the streets are shockingly quiet once the carnival is over for another year!
The other claim to fame is the 1999 Richard Curtis film, starring Julia Roberts and Hugh Grant as Hollywood star and bookshop owner respectively.
The truth of Notting Hill lies somewhere between the extravaganza of the carnival, and the tranquillity depicted in the movie: and life plays out against a truly stunning array of beautifully painted houses in all colours and hues.
Portobello Street Market is one of London's most famous markets and if you are in the area on Friday and Saturday make sure to allow enough time to explore the whole magnificent market area. There is a smaller market on other days, but the real deal is hard to mistake!
The area is packed with rich retail opportunities, galleries, boutiques and many cutting-edge designers, artists, writers and creatives learning their trade, making Notting Hill the place to go to find out what will be hot next year!
There are quirky museums, performances, clubs, pubs and bars: a little something for everyone.
Use Notting Hill Gate tube station for direct access to the area, otherwise, Westbourne Park Station, or Ladbroke Grove Station will bring you into the area ready to explore. Notting Hill is plied by several bus routes.
Once in the area, exploration on foot is recommended to be sure you absorb the sights and sounds of the area – and the smells too, Notting Hill is home to truly fabulous restaurants and walking along the right streets at the right time is a positive banquet for the nostrils!
Notting Hill has something of a reputation for high levels of violent crime, and it is true some streets are a good deal livelier than could be desired.
However, the quieter back streets of the area tend to be tranquil, never suffering from the violence that can break out in known trouble-spots.
Check the address of your hotel before you travel and ask your concierge if you think you might be returning to the hotel late.
The carnival attracts a lot of opportunistic crime – as would any mass gathering of people anywhere within London – but at other times, Notting Hill should be a relatively safe place to stay in London.
There is plenty of accommodation in Notting Hill, ranging from the high end of the budget market all the way up to the luxurious side, with prices that track that range.
Notting Hill is a popular area to stay in London and rooms do go quickly, so try to book in advance, unless you are certain you are travelling at off-peak times, if such a thing can be said to exist in London.
BEST PLACES TO STAY IN NOTTING HILL
7. Paddington, Good Area to Stay in London for Budget and Business Travellers
Paddington, like Notting Hill, is possibly better known from Hollywood than anywhere else, thanks to the tremendous popularity of the little bear who shares the area's name.
Paddington Bear, from 'darkest Peru', was first introduced to the world in Michael Bonds' books, and then in the two movies released in 2014 and 2017 respectively.
But it is well worth knowing as a London region too: beautiful architecture, both modern and older, waterside developments and plenty of green open spaces make Paddington feel more like an old-fashioned town than a central part of one of the biggest cities in the world.
Paddington the bear takes his name from Paddington Station, an impressive edifice designed by none other than Brunel, one of the great engineering names of the Industrial Revolution.
Statues of both the literary bear and the genius architect can be seen in the station, which is immense, comprising two tube outlets, and forming a major nerve hub for almost the whole of London, with many different tube lines meeting here.
Alexander Fleming, who was credited with the discovery of the uses of penicillin, lived and worked in the area and made his famous discovery at St Mary's Hospital in Paddington, and his laboratory is now a museum where visitors can learn more about the wonderful difference that penicillin made to medicine – and to the lives of the population.
The building in which the station is housed is stunning and well worth admiring, if you have the time, as is the canal-side area known as Little Venice.
It was reputedly named by Robert Browning, the poet, but in fact it was Lord Byron who gave the intersection of two canals that soubriquet – probably ironically! Regardless of his intentions, the name stuck and is now applied to a slightly larger area than was originally included in the description.
The revamped Little Venice is now a vibrant and welcoming scene, with street food markets, shops, restaurants and community attractions like a water maze, outdoor cinema screen and more.
The canal-side makes for relaxing and energising walks, and Regent's Park Zoo is accessible (albeit with a lengthy walk) by this means.
As well as Paddington Station, as detailed above, there is Lancaster Gate station in Paddington and many bus lines work through the area also.
One of the reasons for the high volume of visitors to Paddington Station (upward of 38 million people use the station each year) is the fact that the Heathrow Express runs every 15 minutes to and from the station.
There are several cycleways across the area, and there are also canals which can be used for strolls away from traffic and to enjoy the sights of waterfowl, like ducks, moorhen, gulls and swans, squabbling for territory and food.
Paddington's crime rate is low, and the area tends to be very safe, as long as basic precautions are taken.
There are more than 90 hotels in Paddington, ranging from budget offerings to premium rooms. Most visitors to the area are businessmen, holiday-makers or student backpackers, and the available accommodations meet these requirements to stay in London.
As well as hotels, there are plenty of guest houses and some bed-and-breakfasts (B&Bs) too, often with beautiful outlooks over the many leafy parks and canal-side nooks throughout the area.
BEST PLACES TO STAY IN LONDON IN PADDINGTON
8. Chelsea, Where to Stay in London in a Residential and Chic area
Football and flowers are what spring to mind when the average person on the street thinks about Chelsea.
Chelsea FC, based at Stamford Bridge, is world famous, a premier league team that is frequently featured in the top-flight games, and Chelsea Flower Show a fragrant and visually stunning gathering of horticulturists, gardeners, agriculturists and anyone with any kind of an interest in plant life!
During the Flower Show, local businesses get into the spirit of things with glorious flower baskets, beautiful garden beds and planters bursting with all things sweetly scented and colourful.
In popular culture, Chelsea is represented by a rather niche selection of the population in 'Made in Chelsea', a 'structured-reality' show (which means semi-scripted or directed) about a group of wealthy young people, of the type that would be called trust-fund babies in the USA.
The 'fly on the wall' documentary style of the show takes the viewer into some of the most sumptuous homes and hotels and businesses in the area as well as elsewhere in London and, indeed, all over the world.
The world shown in 'Made in Chelsea' is simply one facet of a fascinating part of the city, which has down-home pubs and working-class residents, red-clad army pensioners working guided walking tours of the area, the wonderful work done by the Royal Chelsea Hospital, and the immense range of wonderful (if expensive) shopping opportunities which range from antiques to clothing boutiques to world class restaurants.
Tube links to Chelsea are somewhat lacking with only the infrequently serviced Sloan Square in the area. Bus links are numerous, and it will usually be fairly easy to walk or bus to the nearest tube station if travelling further afield in London.
Chelsea is largely a safe area to live in and travel through, with a lower than average crime rate taken against the city as a whole. Property crime is a little higher, but still in line with the city's mainly low record.
Chelsea is not one of the more budget friendly areas to stay in London, catering instead to the upper-middle classes and minor gentry – even some lesser royals can be spotted in the area.
Hotels, accordingly, cater to higher-end budgets, with even the cheaper options running close to £200 per person per night, and go all the way up to several hundred pounds for luxury hotel rooms.
BEST PLACES TO STAY IN CHELSEA
9. Kensington, Where to Stay in London for Museums
Instantly recognisable to many tourists as being 'the place where all the museums are', Kensington is, indeed, home to the Science Museum, the Natural History Museum, and the Victoria and Albert Museum
In brief, the one with the very cool interactive exhibits, especially for kids, the one that used to have a dinosaur skeleton but now has a blue whale skeleton, and the one with all the fascinating old clothes, statues, notebooks, and oddments of all sorts from all over the world, respectively!.
As well as the museums, the area is home to beautiful Kensington Gardens, where Queen Victoria's memorial to her beloved Albert can be admired, and also to the Imperial College, the Royal College of Music and many international embassies and consulates.
Wealthy businessmen and even billionaires call the area home, and housing prices tend to be on the very, very high side – even for London.
Kensington Palace, in the grounds of the Gardens, is partly opened to the public, despite being the official London residence of several royals, the Duke and Duchess of Cambridge amongst them.
Visitors should pay special attention to the dining room, while touring the building: this is where Queen Victoria was born!
There are many restaurants and bars in Kensington, including many of the strictly convenience type, for foot-sore and weary museum explorers to refuel before getting on to the next attraction.
Kensington, South Kensington and Gloucester Road tube stations all cater to the area, with most visitors guided gently in the direction of the museums so that finding one's way can seem almost intuitive.
Bus routes, already providing reasonable coverage, were expanded and enhanced when the congestion charge for driving vehicles in the city centre was put into place in the mid-2000s.
Much of the area is pedestrianised and it is pleasant to stroll the wide streets, and occasional patches of green as they crop up, exploring fascinating shops, tempting passers-by with souvenirs, maps, and gifts for those back home.
Kensington, like many of the other affluent parts of London, is very safe at all times of the day, although, of course, usual safety practices should be followed so as not to tempt an unscrupulous person into opportunistic theft.
There are plenty of hotels in the Kensington area, and many of them offer reasonable prices, despite the up-market ambiance of the area. The price range runs from the high end of the budget options to modest luxury for those looking to treat themselves.
This is designed to cater to tourists travelling about the whole UK, staying in London for a night or two, and wanting to be close to the hotels in order to minimise travel time.
BEST PLACES TO STAY IN LONDON IN KENSINGTON
10. Victoria, Transport Hub and Cheap Accommodation
Victoria the area is named for Victoria the station – a behemoth comprising train station for both Underground (Tube) and over-ground (National Rail) trains, a bus terminus, and is just yards from the Victoria Coach Station, making Victoria a vital hub in the public transport network in London.
Victoria is close to Buckingham Palace, and many travellers walk from the station to watch the Changing of the Guard, or simply look at the palace, perhaps hoping to catch a glimpse of the royals coming and going.
The area is predominantly devoted to businesses, and – being relatively small – has little else of interest, being usually a place visited while in transit.
The station is almost worthy of being a destination in its own right, seeming to be more a fabulous shopping mall and food court than a simple station. There are actually two outlets from Victoria, one on the District and Circle line, and the other on the Victoria line itself.
Eateries, nightlife and pubs are fairly unexciting, designed to service the local residents more than dazzle visitors, with many of the best foodie options to be found within the station building.
Victoria is a fairly safe area, although coming into contact with so many transient people is sure to arouse temptation in the more feloniously minded of these.
Look out for bag-snatchers and pickpockets and – as in any major transport hub – be on the look out for hustlers trying to trick money out of the travel-weary or naïve, but in general crime levels are low.
Being such a wide-ranging transport hub, the area of Victoria is unsurprisingly packed with hotels, guesthouses and B&Bs with prices ranging from high-end to surprisingly cheap budget offerings, designed to offer the weary traveller little more than a place to sleep while they wait for their flight or other transport links to elsewhere.
BEST PLACES TO STAY IN LONDON IN VICTORIA
11. Southwark, Great for Sightseeing
Just a short distance from Westminster and within easy walking distance, Southwark is bursting with famous London landmarks.
Five of the best known bridges in the city: London Bridge (a rather plain affair), Tower Bridge, Southwark Bridge, Blackfriars Bridge and the Millennium Bridge provide a wealth of crossing places to ensure that traffic – both vehicle and foot – flows easily over and around the river.
The Shard, an immensely tall, glass skyscraper, is the tallest building in Western Europe and squarely in Southwark. Its shorter, bulgier counterpart – the Gherkin – is visible from the Shard, but lies across the river, a short eighteen minute walk away.
The Shard's viewing platform offers stupendous views over London and is well worth investing in. Elsewhere in Southwark can be found the Shard's polar opposite as a new, tall, spike of a building: Shakespeare's Globe Theatre: a squat, round old-fashioned building, painstakingly reconstructed to resemble the original.
Also nearby are the Imperial War Museum, the Borough Market and the Tate Gallery – three very different aspects, but all authentic facets of the wonderful melting pot that is the city.
A multitude of both underground and over-ground stations abound in Southwark, bus routes are well provisioned, and, while you enjoy your stay in London, you can even use boats as transport, with services running both up and down-river on a regular and frequent basis.
Nightlife bustles in Southwark, as all the tourists, freshly showered, and perhaps having had a short nap after exploring the sights of the city, head out to enjoy a meal, a few drinks and a dance or two at a nightclub.
Check with your hotel concierge or locals for the best place to go on each night: often the best revels are common knowledge to locals – who then don't need to advertise the fact!
Southwark, being right in the middle of tourist territory with poorer residents perhaps easily tempted by the riches presented casually around then, has a slightly higher than average crime rate than the rest of London. Remember that 'high for London' still means overall, that Southwark is a relatively safe place.
Follow safety practices such as keeping valuables out of sight, only taking as much cash as needed for the day, and keeping a careful eye out to see if you have attracted any unwanted attention during your stay in London and you should be fine.
Despite its fabulous location at the heart of tourist London, there are a number of good budget hotels and guest-houses in Southwark for surprisingly reasonable prices. The luxury end of the market is also catered for, with a little bit of something for everyone in the area.
BEST PLACES TO STAY IN SOUTHWARK
12. King's Cross, Where to Stay in London on a Budget
While you might immediately think 'Harry Potter' and start plotting afresh on how to get onto Platform 9¾, you should also think 'Boudicca' when you hear the words King's Cross.
The feisty Iceni leader is believed to be buried in a site that later became platform 9 or 10 in popular culture (or was she really a witch and vanished onto whatever the 60AD equivalent of the Hogwarts Express was?).
No matter your thoughts on either historical characters or fictional boy wizards, King's Cross has benefitted enormously from the huge popularity of J K Rowling's magical world.
The station – for which the surrounding area is named – was constructed on the site of a monument to the king, which was called 'the kings' crossroads'. The name was retained, but shortened to the snappier version we are all familiar with today.
While, like Victoria, the station distorts the landscape around it, all visitors, locals and transients seeming to be involved with the station in some way, there are some points of interest that should be enjoyed.
The British Library is in the area, several significant art galleries, and various orchestras and symphonies are based in King's Cross.
There are also a good number of independent shops and boutiques, as well as small ethical coffee-shops and eateries, making the area an ideal one for casual exploration and low-key shopping expeditions.
The station is huge – deservedly so, as anyone who has seen it at rush hour will agree – and there is a strong Harry Potter presence, in the form of several shops and a trolley mounted so as to appear to be going through the wall (seen often on social media images of people's visits to the city!).
While Victoria is also large, it seems designed to invite travellers to linger and shop or eat, but King's Cross's largeness seems designed to achieve maximum throughput at speed!
There are seating areas, and places to eat and shop, but the overall impression is one of impatience, as though the idea is to keep moving as speedily as possible.
The nightlife in King's Cross tends to be of the pub and bar type more than nightclubs, but there are a few party destinations for those determined to let their hair down.
More sophisticated tastes might prefer to head to the party areas instead, relying on a taxi or the first train to get themselves back to their bed.
Obviously, the main transport connection for the area is the station, but there is another major tube station within the area: Euston Station, which is the main link to over-ground trains heading north, out of London.
St Pancras International is also within the area, and links, not only with the rest of the UK, but with international destinations via Eurostar through the Channel Tunnel.
In total there are three rail stations and two tube stations in the immediate area, but there are also coach and bus links in the vicinity.
King's Cross in the recent past – before J K Rowling's works brought the Station into the eye of the world – had a rather dodgy reputation with high crime rates; mainly opportunistic crime and some violence.
But the influx of tourists, especially with young children, has seen a dramatic change wrought in the area, and it is now largely safe, with some caution to be exercised if out alone late at night, as in any other big city.
Hotels and short-term lets in King's Cross range from modest budget offerings all the way up to premium rooms, all within easy walking distance of the station.
These have almost certainly grown up with the station, increasing along with the insatiable demand for accommodation in London.
There is little in the way of either extreme: neither very cheap rooms nor luxurious suites, but most travellers will be able to find a room for their stay in London that suits their needs and pockets without too much stress.
BEST PLACES TO STAY IN KING´S CROSS
13. Shoreditch, Vibrant Nightlife
If you want to experience authentic street markets, delicious foods from countries all over the world and enjoy the vibrancy of an area where life is lived at full throttle with music, song, fabulous artwork and more, all available for simply walking down the street, then Shoreditch is the place where to stay in London!
Home to Brick Lane – an extravaganza of street art, markets, music and food – as well as many other equally vibrant and multicultural offerings in the surrounding streets.
Performers do their thing, hustlers hustle and the markets bustle with wares from everywhere, and food from Canada, Thailand, the Caribbean and more.
Train links come close but do not directly service the area but several bus routes ply the area fairly comprehensively. Cycle tracks provide some access for those looking for greener ways to travel and much of the area is easily walkable.
The nightlife in Shoreditch is exciting and widely available with many pubs, clubs and bars staying open for long hours, so that locals and travellers alike can let their hair down and unwind.
If a thumping bass line and frenetic pulse is your bag, Shoreditch is one of the best places to stay in London.
Shoreditch is a safe area, with some mild instances of pickpocketing. Mugging and violent crime is very rare. There are a good number of students living and working in the area which help to give it a youthful, and friendly vibe.
Like much of London, Shoreditch offers a wide range of accommodations, ranging from basic budget offerings for relatively low prices to more expensive premium rooms.
BEST PLACES TO STAY IN LONDON IN SHOREDITCH
Now you know a little about the various areas of London, you can plot your best course of action for your stay in London.
Do bear in mind, however, that wherever you choose to stay in London, you can fairly quickly and easily travel across the city using the many comprehensive transport links on offer, so the place you stay does not have to define the sights you see.
Photos: Shutterstoc