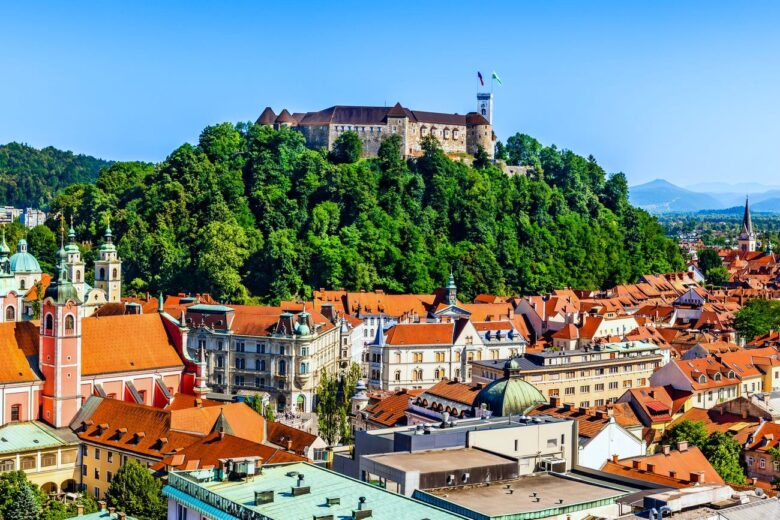 If you intend to explore the capital of Slovenia, read on, for the best places to stay in Ljubljana to get the most from this historic city on your first city break.
With a history dating back BC, Ljubljana has been the capital of Slovenia since its independence in 1991. Small compared to many European capitals, it is still Slovenia's largest city, and a major road and rail hub to Hungary, Italy, Austria and Croatia.
Although Ljubljana's industrial base includes pharmaceutical production, electronics and food processing, it is also a city of wide-open spaces, meandering waterways, quaint cafes, multiple museums, theatres, galleries, an opera house, and an increasing university population.
With a young, forward-looking population, most areas are pedestrianised, public transport is low emission and cycleways continue to increase across the city.
Taxis, shuttles and buses run from Ljubljana Airport to the city centre and by bus, the journey time is a pleasant 30-minutes.
The following is a list of the 7 best areas to stay in Ljubljana.
Read also: Best things to do in Ljubljana
Where to stay in Ljubljana: Best areas
1. City Centre, where to stay in Ljubljana for first-time visitors
Known generally as the Centre District or just The Centre, Ljubljana's city centre is a five square kilometre gem of wholly pedestrianised winding streets, broad avenues and mysterious alleys.
Chock full of all aspects of historic and modern Ljubljana, with the majority of attractions within a leisurely 15 to 20-minute stroll, the Centre is the ideal base for those on their first visit to the Slovenian capital.
The River Ljubljana meanders slowly through the centre, and you can stroll the river bank with an ice cream or latte-to-go from one of the many cafes and stalls you'll find along the towpath.
You can see the 11th-century Ljubljana Castle on the hillside from the river bank. An impressive building during the daytime, and stunningly picture-perfect when lit up at night.
The Centre District is also one of the main shopping areas. Plenty of designer stores await, with Italian fashion brands rubbing shoulders with upcoming Slovenian designers of fashion, glassware, jewellery and accessories.
Local markets, and off-the-beaten-track independent traders, sell everything from antiques, arts and crafts, retro-fashion and ceramics to fruit and veg, spices and home goods.
If you want more than riverside walks, a short stroll from the city centre's main streets will get you to Ljubljana's famous Tivoli Park entrance. Designed in 1813 and over five square kilometres in area, it is the largest open space in the city.
Pleasant evenings can be spent safely wandering the cobbled streets and alleyways. Being car-free, most bars, eateries and restaurants have tables spreading onto the paths and roadways. Relax with friends or other visitors.
Stay a while at a bar or restaurant. Sample the excellent local wines, and dine al fresco on the superb local and regional cuisine.
Accommodation across the board is reasonable in the City Centre, with Airbnb, guest houses, hostels and mid-range to high-end hotels.
BEST PLACES TO STAY IN LJUBLJANA IN CITY CENTRE
2. Old Town, where to stay in Ljubljana for sightseeing
On the opposite bank to the city centre, Ljubljana Old Town nestles below Ljubljana Hill and its impressive fortress. Considering its small size, just 10 hectares wide, it holds many of Ljubljana's most popular visitor attractions.
Look out for the Town Hall, Ljubljana Castle, the Triple Bridge, Preseren Square, Ljubljana Canal, Ljubljana Cathedral and the Franciscan Church.
Choosing Old Town for your stay in Ljubljana, you can't help but relax.
In this pedestrian part of the city, the stressful noise of car engines and the vibration of trucks are replaced with the low hum of conversation, the clinking of glasses, and the dulcet tones of the many street buskers, serenading you as you enjoy your espresso or glass of sweet white.
Great concern is also given to those with mobility issues. If the walking becomes too much you can hail a 'Gentle Helper'. In Slovenian' Kavalir', a small electric vehicle that will transport up to five people around the area at little more than walking pace.
They are free to use and can also be booked using a local toll-free number.
A stroll along the wide cobbled streets with their tall terraced properties, bright awnings and colourful hanging baskets will take you to Prešernov Square, the beating centre of Old Town and the City Centre.
Once a medieval crossroad, the square is surrounded by shops, stores, cafes, bars and eateries, and is a friendly buzzing area both day and night.
Here you will also find the pink Franciscan Church, the monument to Slovakian poet France Preseren and the Triple Bridge.
Crossing the Triple Bridge will take you to Ljubljana's Central Market, a massive area of open and covered market stalls, shops, stores and street food vendors, where you can purchase anything from fresh fruit and vegetables to the latest fashions, souvenirs and mementoes.
When you've had your fill of the markets, grab your camera and head for the Dragon Bridge and those must-have selfies.
After a busy, tiring day, you'll want a quiet, relaxing evening. Enjoy an evening meal on the riverside, with the city lights twinkling off the water. Or a romantic sunset dinner in Ljubljana Castle restaurant with fabulous birds-eye views across the city, and sunset views to die for.
Or book an atmospheric meal in an Old Town restaurant. With many of the buildings lit up, they provide a unique nostalgic feel to this medieval area.
Accommodation in the Old Town is plentiful and competitively priced, ranging from Airbnb, B&B, guest houses, self-catering apartments and hotels at all levels.
BEST PLACES TO STAY IN OLD TOWN
3. Metelkova, coolest area to stay in Ljubljana
A ten-minute walk from Ljubljana City Centre will take you to a different world. A world of street and contemporary art, weird sculptures, squatters, hippies, artists, designers and all who relish an alternative lifestyle.
Initially built in 1882 as a barracks for the Austro-Hungarian army, the enclosure later became the headquarters and central prison of the Yugoslav military until Slovenia's independence in 1991.
Laying empty, derelict and deteriorating, in 1993, settlers, squatters, intellectuals and artists took over the compound and its seven buildings. It was the beginning of what was to become a thriving artistic bohemian community.
Officially recognised as a part of Slovenia's National Cultural Heritage in 2005, it is known today as Metelkova (from nearby Metelkova Street), Metelkova City or Metelkova Mesto.
The buildings and surrounding area have been converted into accommodation, dance and music studios, galleries and workshops. Metelkova is also the centre of the city's LGBT scene, with the gay Klub Tiffany and lesbian Klub Monokel opening a few nights a week.
With other bars and clubs opening up in the evenings, a Skate Park, an Alternative Art Gallery, and open areas for concerts, pop-up markets and exhibitions arriving on an ad-hoc basis, a visit daytime is highly recommended.
Should you consider visiting Metelkova for the night-time bars and music scene during your stay in Ljubljana, like every other big city, it pays to be a little street-wise, especially if you are female.
If you fancy a night behind bars (the steel type), Metelkova has its own hostel accommodation available in the form of a few converted jail cells.
However, if that doesn't appeal, with just a five-minute walk to the city centre and old town, plenty of lodgings are available close-by to suit all needs and budgets.
BEST PLACES TO STAY IN LJUBLJANA IN METELKOVA
4. Krakovo, where to stay in Ljubljana in a rural retreat in the heart of the city
Just south of the old town area, the history of this tiny district can be traced back to the mid-13th century.
Originally founded just outside the old city walls, this one-time fishing village, where only residents were allowed to catch and sell fish to the city, is considered to be the oldest district in Ljubljana.
Although some commercial (rod and line) fishing remains, the suburb moved on, and has for many years relied mainly on the income derived by growing and selling a variety of salads and vegetables to the local market, various produce shops and hotels.
Gardens are Krakovo's biggest claim to fame. What in the UK would be called allotments, can be found in every direction you look.
Rectangular, unfenced plots are jam-packed with salad and vegetable produce throughout the growing season. Each parcel is tended with loving care by local residents and harvested in peak condition.
The old medieval-style rural cottages, stores, cafes and restaurants, with a small canal snaking through the countryside and bordering the province, provide an ambience of times long past.
Evening entertainment consists of friendly local bars and restaurants serving tasty regional dishes.
Considering how close to the Old Town it is, Krakovo is a convenient area to stay in Ljubljana.
Being primarily residential, accommodation is somewhat limited and mainly comprises privately let apartments, Airbnb, guest houses and a few boutique hotels.
BEST PLACES TO STAY IN KRAKOVO
5. Trnovo, home of Slovenia's revered architect Joze Plecnik
Bordering Krakovo and heading southwest along the Ljubljanica River, Trnovo has eight separate districts and is the same age as its aforementioned neighbour.
In Trnovo, you will find the home and studio (now a museum) of world-famous architect Jože Plečnik (1872-1957), who designed the modern Trnovo Bridge that joins the two areas across the Gradaščica Canal.
He was also responsible for much of Ljubljana's modern architecture, including the Zale Museum of Ljubljana, Triple Bridge and the Ljubljana Market. His house now maintains a permanent collection of many of his innovative designs.
Other places of interest on the Trnovo side of the canal include the Trnovo Church, the France Preseren Cultural Art Society, and a theatre famous for several annual 'alternative' events.
Although much of Krakovo managed to avoid the wrecking ball as both areas looked to expand in the 1970s, Trnovo wasn't so lucky, and most of its allotments and smallholdings were bulldozed in favour of high-rise residential and business premises.
To get an idea of how things were, explore along Gradascica Canal, Eipprova Street and what used to be Cerkvena Street.
Both Kracovo and Trnovo are well served by public transport.
Evenings in Trnovo can be busy, with younger adults and students meeting in numerous cafes, restaurants, bars and clubs. However, if you want a little more, the busier old town and city centre are just a few minutes down the road.
Accommodation is varied and includes several close-by hotels.
BEST PLACES TO STAY IN TRNOVO
6. Koseze, where to stay in Ljubljana on a budget
Located northwest of the city and just 1.5km from Ljubljana's old town, Koseze is an ideal place to stay in Ljubljana if you are holidaying with younger family members.
Less crowded than the old town and city centre areas, wide-open Koseze borders the north side of Tivoli Park, so you're never far from somewhere the kids can run off a little excess energy.
With many parks, gardens, walking and hiking trails, adult outdoor exercise equipment, and kiddies play areas; the whole family can enjoy a little more exercise and fresh air.
Ljubljana Zoo, on the southern edge of Tivoli Park, makes for a great day out for the kids. The attractions include over 100 species of wildlife, petting areas, and play areas designed to simulate an African village, an enchanted forest or a frog jump.
It also includes cafes, a souvenir shop and a restaurant.
Around Koseze, you will find shops, ice cream parlours and cafes open through the day, where you can enjoy breakfast, brunch or a light lunch.
In the early evenings, family restaurants begin to open their doors to those dining out. And friendly bars beckon you to relax and enjoy a local wine or glass of beer.
Accommodation is somewhat limited, mainly Airbnb, B&Bs, guest houses or self-catering apartments, although a few boutique hotel rooms are available.
At all levels, lodgings in Koseze are less expensive than in the central city areas. A big plus for families wanting to stay in Ljubljana on a budget.
BEST PLACES TO STAY IN LJUBLJANA IN KOSEZE
Photos: Shutterstock