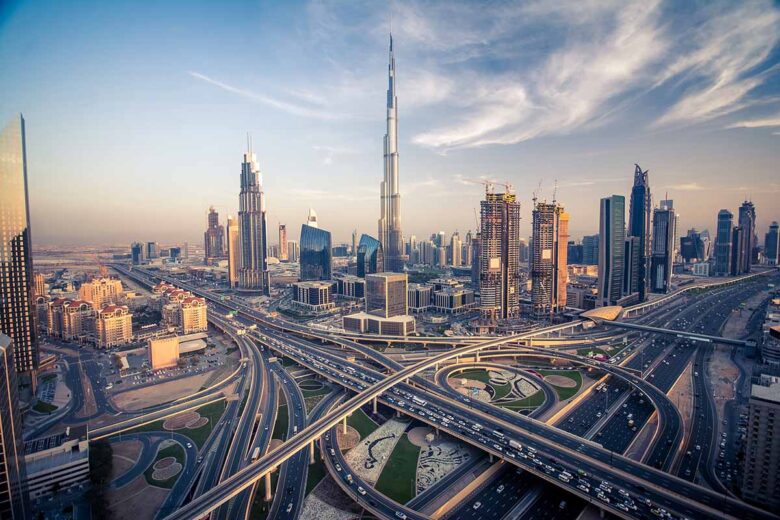 Deciding where to stay in Dubai can be overwhelming. Dubai is a huge city, covering an area of over 4,000 km², so walking between areas isn't ideal and you'll most likely need to take public transportation. To help you with this decision I have put together the following list of the best areas to stay in Dubai.
Tourism is a huge growth factor for Dubai, and the city is the top tourist destination in all of the Middle East. However, be aware that Dubai may not be the most backpacker-friendly city in the world.
There aren't as many hostels or budget accommodation options here and almost everything carries a surcharge. In short, Dubai is expensive.
Many tourists have underestimated the total costs of accomodation, sightseeing, nightlife, taxis, and eating out, and can get hit with a huge bill at the end of their vacation.
Still, there are many ways to budget and plan ahead to get the most out of Dubai while leaving your wallet intact.
The best way to spend accordingly is deciding where to stay in Dubai. There are hundreds of luxury hotels and resorts with stunning Persian Gulf views near the water, but there are also cheap and mid-range accommodation options spread throughout the city.
This guide will do a deep dive into Dubai's best eight areas to stay and outline the pros and cons of each.
Where to stay in Dubai: 8 Best Areas
1. Downtown Dubai, where to stay in Dubai for first time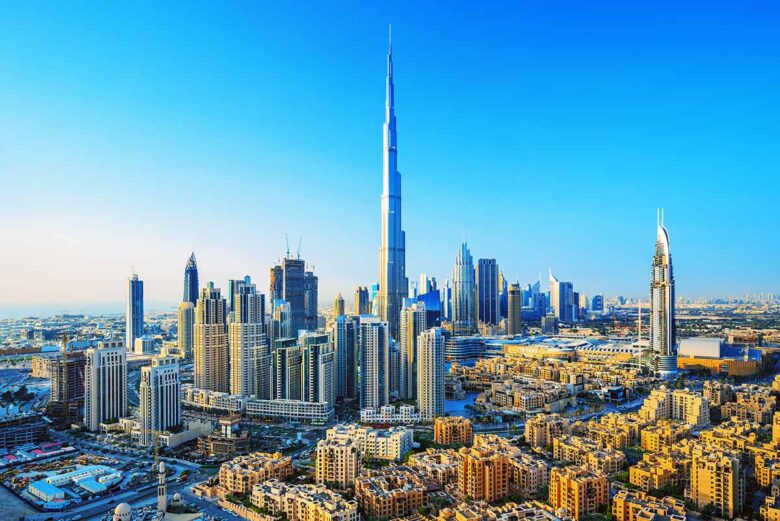 A Dubai vacation is best started in Downtown Dubai, where traditional Arab architecture meets futuristic buildings and the party lasts from sun-up until sun-down.
Considered a modern metropolis, many may be surprised that Downtown Dubai was once a small fishing village. Now, the area is one of the world's most famous (and prestigious) areas, and 20 billion USD has been poured into the area to rebrand the city as the "center of now."
If all you want to do is sit back and relax, Downtown Dubai may not be the best place to stay. This area offers so many things to see and do, and with warm, sunny weather all year round, Downtown Dubai is always buzzing with excitement.
As the central gathering point for tourists, there is no shortage of things to do in Downtown, but a great place to start is at the Burj Khalifa. This building is the tallest in the entire world with 163 floors and a height of over 1,800 feet.
Visitors can buy tickets and head straight to the Observation Deck at the top and experience 360 degree panoramic views.
Return to solid ground by next checking out the Dubai Mall Complex which, (you guessed it!) is the biggest shopping mall in the world. With over a 1,000 outlets and luxury retailers, you can spend an entire day just sifting through all this place has to offer.
The Dubai Fountain, an internationally-recognized landmark, is also here. This incredible music, light and water spectacle is the world's tallest performing fountain and sits on the 30-acre Burj Lake.
You can sit and watch the spectacle on land, starting when powerful nozzles shoot up the water to dizzying heights, or experience the visual display from a traditional Abra on the water. Kids will love the variety of colorful lights and be captivated by the powerful music.
If you'd like to see Downtown's sights from a car, take a drive down Sheikh Mohammed Bin Rashid Boulevard.
As Dubai's busiest and most exciting road, Sheikh Mohammed Bin Rashid Boulevard is home to several of Dubai's newest and trendiest restaurants. It's a great place to people watch and get an up-close view of the above landmarks.
Lastly, stop by the Dubai Opera, one of the newest additions to the Downtown area. This architectural feat is a celebration of art, music and design, and regularly hosts Broadway shows, plays and operas in its hallowed halls.
In terms of nightlife, Downtown Dubai lives up to its name as a party spot. There are several upscale nightclubs here as well as smaller venues where you can get waterfront views. The party lasts from dusk until dawn, so make sure to bring good dancing shoes.
Downtown is an incredible place to visit, but if you're looking to stay in Dubai in this area for the duration of your trip, be prepared to shell out a little extra. There are a ton of hotels to choose from however, so this helps keep pricing competitive.
As you get near the water and around Burj Park, you'll find resorts of the highest luxukry with incredible amenities. If you're just looking for a cheap boutique hotel without the added fluff, other areas on this list will better suit your needs.
BEST PLACES TO STAY IN DUBAI DOWNTOWN
2. Trade Centre, Dubai's financial hub
Also referred to as the Dubai Financial Centre, Dubai's Trade Centre area is likened to that of New York City's famous World Trade Center. But, unlike the stuffy reputation of Wall Street, Dubai's Trade Centre is futuristic, multicultural and luxurious, and where Dubai's power players make their moves.
The Dubai World Trade Centre Skyscraper is the focal point here, towering over the area with 38 stories and reaching a height of 184 meters.
The tower regularly hosts international events, conventions, comedy performances and even concerts, welcoming around 3 million people per year.
If you want to see the latest in technology, luxury, music or cuisine, check out an event here during a stay in Dubai.
Many people say that Dubai's Trade Centre is the gateway to the entire city of Dubai and they'd be right. The area is the beginning of Sheikh Zayed Road, arguably Dubai's most-photographed stretch of land.
Now, the area acts as a multi-purpose city-within-a-city, where young professionals, families and expats thrive in newly-renovated residencies.
For some fun activities, check out Sports World and Modhesh World, two festive parks perfect for kids.
Sports World is a massive indoor sporting complex with basketball, tennis, volleyball, rugby and football fields. You can reserve space to play ahead of time or just come and rent equipment for an afternoon.
Modhesh World, also indoors, is Dubai's premiere amusement park, spreading across 8 floors in the Dubai Trade Centre. You and your kids can play interactive and educational games, climb, zipline, skate and even participate in live shows.
This is the perfect way to keep the entire family entertained, especially during the hot summer months.
Because Dubai's World Trade Center is such a well-visited location, there are at least 50 hotels in the surrounding area to choose from, ranging in price point. On major show or exhibition nights, this area can get particularly crowded.
Luckily, there are a lot of options for casual lunch and dinner bites and several live music bars to choose from.
BEST PLACES TO STAY IN TRADE CENTRE
3. Bur Dubai, history and tradition meet modern hustle
Located just west of Dubai's Creek, Bur Dubai is often referred to as the "Old City." As Dubai's signature historical district, a visit to Bur Dubai feels like traveling to ancient Arabian times, where wooden abras sailed the seas and shady palms lined the homes.
This is in fact where modern Dubai as we know it got its start, and is still home to many culturally-important sites, museums and artifacts.
As well as having tons of things to do, Bur Dubai is a great and relatively inexpensive place to stay in Dubai.
Less hectic than downtown but still dynamic and bustling, Bur Dubai is a must-stop.
History buffs will love the Al Fahidi Historical Neighborhood, formerly known as Bastakiya Quarter. Head here and be enveloped in a peaceful oasis, much different than the chaos of Downtown Dubai.
This area was once a merchant's quarter that has now been restored to a historical heritage center. As you wander, you'll see craft shops, markets and quaint cafes that still hail the culture of old Dubai.
Another great historical landmark is the Dubai Museum, a one-stop-shop for all things Dubai history. The museum outlines how Dubai transformed from a sandy outcrop to a world-famous metropolis, displaying trade, architectural and economic developments in interactive displays.
Dubai was also once a hotspot for pearl diving and extracting, and you can now learn how to extract peals yourself at a visit to Heritage Village, a preserved traditional village at the mouth of the Khor Dubai.
You'll also see a real grand bazaar here, as well as regularly-organized camel races.
If you're an art lover, the Majlis Gallery in the Al Fahidi area is a perfect cultural getaway. Many featured artists, photographers and sculptures have held exhibitions here, bringing an international flair to this otherwise small gallery.
If you'd like to grab a couple of traditional souvenirs, the Old Souk market sells brightly-colored textiles and fabrics, along with shoes, clothing and other trinkets.
Artisans use premium materials to weave shimmering threads within their products, reflecting old Dubai style. Make sure to snap several pictures here, as the dynamic colors are worth the photo alone.
Lastly, if you're looking for budget electronic devices, Bur Dubai is known for selling these products for the cheapest price.
End your day here with a relaxing river cruise on a traditional dhow. You'll sail the blue waters of Dubai at dusk and see the twinkling lights of skyscrapers in the distance. It is truly a magical experience and perfect for kids of all ages.
Bur Dubai is perfect for all things leisure, shopping, business and tourism. If you're interested in exploring Dubai's history, this is the perfect place to start.
There aren't many major night clubs here, but a few more lowkey sports bars and lounges make for a casual night out.
BEST PLACES TO STAY IN BUR DUBAI
Read also: Where to stay in Istanbul, where to stay in Marrakech, where to stay in Cyprus
4. Deira, where to stay in Dubai on a budget
While this area may not capture the same glitziness as other areas on this list, Deira, located off the Persian Gulf, is still very much deeply rooted in tradition and history, and is a great place to stay in Dubai.
It's essentially an extension of the Old City, and is close to Bur Dubai. Deira has seen a ton of growth in the past decade, transforming from a historically commercial area to a booming tourist and economic hotspot.
While you'll catch glimpses of a bygone era here in the old marketplaces and sites, modern architecture and progressive cuisine have begun to thrive. Still, be prepared to immerse yourself in a crowded (and often chaotic) scene, where charismatic Deira residents show you their multicultural and multifaceted world.
To get here, take a taxi to the Deira Old Souq Abra station and immediately be hit with the smell of thousands of spices, wafting from the Spice Souq.
This decades old covered market is home lanes of spice vendors selling the best herbs in the world, from saffron to turmeric to cardamom. You'll also find nuts, local produce, henna kits and other knick-knacks around every corner.
The Gold Souq is also nearby, and is a glittering market full of, you guessed it, gold jewelry and other items. As you walk along this famous covered arcade, you'll see necklaces, bracelets, rings and other eye-catching items overflowing from the crowded stalls.
If you like an item but don't like the price, feel free to try and haggle it down, as bargaining is practically an art form in Dubai. If you just want to sit down and take in the incredible people watching, this area is a constant bustle of entertaining foot traffic.
Overall, Deira is home to several souqs, including perfume and clothing, so if you're looking for a souvenir, this is the area to get it.
The Dubai Creek is a saltwater creek that runs through Deira and eventually empties into the Persian Gulf.
A trip to Deira is not complete without a walk along the Creek, where you'll see rows and rows of dhows, or traditional sailing vessels, bobbing along near the Deira Souqs. These dhows were crucial for trade efforts in Dubai, bringing in goods from around the world.
Usually at mid-day, you'll see hundreds of hard-working sailors and deckhands offloading these items before heading into town for a port stop.
Nearby is the Al Mamzar Beach Park, where you can play along five stretches of sand, swim in the public pool, have a picnic on the grass or rent an umbrella and sun chair.
For a bit of history, check out the Heritage House Museum, a courtyard dating back to the late 1800's. The house once belonged to a wealthy sheikh and is now open for visitors year-round.
The Museum of the Poet Al Oqaili is also located in Deira and is an homage to one of the most famous Arabian poets in the world. You'll be able to explore his unique belongings under intricately-carved interiors, making for a serene moment of peace between the chaos of the souqs.
While this area is a bit more quiet due to its historic nature, there is luckily still a lot to do in terms of nightlife, with several fine dining establishments and lively bars, and a well-functioning metro system.
There are several places to stay in Deira that fortunately won't break the bank. In addition, if you'd like to be near the airport, Deira is within close driving distance.
BEST PLACES TO STAY IN DEIRA
5. Palm Jumeirah, a tropical, man-made oasis with incredible luxury resorts
Considered to be one of the world's most daring (and incredible!) development undertakings, Palm Jumeirah is what many people may picture when they think of Dubai.
Shaped like a palm tree floating on the water, the aptly named Palm Jumeirah is an island known for pure luxury and glam.
Built from several artificial archipelagos, Palm Jumeirah is like no other neighborhood in the world and is home to some incredible luxury resorts, as well as functioning roads and public transportation.
The best way to describe a visit here is surreal, and it is an incredible (albeit expensive) place to stay in Dubai. As you take in this incredible architectural feat, you'll see excited jet-skiers and yachters buzzing by, enjoying the blue waters and sunny skies of Dubai.
The famous Atlantis resort is located here and stands proudly at the top of the Palm. You also don't have to be a guest to experience all this hotel has to offer, including the Aquaventure Water Park, where kids and adults alike can splash in the water and fly through several waterslides.
For a bit more thrill, Aquaventure is also home to Dolphin Bay, where visitors can swim and play with dolphins up close and even get some face time with Sea Lions.
The Lost Chambers Aquarium, also on Atlantis, is an activity that can't be missed. You'll get the opportunity to explore the lost city of Atlantis, taking in over 65,000 diverse species of marine and plant life, including sharks, rays, jellyfish, piranhas and thousands of fish.
The Aquatheater show is a great way to catch scuba divers doing live feedings, a huge thrill for the whole family.
For more water-based activities, Palm Jumeirah offers several boating and touring companies that will escort you safely on the water.
SeaYou is a guided kayak tour company that paddles around the Palm, showcasing stunning views of Dubai Marina and Burj Khalifa. The company also offers paddle-boarding, windsurfing, yoga and pilates classes for those of all skill levels.
The Dubai Palm Cruise Tour is another fan favorite, which starts at West Marina. This one-hour journey goes slow and outlines in detail Dubai's architecture history. You'll also have the opportunity to take family pictures in front of Atlantis.
There's no other way around it: Palm Jumeirah is expensive. This island isn't just a place to stay but is also a travel experience, so expect top dollar prices if you'd like to stay directly on the island.
In terms of nightlife, Palm Jumeirah is a party-goer's heaven on Earth. You can visit over 10 bars and clubs in the span of one night, some of which are located right on the water.
BEST PLACES TO STAY IN PALM JUMEIRAH
6. Dubai Marina, where to stay in Dubai for nightlife
Glitzy, glamorous and right on the water, the Dubai Marina area is both leisurely and luxurious. Home to some of Dubai's most affluent residents, Dubai Marina is an artificial canal city running along the Persian Gulf shoreline.
Its pristine sands and clean atmosphere give this area an exclusive aura, but visitors from all walks of life are welcome.
As you stroll down the promenade under shady palm trees, you'll likely catch shiny yachts, towering skyscrapers in the distance and maybe even a celebrity or two.
In fact, the Dubai Marina is referred to as the "tallest block in the world" for its shimmering high rises. You'll also find many expats here who have filled the spacious new residencies popping up each year.
It is within close proximity to Jumeirah Beach and several footbridges connect the two areas.
Start by strolling along the Dubai Marina walk and take in the upscale eateries and cafes as well as pop-up craft markets. This walk stretches for 7km and is lined with shady palm trees and perfectly manicured landscapes.
You'll also catch the Dubai Marina Walk Fountain shooting water in the distance, and yachts boating by. For a little retail therapy, head to the Dubai Marina Mall.
This spot has an incredible old-timey cinema, luxury stores and retail outlets, incredible eateries and international food chains and regular festivals and events throughout the year.
If you're an adventure seeker and want to see the water up close, you can book jet ski and boat rentals at several places along the Marina. You can even rent a party yacht if you're looking to splurge a bit with a group of friends at the Dubai Marina Yacht Club.
Speaking of splurging, if you're looking for an incredible dinner you won't find anywhere else, check out Pier 7 for a fine dining experience. With seven different restaurants on each floor, Pier 7 has an incredible ambiance and stunning water-front views.
You can dine indoors or al fresco and be amazed at the food's presentation and quality. Thrill seekers can also skydive at SkyDive Dubai, an incredible adrenaline rush in the open air.
Skydivers will fall over 120 miles per hour above the beautiful Palm Jumeirah and experience aerial views of all of Dubai's major landmarks.
For budget travelers, there is a new hostel here that offers unbeatable prices and pretty great views, but expect most luxury hotels here to carry a big price point.
Still, you get what you're paying for, which is sophistication, upscale living, and the best water views in the city.
There are also incredible bars and clubs near the water, but luckily the hotels stay fairly quiet at night.
BEST PLACES TO STAY IN DUBAI MARINA
7. Jumeirah Beach Residence (JBR), where to stay in Dubai for families
Warm, sandy and rejuvenating, Jumeirah Beach Residence is Dubai´s number 1 beach destination and one of Dubai's latest developments. This area is located next to Dubai Marina.
There are several large hotels and resorts along the waterfront and also a whole host of restaurants and shopping zones nearby.
The Jumeirah Beach Residence area, a luxury, multi-purpose neighborhood with public accommodation and residences and a huge entertainment offer.
Entry to Jumeirah Beach Residence is accessible from early morning until dusk, and you can rent umbrellas and sun loungers along the beach. While it can get crowded here, if you arrive early you're sure to secure a spot.
In terms of sightseeing, Jumeirah Beach Residence offers several landmarks within close proximity. Do not miss The Walk at JBR, the Dubai Marina, The Palm Jumeirah, Madame Tussauds Dubai, or the Ain Dubai, the world's biggest and tallest Ferris wheel.
Some Km away, The Burj Al Arab is one of Dubai's most iconic hotels, soaring above the clouds at almost 700 feet above the ground. The design of the hotel is shaped like the sail of a ship, reflecting Dubai's famous maritime history.
If you're into water sports, Jumeirah Beach is the perfect place to start. Here, you can rent out jet skis, go para-sailing and boating or rent out a yacht for the day.
Those who are looking to sit back and relax can enjoy a spa treatment at one of many rejuvenation spas along the water.
Or, simply go bar hopping along the bars on the strip, offering festive ambiance and live music.
Many luxury hotels here enjoy private beach access and pools, and offer spacious accommodation for those traveling with kids. Because this area is right on the water, you'll find prices are pretty high, even for a night's stay.
Still, Jumeirah Beach Residence is definitely worth a day trip for it's ocean-green waters and incredible views.
BEST PLACES TO STAY IN DUBAI IN JBR
8. Al Barsha, family-friendly fun and budget accommodation
Al Barsha, fondly referred to as just "Barsha" by the locals, is not only quiet and residential, but also dynamic and exciting for those visiting.
While it may not capture the same pumping lifestyle as Downtown Dubai, Al Barsha has truly transformed in recent years due to key real estate developments.
In the past, Al Barsha was a vast area with sloping sand dunes, one major road network and hardly any residential or commercial buildings.
Now, you'll find all the modern luxuries of an urban environment, including hotels, restaurants and a major shopping mall, as well as local markets and a public transportation system.
Luckily for tourists, the housing market has stayed relatively affordable, which in turn keeps temporary accomodation pretty low as well. Because of the reputable school system, this area is great for children, and you'll likely see many young families living here.
Al Barsha is perhaps best known for the Mall of Emirates, a large shopping complex that completely transformed the area after its construction in 2005.
Multi-level and finished with unique Arabian and Mediterranean detailing, the mall currently houses over 630 retailers, over 100 eateries, and 80 luxury stores.
The Mall of Emirates is unsurprisingly included on world's best mall lists year after year. And, this magical development includes more than just stores.
Ski Dubai is perhaps the most famous attraction and is a 22,500 square meter indoor ski resort. The resort features an 85-metre-high indoor mountain and has 5 slopes, including the world's first black diamond run.
Kids will be absolutely delighted by the range of activities inside the resort. The 3000-square meter Snow Park has sled and toboggan runs, ice caves to explore and chilly slides to play on.
For a little animal interaction, make sure to be at Ski Dubai when the penguins who live there are let out of their enclosure for the day.
The Mall is also home to Magic Planet, the largest indoor activity center in Dubai. Here, you can go on amusement rides, play video arcade games, or bowl at a 12-lane alley.
When you're all played out for the day and need to see something other than a screen, head to the Al Barsha Pond Park, a tranquil and serene spot.
This perfectly-manicured park has extensive biking trails and a 1500-meter loop running track, as well as lush green grass for picnics.
This park is truly an oasis in the otherwise sandy Al Barsha community and also has a multi-purpose sports field with tennis, volleyball and basketball courts for playing.
There's also a playground here for kids and a multitude of benches for tired adults. The Dubai Miracle Garden is also located here and truly lives up to its name.
Made up of five sub-areas, Al Barsha's largest concentration of hotels, shops and restaurants is in Al Barsha 1.
You'll find many luxury hotels here (as well in most of Dubai), but because this area is mainly residential, also some more budget accomodation with smaller rooms.
There are also several spacious villas available for rent, as well as smaller studios if you plan to stay in Dubai for an extended period of time.
Al Barsha is great for small kids based on the sheer amount of family-friendly activities. But surprisingly, there's also a good amount of nightclubs and bars with fun drinks and music, making this area truly diverse and exciting.
BEST PLACES TO STAY IN DUBAI IN AL BARSHA
Wherever you decide to stay in Dubai, each area on this list offers a unique and thrilling experience. Be aware that Dubai can reach extremely high temperatures in the summer.
If you're looking for a cooler and slower change of pace, visit during the winter months, when many of the tourists have flocked elsewhere.
As always, plan your trip accordingly and ensure for you and your group's safety wherever possible. Come visit Dubai today!
Photo: Shutterstock