If you're trying to choose where to stay in Cornwall as a solo traveller, a young, or young at heart couple, or a family with young children – read on. Cornwall has something for everyone, and in this blog, we highlight 14 of the best places to stay in Cornwall whatever your interests, to help you make the most of your visit.
On the southwest of England, the county of Cornwall is part of a peninsula that stretches out into the Atlantic Ocean in the north, and the English Channel in the south.
It is an area with over 400 miles of coastline, where nowhere is more than 20 miles from the sea. For the beach lovers it has a majestic, rugged coastline, and pristine sandy beaches that put many European hot-spots to shame.
For the birdwatchers and nature lovers, it has areas of rocky shoreline and river estuaries, sand banks and dunes, mudflats, eel grass and kelp forests. While further inland from the coast it has moors, forests, woods, and cultivated farmland.
Its history is steeped in stories of 18th century pirates, smugglers, and revenue men. You can walk old smugglers paths which were used to carry goods looted from ships that had wrecked on the rocks.
You can explore the villages that helped them. And enjoy a beer in Jamaica Inn, made famous by Daphne du Maurier in her book of the same name.
You can enjoy some of Cornwall's prehistoric history. Around West Cornwall and across Bodmin Moor are monuments like stone circles, barrows, and standing stones, leaning precariously, looking for Stonehenge.
If active is the name of the game. As well as a myriad cycling trails, and coast and country walks, Cornwall is the UK's most popular surfing destination, and attracts surfers young and old from across the UK and Europe year round.
Where to Stay in Cornwall: 14 Best Areas
Whatever your holiday preferences, we hope this list of 14 of the best places to stay in Cornwall will help with that final decision.
1. Padstow, where to stay in Cornwall with the family
Nestling on the north Cornish coast, Padstow is a traditional southwestern fishing village. Dropping your cases at the hotel, a stroll through the narrow, twisty, medieval streets will lead you to its quaint, bustling harbour.
Although in recent years the fishing industry has declined somewhat, Padstow has gone pro-active. Now it incorporates a thriving tourist industry with a successful lobster hatchery (which you can tour), designed to make the local shell-fishing industry more sustainable.
The harbour is alive with shops, gift shops, coffee-shops, cafes, pubs, and restaurants. It is a great place to take the lunchtime weight off, and do a little people watching with a coffee or glass of fizz.
A short walk from the harbour will get you to the fabulous golden sand family beaches of St George's Cove, Tregirls, and Hawker's Cove. While farther along the coast you can find the popular surfing beaches of Constantine Bay, Harlyn, and Polzeath.
Other popular visitor attractions around the area include the 16th century Prideaux Place, a grand Elizabethan country house and gardens open to the public. You can enjoy a cream tea on the terrace, while gazing across the deer park as far as Bodmin Moor.
Plenty of boat trips are available where you can do a little dolphin, shark or seal watching, depending on time of year.
You can charter a boat for a little afternoons fishing, or you can catch a ferry to The Rock. A small islet said to be a regular holiday destination of royalty and the well-heeled.
For the walkers, you have the 7-mile long coastal path to Harlyn Bay, with its fabulous views, and a route which passes several reputed smugglers caves. Or, slightly shorter at 4-miles, the Sir John Betjeman Walk, where you are likely to spot peregrine falcons, kestrels, puffins and seals.
For the hikers, cyclists, and horse riders, the 18-mile Camel Trail is a great way to explore the countryside. Following an old railway track it is flat and easily managed, taking you through to Bodmin Moor and back again.
In the evening, Padstow becomes a gourmet's paradise. Among the many cafes, pubs, and restaurants that attract diners from across the county, no less than four are owned and operated by the TV chef Rick Stein.
Accommodation around Padstow is varied and priced accordingly. From Airbnb, B&Bs, guest houses, cottages, holiday parks, and hotels. Early booking is advised.
BEST PLACES TO STAY IN PADSTOW
2. Newquay, best place to stay in Cornwall for surfers
If water-sports are your interest, and surfing your thing, you don't have to think about where to stay in Cornwall. You head for the county's north coast, and Newquay.
Although surfing was first recorded in Newquay back in 1929, it is in the last 50 years that it has moved it into a mainstream sport worldwide. And Newquay hasn't been left behind. Every year the town puts on national and international surfing events, and festivals for everyone to enjoy.
For newcomers and young family members there are plenty of surf hire shops, and surf schools with courses for raw beginners, through to experienced surfers, wishing to improve their technique.
You won't have much trouble finding Newquay's surfing beaches. Fistral Beach is a 750m long, wide stretch of golden sand, and considered the home of Newquay surfing.
Nearby surfing beaches include: Watergate Bay, Perranporth, Bedruthan Steps, and Towan Beach, known as Town Beach. If you're still not fed up with water, visit Cornwall's Zorbing Park.
If the surfing bug doesn't bite, or you just want some time away from the beach, there is still plenty to do in Newquay. The town's Blue Reef Aquarium is a popular draw.
There are several coastal and country trails to be enjoyed by all ages on foot or cycle.
You can book boat trips to take you around the coast, grab the Surf Rider Road-Train for trips around the local area, or brush up your ten pin bowling skills at Porth Lodge Ten Pin Bowling.
The whole family can enjoy a round of mini golf by the Bunker Cafe, and Holywell Bay Golf Club has two 18 hole courses open to visitors.
The Cornwall Aviation Heritage Centre is popular, with exhibits both inside and out. It also has a picnic area, gift shop, and café. The Newquay Riding Centre offers riding lessons for novices, and trekking options for the more experienced.
In the evenings you can find eateries and pubs to keep all the family happy. From fast-food to pizza, fish and chip shops to fine dining restaurants, and chequered table-cloth cafes to American style diners, Newquay has them all.
Local hostelries also cater for all tastes. You can find Gastropubs and family friendly bars around town, while livelier bars aimed at the younger surfing community can be found closer to the harbour and nearby surfing beaches.
Newquay accommodation is spread through self-catering apartments, cottages and houses, hostels and surf lodges, and holiday parks and hotels.
BEST PLACES TO STAY IN NEWQUAY
3. St Ives, popular with artists, couples, and older families
In the Middle Ages, St Ives operated a fleet of over 300 fishing boats, catching, salting and tinning sardines, and exporting them across much of the Mediterranean. Local copper and tin mines also provided a percentage of the town's income. But nothing lasts forever.
By the beginning of the 19th century, new faces began to appear, and with them an unknown industry called tourism. J M W Turner arrived in the early 1800s, to immortalise the town and coastal areas of St Ives in his paintings.
Since then, for over 200 years, artists have been arriving to capture the rugged coastline, crashing waves, and picturesque harbour of this beautiful little fishing town on the northwest coast of Cornwall.
When the railway arrived in the 1870s, St Ives embraced tourism with open arms, while retaining all the traditional charm of an old Cornish fishing port.
In recent years, it has been awarded various accolades from some of the industry's most prestigious travel publications. It has also been awarded the European blue flag for high quality beach cleanliness and facilities.
Today, the old town is a maze of twisty, cobbled narrow streets, flanked by old whitewashed fisherman's cottages, pubs, restaurants, and independent traders. If history is your thing, booking a guided tour of the town comes with all the history you could want.
The town has never forgotten its artistic heritage, and has the Tate St Ives Gallery, overlooking Porthmeor Beach.
In the centre of town you can find the Barbara Hepworth Museum and Sculpture Garden. While on Higher Stennack, you will find Leach Pottery, with its exhibitions, studio, and museum.
The local sandy beaches are a big draw, with Porthmeor Beach having a surf school. You can enjoy a round of golf at the West Cornwall Golf Club, or watch the kite-surfers enjoying the breeze in St Ives Bay.
St Michael's Mount is well worth a visit. Walk across the causeway into 1,000-years of history, explore its castle, and enjoy a coffee around the harbour.
There are coast and country walks aplenty to suite all levels of fitness, while in the evenings bars and restaurants offer menus to suite all tastes and palates.
St Ives has an excellent selection of accommodation available to suite all budgets and needs, from one night stays to a week or longer.
BEST PLACES TO STAY IN ST IVES
4. Fowey, designated an area of outstanding natural beauty
A once small harbour on the west side of the River Fowey estuary, between Looe and Mevagissey, Fowey has grown to be a popular mooring for private watercraft in the area, as well as a busy commercial port.
Fowey's history dates back centuries. On Fore Street, the main shopping street, you can find The Old House of Foye. Now a shop, the building dates back to 1430, with much of the interior still in its original materials.
Fowey town is full of shops and businesses, pubs, cafes, and restaurants, and you can spend a pleasant few hours exploring the narrow streets and alleyways, before stopping to enjoy a genuine Cornish Pasty, or cream tea.
Around the town quay you can browse the Fowey Museum and Fowey Aquarium, before taking a pleasant stroll down the Esplanade towards the harbour. Other points of interest include St Catherine's Castle, accessed on foot via Readymoney Cove.
Daphne du Maurier was a resident of Fowey for many years, and the Daphne du Maurier Literary Centre, containing information about Fowey's many literary connections, has been set up next to the town's church. Every May the town also hosts the Du Maurier Festival.
A typically Cornish port, with narrow streets and slate roofed homes and businesses, Fowey harbour is a busier port than many first-time visitors realise.
A deep water harbour, it is not just home to hundreds of private leisure craft, but cargo ships arrive regularly to transport the local china clay across to Europe and beyond.
In recent years it has become a regular stopover for several cruise ships, bringing new visitors and extra income to the town.
On the opposite bank sits the tiny village of Polruan, which can be reached from Fowey by a regular 10 minute ferry. Two blockhouses built during the time of Henry VIII, for protection against marauding French men-of-war, guard the harbour entrance on either side of the river. Now, only the blockhouse at Polruan is open to the public.
If you have a love of history and nature, pencil in a couple of days in Fowey during your stay in Cornwall. There is an excellent choice of accommodation from pubs, B&Bs, holiday parks, self-catering flats, houses, and hotels.
BEST PLACES TO STAY IN FOWEY
Read also: Where to stay in London, where to stay in Cardiff, where to stay in Birmingham, where to stay in Bristol, where to stay in Oxford
5. Port Isaac, star of films and TV series
Nestling in a deep gorge on Cornwall's Atlantic coast, Port Isaac is the epitome of a 14th century Cornish fishing village. In the 1970s the TV series Poldark was filmed in the village, and in more recent times, Doc Martin.
Port Isaac was also used as the backdrop in the films Saving Grace, Swept from the Sea, and The Shell Seekers.
With its narrow, winding streets, old terraced cottages, and buildings that date back centuries, Port Isaac, Port Gaverne, and much of the surrounding area are designated an area of Outstanding Natural Beauty.
If you intend to visit by car, it's recommended you use the carpark at the top of the village, the streets are that narrow. The village is universally famous for having one of the narrowest streets the UK, affectionally known as Squeezy Belly Alley.
Around the village you will find an excellent selection of local shops, gift shops, supermarkets, cafes, coffee shops, pubs, and restaurants. A couple of which are owned by Michelin star celebrity chefs.
On a sunny afternoon, a pleasant couple of hours can be spent meandering around the quayside, and checking out the local fish restaurants for the evening meal. With the tide out, the youngsters can burn off some energy with their shrimping nets in the many rock pools.
Close by you can explore the almost deserted Port Quin. And Port Gaverne, with its small beach (when the tide goes out), and rockpools to keep the kids happy. A pint in the local Port Gaverne Inn is highly recommended.
Port Isaac has its own small shingle beach at the end of the harbour, but most visitors prefer the close-by beaches of Polzeath, Daymer and Rock. All within a 10 minute drive.
If you've got your hiking boots or cycle-clips with you, there are some exhilarating walks to enjoy, with views you'll get nowhere else.
One very popular walk or cycle trip, is another stretch of the Camel Trail, taking you to Wenford Bridge in one direction, or Padstow in the other.
Port Isaak is steeped in history dating back to the 14th century, and many of its old buildings have been completely refurbed and converted to cater for its increasing visitor numbers.
If you fancy staying in a 15th century converted warehouse, or 18th century cottage, early booking is recommended.
BEST PLACES TO STAY IN PORT ISAAC
6. Truro, where to stay in Cornwall in a city
On Cornwall's south-west coast sits the city of Truro, the only city in the county, and dating back to the 13th century.
Originally a small port standing between the rivers of Kenwyn, Allen, and Glasteinan where they merge to become the River Truro, and then the River Fal. Truro began to flourish and expand from when the first bricks were laid.
By the end of the 13th century, Henry II's Chief Justice, Richard Lucy, had built a grand castle in Truro, and by the 14th century, the town was one of Cornwall's five main tin producing areas.
As wealthy mine owners built new homes and increased the importance of the town, in 1877 it was designated a city by Queen Victoria.
For lovers of architecture, dominating the city is its three spired Gothic style cathedral, which took 30 years to build and was completed in 1910.
The site of the 13th century castle now holds the Courts of Justice, and around town there are myriad examples of Georgian and Victorian townhouses, and the Royal Cornwall Museum on River Street.
Being in an area of Outstanding Natural Beauty, there are a number of gardens around the district open to the public, including the Trelissick Estate, the 12th century Bosvigo Garden, the 14th century Tregothnan Estate, Victoria Gardens, and the Poppy Cottage Garden.
Truro is a great place for the souvenir hunters and shopaholics, with enough designer shops, high street stores, markets, and independent traders to keep everyone happy.
Other places of interest around town include Healey's Cornish Cider Farm, Skinner's Brewery, and the Lemon Street Indoor Market.
If you're wondering where to stay in Cornwall, the city has a good, varied selection of accommodation, ranging from stays in historic guest houses and hotels, self-catering apartments and farmhouses, and holiday parks and B&Bs.
BEST PLACES TO STAY IN TURO
7. Looe, one of the nicest places to stay in Cornwall for the whole family
Sitting astride the River Looe in southeast Cornwall, Looe has been a favourite destination for holiday makers since the arrival of the railways in the 1800s.
A busy working fishing harbour, Looe is divided in two by the River Looe. On the one side West Looe, and on the other East Looe, joined by a bridge that spans the river.
Looe is not a place to explore by car, and there are large, easily accessible carparks on both sides. Park the car, and explore the winding, narrow cobbled streets and alleyways, as you make your way down to the seafront.
Most commercial activity is centred in East Looe, and when the boats come in the quayside and large fish market become a hive of activity as fishermen land their catch, and the fish market sells them on to the local restaurants, cafes, and chip shops.
It is on the east side you will also find Looe's sandy beach, and its many rockpools exposed as the tide goes out. They will keep the little ones occupied with their fishing nets for hours.
The town, quayside, and the river walks, have plenty of cafes and pubs to keep everyone happy when it comes time for a little light refreshment.
Places of interest include the Looe Museum, with smuggling memorabilia, a history of the town's railway heritage, and a collection of model boats.
The Wild Futures Monkey Sanctuary, where rescued monkeys receive plenty of TLC, and The Trelawne Manor Holiday Park.
For the adventurous, a trip to Adrenaline Quarry will have you zip-lining across the old quarry lake, enjoying the waterpark, or trying your hand at go-karting.
For the hikers you can enjoy walking a few miles along the South West Coast Path, which runs right round the Cornish coast.
For the nature lovers and bird watchers, the area is a marine nature reserve, and that includes Looe Island. Organised trips are available, and the island is full of Atlantic Seals, and nesting seabirds such as cormorants, shags, and oystercatchers.
For music lovers, the town hosts a popular music festival at the end of summer, attracting some of the biggest names on the music scene.
Accommodation around Looe is plentiful and varied, with caravan and holiday parks, B&Bs, guest houses, private self-catering lets, and hotels.
BEST PLACES TO STAY IN LOOE
8. Falmouth, a favourite destination for a family stay in Cornwall
Built in 1540 by King Henry VIII to protect the estuary, Pendennis Castle continues to stand sentinel some 400-years later, over the River Fal estuary, and port town of Falmouth.
Situated on the south Cornish coast, the first bricks of Falmouth were laid in the early 1600s, and the town has grown to be one of the largest and most prosperous in Cornwall, while managing to retain much of its original character.
The harbour remains busy, helped by the fact the estuary is said to be the third deepest natural harbour in the world, allowing access to some of the biggest cargo ships.
Surprisingly, Falmouth is also served by three railway stations, making it easy for both visitors and goods to reach any area of the UK.
Although a large town compared to many others in Cornwall, Falmouth is better explored on foot, and there is plenty of parking space available on the outskirts.
Like so many villages and towns around the coast, Falmouth's history is imbued with maritime exploits through the centuries and up to the present day. They can be researched in the National Maritime Museum Cornwall, on Discovery Quay, Falmouth.
Falmouth's lifeboat, the RNLI Richard Cox Scott, can also be seen at the Discovery pontoons.
Visitor attractions in Falmouth includes a visit to Pendennis Castle, and its various re-creations of castle life through the ages, and The Maritime Museum, with 12 galleries set over three floors.
In the town square look out for Jacob's Ladder, and its 111 steps to the top. Climb them, and you will be able to enjoy the fabulous panoramic view, as well as a much needed pint of Cornish cider, from the Jacob's Ladder Pub at the top.
There are some amazing gardens in and around town including Fox Rosehill Garden, the Glendurgan Valley Garden, and the Trebah Valley Garden.
Whether you just want a sandy beach for a little R&R, or somewhere to be a little more active, Falmouth and its beaches can supply surfing, canoeing, kayaking, and other water activities.
There are evening entertainment venues aplenty, with fast-food outlets, cafes, restaurants, and pubs catering for every need.
Accommodation is plentiful, and varies from 17th century cottages, to plush 5-star spa hotels.
BEST PLACES TO STAY IN FALMOUTH
9. Bude, a great base where to stay in Cornwall to tour the area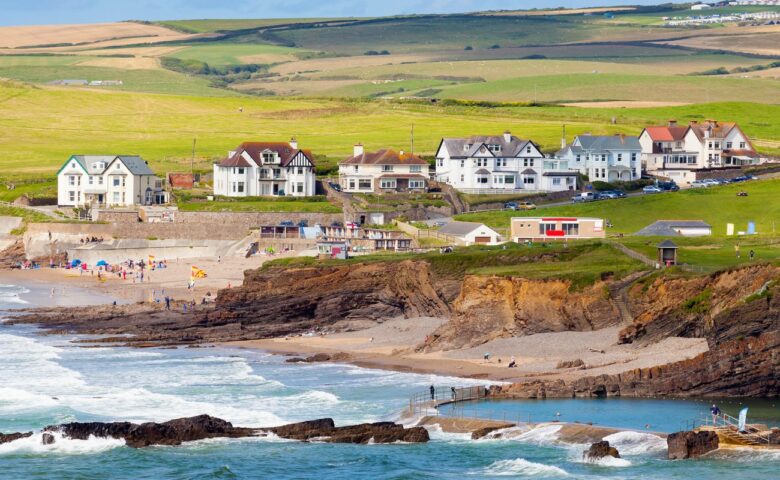 On the north coast of Cornwall, as far east as you can go before crossing the border into Devon, lies the pretty tourist town of Bude.
With sandy beaches to the fore, and natural countryside to the rear, it can give the impression of glorious isolation, but in fact the opposite is true.
If you're looking for where to stay in Cornwall to tour both Devon and Cornwall, Bude is an excellent choice. Exeter in Devon can be reached by car in just over an hour, or Falmouth, Cornwall, in two hours.
That said, Bude is an excellent place to holiday in its own right. The town has two popular sandy beaches on the doorstep, and the town's main beach has The Bude Sea Pool, complete with lifeguard, where adults and youngsters can play and swim whatever the sea conditions.
Bude has everything you would expect in a busy coastal town, with local businesses, shops, cafes and coffee shops, pubs, restaurants and takeaways to keep the whole family fed.
Although the harbour and the beaches of Bude are a big draw, you don't have to travel far out of town to find gardens to enjoy, trails to walk, or leisure and theme parks for the kids.
Accommodation in and around Bude is good, with self-catering apartments, cottages, houses, guest houses, and hotels in town; and holiday homes and caravan parks on the outskirts.
BEST PLACES TO STAY IN BUDE
10. Penzance, exotic plants, pirate inns, and a moody Atlantic coast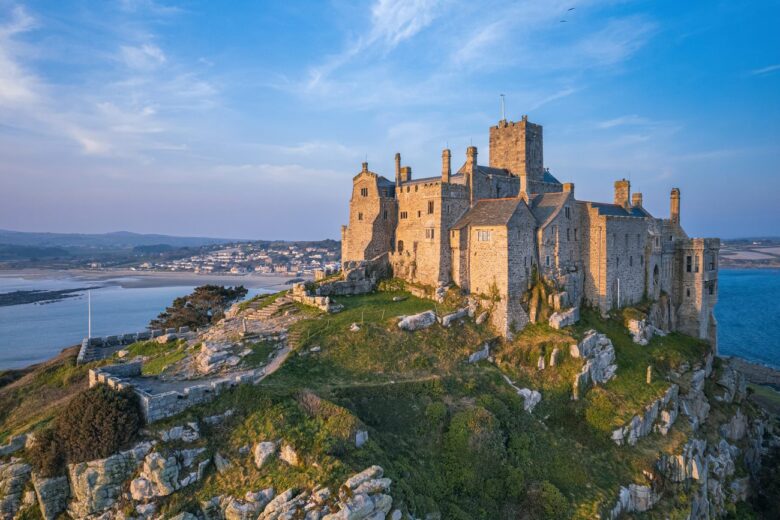 On the south coast of Cornwall, just a 20-minute drive from Lands End and sheltered by Mount's Bay, lies Penzance. Dating back to the 15th century, it started life as a small fishing village, deriving its income from the sea, agriculture, tin mining – and a little smuggling.
Now, Penzance has morphed into a popular tourist destination. With its old Cornish granite buildings, smugglers inns, and narrow streets, it has plenty to keep the history buffs happy.
Take a step back in time, and meander down 18th century Chapel Street with its shops, businesses, and hotels.
Do a little souvenir hunting or window shopping, before stopping for a drink in the 17th century Admiral Benbow (mentioned in Treasure Island), or the Turk's Head. The names alone conjure up thoughts of smugglers, revenue men, and deadly deeds.
Visit The Exchange Art Gallery next to Chapel Street, and the Penlee House Gallery and Museum.
Garden lovers are spoilt for choice. With Cornwall's micro-climate you can visit gardens full of native and exotic flora such as Morrab Gardens in the town.
Trengwainton Gardens, including its two walled gardens and kitchen garden. The Tremenheere Sculpture Gardens, or the Tanglewood Wild Garden, five minutes out of town.
When you reach the bustling harbour and seafront you will see Penzance's Jubilee Pool, the largest lido in the UK, and where all the sunbathers and swimmers head for, if they don't like sand.
Two trips that must be pencilled in during your stay in Cornwall are a visit to the little fishing harbour of Mousehole, said by the poet Dylan Thomas to be the loveliest village in England. And a walk over the causeway (during low tide), to explore St Michael's Mount.
Accommodation is varied around Penzance with apartments, B&Bs, hostels, guest houses, cottages, and holiday parks.
BEST PLACES TO STAY IN PENZANCE
11. Bodmin, where to stay in Cornwall for lovers of wide-open spaces, flora and fauna
Situated in the centre of the county, on the south-west edge of Bodmin Moor, Bodmin town dates back to the 6th century, and began life as a priory.
With tin mining came influence, and eventually Bodmin became the county town of Cornwall. An honour that was eventually passed to Truro.
Bodmin retains much of its original granite architecture including parts of historic Bodmin Jail, which is open to the public, and shows the grim reality of prison life during the Victorian era.
The town has two museums of interest. The Town Museum, where you can learn the history and view artifacts dating back to the Stone Age, and Bodmin Keep. A Victorian army barracks which used to house the Duke of Cornwall's Light Infantry, and now holds artifacts and weapons of the period.
As you would expect being on the edge of a moor, the whole area is made for walking, hiking, and cycling.
The not to be missed Jamaica Inn, and its stories of smuggling told by Daphne du Maurier is at Bolventor, Launceston.
Other nearby places to visit include; The Eden Project at Bodelva, the world's largest indoor rainforest. The Puzzle Room at Mount Hawk Skate Park. The Cornish Seal Sanctuary, at Gweek, and of course Bodmin Moor.
Whether hiking, cycling, or by car, you can spend days exploring the moor and old villages that lay on it.
Every village you visit will have a cafe or tea-room, where you can enjoy a cream tea of fresh, just-out-of-the-oven scones, local butter and strawberry jam, topped off with lashings of local clotted cream.
Bodmin is also a great place to base yourself if you want to tour the area during your stay in Cornwall. You are just a 30-minute drive from Looe on the south coast, or an hour's drive from The Lizard or St Ives.
Although there are a few holiday parks on the outskirts of Bodmin, the town has a good selection of friendly guest houses, B&Bs, and hotels welcoming singles, couples, and families.
BEST PLACES TO STAY IN BODMIN
12. St Austell, a good choice for visiting local attractions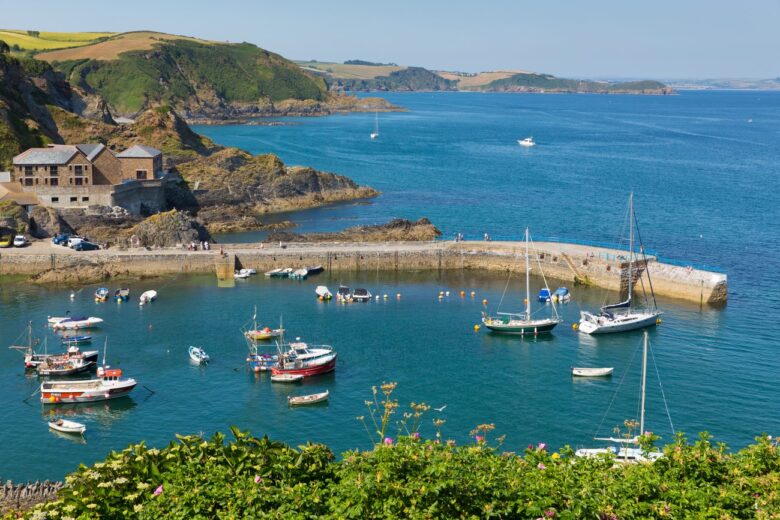 Many visitors looking to stay in Cornwall, prefer to keep away from the busier seaside resorts. Instead, favouring somewhere inland, where the evenings are quieter, and prices often cheaper.
The market town of St Austell is a case in point. Just over a mile from the nearest beach, it is also close to some of Cornwall's most visited attractions.
Starting life in the Middle Ages as a small market town, St Austell used to make its money from the many tin and copper mines that dotted the area.
Until that is, the late 18th century, when china clay was discovered, and white clay mines began to dot the landscape.
Although most china clay is now mined abroad, there is still a limited amount mined in Cornwall. There are some well worn walking and cycling trails around St Austell that take you through the old mining areas.
Views of the high, white clay slurry tips, will have you thinking you could be in the French Alps.
A pleasant, if uninspiring market town, St Austell's White River Place is the go-to for a little window shopping, with plenty of the usual high street brands.
It has a good selection of service businesses, with pleasant cafes and coffee shops, fast-food joints and pizzerias, and fine-dining restaurants.
Places of interest within the town are Wheal Martyn China Clay Museum, which charts the history of china clay production.
A walk round the St Austell Brewery, founded in 1851, and maybe a tipple at the end of the tour. Just outside the town you can reach a number of beaches within ten-minutes.
The Eden Project is just two miles from town, and The Lost Gardens of Heligan are situated above the little fishing village of Mevagissey, just five-miles away.
St Austell offers a good choice of accommodation of all types and budgets.
BEST PLACES TO STAY IN ST AUSTELL
13. Tintagel, a place of myths, legends, Merlin, and King Arthur
In an isolated area of the craggy north Cornwall coast, between Boscastle and Padstow, sits the village of Tintagel, and the remains of its legendary Norman castle.
The whole area is steeped in myths and legend of King Arthur, his Knights of the Round Table, and the Welsh wizard. Even today, historians continue trying to separate the wheat from the chaff.
Tintagel today is a pretty little Cornish village, although many would say commercialism has claimed much of its charm.
Besides the fabulous scenery to be enjoyed on a sunny summer's day, the village has a couple of interesting potteries and galleries to be perused, as well as gift shops, cafes, tea-rooms, and a couple of quality restaurants.
As would be expected, many of the attractions around the village are King Arthur related. Don't miss The Hall of Chivalry, or King Arthur's Great Halls as they are known. Inside you will find the king's granite throne, and the knights round table. It also doubles as a popular wedding venue.
St Materiana's Church, built during Norman times overlooks Tintagel Castle, and you can tour the Old Post Office dating back to the 14th century.
You can enjoy a pint in the village pub, unsurprisingly named The King Arthur. The path down to King Arthur's Castle has been altered to make it more suitable for wheel chair users and buggies.
While the small, pebbly Castle Cove, is safe for young children. From here you can explore Merlin's Cave. Where his ghost is said to often wander, and enjoy the view and a coffee at the local café.
If the legend of King Arthur is the main purpose of your stay in Cornwall, a visit to the Tourist Information Shop in the village will find plenty of information regarding all the local landmarks associated with the legends.
In the village you will find an excellent selection of B&Bs, self-catering cottages, guest houses, and hotels. While on the outskirts are camping and caravan sites and holiday parks.
BEST PLACES TO STAY IN CORNWALL IN TINTAGATEL
14. St Just, a history that goes back to the stone age
On the edge of Botallack Moor, 8-miles from Penzance, and the last town before Land's End, lies St Just-in-Penwith.
For those with a love of rugged countryside, prehistoric artefacts, and Cornwall's mining history, it makes an excellent base from where to explore the area, away from the bigger tourist towns.
The old granite town offers plenty of varied accommodation, friendly pubs and inns, restaurants, independent shops, and mini-marts, to supply all your needs.
The St Just Church, and the King's Arms pub next door, both date back to the 14th century.
The town isn't short of galleries either, and local artists are well represented. The Great Atlantic Mapworks Gallery, Navigator Contemporary Arts, Smart Tart and Nancherrow Studio Gallery, are all in town, with the Tregeseal Gallery on the outskirts.
Just outside town is Cape Cornwall, with its 140-years old chimney stack. The stack rises 230ft above sea level, and if you've the stamina to climb to the top, the views are amazing.
If the paranormal is your interest, pay a visit to Kenijack and its hooting cairn. Said to be haunted by a lady by the name of Old Moll, and her group of poltergeists.
Other places worth a visit include the Geevor Tin Mining Museum, the Pendeen Lighthouse, and Botallack and its mining engine houses.
A little over a mile away is the where, if the fancy takes you, you can book a flight to the Scilly Isles.
With a good selection of accommodation in town, plus camp sites and holiday parks outside, finding somewhere to stay in Cornwall to suit your needs shouldn't prove problematic.
BEST PLACES TO STAY IN ST JUST
Photos: Shutterstock