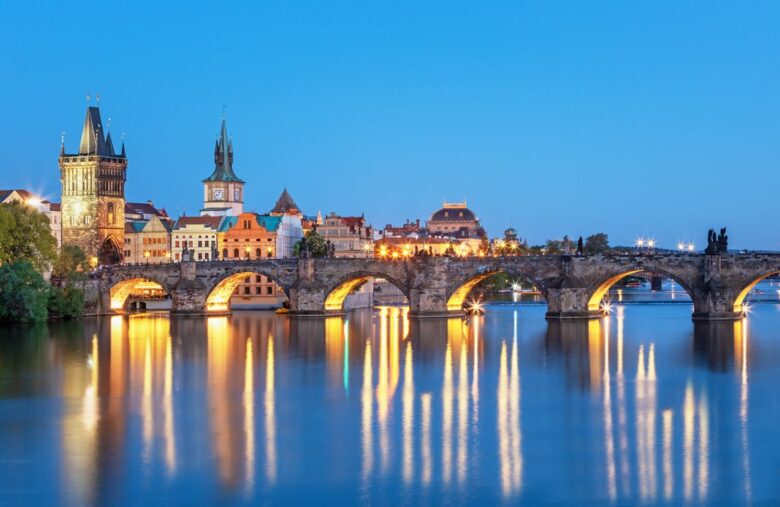 Find out where to stay in Prague depending on your travel style with a detailed neighbourhood guide. Stare Mesto, Josefov, Mala Strana, Vinohrady are some of the best areas to stay in Prague. We will let you know in detail about each of the Prague's neighbourhoods and why you might want to choose one over another.
Known as both the Golden City and the City of a Thousand Spires, Prague is truly a fairytale city due to its stunning historical architecture.
Unlike many other major European cities, the Czech capital was virtually left untouched during World War II, and as a result, visitors can experience spectacular sites and scenery that looks almost exactly as it did hundreds of years ago.
Moreover, the relatively small size of the Prague city center and the fantastic public transportation system ensure that you'll have no problems checking out all of its famous sites no matter whether you explore by foot, tram or metro.
That being said, your choice of where to stay in Prague can still have a huge impact on your trip, which makes it essential that you learn about the different areas and what each has to offer.
Although Prague is most famous for its stunning historical sites, such as the 14th-century Charles Bridge, the city has something to offer to every type of tourist.
The Czech Republic is famous for producing some of the best beers in the world, and Prague is home to a huge amount of bars and restaurants where you can sample delicious pilsners and traditional Czech cuisine.
Vibrant nightlife opportunities also abound across the city, and there are also a ton of excellent museums, art galleries, theaters and opera houses for those who wish to take in some culture during their trip.
There are many things to see and do in Prague. The city will amaze you. I have visited it several times and discovered something new on every trip.
But let's get down to the nitty-gritty. Let's see the best places to stay in Prague and why you should choose them.
Where to Stay in Prague: Best Areas and Neighborhoods
Ultimately, your choice of where to stay in Prague should be dictated at least in part by what you want to see and what type of traveler you are. Thanks to the city's huge network of trams, metros and buses, which run frequently and almost always on time, everything is easily explorable no matter where you stay.
However, each of the city's areas and neighborhoods still has its own characteristics and feel. Furthermore, each area has its own advantages and possible drawbacks, so it's important to choose carefully to ensure you stay in an area that matches your own particular style and wants.
The oldest areas of the city like Stare Mesto and Mala Strana may sound ideal due to their proximity to all of the city's historical sites, but these areas can also be quite noisy and crowded due to the large number of tourists.
On the other hand, areas like Vinohrady and Žižkov that are further outside of the immediate center city may offer a bit more peace and quiet, but staying in these areas also means that you'll need to rely more on transportation.
In this sense, it is all about trying to strike a balance by focusing on whatever factors are most important for you. So without further ado, here is everything you need to know about each of the different areas in Prague.
1. Stare Mesto, best area to stay in Prague
The oldest areas in Prague are all situated in Prague 1, which includes the neighborhoods of Stare Mesto and Mala Strana. However, these two historical areas are separated by the Vltava River, and each area offers quite a different experience.
The heart of the city is Stare Mesto, which directly translates from Czech as Old Town. This area is home to many of the city's most famous sites, including the spectacular Staromestske Namesti or Old Town Square.
Situated around the edges of this beautiful, cobbled square, you'll find several impressive churches, including the 18th-century Baroque St. Nicholas Church and the beautiful Gothic towers of the Tyn Church dominating the skyline.
Walking in any direction from Old Town Square, you'll encounter winding, ancient cobbled streets lined by gorgeous old buildings, churches and a huge amount of shops and restaurants.
In fact, this area really has everything you could want for your stay in Prague depending on your specific tastes. Still, it probably won't come as a surprise to learn that Stare Mesto is by far one of the most expensive areas in the city in virtually every way.
Not only is this area home to some of the nicest and most expensive hotels in the city, but the bars and restaurants also tend to be far more costly. Still, Stare Mesto also features a wide range of hostels for younger travelers or those on a tighter budget.
Unfortunately, it also plays host to more than its fair share of tourist traps where you'll receive sub-par food for often two to three times the cost of what you'd pay in other areas.
Nonetheless, there are still a few gems to be found, so it's important to do some research before deciding where to drink or dine in Stare Mesto. On the other hand, this area also features some of the best nightlife and shopping in the city.
The Christmas and Easter markets located in Old Town Square and nearby Wenceslas Square (Vaclavske Namesti) are definitely worth a look.
Wenceslas Square and the surrounding area is also home to a huge amount of famous clothing brands and other well-known shops, or if you're looking for something a bit more luxurious, you can head over to Parizska Street.
Staying in Stare Mesto puts you right in the heart of the action and provides you with no shortage of bars, restaurants, night clubs and historical sites to explore.
As well, the area is extremely well-connected by public transportation with numerous metro and tram stops nearby to allow you to easily explore other neighborhoods in Prague.
Nonetheless, the area can also be extremely loud and busy throughout most of the year, which means you might want to look elsewhere for your hotel if you're put off by large crowds.
BEST PLACES TO STAY IN STARE MESTO
2. Josefov, Prague's original Jewish quarter
Josefov is the name given to Prague's original Jewish quarter, which used to house the city's large Jewish population and was the birthplace of writer Franz Kafka.
In addition to being home to several beautiful synagogues, this neighborhood also features the Old Jewish Cemetery—one of the largest historical Jewish cemeteries in Europe and the final resting place of more than 12,000 people.
The neighborhood is situated along the banks of the Vltava River and directly next to Stare Mesto. However, the Josefov area itself is actually quite small, and this combined with its close proximity to Old Town is why most people tend to just lump the two together.
Nonetheless, if you're looking to learn more about Prague's fascinating Jewish history, this is definitely the place to be. Of course, as with other parts of Old Town, Josefov has a lot more to offer than just beautiful buildings and history.
Despite still being home to many residential buildings, the streets in and around Josefov are always bustling with life and contain a huge number of excellent restaurants, bars and nightclubs in addition to some of the city's best hotels and hostels.
However, the area is still tucked a bit away from the main tourist parts of Old Town, which means you won't have to deal with the same crowds or noise you would if you were staying in other parts of the old city.
This is also helped by the fact that the entire area is governed by a strict noise ordinance unlike some other parts of the city. All of these factors help to explain why the Josefov area is one of the best and most popular areas to stay in Prague.
BEST PLACES TO STAY IN JOSEFOV
3. Mala Strana, where to stay in Prague for couples and families
Located just across the Charles Bridge from Stare Mesto, Mala Strana, or the Little Quarter, is another of the areas of Prague where you can find some of the city's oldest buildings and most iconic sites.
This includes the huge Prague Castle complex, where you can view the impressive Gothic architecture of the St. Vitus Cathedral, and the nearby St. Nicholas Church and St. Thomas Church.
As with Stare Mesto, restaurants and accommodation tends to be a bit more expensive in Mala Strana than in other neighborhoods in Prague, but there's always a price to be paid for being so close to so many incredible sites.
However, the good news is that this part of the old city tends to be less crowded than Old Town with the exception of the areas around Charles Bridge and Stare Mesto.
Mala Strana itself is quite small compared to other areas of the city, and much of this part of the city is taken up by residential buildings. Nonetheless, there are still plenty of restaurants and bars to enjoy, but shopping is mostly limited to over-priced souvenirs.
As well, public transportation options are a bit more limited in Mala Strana, and depending on where you stay, you'll most likely either need to take a tram or take a short walk from Malostranska metro station.
BEST PLACES TO STAY IN MALA STRANA
4. Hradcany, the Castle District
Hradcany is a small neighborhood located up above Prague Castle, and this is where the neighborhood gets its name from (hrad means castle in Czech).
The main appeal of this area is the fact that you'll likely be staying in an old, historical building that's only minutes away from the castle in what is definitely one of the most beautiful parts of the old city.
The fact that most of the area is actually residential ensures that it tends to be far quieter than Stare Mesto and parts of Mala Strana. Furthermore, Hradcany is also a bit more off the beaten tourist path despite its close distance to the castle and surrounding monasteries and parks.
In general, it's location on top of a hotel overlooking the city and surrounded by large parks, palace gardens and green spaces means the views that Hradcany offers of the city are second to none.
Nonetheless, there are definitely a few factors that might work against this area for some people. For starters, the neighborhood isn't nearly as well connected as most other parts of the city.
In fact, your only options are to either take a 10-15 minute tram ride or else walk up a long, very steep hill from Mala Strana.
In addition, the area also features far fewer restaurants and nightlife options than most other parts of the city, and those that are there tend to be much higher priced.
Still, if you're looking to stay in a beautiful, historic area and don't like dealing with big crowds, Hradcany is definitely a good choice to sleep in Prague.
BEST PLACES TO STAY IN PRAGUE IN HRADCANY
5. Vinohrady, cool neighborhood to stay in Prague
Vinohrady gets its name from the castle's vineyards that used to line this hilly area stretching up above Old Town. However, these days it is better known as being one of the most desirable neighborhoods of Prague to live in.
Still, you shouldn't let its residential atmosphere fool you as Vinohrady is also the place where you can find some of the city's best restaurants, cafes, bars and nightclubs.
As a result, this area plays host to much of the city's expat community, and it is also host to one of the most vibrant gay scenes in all of Europe.
In truth, Vinohrady truly has something to offer almost everyone. The fact that the area begins just at the top of Wenceslas Square means that most of Old Town can easily be reached by foot.
Plus, Vinohrady is also served by several metro stations and numerous bus and tram stops, so you'll never have a problem traveling anywhere you want to go.
Food and drink options are also plentiful and wide-ranging. Traditional Czech pubs can be found on almost every single street, and mixed in between you'll find numerous wine bars, cocktail bars, cafes and fine dining opportunities.
Accommodation is another area where staying in Vinohrady offers you plenty of choice from hostels to apartments to hotels.
However, it is worth keeping in mind that this area also features some of the city's busiest streets, which means noise and traffic could be an issue depending on exactly where you choose to stay.
BEST PLACES TO STAY IN VINOHRADY
6. Zizkov, where to stay in Prague for nightlife
Younger travelers or those looking to escape the hustle and bustle of the city center often choose to stay in the Zizkov area. Part of Prague 3, Zizkov borders both Vinohrady and Stare Mesto, which helps to ensure that you're fairly close to all of the main sites.
This includes the main train station (Hlavni Nadrazi), which is just a few stops away by tram. However, this neighborhood is quite big compared to many others, and some areas are not quite as well served by public transportation .
Although there are two metro stops that are somewhat close to parts of Zizkov, the majority of the neighborhood is better accessed by tram or bus. Still, Prague public transportation is good enough that this usually isn't a major issue.
One of the main attractions to staying in this neighborhood is definitely the nightlife. In fact, Zizkov supposedly has the distinction of being home to more bars per square kilometer than anywhere else in Europe, which helps to explain why it's known as one of the most vibrant, liveliest parts of the city.
Not only that, but it also features some of Prague's most affordable accommodation options. In addition to the huge number of Czech beer pubs, bars, restaurants and beer gardens, another reason why so many younger travelers choose to stay in this area is that it is also where you can find many of the city's best hostels.
BEST PLACES TO STAY IN PRAGUE IN ZIZKOV
7. Nove Mesto & Vyšehrad, great place to stay in Prague
Nove Mesto (New City) is a great place to stay if you want to be close to all of the action, but avoid the big crowds. This area is located directly next to Old Town and still offers much of the same feel—albeit with wider, straighter streets and buildings that aren't quite as beautiful or old.
Nonetheless, the beauty of staying in this area is that you'll be situated near the river and only a short distance from all of the main attractions.
As well, Nove Mesto is where you'll find some of the city's best restaurants, which includes not only Czech, but a wide range of excellent ethnic cuisines from around the world.
The main center of Nove Mesto forms part of the administrative area of the capital, but the neighborhood also stretches further down the river towards the imposing Vysehrad castle where you'll also find excellent accommodation and entertainment options.
The further you go away from the center, the quieter and more residential this area becomes, which means nightlife opportunities aren't quite the same as you'd find in Old Town, Zizkov or Vinohrady.
Nevertheless, the fact that this neighborhood has excellent public transportation options and is situated near to Vysehrad castle and several large parks makes it a favorite of many visitors.
BEST PLACES TO STAY IN NOVE MESTO AND VYSEHRAD
8. Karlin, where to stay in Prague on a budget
Karlin is located just next to Stare Mesto on the opposite side from Nove Mesto. Previously, this area was known for being quite rough and rundown.
However, many of the buildings suffered major damage during the flood in 2004, and since that time, Karlin has been rejuvenated to the point where it is one of the most desirable areas of the city to live.
As with most of the other areas directly outside of Old Town, this neighborhood offers the benefit of putting you within walking distance or a short tram or metro ride away from everything you could want to see, while also guaranteeing the quieter, more peaceful surroundings of a residential neighborhood.
Numerous tram and metro stops can be found situated around the area, and it also has the benefit of being close to both the main train station and bus station.
Unfortunately, Karlin doesn't boast nearly as many accommodation options as some other neighborhoods in Prague, but there should still be something to fit most every budget.
BEST PLACES TO STAY IN PRAGUE IN KARLIN
9. Smichov, less touristy, well-connected and affordable accommodation
Originally more of an industrial area, Smichov is definitely further away from Old Town and less touristy than the other neighborhoods in this guide, but it's not without its own benefits.
One major plus is that Smichov is extremely well-connected to public transportation, which means you can easily get to and from anywhere else in the city day or night—especially if you stay anywhere near the main hub of Andel.
At the same time, the neighborhood is still situated on the river and close to the sprawling Petrin Park. As well, the area is only a 15-20 minute walk from the main attractions in the Mala Strana area.
The fact that Prague is so small means that Smichov should really be considered part of the city center, but it doesn't always feel that way.
Although you'll still have numerous dining and nightlife opportunities, staying in this neighborhood also ensures that you won't have to deal with big crowds or loud noise.
Combine this with the fact that Smichov offers numerous accommodation options in every budget and you can see why so many travelers choose this neighborhood for their stay in Prague.
BEST PLACES TO STAY IN SMICHOV
As you can see, Prague offers a huge range of different options for tourists, and each neighborhood definitely has its own unique characteristics and charm.
In truth, the city's sites and entertainment options are so spectacular and wide-ranging that you're virtually guaranteed to have a great time no matter where you stay.
Nonetheless, some neighborhoods and areas are definitely better for certain types of travelers, which is why you'll definitely want to pay close attention when choosing where in Prague to stay.
Photos: Shutterstock