Hamburg can thank a busy port for its prosperity, which has encouraged it to embrace adventurous cuisine, innovative architecture alongside medieval remains, and a buzzing night scene. Find the best neighbourhoods where to stay in Hamburg, and then you're ready to join in!
Where to Stay in Hamburg: 10 Best Areas and Neighbourhoods
With all areas served by the Auto-Bahn metro, your stay in Hamburg can be wherever suits you best, allowing you to choose a quieter or cheaper option if you prefer.
1. Altstadt, best area where to stay in Hamburg
As the city's commercial district, this inner-city quarter by Lake Alster is grouped around City Hall (the Rathaus), home to Hamburg's parliament, and where half-timbered merchant dwellings have become cafés next to the Nikolai canal.
Shopping centres spill out onto Mönckebergstraße and Spitalerstraße, where you'll also find the Lutheran churches of St Jacobi and St Petri. Another Lutheran church near here, St. Catherine's, is said to be decorated with gold from the haul of the notorious pirate Störtebeker.
Take a stroll through the old town, over the Börsenbrücke or Trostbrücke bridge from the Rathaus, stopping off at the Hopfenmarkt, and you'll come to the St Nicolai monument. The church was the world's highest building until 1876, but now, its ruins contain a WWII memorial and museum.
If you're looking for a bite to eat, carry on to Deichstraße for some superb and affordable restaurants. The street also boasts some old town houses, but it was also the starting point for the Great Fire of 1842, which destroyed much of the city.
Hamburg is a photographer's paradise. Frame and shoot traditional ships at Sandtorkai dock; the Wasserschloss or 'water castle'; the former customs booth of Café Fleetschlösschen; and the beautiful district offices of Speicherstadtrathaus.
Altstadt and its lovely surroundings would be a special location for a stay in Hamburg. Prices are not the cheapest, but there is a good selection of hotels and apartments.
BEST PLACES TO STAY IN ALTSTADT
2. Neustadt, central upmarket area
Neustadt forms another central part of Hamburg, with upmarket shops in the vicinity of Jungfernstieg promenade, Gänsemarkt and Neuer Wall.
Smart cafés, looking out onto the Alsterfleet canal, serve customers among the white colonnades in the Alsterarkaden arcade, constructed the year after the Great Fire of 1842, while street art predominates in the Gängeviertel district.
Gänsemarkt is just one of several attractive squares in Neustadt. The city's best-known landmark and its only baroque church, St Michaelis, is located in the Portuguese quarter, and offers tremendous views from its copper spire.
Culture is provided by the state opera house Staatsoperther and other theatres, the city museum, and two restored old sailing ships, while the Composers' Quarter consists of six museums focusing on classical composers born or resident in Hamburg.
Eateries to please all budgets include Spanish and Portuguese restaurants, in an area that is quieter at night than some other parts of the city, because residents prefer to dine closer to home.
If you prefer to stay in Hamburg and savour the atmosphere of Neustadt, accommodation tends to reflect its upmarket lifestyle, but there are some very pleasant hotels.
BEST PLACES TO STAY IN HAMBURG IN NEUSTADT
3. Hafencity, one of the most ambitious urban regeneration projects in Europe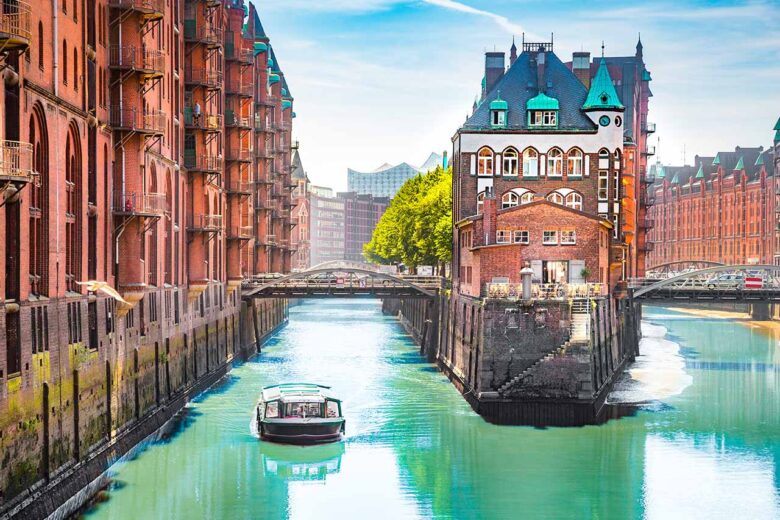 Together with Altstadt and Neustadt, Hafencity occupies a central location in Hamburg. A product of the regeneration of the docks, its urban redevelopment is a mix of historic and contemporary architecture.
It's a pleasant place to wander around, easily accessible by public transport, and with plenty of places to stop for food or a coffee.
Residential properties are joined by restaurants, museums and green spaces. The most striking building is the Elbphilharmonie Hamburg concert hall, famed for its excellent acoustics and impressive facade, which looks down from the top of an abandoned warehouse.
Speicherstadt, on the bank of the River Elbe, was once part of Altstadt, but now, it's more or less a separate neighbourhood. As the world's biggest warehouse, its complex of neo-gothic brick structures, among the network of canals and narrow streets, has led to its status as a UNESCO World Heritage Site.
Best attractions here for children must be the creepy Hamburg Dungeon and a miniature railway complex, while everyone can enjoy the Maritime Museum, the German Customs Museum concentrating on the tradition of smuggling, and the Automuseum Prototyp with seventy years of models.
Kaffeerösterei, which once stored coffee, has stayed close to its history as a café that provides coffee tastings and freshly-roasted beans.
Experimental art galleries fill the Kontorhausviertel area, with its Brick Expressionist buildings, while the Kunsthalle Hamburg museum displays everything from medieval altarpieces to cutting-edge photographs.
In the warmer months of June, July and August, open spaces are taken over for Summer in Hafencity, a celebration of dance, literature and sport, with instruction available.
Hafencity would be a pleasant place to stay in Hamburg, with both upmarket hotels and more economical chains, plus hostel accommodation.
BEST PLACES TO STAY IN HAFENCITY
4. Altona, trendy district where to stay in Hamburg
Always popular with visitors, the trendy district of Altona sits on cliffs above the Elbe's right bank. More like a gentrified village than a city neighbourhood, with its quality restaurants, bars and stylish shops, it also has a useful local rail station.
Down by the river, more eating places and cafés lead to Altonaer Balkon park, which rewards walkers with stunning harbour views, and a Soviet U-434 submarine converted to a museum.
Nearby, it's impossible to ignore the striking architectural achievement that is Dockland, with its sharp corners suggesting an ocean-going liner, and the promise of breath-taking panoramas from its rooftop.
A noisy market kicks off inside the nineteenth-century Fish Auction Hall every Sunday morning, with food and beer to compensate for the early start, and live music to cheer you on your way.
The local museum covers northern Germany's culture and art from the eighteenth century onwards, with a charming section for children, and a magical "house of children's books".
Events in the area include Altonale, two weeks of street-based activities, and Summer in Altona, a fortnight of music in Nobistar Park.
For year-round entertainment, there are lots of bars and a couple of clubs, so Altona could be a good pick where to stay in Hamburg.
Prices for hotels and apartments are available in different price ranges, and there is a hostel/hotel.
BEST PLACES TO STAY IN HAMBURG IN ALTONA
5. Wandsbek, residential quarter with green areas
Wandsbek is a residential quarter, situated in the large borough of the same name to the north east, on the edge of the Outer Alster Lake.
To the north, the river is surrounded by green parks, and further out, by nature reserves and the city's oldest forest, Wohldorfer Wald. With their wide range of species, these open spaces are pleasant walking and cycling areas.
For a different activity, shoppers flock to Alstertal-Einkaufzentrum, the city's biggest shopping complex.
Being slightly out of town, and of a quieter nature, hotel prices in Wandsbek tend to be lower than in some other neighbourhoods, but its railway station brings it to within easy reach of the centre. It´s a great place where to stay in Hamburg on a budget.
BEST PLACES TO STAY IN HAMBURG IN WANDSBEK
6. St Pauli, where to stay in Hamburg for nightlife
Centrally situated on the right bank of the Elbe, and named after its church, St Pauli is well-known for its red-light district, centred on the Reepersbahn, originally the street of rope-makers (or anyone else the authorities wanted to keep outside the gates).
This has always been the place for a wide range of wining, dining and entertainment, with the Beatles playing at the Star-Club in their early days, and now honoured with their own square of Beatles-Platz.
Follow the locals and get off the beaten track on side streets and squares like the Hamburger Berg, Große Freiheit, and the Hans-Albers-Platz.
Hamburg's port status saw many outsiders, particularly sailors, settle here, with many of these originating in China and Asia. Chinesenviertel (Chinatown) flourished until it was closed down by the Nazi regime. It has now re-established itself, with new immigrants also attracted to this area.
The weekly Night Market with beer garden runs until 11pm, and there is a Christmas market too.
July's Schlagermove Parade is a chance to dress up and re-live disco, and there is always live music in the area, although football fans might prefer a visit to St Pauli FC, something of a cult here.
Despite its colourful past, St Pauli is considered a great place to live, and so is also good for a stay in Hamburg, with accommodation of all types, some with sound-proofed rooms, and options for backpackers, too.
Don't be put off by its party reputation though – it's actually quite safe.
BEST PLACES TO STAY IN ST PAULI
7. St Georg, coolest place to stay in Hamburg
St George is a vibrant neighbourhood that includes Hamburg's gay district (Hamburg's Pride Parade sets off from here), containing independent design shops, studios, and cool bars.
The main street of Lange Reihe is overlooked by nineteenth-century houses, with luxury homes and elegant hotels facing Lake Alster. Look out for the two towers of St Mary's Cathedral, Mariendom.
Theatre goers can enjoy contemporary productions at the prestigious Deutsches Schauspielhaus, or they might like to try the Ohnsorg, which sometimes has performances in Low German.
Ancient and baroque art and objects are mixed with striking poster graphics at the MKG Museum, with other magnets for art fans being Kunsthalle and Deichtorhallen.
In this culturally-diverse neighbourhood, shopkeepers and restauranteurs offer produce from Turkey, Iran, India, and Afghanistan, while the Savoy cinema on Steindamm caters for English speakers by showing films in their original language.
The street festival of Stadtfest St Georg on Lange Reihe offers stalls to browse, food to satisfy, and music and dance for revellers. It even has a newcomer's stage for local bands.
Close to the main railway station, St Georg would be a convenient place where to stay in Hamburg, and there are hotels from luxury to budget, with backpackers catered for.
It's always best to stay aware around transport hubs, but there shouldn't be any major problems.
BEST PLACES TO STAY IN HAMBURG IN ST. GEORG
8. Eppendorf, upscale neighborhood
Eppendorf is an upscale neighborhood blessed with an abundance of green open spaces, water and Art Nouveau architecture, making it a pleasant urban environment.
The riverside Hayn's Park is a popular rendezvous for locals, and for around a hundred and thirty swans which glide majestically past.
Eppendorf has always been a favourite place to spend leisure time, but retail outlets in historic buildings have replaced the original cottages, with everything from department stores to boutiques and delicatessens.
Every year, the Eppendorfer Landstrasse Street Festival brings live music, street food and flea markets to this lively district.
A bi-weekly Isemarkt with more than two hundred stalls sets up under the steel arches of the railway line, and is the longest farmers' market in Europe.
The river and canals make Eppendorf ideal for water sports. Germany's oldest canoe club was formed here in 1905, followed on dry land by the SC Victoria football arena in 1907, with national and international finals played in Hoheluft at one time.
Eppendorfer would be a relaxing experience for a stay in Hamburg, with hotels in all price ranges, and backpackers' accommodation available.
BEST PLACES TO STAY IN EPPENDORF
9. Sternschanze, alternative neighborhood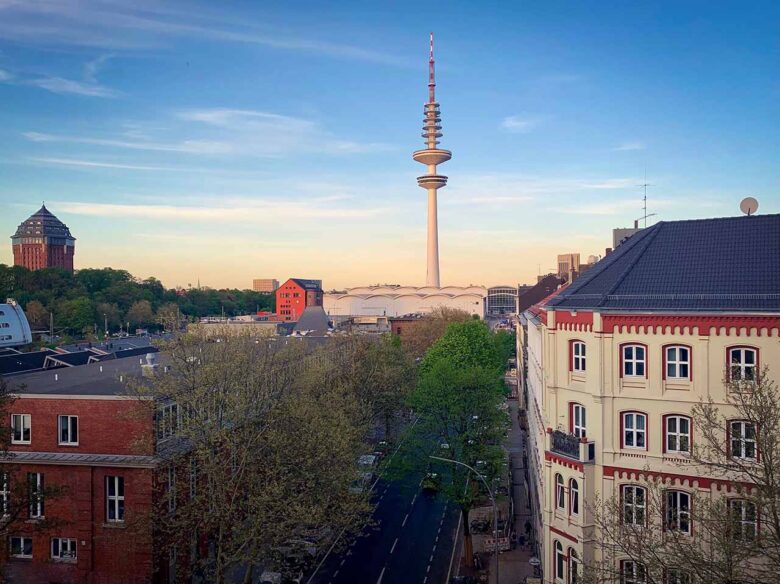 Part of the alternative scene way back in the 1970s, Sternschanze is full of hip bars, laid-back eateries and cool music, and Rote Flora fits this vibe perfectly.
Once the Tivoli-Theatre, and now an alternative cultural and political centre with pay-what-you-can events, its graffiti-covered walls aren't to everyone's tastes, but it's a lively and friendly place. Behind it there is a skate park, and nearby, a climbing wall.
There's more relaxed entertainment in the form of the open-air Schanzenkino cinema in Schanzenpark during the summer.
The park is a popular spot for locals to meet, with the focal point of the sixty-metre-high Schanzenturm water tower on a hill in the middle. Completed in 1910 and once the tallest water tower in Europe, it's now a hotel.
Once a working-class neighbourhood, gentrification has brought renovation to buildings in Schanzenschanze.
Head for Marktstraße in the Karoviertel for quirky and specialist shops, and find cutting-edge fashion by new designers, or immerse yourself in independent record stores, before dropping into a pub on Schulterblatt street.
It's mostly safe, although at night, you might prefer to avoid the area around the station (as in most cities) or the park, especially if you're a solo traveller.
If you want to stay in Hamburg and enjoy the unique atmosphere of Sternschanze, you can choose a top-class hotel, or opt for a budget option, guest house or hostel.
BEST PLACES TO STAY IN HAMBURG IN STERNSCHANZE
10. Blankenese, where to stay in Hamburg in a quiet area
The former fishing village of Blankenese overlooks the River Elbe. There are some memorable walks to be taken along the banks here, while a boat or ferry will give you the view from the sea.
Climb the steps of the Treppenviertel for an overall panorama, or wander the winding streets to discover the mariners' timbered dwellings of old, and the smart villas of today.
For those who like to run, Blandenese is probably the best stretch of the waterside, as the terrain is less developed, and those stairs will certainly provide a good work out!
BallinStadt museum revisits a subject that is still much discussed, that of immigration, with the focus here on emigrating to the United States, while Konzentrationslager Neuengamme is a memorial to the slave-labour camp in operation here from 1938 to 1945.
The family-owned Tierpark Hagenbeck opened in 1907 and was the first zoo in the world to allow wild animals to roam freely in large fenced areas.
All kinds of environments have been reproduced here so that we can see and understand the needs of other creatures, and why it is so important to respect the natural world.
Pony rides are popular in summer, and there is also the Tropen-Aquarium on the same site.
Germany is famous for its Christmas markets, with many countries putting on markets with the same theme.
The one in Blankenese is conveniently opposite the S-Bahn station, and as well as traditional food like sausages, there are offerings from Tuscany, burgers, crepes, roasted nuts, and other snacks.
Mulled wine and eggnog is served in the Gluhwein Lounge, with the sounds of the carousel and ice-skaters, accompanied no doubt by traditional music. All year round, you can catch one of the weekly markets for regional produce.
A stay in Hamburg in the peaceful surroundings of Blankenese would be a chance to get to know one of the suburbs. Some hotels are expensive, but it's possible to find lower prices or a hostel.
The open nature of the port in Hamburg's history has attracted musicians in the past, and still does.
Festivals for music, film and more take place across Hamburg throughout the year, together with sporting activities and fun fairs, all of the colours of the rainbow at the Pride Parade, or motorbikes at Harley Days.
And of course, those German Christmas Markets, with traditional crafts and mulled wine, are legendary!
BEST PLACES TO STAY IN BANKENESE
Photo: Shutterstock