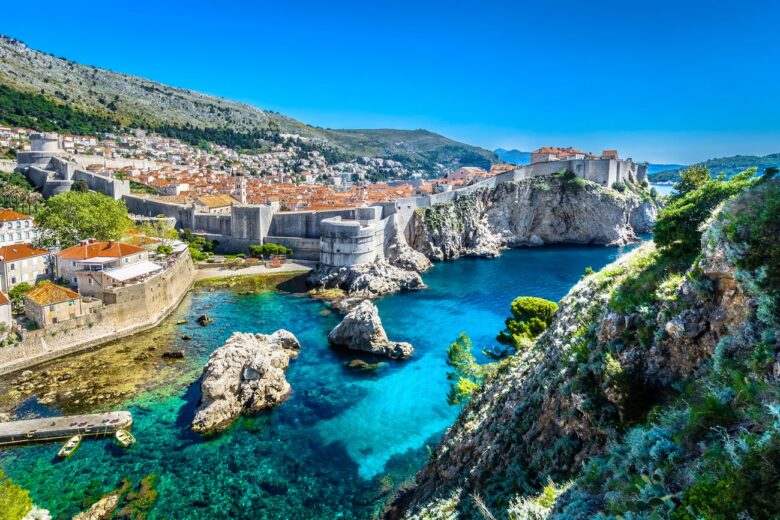 If you're debating where to stay in Dubrovnik for your next vacation, I've put together this list of 7 best areas to stay in Dubrovnik, to help you make the most of your visit.
Made a UNESCO World Heritage Site in 1979, then devastated during the European War of the early 1990s, Dubrovnik has risen from the ashes, to become once again one of Europe's most sophisticated, and increasingly visited, cities.
Sitting on the coast of Croatia, with the Adriatic Sea lapping its shoreline, the Baroque architecture of the old town area has been attracting celebrity guests and the well-heeled since long before the advent of package holidays.
Now, 25 years after the ravages of conflict, it is doing so again, and better than ever before.
There are museums to trace the turbulent history of this remarkable city, and refined restaurants where you can dine on local produce, sample freshly caught seafood, and taste Croatia's excellent wines.
With a Mediterranean climate of early springs, warm summers, and mild winters, it is an ideal destination to visit outside of high season. Read on, for 7 of the best places to stay in Dubrovnik.
Where to stay in Dubrovnik: Best Areas
1. Old Town, where to stay in Dubrovnik for first timers
The old town area is one of Dubrovnik's biggest attractions – and favourite places to stay, although hotel prices can be somewhat inflated.
Old terraced homes and businesses are squeezed side by side in the narrow cobbled roads and winding alleyways.
As you enter Old Town through Pile Gate, the pedestrianised single main street named Stradun, stretches some 300 metres in a straight line through the centre, with boutique businesses, cafes, bars, coffee-shops, and hotels on either side.
Here you will also find the Onofrio Fountain, circa 1438, and the Franciscan Monastery, with its 'Little Brothers' Pharmacy', dating back to 1317, and still trading.
At the other end of Stradun is the Orlando Column, a favourite meeting place with the locals, and the Church of St Blaise.
Close by is the Rector's Palace (Knezev Dvor). A 15th century building badly ravaged by fire. It was rebuilt Gothic style, to become the palace of the Rector of the then Republic of Ragusa, and is now a museum full of historical information and artefacts.
A little further along is Gunduliceva Poljana Square, and its busy morning market, as well as an 18th century Jesuit Monastery.
After a much needed coffee, a walk around the old defences should be on the to-do list, but be warned. It can be hard work, especially in the bright sunshine, so carry some extra liquids.
Entrances to the walls can be found at the Pile Gate, Maritime Museum, and Ploče Gate. In some areas, with the wall up to 6m thick, and 25m high, the view across the city is superb.
The amount of restoration work required after the war can be seen in many of the properties, with brighter terracotta roofs replacing the originals after the shelling.
For a little respite from all the walking, book onto the cable car just outside the old town wall. It provides stunning bird's eye views as you pass over the city on the way to the top of Mount Srd; and that much needed drink at the café, while you continue to photograph the breath-taking views.
In the evenings, you have a choice of fabulous restaurants, bars and clubs. Some of the most popular are Buza Bar, set in a part of the wall, and with enchanting views from every table.
As long as you're not claustrophobic, the Cave Bar 'More', is set underground in a cave, although there is an outside area with waiter service to your table if you prefer.
For the wine connoisseurs, the Malvasija Wine Bar stocks over 60 different wines, or for the jazz fans, the Troubadour Jazz Café should touch the spot.
Old Town is also a great place to stay in Dubrovnik for nightlife.
Although accommodation is rather limited, the old town area has a good selection of hotels, B&Bs, hostels, and private apartments available.
BEST PLACES TO STAY IN OLD TOWN
2. Pile, easy walking distance to Old Town
Pile is a small suburb on the western side of Dubrovnik's old town, and Pile Gate is the main gate through the archway into the old town district.
The Pile area also includes Pile Bay, a tiny cove and sandy beach which nestles at the foot of the seaward facing wall.
The most popular Old Town bus stop and taxi rank are situated on the Pile side of the wall, and the area is renowned for traffic jams during the busier times of day.
Both Park Gradac, a pleasant, relaxing garden on the clifftop above Danče Beach, and Lovrijenac Tower, known as St. Lawrence Fortress and also on the clifftop, are considered to be in the Pile sector.
During the Dubrovnik Summer Festival, the fortress plays host to a number of music concerts and theatre productions.
Although there is a good selection of restaurants, bars, cafes, shops, and businesses around the Pile area, only a limited amount of accommodation is available, set mainly around the small harbour and Sulic Beach, and a little further north at Brsalje.
Even if you choose not to stay in Dubrovnik in Pile, try to set aside a morning/afternoon to check out the area, visit the shops, enjoy a coffee, and explore the gardens, fortress, and other close-by attractions.
BEST PLACES TO STAY IN DUBROVNIK IN PILE
3. Ploče, where to stay in Dubrovnik in exclusive high-end hotels and Spa complexes
You have plenty of choice if you're looking for where to stay in Dubrovnik for that special occasion, but if you're looking for somewhere a little more exclusive, then Ploče is worth a serious look.
On the east side of the old town, it is one of Dubrovnik's most attractive areas, and home to some of its most luxurious beachfront hotels.
Affluence began to hit Ploče back in the early 1900s, when wealthy merchants started building sumptuous villas and hotels, to take advantage of the pretty beaches and rugged cliffs.
Nonetheless, building even today, is severely restricted due to the steep terrain of the area, which has helped Ploče retain much of its chic elegance.
While you're exploring Ploče for those different stores and market stalls selling exclusive mementos and souvenirs, be sure to visit the medieval St Dominic's tower.
Located close to Ploče Gate, it is three floors of unique paintings and ceramics produced by renowned local artists.
he old town is just through the gate, or a pleasant five or ten minute stroll from your hotel.
Although very much a well-heeled area with high-end hotels, there are a few privately owned apartment complexes available, so whatever your budget, in Ploče you can stay far enough away from the maddening crowds, but just minutes away from the centre of things.
BEST PLACES TO STAY IN DUBROVNIK IN PLOCE
Read also: Where to stay in Split, where to stay in Zagreb, where to stay in Hvar
4. Lapad, beaches and a good selection of mid-range accommodation
Just 3km northwest of the old town area, Lapad is a peninsula jutting into the Adriatic. A relatively new suburb of the city, much of the construction was carried out during the 1960s/70s.
It is a popular area with both locals and visitors, and is a mix of domestic property, guesthouses, apartment blocks, and hotels.
All served by an increasing number of shops, businesses, mini-marts, cafes, coffee-shops, bars, and restaurants.
If travelling by car, although much of the area is pedestrianised, parking shouldn't prove unduly difficult. Or of course, you can park up in the hotel car park for the duration of your visit.
The local bus service is regular and reliable, and will get you to the Old Town bus terminus in around 15 minutes. You can also use the local taxis or Uber.
Some of Dubrovnik's most popular beaches and hotels are also along the peninsula. Copacabana Beach is in the Solitudo area and a popular beach with locals and visitors. While Cava Beach and Uvala Bay are located in the Bay of Lapad.
Behind the beaches are thick, lush, deep green Mediterranean foliage of succulents and palms, changing to forests of pine as they stretch up the hillsides.
The beaches are pebbly, but sunbeds and shades are available, with snack-shacks, bars, and restaurants to quench the thirst or relieve the hunger pangs. You will also find kiddies play areas and sports facilities around the area.
A walk along the seawall will get you to a few smaller, quieter swimming areas. They have no beach area, and consist of flat rocks where you can lay your towel, with steel ladders fixed to the rockwork to get in and out of the sea.
Not really suitable for children, but popular with singles or couples who just want to chill to the sound of the sea, and the warmth of the sun.
If you're wondering where to stay in Dubrovnik for an all round beach-time and sightseeing holiday, Lapad should be near the top of your list.
BEST PLACES TO STAY IN LAPAD
5. Babin Kuk, great neighborhood in Dubrovnik for families and couples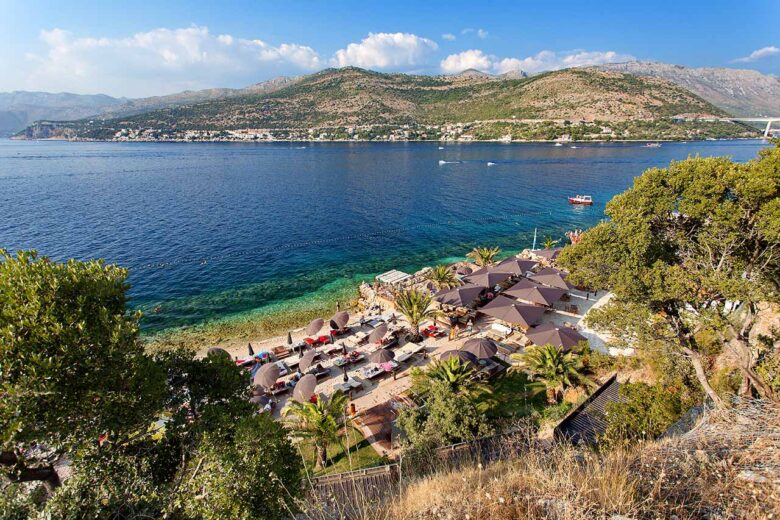 While not a dedicated tourist resort, Babin Kuk is certainly more tourist than residential. Located next to Lapad, it sits at the northern end of the peninsular, with a full range of accommodation from hostels and mid-range hotel chains, to plush spa hotels and villas.
The area also has a good selection of businesses, shops, bars, and restaurants.
Beaches are the main draw at Babin Kuk, with the big three of Copacabana, Cava, and Uvala being shared with locals and visitors staying in Lapad.
With a full range of visitor amenities, including showers and changing rooms, and the beaches shelving gently into the water, they are safe for young family members, although beach shoes are a good idea for little feet.
The area is also popular with local sailing clubs, and the water-sports centres offer a good range of equipment including jet skis, rowing boats, and kayaks available to visitors.
For those days away from the beach, there are plenty of organised tours both on land and the water. With Dubrovnik's old town just 5km away, a 20 minute ride on one of the frequent local buses, getting about to visit places of interest is a breeze.
BEST PLACES TO STAY IN BABIN KUK
6. Gruz, where to stay in Dubrovnik on a budget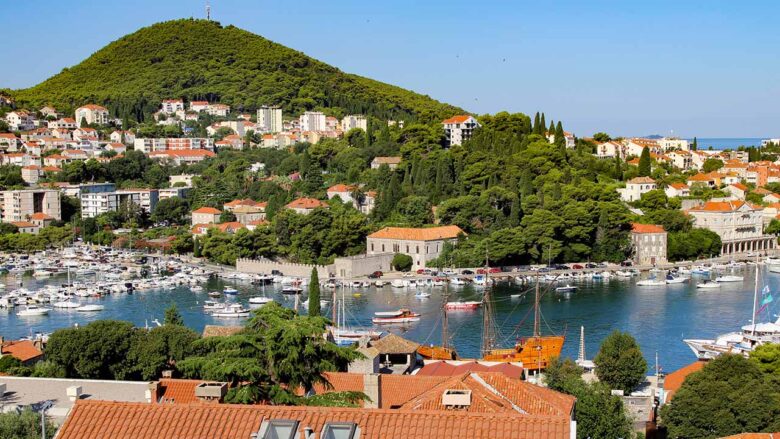 Situated on the west-coast side of Dubrovnik's old town, Gruz is very much at the centre of the city's transport system. Buses arrive at the main bus terminal from Dubrovnik Airport and other areas of Croatia.
Dubrovnik Docks deal with ferries arriving and departing on numerous Adriatic routes, as well as welcoming many cruise ships throughout the year.
If you intend to spread your wings during your stay in Dubrovnik, Gruz makes the perfect base from which to do it.
As well as a good selection of hotels, private rooms and studios, apartment complexes and villas, you will find all the shops for those day-to-day necessities including grocers and bakeries, rent-a-car offices, currency exchange, tourist information, pharmacies, and department stores.
There is also a large open air market selling local produce, souvenirs, and craft products.
With so much going on around the docks area, a pleasant few hours can be spent strolling around the bay, stopping for a beer or coffee, and watching the comings and goings of the large ferries and the many small private yachts and sailboats weaving their way in and out.
For your evenings, there are plenty of café/bars, local and international eateries, and wine bars to be tried, with the harbour area being particularly popular.
Being able to dine under the stars, at a candlelit table on the quayside, provides an extra ambience to a meal that is hard to equal in other settings.
With Dubrovnik's Old Town just a couple of kilometres away, excellent public transport to other local areas, and Gruz hotels generally cheaper than those in town, picking Gruz for your stay in Dubrovnik makes good sense on many fronts.
BEST PLACES TO STAY IN DUBROVNIK IN GRUZ
7. Cavtat, a beautiful coastal village that rivals its big sister
Set on a tiny peninsula on the Dubrovnik Riviera, just 20km out of the city, Cavtat has a history that predates that of Dubrovnik. It was refugees from Cavtat, then a Roman outpost overrun by barbarians, who laid the first stones of Dubrovnik's famous fortifications back in 614.
Boasting two harbours, and small, attractive, pebbly beaches, the village is a maze of narrow streets filled with homes, local businesses, bars and restaurants.
Bougainvillaea tumbles down alleyway walls, colourful pot plants stand beside doorways, and feral cats can be seen snoozing in the warm summer sun.
The harbour area is a delight. Palms and cypress line the harbour walkway, and visitors enjoy lunch or a drink on the outside tables of the cafes and bars along the quayside.
Cavtat also has an impressive collection of visitor attractions and summer festivals of its own.
The House of Vlaho Bukovac, a famous Croatian artist born in 1855, is now a museum displaying a selection of his works.
The Racic Mausoleum was designed by a famous Croatian sculpture, and built from stone imported from the Island of Brac, for the wealthy Racic ship owning family.
The impressive Lady of Snow Monastery sits by the harbourside, while the Konavle County Museum exhibits traditional costumes, jewellery, embroidery, and handicrafts through the years.
If costume and fashion design is your thing, the little village of Cilipi is just 8km away, and easily reached by the regular bus service, taxi, or hire car. Every Sunday morning through spring, summer, and autumn, the locals don traditional costume, and sing and dance in the main square.
Like much of Croatia, Cavtat is big into its Summer Festival, which runs from June through September, and showcases traditional music, dancing, and street artists performing around the streets and parks.
As a popular tourist resort, Cavtat has a good selection of local and international restaurants offering meat and fish menus, and friendly café/bars, selling a variety of tapas dishes, beers, good quality local wines, and cocktails.
Accommodation around Cavtat is good and varied with everything from family run guest houses to sumptuous luxury villas.
If you prefer to stay away from the hustle and bustle of the big city during your stay in Dubrovnik, but like to be within easy travelling distance, Cavtat makes for an excellent choice.
BEST PLACES TO STAY IN CAVTAT
Photo: Shutterstock