It's not surprising you have to think about where to stay in Costa del Sol. Stretching over 100 miles along the Spanish Mediterranean coast, Costa del Sol is one of the world's most popular holiday areas.
Year after year visitors return to enjoy the sunshine, miles of pristine beaches, fabulous attractions, healthy Mediterranean cuisine and the relaxing, easy-going lifestyle.
Situated in the province of Malaga, in the Andalusian region of Spain, Costa del Sol's history dates back to the Phoenician era.
Over the centuries it has been occupied by the Romans, Greeks and the Moors, who were there for seven centuries. Each has left its architectural and cultural stamp on the different areas.
Costa del Sol translates to 'Coast of the Sun', and with good reason. The area is blessed with over 320 days of sunshine a year, and what's left provides a balmy, mild, Mediterranean climate that attracts tourists and long stay visitors the year round.
Stretching along the coastline from Almeria in the west, to Tarifa in the east, the area encloses over 100 coastal and inland destinations that provide the perfect holiday for all ages and all interests.
The Costa del Sol is also popular with holiday golfers, and in almost every area you will find enough courses to keep even the most ardent player happy.
Read on, for our take on the best places to stay in Costa del Sol.
Where to Stay in Costa del Sol: 9 Best Areas
1. Malaga City, where to stay in Costa del Sol for sightseeing
Capital of the province of Malaga, Malaga City has a history going back to 770 BC. It is one of the oldest continuously populated cities in the world, and the sixth most populated city in Spain.
With its international airport on the outskirts of the city, its modern port and marina facilities, its many cultural monuments, and more than a dozen sandy beaches stretching along the city's coast, it draws visitors from all over Europe and beyond.
Birthplace of Pablo Picasso, and known as the gateway to the Costa del Sol, Malaga has been a popular tourist destination since the arrival of package holidays back in the sixties.
It was in the early 2000s however, that the city found a new vibrancy, and began to concentrate on its cultural heritage. In 2003 the Picasso Museum was opened in the Palacio de Buenavista, in the heart of the Old Town centre.
Continuing through the old cobbled streets, you will find Malaga Cathedral, Gibralfaro Castle and the Alcazaba Fortress, while a couple of minutes' walk will get you to the birthplace of Picasso, located in the Plaza de la Merced.
Casa Natal (Picasso's birthplace) is open to the public, and contains exhibition rooms and pictures of his early days as a painter.
While there, look out for an old wrought iron building which is Mercado Central. A large old style market, it's a great place for a cheap Spanish lunch of tapas, grilled fish, or a seafood platter, all washed down with a cool beer or glass of wine.
Other popular art galleries around the city include Carmen Thyssen-Bornemisza, the Pompidou Centre in the port area, Centro de Arte Contemporáneo, and the urban, almost bohemian street art area of SOHO.
For those with an interest in historic buildings, you can visit an old Roman Amphitheatre clinging to a hillside above the city, and a couple of Moorish citadels at Alcazaba and Gilfarbaro.
There are around 30 museums and galleries around the city to be perused, and different architectural styles are to be found everywhere.
If window shopping is your preference, a stroll through the cobbled streets of the old town should dull the pangs.
For your main chain department stores such as Mango and Massimo Dutti, boutiques, and independent retailers head for Calle Larios in the centre of town.
Here you will also find a good selection of cafes, café/bars, ice-cream kiosks and restaurants where you can rest those tired legs, and enjoy a coffee while listening to the buskers and street artists who often entertain the shoppers.
And explore the cobbled side streets and alleys for independent fashion labels and chic boutiques.
The new Muelle Uno port area is popular both day and night. Along the promenade you will find upmarket designer stores, stylish fashion boutiques, expensive accessory kiosks, trendy cocktail bars and international restaurants open into the early hours.
Although Malaga City is an increasingly popular draw in its own right, for over 40 years, millions of visitors have been arriving for the sun, sand and sea, and Malaga doesn't disappoint.
There are 15 pristine sandy beaches, all within the city boundaries. The beaches provide all the facilities you would expect, including their own collection of bars, restaurants, shops and beach vendors.
Some are highly commercialised, others not so. Some specialise in water-sports, others in a more relaxing, laid-back vibe. But all provide a great place to enjoy those lazy, hazy, crazy days of summer.
Evenings are what you make them. There are Spanish and international restaurants, fast-food takeaways, burger bars and snack shacks. Quiet bars and music bars, cocktail bars and entertainment bars, and you can dance the night away at one of the many clubs.
If you're looking for where to stay in Malaga, accommodation is plentiful for all budgets, with plenty of hostels, Airbnb, self-catering apartments, complexes and hotel rooms at all levels.
BEST PLACES TO STAY IN MALAGA CITY
2. Marbella, a favourite destination to stay in Costa del Sol for the rich and famous
Protected by the Sierra Blanca mountains to the rear, and a warm Mediterranean Sea to the fore, Marbella has a micro climate providing summer temperatures averaging over 80°F (26 °C), and winter temperatures rarely dropping below 50°F (10°C).
Marbella is a multi-faceted town. On the one hand, a highly popular destination for those on their annual package holiday. On the other, the chosen destination for many of the world's rich and famous.
Visit the village and marina of Puerto Banus. Here, you will likely see more Ferraris and Porches, floating gin palaces and million pound yachts, than you would find in San Tropez, while Marbella's old town area has typically Spanish whitewashed village houses, with tubs of colourful plants on the narrow alleyways and bougainvillea cascading down the walls.
Away from the 15km of beaches that stretch along Marbella's coastline, there is plenty to be discovered.
If you prefer to do your exploring the easy way, hop on the Marbella Tourist Train. Running all year round it will take you past many of the most popular sites. The round trip takes about 30 minutes.
For those who prefer to do things in their own time, Marbella old town is best explored on foot, and some of the most visited sites include:
The beautiful old square of los Naranjos
The Roman built Alcazaba fortress and towers
The 9th century Moorish built Marbella Castle, with its two remaining towers
The Magistrate's House. Built in Mudejar Gothic style, the ground floor is now a popular restaurant.
The Puente Ronda Square, a popular meeting and stopping off point.
The Plaza de la Iglesia, another popular square which frequently hosts markets and music concerts
When a little respite is needed from the crowds and the sun, you can relax in a number of tranquil gardens or parks including, the Vigil de Quiñones Park, which includes a football pitch and children's recreational area.
The Arroyo de la Represa Park, which includes two lakes and the Bonsai Museum. And the Parque de la Constitución with its small observatory and auditorium.
If window shopping is your favourite pastime you'll be spoilt for choice in Marbella. From small independents around the old town area to large American style shopping malls dotted around the city.
Popular Spanish high street brands rub shoulders with some of the world's most famous designer stores. All malls have cafes and restaurants and some other attractions such as multi-screen cinemas and nightclubs open until the early hours.
If you enjoy a good rummage around street markets you won't be disappointed during your stay in Costa del Sol. Marbella has at least one weekly market in almost every area, and often a different market every day of the week.
Said to have more bars and nightclubs per square kilometre than anywhere else in Europe, it's little wonder Marbella is a magnet for the young and young at heart party people.
While you will find café/bars and restaurants all over town for those quieter evenings, most of the music bars and nightclubs are to be found along the golden mile and the seafront.
If you want to do some high-end people watching, or mix it with the well-heeled, check out the beach clubs around Puerto Banus, but be sure to take the plastic.
As you would expect from a playboy paradise, there is no shortage of opulent, five star plus hotel and villa accommodation in Marbella.
However, we mere mortals haven't been forgotten. Hotels and villas around the town range from standard five star right down to one star, with self-catering apartments and hostel accommodation also available.
BEST PLACES TO STAY IN MARBELLA
3. Benalmadena, if happy kids mean happy holidays head for Benalmadena
If your stay in Costa del Sol is all about entertaining the kids, you could do a lot worse than choose Benalmadena. This attractive town is just 15 km from Malaga to the west, and 40 km from Marbella in the east.
Sitting on top of a hill, and split into three main areas, the town and old town area is known as Benalmadena Pueblo, a typically old Spanish hillside village with whitewashed terraced houses, cobbled streets and winding alleyways.
The beach area is Benalmadena Costa, and the newest area, with many of the most popular attractions for the younger set, Arroyo de la Miel. All are easily reached, no matter where you stay in the area.
Benalmadena Costa is made up of around a dozen beaches which stretch along the 10 km of waterfront. Some are large expanses of golden sand with all the usual sunbeds and shades on the beach; and cafes, bars, shops and restaurants along the walkway.
Two of the most popular are Santa Ana beach, and the next door water-sports beach of Torre Bermeja. Other beaches vary in size, down to pretty little rocky coves tucked away, which are popular with naturists.
The old town area has a host of architectural monuments to be enjoyed. They range from Moorish style buildings to watchtowers, to the Buddhist Stupa of Enlightenment and the modern Colomares Castle. Started in 1987 and completed in 1994, it is a tribute to Christopher Columbus and his journey to America.
The old town area though, is not just about its historical architecture. With its pedestrianised streets, a pleasant day can be spent wandering the lanes and alleyways.
Visit the independent and artisan stores and workshops, or take the kids to the Sea Life Aquarium, before enjoying a coffee or lunch at a table in the sunshine.
Arroyo de la Miel is the third area of Benalmadena, and with its narrow streets, pretty squares and typically Spanish feel, is a popular base with British expats. The area is full of all types of bars, tapas bars, coffee shops and restaurants to suit all palates.
Tivoli World is one of Europe's largest theme parks and the largest you would find anywhere during your stay in Costa del Sol.
With bars and restaurants a-plenty dotted around the whole area, wherever you choose to stay a good evening can be assured.
If late nights and early mornings are your thing, make your way towards the beach areas, where many venues are open until midnight and beyond.
Benalmadena is one of the best places to stay in Costa del Sol for families and has a good selection of accommodation from cheap hostels, Airbnb and self-catering apartments, to a full range of hotel and villa options.
Early booking is advised, if you have somewhere specific in the area you would like to book for your stay in Costa del Sol.
BEST PLACES TO STAY IN BENALMADENA
4. Estepona, with some of the best beaches on the Costa del Sol
Situated at the western end of the Costa del Sol between Manilva and Marbella, Estepona stretches for 20 km around the coast.
The old town area is typically Andalusian. With cobbled streets, alleyways and squares, bright whitewashed properties and geraniums planted in every pot, tub, and hanging basket that can be found, the area provides a relaxing ambience not always found in large holiday resorts.
The Plaza Las Flores, complete with fountain, is the main town square, and you can draw in the fragrance of the orange trees that grow around it.
From here you can stroll through the alleyways and roads to the other popular squares of Plaza del Reloj, Plaza Dr Arce, and the Plaza Padre Manuel. All have their own collection of shops, tapas bars, and restaurants.
As with the majority of towns when you stay in Costa del Sol, Estepona has good tourist facilities including banks, currency exchanges, doctors and hospitals.
For those who want to do some more serious shopping, the streets to head for are Calle Terraza and Calle Real. Both run just behind the main avenue.
After your morning of sightseeing and souvenir shopping, head for the two kilometre long avenue that will take you to the seafront promenade.
Estepona boasts 16 beautiful beaches, many said to be the best on the Costa del Sol, and most have all the usual amenities including lifeguards and toilet facilities.
Stretching for 20 km, they contain 50 beach bed areas, 15 water-sports areas, and 30 beach clubs, where you can party the night away. It is also home to Costa Natura, a popular naturist resort, complete with its own apartment complex.
Close by the main beach of La Rada is the picturesque port and marina. The local fishing fleet is one of the largest still working off the Costa del Sol, and provides the freshest of daily catches for the many fish and seafood restaurants that populate the port and old town area.
On a Sunday, the marina holds a popular market, attracting visitors and locals from around the area.
The main town area has modern urbanisations of low-rise residential homes, hotels and complexes, while along the beachfront the 'New Golden Mile', is an urbanisation of high-end apartments, villas and hotels.
Nightlife in Estepona is varied enough to suit all tastes, and around town you will find plenty of bars, eateries and takeaways to suit most visitors.
Excellent seafood and tapas restaurants in the town area are invariably cheaper than those along the promenade and marina. Something worth considering if you are feeding a family.
Town bars likewise, are a good place to start your evening pub crawl, before making your way down to the more expensive cocktail bars, music bars, night clubs, and beach clubs along the seafront.
Estepona is blessed with an excellent selection of accommodation, and caters for everyone from young singles on a budget, to large families and retired couples.
BEST PLACES TO STAY IN ESTEPONA
5. Nerja, a popular place to stay in Costa del Sol with scuba divers and snorkelers
Fifty kilometres east of the town of Malaga, Nerja is the last town before you enter the province of Granada.
With the Almijara mountain range overlooking the town from the rear, it has a rugged geography of primarily cliffs, large boulders and a rocky foreshore stretching along its 12 km coastline.
The town also has three rivers running through it, the Rio Seco, Rio de la Miel and the Rio Chillar.
Although not particularly busy with ardent sun worshipers, most of Nerja's beaches have kiosks, eateries and bars to cater for the many snorkelers and scuba divers attracted to explore the marine life around the base of the cliffs and large boulders.
The surrounding topography of Nerja is also popular with walkers and hikers arriving to visit the Nerja Caves and their rock paintings, stalagmites and stalactites. During the summer, a popular international music and dance festival is also held at the caves.
Another trail running alongside the Rio Chillar, will take you past impressive waterfalls and countryside into the Almijara mountains.
A hire car is well worth considering to make the most of this area during your stay in Costa del Sol. You can visit the Balcón de Europa, a semi-circular cliff top viewing area giving stunning views across the town, Mediterranean, and the Almijara mountain range.
A 15 minute drive outside Nerja is an iron-age burial site. Although you can't visit the site, interested parties can find out more of its history at Casa de Apero in Frigiliana.
A drive along the N340 road from Nerja to Maro, will take you past Acueducto del Águila (Eagle Aqueduct). Constructed in the 1800s, it is still used today to irrigate the fields, orchards and groves. There is a layby where you can pull over to take photographs of the structure.
Nerja town is typically Andalusian with its white painted houses, terracotta roofs, cobbled roadways, alleys and squares.
While you can buy all you need for your self-catering stay, the town also has an excellent range of local shops where you can purchase the local sweet wine, fresh fruit and veg and local sugar cane honey.
Although not as commercialised as many of the nearby resorts (some would say thankfully), Nerja has a good selection of local bars and restaurants.
A couple of beers or a glass of sweet wine, an excellent meal prepared with the freshest of local products and served with a smile. What more does one need to round off a pleasant day?
If more beer is the answer, then take a stroll through to the Plaza Tutti Frutti, where you will find more bars and clubs open until the morning hours.
Accommodation in Nerja is plentiful, without the high rise blocks and hotels you find in so many other towns in the Costas. Instead you have more traditional Andalusian style hostels, apartments and hotels to suit all needs and budgets.
BEST PLACES TO STAY IN COSTA DEL SOL IN NERJA
6. Torremolinos, fun in the sun for the whole family
Torremolinos, one of the first major tourist destinations for the package holiday makers, and still attracting its share of those looking for fun in the sun.
A two hour flight from most European cities and its close proximity to Malaga Airport (6 km), means travelling time is a minimum, and you can be soaking up the rays within 40 minutes of landing.
After the initial mistakes of ugly high rises along the front and anywhere else they could be built, Torremolinos had to look inward. By the late 1980s, visitor expectations were also changing. No longer was a stretch of golden sand, warm sea and hours of sunshine enough.
They wanted more. Better facilities, an improved choice of dining options, and alternative attractions for a day away from the beach. Torremolinos listened, acted, and changed things. To bring the resort into the 21st century.
The beaches are still the beaches. Beaches such as Los Alamos, Saltillo Beach and Costa Lago Beach. All blend into seven kilometres of immaculately clean golden sand, thousands of beach beds and shades and all kinds of water-sports.
While beach vendors and shops, kiosks, bars, eateries and restaurants still stretch out along the beach walkway. You can't improve on perfection.
At the back of the promenade, to the rear of the beach, are bars and cafes run by expats from Britain, Germany, Holland and Italy. As well as small Spanish tapas bars, café/bars and souvenir shops.
The town centre is a hive of activity day and night, with visitors exploring the shopping areas, cafes and restaurants, and the Spanish going about their daily business.
Many of the establishments are open fronted, with goods, merchandise, tables and chairs spilling onto the walkways. A great place to enjoy a cool drink and do a little people watching.
In the evenings, most of the bars and restaurants are open until one in the morning. Out in town you may bump into expats from a number of European countries, or meet friends from the growing Torremolinos LGBT community based mainly around La Nogalera.
For days away from the beach, visit the Torremolinos Aqua Park, said to have the biggest slide in Europe and, if reptiles are your thing, the Crocodile Park.
If you enjoy big store browsing, the Plaza Mayor Centre on the outskirts of town houses the big players like Leroy Merlin and IKEA. While for the golfers, there are a number of excellent courses around the area for players of all levels.
As you would expect from a long established resort, accommodation is plentiful at all levels, from Airbnb, Home Stays, hostels, self-catering, hotels and villas. Be aware that beach front hotels, apartments, and villas will charge a premium.
BEST PLACES TO STAY IN TORREMOLINOS
7. Fuengirola, a cosmopolitan resort where to stay in Costa del Sol with something for everyone
Another attractive resort, Fuengirola sits 25 km from Malaga and close to Benalmadena. With a resident population that has more than doubled in the last 40 years, it is a popular home from home for expats from the UK, Germany and Scandinavia.
With excellent airport links, and a friendly, cosmopolitan population, it is also the resort of choice for thousands of visitors who like to stay in Costa del Sol.
The pretty town area has all the staples you would expect in a modern tourist resort. You will find small independent shops selling local produce and products, beach accessories and souvenirs on every street.
Tapas bars and expat bars, local restaurants and international take-aways offer plenty of choice for the whole family. While the Parque Miramar Shopping Centre boasts over 160 shops, restaurants and bars, as well as a cinema and children's play park.
On those non-beach days you can visit the Museo de Historia in the town, the Roman baths at Torreblanca, the Arab Castle at Sohail, or the Outdoor Museum showing paintings by many local artists.
Fuengirola also has a couple of golf courses close by. If markets are your thing, pencil in the Saturday Flea Market in the town.
For a kids day out visit the Parque Acuatico Mijas designed primarily for the younger family members. There are water slides for the kids, mini-golf, a climbing wall and jacuzzi.
The Biopark Zoo is another great day for the little ones. A small zoo specialising in smaller species, it is heavily involved in many conservation projects.
On the seafront you can explore the yacht marina, and enjoy a refreshing drink while you watch the water activity. 6 km of golden sand is split into eight different beaches.
There are water-sports aplenty, including jet skis and motor boats that can be hired. All facilities apply, including showers, toilets and lifeguards.
The beach front also has shops, bars, snack-shacks and fish grills spread along the walkway, so no-one has to move far from their chosen pitch.
Although Fuengirola doesn't have all the 'open all-night' beach clubs of some of Costa del Sol's other resorts, a pleasant night eating and drinking can be enjoyed into the early hours.
With such a multi-cultural, diverse population to cater for, and visitors arriving from around the globe, you can dine British, German, Scandinavian, Chinese, Indian, Moroccan, Italian or Lebanese.
Like anywhere you choose to stay in Costa del Sol, accommodation in Fuengirola is plentiful, and offers an excellent choice at all levels to suit all budgets for singles, couples, families and groups.
BEST PLACES TO STAY IN FUENGIROLA
8. Mijas, a resort area for older families and mature couples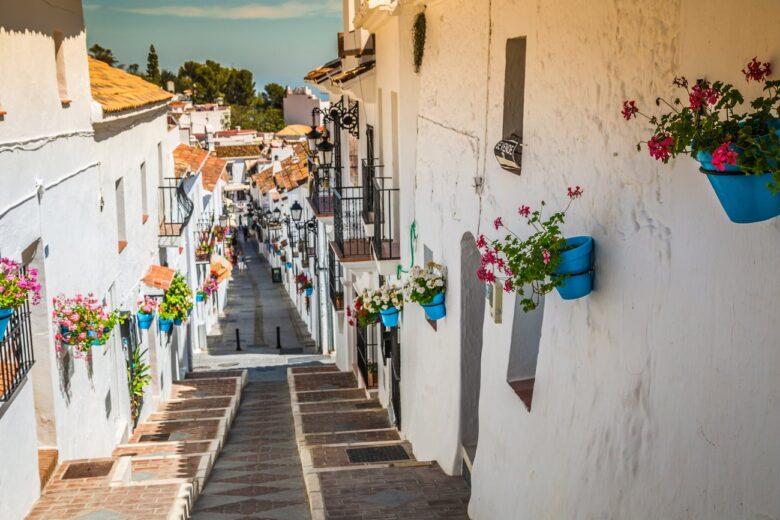 Mijas, or Mijas Costa, is not a single resort, but a municipality between Fuengirola and Marbella.
It is made up of Mijas Pueblo, sitting 430 metres above sea level at the foot of the Sierra mountains, Las Lagunas, on the Fuengirola road which is a more residential/commercial area, and Mijas Costa, which is the beach front part of the municipality, stretching for 12 km along the coast.
Unlike most of the Costa municipalities, which stretch themselves along the seafront, Mijas backs inland, across the Fuengirola road, to Mijas Pueblo nestling at the foot of Mount Mijas.
The village is relatively new, having been built over the last 30 years, and is home to local Spanish and a large community of expats, mainly British. The village of Mijas Pueblo is also the star of many holiday videos and photo collections.
Built in Andalusian style with narrow cobbled streets, alleyways and squares; and sparkling white properties bedecked with colourful potted plants and hanging baskets, it is a photographer's dream.
It is also the destination of many Brits looking to buy a second home or retirement property.
Located 10 km inland from the coast, the village has all the amenities required for day-to-day living. With its active expat community, there is also a good selection of Spanish and expat bars, restaurants, cafes and coffee shops to keep everyone happy.
Mijas Costa, the beach area, is where most of the younger set, and families with young children head for. Still retaining its village vibe, it has all amenities needed to keep the whole family entertained.
Lots of golden sand, a warm sea and all the beach facilities, with shops, bars, and eateries along the front.
In La Cala, you will find a popular children's play park, complete with café for mum and dad. At different times throughout the summer they hold organised activities for the kids such as bouncy castles, face painting and other games.
In the evenings there are plenty of bars and restaurants to choose from and many of the shops are open until 10.00pm.
Accommodation is plentiful, and you have the choice of seafront, or inland if you prefer quieter.
BEST PLACES TO STAY IN COSTA DEL SOL IN MIJAS
9. Frigiliana, one of the prettiest villages in Andalusia
If you prefer your holiday to be a mix of quiet relaxing beach days and more active out and about days, take a closer look at Frigiliana.
Located on a mountainside 7 km inland from the coastal resort of Nerja, it is regularly chosen by the Spanish Tourism Authority as 'the prettiest village in Andalusia.'
With the sun glinting off the sparkling white buildings and their red terra-cotta roofs the village stands out in sharp contrast to the deep olive green of the surrounding pine forests.
The original (higher) part of the village retains its Moorish influence, and there is much to be explored.
One word of warning, the area is wholly pedestrianised, and the narrow streets, as you would expect on a mountainside, are very steep, and not really suitable for people with mobility issues.
On top of El Fuerte, the steep hill leading past the top of the village, are the ruins of an old Moorish fort.
It is said to be the place the Moors made their last stand in the 1569 rebellion, and old bones, weapons and artifacts are believed to lay hidden in the surrounding undergrowth to this day.
Many of the narrow cobbled streets, some no wider than alleyways, have Moorish mosaics built in, and the bright white properties have Moorish ceramics stuck to the walls.
A popular day trip destination, you will find plenty of shops selling snacks, drinks, souvenirs and mementos. There is also a good selection of bars and restaurants, where you can replace that spent energy.
You will also find donkey taxis around the village, although they have fallen out of favour of late.
During your stay, visit the 17th century Archaeological Museum of Frigiliana. It has artifacts from the Neolithic age through to the modern day, all laid out in chronological order. It also has a display of modern art.
Between Frigiliana and Nerja you can visit the caves of Nerja with their stalagmites and stalactites.
You can visit the Botanical Gardens of Santa Fiora, and if you're visiting in August, join in the Three Cultures Festival celebrating music, food and culture.
A walk, or should I say hike, to the top of the village will reward you with fabulous views over the forests and out to sea. On a good day you will be able to pick out the North African coast.
For the keen walkers, there are also a number of mountain hiking trails that run alongside the water courses.
For your stay in Frigiliana, you are well blessed with amenities including chemists, petrol station, ATM, health centre and plenty of shops for your self-catering basics.
There are also plenty of friendly bars and restaurants where you can enjoy a pleasant evening meal and drinks, while planning the next days itinerary.
Accommodation is limited but good, comprising small boutique hotels in the village, with larger hotels along the borders. There are also Airbnb, and self-catering apartments and houses available.
The best way to make the most of this attractive rural area is by hiring a car. If that's not an option, there is a regular mini-bus service from the village down to Nerja nine times a day.
So there you have it. Whether travelling alone, with family or in a group, whatever your holiday preference, you'll find it with a stay in Costa del Sol.
BEST PLACES TO STAY IN COSTA DEL SOL IN FRIGILIANA
Photos: Shutterstock