Are you wondering where to stay in Algarve to enjoy a sun-splintered, authentic holiday experience along Portugal's Atlantic coastline? There are several areas in Algarve to focus on if you want access to the stunning beaches, world-famous resorts, amazing restaurants, cute shops and beautiful sanctuaries that make this destination one of the most pampering and luxurious spots in all of Europe.
You can choose to spend your time here bathing under the shade of sea cliffs outside cozy fishing villages, splashing at a water park or praying among pilgrims at a Marian shrine. It seems that Algarve offers beach communities full of lovely views and architecture with remnants of Moorish influence for as far as the eye can see.
So many people from around the world come to Algarve for holidays because this stunning coastal region offers a soothing Mediterranean climate, a resort-like atmosphere and total safety. It's easy to assume that Algarve is only for the most elite travelers when you look around.
However, one of the reasons why this Portuguese holiday spot is so popular with global tourists is that it is much more affordable when compared to other European resort spots.
Where to Stay in Algarve: Best Towns to Stay in Algarve
Many people who come to Algarve arrive through Faro Airport. From there, you will easily access all of the beautiful areas that offer top attractions and beach access. Let's discuss the 10 best areas to stay in Algarve.
1. Albufeira, where to stay in Algarve for nightlife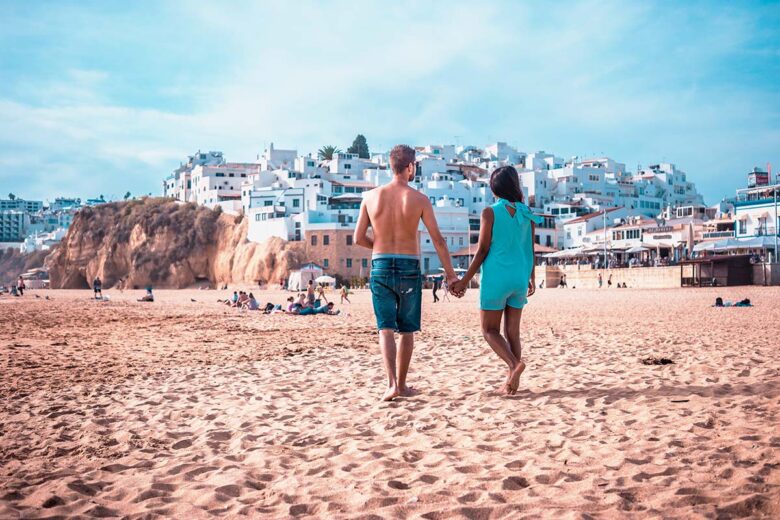 Albufeira is a former fishing village that's noted for its long beaches peppered with colorful, sun-soaked cliffs. This beach resort is one of the most liveliest and energetic destinations in the Algarve.
The local marina that was once central to the area's fishing economy is now the jumping point for diving excursions and boat trips. The beautiful promenade here is lined with lovely apartments painted in pastel and neon hues.
Albufeira is the spot to focus on if you'd like to do some dolphin watching during your holiday in Portugal. You will also find plenty of guided diving excursions or floating cave tours offered by local agencies.
In addition, there is a beautiful beach here that is suitable for swimmers of all ages. Those looking to splash at an amusement park will appreciate Zoomarine Algarve.
Moving a bit inward while exploring Albufeira will bring you to the streets of the Old Town neighborhood. This is where you will find those idyllic cobbled streets that take you through hilly passages.
Old Town Albufeira has something like 100 fantastic bars and restaurants. In fact, you'll discover a highly social nightlife scene once all of the tourists and locals have left the beach for the day.
The city is served by the Albufeira-Ferreiras Railway Station.
It is easy to just see a collection of glittering resorts when walking around Albufeira. However, you will find some apartments that are priced for backpackers if you focus your search for accommodations in Old Town instead of staying directly on the beach.
BEST PLACES TO STAY IN ALBUFEIRA
2. Portimão, shopping and Praia da Rocha
Portimão's long history as a shipbuilding capital and fishing town makes it one of the most interesting places to tour today. Visitors can spend their days touring a scenic promenade with endless ocean views.
Going further into town brings you to classic European plazas, pedestrian shopping areas and quaint streets lined with restaurants and cafés abutting historic buildings.
Portimão is probably most famous for being the home of Portugal's Praia da Rocha. People come here from all over the world to bathe in warm tides among dramatic limestone rock formations that stand in the water.
The gentle shelf here leaves lots of room for paddling softly while taking in the beautiful views all around you.
Those with an interest in ancient history will appreciate an excursion to the Megalithic Monuments of Alcalar to see a historic and mysterious burial site.
Portimão's Mercado Municipal is a great spot to really connect with the heart of the area as you browse vendor stalls filled with fresh fish, fruits and vegetables in the company of locals.
In addition, attractions like the Fort of Santa Catarina, the Church of Our Lady of the Conception and the Convent of Saint Francis offer amazing ways to spend a few hours.
The Museu de Portimão offers a nice introduction to the fishing history of this popular port city. The Portimão Railway Station makes it easy to put nearby cities and attractions on your itinerary.
Resorts and hotels are plentiful throughout Portimão. Many backpackers or cost-conscious travelers have success with finding cheaper accommodations among the apartment blocks on the outskirts of Portimão.
BEST PLACES TO STAY IN PORTIMAO
3. Faro, the largest city in Algarve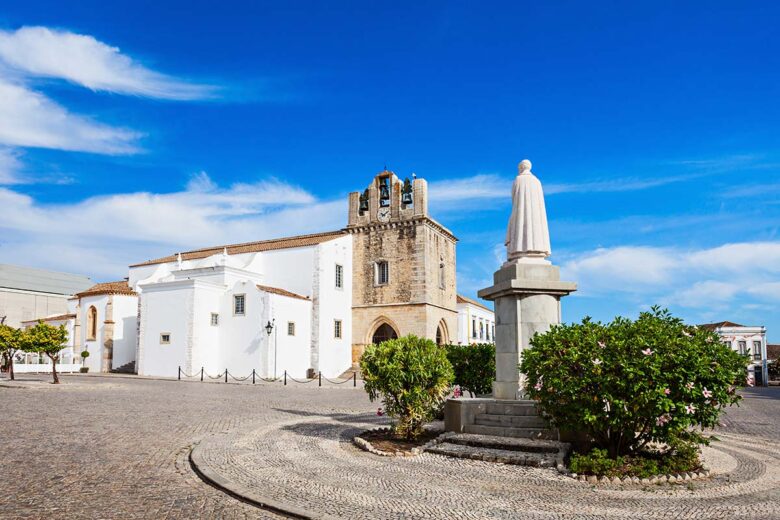 Faro is Algarve's vibrant and beautiful capital. It also happens to be the largest city in Algarve. While Faro is a beautiful spot for tourists, it is also very much a place where people live and work.
This can be a great starting point for a holiday due to the fact that travelers can arrive via Faro Airport. In addition, bus service makes it easy to get to Albufeira, Quarteira and Vilamoura. You can also take advantage of train service to visit Tavira and Olhão.
The list of highlights to cover while spending time in Faro includes Old Town, Faro Cathedral and the Arco da Vila gate. Of course, there's no need to stay in the center of town during your entire visit.
Many visitors also like to explore the sandbar islands peppered with lagoons and mudflats during an excursion to Ria Formosa Natural Park.
Most visitors who book accommodations in Faro find hotels located within walking distance of the Jardim Manuel Bivar plaza near Faro's center.
BEST PLACES TO STAY IN FARO
4. Lagos, where to stay in Algarve for first timers
Lagos transports visitors to another time with help from its ancient walled towns, magnificent lighthouse and ornate churches. You'll encounter Atlantic beaches lined with cliffs that tempt you to climb down steep steps to hear the ocean in your ear when you visit.
The thing that makes Lagos stand out is that it offers a much quieter experience than some of Algarve's hectic resort towns. The clean, sheltered beaches here create some of the best swimming opportunities on Portugal's coast.
Highlights to add to your itinerary include the Ponta da Piedade Lighthouse, Praia Dona Ana and Praia do Camilo. Boat trips and kayaking tours are very popular in Lagos.
Lagos offers a robust collection of guest houses and hostels that cater to people looking for experiences in town or by the sea. Lagos is served by a central bus station.
BEST PLACES TO STAY IN LAGOS
5. Tavira, one of the best places to stay in Algarve
Tavira is a small city that offers everything from wildlife to castle views! This is one of the best places to stay in Algarve if you're looking for a touch of nature.
The main beach in Tavira contains salt pans that bring in flamingos, spoonbills and other beautiful birds. A visit to stunning Tavira Castle takes you back to days of Moorish rule.
A landscape of cobbled streets, tiled homes and views of the Gilão River give Tavira a very distinct aesthetic. There are 37 churches in total to visit while making your way through Tavira.
Both resort-style hotels and budget-friendly guest houses can be found in Tavira. 
BEST PLACES TO STAY IN ALGARVE IN TAVIRA
Read also: Where to stay in Lisbon, where to stay in Porto, where to stay in Madeira
6. Carvoeiro, where to stay in Algarve for relaxing holidays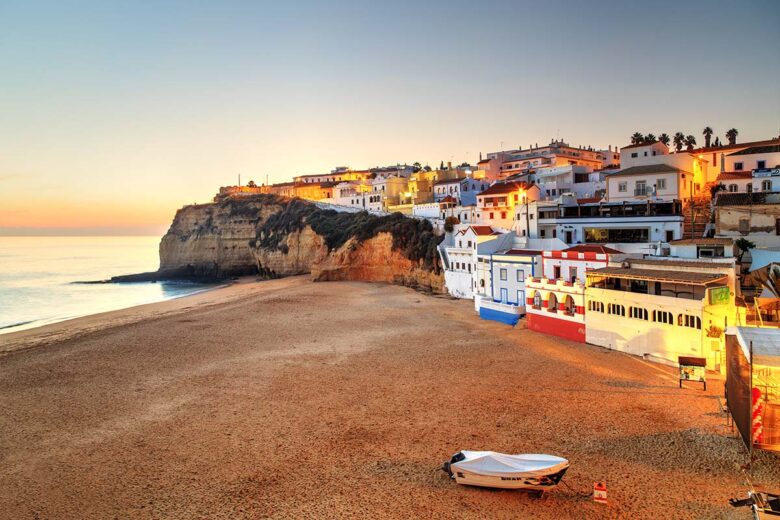 Thick sea cliffs and white homes stacked facing the water give the horseshoe-shaped bay of Carvoeiro a very distinctive Mediterranean vibe. This is a great option for those looking for relaxing holidays.
Enjoy hiking and boat trips while staying in a place that offers some of Portugal's most dramatic sea views.
This is a very family-friendly resort spot that simply offers a slower pace of living than what you'll find in most other spots. In fact, there is little to worry about other than splashing in the water or choosing which restaurant to dine at after a day of relaxation.
Carvoeiro doesn't offer the robust accommodations found in some neighboring areas. However, it is possible to find a room on nearly any budget with a little bit of searching.
The only option for public transportation in Carvoeiro is the bus offered out of Faro Airport.
BEST PLACES TO STAY IN CARVOEIRO
7. Sagres, where to stay in Algarve for surfing
Sagres is where tourists go when seeking the wild side of Portugal. Sagres is a small, laid-back beach town. However, it does happen to be the place where people come to surf in a turbulent, rugged natural environment. Others come for the deep-sea fishing excursions that depart from the port in Sagres.
The fact that so many people are here to surf creates some fun opportunities to meet interesting people at hostels and guest houses. You'll also find a number of surfing schools here.
What makes Sagres such an extraordinary spot for surfing is that Atlantic swells roll to the shore without interruption. The beaches here also share the unique characteristic of facing three different directions. All these makes Sagres one of the best places to stay in Algarve for surfers.
BEST PLACES TO STAY IN ALGARVE IN SAGRES
8. Quarteira, great beach, golf, shopping, restaurants, and nightlife
Quarteira is one of the top places to stay in Algarve if your idea of a lovely holiday includes strolling along a seaside promenade or shopping for handbags among a labyrinth of market stalls.
One of the interesting things about Quarteira is that it's actually one of the most popular spots among Portuguese tourists.
The important thing to know about Quarteira is that it's not necessarily as scenic as some of the other places to stay in Algarve. This is really more of a social town that offers festivals, restaurants, bars and shops that you can walk to easily.
Quarteira's rich heritage as a fishing town is evident in the world-class collection of seafood restaurants you'll find here. Of course, the fact that you'll be busy with shopping and dining in a bustling setting doesn't mean you can't make time for the beach.
Quarteira does have a sprawling, gorgeous beach covered in golden sand to enjoy.
The final word on Quarteira is that it's a great spot if you're primarily focused on bustling restaurants and a fun nightlife scene.
Many people also use this town as a base for golfing holidays because it offers easy access to some of the best courses in Portugal without the need to necessarily stay in a pricier location.
Visitors can choose from beach hotels or hostels positioned near Quarteira's center. Quarteira has a bus terminal that makes it easy to explore nearby resort towns.
BEST PLACES TO STAY IN QUARTEIRA
9. Vilamoura, one of Portugal´s most exclusive beach resorts
Vilamoura is the best place to stay in Algarve if you're looking for an upscale, glittery beach holiday that puts the focus on golf courses, luxury resorts and walks along the marina. Vilamoura is the crown of Algarve's Golden Triangle due to its collection of luxury accommodations.
Vilamoura is also famed for having the largest marina in all of Portugal. The marina area features such high-class attractions as a sports club, tennis center, riding school, international casino and bowling club.
You'll find five acclaimed golf courses within Vilamoura. Vilamoura's sprawling marina is surrounded by luxury hotels, high-end restaurants, and exclusive nightclubs.
Those who don't come here to enjoy the finer things that Portugal's coast has to offer come in search of the famed Roman ruins of Cerro da Vila. This is also a popular departure point for boats that take passengers on cave tours.
Vilamoura is a wonderful place to stay in Algarve if you're focused on a full resort experience. Luxury hotels and all-inclusive resorts don't leave much room for other accommodations.
Of course, the advantage is that there is something fun to do here around the clock. The Loule Railway Station is located about three miles away from Vilamoura's marina.
BEST PLACES TO STAY IN ALGARVE IN VILAMOURA
10. Olhao, where to stay in Algarve on a budget
Olhao can be a fascinating place to stay in Algarve if you're interested in exploring an urban community. That means that you really get to experience local life in a place where people live and work.
Olhao stands as a vibrant fishing community. In fact, many people come here exclusively to tour fish markets stocked with clams, octopus, eels and more.
The thing that you'll notice immediately as you tour the neighborhoods of Olhao is a strong Moorish architectural influence. In fact, it's easy to believe that you're actually exploring Morocco or an exotic capital in North Africa when strolling through many of Olhao's neighborhoods.
What makes Olhao especially magical is that most tourists completely overlook it when searching for places to stay in Algarve. This is a great place to stay in Algarve if you're simply looking for an area that's slightly grittier than the polished resort towns that dot the rest of the coast.
In addition, this city offers an affordable staging point for excursions to nearby islands. Ferry service makes it easy to take fun day excursions before returning to a very affordably priced hostel, guest house or hotel. That's not to say that Olhao isn't worthy of a full visit.
The Saturday fish markets alone make a long weekend in Olhao an unforgettable experience. The fact that it is located just 20 minutes outside of Faro makes it a very convenient option for anyone flying into Portugal.
Additionally, railway and bus stations that can be accessed from Olhoa make it easy to reach the rest of the beautiful Algarve region.
There is simply no other spot on the globe like Portugal's Algarve region. Don't let the fact that this coastal resort region is home to some glitzy attractions and upscale communities intimidate you.
The fact of the matter is that Algarve is actually one of the most affordable resort areas in Europe. Limestone rock formations, ancient structures, stunning churches and Moroccan-style markets also make it one of the most beautiful!
Algarve really is a "name your price" type of holiday spot because you can choose to splurge on high-end resorts overlooking the water or enjoy cozier accommodations at guest houses tucked away near bustling plazas.
BEST PLACES TO STAY IN OLHAO
Images: Shutterstock