Barcelona is the capital of Spain's Catalonia region and one of the most popular destinations in Europe thanks to its beautiful scenery, delicious Catalan cuisine, beguiling history and unmatched art and architecture, the latter dominated by Barcelona's celebrated architect Antoni Gaudí.
Every inch the cosmopolitan metropolis, there are no shortage of dining, shopping, and sightseeing options on offer and so I've compiled the ultimate list of things to do in Barcelona.
Insider tip: Save time and money with the Barcelona Card. It gives you free access to over 25 museums and free public transportation. Other interesting city cards are the Hola Barcelona Public Transportation Card and the Go City Explorer Pass.
25 Best things to do in Barcelona
1. Pay Your Respects To Gaudí At La Sagrada Familia
The work of Antoni Gaudí, Barcelona's most famous architect, can be found all over the city, with the basilica of Sagrada Familia considered the crown jewel of his life's work.
One of the most frequently recommended sights to see in Barcelona, the basilica is a magnificent, if not decidedly quirky, example of Gaudí's style, which blends elements of Art Nouveau, Catalan Modernism, and Spanish Late Gothic design.
Construction on the Sagrada Familia commenced in 1882, with the centenary of Antoni Gaudí's death in 2026 cited by the city as the desired date of completion.
Till then visitors are encouraged to take in the awe-inspiring façades, stained glass windows, and intricate sculpted details during their visit.
Just don't forget to pay your respects to the architect himself, who is buried in the basilica's crypt.
Tickets to the Sagrada Familia can get sold out very easily, specially in peak-season. I recommend purchasing
Tickets to the Sagrada Familia can get sold out very easily, specially in peak-season. I recommend purchasing a Skip-the-Line ticket for fast track entrance well in advance.
2. Browse La Boqueria Market
One of the Europe's largest food markets and most certainly Barcelona's most famous, an afternoon stroll through La Boqueria is one of the best things to do in Barcelona.
First established as an open-air market over 200 years ago and located along the equally iconic La Rambla, La Boqueria is all but bursting with an eye-opening abundance of fresh produce and seafood, butchery stalls, wine merchants, and plenty of piping hot street fare ranging from tapas to savory jamón cones to enjoy on the spot.
3. Ramble Down The City's Most Famous Street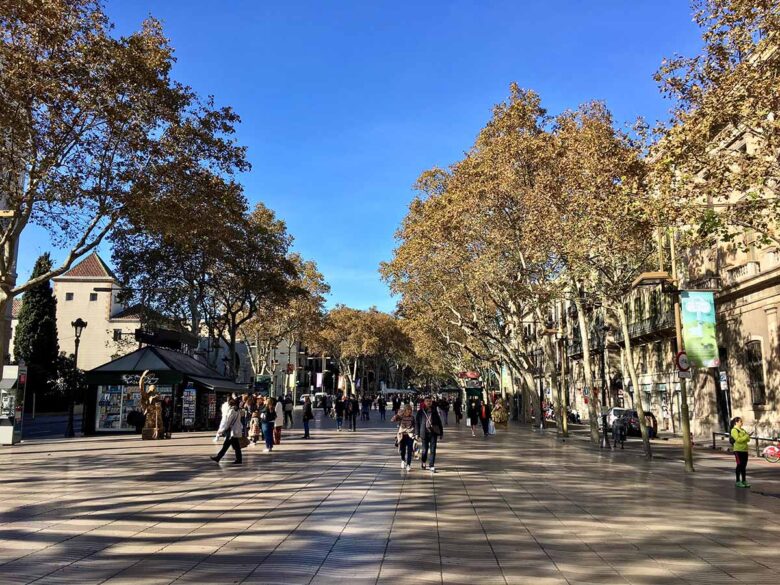 La Rambla has been Barcelona's most oft-traveled street since the 15th century, and for good reason. This 1.2km (a little less than a mile) walk is where you will find shops and restaurants, as well as the best photo ops and spots to relax.
Beginning at Plaça de Catalunya and ending at the portside statue of Christopher Columbus, La Rambla is where the above-mentioned market La Boqueria is located, with the world-famous Barcelona Cathedral just a short walk off the boulevard.
4. Feast Like A Catalan
No visit to Barcelona is complete without a sampling of authentic Catalan cuisine, and fortunately the city has no shortage of restaurants, cafes, bars and food stalls serving mouthwatering fare.
Try catalan specialities such as escalivada (roasted eggplant, onions, and red peppers), canelons de carn (ravioli stuffed with braised ground beef, pork, and/or chicken), fisherman's stew, white beans with grilled pork sausages, or hearty sandwiches washed down with a crisp glass or two of Cava, the definitive Catalan sparkling wine.
5. Climb To An Anti-Aircraft Battery
The hilltop site of Turó de la Rovira is sure to be a hit with WWII enthusiasts thanks to the anti-aircraft battery built in 1937.
Today the site serves as an explorable monument to the Spanish Civil War and home to some of the best 360-degree views of Barcelona, along with plenty of growth & greenery from the bygone Iberian settlement such as carob and almond trees, thus offering one of the best all-inclusive things to do in Barcelona.
6. Take In The Panoramic Views From Park Güell
This colorful tile-lined park pays homage to none other than Barcelona's famed architect Gaudí and is one of the more popular things to do in Barcelona.
Featuring an assortment of unique and often wacky sculptures and garden designs, the park is now a UNESCO World Heritage Site and suitable for families and visitors of all ages.
Guests can marvel at the mosaic dragon sculpture, rest on the slithering serpentine bench, search for the hidden woman among the stone columns, and ultimately ascend the stairs to the top of the park for spectacular views of the city and sea.
Avoid the lines and buy in advance your Park Güell admission ticket or book a guided tour.
7. Visit The Picasso Museum
Fans of Pablo Picasso won't want to miss this museum dedicated to the artist's early works, consisting of over 4,000 pieces on display.
Visitors are encouraged to explore Picasso's formative years and trace his style evolution through sketches, paintings, ceramics, and personal effects.
While the artist's later show-stoppers are not to be found, guests will nonetheless be treated to a rare personal glimpse of Picasso's world, with 58 canvases based on Velázquez's famous 'Las Meninas' donated by Picasso himself and on display in the great hall.
Explore the world's largest collection of Picasso's work and learn from an art expert with this Guided Tour of Picasso Museum.
8. Savor The Eerie Atmosphere Of The Gothic Quarter
The Barri Gòtic is part of the Old City and a not-to-be-missed sojourn.
Follow the narrow winding Medieval streets to some of Barcelona's best cafes, bars, and countless charming squares, with the nearby Jewish Quarter and Barcelona Cathedral both among the most recommended sights to see in Barcelona.
Be sure to stop by MUHBA Museu d'Història de Barcelona, as well as the one-of-a-kind Museu Frederic Marès which is dedicated to the collector & confessed kleptomaniac's extensive hoard.
9. Take In A Show At Liceu Opera House
Barcelona's landmark opera house first opened its doors in 1847 and has since played host to the city's rich and often turbulent world of arts, politics, and societal goings-on.
While a fire destroyed much of the main hall in 1994, the present hall reflects the elegant style and architecture of the early 20th century.
The opera house features year-round events including musical concerts, ballet performances, and even children's shows, with the basement bar a popular spot to grab a pre-show drink and likewise enjoy a post-show chat.
10. Visit The Barcelona Cathedral
Dedicated to the 13 year-old martyr Eulàlia and first founded in 1298, the Barcelona Cathedral is one of the most stirring sights to see in Barcelona.
Fashioned in the symmetrical Nordic style, this atmospheric cathedral features a cloister and crypt where the remains of Eulàlia plus 13 white geese can be found, as well as a sizable collection of paintings and sculptures by Gothic masters Jaume Huguet, Bernat Martorell and Bartolomé Bermejo.
For a few euros guests can take the on-site lift to the top of the cathedral for a truly spectacular city view.
11. Casa Batlló: Gawk At Gaudí's Dragon
Perched atop Casa Batlló, a former apartment building that underwent a night-and-day makeover thanks to Antoni Gaudí and collaborator Josep Maria Jujol.
Eagle-eyed passersby won't want to miss an opportunity to snap a photo of this colorful–and cleverly concealed–dragon.
The building itself is open to visitors and proudly hosts a circulating program of musical concerts as well as a special Saint George's Day celebration.
Available tour: Casa Batlló Entry with Self-Audioguide Tour
12. Best things to do in Barcelona: Visit The Encants Markets
Among the oldest second-hand markets in Europe, Encants is ideal for treasure hunters and the casually curious alike.
Here you will find over 300 vendors selling everything from antiques and esoteric items to housewares and bicycles. There are also plenty of food and drink stalls to stop at and enjoy a taste of true Catalan cuisine.
Be sure to stop and admire the market's noteworthy edifice designed by architect Fermín Vázquez.
13. Visit Casa Milà, a popular thing to do in Barcelona
Alternately referred to as La Pedrera or "The stone quarry" in reference to its rough stone composition.
This Modernista apartment complex was built between 1906 and 1912 and was the last residence designed by Barcelona's famed architect Antoni Gaudí.
Now a World Heritage site by UNESCO and Historical and Artistic Monument of National Interest, guests are invited to peruse the ground floor exhibitions and one-off gardens and courtyards, as well as the attic museum dedicated to Gaudí's body of work.
Additionally there is a special rooftop space dedicated to live concerts and year-round events.
Recommended tours: Casa Milà Fast-Track Entry Ticket and Audio Guide and La Pedrera Night Experience
14. Soak Up The Sun At One Of Barcelona's Idyllic Beaches
You may not consider a beach day permissible during your stay in Barcelona but guess again, as the city has an enticing line-up of beaches perfect for hitting the pause button on your busy travel itinerary.
The city's 4.5km (2.7 mile) coastline features attractive and accessible beaches to swim, sunbathe, and even grab a drink or snack at one of the many chiringuitos or beach bars along the strip.
At night the beaches come to life with concerts, dance parties, and special events.
15. Hike The Mountains Of Tibidabo, Montjuïc And Collserola
If you're looking to get out of the city for the day but aren't much of a beach goer then you're in luck, as the mountains of Tibidabo, Collserola and Montjuïc offer exquisite hiking excursions and are just a short jaunt from the city.
The trails are suitable for all ages and levels of experience, and arguably offer some of the best views of Barcelona and beyond.
Visitors with children won't want to miss Tibidabo's amusement park while the adults can partake in the wine and olive oil tastings of Collserola, with the botanical gardens of Montjuïc, located between the castle and Olympic Stadium, an especially rewarding excursion for all.
16. Stroll The Botanical Gardens Of Umbracle
This relatively peaceful spot is perfect for escaping the tourist crowds while experiencing one of the most distinctive sights to see in Barcelona.
This modernist brick building featuring 5 arches bolstered by extensive steel work was designed by Josep Fontserè and constructed by Josep Amargós between 1883 and 1887.
Contains a luscious greenhouse boasting flora & fauna from over 20 different countries.
17. Check Out The Bostik Murals
A cutting-edge example of Barcelona's urban art movement, the Bostik murals are comprised within a space featuring the work of over 20 renowned muralists including BToy, Fasim, Manu Manu, Sam3, Sheone, Sebastien Waknine and Sixe Paredes, with additional space provided for up-and-coming students and budding artists.
The Bostik website is updated constantly so visitors know exactly who and what they're going to see, so make sure to check the site beforehand.
18. Kick Back In Barcelona's Largest Central Square
Finalized and implemented into the city plan by the 1920s, Plaça de Catalunya is difficult to avoid even if one wished to, as the square is central to Barcelona's main transportation lines and acts as an overall nucleus connecting foot traffic from all corners of the city.
Here you will find a wealth of shopping and dining options which include the colossal El Corte Inglés department store and El Triangle shopping complex, along with dazzling fountains, decadent hotels, and plenty of pigeons to feed.
19. Visit The Vineyard of Can Calopa
This former 16th century farmhouse is now home to a sprawling vineyard of over 3 hectares that produces approximately 8,000 bottles of Syrah and Garnacha red wine a year.
Visitors can enjoy regular wine and olive oil tastings, with special workshops and pairing events depending on the season.
Can Calopa has been managed by the L'Olivera cooperative since 2010 in collaboration with Vallbona de les Monges, a social project that employs and houses youths grappling with psychiatric challenges.
20. Take A Night time Tour Of The Cemeteries
Barcelona certainly holds a dark counterhistory of its own, and the more macabre-minded will feel right at home in one of the city's gorgeously Gothic cemeteries.
Poblenou and Montjuïc are Barcelona's largest cemeteries, each with its own labyrinth of graves, monuments, and mausoleums that ultimately show off an eclectic array architectural styles and artistry.
Guided tours are available throughout the year for the brave of heart but don't be discouraged if you're a little squeamish, as both cemeteries are perfectly promenadable by day and are one of the more unique things to do in Barcelona.
21. Visit The MNAC one of the best things to do in Barcelona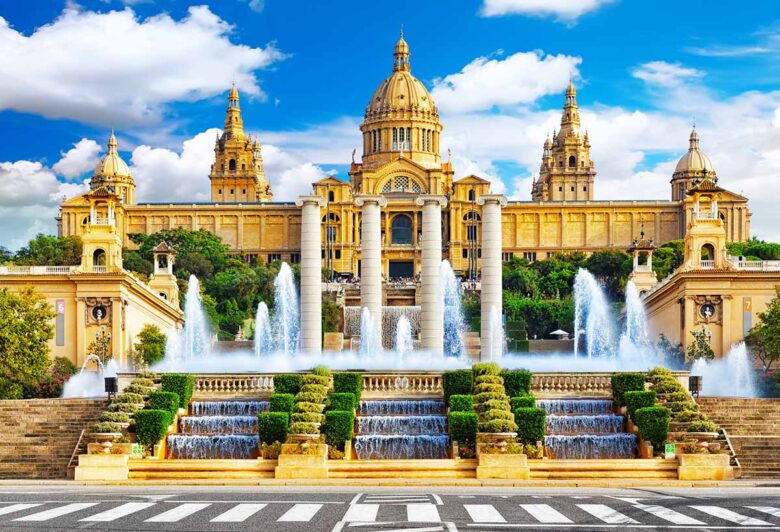 Catalonia's national art museum, the MNAC offers an extensive and intricate view of the region's artwork spanning the 12th to 20th centuries, thus earning it the slogan 'One museum, a thousand years of art.'
The museum is particularly renowned for its Romanesque collection consisting of some of Europe's most impressive paintings on wood from the era, with the modern art floor featuring an equally impressive sculpture, photography, decorative and mixed media collection dating up to the 1950's.
Available online: Museu Nacional d'Art de Catalunya Entrance Ticket
22. Enjoy A Bit Of Peace At The Pedralbes Monastery
This resplendent monastery complex was first founded as The Royal Monastery of St Mary of Pedralbes by Queen Elisenda de Montcada in 1327 in dedication to the Poor Clare Community, which occupied the space until recent years.
Today the monastery serves as an historic museum and welcome retreat from the heat and bustle of the city, and has since earned a reputation for being one of the more relaxing things to do in Barcelona.
Visitors can tour the extensive cloister consisting of dormitories, day cells, an abbey room and chapter house, as well as St. Michael's Chapel, with the gardens & grounds offering rest and respite for the weary traveler and local alike.
23. Visit the Horta's Labyrinth Park
This historic garden is the oldest of its kind and one of the more unusual things to do in Barcelona.
Located on the former estate of the Desvalls family, the park and gardens offer exquisite examples of 18th century neoclassical and 19th century romantic styles, with a labyrinthine maze to delight–and possibly perplex–even the most surefooted pedestrian.
24. Visit The Science Museum CosmoCaixa
First opened in 2005 and costing upwards of 100 million euros, this interactive science museum is a must for all ages and interests.
Upon entering and passing the lifelike Albert Einstein statue by the front desk, visitors then descend the enormous spiral down to the museum's basement complex where hundreds of hands-on exhibits and activities await.
Physics, geology, space, and natural geography are just some of the wide-ranging subjects explored and enjoyed through tactile interaction and decidedly fun experiments.
Young children and the young at heart alike won't find a more engaging and worthwhile activity to do in Barcelona, just be sure to give yourself at least 2-3 hours to fully immerse yourself in all the museum has to offer.
25. Carretera de les Aigües
This easy-to-access footpath offers a convenient reprieve for outdoor enthusiasts and those looking to get a bit of fresh air and exercise.
Mostly trafficked by locals, the path is part of the 8,000 hectare Collserola National Park and once acted as the service road for a pipeline transporting water from Sant Pere Màrtir, hence its name Carretera de les Aigües or Road of the Waters.
A popular destination for joggers, cyclists, dog walkers and families, the path boasts postcard views of Barcelona and the surrounding landscape as well as plenty of spots to picnic and relax.
Photo: Shutterstock