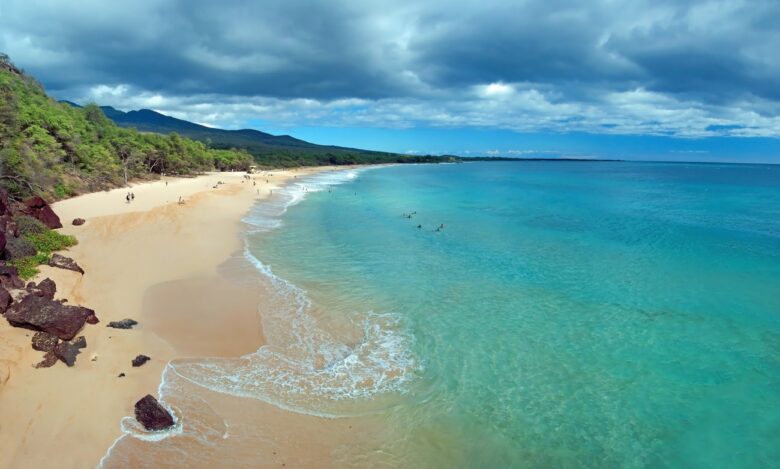 Where to stay in Maui? Where you stay in Maui is more important than it is at other destinations because the public transportation system in Maui isn't ideal. That means that you'll likely want to gravitate to a certain region for most of your stay or rent a car.
Fortunately, there are areas that can suit practically any taste — so whether you're hoping for an intimate honeymoon getaway, an opportunity to learn more about the local culture, or a chance for a high octane outdoor adventure, you can find somewhere to stay that's perfectly tailored to your needs.
Apart from the unique personality that each neighborhood brings to the table, the various regions of the island itself tend to have their own vibes as well.
One of the most delightful aspects of visiting Hawaii is that each island in the archipelago has its own unique identity to offer visitors. And while there are many reasons to visit Maui, it remains so persistently popular largely thanks to its biodiversity.
Any ecosystem you'll find within the island chain can be found within Maui's boundaries, and that naturally makes it home to some of the most beautiful landmarks in the Pacific.
That makes it one of the perfect destinations if you only have time to visit one island — but those with shorter time or a more extensive itinerary on other islands may have to be pickier with how many different places they stay in Maui.
The island of Maui is usually broken down into six regions, and they can vary pretty distinctly in terms of ecosystem, pricing, and personality.
Maui may only be about 50 by 25 miles in size, but it still takes the better part of a day to travel from one end of the island to another. That means narrowing down your destinations by region can be helpful, and that's especially true for backpackers and those traveling on a budget.
Where to stay in Maui: Maui´s Regions
1. West Maui
West Maui is one of the most developed regions on the island, and that brings with it both some advantages and disadvantages.
The tourist reigns supreme here, and that means that you'll have constant access to practically everything you want, but the resort vibe and aggressive approach to customer service won't appeal to everyone.
That popularity also means that West Maui tends to be both crowded and expensive. But there are plenty of reasons why West Maui became such a popular destination in the first place.
Kaanapali Beach is internationally recognized as one of the most beautiful beaches in the world, and the region is also home to the stunning West Maui Mountains.
Visitors looking to stay in West Maui exclusively should keep in mind that it will leave them isolated from some of Maui's coolest landmarks.
Hana Highway is on the opposite side of the island, but there's plenty here for people who are just looking to kick back, soak up some sun, and be pampered for a while.
2. South Maui
South Maui is a significantly more low key choice than the West. It's not that South Maui isn't a tourist destination, but it's far less overcrowded than the big resorts in the West.
Condos and online rentals are more common than resort living, so there's significantly more flexibility to do your own thing and get a decent deal in the process. But South Maui isn't without its resorts either.
Some of the biggest hotel chains in the world have properties here, and you can usually snag a better deal than you'd find to the west.
The towns of Wailea and Kihei are the two most prominent destinations in the south, and they each offer their own distinct sense of identity.
The weather here is even more pleasant than in the west thanks to lower rates of rainfall, but South Maui offers somewhat limited options for high-quality shopping, dining, and amenities.
3. Central Maui
Central Maui is where you should set up base camp if you really want to soak up everything the island has to offer. East and West Maui both have standout landmarks, but their positioning also makes them remote from a lot of the destinations most visitors will want to see.
The fact that it's located proximal to Kahului Airport further strengthens its value as a central hub for visitors.
That said, Central Maui is outclassed by other regions of the island in a lot of critical ways. It's not home to a great many landmarks, and the choice of accommodations and restaurants can be thin.
Staying in Central Maui can be a good strategic move, but it's unlikely that most visitors will want to stay there for the long haul. Still, it's lack of popularity means that it retains a level of authenticity that many tourist-heavy regions don't.
4. Upcountry
Upcountry is a testament to how diverse the ecosystems of Hawaii really are. The elevated fields with grazing horses and cattle lend a charming pastoral feel to the region, and it's far away from the normal chaos of life in the bigger resorts.
In other words, this is the place to go if you want to get away from it all and really luxuriate in the natural environs.
You might have to hunt a little more for a place to stay in Maui in this area, but the lodgings here tend to have a homier and more personal feel, and it's more likely that you'll get to actually know the people that you're staying with.
The upcountry topography is truly unique and offers stunning views of the surrounding jungle, but there are no beaches in the Upcountry.
The main draw of the Upcountry is Haleakala National Park, but you'd be missing out to not check out the small eateries and bed and breakfasts that dot this region's scenic roads.
5. North Shore
North Shore may be home to some of the most beautiful beaches on the island, but it distinguishes itself from the west coast of the island thanks to the fact that it hasn't been developed nearly as much.
Many of these beaches are as pristine as they've ever been, and there are less resorts in the North Shore crowding out the natural beauty. But that comes with the natural side effect of offering less in the way of amenities.
It's not that you can't find places to stay in the North Shore, merely that they'll be more intimate.
Many of the foreigners in the North Shore are expatriates, and there's a generally laid back vibe that runs contrary to more tourism-driven regions.
6. East Maui
East Maui is home to one of the most celebrated attractions on the island of Maui — the Hana Highway.
A trip down the road to Hana can be a vacation in its own right, but staying on the east coast means being restricted to one of the more remote parts of the island.
That means that it's recommended that you compartmentalize your time in the east. Plan a ride down the road to Hana as a specific leg of your trip.
It also means that a rental car will be a necessity unless you're looking to rent a tour bus or other means of travel. But going at your own pace is the best way to explore East Maui.
For the average traveler, everything to be done in this region can be accomplished easily in an afternoon, but you could potentially stretch the excursion out to a weekend. It's beautiful territory, but there's not a lot to do to the East.
Where to stay in Maui: Best Areas
These six regions are all pretty clearly distinguished in what they offer for visitors looking to stay in Maui, but specific villages and neighborhoods stand apart from others. Maui isn't huge, but there's a dozen distinct areas worth considering during your stay.
Just be sure to consider both what they offer and how their location fits within the larger context of your trip. Maui isn't huge, but it can still be difficult to navigate if you don't plan ahead.
1. Kapalua, where to stay in Maui in an all-inclusive resort
West Maui is notorious for its highly developed tourist traps and all-inclusive resorts. And while that comes with some advantages, many visitors who stay in Maui choose to set up camp in Kapalua.
Its location on the west coast means that it's in close proximity to some of the island's best beaches, shopping, and restaurants. But the fact that it's a less developed stretch of property means that it's a little more chill than the surrounding resorts.
That's not to say that Kapalua isn't willing to offer luxury to those looking for it. Its golf courses are as beautiful as its beaches, and one of the latter has even been named the best beach in the United States by the University of Maryland.
This is still a resort region, and the beating heart of this area is the Kapalua Beach Resort. It's an expansive place to vacation that includes multiple golf courses, over a dozen boutique shops, and a wide variety of restaurants.
But they aren't the only resort in town, and they certainly aren't the only places to stay. While backpackers might want to carefully consider their budget before settling on a place in Kapalua, it's a more affordable option than resorts a little further south.
The more northerly position of Kapalua also means more direct views of the island's most magnificent mountain range.
If you're not the type trying to stay in Maui at a resort, you'll find plenty of accommodations in town and plenty of opportunities to have an experience that's more than just pampered treatment.
The Kapalua farmer's market is a great place to pick up souvenirs and try authentic local flavors, but it's not without its cheap products targeted at tourists.
And perhaps the best way to experience the local beauty of Kapalua is to take a walk down the 1.7 mile Kapalua Trail. It will take you down nearly the entirety of the Kapalua coastline.
2. Kaanapali, where to stay in Maui for families
If you're looking to stay in Maui, Kaanapali offers a luxurious range of opportunities, but you'll have a hard time finding many budget options for places to stay, eat, or shop.
Unlike nearby Lahaina, this settlement was built as a resort. That means that everything from the condos to the beaches themselves are catered to the needs of visitors. It also means that there's a premium associated with staying here.
That said, Kaanapali's beaches are among the most beautiful and pristine in the islands. In fact, Kaanapali was the very first planned resort on the Hawaiian Islands, and you can see its DNA functioning in newer resorts both in Hawaii and far abroad.
That planning also means that you'll never have to deal with traffic and always have access to beach side property. For many, the logical conclusion is to stay overnight at Kaanapali and then venture out to the nearby town of Lahaina during the day.
It's a sensible choice if it fits within your budget. A beach walk extends approximately two miles around the shore of Kaanapali, and it's a stretch that largely provides access to anything you'd want within the community.
The major shopping district of Whalers Village mall may be a little sanitized, but it offers a convenient way to get all of the fundamentals in a single place.
In terms of natural landmarks, few in Maui have as much potent mythology surrounding them as Pu'u Keka'a, known in English as the Black Rock.
It has major significance to the locals as a place where the spirit leaves the body and ascends to the next life, but more complex variations have swirled around it for years.
Ten different plaques commemorate the various myths surrounding Pu'u Keka'a, and you can find plenty of guides willing to offer you a tour of the area.
Kaanapali is a great place to stay in Maui for families and couples.
3. Lahaina, affordable accommodation in West Maui
While Kapalua, Kahana, and Kaanapali are all built with the needs of tourists in mind, Lahaina is the place where the people who serve those resort communities live, work, and play.
That makes it one of the ideal places to stay in Maui for those who want more authentic interaction with the people who live where they're visiting.
The fact that it's a legitimate local community means that you won't find as many amenities catered directly to your needs, but you will find more diversity in terms of the experiences you can have. That's not to say that Lahaina isn't without its tourist areas.
Front Street is the main strip, and this oceanfront road is typically more populated with locals than with visitors.
That said, most of the essentials you could hope to find can be picked up on Front Street, and there's certainly no shortage of fine and delicious dining on the beach.
If you want to get out on the water rather than just stay on the beach, Lahaina might be the place to stay in Maui.
You'll find everything from submarine cruises that allow you to see the ocean floor to snorkeling expeditions that provide a more surface level view of the region's most beautiful and vibrant wildlife.
In terms of sheer positioning, Lahaina is one of the most sensible choices for tourists looking to stay in Maui.
There's a diverse selection of places to stay at including both hotels and private residence rentals, and Lahaina is conveniently located towards most of the major resort towns along the west coast.
Add in the fact that it's situated directly in the foothills of the mountains, and you're left with a town that's arguably the best base camp for a journey through West Maui. But there's also enough to keep you occupied without venturing far from town.
4. Kahana/Napili, gorgeous beaches, whales and sea turtles
Napili Bay is one of the most gorgeous and classically white beaches on the west coast of Maui, and Kahana is a community that offers one of the best ways to experience it.
The entire region around Napili Bay consists of around 7,000 people, and it's in convenient proximity to most of the other beachfront communities along this coast.
And while it may be missing some of the opulence you'll find in nearby resorts towns like Kapalua, it makes up for it with the chill fishing village vibes that it gives off instead.
That means Kahana is an affordable choice that still offers a truly stunning view of gorgeous beachfront property.
Napili Beach itself is a mix of rocky and sandy coastline, but its star attraction is the coral reef just off of the coast. The reef is protected, but it's also open for snorkeling.
For those who don't want to hire a ship and go on an all day excursion, it offers one of the easiest opportunities to explore the tropical fish and other sea life that call Maui home.
Napili Beach is a popular place for catching sight of whales, and it's also known for being a good place to catch sight of sea turtles.
Kahana itself sits just south of the bay, and it offers a great view of the Hawaiian islands of Molokai and Lanai.
Those looking for a grand adventure will probably eventually want to venture further out than just Kahana, but it's a perfect place for a pit stop or to catch a rest between excursions elsewhere on the island.
While the community itself is small and less built with the needs of large groups of vacationers in mind, there's a great culture with some delicious restaurants and abundant places to stay.
Read also: Where to stay in Hawaii, where to stay in Kauai, where to stay in Oahu, where to stay in Los Angeles, where to stay in San Francisco
5. Kihei, great beaches, nightlife, and laid back vibe
Proceed further south down the coast and you'll hit the beach community of Kihei. Located in the southwest part of Maui and about thirty minutes due south of the airport, it's a long way from the island's biggest resort communities.
But it more than makes up for that thanks to the presence of six miles of beach within Kihei's borders.
This is the stretch of the island that sees the least rain, and it doesn't have the mountains directly looming over to bring unnecessary shade.
Kihei itself is large in terms of square acreage, but it continues to be a smaller and more laid back community.
Resorts are few and far between, but no one should have difficulty finding a hotel, condominium, or cottage rental within Kihei's limits.
And while you won't find world class golf courses or Michelin star-rated restaurants, Kihei does have a lively culture and vibrant nightlife that's well worth exploring.
Whether you're looking to catch the big game with fans from abroad, belt out to a karaoke song, or just enjoy a drink on the beach, there's something that can scratch that itch in Kihei.
There's quite a bit to do in Kihei, but keep in mind that much of it is going to require a rental car.
While taxis or bikes can be a reasonable way to get around the town itself, a car will be a practical necessity if you're looking to explore nearby sights like the Humpback Whale Sanctuary or the Kealia Pond Wildlife Refuge.
In fact, one of Kihei's biggest selling points as a place to stay in Maui comes down to how much you can reach in car.
It essentially serves as a bridge between the resort beaches in the west and Hana Road to the east. It's worth doing more than just passing through if you have the time.
6. Wailea, where to stay in Maui in an upscale resort town
Kihei may not be a resort town, but you don't have to travel all the way to the west coast to find a coastal resort town. Positioned directly at the southernmost tip of the island, Wailea is another community that was built from the ground up as a resort community.
That means that there's little in the way of affordable lodgings and food but plenty of opulence for those looking to spend a little bit.
Deals can be found if you're willing to hunt around for specials on private condominiums and homes using services like Airbnb.
Wailea Beach earned the title of America's best beach years ago, but it's not the only beach within the community. Ulua Beach is a popular sight for people watching, and it's filled with people on their morning jogs most days.
Polo Beach provides phenomenal snorkeling opportunities, while Makena Beach is the place that locals go to see sea turtles swimming in the bay.
As far as golfing goes, Wailea can comfortably hold its own with any of the communities on Maui's west coast.
If you choose this place to stay in Maui, you'll have access to a full 54 holes designed to meet the needs of world class champions.
There are a decent amount of opportunities for day trips around Wailea proper as well. Ahihi-Kinau Natural Area Reserve has some great snorkeling, but it really sets itself apart from everything else thanks to the live lava fields within the park grounds.
People looking to get a little muddier and properly ensure their exercise will find plenty to their liking on the Hoapili Trail.
It offers a rather comprehensive view of all the main attractions that Wailea and the surrounding areas have to offer, though you could certainly go off further and find plenty more to explore.
7. Wailuku, great place to stay in Maui for nature lovers
Move further into Central Maui, and you'll find the coastal views giving ways to more pastoral scenery.
It might not be the expectation most people have when they plan a trip to Hawaii, but the town of Wailuku has a special kind of magic, and it's well worth a trip for anyone who wants to see more than just poolside cabanas.
Lush and surrounded by verdant trees and fields, Wailuku sits happily within the shade of the West Maui Mountains. Brace yourself though, because this isn't a resort town. While you'll find plenty of welcoming people in Wailuku, it's off the beaten trail for most vacationers.
Instead, it's become a very popular place for former visitors now looking for a reasonable place on the islands to move to.
Much of the land is rural and residential, but that means that you can sometimes find some very large and very comfortable plantation-style houses at great prices.
Wailuku is located right in the middle of the Maui, so it's generally not hard to get anywhere. But the main problem is that there isn't a whole lot to do around Wailuku.
Nature lovers will find a lot to love in the abundant hiking trails in and around Wailuku, but the town itself is pretty small.
That said, plenty of people fall in love with the idyllic small town feel of Wailuku. Market Street in downtown is unforgettable — a stretch of quirky shops and eateries that really captures the eccentric feel of the town.
There's also a regular swap meet that serves as not just a way to walk home with a souvenir but also an opportunity to rub shoulders with the locals and try authentic versions of local cuisine right off a neighbor's grill.
Bring a rental car and you'll find plenty of natural sites to soak in without having to travel too far. Both Iao Valley State Park and Maui Tropical Plantation rank among the island's most stunning locations for entirely different reasons.
8. Kahului, where to stay in Maui for nightlife
Kahului is the most seen settlement in Maui simply by virtue of the fact that the island's airport is located there. But you'd be doing yourself a disservice simply treating this port town as a way-station to your next destination.
This is home to the University of Hawaii Maui, and that lends the town a youthful college town type of atmosphere. That means that there's great culture in the form of nightlife and restaurants, and there's no lack of accommodations to stay in.
Cheaper hitchhikers can stretch their dollar better in Kahului than anywhere else on the island, and it can be a good place to stay in Maui if you want to explore all the corners of the island but have a home base to come back to.
Kahului is actually the most populated city on the island, and it's where most of the island's residents live and work. But being an industrial center doesn't mean it's necessarily going to be the best place for a traveler to set down stakes on a longer term basis.
Kahului isn't particularly known for its beautiful beaches so much as it's known as the beating heart of commerce on the island. Still, that makes it the most practical choice for stocking up on supplies and getting your affairs in order.
There's a variety of bars, clubs, and restaurants that aren't necessarily available elsewhere, and shopping is neither universally overpriced like it is in resort towns or lacking in stock like some of the more provincial towns.
But there are still a few things worth your time if yo're looking to spend a night or even a few days in Kahului.
Maui Nui Botanical Gardens can serve as a great preview for what you'll see in your larger explorations or a way to soak up the local flora without having to travel across every corner of Maui.
The city is also home to Kanaha Pond State Wildlife Sanctuary, and it's a frequent stopping point for cruise trips passing through the Hawaiian Islands.
9. Paia, the coolest place to stay in Maui
Due east of Kahului and situated along the northern coast of Maui is the eclectic town of Paia. Ranked as one of America's Best Small Towns by Fodor's, Paia is a beach town that bears the personality of its residents on its sleeve.
There are enough art galleries and curio shops to keep visitors occupied for at least a weekend, and the residents of Paia have a reputation for being hippies and surfers through and through.
What Paia isn't known for is their beaches. While the people of Paia are among the charming you'll meet in Hawaii, the only real beach of note is Baldwin Beach.
It's a popular sight for both locals and tourists, and Baldwin Beach is large and diverse enough to offer waters appropriate for kids as well as stretches of tide that are quite good for swimming and surfing.
Instead, Paia's claim to fame mostly comes from the fact that it's right on the way from the airport to the popular Hana Road. Traffic is bad both on the roads and on foot, as the city is largely treated as a simple filling up point on the way to elsewhere.
That means that most visitors don't see anything more than the tourist restaurants, souvenir shops, and roadside stops.
If your goal is to melt into the culture and rub shoulders with the locals, Paia is the way to do it — and it's often not hard to find a cool place tucked within Paia for a very reasonable price.
And if you're looking to gather up supplies during your journey, you could do a lot worse than Paia. There are some legitimately good restaurants in this little hamlet, but it's also home to some truly unique arts and crafts that can serve as great souvenirs to send home.
10. Makawao, impressive landscapes and hawaiian cowboys
The Upcountry village of Makawao was once known for its vast and expansive plantations like much of the surrounding area is — and while the region is undoubtedly home to some impressive landscapes, Makawao has really managed to carve out a unique name for itself thanks to its thriving art community.
Makawao isn't exactly a home of high art or experimental art, but it is home to a diverse community of hardworking artists and craftspeople, many of whom are following in traditions passed down generations.
The Hui Noeau Visual Arts Center regularly hosts exhibits spotlighting local artists and looking at the town's history.
A big part of that history is the paniolo. These Hawaiian cowboys are legendary in the Upcountry, and it's something you'll see all around you when you decide to visit the town of Makawao.
But if you're on Maui in July, you'd be remiss to not catch the annual Independence Day celebrations. The annual Makawao rodeo is the main event on July 4, and it's been an ongoing tradition for over a half century.
The charm of the town is easy to pick up on with a glance, even if most people treat Makawao as little more than a rest stop on longer routes. Makawao Forest Reserve does offer a peaceful respite in a forest that feels atypical for the islands.
Unfortunately, it's a charm that it takes a while to really appreciate, but you can definitely find some long term places to stay if you're willing to look.
Makawao is a residential town largely untouched by the tourist masses, so accommodations tend to be very cheap even though they may require you to hunt a little harder and use less conventional means to track down a place.
Bear in mind that the few hotels and other rentals can become tight and more expensive as July 4th approaches.
11. Kula, to get away from the hustle and bustle of the busier areas
Upcountry Maui doesn't get as much love as the coast, but Kula Town is easily one of the more popular destinations in the Upcountry.
As with the rest of the region, Kula is a largely agricultural area, and its daily commerce and interactions continue largely undisturbed by the intrusion of tourists.
Kula boasts a great harvest of strawberries and onions, and the fields make it good grazing land for goats and cows. A tour of a farm or a guided walk of a plantation isn't going to top the itinerary of most Hawaiian vacationers, but you might be surprised at how relaxing it can be.
Understandably, Kula's lack of a large tourist sector means it's not exactly flush with hotels and hostels. There are certainly places to stay, but you might have to work a little harder to weigh your options.
There's more to explore within the town. Kula has its own botanical garden which spotlights some of the rarer native plants on the island, but it's also home to a lavender farm that offers tours to visitors.
In fact, visiting the local businesses is one of the most popular choices here. Whether you're curious about life on a dairy, in a winery, or at a farm, you'll find people eager to open up their doors and take you on a guided tour.
Fundamentally, Kula is a town that has a similar tempo to Paia, although it trades in the laid back surf hippie vibes for a more eclectic working man aesthetic.
Kula is a lovely little town to visit, but most people aren't going to be trying to stay for an extensive period of time. Kula Marketplace manages to offer a decent amount of high-quality local arts and crafts.
And the dormant volcano underneath Haleakalā crater is well worth the time to visit it. It's also known as the House of the Sun.
12. Hana, where to stay in Maui in the most scenic part of the island
Hana Highway is often referred to as the Road to Hana, but it's a trip that's typically more about the journey than the destination.
The winding miles that cut directly across the seaside offer some of the most stunning views in the Hawaiian Islands, but the actual town of Hana can seem a bit anticlimactic when you actually arrive.
But if you're willing to temper your expectations and throw yourself into the right frame of mind, it can be a town worth sticking around in for a while.
But if there's one big mark in Hana's favor, it's the fact that the same rugged cliff sides and beautiful ocean views that typify the Hana Highway are also present in the town itself.
Vacationers looking to be treated well will find a decent array of options like the Hana-Maui Resort, but it's not as popular a long term destination as the resorts that occupy the west coast of the island.
Hana isn't a resort town but instead a sleepy residential community, and that means that there are plenty of other options if you're not trying to stay in an expensive and high class establishment.
As the most noteworthy settlement on the southeast coast of Maui, it can be worth your time to explore the surrounding areas while you're there.
The town itself has some charming landmarks like the Hana Cultural Center and Museum and St. Sophia's Church, and the farmer's market here presents a great opportunity to taste some of the freshest fruits, vegetables, and meats available in the islands.
If you're feeling the need to hike, you can always make the walk up to St. Fagan's Cross. Or you can venture a little further out and take the time to see the stunning black sand beach at Wai'anapanapa State Park.