What to do in Hong Kong? Want to explore Hong Kong but you don't even know where to start? You have come to the right place. Check out these complete list of things to do in Hong Kong.
If you've never visited Asia before, Hong Kong is a good place to start. From the moment you disembark your flight, a whole new life experience awaits.
As you exit the terminal, it appears the Island's 7.5-million people are all scurrying hither and thither around the concourse. All with somewhere to go and people to see. And it gets hold of you. Suddenly you want to go where they are going, see what they are seeing, and do what they are doing.
That is the magnetism of Hong Kong. Its vibrancy, energy, and its effervescent enthusiasm for life has visitors coming back time and time again.
Whether your preference is colonial or modern architecture (there's plenty of that), a few beers, fine dining, or street food (there's plenty of that as well), designer shopping or browsing the markets, to enjoying the many visitor attractions; there is so much to do and see in Hong Kong that we hope you'll be planning your next visit before you leave.
30 Best Things to Do in Hong Kong
1. Victoria Harbour Star Ferry Company
If they weren't bobbing about on the water, you could call The Star Ferry Company one of Hong Kong's most famous monuments. Plying their trade across Victoria Harbour, between Hong Kong Island and the Kowloon Peninsula, the green and white ferry boats have been carrying daily commuters and visitors back and forth for over 100 years.
Nowadays, although the two areas are connected by Hong Kong's impressive road and rail infrastructure, the ferry is still heavily subscribed by local commuters, and of course its thousands of visitors.
It is a great way to get those close-up harbour photos as you make the ten minute crossing. Or why not book one of the Round the Harbour excursions, or a Symphony of Light evening harbour cruise, with complimentary drinks thrown in.
2. Climb Victoria Peak on the Peak Tram, Mid-Levels
At nearly 1800ft above sea level, Victoria Peak is not a climb you would want to do in your flip-flops. Luckily, you don't have to. Your journey is made that much easier by the 125-year-old Peak Tram, a cable driven funicular tram system that now operates using modern computer technology.
Try to ignore the shopping malls and restaurant at the beginning of your tour. They are a great place to take the weight off on the way back, while you check through your digital photographs over a coffee or glass of beer.
Although the panoramic views are a photographer's paradise, there is much more to be found on Victoria Peak. Alight at Level 5 and walk to Sky Terrace 428, where you can enjoy all-round views across Hong Kong's skyscrapers, the harbour, Kowloon, and the South China Sea.
Read also: Where to stay in Hong Kong: Best Areas
3. Lions View-Point and the Old Governor's Lodge
From the tram's top stop at Peak Tower, the Lions View-Point Pavilion is a short walk. A popular resting place for local Chinese tourists, it has a gated pagoda and numerous Chinese lion statues.
For those seeking a little colonial/wartime history, a steep 500m walk up Mount Austin Road, will bring you to the ruins of the old governor's Summer Lodge.
Burnt down when the Japanese invaded Hong Kong during the war, it was never rebuilt. But the gardens have been redeveloped with broad leaf foliage, traditional gazebos, stone pillars, benches, and sundials.
4. Po Lin Monastery and The Big Buddha, Ngong Ping, Lantau Island
One of the most popular monuments to see in Hong Kong is the Po Lin Monastery. It was built in 1924 as a religious retreat, and has been expanding ever since.
Long recognised as one of Buddhism's most important sanctums, it was the introduction of the Tian Tan Buddha in 1993, which has made the monastery one of Hong Kong's most visited sites.
Commonly referred to as Big Buddha, the statue is of bronze, took 12 years to complete, and sits on its plinth at 34 metres high. Posed as though blessing the masses, Big Buddha attracts pilgrims of all denominations from across the world.
While approaching the statue provides a breath-taking impression of its majestic presence, to get up close and personal you need to climb the 268 steps to its base. With the terrific views awaiting, the reward is well worth the effort.
The monastery is still home to a number of Buddhist monks, and the beautiful gardens are a great place for a little rest and relaxation, before starting your return journey.
5. Temple Street Night Market, Yau Ma Tei, Kowloon
Although many markets in Hong Kong remain open into the night hours, Temple Street Market has always maintained its reputation of being the place to go, to enjoy a little after-dinner haggling with the natives.
The market's address is Temple Street, Yau Ma Tei, but it stretches block after block from Man Ming Lane in the north of the city, to Nanking Street along the south. In the 1920's it was a market serving street food to worshippers exiting the Tin Hau Temple.
In post-war years it has grown to become one of Hong Kong's biggest attractions, selling Chinese souvenirs, Chinese and Western style clothing, trinkets, Chinese vases and tea sets, look-alike designer everything, and so much more.
Just remember, haggling is not rude. It's the norm. It's expected. And the prices on display are adjusted accordingly. Other markets of note include:
6. Jardine's Crescent, Causeway Bay, Hong Kong Island
If a little girlie clothes shopping is on the agenda, then pencil in a visit to Jardine's Crescent Street Market. Popular with the locals due to its down to earth prices, this small market offers an excellent selection of colourful tops, underwear, and casual day and evening wear. It also stocks a good range of dress and hair accessories.
7. Li Yuen, East and West Street, Central, Hong Kong Island
Another market popular with local and expat ladies due to its cheap prices and large selection of merchandise, Li Yuen East Street, and Li Yuen West Street, are two narrow lanes a stone's throw from the big designer shopping malls in the clouds.
Great for silk, Chinese and Western clothing and accessories, at a fraction of big store prices.
8. Ladies Market, Tung Choi Street, Mong Kok, Kowloon
Finally, probably the most famous of ladies markets is this one. Over 100 stalls of nothing but clothing and other merchandise aimed specifically at the female gender. At over a kilometre long, you really can shop-till-you-drop. Or at least until you stop at one of the many café/bars, for that much needed latte or glass of wine.
9. Lai Chi Wo, Sha Tau Kok, North Hong Kong
If you have an interest in historic architecture, culture, and local flora and fauna, Lai Chi Wo, sitting close to the Chinese mainland border, is a 400 year old Hakka walled village.
Comprising old cottages, temples, and halls within the Lai Chi Wo wetlands, the village was virtually deserted in the 1960s, but given a new lease of life in the 1980s by conservationists and returning local villagers.
Set in the forest surrounded by banyan trees, mangroves, birds and insects, the village offers a fantastic insight into Chinese peasant life in the 1600s.
With descriptions of village life, and examples of local trades of the time, the 90-minute guided tour provides a wealth of information. A number of excursion options are available, and bookings have to be made two weeks in advance.
10. Tour on the narrow trams
If you're on a short break stopover, you'll no doubt want to find as many things to see in Hong Kong as time will allow. Take a trip back in time, and flag down a ding ding. Hong Kong's iconic narrow trams, affectionately known as ding-dings, have been transporting visitors looking for things to do in Hong Kong since 1904.
Ding dings operate day and night, and are a great and cheap way to explore the Island. However, to get the best experience, plan your trip in the evening. Grab a seat on the upper-deck, open the windows, and prepare to enjoy.
The ding-ding of the trams bell, the clanking and swaying as it makes its way through the busy streets, the babble of international chatter, and the smell of the humid air mixed with the aroma of cooking street food, provides an unforgettable impression of Hong Kong by night.
Ding ding routes cover almost every area of the island, so you can hop-off at your favourite noodle bar or night market, and hop back on to your next destination.
11. Tai Kwun, 10 Hollywood Road, Central, Hong Kong Island
Modern day Tai Kwun comprises the old Central Police Station, the Magistracy (magistrate's court), and Victoria Prison.
The original police station was constructed in 1842, with a barracks being built in 1864. From 1905, and throughout the first half of the 20th century further buildings were added. Being declared a national monument in 1995, it continued to operate as a police headquarters until the early 2000s.
After much consideration, work began to refurbish the buildings into an arts and history exhibition centre with bars and restaurants. In 2018, the complex was reopened, and became an immediate hit with those interested in old colonial and traditional Chinese architecture.
Now you can enjoy modern art exhibitions, explore the buildings, and visit various exhibitions such as the, Life in Victorian Prisons Exhibition. You can also enjoy a meal in the Old Bailey restaurant, or linger over a drink in the Behind Bars, bar.
12. Hong Kong Wetlands Park, Yuen Long
As you scan Hong Kong's skyscraper skyline, it's difficult to believe that over 70% of this tiny area is green. Wetlands, forests, and parks make up the majority of this landmass, and for those with an interest in nature, flora and fauna, there are plenty of things to see and do in Hong Kong.
The Hong Kong Wetlands Park is 150 acres of nature trails, viewing platforms and bird hides, which will keep the visiting naturalists and their binoculars engrossed for hours.
For those without them, there are fixed binoculars in the hides and viewing points around the park. In the grass covered headquarters, you can browse the galleries, watch a film, or enjoy a drink in the park's café.
Other popular parks include: Pok Fu Lam Country Park, Tai Tam Country Park, Aberdeen Country Park, Kam Shan Country Park, Lantau South Country Park, and the Sai Kung East Country Park.
13. Happy Valley Racecourse, 79 Wong Nai Chung Rd
Whether you enjoy a flutter, or just fancy something a little different, an evening at the races could be just the ticket. Happy Valley has two tracks, the Happy Valley Racetrack, with races every Wednesday evening through the season, and Sha Tin Racecourse, with weekend daytime racing and special international meetings.
You don't have to be a racing fan to enjoy a Wednesday night at Happy Valley. You can also entertain yourselves and friends with a drink in the bars, a meal in the restaurant, and music from the live bands that appear on a regular basis.
14. Street food outlets
Food plays a big part in Hong Kong culture, and a visit to this vibrant city wouldn't be complete without sampling the array of street food, or dining in style in a top class restaurant.
Here we've highlighted a few eateries, where locals, expats, and visitors in the know, choose to eat. If you get a touch of the munchies, or want lunch when out exploring, consider a little street food.
Hong Kong is world famous for its number of street food outlets, and the quality of their cuisine. Cheap and very tasty, here are a few of the most popular dishes, and where to find them. Whether you are looking for a late breakfast, brunch, lunch, or a cheap evening meal, Hong Kong street food vendors can supply it all.
Tung Tat Food Shop, Mong Kok, Kowloon, Hong Kong
A favourite amongst local workers, expat Chinese, Europeans, and returning visitors, curry fish balls are an all-round favourite. With minced fish, coconut milk, and yellow curry paste, they are fried in a crispy golden batter. Eat them as a snack with soy sauce, or ask for rice and curry sauce to turn them into a meal.
Kam Wah Café, 45-47 Bute St, Mong Kok, Hong Kong
If you've been told to try pineapple buns on your visit, this is the place to try them. Fiendishly clever these Chinese, they make pineapple buns that don't contain any pineapple. Instead they are made from, eggs, flower, milk, water, and one or two secret ingredients.
The name pineapple buns come from the pineapple pattern on the top of the bun. Popular as an eat-as-you-walk snack from local bakeries and cafes, they can also be enjoyed in the many Chinese teahouses, where adding a good spread of butter will provide an even richer, creamier taste.
Tai Cheong Bakery, 35 Lyndhurst Terrace, Central, Hong Kong
One of Hong Kong's all-time favourites, if you like custard tarts, you'll love these egg tarts. A mix of Portugal's custard tart (pastel de nata), and the English version of the same, the egg tart is a crusty, melt-in-your-mouth pastry, filled with, yep, egg custard.
Available from local bakeries across Hong Kong, they are best straight out of the oven. If you're about in Central, pop in, and fill a bag with custard tarts and a selection of other pastries, to enjoy a snack on the go.
Hong Kong's Street Vendors
While hot chestnuts may be something you associate with cold winter nights and snowy Christmases at home, here in Hong Kong they are an all the year round favourite snack.
Street food vendors can be found at Causeway Bay, Jardine's Bazaar, on the night markets, and virtually every street corner. Their hot crunchy chestnuts are the to-go snack to nibble when strolling around Victoria Harbour, or browsing the many shopping malls.
Read also: Best Restaurants in Hong Kong
15. Tsim Sha Tsui Promenade and the Avenue of Stars
Was your last visit looking for things to do in Hong Kong more than five years ago? Then a lot has changed, including the Avenue of Stars. In 2015, the whole of Tsim Sha Tsui Promenade was closed for refurbishment.
Situated on the Kowloon side of Victoria Harbour, a large chunk of the area, including Salisbury Gardens and the New World Centre, were improved and upgraded to the tune of over HK$20-million, and re-opened in January 2019.
Now, as one of the favourite attractions to see in Hong Kong, the Avenue of Stars includes much more than just the walk of fame. Visitors can enjoy the history of Hong Kong film making with large international art exhibitions, cultural presentations, and films. While local organisations offer dance, music, theatre productions, and shows.
If Bruce Lee is your favourite martial arts star, you can get your photo taken alongside his 2-metre high statue, or just sit in the shade and relax amid the tropical greenery, while enjoying the view across the harbour.
16. The mystery of Dim Sum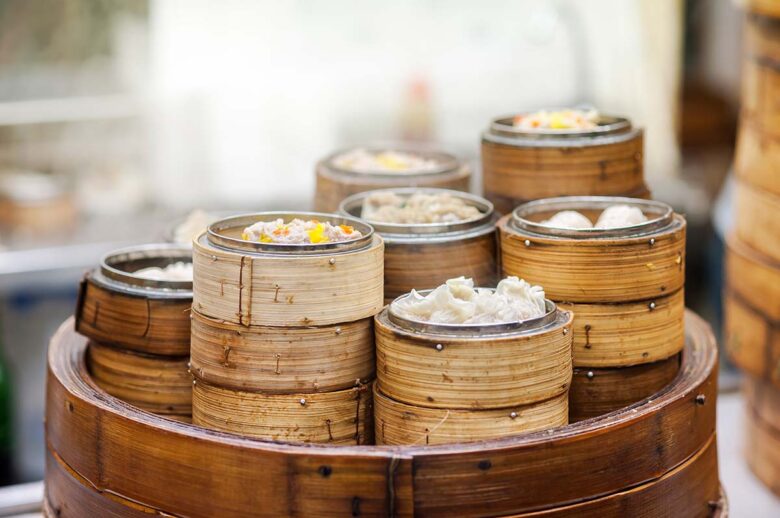 Unless you're something of a culinary expert, you might be wondering what dim sum is. While Brits have their Sunday roast wherever they are, the Americans their burgers, and the Spanish their paella, dim sum is the traditional dish of native Hongkongers.
Dim sum are small, nibble sized bites served in sweet or savoury, steamed or fried dumplings, buns, and rolls, often with a hot broth.Nowadays, as dim sum has become more popular in the West, it's not unusual for over fifty-plus different dim sum dishes to be on offer in the larger Hong Kong restaurants.
With fillings from standard vegetable, pork, or chicken bits, to the more exotic chicken's feet, or taro root dumplings, you certainly won't be short of choice.
As part of the dim sum ritual, tea is chosen first, before perusing the dim sum menu. Usually a white (Sau Mei) Jasmine or Chrysanthemum tea, or a black (Bo Lei) tea. Dim sum is available from street food carts and small local cafes, right through to Michelin starred hi-end restaurants.
17. Eat at Tim Ho Wan
Tim Ho Wan is not one dim sum restaurant, but an international chain of dim sum restaurants that began life in Hong Kong, and now has 46 restaurants worldwide.
Hong Kong is home to 6 of the 46 outlets, and over the years the group has received numerous Michelin star food ratings for quality, presentation, and service.
Tim Ho Wan restaurants are generally considered to be the cheapest Michelin starred dim sum restaurants you will find anywhere.
High quality Cantonese dim sum cuisine is the name of the game in all Tim Ho Wan eateries in Hong Kong, and they are all heavily subscribed.
In the 2020 Michelin guide, the Tim Ho Wan dim sum restaurant at Sham Shui Po, was awarded a one-star rating, but all the Tim Ho Wan outlets provide excellent food, service, and value for money. The six Hong Kong outlets are:
Tim Ho Wan: Sham Shui Po, 9-11 Fuk Wing Street, Hong Kong
Tim Ho Wan: Shop 12A, Hong Kong Station Podium Level 1, IFC Mall , Central, Hong Kong
Tim Ho Wan: 2-8 Wharf Road, Seaview Building, North Point Shop B, C, & D, G/F, Hong Kong
Tim Ho Wan: Shop 72, G/F, Olympian City 2, 18 Hoi Ting Road, Tai Kok Tsui, Hong Kong
Tim Ho Wan, Shop 49, G/F., POPCORN 2, No.9 Tong Chun Street, Tseung Kwan O, Hong Kong
Tim Ho Wan: Central Hong Kong Island, Concession Hok 12A, Level 1, Hong Kong MTR, Central, Hong Kong
18. Wong Tai Sin Temple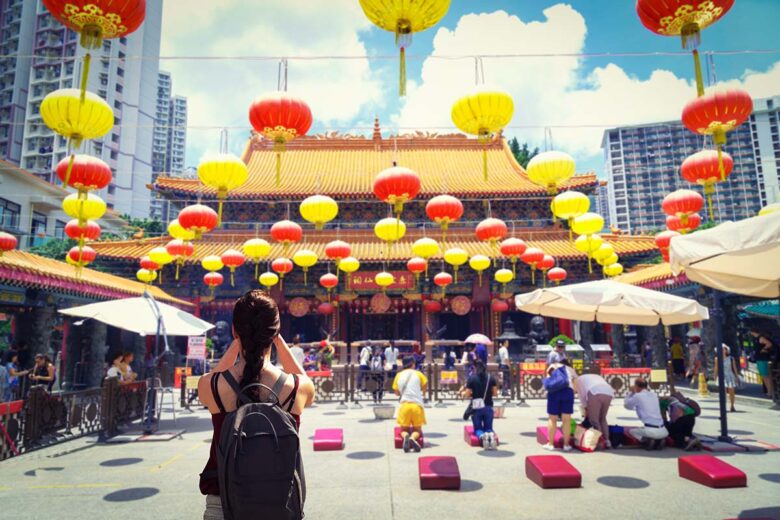 Situated at 2 Chuk Yuen Village, North Kowloon, Wong Tai Sin Temple attracts followers of Taoism, Buddhism, and Confucianism, as well as visitors from around the world.
Dedicated to the fourth century monk Wong Tai Sin, the temple is, according to legend, famous for making the wishes of its followers come true, as well as punishing evil, seeing into the future, and rescuing the dying.
Originally a shrine for just Taoist worshippers, the temple survived the Japanese occupation of 1941 – 1945, and in 1956, was opened to the public.
At 18,000sq m, there is plenty to see inside the shrine, including five structures depicting the five elements of Feng shui, metal, wood, water, fire, and earth. If you have a love of visiting impressive places of worship, then Wong Tai Sin Temple is one not to be missed.
19. HK Disneyland
On the east side of Lantau Island, HK Disneyland covers over 320 acres. Although the smallest of the Disneyland resorts, as with everything Disney, it's dressed to impress. And impress it does. With over 8-million visitors looking for different things to do in Hong Kong arriving every year.
Tour the park in the Big Grizzly Mountain Coaster. Explore Grizzly Gulch, Adventureland, Toy Story Land, Fantasyland, Tomorrowland, and Main Street USA. And be sure to take in Space Mountain, the Ironman Experience, and the Festival of the Lion King show.
For those wishing to spend a short break in HK Disneyland, the complex has three themed hotels. The 5-star Disneyland Park Hotel, the 4-star Disneyland Hollywood Hotel, and the newest addition, the 4-star Disney Explorers Hotel.
20. A night out at Lan Kwai Fong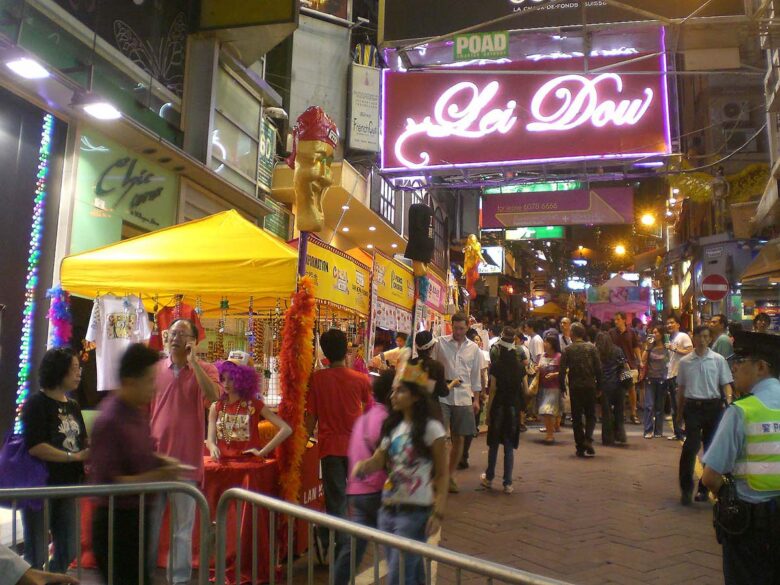 While jotting down all the things you want to do in Hong Kong, make sure to pencil in a night out on the town. In fact pencil in two or three. But make sure an evening visit to Lan Kwai Fong is one of them.
Situated in the Central district of Hong Kong Island, between Wyndham Street and D'Aguilar Street, Lan Kwai Fong is one of Hong Kong's most famous areas for buzzing night time activities.
A small, narrow, L shaped area which houses over 90 bars, cafes, restaurants, and clubs, the early evening sees local and expat workers from the nearby office complexes arriving to wind down from the day's activities.
As early evening heads towards night, visiting Chinese and Westerners begin to arrive. To eat, drink, and socialise the night away. This districts offerst the best nightlife in Hong Kong.
You can get into party mood at the many street level bars, or get out your list of things to see in Hong Kong, and tick off the fabulous night-time skyline views from the rooftop bars and restaurants.
21. You can gamble on a Macau Day Trip
The territory of Macau is just a 55 minute boat trip from Victoria Harbour, making a Macau day trip one of the favourite things to do in Hong Kong. Since 1557, it was a colony of the Portuguese Empire, until it was returned to China in 1999.
Macau has a similar self-governing and economic system to Hong Kong, and with a population of nearly 700,000 living in an area of just 12.7 sq mi, it is the world's most densely populated district. It is also one of the world's richest areas.
The Chinese are notoriously heavy gamblers, and Macau's casinos along the Cotai Strip have prospered, with its annual gambling revenue growing to seven times that of America's Las Vegas.
Unless of course, you're an ardent gambler, Macau isn't just about casinos. Although one day is probably enough to see the sites, Tiapa still retains some excellent examples of the area's Portuguese colonial architecture, as well as being a great place for a little souvenir shopping.
There is also plenty of Portuguese/Macanese cuisine available, to keep the foodies happy at lunch time. Unless you want a spin at roulette, or fancy a few hands of Blackjack, there are plenty of slots, where you can spend (or win), a few dollars – just to say you have.
22. The Mid-Levels Escalator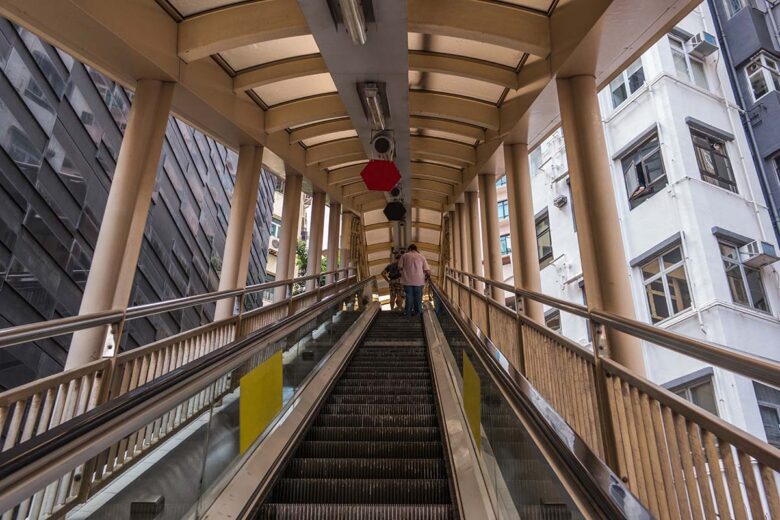 If you want to explore the Central and Soho areas when looking for things to do in Hong Kong, do it the easy way, using the Mid-Levels escalator. Opened in 1993, at a cost of HK$245-million, the escalator is in itself a major tourist attraction.
800 metres in length, and rising 135 metres up the hillside over its journey, it actually comprises 20 escalators, 3 moving walkways, and 14 entrance/exit ways, where its 85,000 daily users can step on or step off.
Hop on the first walkway at 100 Queens Road, the beginning of its journey. This will take you to Wellington Street, where you can scout out one of Hong Kong's busiest nightlife areas, Lan Kwai Fong, in preparation for your night time visit.
The second moving walkway will take you to Lyndhurst Terrace, where you can peruse the 100 plus stalls of the Central Street Market, and the third walkway will take you to Hollywood Road, where you can hunt for antiques, Chinese porcelain, statues, sculptures, rugs, furniture, and souvenirs.
Once on the escalator proper, you can ascend from Shelley Street to Staunton Street, and to Elgin Street (where you can explore the Soho area), before continuing upward into the affluent residential area of Mid-Levels.
23. Don't miss a Symphony of Lights Show
It's not often in this day and age that you get anything for nothing, but Hong Kong's fabulous Symphony of Lights Show is an exception.
The latest version of this world beating light extravaganza has coloured lasers and searchlights lighting up the night sky from 40 different buildings and locations, on both the Hong Kong and Kowloon sides of the port.
To compliment the lightshow, background music from the Hong Kong Philharmonic Orchestra adds to the audience experience.
Alongside the harbour, ten buildings have been rigged with LED panelling, which beam messages and images around the dock, to encourage the thousands of nightly visitors to join in the fun. Best viewing areas for this nightly show are:
Tsim Sha Tsui Promenade, by the Hong Kong Cultural Centre
The Golden Bauhinia Square
On a Symphony of Lights harbour cruise
The 10 minute light show is on every night of the week from 8pm.
24. Enjoy a day on Repulse Bay Beach
When it comes to looking for relaxing things to do in Hong Kong, what's not to like about warm water, golden sand, and endless sunshine? Repulse Bay Beach has it all, and much more.
Just ten minutes from the Central area of Hong Kong Island, it is popular with both the locals and visitors, especially on a weekend.
For those looking for more to see in Hong Kong than just beach, Repulse Bay is an expensive residential area, and its curving coastline is awash with bars, restaurants, and designer shopping malls.
If you fancy a little respite from the noon-day sun, stroll up the beach to the Hong Kong Life Saving Society's clubhouse. A traditional Chinese style building complete with spiralling dragons on the ceiling, and statues of the deities Kwun Yam and Tin Hau in the Chinese style garden.
Most of the old colonial buildings have been replaced with hi-end residential apartments, shops, stylish bars, and restaurants that are ideal for lunchtime snacks, and spending a little time out of the sun.
25. Seafood at Jumbo Kingdom
If you're looking for real Chinese decorative workmanship to see in Hong Kong, as well as the chance to enjoy a whole new dining experience, then head for the Jumbo Kingdom Restaurant.
Situated in Aberdeen Harbour, Jumbo Kingdom comprises two, three-storey floating restaurants, the largest being 260ft in length, and the sister restaurant, Tai Pak, only slightly smaller.
The set-up also includes a 130ft kitchen and prep boat, and a barge holding tanks of lobster, crab, squid, and other seafood. These magnificent floating fish restaurants are adorned with classic Chinese ornamental carvings, pagoda style roofing, and much red and gold paintwork.
Over 50 years of age, the Jumbo Kingdom Restaurant has appeared in many films, entertained heads of state, and wined and dined an impressive number of A list celebrities.
The day's fare is delivered straight off the fishing junks, and depending on the catch you could be dining on fresh leopard grouper, tiger grouper, or flowery grouper; spotted-tail morwong, girella melanichthys, or the more usual species of fish and shellfish.
Surrounded by the sea, with access by free water-taxi, the restaurant can cater for 2,000 customers at a sitting. You can dine inside, or enjoy watching the comings and goings across the harbour, while dining al-fresco on the upper deck.
Try Jumbo Kingdom's signature dish, 'Flamed Drunken Shrimp'. Prepared at your table, it is shrimp soaked and flame cooked in rose wine with peppers and vegetables, and is a firm favourite with the regulars.
26. Lamma Island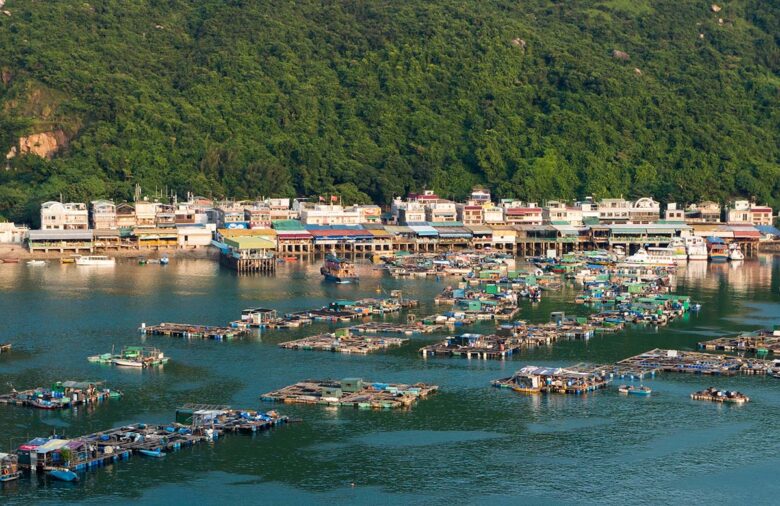 As the third largest of the Hong Kong administration's 200 plus islands, Lamma Island is just a 35-minute ferry ride from Central Pier 4 or Aberdeen Harbour. With only service vehicles allowed on the island, it is a popular, quiet getaway for locals, and those enjoying short breaks on Hong Kong.
An island of ancient fishing practices, traditional villages, seafood restaurants, beaches, and temples, there is something for everyone to enjoy.
To see the best of the island, and make the most of your time there, consider doing the Lamma family hike. At just three kilometres long, the trail takes you from the Yung Shue Wan ferry in the north, to Sok Kwu Wan village in the south, and some of the island's most popular seafood restaurants.
Explore the traditional fishing villages, visit the temple, do a little souvenir hunting, and stop off for lunch and some light refreshment. If hiking is your thing, there is a longer trail taking around 2.5 hours to complete, and covers much of the south, starting and finishing at Sok Kwu Wan.
27. Visit the 10,000 Buddhas Monastery
No, not a typo, in fact someone has actually taken the trouble to count all the buddhas in the monastery complex, and there are closer to 13,000.
Depending on where you are staying in Hong Kong, you need to get the MTR to Sha Tin MTR station. From there, walk toward Pai Tau Village, turn left onto Pai Tau Street, and right onto Sheung Wo Che Street, keeping an eye out for signs directing you to the steps leading up to the 10,000 Buddhas.
Steps, over 470 of them, need to be climbed up to the monastery. However, it's not all bad news. The whole stairway is lined with gold painted, life-size Buddhas of different shapes, sizes, poses, and expressions. By the time you've studied these as you climb past, you'll have reached to top.
Once there, you'll be greeted not by one temple but five, with four pavilions, a nine storey pagoda, and buddhas wherever you look.
The main hall has thousands of miniature golden buddhas lining the walls, and you can climb the nine floors of the pagoda, to enjoy some of the best panoramic views you'll see in Hong Kong.
If you're a bit concerned about getting there, a number of organised tours are available.
28. Visit the Songbird Market at Yuen Po Street
The Chinese hobby of keeping and showing songbirds goes back to the beginning of the Qing dynasty, in the mid-1600s, and is as popular today as it has ever been. In Hong Kong, the market at Yuen Po Street will provide a fascinating insight into the hobby for visitors looking for something a little different to do in Hong Kong.
Also known as Yuen Po Street Bird Garden, dozens of stalls are dotted around in a garden setting, selling birds, feeds, and accessories. You will also see hobbyists buying seed and supplements, while taking their birds for a 'walk' in their cages.
Spend an hour or two strolling through the gardens, and discover the beautifully carved Moon Gateways. Listen to the song birds competing against each other, and if you, family, or friends keep a pet bird at home, it's a great place to buy bird related souvenirs.
29. Visit the Aberdeen Fishing Village
Lying in the southern end of Hong Kong Island, Aberdeen fishing village and its harbour are home to the last remaining boat people of Hong Kong.
Not to be confused with the Vietnamese boat people, these Chinese fishermen arrived around the eighth century, and lived and worked on their old junks and sampans, making a living from the sea.
Once reliant on fishing, as the dockyard expanded, and other industries such as boat building began to prosper, many fishermen sought alternative employment. Nonetheless, Aberdeen harbour is still home to around 600 fishing junks, with most families living nine months on the boats, and three months ashore.
A place where traditional and modern blend. With a backdrop of tall, sky-scraping buildings overlooking old sampans sprouting satellite dishes. Of gnarled old fishermen chatting on their smartphones, and modern yachts tied up alongside traditional junks.
All of it offers an insight into a changing Hong Kong lifestyle you'll not find anywhere else. Get up close and personal with the boat people, by booking a sampan tour of the harbour.
Take in the sights, sound, and smells around the quayside. Do a little retail exploring. And enjoy a fresh seafood meal in one of the restaurants. It all makes for a great day out, when you're looking for different things to see in Hong Kong.
30. Be on top of the world in the Ritz Carlton Ozone bar
At 490 metres high, on the 118th floor of Kowloon's Ritz Carlton Hotel, the Ozone bar is the highest bar in the world. Sitting alongside the harbour, the views over Hong Kong during the day from the semi-covered terrace are magnificent, at night, with the whole city lit up, they are breathtaking.
With comfortable contemporary furniture and subdued blue haze lighting, Ozone has a warm, congenial atmosphere whether you visit daytime or evening.
With an extensive wine and spirit list, a range of classic cocktails, champagne cocktails, or mocktails (non-alcoholic cocktails), Asian or Brazilian tapas, or small plates, you can enjoy a leisurely brunch and signature cocktails while taking in the daytime views.
Or why not visit during the evening, for that special occasion dinner and drinks on the terrace. As the evening unfolds, enjoy the music of the resident DJ, and who knows, maybe even get up and dance a little.
For anyone compiling a list of the best places they want to see and things they want to do in Hong Kong, a visit to the Ozone bar has to be in the top five.
Photo: Shutterstock